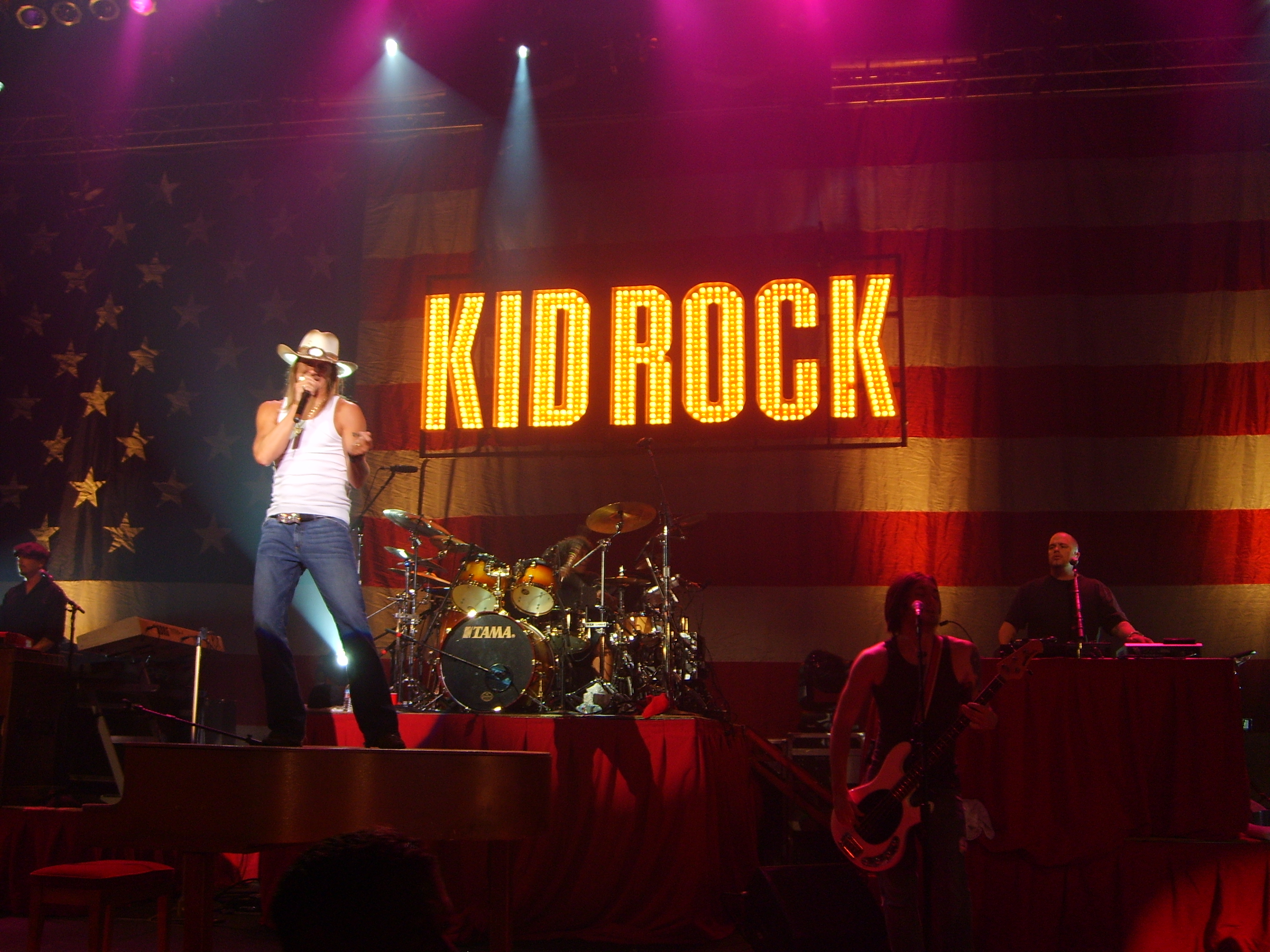 Barwitda-ballot…
In recent weeks, rumors have emerged that Kid Rock is considering running for US Senate. The man-child himself has been fueling the rumors, though nothing has yet been confirmed. But we shouldn't be surprised that the rise of the alt-right has led to a man known for performing in front of the confederate flag thinking about moving into politics. I mean, why the hell not? The President is a reality TV star who dubiously ran a business and made a few bucks. Success is all but guaranteed when you consider the "We're sick of politicians—let's try this instead" crowd. But let's stop for a minute. If we're going to stomp forward into a world where entertainers, specifically musicians, can win races and make decisions that will affect our lives, there must be better choices. Here are 10:
Bob Dylan
He just won his Nobel Prize for Literature, and it was well-deserved. Dylan can articulate himself so beautifully that he would have Republicans dancing to his tunes, "Mr. Tambourine Man" style, without really knowing what it is that they're dancing to. The word "genius" is overused, but Bob Dylan truly is one. Intelligence might be something that gets knocked by Trump's supporters, but surely Bob could win everyone over.
—
Chuck D
Or maybe we're going to need a razor-sharp artist who will point out every injustice, lay it all down, and then get to work fixing it. If Chuck didn't have to fight the power anymore, because he was in power, imagine what could be achieved. Bring the noize…
—
Otep Shamaya
Christ, when Otep isn't laying waste to stages with the band that shares her name, she can be often be found taking part in protests anyway. She's a bad-ass, openly-gay activist that won't lie down and cower for anyone. Wait 'til the other side of the aisle gets a load of her.
—
Eminem
Detroit has another, better, mega-star. Now, sure, Eminem has said some dumb things himself over the years, particularly in the early stages of his career when he claims to have been in character. He appears to have left that crap behind for the most part. Put next to Kid Rock, he looks like someone born to lead. That's a low bar, I know.
—
Madonna
The Republicans could get on board with the sentiment that "we are living in a material world," so Madonna might cross the aisle. But we know better. Madonna's speeches before and after the election proved that she's capable of greatness in the public speaking arena, and she brings a huge fanbase with her. She written children's books, so she's got a grip on education. She had a genuine brush with Jesus in the "Like a Prayer" video, so she can speak on religion with conviction. And she once told her papa, in no uncertain terms, not to preach. She she has no problems putting authority figures in their place.
—
Ice T
The thing with Ice T is that he commands respect just by walking into a room. Like Samuel L. Jackson, he oozes cool, and it's annoyingly effortless. With that sort of charisma in his wheelhouse, he would surely have every other world leader eating out of the palm of his hand? Angela Merkel? Putin? Both will be knocking back champagne in the OG's hot-tub. And don't tell me that's not an amazing image.
—
Jello Biafra
Former Dead Kennedys singer Biafra has always been politically outspoken. The man who can talk forever at lightning speed has an opinion about everything, and he can spit it out with enough venom to shock the hardest of humans. This is the guy who sang "Nazi Punks Fuck Off," and we need that sort of conviction right now.
—
Andrew WK
Conversely, Andrew WK wants to party, and party hard. And who can blame him? The world is going to shit. Look, truth be told, Andrew WK would make a terrible politician. But still, waaaaay better than Kid Rock. I've spoken to Andrew WK before — he can string a sentence together.
—
Violent J
In the song "Bang Pow Boom," the Insane Clown Posse have a plan. They want to round up all the world's rapists, child abusers and other terrible people, put them in one place, and blow that place up. It's not a plan that doesn't have flaws, I grant you. But at least Violent J is trying, and his heart is in the right place. Plus, the juggalos just marched on Washington to protest the fact that the FBI labelled them a criminal gang. These guys will follow their  idols anywhere and everywhere. Meanwhile, Kid Rock is moaning about welfare recipients. Dick.
—
Almost every other musician on the face of the planet
Take your pick. Weird Al? Taylor Swift? The guys in Stryper? It's hard to think of anyone who would make a worse politician than Kid Rock. Ted Nugent maybe. One of those Norwegian black metal singers who kills other Norwegian black metal singers and burns down churches? Possibly, but not definitely.
—
"Callwood at the Cooler" is a bi-weekly column which will see me waxing lyrical about events in the news, pop culture and the etc. Sometimes it'll be light, other times not-so when the rant/monolog demands. The subject matter will vary dramatically so expect anything and keep coming back.
Tags:
Andrew WK
,
Bob Dylan
,
Callwood at the Cooler
,
chuck d
,
Eminem
,
Ice-T
,
Jello Biafra
,
Kid Rock
,
Madonna
,
otep shamaya
,
Politics
,
violent j