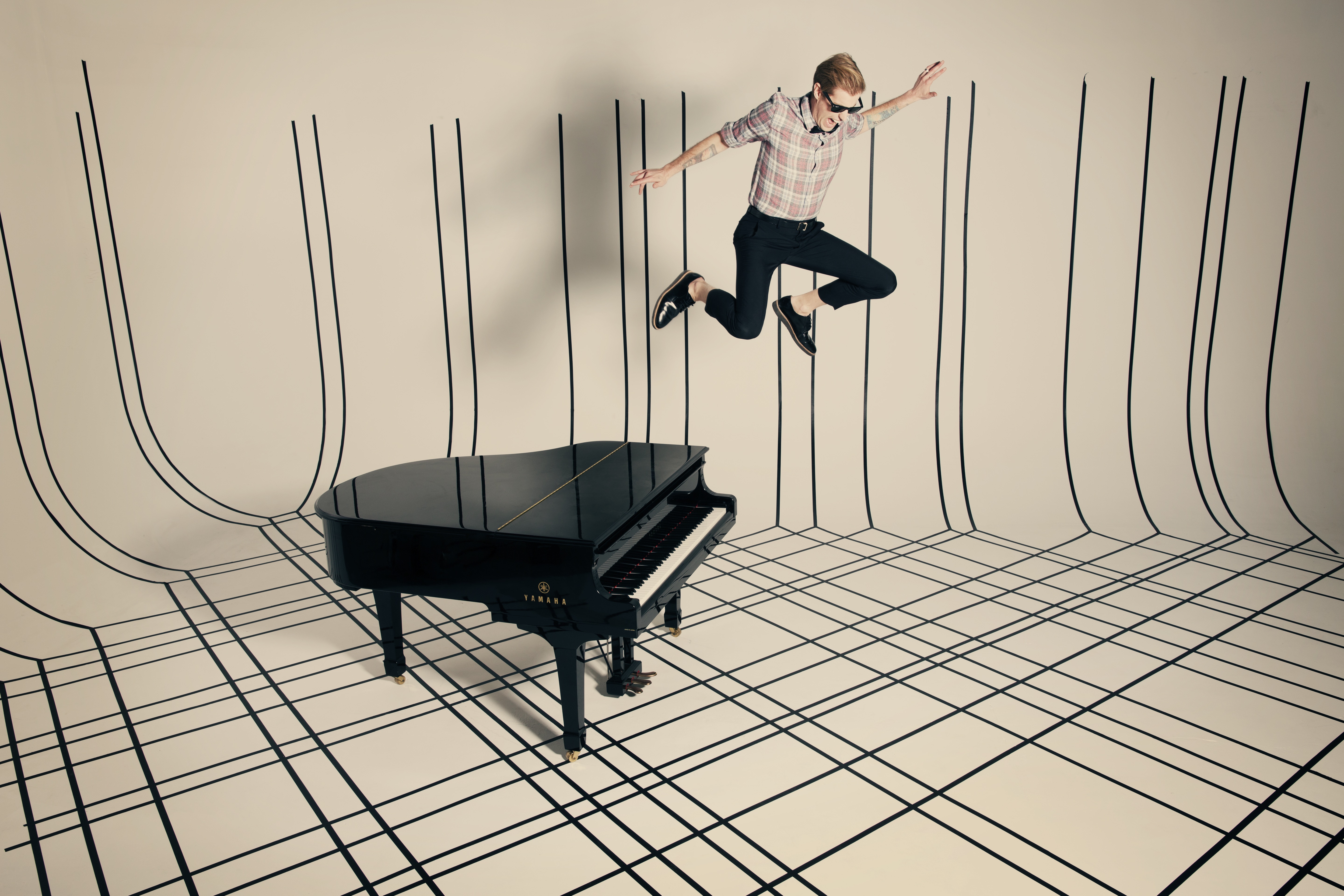 Andrew McMahon On…
Hitting Reset
The 33 year old's desire to reinvent himself seems insatiable, as evidenced by Andrew McMahon In the Wilderness recently wrapping up a nine week run opening for Weezer and Panic! At the Disco. From Something Corporate to Jack's Mannequin to performing under the banner of his own name before wandering the wilderness, McMahon seems to be having more fun than ever. Pounding the piano keys, settled between his bandmates and multiple wacky waving inflatable tube men Andrew sings out closing notes of  "Cecilia and the Satellite" with the sun still high in the sky at the Edgefield amphitheater. Cramming so many great songs into a half hour opening set feels criminal, but for those 30 minutes, McMahon owns these fans. "I think this job is a gift. To get to stand on stage every night, play a show and it feeds your family, you just can't beat that."
If it ain't broke don't fix it. Well, McMahon has never broken anything in his life. In fact, he's enjoyed massive success in three separate musical endeavors spanning sixteen years. Like any good artist, the truth is he just can't sit still. It would have been easy to ride the wave of Jack's Mannequin or the reuniting of Something Corporate, but McMahon felt the pull toward a new project, toward new fans and new challenges. "The biggest thing for me was just a fresh energy. Not so much about rewriting history or wiping the slate clean, I wanted to start on a fresh footing."
Going Back to the Future
Fresh, but not without a firm grasp on the past. McMahon is a very different person from the blonde floppy hair frontman we first fell in love with on Something Corporate albums. He's been to hell and back, both personally and professionally. In late 2004, McMahon hit a wall. He was burned out from non-stop touring and needed to reassess his next moves in music. Ultimately, he decided to re-emerge as Jack's Mannequin. When asked about going too hard or doing too much, McMahon is quick to answer that there is no defense against burnout. "I've been going super hard for the last two years. Having a family, having my daughter, there's certain things I just won't do anymore. There's only so long I can do without the grounding of seeing my wife or seeing my kid, so I think those are safeguards."
"I want to take this thing as far as I can, put a flag in the ground and say 'This is mine. I'm writing my best music. This is who I am'."
And thank goodness for McMahon's family. His marriage was well-documented in the film Dear Jack, and unless you've been living under a rock, you've heard the monster hit, "Cecilia and the Satellite", an ode his McMahon's two and a half year old—a topic which lights him up every time. "It's more abstract to her at two and a half years old but she knows it's her song. She reacts accordingly. At shows when she sees people seeing it it's like, 'that's my song' [laughs]. She's very proud of it. It's a cool little piece of something we can share."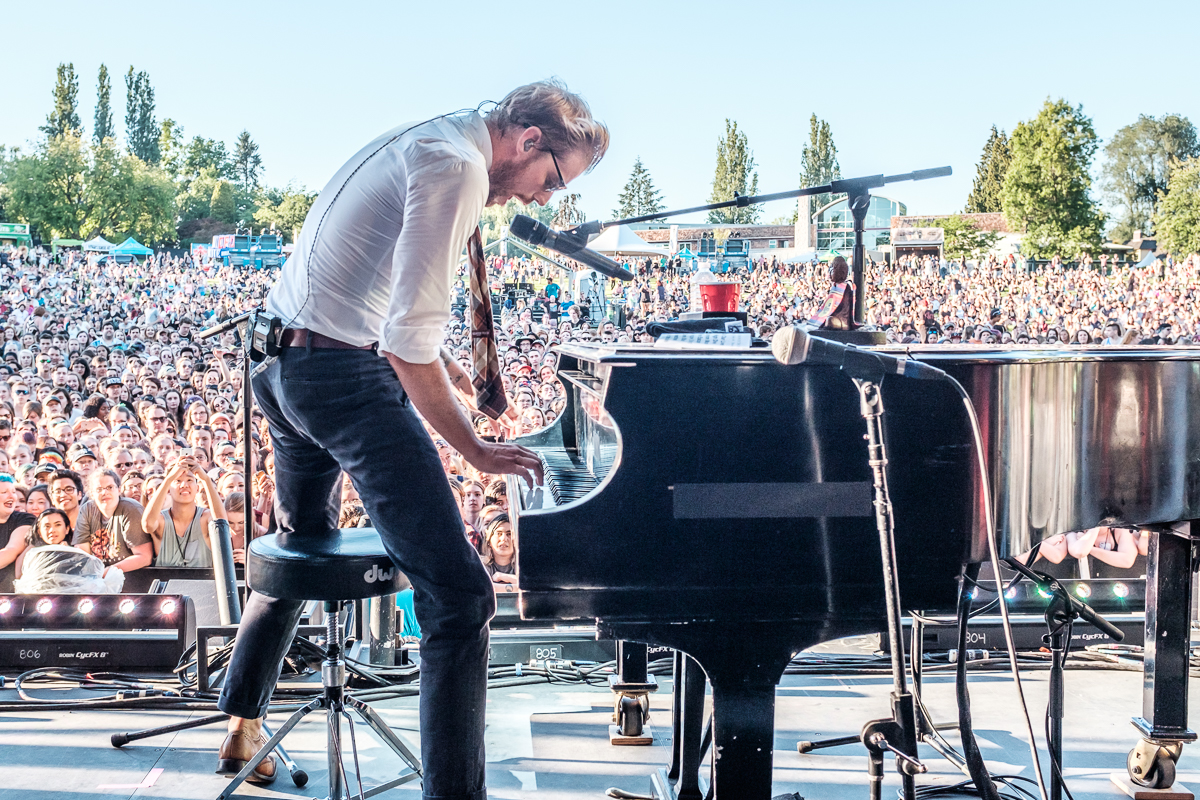 His Best Work
In the whatever-you-wish-to-call-it genre that McMahon has been a staple of for the past decade-plus, starting over can be polarizing. Your fans have grown up alongside you, using your songs as mixtape fodder for some of the most important moments of their lives. McMahon is not oblivious to this connection, but rather than focus on preserving the past, he's working on building a present that is just as stable and lasting.
"I think more than ever before I've embraced my past. I think right now I'm sort of on a mission with this thing. I want to take this thing as far as I can, put a flag in the ground and say 'This is mine. I'm writing my best music. This is who I am'. I think there's an energy that comes with that that makes it easier."
The crowd tonight is no exception to McMahon's awareness of his rabid fan base. The audience sings every word to every song, old and new, some of them arm in arm as if to say "We're in this together". His performances have always been a blast, his wide grin seems to zero in on specific fans throughout the set, which is peppered with songs from all three projects. McMahon mentions that the pressure feels light on this tour as it's up to Panic! and Weezer to sell the tickets. And if you're following him on social media, there appears to be no shortage of after-show hijinks, though McMahon watches Weezer's set every single night, a band he's idolized since he was a child and continues to garner respect for.
"I think they're one of the best rock bands to come out of the last 30 years. Even records that I didn't connect with early on, hearing those records on stage I'm like 'I was wrong'. You just come to appreciate the depth of their catalog."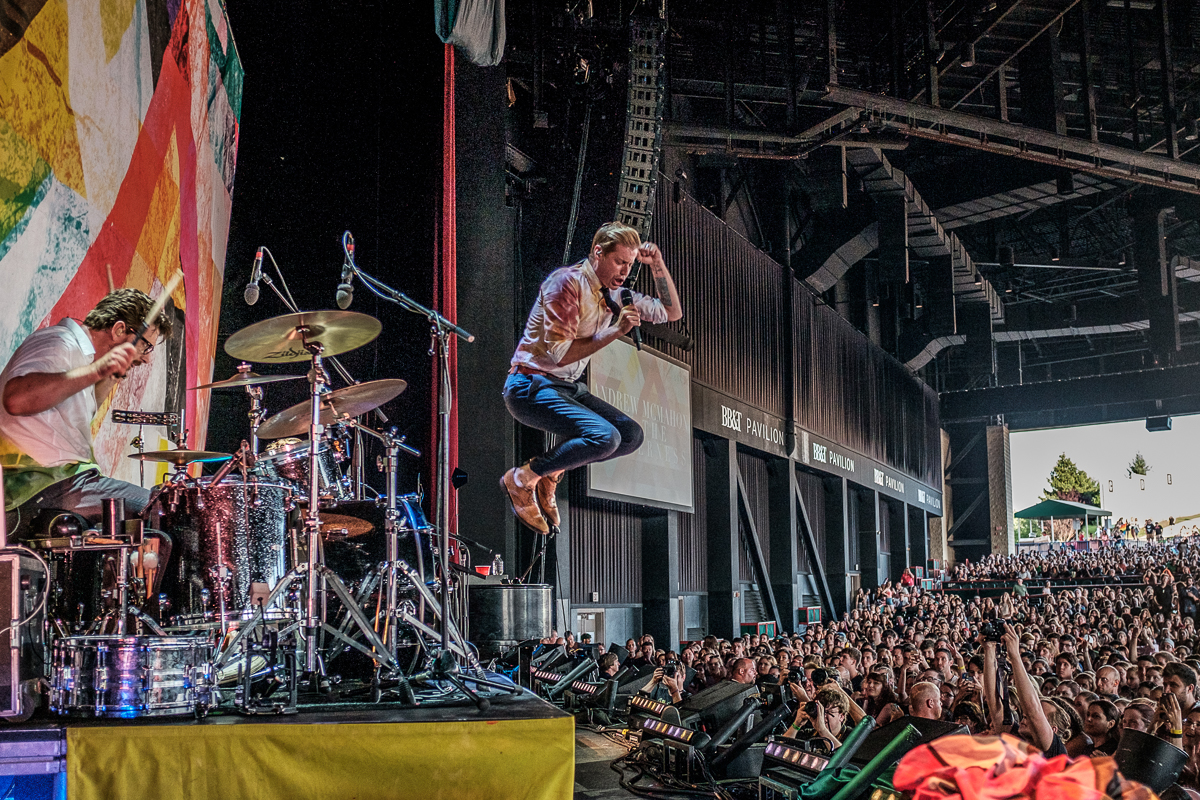 His Comrades
Weezer's debut record released when McMahon was just twelve years old, while Panic! At the Disco emerged in 2005. To see a crowd, with an age range spanning decades, ethnicities and styles, embrace all three acts with equal affection feels other worldly. "There's this cool unifying thing where we're all sort of indie-minded pop acts who have made pop music that has been left of center. The stage shows are all playful and it's almost like three generations of left leaning pop acts."
It's clear after even the short set that McMahon has left it all out on the stage, drenched in sweat, making his signature piano jump to close his night. The 30 minutes is a spectacle, with McMahon as the ringleader. But just because the In the Wilderness project looks more lighthearted, don't confuse McMahon's shenanigans for carelessness.
"I've always tried really hard to write music that lifts me up and out of things because that's how I use music, it's to focus on what's good."
"I believe in doing the work, I always have. Since I started The Wilderness project, everything we do we have to go huge on. It's required. To go in the crowd, especially when you're making new fans, I'm gonna say hi to you. I want you to realize that we take what we do really seriously, but not so seriously that we're not into being playful."
What can feel the most human and binding about McMahon is that while he recognizes that influence can come from any source, his choice to keep things personal is a conscious one. When the idea of inspiration through current events is raised, McMahon is quick to say he is very politically vocal amongst friends and family, but as far as an entertainer, he airs on the side of a true show business pro.
"I've always tried really hard to write music that lifts me up and out of things because that's how I use music, it's to focus on what's good. Even if there is a struggle there, it's to find the good in that struggle. The idea of politics informing my songs comes up, it's like the malaise of that whole thing is why I try and write music and why I try and keep myself out of that because it can be frustrating."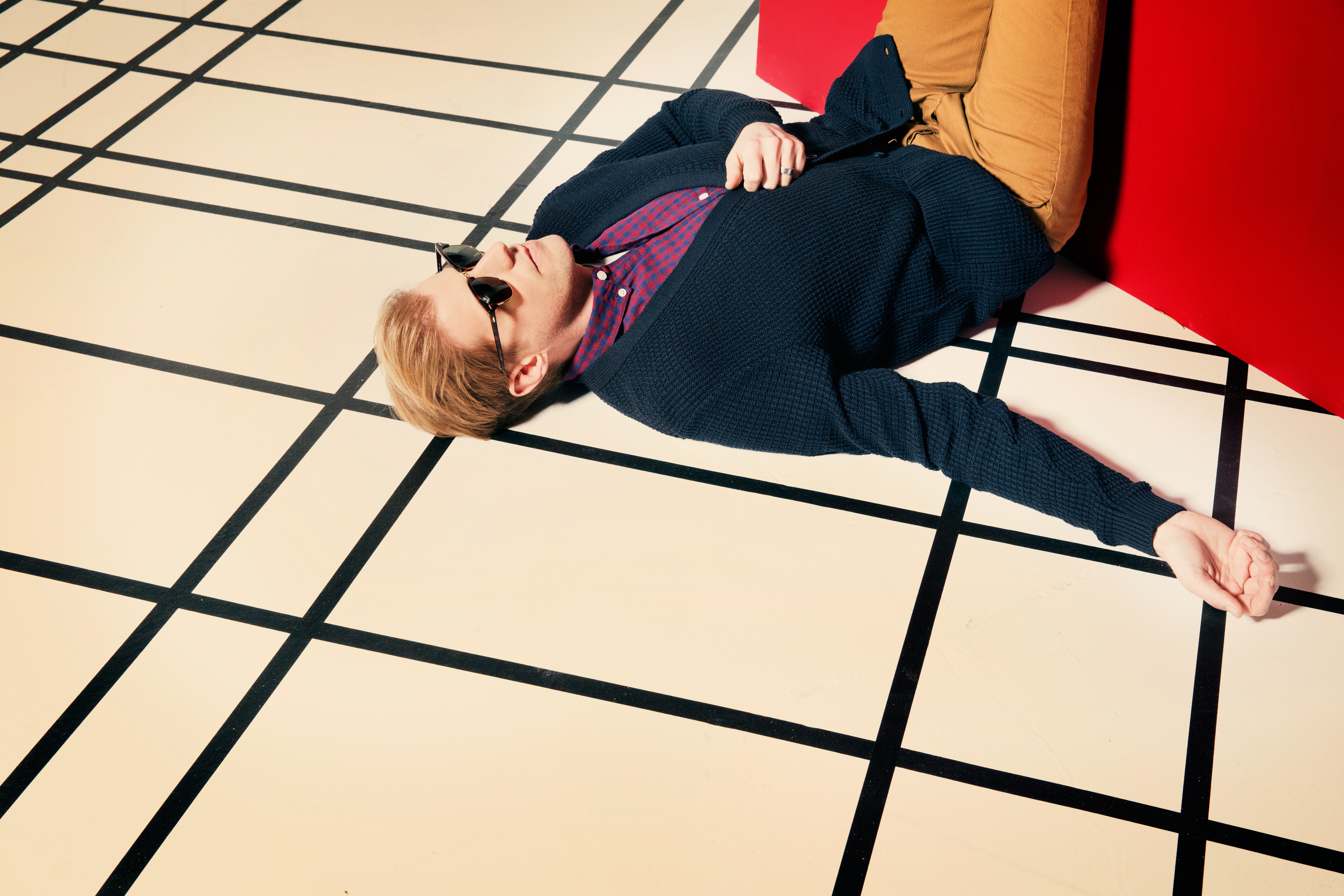 Dear Jack
It's no wonder that McMahon exudes a sunny outlook on life and work. He just celebrated his 11th year of being cancer-free, a well-documented journey through both his music and his foundation, Dear Jack, which is currently on par to raise $100k (McMahon knocks on wood while explaining the goal) for cancer research this year. Many artists are involved in philanthropy in one capacity or another, but McMahon's desire to not only see advancements in cancer research but to connect survivors through his non-profit's programs is tremendously impressive. They've doubled their fundraising capacity this year alone. Dear Jack launched two major programs recently; Breathe Now and Life List.
"Breathe Now hosts yoga meetups for young cancer survivors. We've had these really powerful sessions where we're getting them back into movement and getting them into rooms together to talk when everything is said and done. Getting to know other people as a young adult who is in the same situation is the hardest thing. People end up being so separated by the medical institutions because is just not made for people that age. Life List is where patients make a list of eight items that are executed by family and friends and Dear Jack helps facilitate. It's basically a list of things they want to accomplish while they're in treatment and to kind of keep things on the horizon to look forward to. When you're in the hospital dealing with this stuff, it's hard to see the horizon. You wake up some days thinking you're going to feel like shit forever. We had a patient front row for an Adele concert. We had this one patient where her and her husband relapsed in the same year and they had two little boys. All she wanted was a swingset and playground for their kids to have while they're going through this. We put this amazing jungle gym in their backyard. We're working on nine lists right now and there's a lot of people involved. We end up getting to know their family and friends and they get to know each other, it's been really powerful."
"This is certainly not something I thought expected would be a part of my road. I think it's this additional level of depth to the relationship that I've been lucky enough to have with my fans."
Dear Jack's work is far reaching. There have even been bone marrow matches made and lives saved due to signups at McMahon's shows. Sharing something so personal with his fans serves to inspire him further. The sense that his fans are in the fight with him has never been stronger.
"This is certainly not something I thought expected would be a part of my road. I think it's this additional level of depth to the relationship that I've been lucky enough to have with my fans. When they come on board, they're coming on board for this whole other thing, not that they have to but so many of them do. So many of them are out with this $100k challenge, making their own merch items, setting up Etsy stores, really pounding the pavement trying to raise money for this."
McMahon was diagnosed with acute lymphoblastic leukemia at 22 years old. An added complication to the story was that there is something of an "in between" age where doctors are not always confident in treatments due to the fact that the person may not be a child anymore, but may not be strong enough to handle treatments for adults. This topic became another building block for the Dear Jack legacy.
"A lot of it is institutional, making sure these people are treated in the same area so they can be treated with people the same age. I think medical professionals will start seeing more at that point. When we started the foundation ten years ago, nobody was talking about this. Now we're at this critical moment where major hospitals and health organizations are saying they see the problem, they are looking for funding and are trying to fix it. We cheerlead and go and shake hands with a lot of these institutions."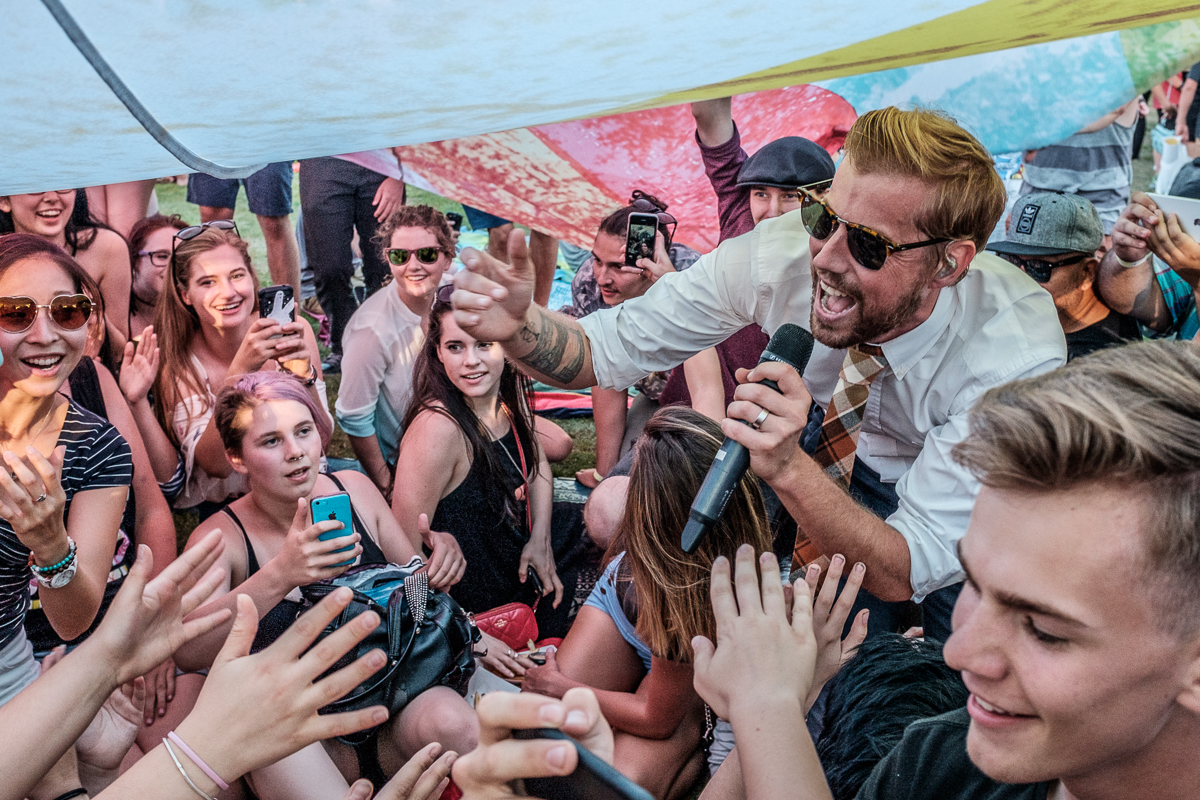 "Let's Keep Going"
McMahon hopping into the crowd at each show feels like a promise, a pact to keep lifting up his fans and joining them in the trenches when needed. Eleven years from his original diagnoses, twenty-four years since he first touched piano keys and now sixteen years since his first album release, McMahon has cultivated a culture around him; one of grace, acceptance, and moving forward.
"I just feel so close to the people I perform these songs for. I feel like there is some sort of a pact there like, 'hey I'm going to give you this, and I get it back'. To see a song like 'Cecilia and the Satellite' succeed as it did, I felt like was proof that if you are willing it put it out there and say, 'this is what I've been through and this is where I'm going', then people surround it and want it to be a part of their life."
How long will McMahon's time in the wilderness last? Only time will tell. For now, McMahon is writing his best music, replete with the personal touch that resonates strongest with his fans. If another reinvention is on the horizon, fans have nothing but a solid track record to refer to. His fans grew up alongside him, championing these songs in whatever banner they were presented under.
"The goal is to say 'Listen to this new music, you're going to find something you connect with, let's keep going'."
Tags:
Andrew McMahon
,
Andrew McMahon in the Wilderness
,
Jack's Mannequin
,
Panic! At The Disco
,
Something Corporate
,
Weezer