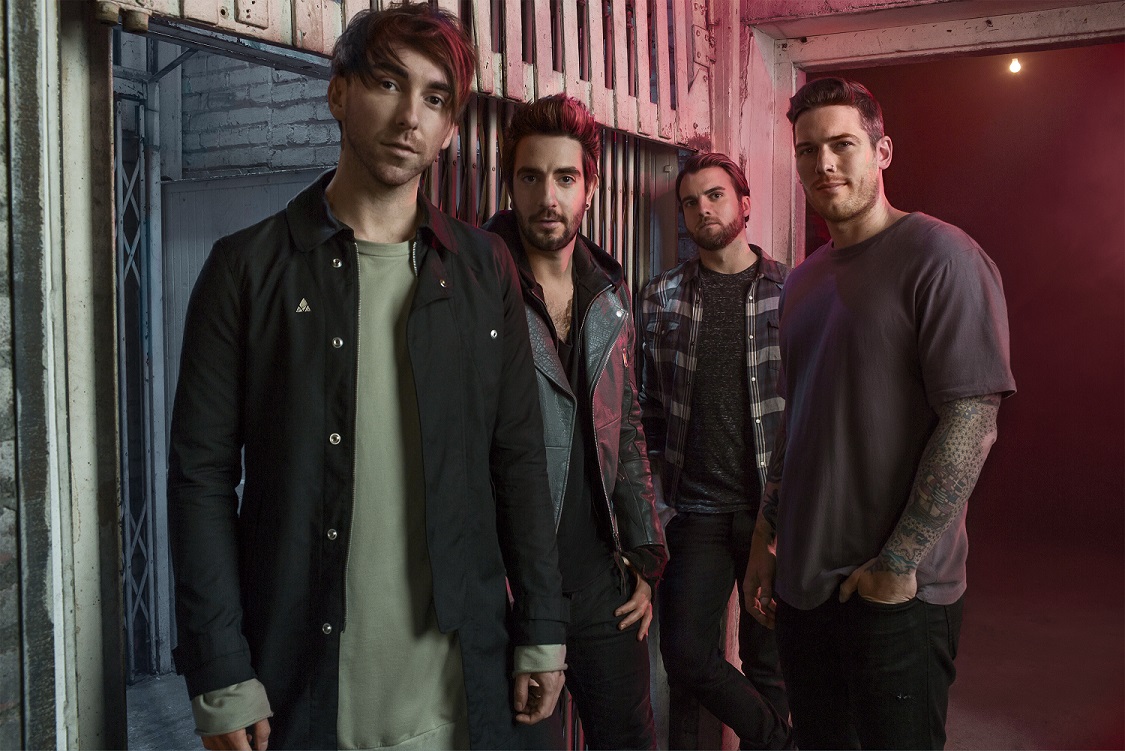 The only thing better than new music from your favorite artists is, well, more new music; it's why bonus tracks and b-sides are some of the most coveted songs in a band's catalog. Nothing beats that feeling of digesting an album, loving it, and then finding out additional songs exist from those sessions, whether they're demos, acoustic versions, or covers. Luckily, these songs are at our disposal and only a click away, but the real magic is when they end up sounding even better than what ended up making the original album.
For pop-punk quartet All Time Low, they've managed to push the envelope sonically on every one of their seven full-lengths, and all of that music means there's a whole lot of leftovers to dig into it. From covers, to demos, to holiday songs, there's never been a shortage of hidden gems that are worth hunting down to add to your ultimate All Time Low collection.
"Coffee Shop Soundtrack (Acoustic Remix)"
– Put Up Or Shut Up (Deluxe Edition)
All Time Low didn't just make an acoustic version of "Coffee Shop Soundtrack," they made an acoustic remix. They also put it on what may be the only deluxe edition of an EP in history. But, in the midst of their early success, tacking on this number to their Hopeless debut wasn't a bad idea—it showed everyone that they had more up their sleeves than just your regular ole' pop-punk. The "remix" aspect gives it a non-cheesy electronic element via Alex Gaskarth's vocals doused in Auto-Tune, and the darker feel makes it one of their coolest highlights.
"Toxic Valentine"
– Jennifer's Body: Music From the Motion Picture
Everybody probably forgot that Jennifer's Body was a movie in 2009, but thankfully nobody forgot the awesome addition All Time Low gave to its soundtrack. To be fair, it had a decent soundtrack in general—Panic! At The Disco's "New Perspective" still holds up incredibly well, and it also provided us with Hayley Williams' first solo track in "Teenagers." However, none of these come close to ATL's "Toxic Valentine"—a straight-up rocker with a God-tier catchy chorus.
"Actors" – Unreleased
Nearly a year before the band delivered their polarizing major label effort, Dirty Work, Gaskarth gave fans a little something to keep their ears busy with when he unveiled the demo "Actors." This track was actually planned to be included on the 2011 LP, but considering the pop sound that Dirty Work had throughout, it made sense that the band opted not to include it. Still, it goes down in ATL-lore as a great song from the vault that displays how improved their songwriting had gotten already.
"Merry Christmas, Kiss My Ass"
– Dirty Work (Deluxe Edition)
All Time Low set out just to make a Christmas song, but what they ended up doing was craft a full-blown pop-punk Christmas classic. The key to a perfect holiday song is that it needs to be something you can rock to in the summer just as hard as in the winter, and it's nailed on all cylinders. Though it's a track with lyrics based around holiday heartbreak, it's all smiles here (especially with the National Lampoon's Christmas Vacation sound bite at the end).
"Bad Enough For You"
– Dirty Work (Deluxe Edition)
Dirty Work was an important period of All Time Low's career, even if it may not have worked out the way that they wanted it to. Signing with Interscope Records, this was supposed to be their big shot at *really* breaking through as they dished out unapologetic attempts at radio play with songs like "Time Bomb" and "I Feel Like Dancin'" (for what it's worth, "Dancin'" did give them their first and only Top 40 single). While Dirty Work isn't always regarded as the most cohesive ATL album, the choice/most cuts from the album are incredible—and so is its b-side, "Bad Enough For You." Featuring monster hooks and beautifully polished production, perhaps Dirty Work wasn't about radio play more than it was just about having fun.
"Time To Break Up"
– A Tribute To Blink 182: Pacific Ridge Records Heroes of Pop Punk
For those who have been around All Time Low since their inception, "Time To Break Up" might have actually been the first time they ever heard of the band. Featured on Pacific Ridge Records' A Tribute To Blink 182 compilation, this b-side is a cover of a Blink-182 b-side—that in and of itself is pretty legendary. ATL are naturally huge Blink fans, so you have to figure this moment in 2005 was exciting for them. The fact the cover is great just makes this piece of ATL history all the more special.
"A Love Like War (feat. Vic Fuentes)"
– Don't Panic: It's Longer Now!
All Time Low haven't dabbled too much in guest vocals over the years, but when it happens, it's always a match made in pop-punk heaven. Besides the obvious "Remembering Sunday" and "Guts," one of their best (and most successful) collabs is "A Love Like War" featuring Pierce the Veil's Vic Fuentes. Angsty and powered by booming drums, the addition of Fuentes really helps bring the track to life. It's an essential part of All Time Low's discography at this point, and it joins "Dear Maria, Count Me In" and "Weightless" as one of the band's three Gold certified singles.
"How The Story Ends"
– Future Hearts (Best Buy Edition)
They weren't the first band to co-write in pop-punk music, but they played a big part in normalizing it. Nothing Personal found All Time Low working with various outside writers for the first time in their career, and it wasn't exactly met with open arms from the general public. Of course, with their songs sounding better than ever, they took it in full stride going forward—each album afterwards had co-writers, and Gaskarth has even gone on to write for some other bands himself. ATL's 2015 record, Future Hearts, boasted a load of contributors, but it was Benji and Joel Madden from Good Charlotte who stood out the most. On "How The Story Ends," guitar tones sound straight out of a Good Charlotte song in the best way possible, proving that the band is at their peak when they're influenced by the music they love.
Tags:
All Time Low
,
ATL
,
B-Sides