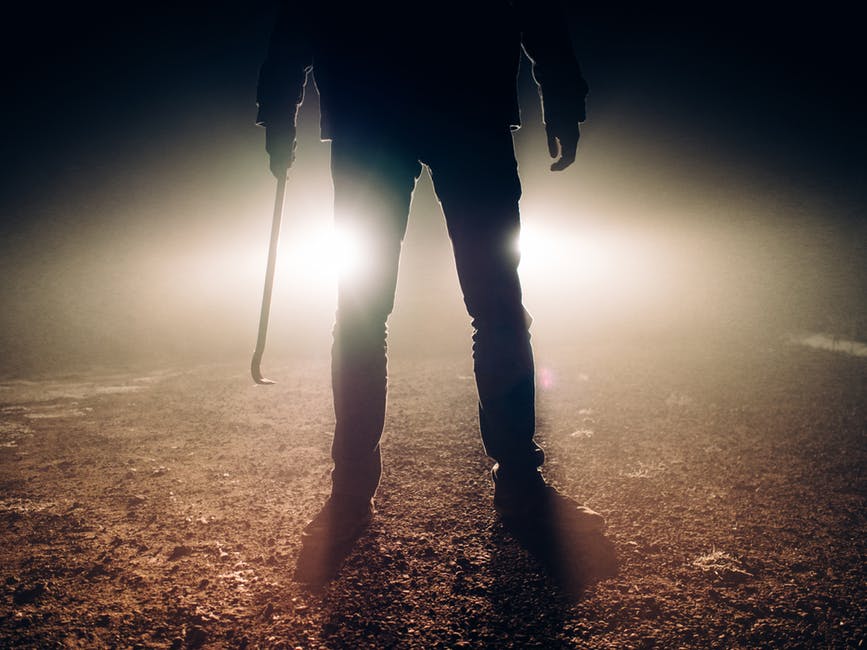 When cupid's arrow goes awry, love can get a little messy… or sometimes, murderous. In celebration of the spookiest day of the year, we're bringing back the ghosts of bad romance, and the killer love songs written about them. From Pearl Jam to Bruno Mars to Panic! at the Disco, we have a "bloody valentine" for everyone.
—
"Roses"
33 West
The emo era gave us no shortage of angry, revenge laden anthems of love gone wrong. From Bayside's "Existing In a Crisis (Evelyn)" to Taking Back Sunday's "Make Damn Sure" someone was always singing about taking out a cheating ex. Despite having plenty to choose from, when I heard idobi was doing a Halloween piece on Killer Love Songs I knew instantly which song I would pick. Back in the early 2000's I was obsessed with a local ska-punk band called 33 West. I saw them live hundreds of times and booked them on shows every chance I got. Their music was raw, gritty, powerful and most importantly moshable. While most 33 West songs were upbeat and fun, "Roses" definitely takes a darker turn. When a song starts off with the sounds of a chainsaw and a woman screaming you just know things aren't going to end well. With lyrics like "you're pretty when you choke, am I the first to tell you that?" and "I watch the blood fill up the tub and stir it with a baseball bat" it's as graphic as it is disturbing. "Roses" speaks to an anger I'm sure we've all felt when our personal love stories have gone wrong. While the story is something we'd never actually act on it sure feels good to sing along at the top of our lungs. (Cindy Tenicela)
"My Bloody Valentine"
Good Charlotte
Good Charlotte were never ones to pen your average love song, but even "My Bloody Valentine" is a creepy one by their standards. You're not going to get a drawn-out story here that reaches a conclusion at the end—the Madden Bros. & Co. take care of business in the very first verse, brutally whacking a love interest's current boyfriend by, uh, ripping out his throat. Maybe if re-written today he would have just simply slid into her DMs, but 2002 was an angsty time for everybody. So, boyfriend's a goner, girlfriend is in hysterics, but Good Charlotte's here to save the day by telling her what a great life they'll have after he washes the blood off. Can't tell if that's considered a happy ending or not … but the song is killer enough to make you not really care. (Joe DeAndrea)
"Romance is Dead"
Parkway Drive
Well, did you really expect the metal guy to pick anything but a crushing, brutal track?! While every Parkway Drive fan loves this classic that turns 10 this year, sometimes people forget just how pissed off and haunting this "Romance is Dead" truly is. No matter how many times I hear the tapping bridge underneath Winston McCall's vocals—before and after the breakdown—I'll never get sick of the lyrics below. They send chills up my back. (Patrick Walford)

You wouldn't know love if it crushed your fucking chest
Razors, roses and a black tomorrow
You wouldn't know love if it crushed your fucking chest
Razors, roses and a black tomorrow

They never showed any affection to anything but your ego
A tragedy of errors at the best of times
You are everything that's wrong with me
You are everything that I despise
You are everything I dreamed would die
You are everything that fades away and slowly dies
"Last Kiss"
Pearl Jam
It's not dark or spooky, but if you ever wanted to sob your way through a love song, look no further than Pearl Jam's version of "Last Kiss". The song, originally released by soul singer Wayne Cochran in 1961, tells the story of a couple out on a date who get into a car crash. The boyfriend sustains injuries but is ultimately able to walk away—unlike his beloved girlfriend, who dies in his arms on the side of the road. One of the most heart-wrenching parts of the song is in the last verse where the boyfriend laments that "now she's gone even though I hold her tight" and I don't know how anyone can listen to that plaintive cry without weeping. While there are other versions of the song out there, Pearl Jam's is probably the most well-known—it was released as a single in 1999 and was certified gold in the same year—and the simple instrumentation combined with Eddie Vedder's distinctive croon gives it a melancholy tinge that hits you right in the feels. (Sam Devotta)
"There's A Good Reason These Tables Are Numbered Honey, You Just Haven't Thought Of It Yet"
Panic! At The Disco
Oh darlings, aren't the best tales of murder the ones with a l'il glitter? We certainly like to think so, and leave it up to Brendon Urie to deliver a dark and twisted confession to the beat of a cabaret showtune. Panic! at the Disco's "There's A Good Reason These Tables Are Numbered Honey, You Just Haven't Thought Of It Yet" weaves a story almost as complex as the song title itself. It's so clever in fact you just might miss the deception first time 'round. On the surface, the swagger-filled chorus of "I'm the new cancer, never looked better, you can't stand it" may seem like a metaphor for the latest fashion; the poison-du-jour you just can't escape.
Oh, no, no, no. While the song's leading lady tries her best to "choke back tears", Urie looks on with glee from the shadows as he casually "spikes the punch" and moves in for the kill. The piano veers slightly off-key, setting hairs on end to give the feeling that something isn't quite right. This girl might be the diva of the night, but Urie will have the last laugh when he surreptitiously drops the line, "Oh and the smokes in that cigarette box on the table / they just so happen to be laced with nitroglycerin". Blink and you'll miss the murderous intent—this song is all smoke and mirrors and the big musical breakdown serves as one hell of a distraction. While we're busy dancing along, the façade of her oh-so-perfect reflection has cracked and her lungs are filling up with something toxic. Try not to choke on that punch, darlings. (Alex Bear)
"Grenade"
Bruno Mars
Young love is always quite the emotional rollercoaster. Bruno Mars' "Grenade" is the perfect depiction of a guy who is in love with someone in the most neurotic way, even though they don't feel the same. Don't be fooled by the catchy chorus, this tune is dark and twisted. Bruno is telling a woman, who he portrays as a sadist, that he is willing to sacrifice his life for her in the most gruesome of ways. "I'd jump in front of a train for you." That's a pretty big commitment when it's said to somebody who doesn't love you back. He goes on to say, "I would go through all this pain. Take a bullet straight through my brain." Bruno is quite literally biting the bullet and taking obsession to a whole new level. If somebody confessed their love by sharing all the terrible ways they would die for me, I would get them committed to a psych ward and then run for my life in the opposite direction. This is much more than dark it's straight up psychotic. "Grenade" gives new meaning to killer love. (Audrey Lew)
"The Night The Lights Went Out In Georgia"
Reba McEntire
In terms of haunting country songs, Reba is a queen (y'all remember "Fancy"?). With the ominous energy of a dark and rainy night, "The Night The Lights Went Out In Georgia" tells the tale of a failed marriage, a dead friend, and a corrupt justice system. From verse to chorus to verse again, you'll find shock after shock. The death of our main character (an innocent man accused of murder) is thanks to a bumbling backwoods lawyer…and ultimately his little sister. After finding out about his wife's infidelity with his best friend Andy, our main character is framed for Andy's murder. It's assumed the notorious young wife skipped town, meanwhile, the MC's sister is the one who actually shot Andy's dead, and she got her sister-in-law too (not that the body will ever be found). The true culprit didn't matter too much when it came to the judge, who had also spent a little too much time with the wife, and sentenced the poor husband to death.
History is riddled with epic tales of love and jealousy, passion and murder, but "The Night The Lights Went Out In Georgia" is one that will haunt you—just like the best campfire tales. Told in the bard style only classic country can accomplish, the lyrics are enough to pull you into the courtroom, leave you standing beside the body of the murder victim, and flinch as a heavy injustice is bestowed upon the wrong person. There are only a few who can pull you in like Reba does on this cover of Vicki Lawrence's murder-mystery song, making "The Night The Lights Went Out In Georgia" a killer love song—in both the literal and figurative terms of the word. (Emillie Marvel)
"I Drove Her Outta My Mind"
Johnny Cash
When we were asked to assemble a slightly more spooky playlist based on love songs with a darker twist, my mind went immediately to Johnny Cash's "I Drove Her Outta My Mind". A folky tune that if you weren't paying close attention to the cleverly murderous lyrics you might think, a lost love is the inspiration. However, Cash paints a humorous murder suicide as he sings us through how he plans to drive his ex lover right off a cliff before she has the chance to break his heart. (Miguel Tenicela)
Tags:
33 West
,
Bruno Mars
,
Good Charlotte
,
Grenade
,
I Drove Her Outta My Mind
,
Johnny Cash
,
Last Kiss
,
My Bloody Valentine
,
Panic! At The Disco
,
parkway drive
,
Pearl Jam
,
Reba McEntire
,
Romance Is Dead
,
Roses
,
The Night The Lights Went Out In Georgia
,
There's A Good Reason These Tables Are Numbered Honey You Just Haven't Thought Of It Yet