Eddie Jason & Chris
By Eddie Barella | December 27, 2016 at 12:00 PM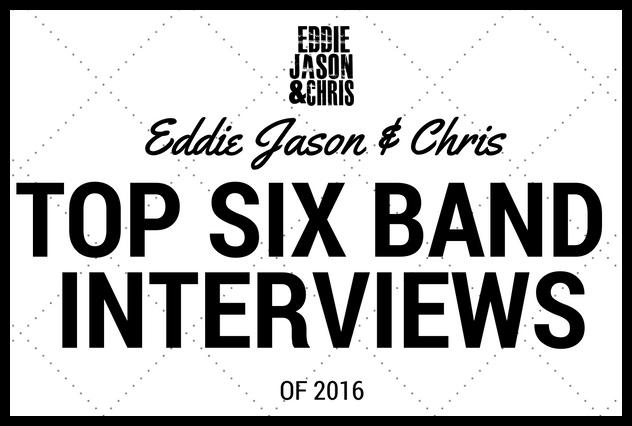 What a year for Eddie Jason & Chris band interviews! The guys talked to everyone from ska legends Reel Big Fish, to up-and-coming Warped Tour artist Mirror Eyes, and Thomas Ian Nicholas of American Pie about his fun project. Listen in as EJC countdown their favorite band interviews of 2016.
#6 Crobot
Brandon Yeagly of Crobot Skypes in to talk about all the awesome things going on with his band, Crobot. They're always on tour and this year they played with The Virginmarys, Sevendust, Killswitch Engange and Volbeat. Yeagley tells Eddie and Chris all about how his band decided to brand their own hot sauce, how they like to have "safety meetings" and more. This is a band to watch!
#5 Mirror Eyes
The talented Jess Coppens of Mirror Eyes joins the show to talk about how her band came together and how they got ready for a big performance on Warped Tour's Main Stage in Detroit. She also promises the idobi Radio audience that she'll do a banjo cover version of "Hold Your Breath", the Mirror Eyes song EJC spin after the interview.
#4 Reel Big Fish
Jonny Chrismas of Reel Big Fish is the first guest to grace the show with his infectious laugh as he and his band geared up for another stint on this summer's Vans Warped Tour. Listen as Christmas discusses what it's like to be on an indie versus major label, how he deals with being away on the road away from his family and what to look forward to at this year's Warped Tour.
#3 In The Wale
The guys welcome one of their favorite hometown acts, In The Whale! Nate Valdez (guitar/vocals) and Eric Riley (drums/vocals) join EJC as they're in route to their next tour stop. Celebrating their five year anniversary in 2016, the band has grown significantly over the past few years with performances at Riot Fest, Lollapalooza, Austin City Limits and over 400 shows with the likes of Jane's Addiction, the Toadies, Electric 6 and many more. Listen in as the guys chat about their tour schedule, the Denver Broncos, and the band's new EP, Quicksand (order here).
#2 Thomas Ian Nicholas
Then, the guys are very happy to welcome Thomas Ian Nicholas. You know him from hit movies like Rookie of the Year, the American Pie series and tons more. But he's also an accomplished musician and plays in his own band, Thomas Nicholas Band. The group plays original songs and favorite covers from the American Pie soundtrack. The interview goes in all directions, from what it took to get Nicholas' music on the American Pie soundtrack, the Pledge Music campaign for the new record Frat Party (here), upcoming projects and tons more.
#1 The Fame Riot
The very talented (and sexy) The Fame Riot joined EJC for one of the most fun interviews of the year. The rising Tacoma, Washington act is fronted by two over the top, fabulous brothers, Liz Scarlett and Shazam "Tea Time" Watkins. The interview dives into everything from the band's recent record deal to growing up writing and playing music and even spankings.