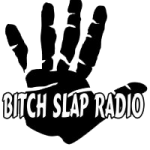 The hello Bitch Slap Fans, The wait for the weekend is almost over, and what better to kick it off right with Bitch Slap Radios DONT GIVE A F*CK THURSDAY!
On the show tonight, We talk warped tour… Thats right Bitch Slap Radio has some surprises up there sleeve for this years warped tour, it might be a live show it might not be who knows.. we do 😉
Then on the show, how to piss off people in a public place, trust us this a game you must play when your sitting down at a family restaurant!
Then on the show tonight, in Bitch Had it coming we talk about a stupid guy trying to hold up an ice cream store!
Last Bitch Slap Radio brings back a classic segment in honor of Johns tuesday Rant! Real Men of Genius
We go live at 10:30 p.m. Est time make sure to tune in, live on  BitchSlapRadio.net or  idobiRadio.com
AIM:  Bslapradio
Skype:  LoonaticTV
Twitter:  @BitchSlapRadio
Call In Line:  888-99-IDOBI  (43624)