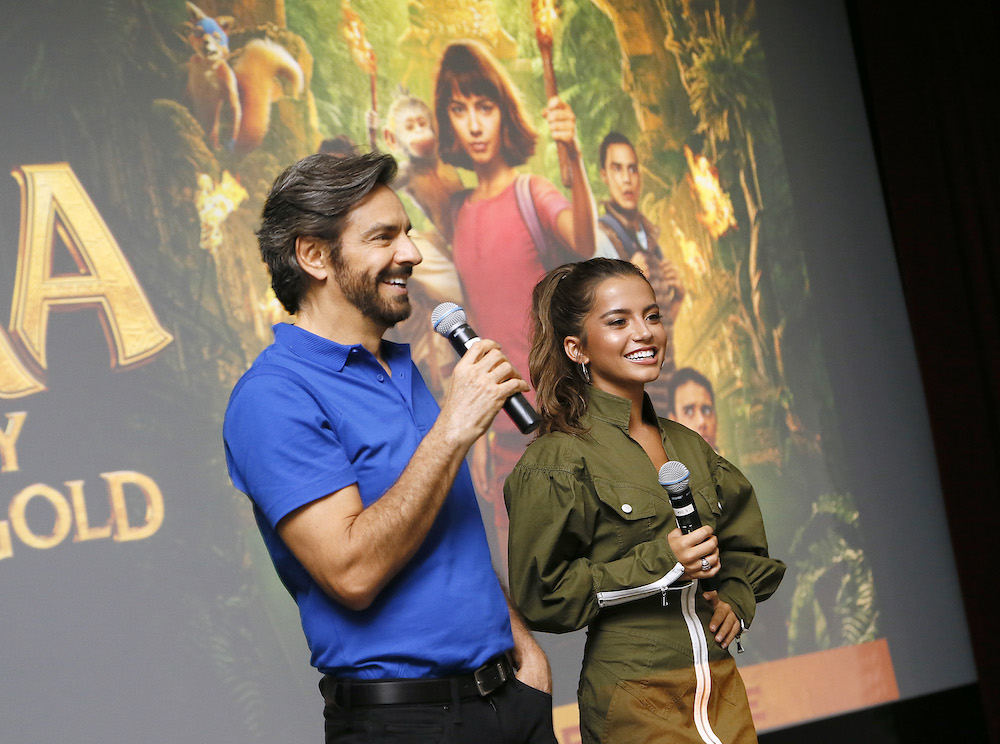 Isabela Moner and Eugenio Derbez visited the Smithsonian National Zoo on Sunday, July 21, for a very special screening of Dora And The Lost City Of Gold. A lucky group of diverse families from the Washington, D.C. metro area were treated to a Q&A with the stars of the upcoming live-action Nickelodeon movie, which lands in theaters on August 9. The cozy theater at the zoo's visitors center was brimming with excited children who couldn't wait to get a first look at their favorite explorer. Moner and Derbez took the stage, greeting the delighted group with "Hello!" and "Hola!". They were received in kind with audience members responding in both English and Spanish. Isabela was sweet to young attendees, answering what it was like to work with a real monkey (she didn't, Boots is added in post-production with CGI) and how she achieved Dora's hairstyle for the movie.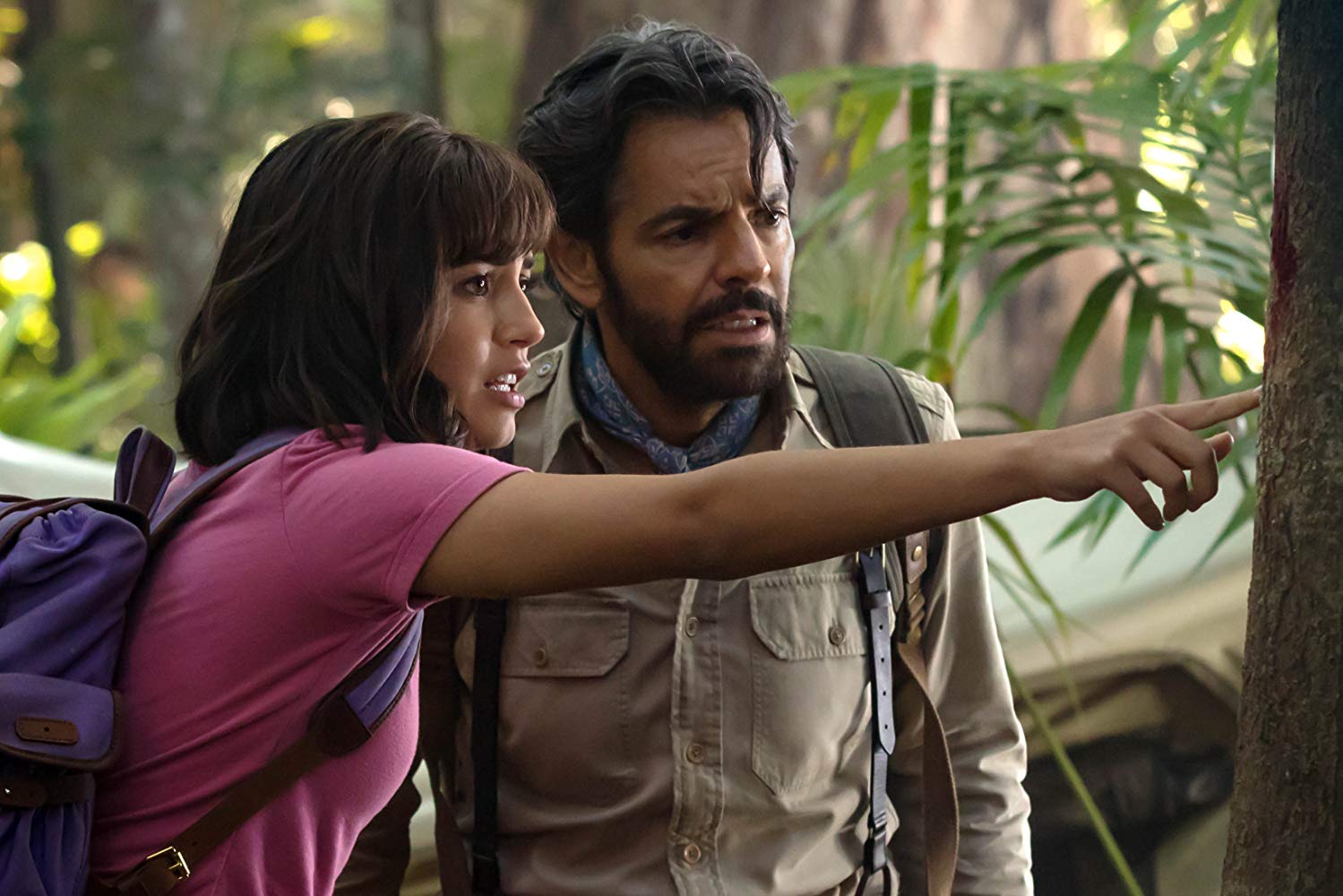 The event shone brightly against the backdrop of the reality of America today when Eugenio asked if there were any Peruanos (Peruvians) in the audience. He followed by asking if there were any Mexicans or Latinos in attendance, to honored applause. Then he asked if there were any Dora fans and everyone present could clap for that. You don't have to be Latinx to love learning, adventuring through the jungle, and to celebrate Latinx culture. At the screening, we were all Dora fans, many in attendance were Latinx but the event wasn't any less fun for those of us who weren't.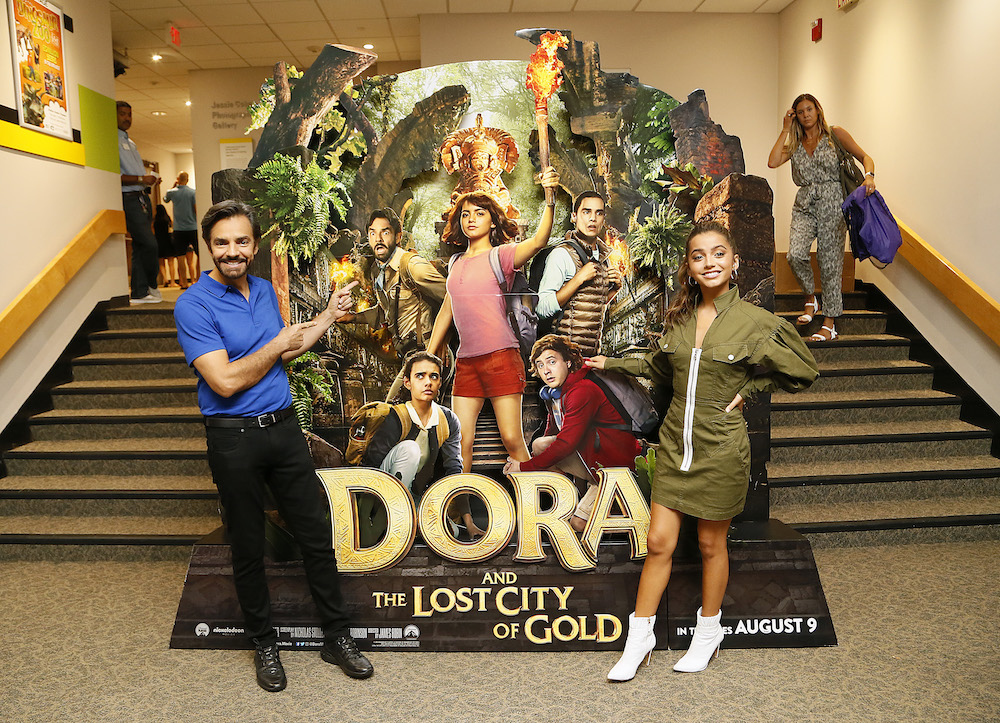 If we choose to let it, entertainment can be incredibly unifying. Dora the Explorer, which first aired on Nick Jr. in 2010, is an adventure cartoon that teaches Spanish and executive functioning skills. Dora, both the cartoon and the new movie, celebrates Latinx culture while being fully American at the same time. Like Dora, we can teach each other and be proud of who we are, as well as learn from one another and celebrate our differences. Dora and The Lost City Of Gold is a major motion picture comprised of a mainly Latinx cast and it's a family adventure-comedy movie. One of the many privileges of being American is that we can honor our individual backgrounds within our American identities. And that's a good time for all our families.
Dora and the Lost City of Gold
swings into theaters on August 9!