This week: Patriot Act with Hasan Minhaj, The Deuce, Four Weddings and a Funeral, Why Women Kill, Unbelievable, The Chef Show, Titans, Tall Girl, Pennyworth, Preacher
Patriot Act with Hasan Minhaj
"The Broken Policing System" – Vol 4 finale
New episodes Sunday
On Netflix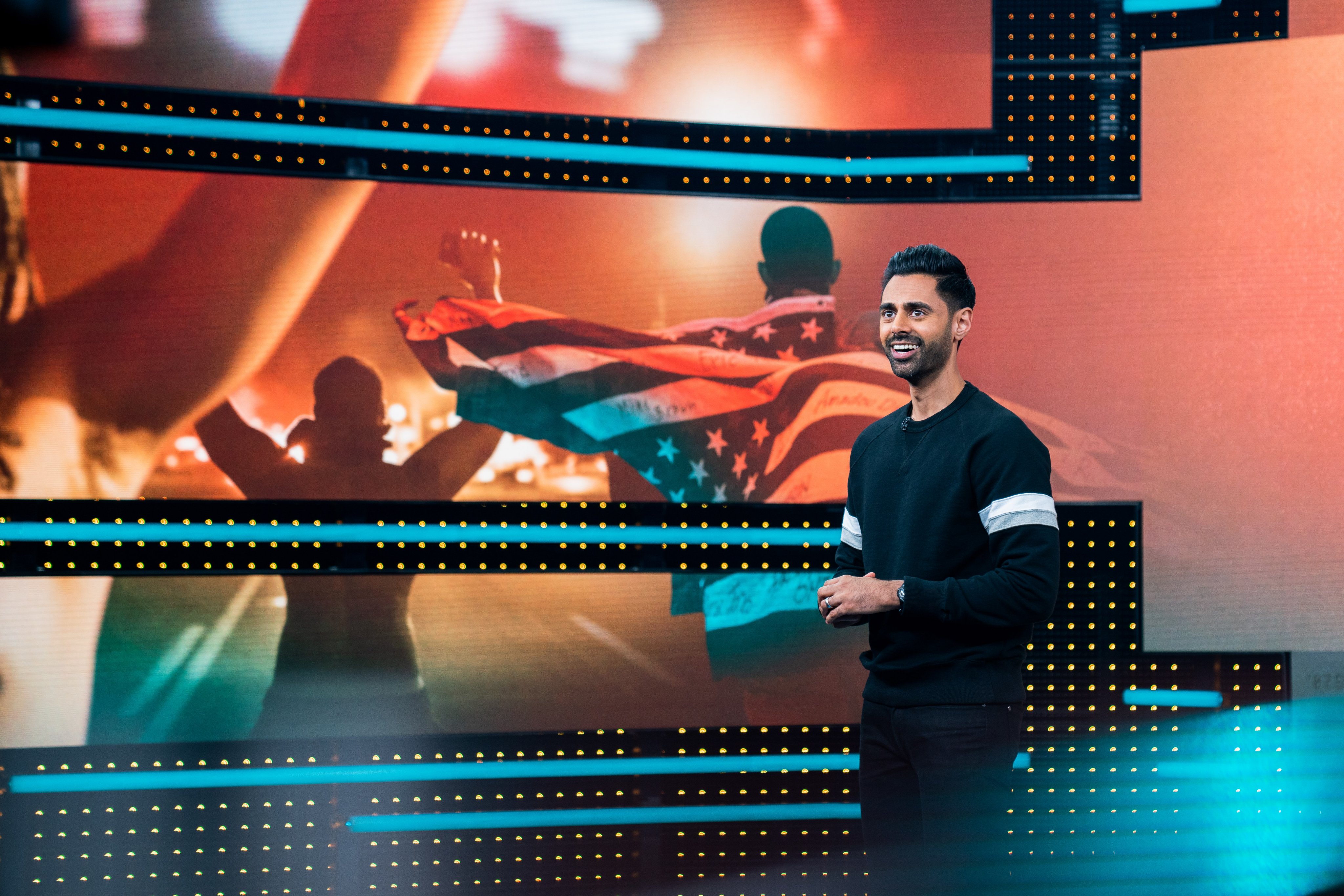 Volume 4 of Patriot Act is coming to an end but Hasan Minhaj is leaving you with a lot to think about. It's the fifth anniversary of three of the US's most infamous killings at the hands of the police: Michael Brown, Laquan McDonald, and Eric Garner. These names are likely to bring back feelings of hurt, anger, and injustice, and Minhaj is making sure you say their names once more. He breaks down the system that keeps police officers protected which leads some of them to believe they're above the law (and, it turns out, they kinda actually are). The topic of police brutality is intense but Minhaj takes a different approach, looking at the legal side instead. This episode will give you extra fuel to protest this broken system.
Stream new episodes of
Patriot Act with Hasan Minhaj every Sunday.
From Netflix:
Five years after three high-profile killings by police, Hasan looks at the culture and systems in place that help officers avoid accountability.
—
The Deuce
"The Camera Loves You" – Season 3 premiere
Mon Sept 9 – 9PM
On HBO
The Deuce returns to HBO on Monday night.
From HBO:
On the eve of 1985, a worn-out Vincent reconnects with his ex-wife, Andrea, as his open relationship with Abby grows more distant. Despite becoming a family man, Frankie continues his risky side hustles. With the newly dominant VHS format shaking up their industry, Candy and Harvey travel to Las Vegas for an adult film convention where they disagree on how to navigate a fast-changing future. Fresh out of rehab, Lori is put back to work. Alston makes a very specific request of Goldman in their quest to revitalize Midtown. Now a bartender at the Hi-Hat, Loretta becomes an active member of Women Against Pornography.
—
Four Weddings and a Funeral
"New Jersey" – Series finale
Wed Sept 11
On Hulu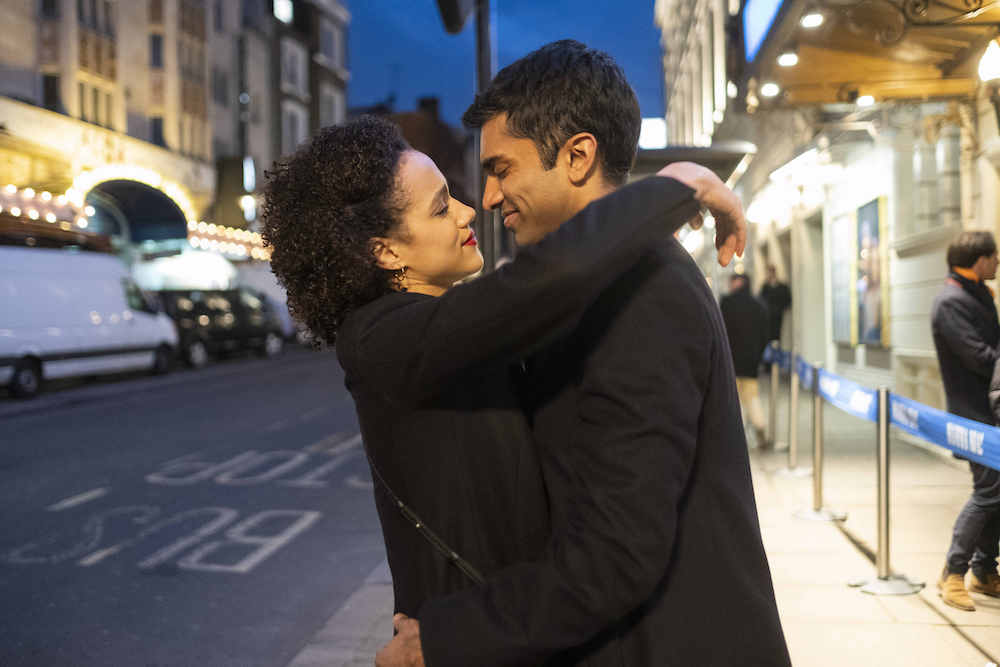 Fast-forward a year and it's time for another wedding! Ainsley (Rebecca Rittenhouse) and Bryce (Dermot Mulroney) are tying the knot…if Ainsley can decide on a wedding theme (or decide if she's truly over Kash). Tony (Nathan Stewart-Jarrett) has his own important event to share with Andrew (Alex Jennings). Duffy (John Reynolds) and Gemma (Zoe Boyle) are dancing around taking the next step in their relationship. Craig (Brandon Mychal Smith) and Zara (Sophia La Porta) have their new baby! And none of them—nope, not one of them—are talking to Maya (Nathalie Emmanuel) after she betrayed Ainsley by dating Kash (Nikesh Patel). To escape their judgement, Maya has moved back to New York to run for office. Kash is focusing on his acting career which is going really well. "But they belong together!" we hear you cry. Well, fate (and the laws of rom-coms) are about to unite everyone once more—in ways that will surprise you. Four Weddings and a Funeral's finale is going to make you smile and tear up and giggle (often in the same scene). It'll also remind you that true love can exist between friends and lovers and family will always be important, no matter how you found each other.
Stream Four Weddings and a Funeral on Hulu on Wednesday.
From Hulu:
A year after Maya and Ainsley's blowup, the fractured friend group hopes that a wedding may be the perfect occasion for a reunion.
—
Why Women Kill
Season 1, Episode 6
Thurs Sept 12
On CBS All Access
Watch Why Women Kill on CBS All Access on Thursday.
From CBS All Access:
Why Women Kill details the lives of three women living in three different decades: a housewife in the '60s, a socialite in the '80s, and a lawyer in 2019, each dealing with infidelity in their marriages. The series will examine how the roles of women have changed, but how their reaction to betrayal… has not.
—
Unbelievable
Season 1
Fri Sept 13
On Netflix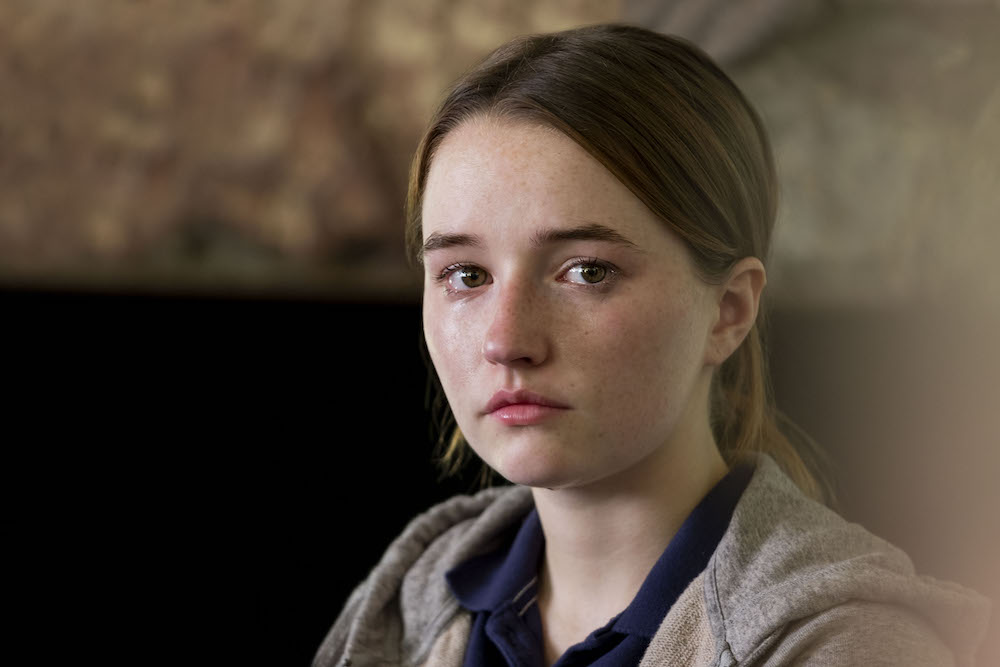 Unbelievable tells the story of a group of women, connected by a terrible event in their respective lives. They've all been assaulted by someone who is always one step ahead of the police. The attacker leaves no DNA or evidence behind and no one connects these cases for years. We start with the first survivor, Marie (Kaitlyn Dever). She's forced to relive her trauma when she's questioned again and again by the police, by her foster parents, by her friends. Kaitlyn Dever will make you feel every gut-punch and you'll understand why Marie reacts the way she does. Fast-forward two years and we meet detectives Karen Duvall (Merritt Wever) and Grace Rasmussen (Toni Collette). They are the hope that fuels Unbelievable. Wever and Collette are so fierce and unwaveringly kind even in the hardest moments that you'll root for them immediately. With these two incredibly strong and relentless women putting it all together, Unbelievable stops at nothing to find a monster (and that monster may just be the system itself).
Unbelievable comes to Netflix on Friday.
From Netflix:
When teenager Marie Adler (Kaitlyn Dever) files a police report claiming she's been sexually assaulted by an intruder in her home, the investigating detectives, as well as the people closest to her, come to doubt the truth of her story. Meanwhile, hundreds of miles away, detectives Grace Rasmussen and Karen Duvall (Emmy winners Toni Collette and Merritt Wever) meet while investigating an eerily similar pair of intruder rapes and partner to catch a potential serial rapist.
Inspired by the real events in The Marshall Project and ProPublica Pulitzer Prize-winning article, "An Unbelievable Story of Rape," written by T. Christian Miller and Ken Armstrong, and the This American Life radio episode, "Anatomy of Doubt", with episodes directed by Oscar nominees Susannah Grant and Lisa Cholodenko and Emmy winner Michael Dinner, Unbelievable is a story of unspeakable trauma, unwavering tenacity, and astounding resilience.
—
The Chef Show
Volume 2
Fri Sept 13
On Netflix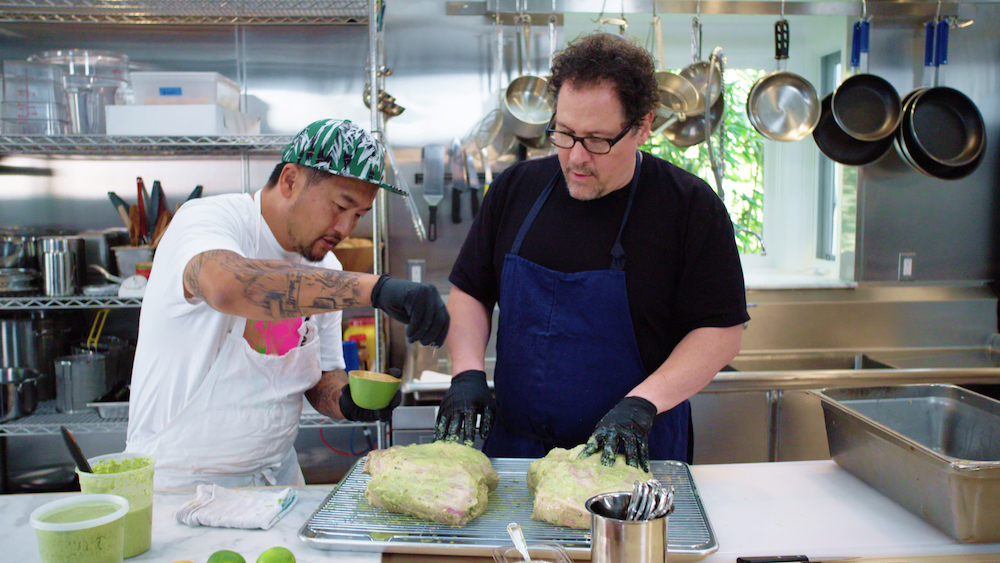 Stock up on snacks and prepare to take notes because The Chef Show is back! Jon Favreau is teaming up with chef Roy Choi once again to travel across the country in search of the most inspiring flavors. There's less of a focus on celebrity guests this season—although the ones that do appear bring some incredible stories (we could listen to Seth Rogen tell stories all day). These become the garnish on the rich history of the dishes Favreau and Choi discover. Let's watch the pair fall in love with food all over again.
The Chef Show is back on Netflix on Friday.
From Netflix:
Cooking is a journey. And making a meal is about more than just food. It's about appreciating friends, family and tradition. An opportunity to come together. To learn, to share and to celebrate different flavors, cultures and people. In The Chef Show actor/director Jon Favreau and award-winning Chef Roy Choi reunite after their critically acclaimed film Chef to embark on a new adventure. The two friends experiment with their favorite recipes and techniques, baking, cooking, exploring and collaborating with some of the biggest names in the entertainment and culinary world.
—
Titans
"Rose" – Season 2, Episode 2
Fri Sept 13
On DC Universe
Titans streams on DC Universe on Friday.
From DC Universe:
The season two premiere episode follows directly after the apocalyptic events of last season's finale. With Rachel's father, Trigon (guest star SEAMUS DEVER) having successfully turned Dick dark, he sets out to win the others over to his side by embracing their inner darkness. With everyone under Trigon's control, Rachel and Gar find themselves fighting what seems like a hopeless battle against the powers of Trigon.
—
Tall Girl
Fri Sept 13
On Netflix
Watch Tall Girl on Netflix on Friday.
From Netflix:
Jodi (Ava Michelle) has always been the tallest girl in school — and she's always been uncomfortable with it. After slouching her way through life for 16 years and being made fun of by classmates, Jodi meets Stig (Luke Eisner), a seemingly perfect Swedish foreign exchange student who's even taller than she is. Jodi's new crush turns her world upside down and throws her into a surprising love triangle, but with the help of her two best friends (Griffin Gluck, Anjelika Washington) as well as her beauty queen sister Harper (Sabrina Carpenter), Jodi comes to realize that she's far more than her insecurities about her appearance have led her to believe. TALL GIRL, director Nzingha Stewart's first feature film, is a heartfelt and hilarious coming-of-age story about finding the confidence to stop slouching and stand tall.
—
Pennyworth
"Sandie Shaw" – Season 1, Episode 8
Sun Sept 8
On Epix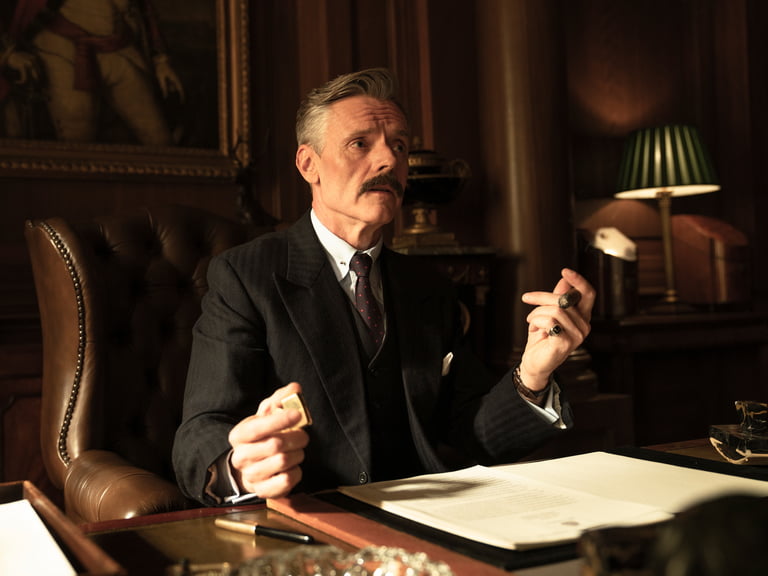 Alfie (Jack Bannon) is being questioned over the killing of John Curzon (Charlie Woodward) but he ain't a snitch. He's not about to give up his team and that means he's facing seven years in prison. While he's locked up, the country is crumbling around him. The Prime Minister (Richard Clothier) has lost the confidence of the people and he opens up the next general election to any and all parties, legal and illegal, meaning The Raven Society and The No Name League both have a chance at stealing power. As the UK spirals into madness you'll feel a twinge of reality over the show's value of playing political games over human lives. It'll make you root even harder for Alfie & co. to save the country from falling into darkness.
Stream Pennyworth every Sunday on Epix.
From Epix:
While Lord Harwood returns to take control of the Raven Society, Alfred, Dave Boy and Bazza form an unlikely alliance with the Sykes Sisters.
—
Preacher
"Fear of the Lord" – Season 4, Episode 8
Sun Sept 15 – 10PM
On AMC
Preacher airs on AMC on Sunday.
From AMC:
Tulip and Cass struggle to keep Humperdoo hidden from the Grail, while Jesse remains MIA.