This week: Falling Inn Love, Patriot Act with Hasan Minhaj, Four Weddings and a Funeral, Wu Tang: An American Saga, Why Women Kill, Titans, The Spy, Pennyworth, Preacher
Falling Inn Love
Now streaming
On Netflix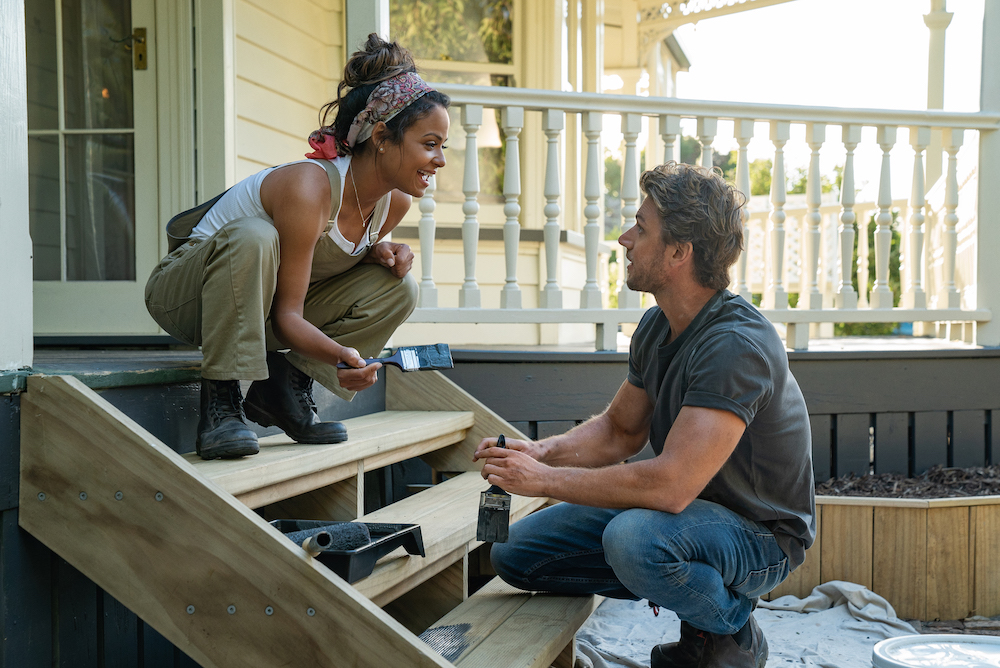 No, the title doesn't have a typo. Falling Inn Love follows Gabriela (Christina Milian) who runs into some trouble at her high-powered job in San Francisco…and she realizes her boyfriend isn't ready to commit…AND, in the same moment, she wins an inn in New Zealand via a competition she entered on a wine-fueled whim. That's a whole lot, right? Gabriela naturally jumps at the opportunity to renovate an inn in a faraway country. When she arrives in the small town, where everyone knows everyone, the townsfolk all take an interest in her…especially the local hot-guy bachelor Jake (Adam Demos). Falling Inn Love has taken in every single rom-com trope and renovated it to produce a cheesy but ultimately cute movie. You won't be surprised and at times you'll even hide your face at how on-the-nose it is. But if you want a rom-com that's safe and fun, give this a try.
Watch Falling Inn Love on Netflix on Thursday.
From Netflix:
Gabriela Diaz's (Christina Milian) San Francisco design firm folds the week of her break-up. Inspired by a potent concoction of wine and Wi-Fi, she successfully enters a contest to "Win an Inn" overlooking New Zealand's countryside. Thousands of airline miles later, she discovers The Bellbird Valley Farm boasts a crumbling facade, floorboard-treading goat, and meddling neighbor who covets the space. Eager to renovate and sell the property fast, she partners with Jake Taylor (Adam Demos), the Kiwi contractor and volunteer firefighter observing much of her city-girl culture shock. Once the final fixtures are hung, she's hesitant to leave him, the inn, and the inviting community that nurtured her creative side.
—
Patriot Act with Hasan Minhaj
"The Two Sides of Canada" – Vol 4, Episode 5
New episodes Sunday
On Netflix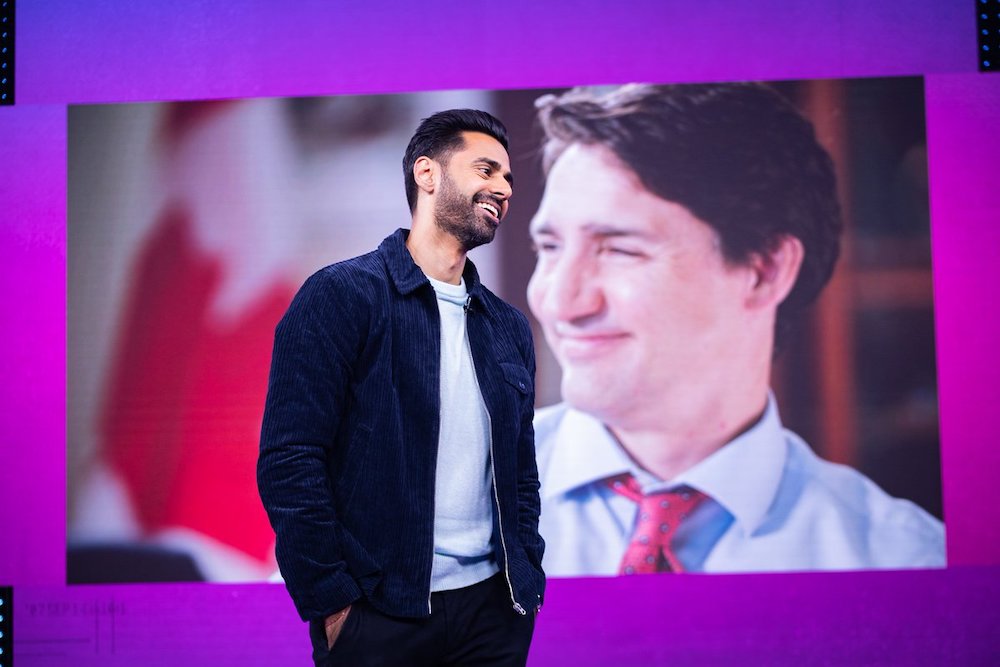 The Canadian federal elections are coming up which means we get to talk about the world's favourite politician: Justin Trudeau. He's the poster boy for progressive politics, lifting the economy, focusing on tackling climate change, and welcoming refugees. But he's not without fault and Hasan Minhaj takes a look at the prime minister's tenure. Minhaj breaks down the two sides of Canada, including Quebec's recent laws against freedom of religious expression. Hasan sits down with Trudeau to talk about some of his more hypocritical policies. Watching the two engage in political conversation will give you newfound respect for how smart they both are at arguing their points—whether you agree with them or not—and will make you wish more politicians had the brains they both do. As Minhaj points out: Make sure you keep your eye on what's happening in Canadian politics because it may just shatter your perceptions of the seemingly-progressive country.
Stream new episodes of
Patriot Act with Hasan Minhaj every Sunday.
From Netflix:
In advance of Canada's election, Hasan talks with Justin Trudeau and scrutinizes the prime minister's reputation as the champion of progressive policies. 
—
Four Weddings and a Funeral
"Four Friends and a Secret" – Season 1, Episode 9
Wed Sept 4
On Hulu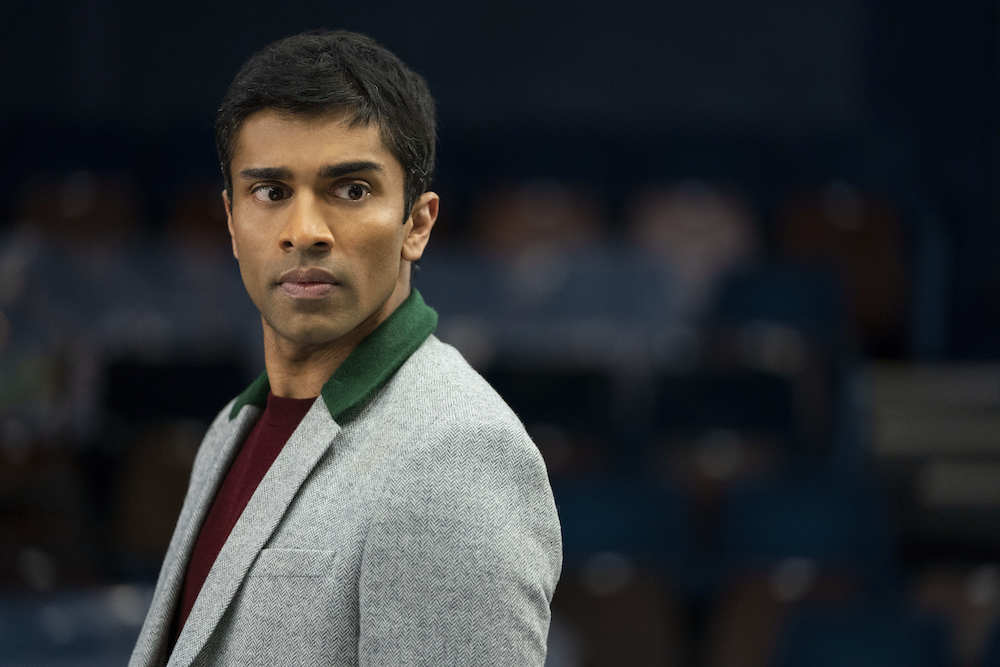 Craig (Brandon Mychal Smith) is struggling with the knowledge that Maya (Nathalie Emmanuel) is dating Kash (Nikesh Patel) behind Ainsley's back. And, for once, Zara (Sophia La Porta) offers some words of wisdom…in her own way, of course. She actually makes the most sense in this episode (and, dare we say it, possibly the whole series) and she also proves just how much she loves Craig. Maya tries her best to tell Ainsley the truth but things get in the way. Ainsley (Rebecca Rittenhouse) just had her heart stomped on by Bryce (Dermot Mulroney) and her attempts to win him back go ridiculously wrong (what did you expect from this show?). Meanwhile Gemma (Zoe Boyle) doesn't know how to deal with her feelings about Duffy (John Reynolds) going on a Bumble date. We love her repressed British way of tackling those pesky emotions! And Andrew (Alex Jennings) makes a decision in favor of love which makes waves in the political world and in their friendship circle. The truth can never stay hidden for long and it's time for our characters to act upon it, no matter the fallout.
Stream Four Weddings and a Funeral on Hulu on Wednesday.
From Hulu:
Maya struggles to tell Ainsley about Kash. Fearing their relationship may be getting too friendly, Gemma fires Duffy. Zara finds a way for Craig to reconnect with his daughter. Andrew has a surprising change of heart.
—
Wu Tang: An American Saga
Series premiere
Wed Sept 4
On Hulu
Wu Tang: An American Saga comes to Hulu on Wednesday.
From Hulu:
Wu-Tang: An American Saga is inspired by "The Wu-Tang Manual" and "Tao of Wu", and based on the true story of Wu-Tang. Set in the early '90s New York, at the height of the crack cocaine epidemic, the show tracks Wu Tang's formation, a vision of Bobby Diggs aka The RZA, who strives to unite a dozen young, black men that are torn between music and crime but eventually rise to become the unlikeliest of American success stories.
—
Why Women Kill
Season 1, Episode 4
Thurs Sept 5
On CBS All Access
Watch Why Women Kill on CBS All Access on Thursday.
From CBS All Access:
Why Women Kill details the lives of three women living in three different decades: a housewife in the '60s, a socialite in the '80s, and a lawyer in 2019, each dealing with infidelity in their marriages. The series will examine how the roles of women have changed, but how their reaction to betrayal… has not.
—
Titans
Season 2 premiere
Fri Sept 6
On DC Universe
Titans S2 premieres on DC Universe on Friday.
From DC Universe:
The season two premiere episode follows directly after the apocalyptic events of last season's finale.  With Rachel's father, Trigon (guest star SEAMUS DEVER) having successfully turned Dick dark, he sets out to win the others over to his side by embracing their inner darkness.  With everyone under Trigon's control, Rachel and Gar find themselves fighting what seems like a hopeless battle against the powers of Trigon.
—
The Spy
Season 1
Fri Sept 6
On Netflix
Stream The Spy on Netflix on Friday.
From Netflix:
THE SPY is inspired by the real-life story of former Mossad agent, Eli Cohen, who successfully goes undercover in Syria in the early 1960s. Cohen becomes close enough to ambitious military leaders and their rich friends to earn a game-changing level of trust about Syria's biggest anti-Israel secret initiatives.
—
Pennyworth
"Sandie Shaw" – Season 1, Episode 8
Sun Sept 8
On Epix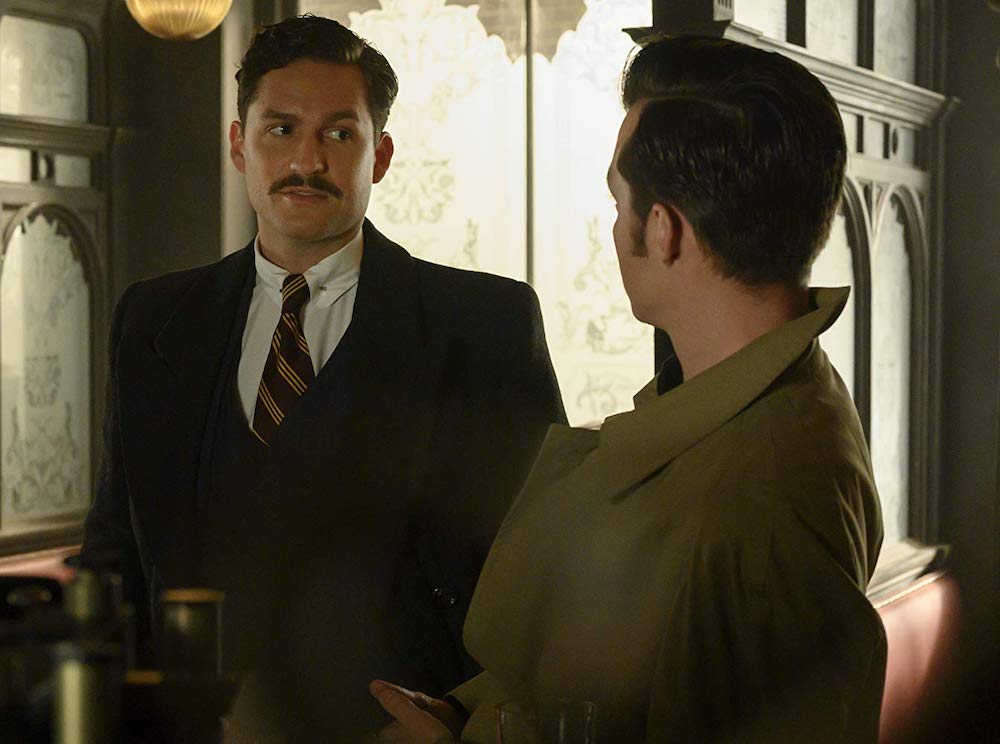 Alfie (Jack Bannon) has a new partner this week and she may be the most badass yet. Bet (Paloma Faith) teams up with him to seek revenge on Esmé's killer. Honestly, while the Raven Society are pretty menacing, Bet Sykes may be the most fearsome player in this show and we're totally here for it. You'll be cheering for her…until one of Pennyworth's most dangerous villains makes his return and stops you in your tracks. How will Alfred and his team fight back against this dark surge of power?
It ain't gonna be pretty and their reactions may make them more enemies than
they realize.
Stream Pennyworth every Sunday on Epix.
From Epix:
While Lord Harwood returns to take control of the Raven Society, Alfred, Dave Boy and Bazza form an unlikely alliance with the Sykes Sisters.
—
Preacher
"Messiahs" – Season 4, Episode 7
Sun Sept 8 – 10PM
On AMC
Preacher airs on AMC on Sunday.
From AMC:
Tulip and Cass tear after God; an old friend presents Jesse with a unique opportunity.