This week: 70th Primetime Emmy Awards, Mayans M.C., I Feel Bad, Nappily Ever After, The Good Cop, Maniac, Wynonna Earp,
Killjoys, 9-1-1
70th Primetime Emmy Awards
Mon Sept 17 – 8PM
On NBC
It's time to raise a glass to your favorite shows. With Game of Thrones, Westworld, Saturday Night Live, and The Handmaid's Tale leading the nominations, The Emmys is bringing all the biggest drama to your screen with a pinch of sparkle and a whole lot of glamor.
Tune into the 70th Primetime Emmy Awards tonight on NBC.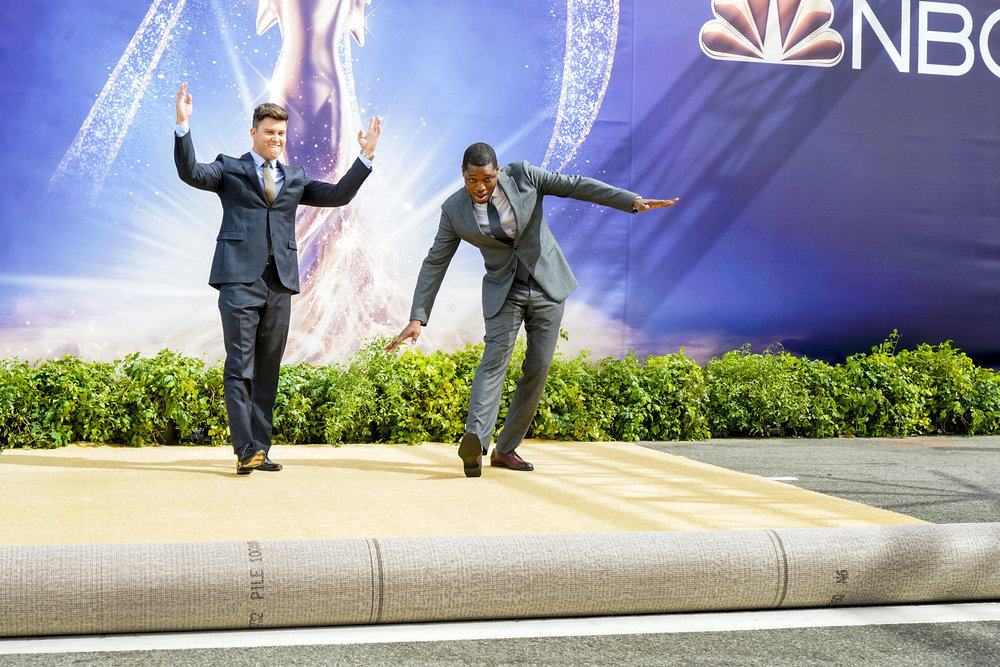 Photo by: Paul Drinkwater/NBC
From NBC:
The 70th Emmy Awards will telecast live from the Microsoft Theater in Los Angeles on Monday, September 17, (8:00 – 11:00 PM ET/5:00 – 8:00 PM PT) on NBC. Saturday Night Live's Colin Jost and Michael Che will serve as co-hosts. The 70th Emmy Awards will be executive produced by Lorne Michaels (Saturday Night Live; The Tonight Show Starring Jimmy Fallon).
—
Mayans M.C.
"Buho/Muwan" – Season 1, Episode 3
Tues Sept 18 – 10PM
On FX
Get into Mayans M.C. every Tuesday on FX.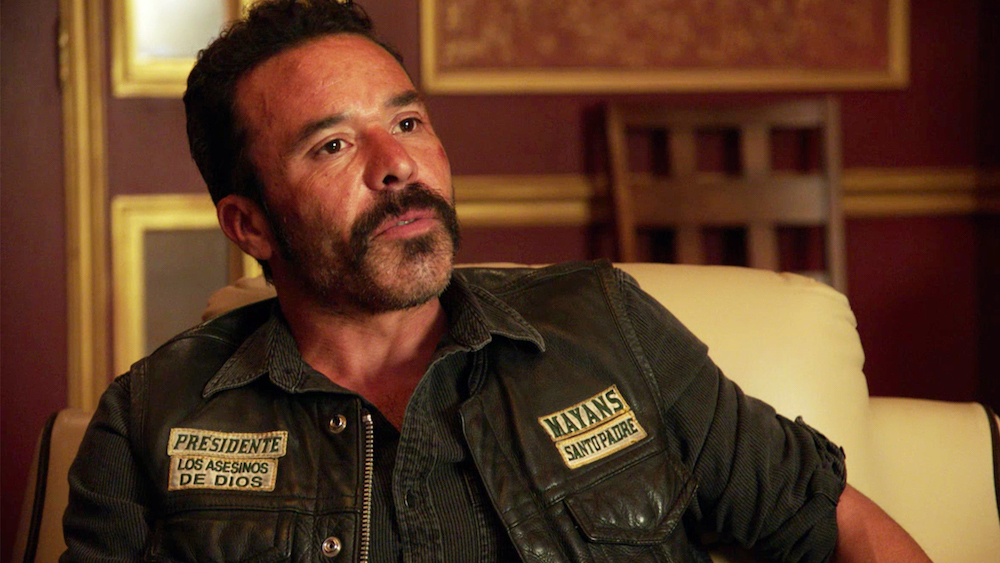 Photo: FX
From FX:
The M.C. alliances are tested and the Galindo family adopts unconventional methods.
—
I Feel Bad
"Pilot" / "I Get Sick of Being Needed" – Series premiere
Wed Sept 19 – 10PM
On NBC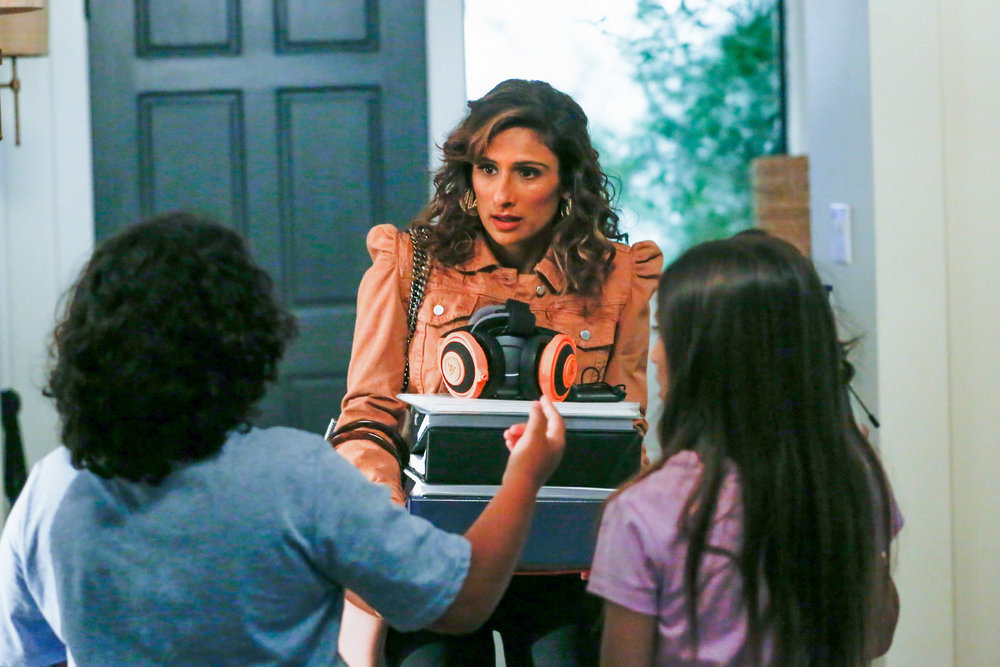 Photo by: Vivian Zink/NBC
**idobi rated: ❤️**
There's always a moment in each day when you feel bad about something. I Feel Bad taps into those moments when you realize you've messed up or someone else is messing with your head: Like utilizing your coworkers to meddle in your kids' lives; or when your dad mistakes you for your mom and smacks your bottom. Eek! Or when you get caught breaking and entering or forging documents. Been there…right? NBC's new show follows the life of Emet (Sarayu Blue), a loving mother, wife, and video game designer, who juggles her responsibilities with all the grace she can muster, even when being pushed to her limits…especially when her parents move in. Played by Brian George and Madhur Jaffrey, Emet's folks will make you cackle and sigh at how annoyingly-wonderfully real they are. And Emet's kids don't have any problems with self-expression even when they're totally un-self aware. Don't even get us started on how this show portrays being a woman in the workplace (because we can't stop giggling at the razor-sharp truth of it). But Emet is also Indian-American and the show nails all the little details, like getting sweets stuffed into your mouth when you perform well. Ladoo, anyone? Gosh darnit, I Feel Bad nails every interaction with hilarious accuracy 'til you don't know whether to laugh, cringe, or applaud—most likely all three. Bravo, I Feel Bad, bravo.
Watch the double series premiere of I Feel Bad this Wednesday on NBC.
From NBC:
When Emet starts to worry that her biggest fear is coming true, she makes a concerted effort to be the opposite of her judgmental mother, Maya. Her limits are tested when her daughter, Lily, joins a provocative dance team.
When Emet's parents temporarily move in, she becomes overwhelmed and finds a sneaky way to get a much-needed break.
—
Nappily Ever After
Fri Sept 21
On Netflix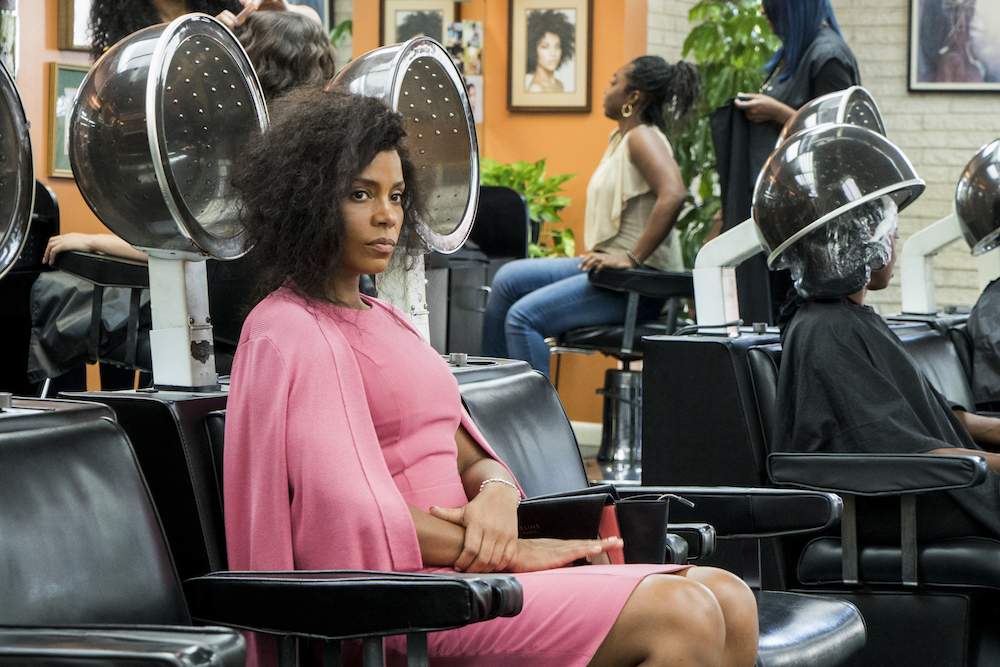 Photo: 

Tina Rowden / Netflix
For many of us, hair is an important part of our image, for black women your coif is a crown, and for Violet Jones (Sanaa Lathan) her hair is everything. It's been a symbol of who she is since she was a young girl too afraid to go into the pool—she couldn't get her bone straight tresses wet, y'all, that was a no-no. But after a series of extremely bad hair [read: life] days, Violet starts to unravel. Nappily Ever After is not only a tale of shaking loose from the impact that European standards of beauty have had on the identities of black women in America, it's also a journey of self-empowerment and reclaiming yourself. The streaming movie is as much about letting go as it is about finding the truth about you and living it out loud. Throw in some unexpected romance with two lovelies (Ricky Whittle, Lyriq Bent) and the powerful pull of sisterhood (Brittany S. Hall, Camille Guaty) and Nappily Ever After is the falling-in-love-with-yourself romance you need in your life.
Nappily Ever After debuts on Netflix this Friday.
From Netflix:
In Nappily Ever After, Violet Jones (Sanaa Lathan) has a seemingly perfect life — a high-powered job, an eligible doctor boyfriend and a meticulously maintained, flawless coiffure. But after a life-changing event doesn't go according to her plan, and a hair-raising incident at the hairdresser, her life begins to unravel. Eventually, Violet realizes that she was living the life she thought she was supposed to live, not the one she really wanted.
—
The Good Cop
Season 1 premiere
Fri Sept 21
On Netflix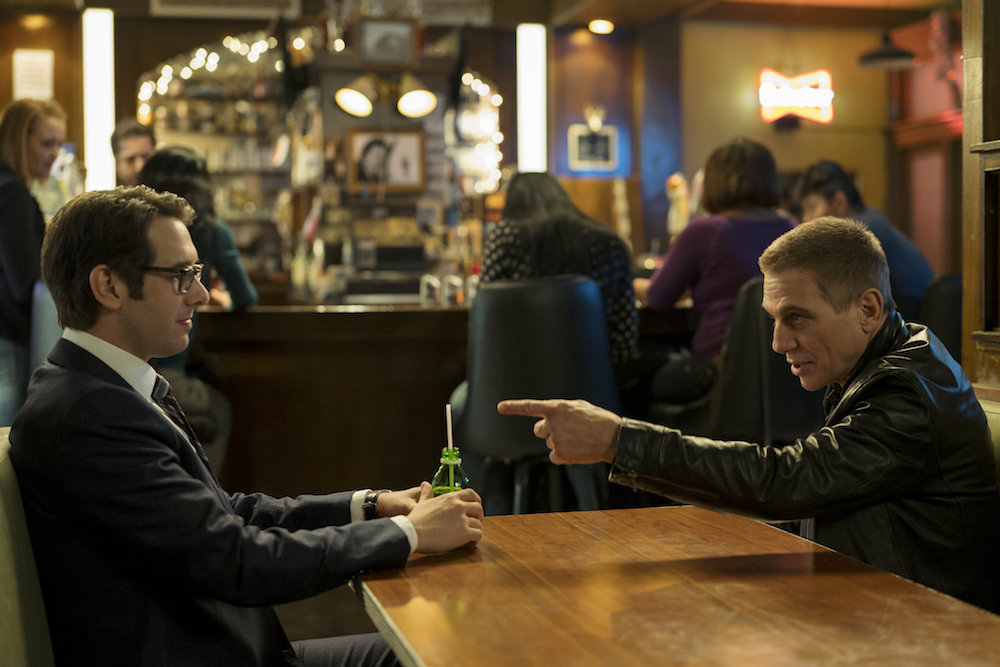 Photo: 

Michele K Short/Netflix
They say you either end up exactly like your parents…or the complete opposite. The Good Cop is a surprisingly charming headbutt between a brand new odd couple. Tony Danza plays Big Tony, an ex-cop with a criminal record, who's forced to move in with his son and fellow cop, TJ (Josh Groban). TJ follows the rules to the letter and probably measures them to make sure they're regulation height. The dude even keeps a swear jar in the squad room. Big Tony's dodgy experiences and TJ's sharp mind for evidence makes them a duo that's hard to beat—and the bad guys are learning that from the wrong side of the bulletproof glass. This series is a throwback to classic cop shows like the original Law & Order, NYPD Blue, and Barney Miller with a 2018 spin. And damn is it funny. Some of the jokes will have you chuckling and slapping your couch mate. The two Tonys are two ends of the moral spectrum and therefore primed to drive each other insane. Especially when broken traffic lights are involved (we're team Dad on this one). When they team up to solve cases they fuse into one fantastic cop (and they look pretty good in their boxer shorts too). It's good to have Danza back as the rough, ready, and randy "bad cop" dad with toughness and comedic levity. Groban comes through as the frustrating yet unexpectedly endearing "good cop" son (or "Nancy Drew"…or "choir boy" depending on who's making fun of him at the time). Together the Tonys are a refreshing take on the usual buddy cop formula because, when family's involved, nothing's ever simple. This is a fun one.
Stream the series premiere of The Good Cop on Netflix from Friday.
From Netflix:
In The Good Cop, Tony Danza plays Big Tony, a lovable yet not exactly honorable, former NYPD officer who never followed the rules. He lives with his son, TJ, Josh Groban, a brilliant, straight-laced NYPD detective who makes a point of always following the rules while solving Brooklyn's toughest cases. This "odd couple" become unofficial partners as Tony Sr. offers his overly-cautious son blunt, street-wise advice. Also joining the cast are Monica Barbaro, Isiah Whitlock, Jr and Bill Kottkamp.
—
Maniac
Fri Sept 21
On Netflix
Watch Maniac on Netflix from Friday.
From Netflix:
Set in a world somewhat like our world, in a time quite similar to our time, Maniac tells the stories of Annie Landsberg (Emma Stone) and Owen Milgrim (Jonah Hill), two strangers drawn to the late stages of a mysterious pharmaceutical trial, each for their own reasons. Annie's disaffected and aimless, fixated on broken relationships with her mother and her sister; Owen, the fifth son of wealthy New York industrialists, has struggled his whole life with a disputed diagnosis of schizophrenia. Neither of their lives have turned out quite right, and the promise of a new, radical kind of pharmaceutical treatment—a sequence of pills its inventor, Dr. James K. Mantleray (Justin Theroux), claims can repair anything about the mind, be it mental illness or heartbreak—draws them and ten other strangers to the facilities of Neberdine Pharmaceutical and Biotech for a three-day drug trial that will, they're assured, with no complications or side-effects whatsoever, solve all of their problems, permanently.
Things do not go as planned.
—
WYNONNA EARP
"The Other Woman" – Season 3, Episode 10
Fri Sept 21 – 9PM
On SYFY
Catch Wynonna Earp every Friday on SYFY.
From Syfy:
A mysterious woman who knows a little too much about the Earps arrives on the Homestead with a special mission for Wynonna and Waverly. The rest of the team must wrangle a deadly fire witch.
—
KILLJOYS
"Sporemageddon" – Season 4, Episode 10
Fri Sept 21 – 10PM
On SYFY
Get into Killjoys every Friday on SYFY.
From Syfy:
Aneela brings the Jaqobis brothers into Greenspace to defeat the Lady.
—
9-1-1
"Under Pressure" – Season 2 premiere
Sun Sept 23 – 8PM
On FOX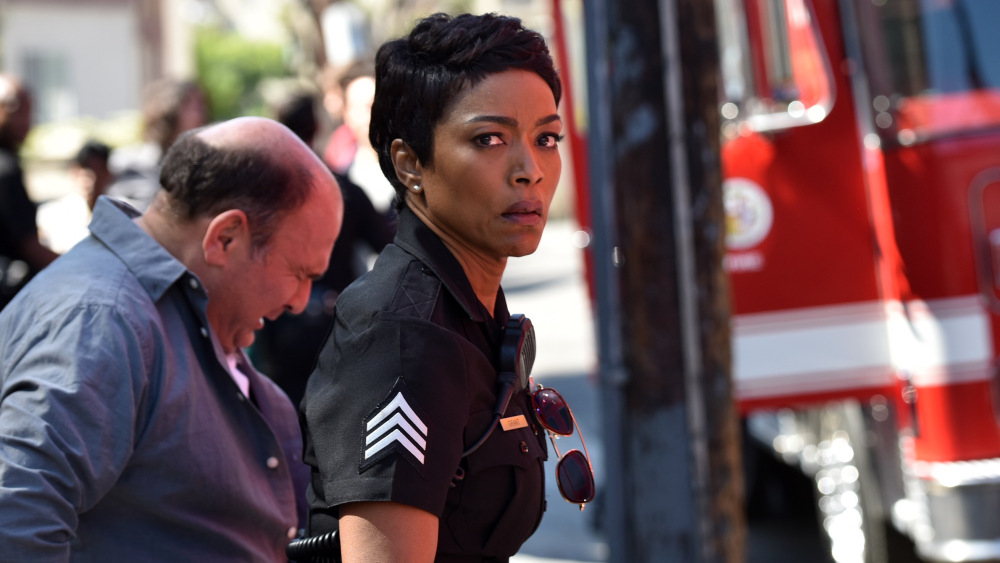 Photo: Michael Becker/FOX © 2018 FOX Broadcasting
It seems only fitting that one of our fave dramatic shows comes back to the tune of two of our faves Queen & David Bowie—9-1-1 has always been about thriving under pressure but the show uses bright spots of heart and humanity to remind us why all first responders' hard work is worth it. Get ready to have your heartstrings pulled as 9-1-1 runs headlong into the ordinary lives of those in trouble and reaches behind the uniforms of the ones saving them.
9-1-1 returns for season 2 this Sunday, only on FOX.
From TV Guide:
The Season 2 premiere: On one of the hottest days of the year, the first responders are pressured as harrowing incidents keep happening, including a road rage accident involving a van full of tourists, an emergency at an auto-repair shop and a vet with a live grenade embedded in his leg. Meanwhile, Buck is visited by his sister. Also, Athena questions her relationship with Bobby. Then, at the fire station, new hire Eddie jeopardizes Buck's chances of being chosen for a fireman calendar.