This week: Power, The CBS Fall Preview Show, Brooklyn Nine-Nine Presents NBC Fall 2018, Mayans M.C., Castle Rock, American Horror Story: Apocalypse, Take Two, American Vandal, BoJack Horseman,
Wynonna Earp, Killjoys
POWER
"When This is Over" – Season 5, Episode 10
Mon Sept 10 – 8:30PM
On STARZ
New episodes of Power air on STARZ every Monday.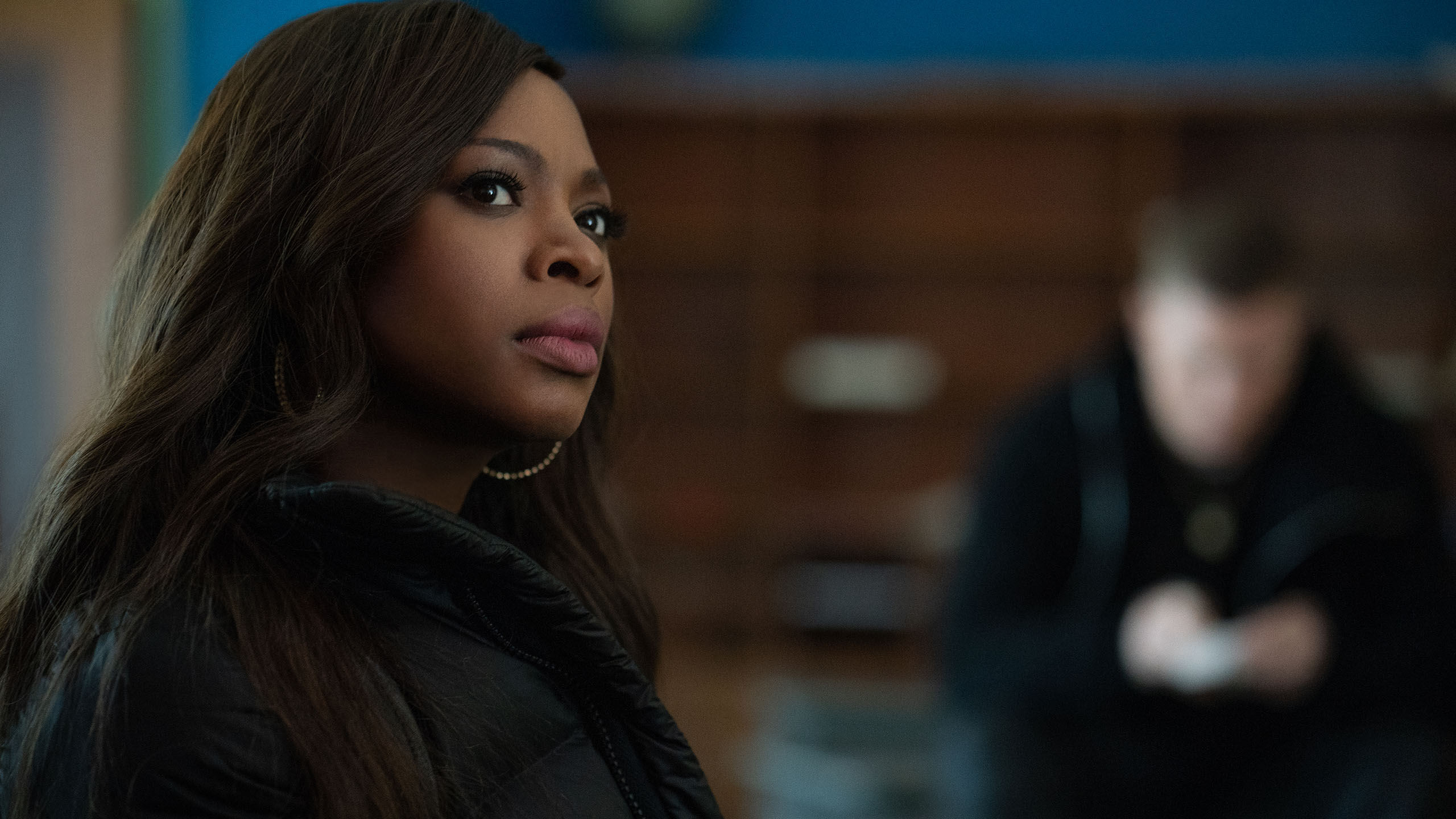 From STARZ:
When the RICO case comes crashing down, Angela breaks ranks to form her own A-team. LaKeisha takes a stand of her own while Ghost, Tommy, Tasha, and Angela race against the clock to prove their innocence…but to what end?
—
The CBS Fall Preview Show
Mon Sept 10 – 8:30PM
On CBS

Photo: CBS
It's that time of year again! Fall is closing in which means the launch of some delicious new TV. The CBS Fall Preview Show is going all out with its all-star hosts: Candice Bergen, Cedric the Entertainer, Max Greenfield, Brandon Micheal Hall, Jay Hernandez, Missy Peregrym, Zeeko Zaki, Damon Wayans Jr., and Amber Stevens West. The network is announcing six new series, including the revival of Murphy Brown and a new take on Magnum P.I. Yup, y'all ain't ready for this. There will also be first look scenes of two new dramas and two new comedies for you to try out—some are hits, some will miss but there are plenty of moments for you to enjoy in this special event.
Tune in tonight and get a taste of what's to come on CBS.
From CBS:
CBS FALL PREVIEW, hosted by stars Candice Bergen (MURPHY BROWN), Cedric the Entertainer and Max Greenfield (THE NEIGHBORHOOD), Brandon Micheal Hall (GOD FRIENDED ME), Jay Hernandez (MAGNUM P.I.), Missy Peregrym and Zeeko Zaki (FBI) and Damon Wayans Jr. and Amber Stevens West (HAPPY TOGETHER), is a primetime special highlighting the Network's six new fall series, including the revival of the groundbreaking comedy series MURPHY BROWN. It will be broadcast Monday, Sept. 10 (8:30-9:00 PM, ET/PT) on the CBS Television Network, and CBS All Access, CBS' digital subscription video on demand and live-streaming service.
—
Brooklyn Nine-Nine Presents NBC Fall 2018
Tues Sept 11 – 10PM
On NBC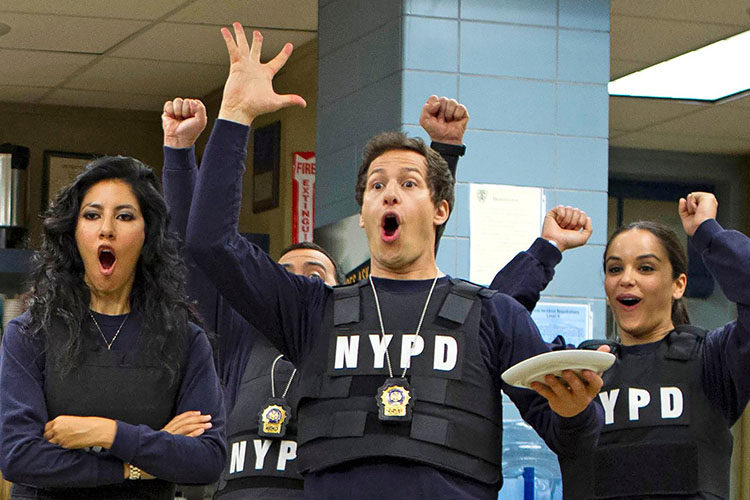 Photo: FOX
NINE-NINE is back! We're still applauding NBC for picking up our Brooklyn baes for season 6, and now the network is giving us even more to cheer for with a sneak-peek. We couldn't think of better hosts than our beloved Brooklyn Nine-Nine crew to usher in NBC's fall schedule. Catch some previews of new and returning shows and, of course, get a taste of what's to come in the precinct—you'll see Peraltiago (squee!) and Captain…or is it Commissioner…Holt & co. Cool, cool, cool, cool, cool, cool. No doubt, no doubt, no doubt.
Tune in tomorrow to see what's coming to NBC this fall.
From NBC:
Andy Samberg and the cast of "Brooklyn Nine-Nine" preview the new and returning NBC shows.
—
Mayans M.C.
"Escorpion/Dzec" – Season 1, Episode 2
Tues Sept 11 – 10PM
On FX
Get into Mayans M.C. every Tuesday on FX.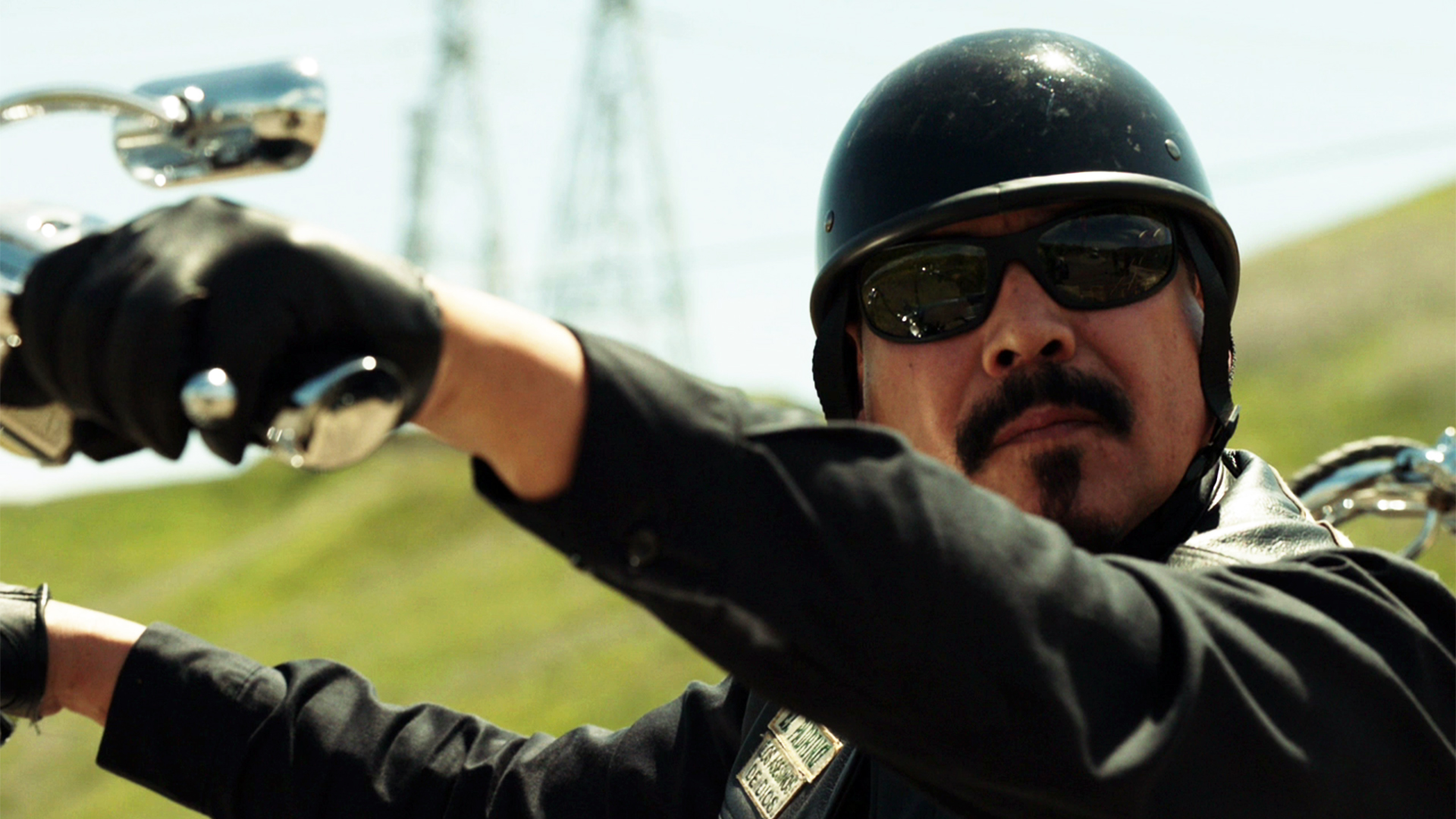 Photo: FX
From FX:
The Mayans seek answers from a local crew as the Galindo worlds north and south of the border collide.
—
Castle Rock
"Romans" – Season 1 finale
Wed Sept 12
On Hulu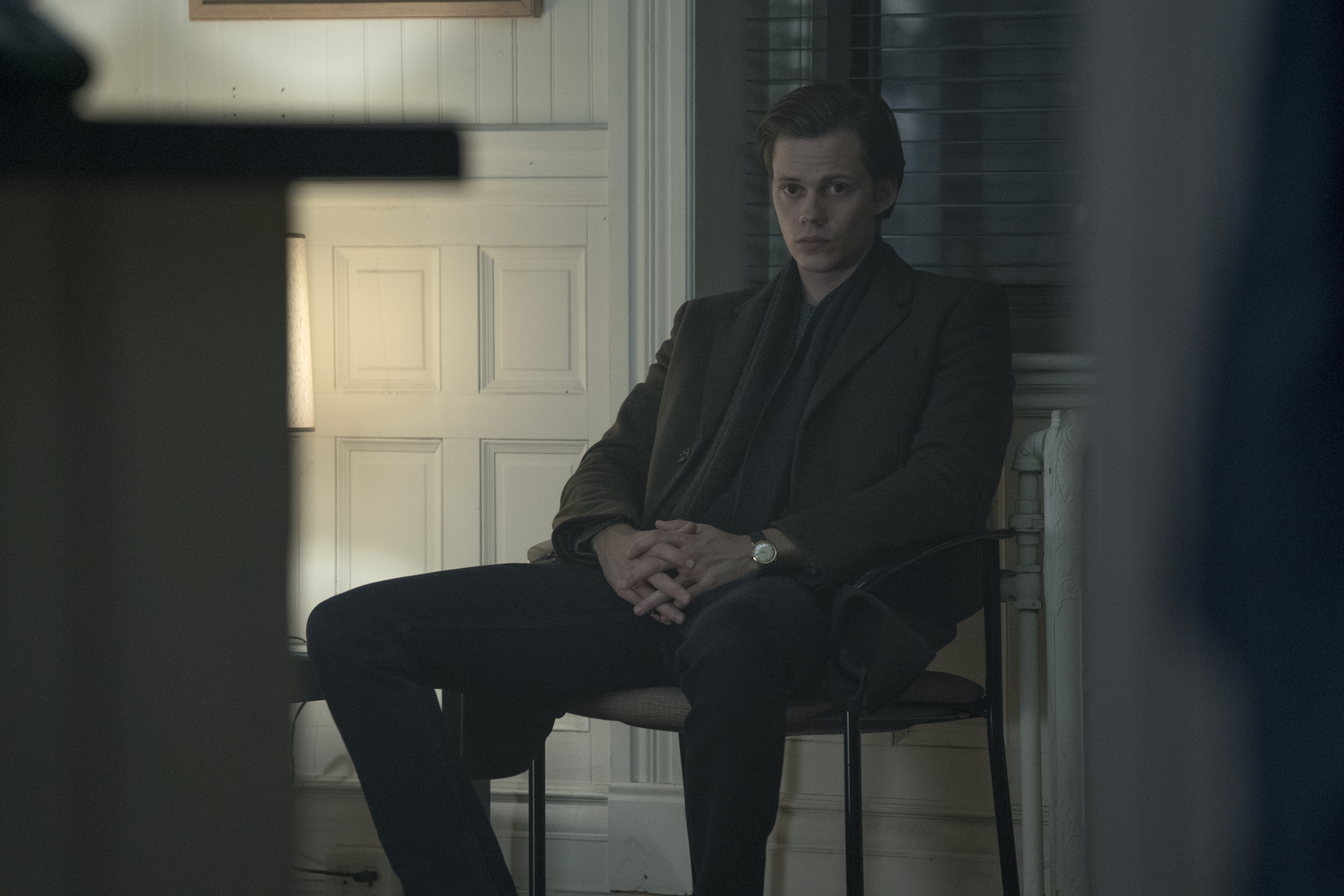 Photo Credit: Dana Starbard 
If everybody minded their own business the world would go around a great deal faster than it does and Castle Rock might be a normal place. Not really but we can dream past the nightmares. The Henry Deavers have broken two worlds. All the moves have led up to this final act with Henry Deaver (André Holland), Molly Strand (Melanie Lynskey), and The Kid aka Henry Deaver (Bill Skarsgård) standing front and center as each of their lives fall apart. We're left with more questions than answers but two of the central mysteries of the season will be solved: What the hell happened to Matthew Deaver in the woods? And is that noise actually the Voice of God? You're not ready for the answers. As we reach the finale, Henry, a broken desperate man, reaches for the one thing we all want: Home. The only question is which Henry gets it. Be prepared for a final haunting image that won't let you sleep for the rest of the week. (Philip Jean-Pierre)
Stream the season finale of Castle Rock this Wednesday on Hulu.
From Hulu:
A psychological-horror series set in the Stephen King multiverse, Castle Rock combines the mythological scale and intimate character storytelling of King's best-loved works, weaving an epic saga of darkness and light, played out on a few square miles of Maine woodland. The fictional Maine town of Castle Rock has figured prominently in King's literary career: Cujo, The Dark Half, IT and Needful Things, as well as novella The Body and numerous short stories such as Rita Hayworth and The Shawshank Redemption are either set there or contain references to Castle Rock. Castle Rock is an original suspense/thriller — a first-of-its-kind reimagining that explores the themes and worlds uniting the entire King canon, while brushing up against some of his most iconic and beloved stories.
—
American Horror Story: Apocalypse
"The End" – Season 8 premiere
Wed Sept 12 – 10PM
On FX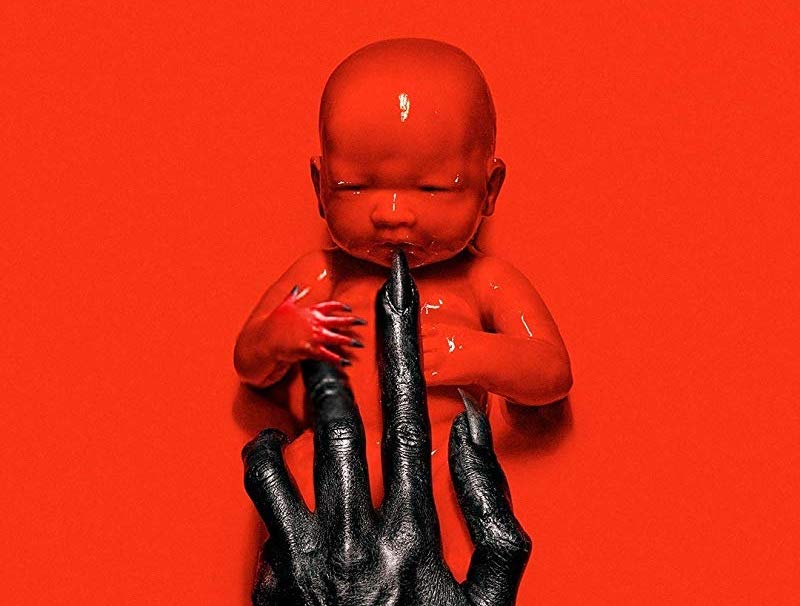 Photo: FX
AHS: Apocalypse emerges as a mashup of the "Murder House" and "Coven" seasons welcoming back the dysfunctional Harmons and the witches of Miss Robichaux's Academy. Expect a nuclear apocalypse. This is the end before the beginning—heavy glamour and fashion, and the coming of the anti-Christ. (Wil Walker)
American Horror Story: Apocalypse premieres this Wednesday on FX.
From FX:
Sarah Paulson, Emma Roberts, Kathy Bates, Evan Peters and more usher in the end of the world in the Murder House-Coven crossover.
—
Take Two
"One to the Heart" – Season 1 finale
Thurs Sept 13 – 10PM
On ABC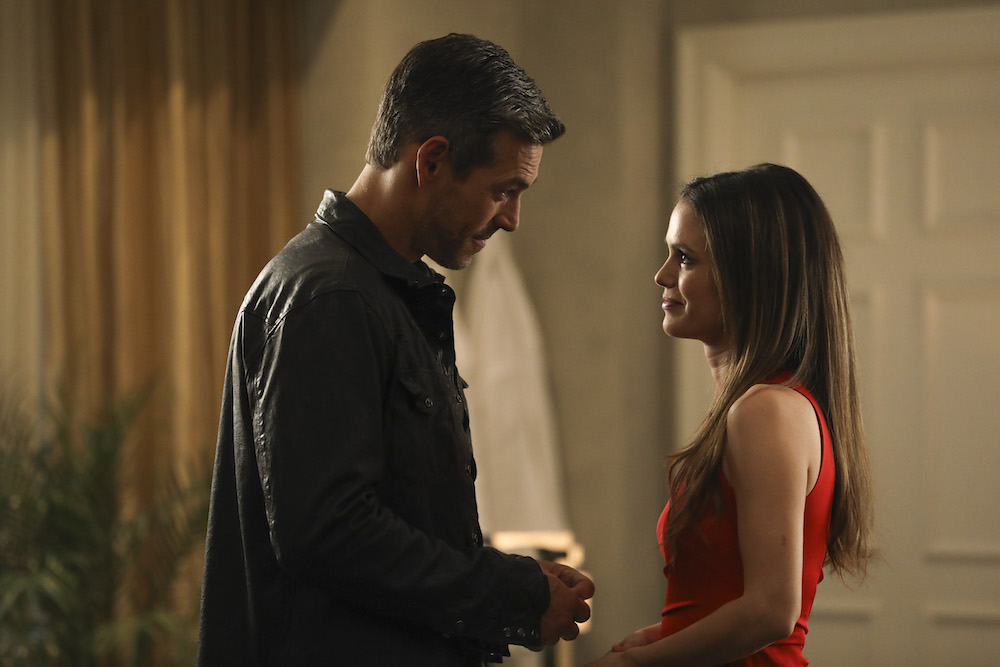 Photo: 

ABC/Jack Rowand
Take Two is going out with an explosive finale…quite literally. But before we get to that, allow us a moment to shout from the rooftops: Sam (Rachel Bilson) and Eddie (Eddie Cibrian) finally hooked up! About freaking time. Of course, mixing romance and work is a difficult situation for anyone, let alone for two people as stubborn as Sam & Eddie. They don't have much time to focus on their relationship, though, because there's a serial con man to con…using a red dress and a blonde wig (Sam's acting skills are definitely coming in handy). The man they're trying to catch has been tricking wealthy women out of their fortunes…but he's a small fry compared to the bigger fish who's also on his tail. Eddie's past comes back to haunt him and might just be about to blow up everything we've been hoping for…ooh, Take Two knows just how to hit us in the feels and we're begging ABC for another round.
Get into Take Two this Thursday, only on ABC.
From ABC:
Still wrestling with the emotional reverberations of sleeping together, Sam and Eddie take a case involving a serial con man who victimizes wealthy women. In order to recover their client's money and jewelry without scaring off their suspect, the pair hatch a plan to con the con man using Sam as bait. But their plan goes awry when they discover they're not the only ones after the con man and they may be stepping into a trap themselves. As events unfold, Sam's future and Eddie's past collide to test their professional and personal relationship that could change everything.
—
American Vandal
Season 2
Fri Sept 14
On Netflix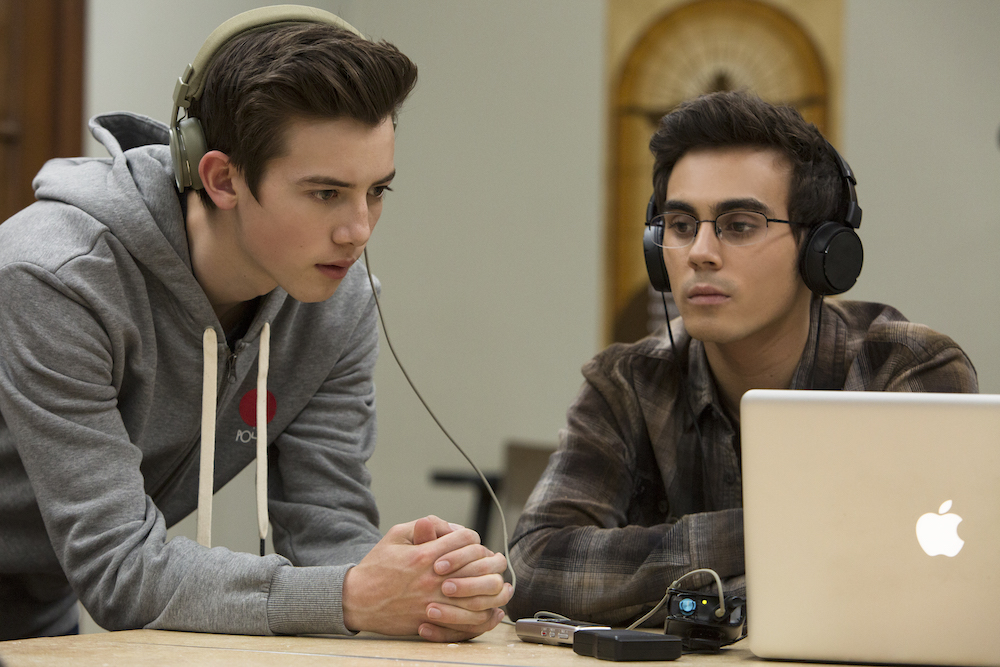 Photo: 

Scott Patrick Green / Netflix
American Vandal became a cult favorite on Netflix with its razor sharp satire so cutting you might mistake it for truth. In fact, the acuity is so on point you'll be pulled right in. This season takes a look at a prankster who literally makes shit hit the fan in an elite Catholic school. When the entire student body suddenly—and violently—comes down with food poisoning, the question becomes: Who is the Turd Burglar and why do they hate their classmates? If the "poop-prankster" set-up sounds vulgar and ridiculous that's because it's meant to be—spoofing the worst of human nature allows the series to explore the truth of who we are now. At first it appears to be an open and shut case of a bullied-victim-turned-revenge story but when details about the accused's confession don't add up, and more pranks start to happen, an even more intriguing story unfolds: One of coercion, toxic high school drama, social media, and a conspiracy theory style draw that hooks you within minutes. You won't be able to resist binge-watching American Vandal—every episode brings a new revelation in a documentary-style that makes you believe everything…and nothing.
Stream American Vandal season 2 on Netflix from Friday.
From Netflix:
Having left its red spray-painted mark on pop culture with a breakout freshman season, American Vandal returns with an explosive new case, a (mostly) new cast and solid new conspiracy theories. Season 2 of the Emmy-nominated and Peabody Award-winning true-crime satire follows documentarians Peter Maldonado and Sam Ecklund as they bring their investigative skills to an elite Catholic school where someone has been taking poop-related pranks to new heights. From co-creators Tony Yacenda and Dan Perrault, and showrunner Dan Lagana, American Vandal's addictive second season will have everyone speculating: Who is the Turd Burglar?
—
BoJack Horseman
Season 5
Fri Sept 14
On Netflix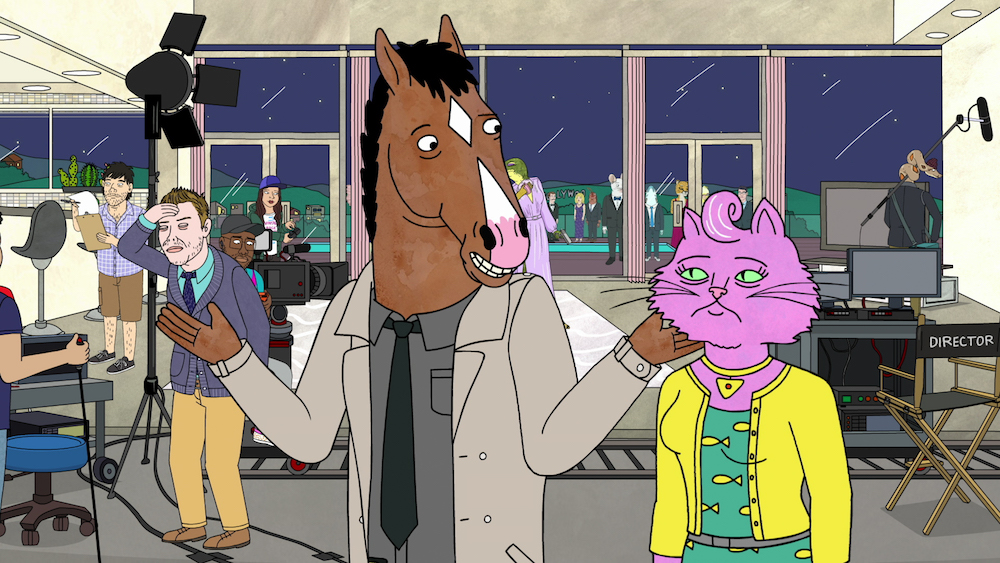 Photo: 

Netflix
BoJack (Will Arnett) is making a new TV show but he ain't happy about it. He's got too many questions about his character and no one except a bottle of vodka to answer them. But he's totally not feeling lost and alone, because his half-sister knows he "hearted" her Instagram post, right? Season 5 of BoJack Horseman takes a look at just how deeply our "hero" and his destructive ways have hurt him and others. Rather than watching a further descent into madness, we catch a glimpse of just how far BoJack is willing to go to justify his actions. In turn, we see his fear of failure: That his redemption arc of season 4 was unsuccessful. That sometimes, people can't change—or do they even want to? Meanwhile Princess Carolyn (Amy Sedaris) has a new case worker and she's like, sooooo not interested. Todd (Aaron Paul) and Yolanda (Natalie Morales) have different ideas of where their lives are going…but BoJack tries to find a way to use Todd's feeling of loss to his advantage (would you expect anything less?). Diane (Alison Brie) has gone to Vietnam in an attempt to figure out her identity and how to be single again. Each character is feeling lost in their own way and it feels like the entire show has been leading up to this point. In the opening episode, BoJack's producer proclaims, "This is going to be a sensational season of television," and he nails it—the sensationalism is turned up a notch but the real win here is the harsh reality of consequences being played out.
BoJack Horseman season 5 premieres on Netflix this Friday.
From Netflix:
Will Arnett voices BoJack, the failed legendary 90's sitcom star from the favorite family sitcom Horsin' Around, who has been trying to find his way through a muddle of self-loathing, whisky and failed relationships. Now, in the presence of his human sidekick Todd (Aaron Paul) and his feline agent and ex-paramour Princess Carolyn (Amy Sedaris), BoJack is primed for his comeback…
—
WYNONNA EARP
"Undo It" – Season 3, Episode 9
Fri Sept 14 – 9PM
On SYFY
Catch Wynonna Earp every Friday on SYFY.
From NBC:
History keeps repeating itself when Wynonna has to make an impossible choice. Waverly and Nicole visit a jeweler and a familiar face returns to Purgatory.
—
KILLJOYS
"The Kids are Alright" – Season 4, Episode 9
Fri Sept 14 – 10PM
On SYFY
Get into Killjoys every Friday on SYFY.
From NBC:
Team Awesome Force sneak onto the RAC to rescue Westerly's stolen children. Zeph and Pip grow closer.