This week: Power, Making It, The Bobby Brown Story, Castle Rock, Take Two, Sierra Burgess is a Loser, Iron Fist, Stand Up to Cancer, Wynonna Earp, Killjoys, Random Acts of Flyness, Rel, Shameless, The Deuce,
The Last Ship, YOU
Power
"There's a Snitch Among Us" – Season 5, Episode 9
Mon Sept 3 – 8:30PM
On STARZ
New episodes of Power air on STARZ every Monday.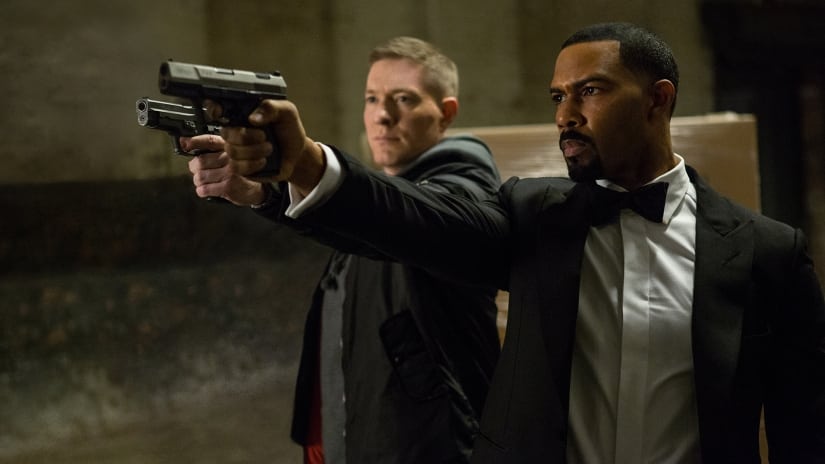 Photo: STARZ
From STARZ:
When Angela's arrest of Jimenez gives her a solid win, she discovers plans that would undercut her career. Ghost tasks Tommy in killing a snitch, changing all of their lives. Tariq accepts the consequences of his choices.
—
MAKING IT
"Happily Ever Crafter" – Season 1 finale
Tues Sept 4 – 10PM
On NBC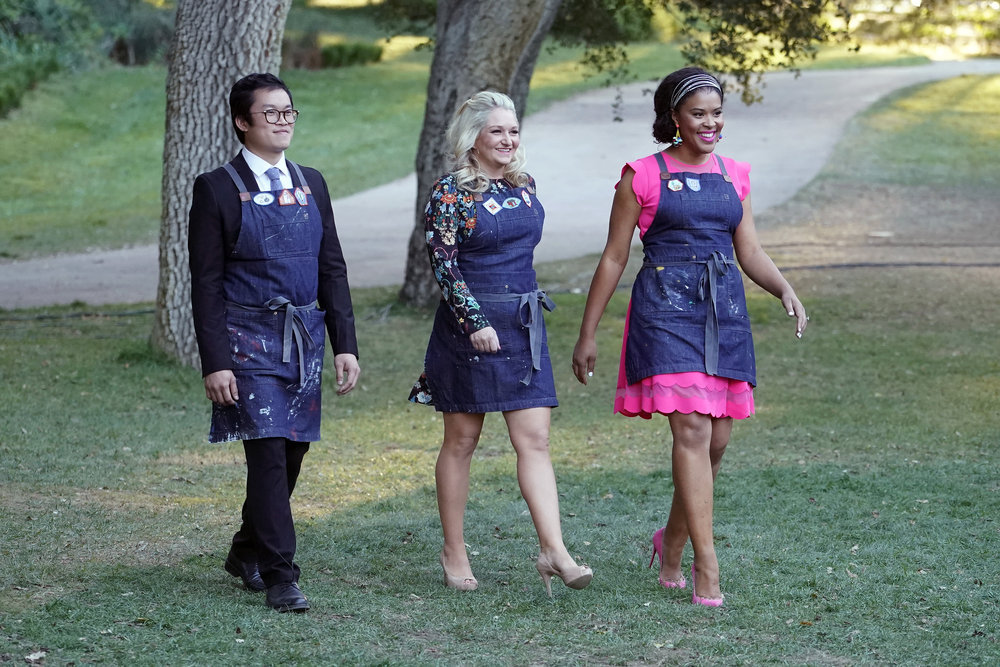 Photo by: Paul Drinkwater/NBC
Aww, we can't believe it's already time to say goodbye to our master makers on Making It! This charming show has taken us on a delightful journey of puns, out-there creativity, and good-natured competition…but there can only be one winner. Who will Nick Offerman & Amy Poehler crown the ultimate crafter? NBC are keeping this one under wraps but what we do know is: We are the real winners—Making It has given us a wonderful escape from the real world. Good thing it's coming back for another round. Bravo, NBC, bravo.
Get crafty with Making It tonight on NBC.
From NBC:
On the season finale of Making It, the day the Makers have all been waiting for also happens to be the big day for one lucky couple! The final three makers must utilize their crafting expertise to transform one couple's wedding into an incredible, handcrafted experience, which Nick Offerman will personally officiate in the craft barn. The Makers must create a dream wedding backdrop for the bride and groom, as well as an heirloom quality handmade gift that could last for generations.
—
The Bobby Brown Story
"Part 1" & "Part 2"
Tues Sept 4 – 9PM & Wed Sept 5 – 9PM
On BET
Watch the two part special on BET this Tuesday and Wednesday.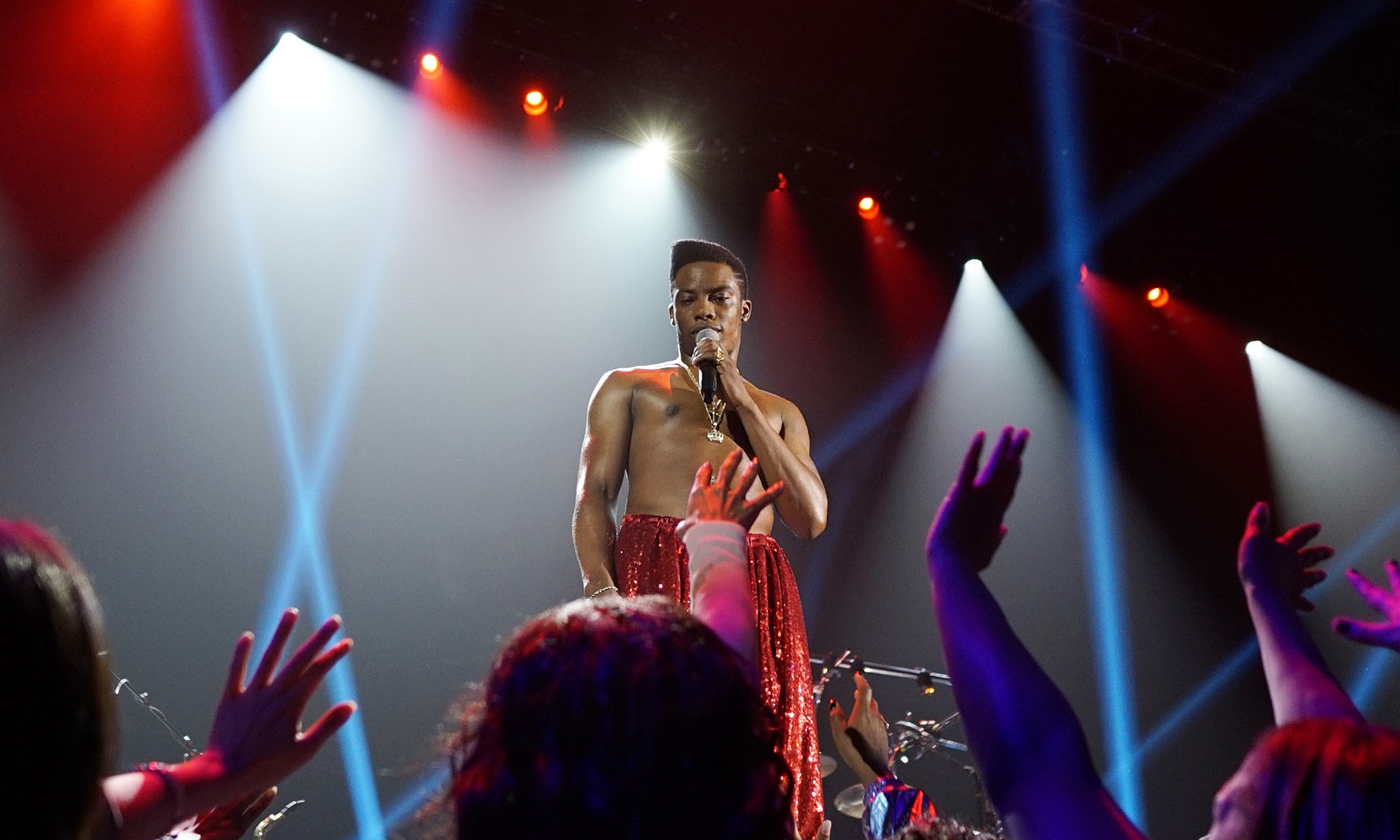 Photo: BET
From BET:
A biopic about the bad boy of R&B and his traumatic relationship to the music industry. His story. His prerogative.
—
Castle Rock
"Henry Deaver" – Season 1, Episode 9
Wed Sept 5
On Hulu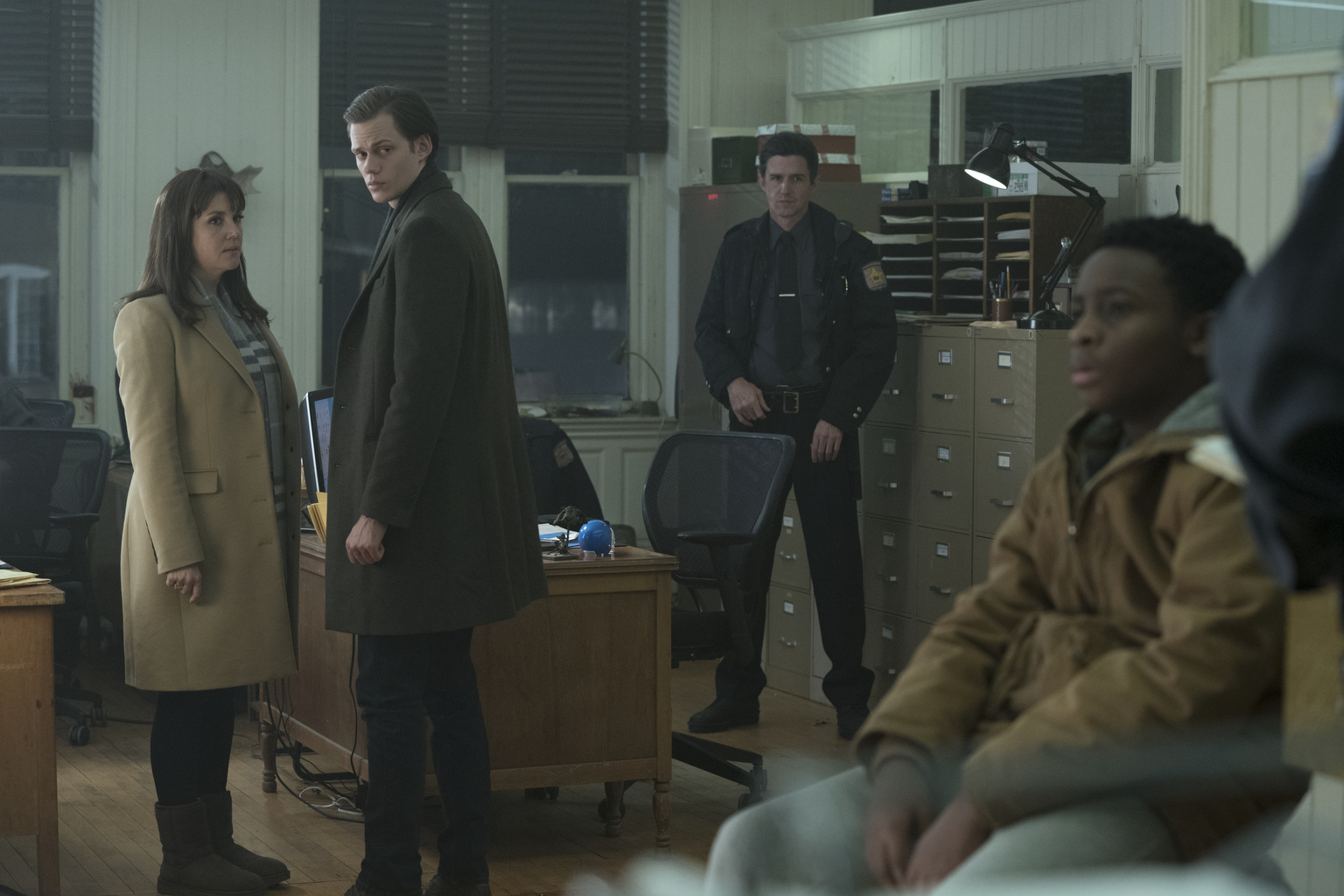 Photo: Dana Starbard/Hulu
WHO IS HENRY DEAVER?! WHO IS HENRY DEAVER?! After learning that Castle Rock is a more sinister place than we believe, the lives of Henry Deaver (André Holland), Molly Strand (Melanie Lynskey), and The Kid (Bill Skarsgård) all come crashing into each other with mind-boggling effects. "Henry Deaver" burns white hot as we approach the climax of this mind-twisting series—and proves why I love Castle Rock. Everything you know to be true is false. Everything you know to be false is true. Cats and dogs living together, mass hysteria—well more like mass psychosis. The only thing that can be trusted is that Warden Dale Lacy (Terry O'Quinn) is still mostly probably dead. (Philip Jean-Pierre)
Stream new episodes of Castle Rock every Wednesday on Hulu.
From Hulu:
A psychological-horror series set in the Stephen King multiverse, Castle Rock combines the mythological scale and intimate character storytelling of King's best-loved works, weaving an epic saga of darkness and light, played out on a few square miles of Maine woodland. The fictional Maine town of Castle Rock has figured prominently in King's literary career: Cujo, The Dark Half, IT and Needful Things, as well as novella The Body and numerous short stories such as Rita Hayworth and The Shawshank Redemption are either set there or contain references to Castle Rock. Castle Rock is an original suspense/thriller — a first-of-its-kind reimagining that explores the themes and worlds uniting the entire King canon, while brushing up against some of his most iconic and beloved stories.
—
Take Two
"It Takes a Thief" – Season 1, Episode 12
Thurs Sept 6 – 10PM
On ABC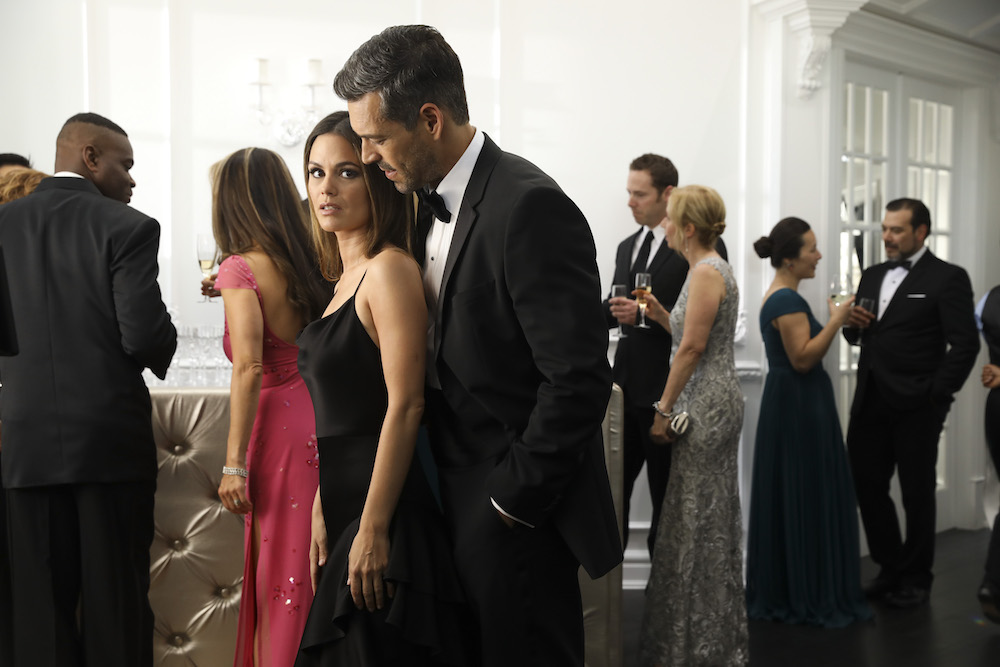 Photo: 

ABC/Jack Rowand
You know the old saying, "It takes one to know one"? Take Two is adding their own dramatic spin, when Sam (Rachel Bilson) and Eddie (Eddie Cibrian) strike a deal with a suspected art thief to recover a stolen $50 million painting. In high society the emotions run higher, especially when Eddie discovers Sam is dating again…c'mon and admit your feelings already! (No amount of art thieves or flowers could stand in their way…if only they weren't so stubborn.) We get to see our crew all dressed up and ready to pull a high-stakes heist…of sorts…fitting of a big screen blockbuster. Take Two has got us poppin' champagne in celebration. Cheers!
Get into Take Two this Thursday, only on ABC.
From ABC:
Sam's friend implores Sam and Eddie to track down and recover a $50 million painting that was stolen from his auction house. If he can't get it back before the upcoming auction, his personal and professional reputation will be ruined. With the clock ticking, Sam and Eddie manage to identify a suspect who they believe was hired to steal the painting by a wealthy, corrupt businessman. With no hard evidence against them and time running out, Sam and Eddie devise a bold plan to get the painting back. Meanwhile, Sam's return to the dating scene tests her relationship with Eddie, leading to a surprising realization for both of them.
—
Sierra Burgess is a Loser
Premiere
Fri Sept 7
On Netflix
Stay tuned for our thoughts on Sierra Burgess is a Loser…'til then, watch the trailer and decide for yourself.
Stream Sierra Burgess is a Loser on Netflix from Friday.
From Netflix:
SIERRA BURGESS IS A LOSER is a modern rom-com retelling of the Cyrano de Bergerac story set in high school. The story centers on Sierra (Shannon Purser), an intelligent teen who does not fall into the shallow definition of high school pretty but, in a case of mistaken identity that results in unexpected romance, must team with the popular girl (Kristine Froseth) in order to win her crush (Noah Centineo).
—
Iron Fist
Season 2
Fri Sept 7
On Netflix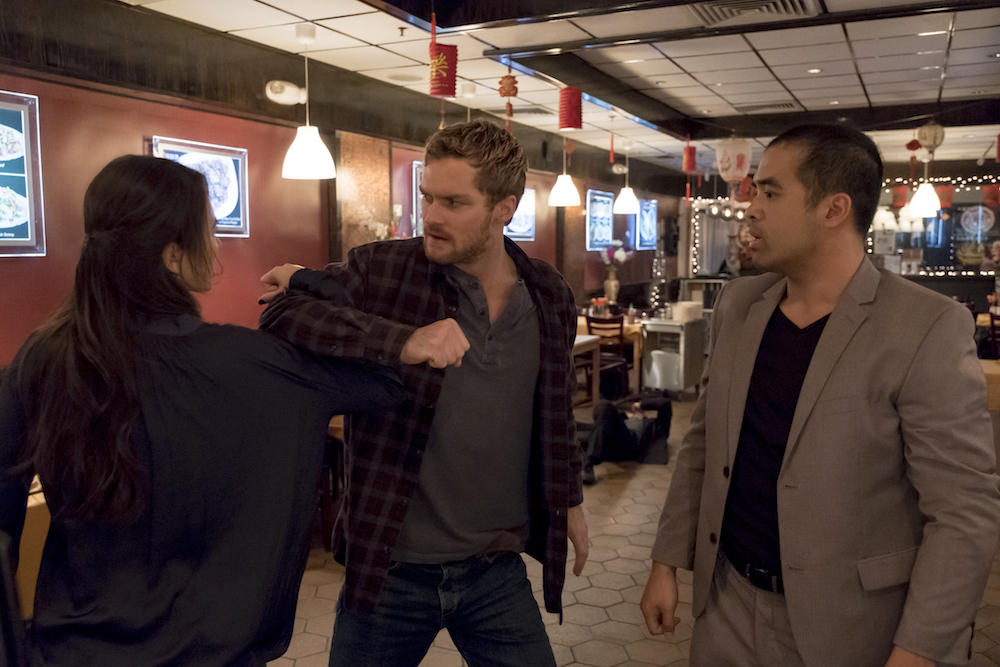 Photo: 

Linda Kallerus/Netflix
Following the events of The Defenders, Iron Fist returns. Empowered by a renewed vision of his role as protector, Danny Rand (Finn Jones) and Colleen Wing (Jessica Henwick) now navigate a New York with so many new threats and new baddies they'll wish The Hand was still around. The Devil of Hell's Kitchen is either missing or dead (more on that later) and nature abhors a vacuum. Can Danny Rand fill it? Check back for our review tomorrow and we'll tell you all about it—spoiler-free. (Philip Jean-Pierre)
Iron Fist season 2 premieres on Netflix this Friday.
From Netflix:
Billionaire Danny Rand (Finn Jones) returns to New York City after being missing for years, trying to reconnect with his past and his family legacy. He fights against the criminal element corrupting New York City with his martial arts mastery and ability to summon the awesome power of the fiery Iron Fist.
—
Stand Up to Cancer
2018 special
Fri Sept 7 – 8PM
On E!, TNT, ABC, CBS, HBO, NBC, FOX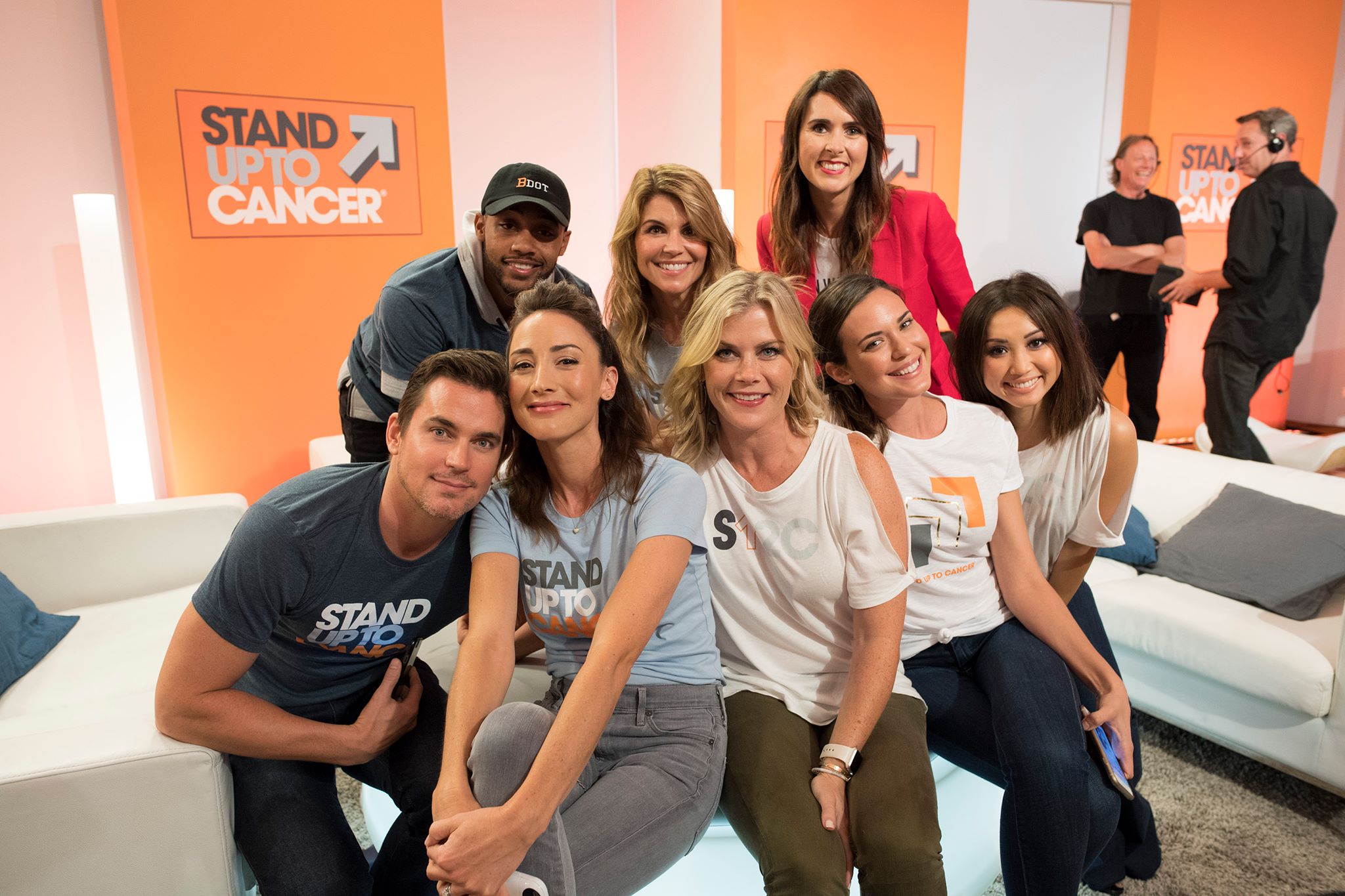 Photo: Stand Up To Cancer
Settle in for a night of star-studded entertainment rallying around a great cause. The 2018 Stand Up To Cancer live fundraising special is bringing together the best in showbiz for one night only. Celebrating its tenth anniversary, the event returns with appearances from Mahershala Ali, Kathy Bates, Matthew McConaughey, Trevor Noah, David Spade, Reese Witherspoon, and many more special guests. There'll be incredible stories from survivors, live performances from some huge names, and all your faves united in one room. Raising awareness and helping fund life-saving cancer research is vital and impacts so many lives everyday. Be a part of something amazing while you laugh, cry, and take in all the glitz & glamor the big networks can throw at you.
Stand Up to Cancer this Friday at 8PM.
From SU2C:
With a dazzling array of top talent, SU2C will return on Friday, September 7th, for the sixth roadblock telecast. This year, Bradley Cooper, Academy Award®-nominated actor, will return as co-executive producer. This year's event marks an important milestone in SU2C history: 10 years of making an impact and raising funds for groundbreaking cancer research that is helping to save lives now. An essential part of SU2C's mission is to leverage the entertainment industry in a way that spreads our message and engages the public. Mahershala Ali, Kathy Bates, Katie Couric, Jennifer Garner, Tony Hale, Marg Helgenberger, Ed Helms, Ken Jeong, Marlee Matlin, Matthew McConaughey, Maria Menounos, Jillian Michaels, Trevor Noah, Dak Prescott, Italia Ricci, Rob Riggle, Karla Souza, David Spade, Keith Urban, and Reese Witherspoon will participate in this memorable event.
—
WYNONNA EARP
"Waiting Forever For You" – Season 3, Episode 8
Fri Sept 7 – 9PM
On SYFY
Catch Wynonna Earp every Friday on SYFY.
From NBC:
It's Date Night in Purgatory, which means Dressing Up, Drinking, and Fighting Demons, as a formidable former foe stalks the gang.
—
KILLJOYS
"It Takes a Pillage" – Season 4, Episode 8
Fri Sept 7 – 10PM
On SYFY
Get into Killjoys every Friday on SYFY.
From NBC:
An awkward Jaqobis homecoming takes a deadly turn as Dutch and Zeph risk everything for science.
—
Random Acts of Flyness
"They Won't Go When I Go"
Sat Sept 8 – 12AM
On HBO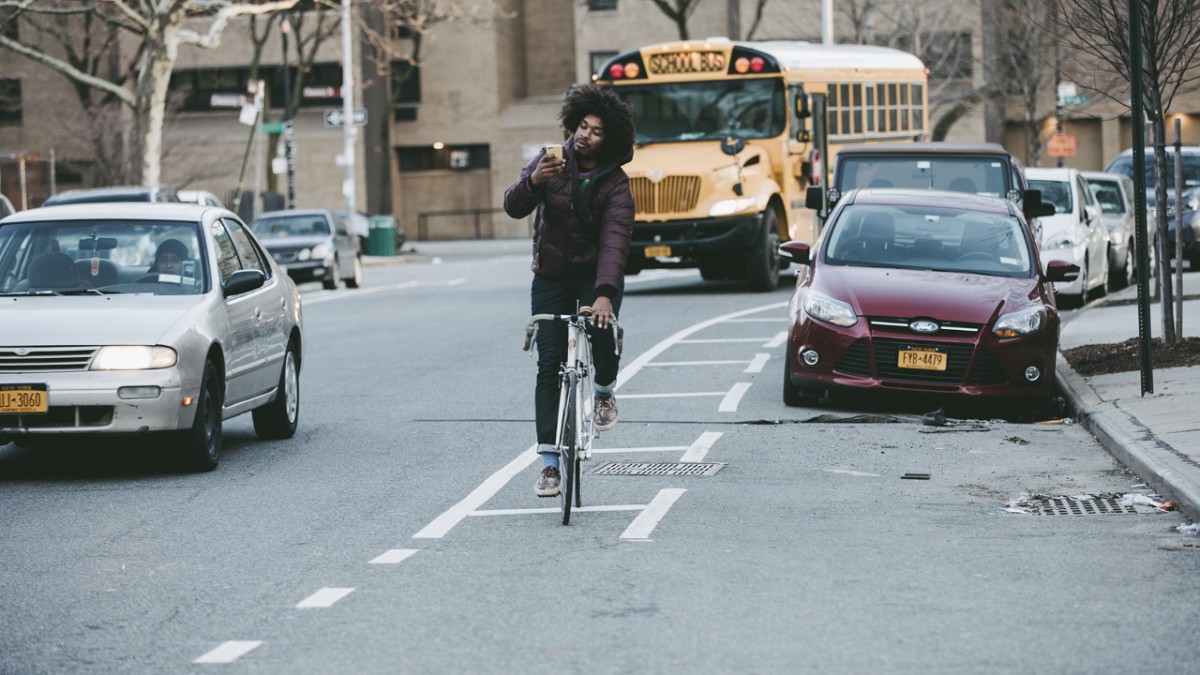 We swear Random Acts of Flyness is a hyper-surreal version of the contents of the black-American brain. It's a head trip of the best kind; a conversation on the highs and obstacles of blackness with no filter and all the dreaminess of unfettered art. It's often great, not always, but neither are our brains—and Flyness is willing to work out the issues on screen in a way that is honest yet beautiful and at times shockingly on point. There are musicals, and cultural motifs, and documentary style looks into #blackmagic that stay with you. Bravo and Brava to writer/director Terence Nance; executive producers Nance, Tamir Muhammad, Jamund Washington, Kishori Rajan, Kelley Robins Hicks, Chanelle Aponte Pearson, Ravi Nandan and John Hodges. Y'all did that.
The season finale of Random Acts of Flyness airs this Saturday on HBO.
From HBO:
Season finale. A woman stays woke too long. In the not-too-distant future, a waitress contemplates uploading her consciousness to the cloud amidst warnings of an impending hurricane. After Najja has her demons exorcised, her Jealousy tries to talk its way back into her life. Artist Stephanie Dinkins describes her encounters with a simulated black woman.
—
Rel
Series premiere
Sun Sept 9 – 8PM
On FOX
Catch the pilot of Rel on FOX this Sunday.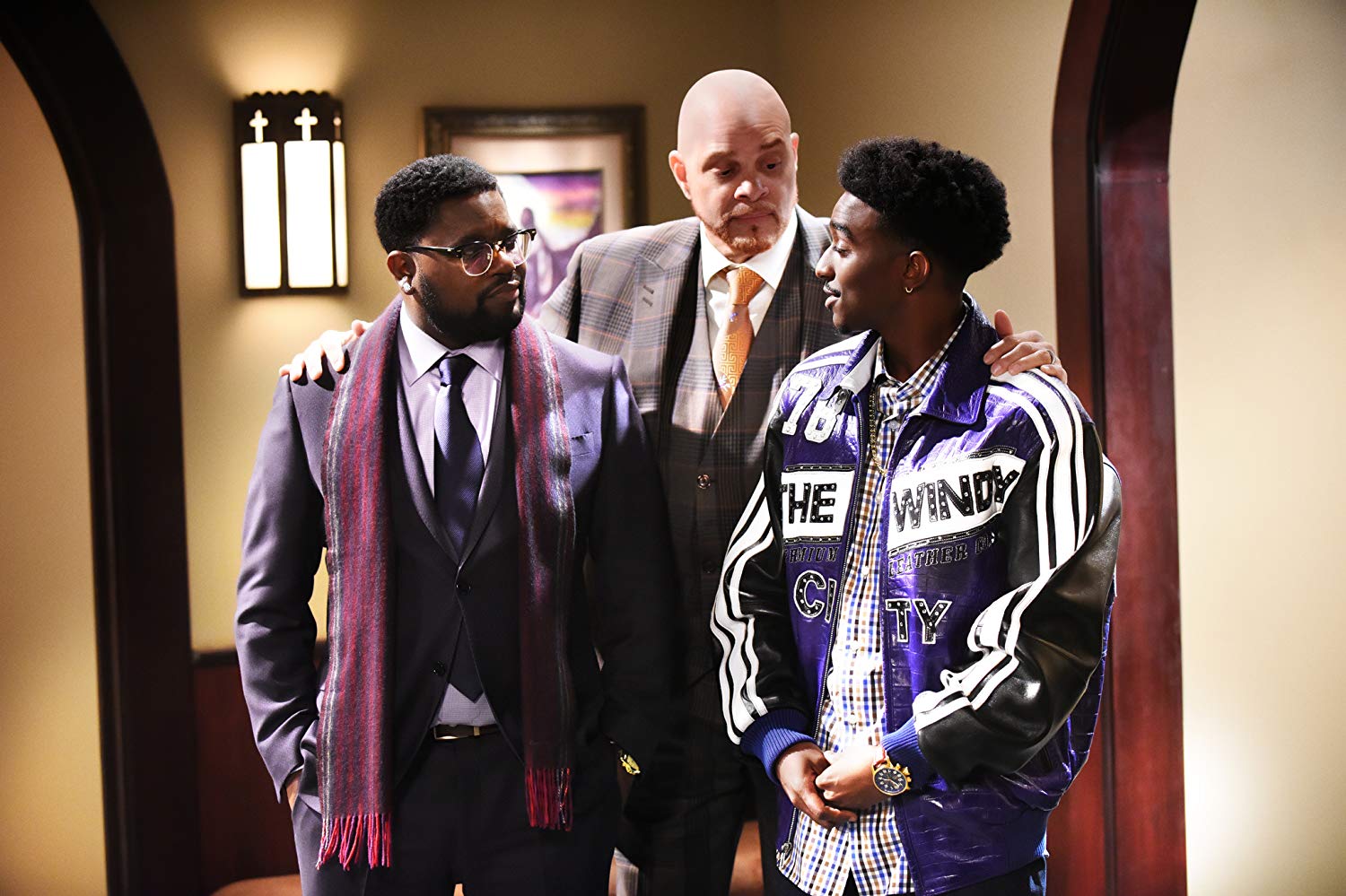 From FOX:
Inspired by the comedy of Lil Rel Howery ("Uncle Drew," "Get Out," "The Carmichael Show"), REL is a multi-camera comedy starring Howery as a successful, hardworking father and husband on the West Side of Chicago, whose life is perfectly on track. That is, until he finds out his wife is having an affair with his own barber – the worst person for your wife to sleep with, because as hard as it is to find love, it's even harder to find a good barber.
—
Shameless
"Are you there Shim? It's Me, Ian." – Season 9 premiere
Sun Sept 9 – 9PM
On Showtime
Shameless season 9 premieres this Sunday on Showtime.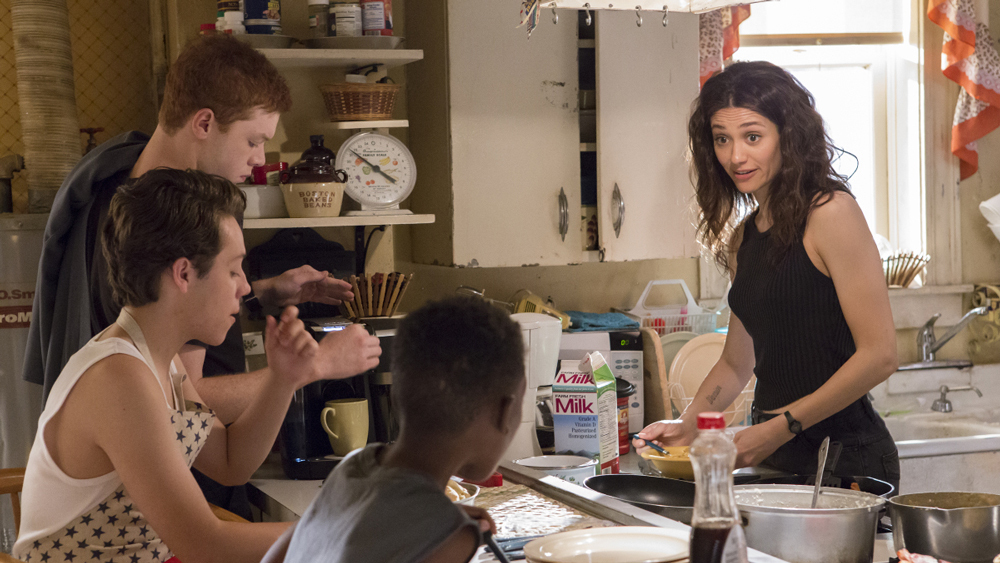 Photo: Paul Sarkis
From Showtime:
Political fervor hits the South Side, and the Gallaghers take justice into their own hands. Frank sees financial opportunity in campaigning, Fiona tries to build on the success of her apartment building, Lip distracts himself from the challenges of sobriety by taking in Eddie's niece, Ian faces the consequences of his Gay Jesus crimes, Debbie fights for equal pay and combats harassment, Carl sets his sights on West Point, and Liam must develop a new skillset to survive outside of his cushy private school walls.
—
The Deuce
"Our Raison d'Etre" – Season 2 premiere
Sun Sept 9 – 9PM
On HBO
Season 2 of The Deuce premieres on HBO this Sunday.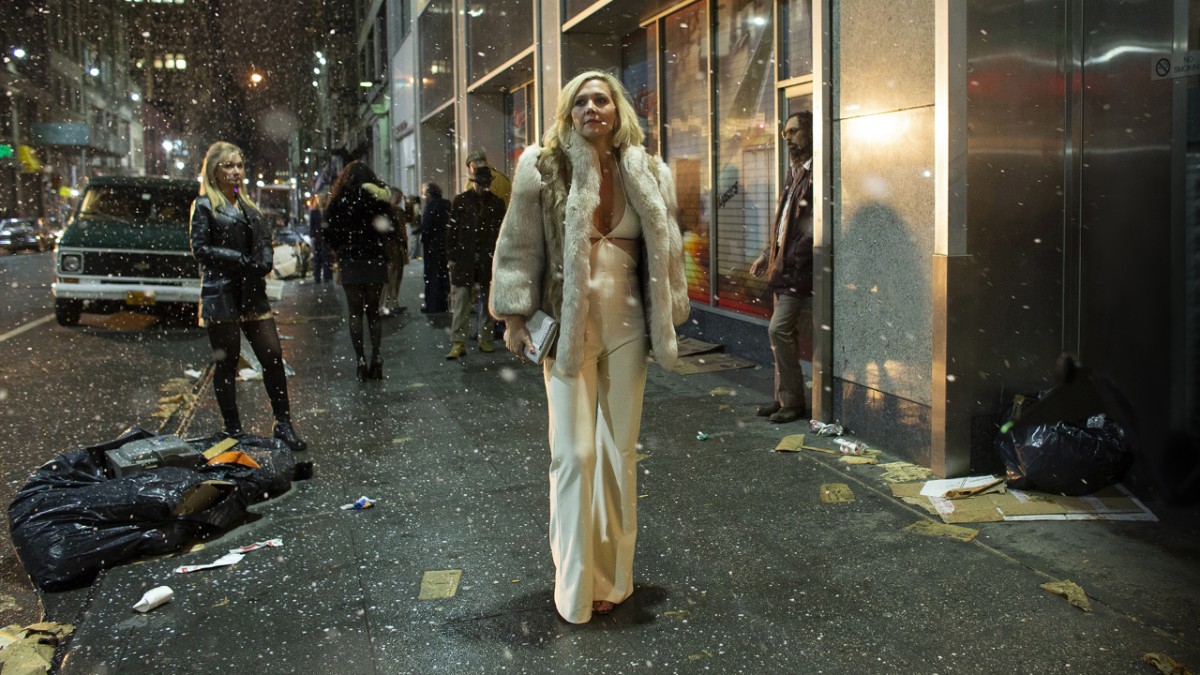 Photo: HBO
From HBO:
Season Two Premiere. Times Square, 1977. After his early successes managing the Hi-Hat and French Parlor, Vincent is now proprietor of a new mob-backed disco, The 366, while his girlfriend Abby has brought the nascent punk-rock culture into the Hi-Hat. Vincent's twin brother Frankie remains a problem, "borrowing" money from Show Land, the sex emporium he manages, to pay off his debts. Candy, now a "triple threat" as a porn actress, producer and director, is looking to make more artful, ambitious adult films, over the objections of her collaborator Harvey. C.C. pulls a con on Bernie Wolf, director of a porn film starring Lori, to get her more money. Hoping to launch a more upscale gay nightclub, Paul looks to sever mob ties from his current bar. Alston, now a homicide detective, is approached by Gene Goldman, a civil servant appointed by Mayor Koch to clean up Times Square.
—
The Last Ship
"Casus Belli" – Season 5 premiere
Sun Sept 9 – 9PM
On TNT
The final season of The Last Ship premieres this Sunday on TNT.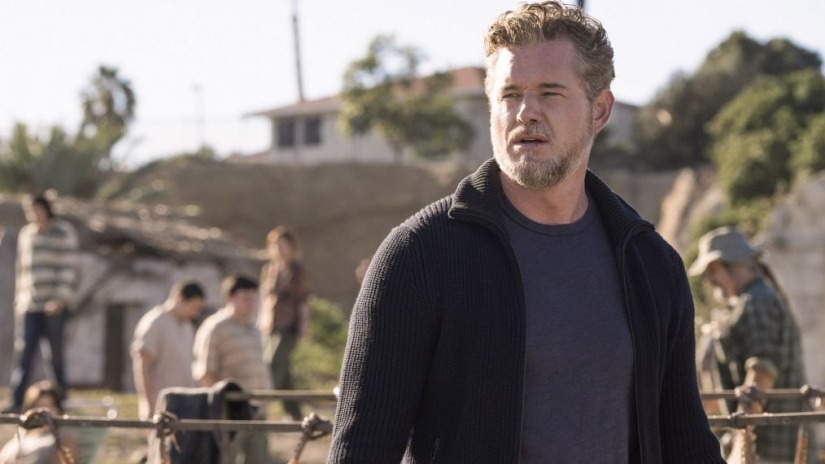 From TV Guide:
The Season 5 premiere picks up three years after the global famine. The U.S. Navy is ready to unveil its first fully functional fleet since the Red Flu pandemic, but a new type of threat may mean the next world war.
YOU
Series premiere
Sun Sept 9 – 10PM
On Lifetime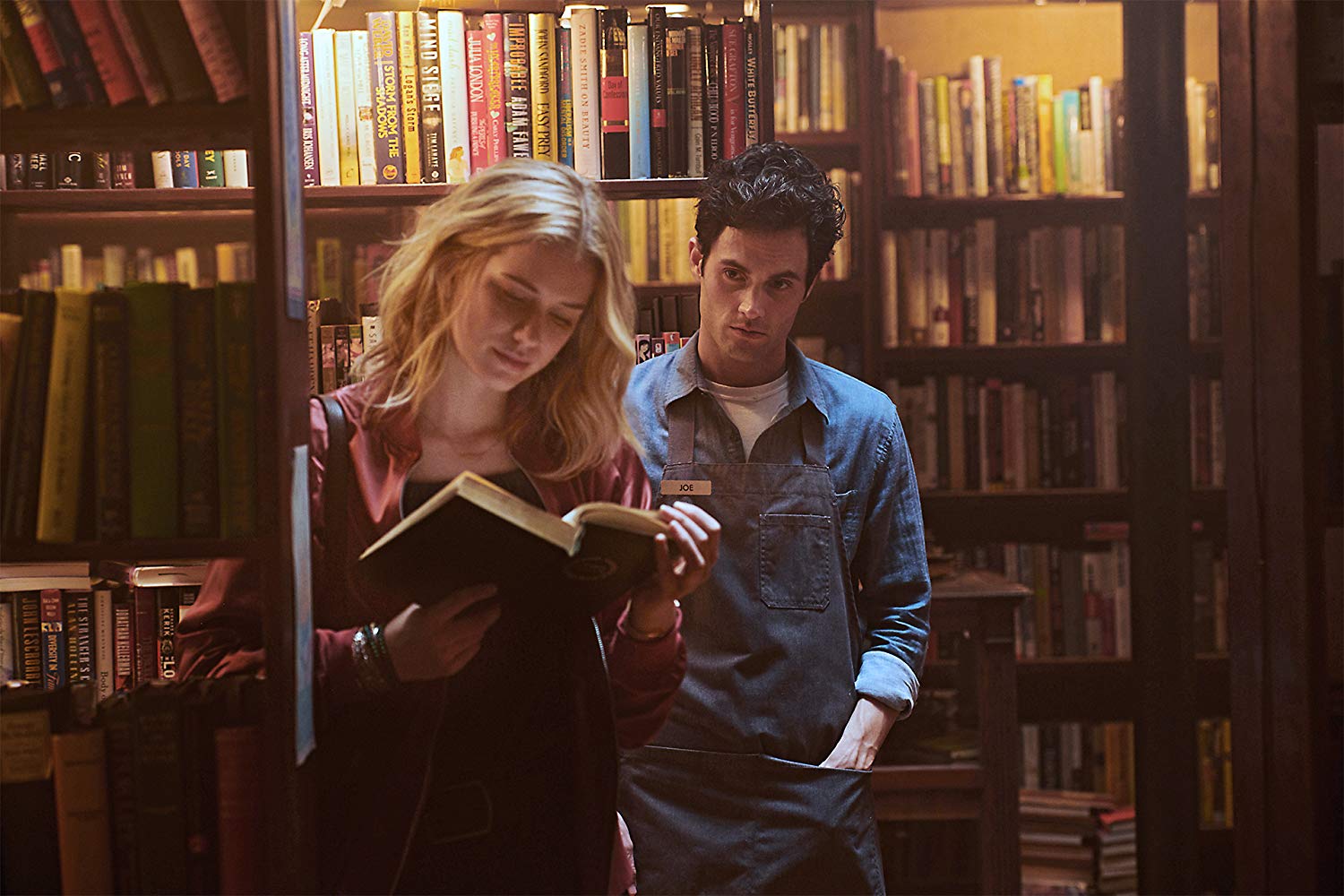 Photo: Lifetime
What do Riverdale, Gossip Girl, Pretty Little Liars, and Once Upon a Time have in common? Our faves from all these shows have come together for a deliciously dark new Lifetime drama. YOU explores what happens when your (kinda) innocent social media stalking—y'know, to check your date isn't a murderer…and knows how to use a #filter—steps over the line into obsession. Penn Badgley sells the tortured soul turned #toomuch image so well you'll fall right into his twisted take on a love story. This is as close to a multiverse crossover of your dreams as you'll probably get—and it also means the drama is going to pull you in deep.
Get into YOU this Sunday on Lifetime.
From Lifetime:
The brand new series YOU , premieres September 9th at 10pm ET/PT on Lifetime. When a brilliant bookstore manager crosses paths with an aspiring writer, his answer becomes clear: anything. Using the internet and social media as his tools to gather the most intimate of details and get close to her, a charming and awkward crush quickly becomes obsession as he quietly and strategically removes every obstacle – and person – in his way. The series stars Penn Badgley, Elizabeth Lail, Luca Padovan, Zach Cherry, and Shay Mitchell, with a special guest appearance by John Stamos.