This week: Better Call Saul, The Bold Type, Love Is___, Castle Rock, Reverie, Take Two, Wynonna Earp, Killjoys, Claws, Sharp Objects, Preacher, Ballers
Better Call Saul
"Smoke" – Season 4 premiere
Mon August 6 – 9PM
On AMC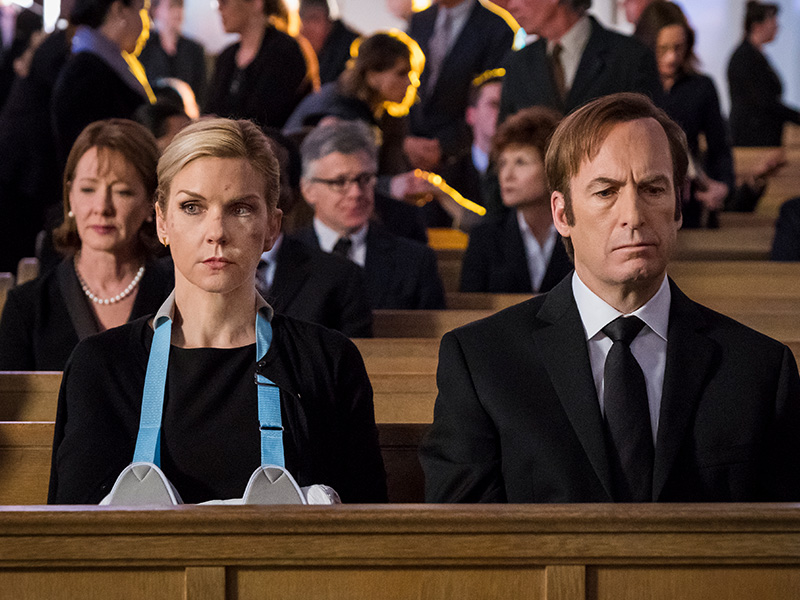 Photo: AMC
Gene is checking out. And after three whole seasons, Saul is finally checking in. Y'all ain't ready. Chuck (Michael McKean) is gone and Jimmy's (Bob Odenkirk) world has been turned upside down; he can no longer practice law and he needs a job…by any means necessary. And if you know the man at all, that ain't gonna be good. The slow-burn spiral into Saul's hellish ways has been a fascinating insight into human behavior—with that classic hyper realistic edge only Vince Gilligan and Peter Gould could write—but now we get to the fun maniacal stuff Better Call Saul has been promising ever since Breaking Bad first introduced us to the lawyer. "You know why God made snakes before he made lawyers? He needed the practice."
Better Call Saul returns tonight on AMC.
From AMC:
Jimmy struggles to cope with Chuck's tragic death. Mike ponders his role at Madrigal. Howard makes a startling confession.
—
The Bold Type
"We'll Always Have Paris" – Season 2 finale
Tues August 6 – 8PM
On Freeform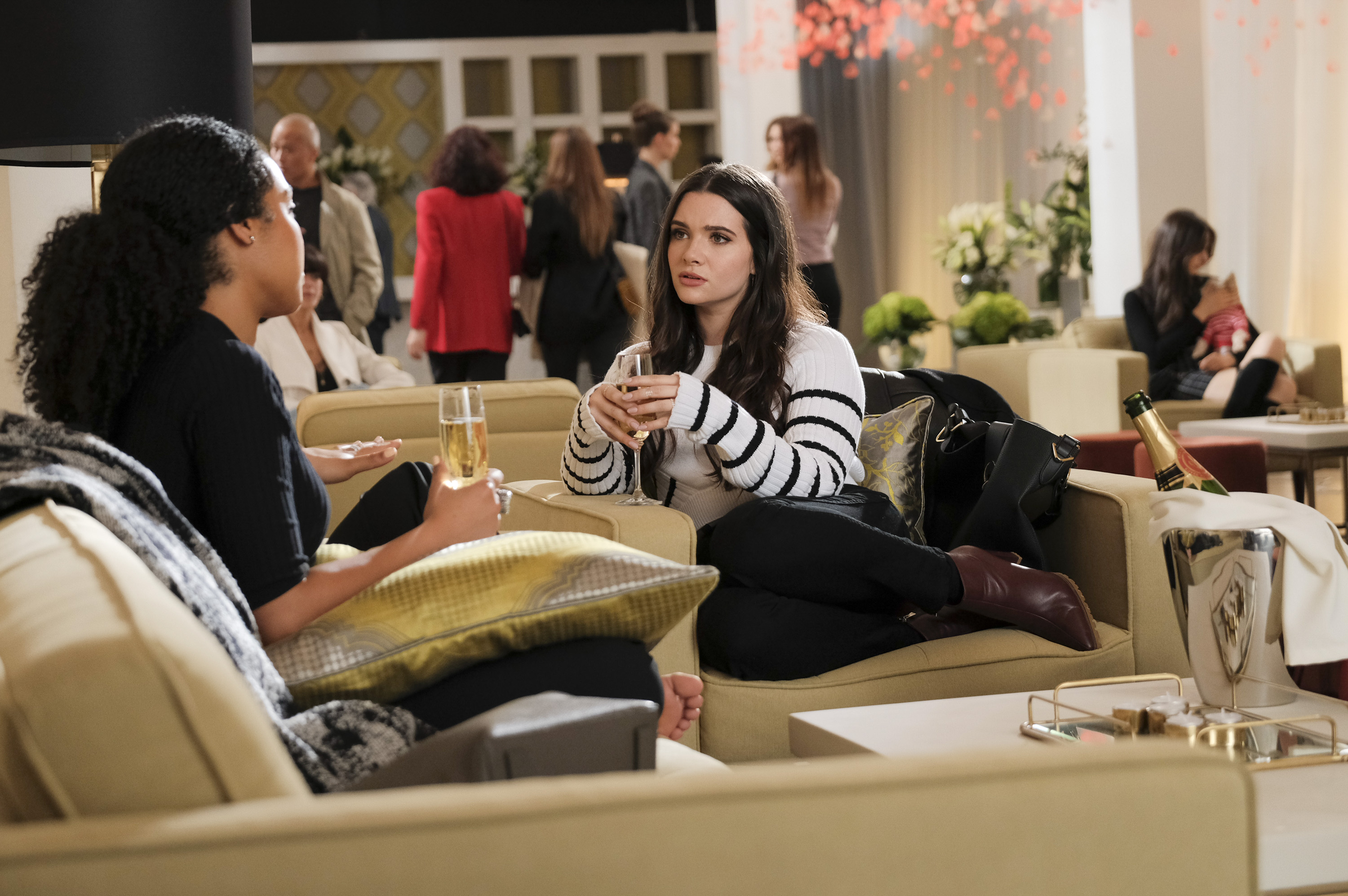 Photo: Freeform/Phillippe Bosse
It's finally Paris Fashion Week which, in The Bold Type world, is basically Christmas: There's the City of Light, plenty of heated emotional drama, and even a proposal! Richard (Sam Page) is getting engaged and Sutton (Meghann Fahy) is under pressure from all angles (but hey, at least there's plenty of champagne, right?). Ryan (Dan Jeannotte) is making his move on Jane (Katie Stevens) but that isn't even the biggest decision she has to make right now. Kat (Aisha Dee) and Adena (Nikohl Boosheri) have reached breaking point, and Jacqueline (Melora Hardin) is getting ousted from Scarlet. Phew, take a minute to let that all sink in—The Bold Type season 2 is bowing out in style and it's got us saying, mon dieu!
The Bold Type airs tomorrow on Freeform.
From Freeform:
Sutton's professional dreams come true when she jets off to Paris for Fashion Week, but while there she gains a new perspective on her situation. Jane moves forward with her fertility plan until she learns surprising news about her options and is faced with Ben and Pinstripe's different solutions. Kat faces pressure from Jacqueline to make their Paris party a success while attempting to reset her relationship with Adena.
—
Love Is___
"Rose (Going Home)" – Season 1, Episode 8
Tues August 7 – 10PM
On OWN
Love Is___ airs on OWN tomorrow night.
From OWN:
Nuri and Yasir visit Yasir's mother, Rose (Loretta Devine), and his son, Deonte, but things quickly turn volatile when Yasir questions how Deonte is being raised. Meanwhile, back in L.A., Angela receives an unexpected career opportunity.
—
Castle Rock
"Harvest" – Season 1, Episode 5
Wed August 8
On Hulu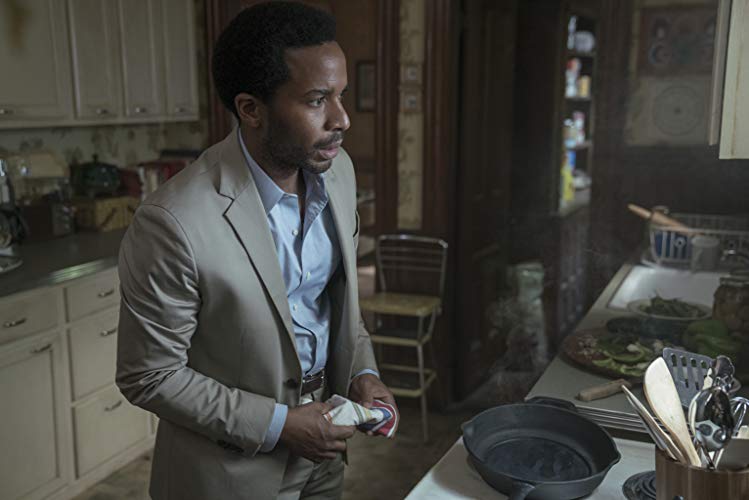 Photo: 

Patrick Harbron/

Hulu
It was a bullet-riddled meltdown at Shawshank when Dennis Zalewski (Noel Fisher)  tore through the prison, giving us a glimpse into the horror that surrounds The Kid (Bill Skarsgård) and anyone who gets to close to him. Molly has opened up about her particular Kingfliction—my name for any weird power someone has in the Stephen King Universe—and her power may be the key to figuring out what is happening. The past and present crash into each other as Henry's (André Holland) crusade is realized and we finally begin to learn what Dennis meant when he said, [the boy is just] "the tip of the fucking Ice Capades!" On the upside, Warden Dale Lacy (Terry O'Quinn) is still dead…we hope.  (Philip Jean-Pierre)

Stream new episodes of Castle Rock every Wednesday on Hulu.
From Hulu:
A psychological-horror series set in the Stephen King multiverse, Castle Rock combines the mythological scale and intimate character storytelling of King's best-loved works, weaving an epic saga of darkness and light, played out on a few square miles of Maine woodland. The fictional Maine town of Castle Rock has figured prominently in King's literary career: Cujo, The Dark Half, IT and Needful Things, as well as novella The Body and numerous short stories such as Rita Hayworth and The Shawshank Redemption are either set there or contain references to Castle Rock. Castle Rock is an original suspense/thriller — a first-of-its-kind reimagining that explores the themes and worlds uniting the entire King canon, while brushing up against some of his most iconic and beloved stories.
—
Reverie
"Point of Origin" – Season 1 finale
Wed August 8 – 10PM
On NBC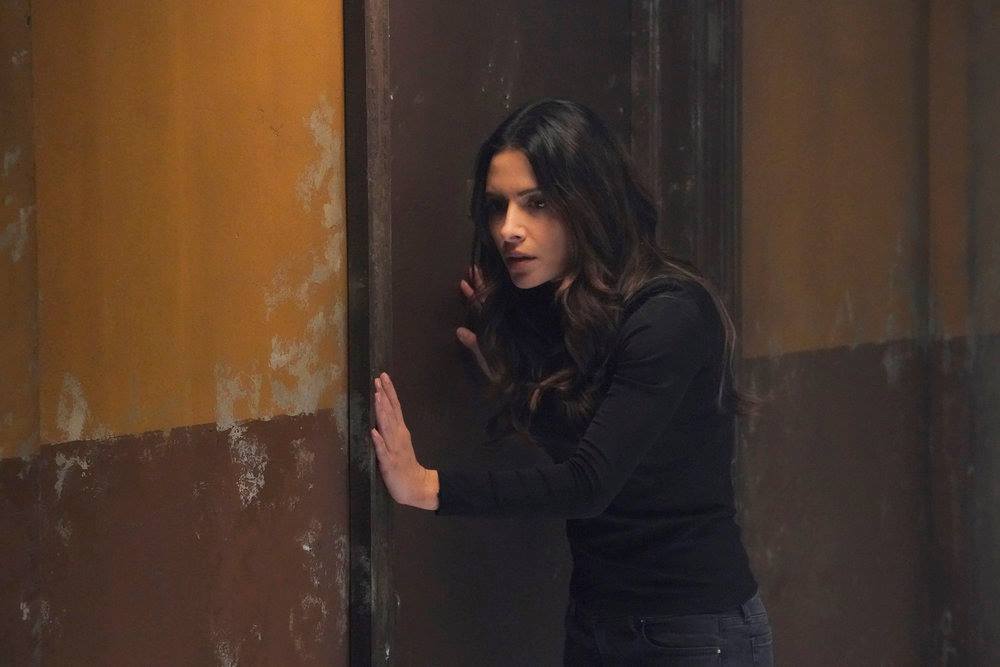 Photo: Chris Haston/NBC
Ohhh sci-fi world, you never learn do you? Having central control systems may be convenient but when something goes wrong the effects are catastrophic. Especially when it's the minds of 15,000 people at stake. Yup, Reverie is going out with a (literal) bang and we're gonna need a Reverie of our own just to recover. Mara (Sarah Shahi) is volunteering as tribute to stop the attempted murder but she must confront her own demons before facing the one inside Onira-Tech. Reverie has always been driven by tension but "Point of Origin" is ready to change the game entirely.
The season finale of Reverie airs this Wednesday on NBC.
From NBC:
The team must race against the clock when one of them is kidnapped, and Onira-Tech is at risk of being destroyed.
—
Take Two
"All About Ava" – Season 1, Episode 8
Thurs August 9 – 10PM
On ABC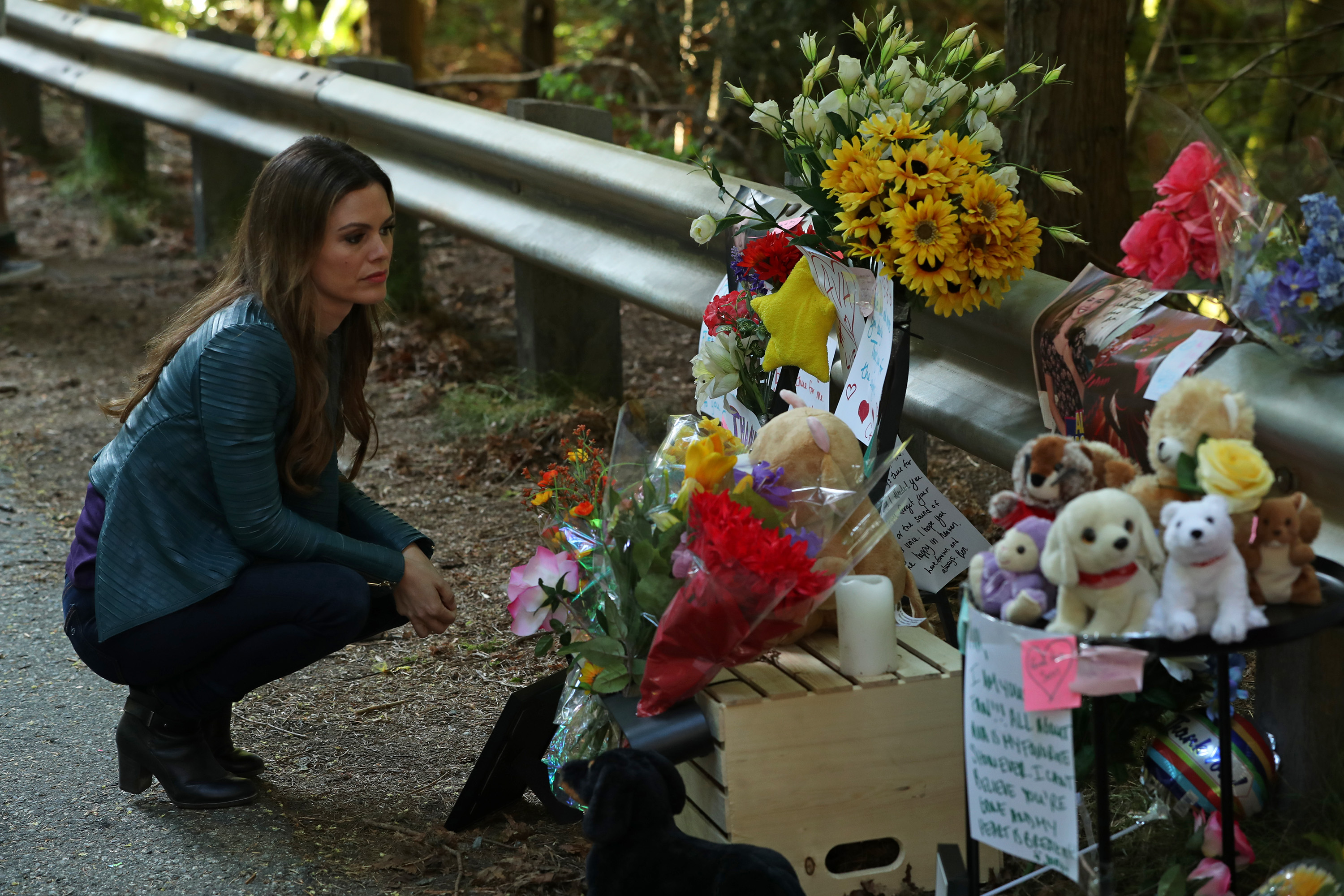 Photo: 

ABC/Jack Rowand
One of the most important steps of recovery is reconciling with your past. For Sam (Rachel Bilson), that past is slightly more public than for most of us but she's forced to deal with it when her actress "big sister" dies suddenly in a car crash. Ava Day (Courtney Richter), star of the 90s sitcom "All About Ava", is back in the limelight but for all the wrong reasons when it turns out her death wasn't an accident. She was killed for the secret she kept locked up in a safety deposit box—and Sam isn't ready to face the truth of what her childhood friend got up to when the cameras weren't rolling. This is an emotional one, folks, as we get a glimpse into the life Sam has been trying so hard to leave behind.
Get into Take Two this Thursday, only on ABC.
From ABC:
Sam takes an unexpected journey into her past when she and Eddie are called on to investigate the seemingly accidental death of Ava Day, star of the '90s sitcom "All About Ava," which featured a 12-year-old Sam in her acting debut as Ava's little sister. But when the investigation uncovers dark truths about past events, Sam is forced to reconcile her childhood impressions with newly found facts in order to crack the case.
—
WYNONNA EARP
"No Cure For Crazy" – Season 3, Episode 4
Fri August 10 – 9PM
On SYFY
Catch Wynonna Earp every Friday on SYFY.
From SYFY:
The forest reveals its secrets – and a clue to Nicole's past. Meanwhile, Wynonna pays an unexpected visit to her mother.
—
KILLJOYS
"What to Expect When You're Expecting… An Alien Parasite" – Season 4, Episode 4
Fri August 10 – 10PM
On SYFY
Get into Killjoys every Friday on SYFY.
From SYFY:
Dutch awakens to John at the brink of madness and the birth of D'av's child.
—
CLAWS
"Breezy" – Season 2 finale
Sun August 12 – 9PM
On TNT
Claws returns to TNT this Sunday.
From TV Guide:
As a hurricane bears down on Palmetto, a steely Desna proceeds with the plans for her big day, keen for the the opportunity to settle all scores. Opposing forces converge at a lavish golf resort, each determined to prevail against the others.
—
SHARP OBJECTS
"Cherry" – Season 1, Episode 6
Sunday August 12 – 9PM
On HBO
Watch Sharp Objects on HBO every Sunday.
From HBO:
Adora (Patricia Clarkson) provides Chief Vickery (Matt Craven) with a key piece of evidence in the Ann Nash murder case. Richard (Chris Messina) probes for details about Camille's dark past. John's (Taylor John Smith) girlfriend, Ashley (Madison Davenport), looks to make news for herself. Amma (Eliza Scanlen) bonds with Camille (Amy Adams) during and after a wild party.
—
Preacher
"The Tom/Brady" – Season 3, Episode 8
Sun August 12 – 10PM
On AMC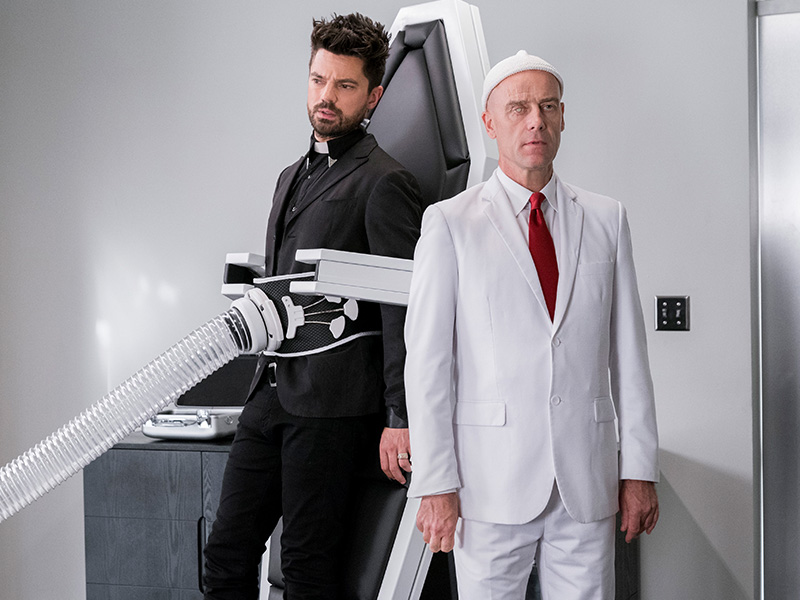 Photo: AMC
Here's Johnny! Kudos to Satan for being down with the pop culture references (did we really just say that?) but Gran'ma (Betty Buckley) ain't amused. After all, she's the only woman on Earth with the guts to boss His Hideousness around and make him a better deal—no matter the cost. Seriously, her poker face could bankrupt Vegas and we are both delighted and terrified watching her negotiate. Ooh Gran'ma, will you ever be pleased? Only the truly desperate would try and grant her current wish for more souls—and our Preacher (Dominic Cooper) fits the description. He and Tulip (Ruth Negga) team up with Herr Starr (Pip Torrens) and The Grail for one last attempt to appease ye olde witch and, honestly, going to hell and back seems a lot easier (and actually doable…right, Arseface?).
Preacher airs this Sunday on AMC.
From AMC:
Annville, Angelville and the Grail team up in a last-ditch effort to satisfy Gran'ma.
—
Ballers
"Rough Ride" – Season 4 premiere
Sun August 12 – 10PM
On HBO
"California: There's nothing like it." It's the place for making money, living the high life, and starting a revolution—and Spencer's (Dwayne Johnson) packing a billion-dollar punch. You in?
Season 4 of Ballers premieres this Sunday on HBO.
From HBO:
The show looks at the lives of former and current football players, following former superstar Spencer Strasmore (Dwayne Johnson), who has reinvented himself as a financial manager. This season, Spencer and Joe (Rob Corddry) take their skills to Los Angeles as they look to expand their roster and horizons in the world of action sports.