This week: Random Acts of Flyness, Making It, Castle Rock, Take Two, Ozark, Wynonna Earp, Killjoys, YOU sneak peek
Random Acts of Flyness
"Items Outside the Shelter But Within Reach" – Season 1, Episode 4
Mon Aug 27 – 9:55PM
On HBO2
Watch Random Acts of Flyness on HBO2 every Monday.
From HBO:
Most abuse happens within families and the lines between care, conflict, and chaos are volatile. This week's program addresses some of the dangling threads from past and future episodes, including the perfect apology, a very competitive game of spades and a celebrity's latest business venture.
—
MAKING IT
"Inside Out" – Season 1, Episode 5
Tues August 28 – 10PM
On NBC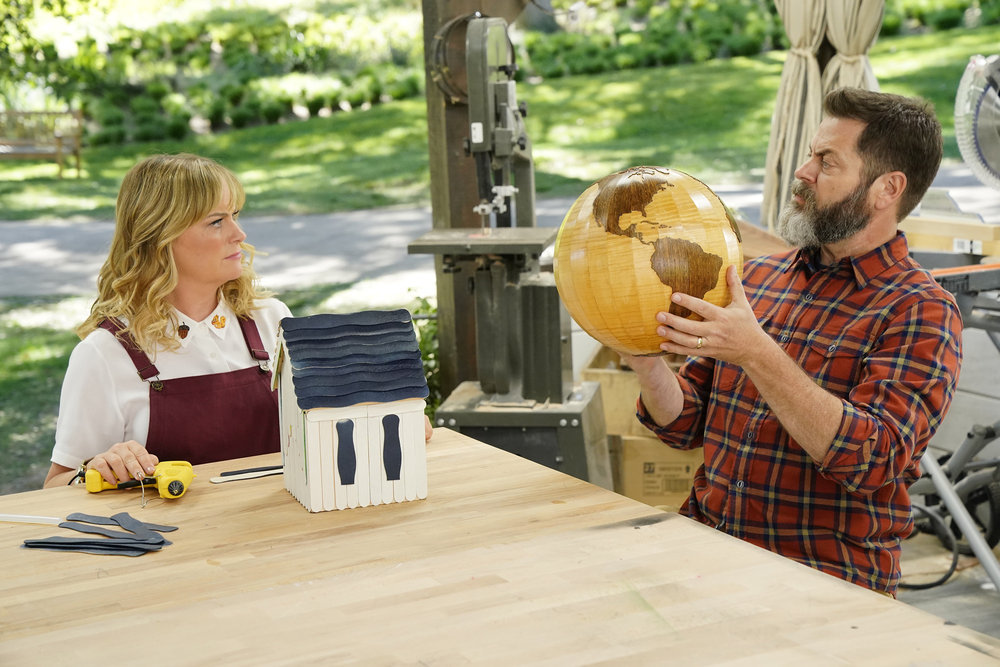 Photo by: Paul Drinkwater/NBC
Y'know what's great about nature? When Nick Offerman & Amy Poehler take us there. On "Inside Out" (we see what you did there, Amy), the remaining four makers are tasked with bringing the great outdoors inside with some natural light—aka light fixtures. But the real question is: Can Nick & Amy turn acorns into instruments? Okay, maybe that's just one of their hilarious bits but the competition is getting serious…well, as serious as this charming show can be. There are dyed tamales, parrots, and even a warning against the dangers of mixing popcorn and hot glue. Where else could you get such a random and intriguing combo? Our crafters also give garden sheds new purpose—complete with grandma-chic and voodoo dolls—and we're kinda ready to move in. Of course you'll hit play every week on Making It for the hosts but, as you slowly learn about each of the competitors and why they love to get crafty, you can't help but root for each of them.
Get crafty with Making It tomorrow night on NBC.
From NBC:
Nothing sparks creativity quite like nature, and on the penultimate episode of Making It, our Makers get lost in the great outdoors. They are tasked with bringing the outdoors in with the Faster Craft, creating a working light fixture using components found in nature. After bringing the outside in, the Makers then bring the inside out, transforming an ordinary backyard shed into a unique personal space you have to see believe. Though Amy prefers a comfy couch to a grassy field, she can't help but want to hang out in these outdoor masterpieces.
—
Castle Rock
"Past Perfect" – Season 1, Episode 8
Wed August 29
On Hulu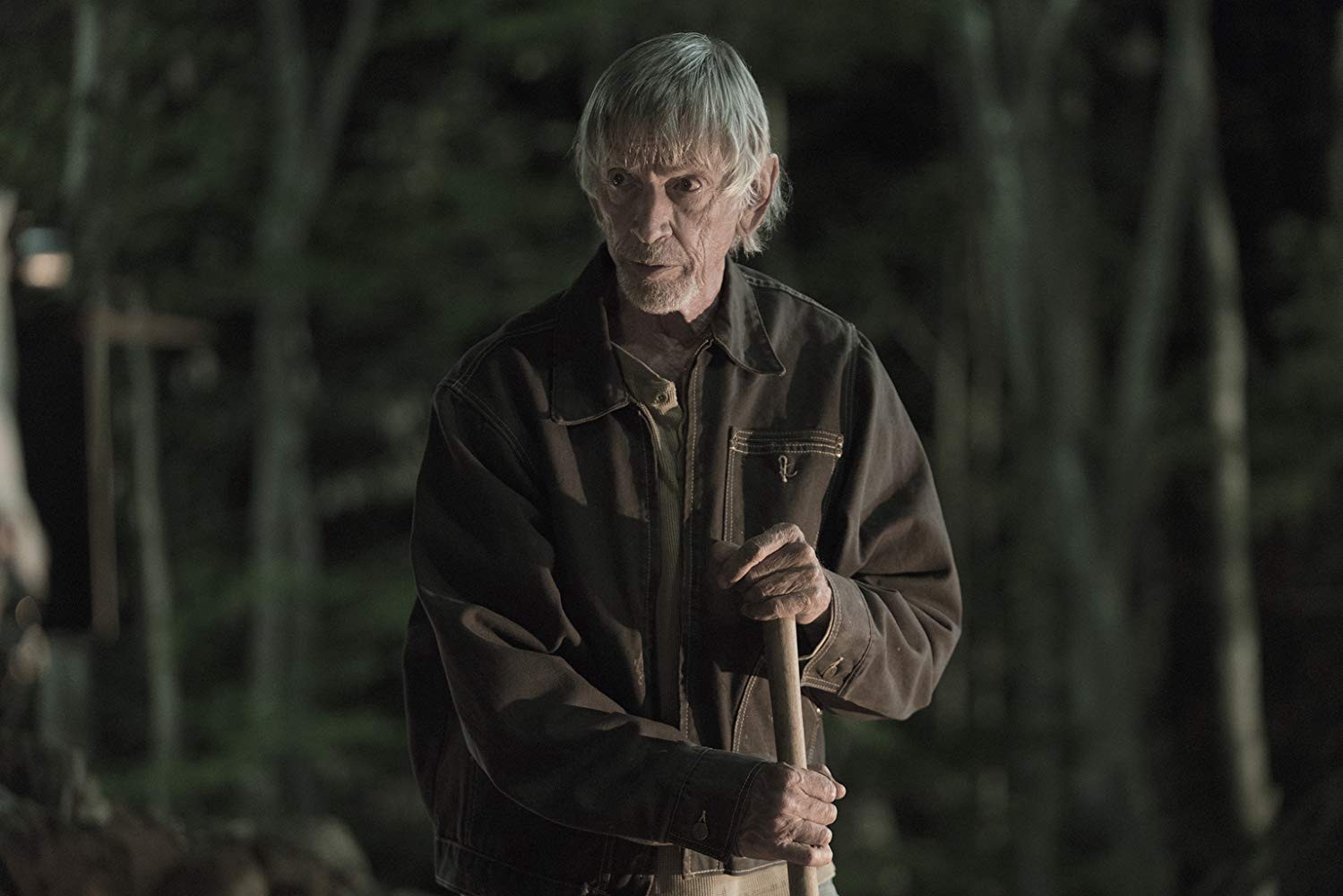 Photo: Hulu
The past is present and the present is past. The world of Ruth Deaver (Sissy Spacek) comes full circle and we learn her Alzheimer's and dementia maybe the key to unraveling the mystery of Castle Rock, The Kid (Bill Skarsgård), and the still-dead Warden Dale Lacy (Terry O'Quinn)—who now has the company of Alan Pangborn (Scott Glenn). It's time to discover fully what fate has in store for Henry (André Holland), Molly (Melanie Lynskey), and The Kid and nothing can prepare you… (Philip Jean-Pierre)
Stream new episodes of Castle Rock every Wednesday on Hulu.
From Hulu:
A psychological-horror series set in the Stephen King multiverse, Castle Rock combines the mythological scale and intimate character storytelling of King's best-loved works, weaving an epic saga of darkness and light, played out on a few square miles of Maine woodland. The fictional Maine town of Castle Rock has figured prominently in King's literary career: Cujo, The Dark Half, IT and Needful Things, as well as novella The Body and numerous short stories such as Rita Hayworth and The Shawshank Redemption are either set there or contain references to Castle Rock. Castle Rock is an original suspense/thriller — a first-of-its-kind reimagining that explores the themes and worlds uniting the entire King canon, while brushing up against some of his most iconic and beloved stories.
—
Take Two
"Stillwater" & "Family Ties" – Season 1, Episodes 10 & 11
Thurs August 30 – 9PM
On ABC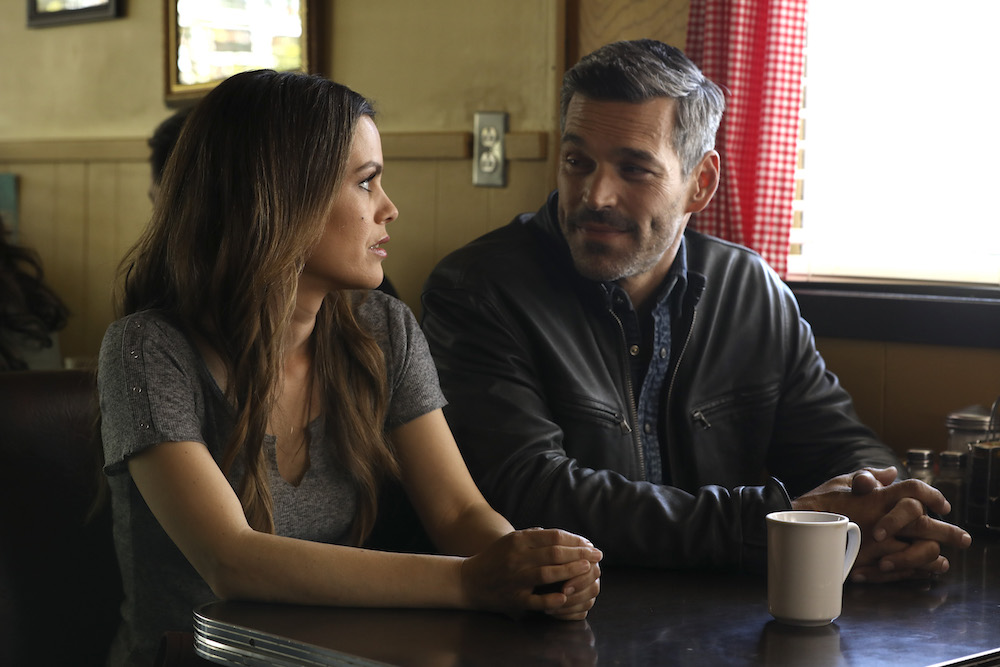 Photo: 

ABC/Jack Rowand
After a break last week, Take Two has rewarded our (im)patience with two new episodes this Thursday. In "Stillwater" Sam's (Rachel Bilson) willingness to invest in the paranormal pulls her into a new case but do aliens really exist or is there a more Scooby Doo-esque explanation to what's going on? We l-u-v Sam for her enthusiasm and for inciting the best reactions from Eddie (Eddie Cibrian). Especially now they're official partners (yup, we're still squealing). She's gonna need some of that enthusiasm in "Family Ties" when some personal drama comes knockin'. She's not alone though: Detective Rollins' (Aliyah O'Brien) brother has fallen back to his old ways and he's in over his head. Rollins has been saving their asses from day one so it's only fair they repay the favor…and we get to see another layer to the badass detective. It's a win-win in this one-two punch special.
Get into Take Two this Thursday, only on ABC.
From ABC:
"Stillwater":
Sam and Eddie travel to California's wine country to investigate the mysterious disappearance of a wheelchair-bound woman. Hired by the woman's son, the two quickly discover this is no ordinary missing person's case when the son reveals that he witnessed her otherworldly abduction. Despite Sam's enthusiasm for the bizarre story, both she and Eddie know there must be a more down-to-earth explanation for her disappearance. But when their investigation uncovers things even they can't explain, they can't help but wonder if the truth is out there.
"Family Ties":
When Detective Christine Rollins receives a frantic phone call from her younger brother asking for help, she assumes he's gotten himself into some kind of legal trouble again. But when he doesn't show up to meet her, she fears the worst. Not knowing what her brother was caught up in and hoping to avoid LAPD involvement, she turns to Sam and Eddie to help track him down. But when surveillance video shows Tyler stealing a luxury car, Christine learns that her once-wayward younger brother is back to his old ways and may be tied to something even worse. Meanwhile, Sam is dealing with family drama of her own.
—
Ozark
Season 2
Fri August 31
On Netflix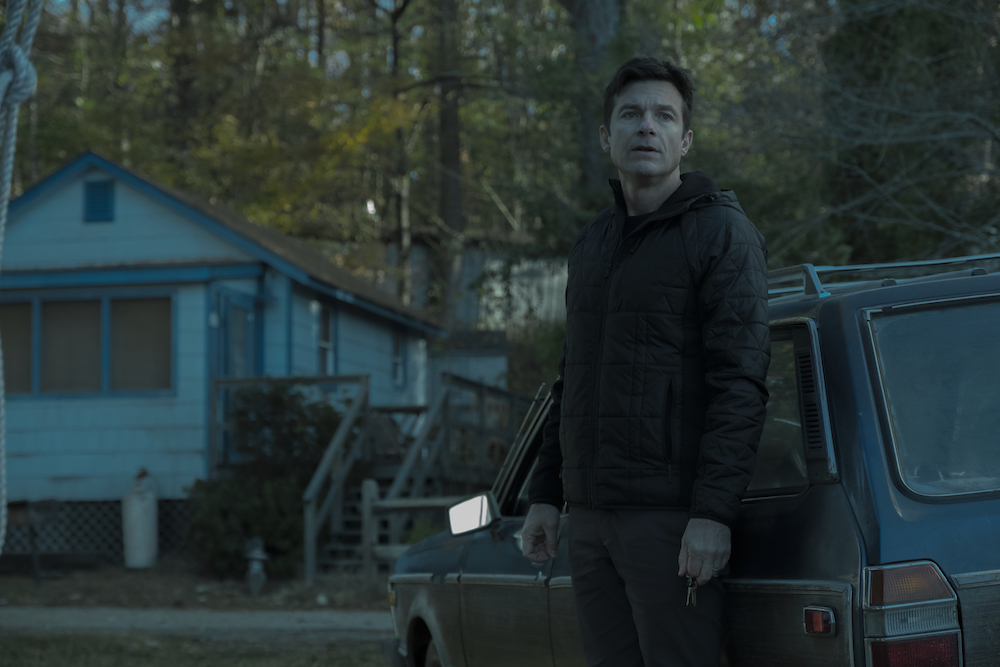 Photo: Jessica Miglio/Netflix
Hold your breath because Ozark is about to pull you even deeper. Season 2 dives right back in where season 1 left off, with Marty (Jason Bateman) caught in a negotiating nightmare. He's got the cartel's formidable lawyer Helen Pierce (Janet McTeer) breathing down his neck after Del's (Esai Morales) death, and the equally dangerous Snell family watching his family's every move. All while still being investigated over his business partner's murder. As the circle tightens he's desperately trying to build a casino which will allow him to step up the money laundering game…not that he ever shows any public signs of stress. The man has a stellar poker face but his new partners keep shuffling the cards on the intricate deal he's set up.
Meanwhile, Wendy (Laura Linney) is playing a completely different game. She has some downright sinister…but practical…ideas for the funeral parlor she invested in. Watching her gain a steely resolve and make her own power moves this season will enthrall you. Ruth (Julia Garner) is dealing with the loss of her uncle in the only way she knows how: With a partnership proposition. She's now fueled not only by money but by an abusive alcoholic father bringing a torrent of emotion that she only shows when nobody's watching. Ruth desperately wants to learn how to be a part of the money laundering world but always feels shut out…and that's a dangerous feeling. You fear her but understand and even pity her at times—she's just trying to survive, much like the rest of the town, and she fights harder than most. Ozark moves slowly, sometimes frustratingly so, but this season is all about cutting the characters open and shining a light on all the dark secrets they've been hiding.
Head back into Ozark on Netflix this Friday.
From Netflix:
In its much-anticipated second season, Ozark continues to follow Marty Bryde and his family as they navigate the murky waters of life within a dangerous drug cartel. With Del out, the crime syndicate sends their ruthless attorney Helen Pierce to town to shake things up just as The Byrdes are finally settling in. Marty and Wendy struggle to balance their family interests amid the escalating dangers presented by their partnerships with the power-hungry Snells, the cartel and their new deputy, Ruth Langmore, whose father Cade has been released from prison. The stakes are even higher than before and The Byrdes soon realize they have to go all in before they can get out.
—
WYNONNA EARP
"I Fall to Pieces" – Season 3, Episode 7
Fri August 31 – 9PM
On SYFY
Catch Wynonna Earp every Friday on SYFY.
From NBC:
Lady Luck seems to have abandoned Wynonna and Nicole when an errand for Nedley goes terribly wrong. Mama discovers Doc's secret.
—
KILLJOYS
"O Mother, Where Art Thou?" – Season 4, Episode 7
Fri August 31 – 10PM
On SYFY
Get into Killjoys every Friday on SYFY.
From NBC:
With D'av and Jaq on the run, Dutch and John hunt the answer to Khlyen's memory clue.
—
YOU
Sneak peek #2
Sun Sept 2 – 10PM
On Lifetime
Remember when we told you to get ready for this? Take another sneak peek…you're welcome.
Get a sneak peek at YOU this Sunday on Lifetime.
From Lifetime:
The brand new series YOU , premieres September 9th at 10pm ET/PT on Lifetime. When a brilliant bookstore manager crosses paths with an aspiring writer, his answer becomes clear: anything. Using the internet and social media as his tools to gather the most intimate of details and get close to her, a charming and awkward crush quickly becomes obsession as he quietly and strategically removes every obstacle – and person – in his way. The series stars Penn Badgley, Elizabeth Lail, Luca Padovan, Zach Cherry, and Shay Mitchell, with a special guest appearance by John Stamos.