This week: Patriot Act with Hasan Minhaj, Young Justice: Outsiders, Four Weddings and a Funeral, Why Women Kill, Falling Inn Love, Styling Hollywood, The Dark Crystal: Age of Resistance, Carnival Row, Pennyworth, Preacher
Patriot Act with Hasan Minhaj
"The Real Cost of Cruises" – Vol 4, Episode 4
New episodes Sunday
On Netflix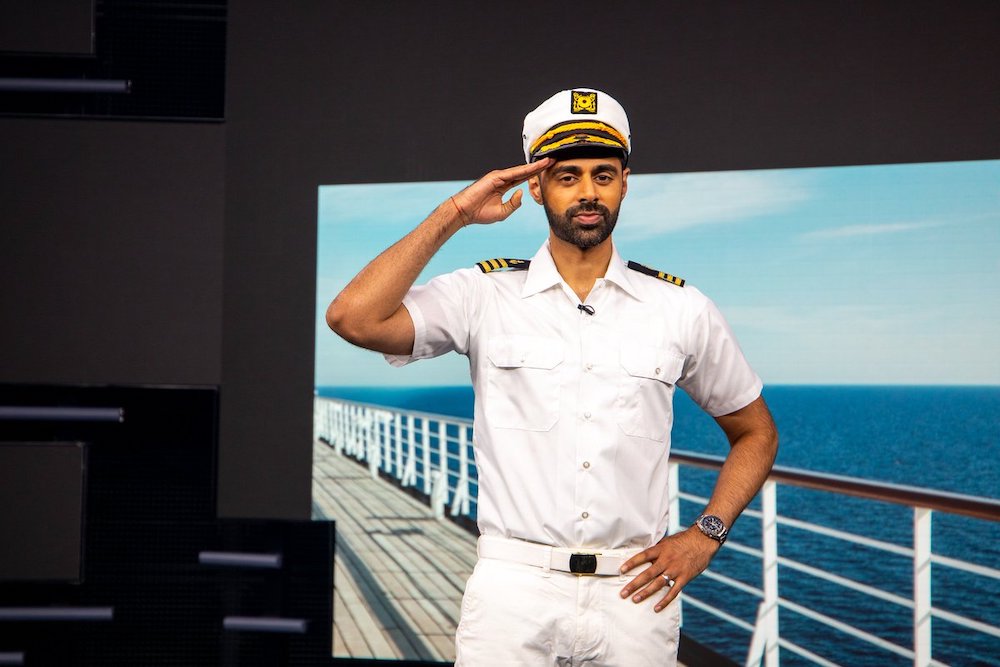 Cruises aren't just for your grandparents any more. These package vacations are now an almost $50 billion industry. But while you might think you're getting a great deal at $1500 for a 7 night getaway, what's the real cost? Hasan Minhaj takes a look below deck at the inhumane-yet-somehow-legal wages and working hours of cruise line employees as well as how maritime law can allow companies to get away with murder (quite literally). Hasan also shares the horrendous impact on the environment these giant floating cities have. So, if you're one of those people angry over the hushed up headlines about the Amazon burning, you might also want to rethink your next family vacay.
Stream new episodes of Patriot Act with Hasan Minhaj every Sunday.
From Netflix:
Cruise lines promise fun, inexpensive vacations, but Hasan discovers that major carriers are exploiting loose regulations on labor, safety and crime.
—
Young Justice: Outsiders
"Into the Breach" – Episode 24
Tues Aug 27
On DC Universe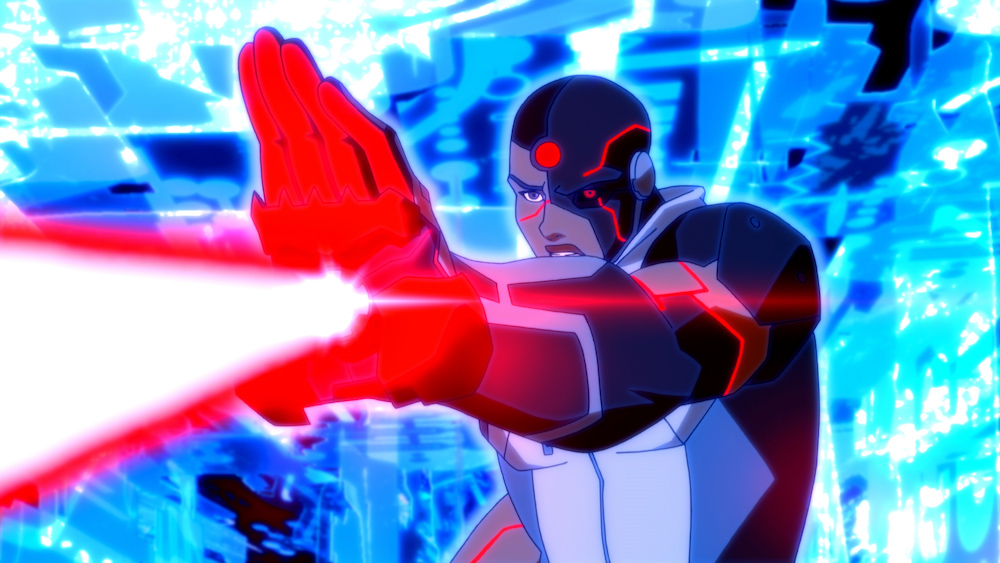 Cyborg is upping his supercomputer game in the hopes of finding Violet. He can feel something is up but he can't quite figure out why. On a hunch he leads the Outsiders to what appears to be an empty building…and then Cyborg really shows them what he can do. Unfortunately Granny is always two steps ahead of everyone else and she gives Beast Boy an offer he can't refuse in order to save his team. Their face-off is nothing short of epic and will have you squealing with every hit.
Stream Young Justice: Outsiders every Tuesday on DC Universe.
From DC Universe:
The Outsiders make one last attempt to save Halo…and the galaxy!
—
Four Weddings and a Funeral
"Game Night" – Season 1, Episode 8
Wed Aug 28
On Hulu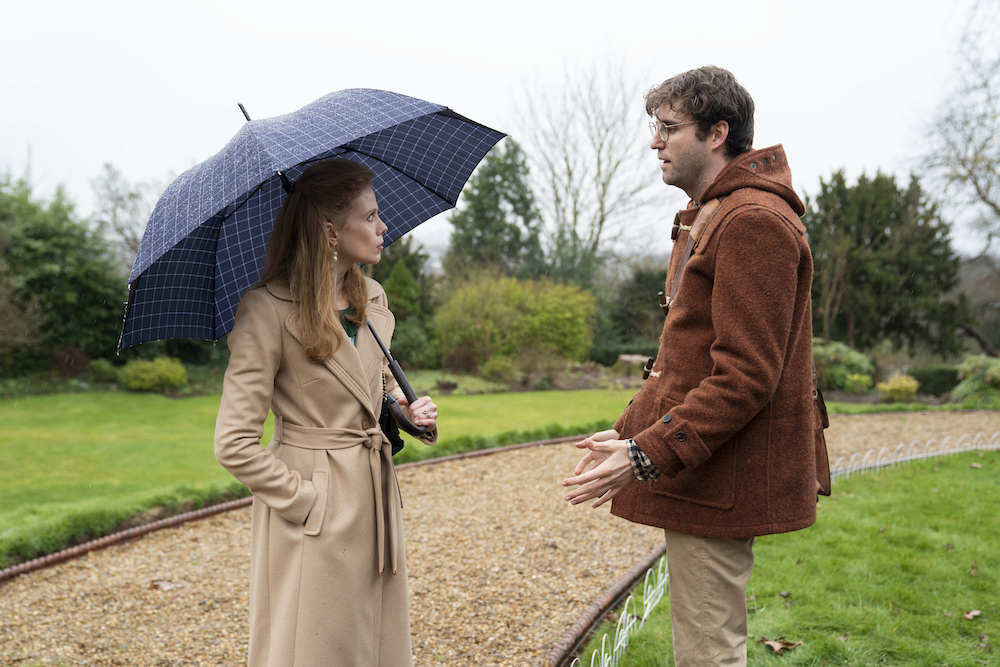 Kash (Nikesh Patel) and Maya (Nathalie Emmanuel) can't pretend there's not a spark there anymore so they decide to get to know each other…platonically, of course (ooh, how long will that last?). All their sneaking around leads Ainsley (Rebecca Rittenhouse) to jump to the most hilariously wrong conclusion. Meanwhile Andrew (Alex Jennings) and Tony 2 (Nathan Stewart-Jarrett) take the next step in their relationship. However this is a rom-com, after all, which means there's some conflict between their two very different worlds and it leads to one of the most heartfelt storylines of the series. Gemma (Zoe Boyle) and Duffy (John Reynolds) grow closer but they both give each other the wrong idea. Their reactions will make you both squeal and hide your head in your hands out of frustration. All of these conflicts lead to a game night which Ainsley decides to host (but totally not to distract herself from thinking about Bryce). As Four Weddings and a Funeral dances closer to its finale, "Game Night" is laying out all the cards on the table to see where its players end up.
Stream Four Weddings and a Funeral on Hulu on Wednesday.
From Hulu:
Maya and Kash get to know each other behind Ainsley's back. Tony 2 realizes he and Andrew come from very different worlds. Ainsley and Craig play matchmaker, as do Gemma and Duffy.
—
Why Women Kill
"I Killed Everyone He Did, But Backwards and in High Heels" – Season 1, Episode 3
Thurs Aug 29
On CBS All Access
Watch Why Women Kill on CBS All Access on Thursday.
From CBS All Access:
Why Women Kill details the lives of three women living in three different decades: a housewife in the '60s, a socialite in the '80s, and a lawyer in 2019, each dealing with infidelity in their marriages. The series will examine how the roles of women have changed, but how their reaction to betrayal… has not.
—
Falling Inn Love
Thurs Aug 29
On Netflix
Watch Falling Inn Love on Netflix on Thursday.
From Netflix:
Gabriela Diaz's (Christina Milian) San Francisco design firm folds the week of her break-up. Inspired by a potent concoction of wine and Wi-Fi, she successfully enters a contest to "Win an Inn" overlooking New Zealand's countryside. Thousands of airline miles later, she discovers The Bellbird Valley Farm boasts a crumbling facade, floorboard-treading goat, and meddling neighbor who covets the space. Eager to renovate and sell the property fast, she partners with Jake Taylor (Adam Demos), the Kiwi contractor and volunteer firefighter observing much of her city-girl culture shock. Once the final fixtures are hung, she's hesitant to leave him, the inn, and the inviting community that nurtured her creative side.
—
Styling Hollywood
Season 1
Fri Aug 30
On Netflix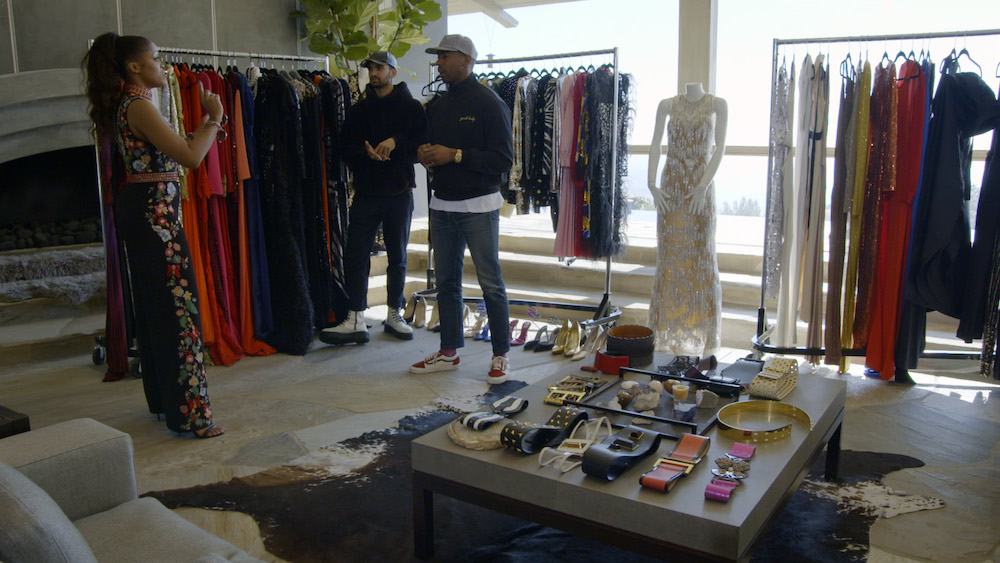 If you're a fan of lovely pretty things and you're low key obsessed with the behind-the-scenes of celebrity red carpet fashion (shh, we won't tell), then Styling Hollywood is about to fill up your champagne glass and toast to the spotlight. Meet celebrity stylist Jason Bolden and his interior designer husband Adair Curtis. Together they run their lifestyle company JSN Studio, bringing their talents together and lifting each other up (all while making jokes about their love for each other). Within minutes you'll feel right at home with the team and their mix of no-holds-barred drama and love with a side of shade. They're a tight-knit family and they're welcoming you into their inner circle. You'll also marvel at all the gorgeous dresses and the celebrities they dress, including Taraji P. Henson, Yara Shahidi, Gabrielle Union, and many more. Then there's the interior design choices—the style is strong! You might never be able to afford any of these pieces (and even Gabrielle Union,
aka Gab, had sticker shock) but y'all can dream the most fabulous dream with Styling Hollywood.
Get into Styling Hollywood on Netflix on Friday.
From Netflix:
Styling Hollywood is a series following celebrity stylist Jason Bolden and his interior designer husband Adair Curtis as they run their lifestyle company JSN STUDIO while balancing marriage and life's ups and downs. With their talented crew of colorful employees, watch as they curate "Black Girl Magic" for some of Hollywood's biggest stars including Taraji P. Henson, Gabrielle Union, Eve, and Ava DuVernay (just to name a few).
—
The Dark Crystal: Age of Resistance
Season 1
Fri Aug 30
On Netflix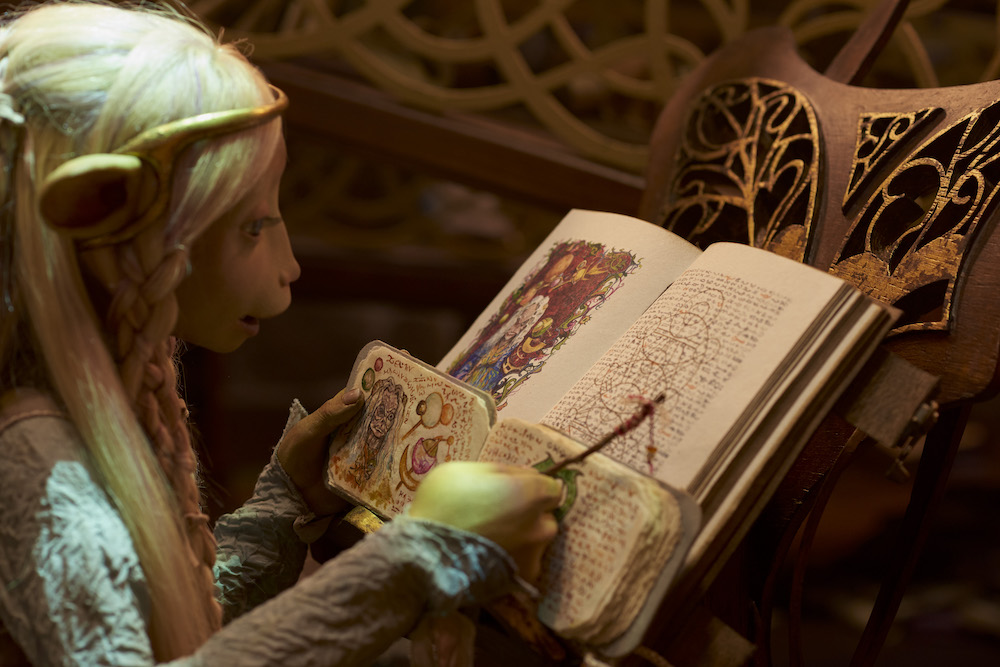 In a world of injustice, a few Gelfling persevere to rebel against their oppressors and restore the natural order of life on Thra. The Dark Crystal: Age of Resistance has the fantasy storyline you'd expect but be ready to encounter the unexpected. With so much going on in this well-woven tale there is something for everyone. The silly elements of Jim Henson Company are still laugh out loud and adorable and the interpersonal struggles of the Al Maudra (clan leader) family are almost tabloid-worthy. Just when you think you might know who the hero is, the writers introduce a new character with enough potential to keep you guessing as to who is really going to restore order to this planet that is so out of balance… (read our full [p]review)
Stream The Dark Crystal: Age of Resistance on Netflix on Friday.
From Netflix:
The Dark Crystal: Age of Resistance returns to the world of Thra with an all new adventure. When three Gelfling discover the horrifying secret behind the Skeksis' power, they set out on an epic journey to ignite the fires of rebellion and save their world.
—
Carnival Row
Season 1
Fri Aug 30
On Amazon Prime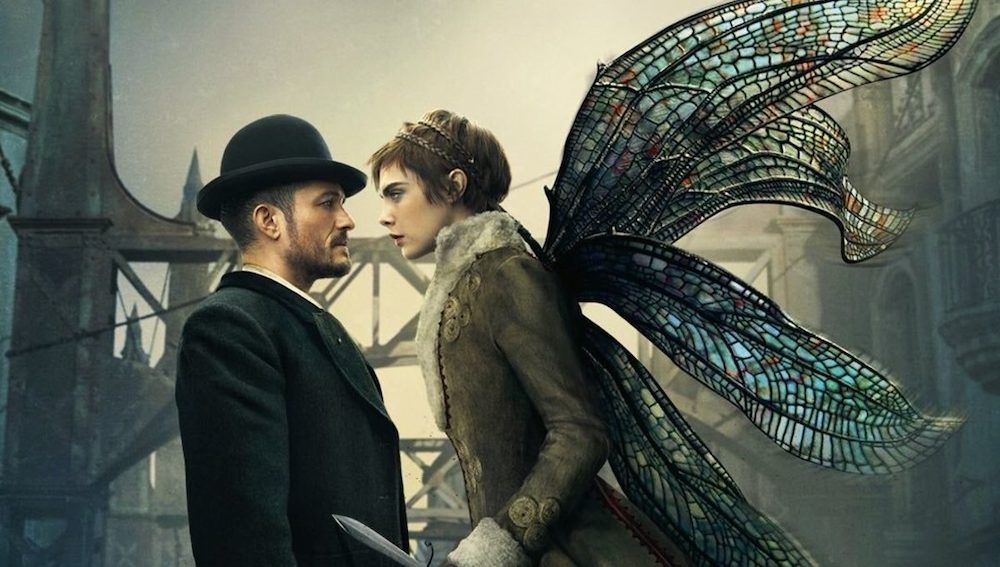 Carnival Row wastes no time in plunging you into a darkly magical urban fantasy. It's set in a time and place where humans have pillaged the lands of the faerie and now treat the immigrant fae as second-class citizens. All the races barely co-exist (just barely) in a steampunk version of Victorian London called The Burgue. The series is part crime drama (a serial killer or two is on the loose), part political intrigue (my oh my, the social commentary), and quite brutal, as it follows star-crossed lovers. Namely Detective Rycroft Philostrate (Orlando Bloom), who's a man of true justice and is disillusioned with the way things are run, and the faerie Vignette Stonemoss (Cara Delevingne) a warrior at heart who tries her hardest to survive within the human world…and also to rise above. Both Bloom and Delevingne make you believe in their respective struggles, both as characters on opposite sides and as doomed lovers. The issues they face—of discrimination, the tension boiling over, the unchecked murder—all have a striking and disturbing parallel to real world issues which may be too much for some. Not to mention the gore. You will see entrails (just sayin'). With that being said, you'll get sucked into this world so much that it will be easy to forget what's going on around you and fully commit to unraveling the mysteries that plague Carnival Row.
Carnival Row comes to Amazon Prime on Friday.
From Amazon:
With a serial killer loose on Carnival Row, and a government that turns a blind eye to the deaths of its lower class citizens, Rycroft Philostrate, a war-hardened investigator, is the only person willing to stop the murders and maintain the fragile peace. But when Vignette Stonemoss, a faerie refugee, turns up in the Burgue, she forces Philo to reckon with a past he's tried to forget.
—
Pennyworth
"Julie Christie" – Season 1, Episode 7
Sun Sept 1
On Epix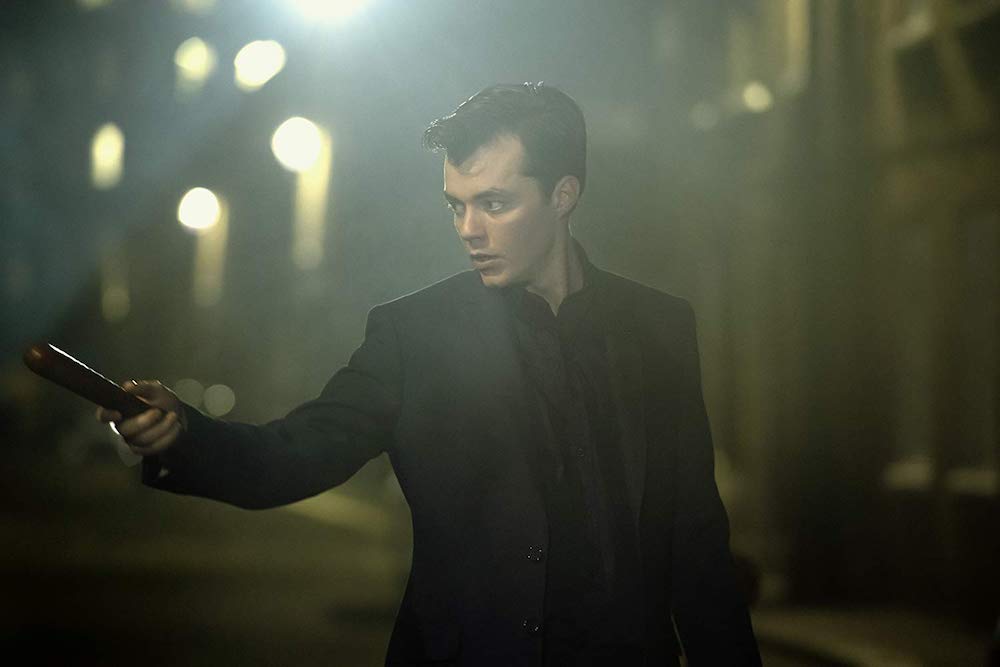 It's the morning after…or actually three mornings after…and Martha (Emma Paetz) is definitely feeling the effects of Crowley's (Jonjo O'Neill) Satanist party. As she tries to piece together what happened, she confronts Crowley as well as her own actions that night. Paetz's performance is enthralling to watch—Martha is conflicted on so many levels as her understanding of the world crumbles around her. Patricia (Salóme Gunnarsdóttir) is in trouble and Martha and Thomas (Ben Aldridge) strike a dangerous contract to get her back. Meanwhile Alfie (Jack Bannon) is assigned to a new case, tracking a ruthless killer. But his mind is still on Esmé (Emma Corrin) and his feelings are about to get him in a whole lotta trouble. Pennyworth has jumped off the deep end and into the very depths of hell…we wonder what darkly theatrical stunts the show will pull off next.
Stream Pennyworth every Sunday on Epix.
From Epix:
While Martha and Thomas confront Crowley over his strange party and the return of Patricia, Alfred and the lads track down the identity of a wanted killer.
—
Preacher
"The Lost Apostle" – Season 4, Episode 6
Sun Sept 1 – 10PM
On AMC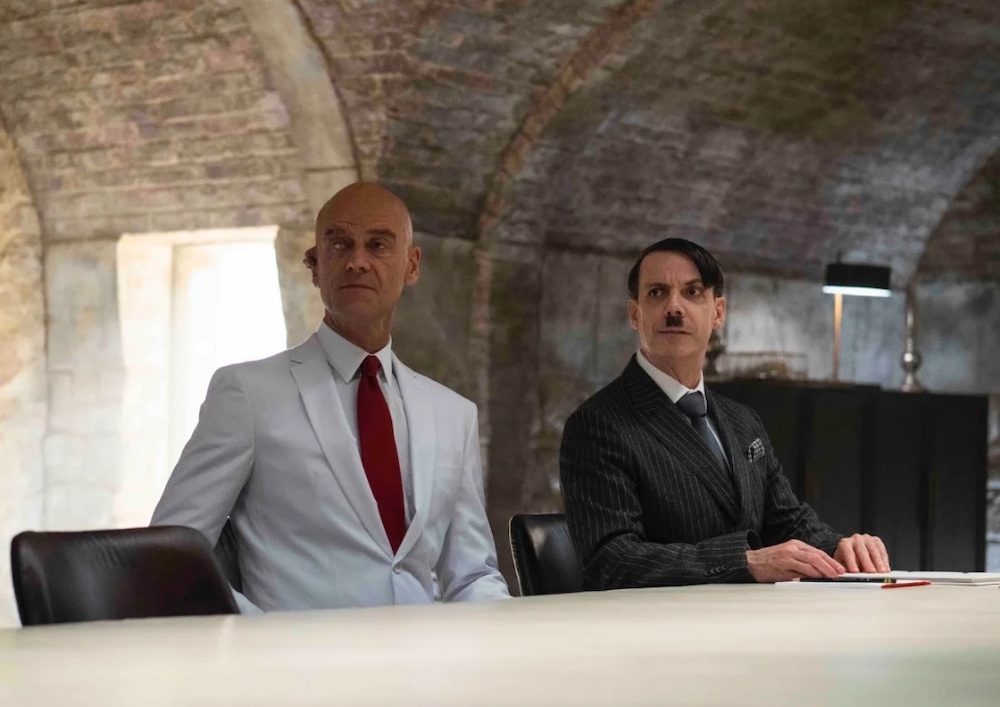 Tulip (Ruth Negga) and Cassidy (Joseph Gilgun) go all 70s cop show on the Melbourne police department in order to find Jesse (Dominic Cooper). Their car chase scenes are glorious and will get you revved up in between the quiet and deep conversations. Unfortunately Eugene (Ian Colletti) left Jesse in the hands of The Saint (Graham McTavish)…but he has other plans for Jesse and his word of God. We won't tell you what The Saint does next but it will make you say "DAMN!" out loud. Each character is about to converge on the final showdown with God and the fallout is out of this world. Especially when Herr Starr (Pip Torrens) initiates Phase 2—a scary escalation of the Almighty plan—all while lying his mutilated ear off to the Almighty (Mark Harelik) himself. $h!t's getting real as the series finale gets closer and Preacher is about to go out swinging.
Preacher airs on AMC on Sunday.
From AMC:
Tulip and Cass track Jesse and The Saint of Killers, while Starr searches for the missing Messiah.