This week: Making It, Love Is___, Castle Rock, Wynonna Earp, Killjoys, The Innocents, Ghoul, Sharp Objects, Preacher, YOU sneak peek
Netflix have been on a winning streak with new releases lately. Have you watched To All The Boys I've Loved Before yet? Change that, stat—this is the sweet, swoony, summer romance you need to see (read our review now). And for some late-night comedy, give Matt Groening's new cartoon Disenchantment a try—it has a whole lotta potential to be your next fave parody show (get into our review).
—
Making It
"All of the Holidays, at Once" – Season 1, Episode 4
Tues August 21 – 10PM
On NBC
Who better to spend…ALL of the holidays at once with than Amy & Nick? Happy happy, merry merry, we're raising a glass high to Making It.
Celebrate ALL of the holidays with Making It tomorrow night on NBC.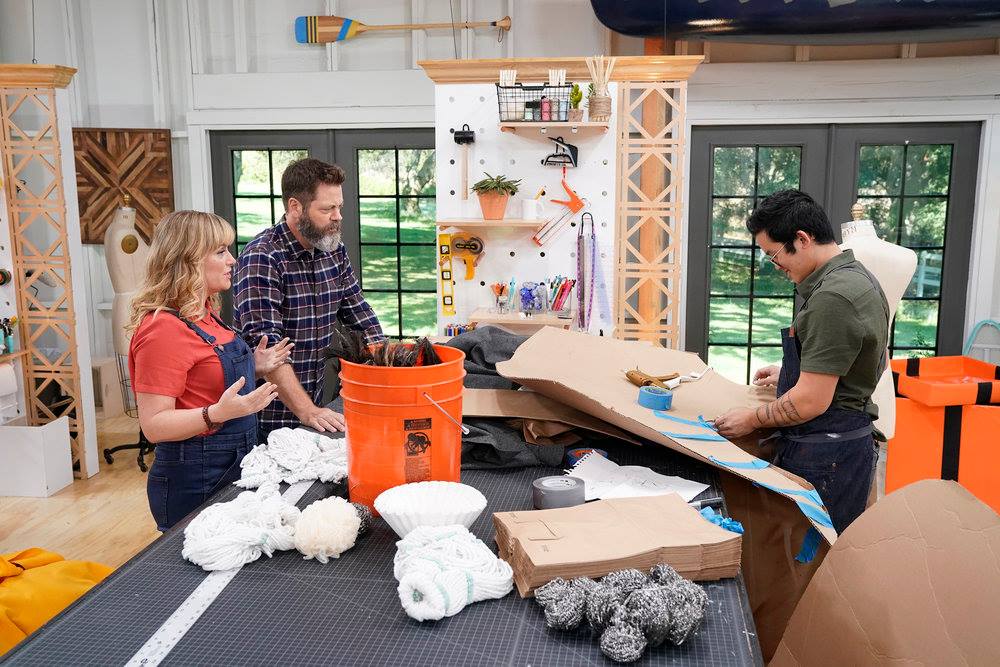 Photo by: Paul Drinkwater/NBC
From NBC:
On week four of Making It, Amy, Nick and the Makers are celebrating the holidays…all at once! The Maker's kick off the festivities with the scariest holiday of them all, Halloween. They'll have to get crafty in order to design inventive costumes for a last minute costume party using common household materials. The Makers lean hard into the puns for their concepts, with one in particular scaring the socks off of the competition with a frightening ensemble. Having impressed the judges with their spook-tacular costumes, the Makers are tasked with bringing holiday cheer to the whole neighborhood. For this week's Master Craft challenge, the Makers each pick their favorite holiday and create a festive display for their home's front door. The result is as fun as Christmas morning as all of the maker's holiday doors compete for curb appeal in one epic block party. In the end, the Makers put together displays that would make any neighbor jealous, though the holiday celebrations must be cut short for one of our Makers who's festive work lacked a bit of originality.
—
Love Is___
"Love Is Engagement" – Season 1 finale
Tues August 21 – 10PM
On OWN
Love Is___ airs on OWN tomorrow night.
From OWN:
On the Season 1 finale of "Love Is__," an old flame wants to resurrect his romance with Nuri. Meanwhile, Yasir looks for a place to stay, and his friend Sean shares something deeply personal with him. Later, Nuri asks Yasir to marry her — but then makes a shocking discovery about his script.
—
Castle Rock
"The Queen" – Season 1, Episode 7
Wed August 22
On Hulu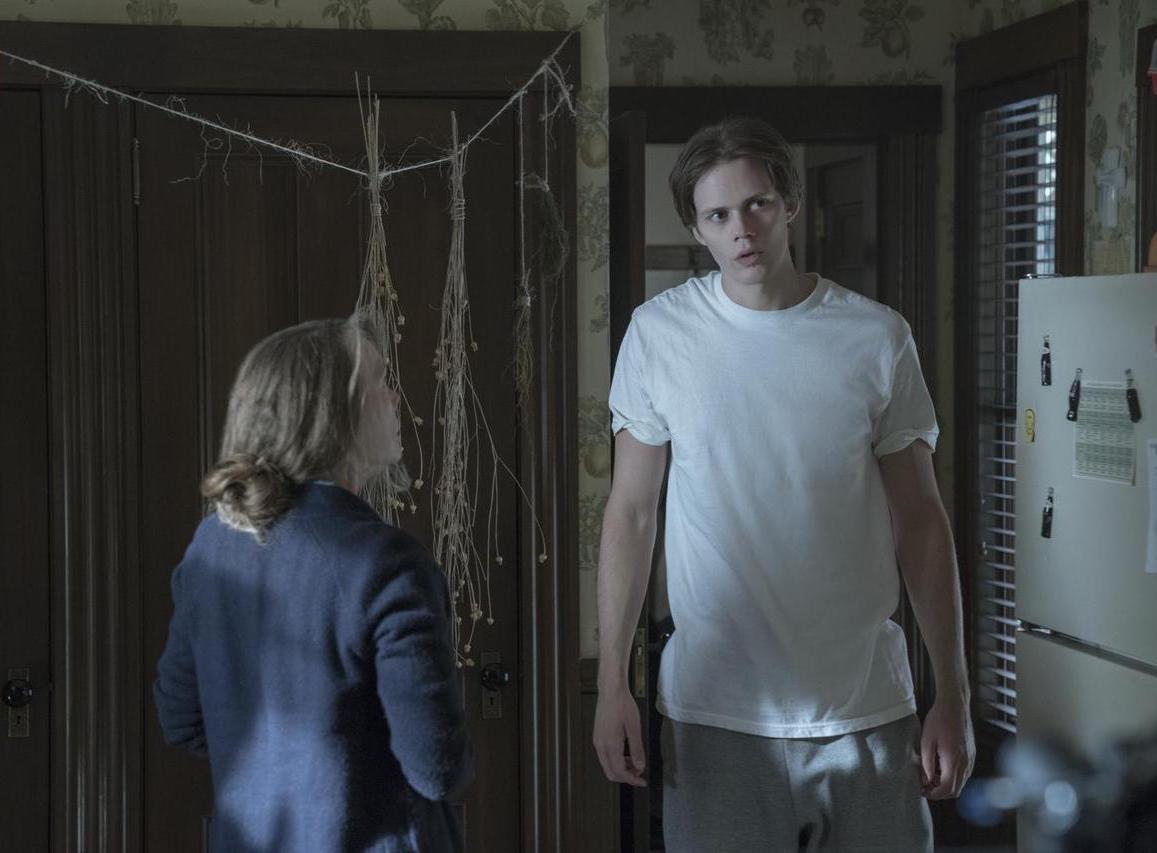 Photo: Hulu
Henry Deaver (André Holland) discovers the ringing in his ears may in fact be "the schisma", a powerful ability that allows one to see and experience the traumatic pasts surrounding people, places, and things. Some call it the Voice of God. The probably still-dead Warden Dale Lacy (Terry O'Quinn) might've called it "The Shining". As we start this chapter, Alan Pangborn (Scott Glenn) pays for the deal he made with the devil and we learn some ugly truths about: Ruth (Sissy Spacek), Henry's father Mathew Deaver (Adam Rothenberg), and Alan himself. Things begin to get bloody and weird, which means mind-bendingly horrific is on the way. (Philip Jean-Pierre)
Stream new episodes of Castle Rock every Wednesday on Hulu.
From Hulu:
A psychological-horror series set in the Stephen King multiverse, Castle Rock combines the mythological scale and intimate character storytelling of King's best-loved works, weaving an epic saga of darkness and light, played out on a few square miles of Maine woodland. The fictional Maine town of Castle Rock has figured prominently in King's literary career: Cujo, The Dark Half, IT and Needful Things, as well as novella The Body and numerous short stories such as Rita Hayworth and The Shawshank Redemption are either set there or contain references to Castle Rock. Castle Rock is an original suspense/thriller — a first-of-its-kind reimagining that explores the themes and worlds uniting the entire King canon, while brushing up against some of his most iconic and beloved stories.
—
WYNONNA EARP
"If We Make it Through December" – Season 3, Episode 6
Fri August 24 – 9PM
On SYFY
Catch Wynonna Earp every Friday on SYFY.
From NBC:
Eggnog for everyone! It's holiday season in Purgatory! Wynonna teams up with a new ally to search for a missing kid on Christmas Day. Meanwhile, Waverly learns more about her father.
—
KILLJOYS
"Baby, Face Killer" – Season 4, Episode 6
Fri August 24 – 10PM
On SYFY
Get into Killjoys every Friday on SYFY.
From NBC:
Dutch trains Jaq to fight an unstoppable enemy as Pree and Fancy look for the missing Gared.
—
The Innocents
Series premiere
Fri Aug 24
On Netflix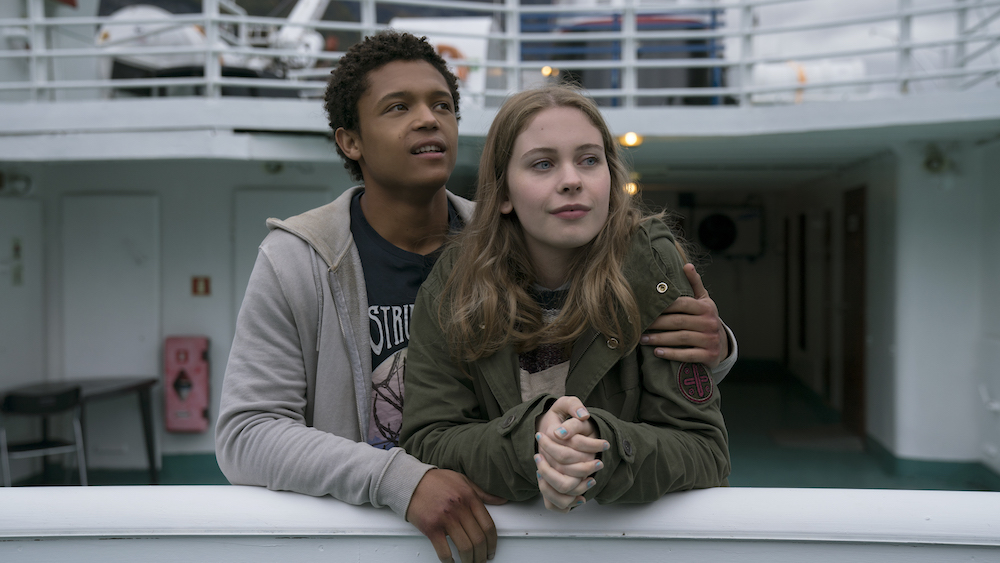 Photo: Aimee Spinks / Netflix
Netflix & chills is the streaming platform's goal this week. A new supernatural drama has arrived but so far it's left us a bit cold. When teenage runaway June (Sorcha Groundsell) discovers she can shapeshift—think skinwalker rather than werewolf—her life is instantly put in danger by a mysterious group who knows about her powers and may or may not be there to help (it's hard to tell). June just wants to escape the clutches of her strict father and find a new sense of home with her from-the-other-side-of-the-tracks lover Harry (Percelle Ascott). Harry, for his part, wants to escape the needs of an ailing dad and overworked mum. Perhaps that's the connection between them. Although the pairing are the central story there's not much in the first few episodes to make us believe in their love—other than the fact they proclaim it…a lot…and make all the right sacrifices with none of the feeling. Things heat up a bit when family comes calling and June's ability to shift bodies gets in the way of a nice cuddle with Harry. Damn, this is way more complicated than any teen's life should ever be. June and Harry make mistakes, they're young and naive, and we're not sure where this love-gone-wrong-supernatural story is going…we're also not sure we care. Let us know what you think.
Stream The Innocents on Netflix from Friday.
From Netflix:
When teenagers Harry and June run away from their repressive families to be together, they're derailed by an extraordinary discovery – June's ability to shape-shift. As the star-crossed lovers struggle to control this strange new power, a mysterious professor reveals that June is not alone: there are more shifters out there like her, and he promises to cure June and reunite her with the mother who deserted her three years ago. But as their journey becomes increasingly fraught with danger, Harry and June's love for each other is tested to breaking point and they're faced with a choice: keep their innocent dream alive, or embrace that their lives have changed and risk everything.
—
Ghoul
Series premiere
Fri Aug 24
On Netflix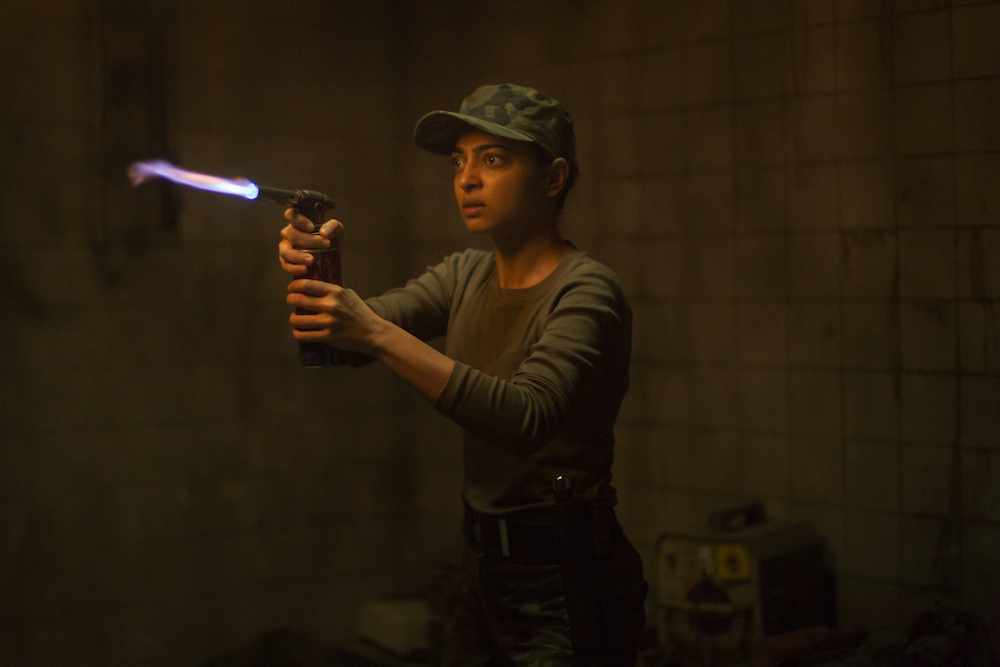 Photo: Ishika Motawane/Netflix
We were just easing you into Netflix's chills week. Ghoul is swooping in from the makers of Insidious and Get Out (yup, you should be screaming already) to snatch your heart right out of your chest. Seriously. (That face? Nah uh. Nope. We totally didn't throw our drink everywhere when it first appeared.) Netflix's first Indian horror series stars the incredibly talented Radhika Apte (who also starred in Sacred Games) and takes a twist on military interrogation by adding in otherworldly demons to turn an already terrifying place into what is set to be a drop-dead monster hit.
Get haunted by Ghoul this Friday on Netflix.
From Netflix:
From the makers of Insidious, Get Out and Udta Punjab – Ghoul is a chilling series about a prisoner who arrives at a remote military interrogation centre and turns the tables on his interrogators, exposing their most shameful secrets. You can fight the demons of this world but what about the ones that aren't?
—
SHARP OBJECTS
"Milk" – Season 1 finale
Sunday August 26 – 9PM
On HBO
Watch Sharp Objects on HBO every Sunday.
From HBO:
Concerned for the safety of Amma (Eliza Scanlen), Camille (Amy Adams) puts her own life in jeopardy as she gets closer to the truth behind the shocking mysteries surrounding the Wind Gap killings.
—
Preacher
"The Light Above" – Season 3, Episode 10
Sun August 26 – 10PM
On AMC
Photo: AMC
Just when you thought Jesse (Dominic Cooper) was out, Angelville pulls him back in. Preacher's about to go nuclear but our boy ain't having it. Instead he's come up with another one of his schemes (when does that ever go well?) and it's Cassidy's (Joseph Gilgun) turn to get caught in the crossfire…again. Meanwhile, Tulip (Ruth Negga) is caught between hell and the Nazis…because Preacher. Which is worse? Sometimes it's hard to tell with this show but damn, it's entertaining.
Preacher airs this Sunday on AMC.
From AMC:
Jesse returns home for what he hopes is the last time but angers Starr and endangers Cassidy in the process; Tulip battles hell and Nazis.
—
YOU
Sneak peak
Sun August 26 – 10PM
On Lifetime
Hit play on this trailer and thank us later.
Get a sneak peek at YOU this Sunday on Lifetime.
From Lifetime:
The brand new series YOU , premieres September 9th at 10pm ET/PT on Lifetime. When a brilliant bookstore manager crosses paths with an aspiring writer, his answer becomes clear: anything. Using the internet and social media as his tools to gather the most intimate of details and get close to her, a charming and awkward crush quickly becomes obsession as he quietly and strategically removes every obstacle – and person – in his way. The series stars Penn Badgley, Elizabeth Lail, Luca Padovan, Zach Cherry, and Shay Mitchell, with a special guest appearance by John Stamos.