This week: Love Is___, Castle Rock, Take Two, To All the Boys I've Loved Before, Disenchantment, Wynonna Earp, Killjoys, Sharp Objects, Preacher
Voltron: Legendary Defender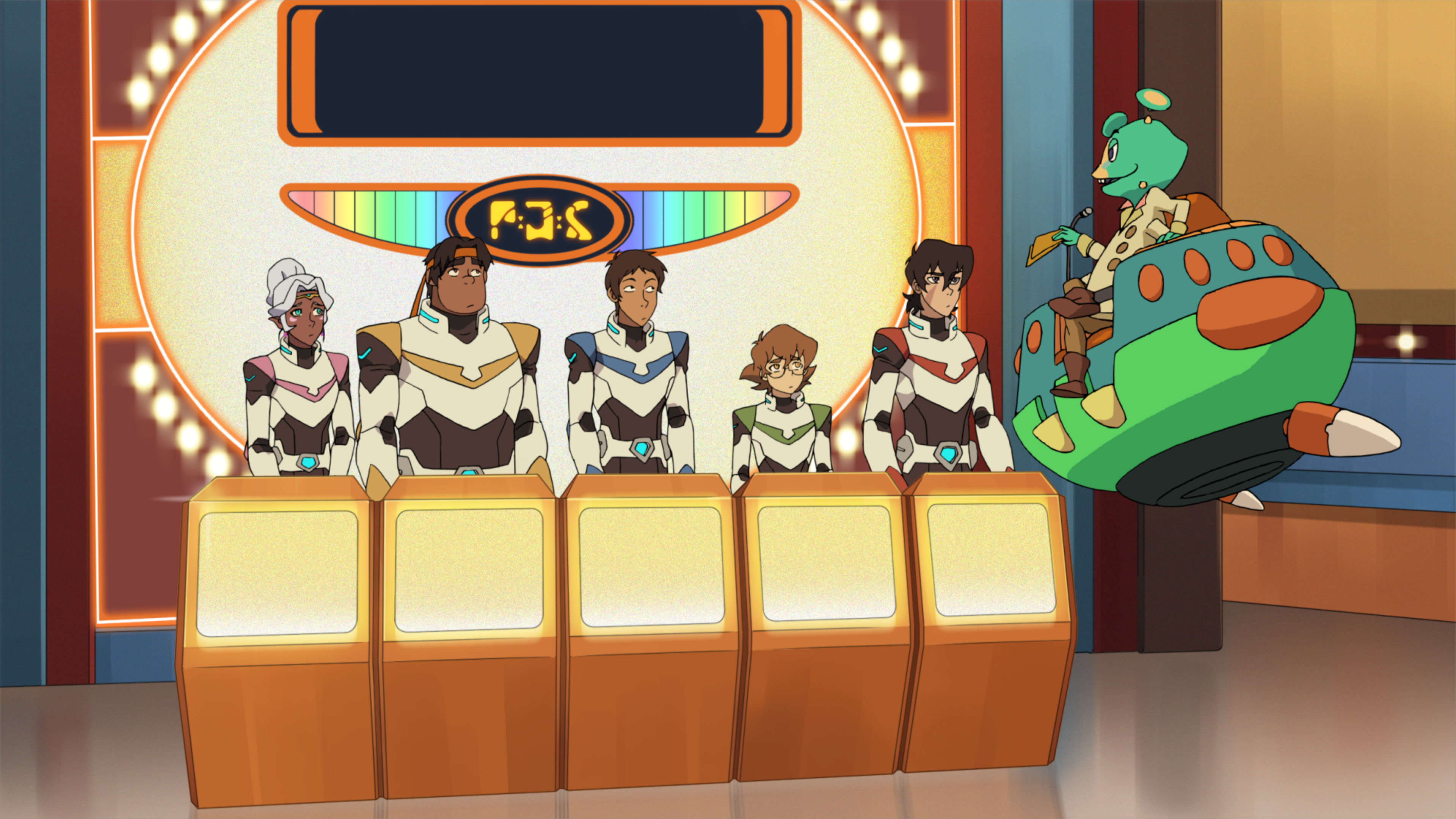 Photo: Netflix
Season 7
Fri August 10
On Netflix
Last season we ended up deep in our feelings—even more than Drake (and Keke)… Keith discovered the tragic sacrifice of his mother; Keith and Shiro learned the secret of the Black Paladins (remember those from the first season? Yes, THE FIRST SEASON). This new tidbit reveals Shiro's dark past, nearly destroying the Voltron Force. Season 7 is all big bro and little bro feels and, shocker, this evil guy named Lotor turns out to be evil, causing The Voltron Force, Allura, and Coran to sacrifice the Castle of Lions. With the Season 8 return, the team makes their way home and theirs lives are laid bare as a new threat arrives in an all-too-familiar but even more dangerous form. (Philip Jean-Pierre)
Watch the new season of Voltron: Legendary Defender on Netflix.
From Netflix:
Five unsuspecting teenagers are transported from Earth into the middle of a sprawling intergalactic war and become pilots for five robotic lions in the battle to protect the universe from evil. Only through the true power of teamwork can they unite to form the mighty warrior known as VOLTRON: LEGENDARY DEFENDER.
Love Is___
"A First Script" – Season 1, Episode 9
Tues August 14 – 10PM
On OWN
Love Is___ airs on OWN tomorrow night.
From OWN:
Nuri experiences a professional milestone just as problems in her relationship with Yasir begin to surface. Later, Nuri makes a very personal confession.
Castle Rock
"Filter" – Season 1, Episode 6
Wed August 15
On Hulu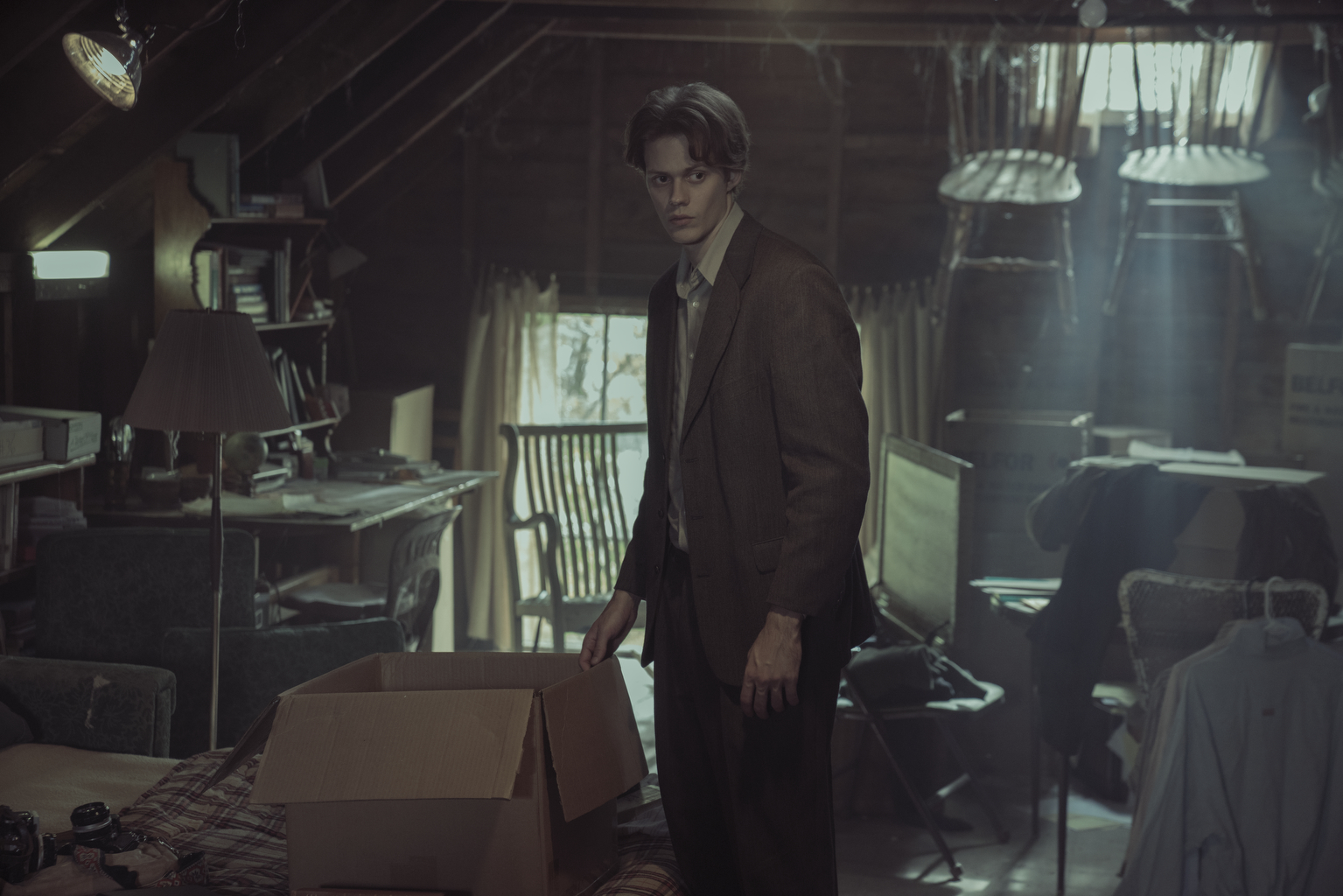 Photo: 

Patrick Harbron/

Hulu
The cinders of doom continue to pile up for the residents of Castle Rock. An inexplicable forest fire tears through the neighboring towns, Henry (André Holland) deals with ramifications of the bullet-for-all buffet served up by Dennis (Noel Fisher). Warden Dale Lacy (Terry O'Quinn), who continues to have the good sense to stay dead, gives us a glimpse into the heart of darkness…or whatever lies in The Kid (Bill Skarsgård), and the only one able to hear "the darkness" is Molly (Melanie Lynskey). Alan Pangborn (Scott Glenn) releases the inner ghosts born from decades of guilt and the unthinkable happens… Well, at least, Henry makes some new friends. (Philip Jean-Pierre)
Stream new episodes of Castle Rock every Wednesday on Hulu.
From Hulu:
A psychological-horror series set in the Stephen King multiverse, Castle Rock combines the mythological scale and intimate character storytelling of King's best-loved works, weaving an epic saga of darkness and light, played out on a few square miles of Maine woodland. The fictional Maine town of Castle Rock has figured prominently in King's literary career: Cujo, The Dark Half, IT and Needful Things, as well as novella The Body and numerous short stories such as Rita Hayworth and The Shawshank Redemption are either set there or contain references to Castle Rock. Castle Rock is an original suspense/thriller — a first-of-its-kind reimagining that explores the themes and worlds uniting the entire King canon, while brushing up against some of his most iconic and beloved stories.
Take Two
"Shadows of the Past" – Season 1, Episode 9
Thurs August 16 – 10PM
On ABC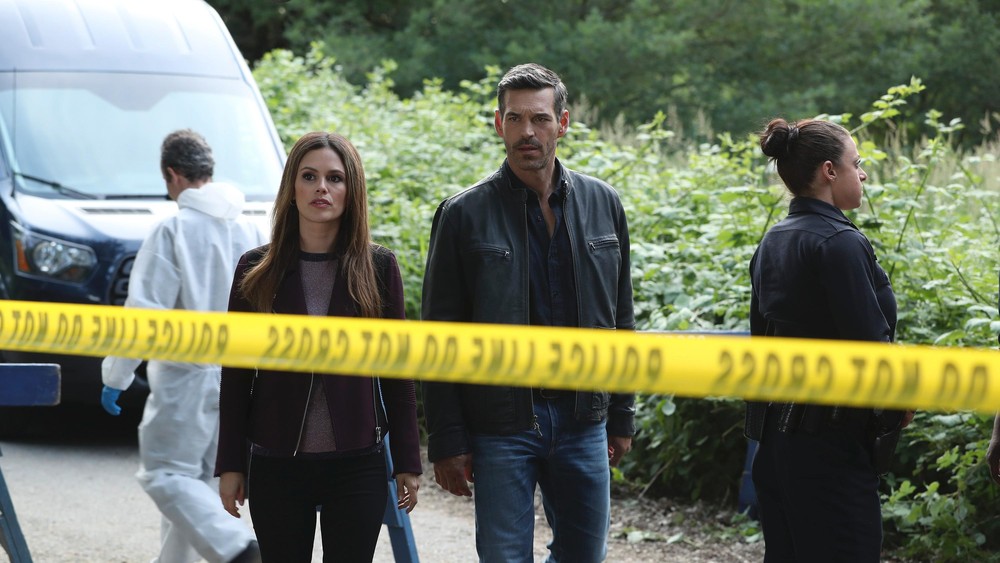 Photo: 

ABC
A serial killer who tags his victims with a… stick man? Sam and Eddie's client is one of those victims and if the mystery wasn't enough, we have to stay tuned to find out if Sam is gonna take them down with her baseball bat.
Get into Take Two this Thursday, only on ABC.
From ABC:
Called to a murder scene in the middle of the night, Sam and Eddie are shocked to find that the man who had just hired them to find his missing wife is the most recent victim of a serial killer. Knowing that their client's case must be related to his murder, Sam and Eddie race to uncover the twisted motives behind the killings with the desperate hope of finding his still-missing wife alive, putting the pair directly in the serial killer's crosshairs. Meanwhile, the investigation stirs up old wounds for Eddie surrounding his contentious departure from the LAPD.
To All the Boys I've Loved Before
Fri August 17
On Netflix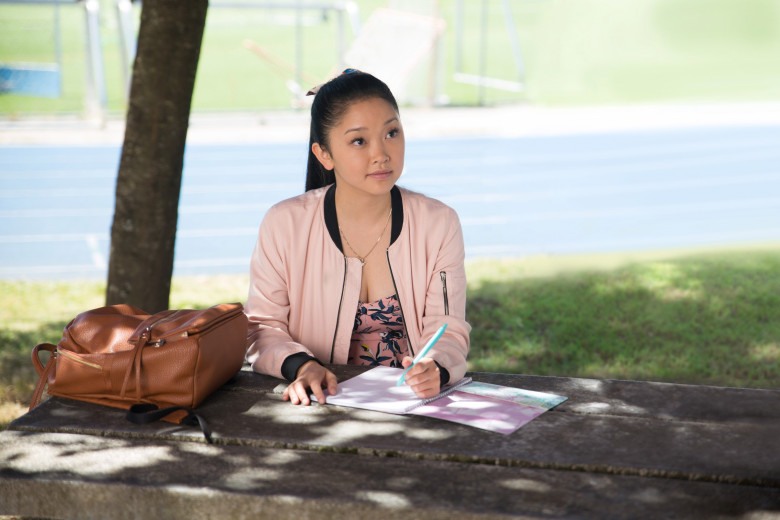 Photo: Awesomeness Films
Imagine all the boys you've ever crushed on found out how you felt about them—via love letters that you wrote years ago and never intended to send. For Lara Jean Song Covey (Lana Condor) this nightmare situation becomes a reality in To All the Boys I've Loved Before, based on the bestselling YA novel by Jenny Han. Desperate to avoid an awkward conversation with her number one crush—who also happens to be  her sister's boyfriend—Josh (Israel Broussard) Lara Jean convinces Peter (Noah Centineo), one of the most popular guys in the school, to fake a relationship with her. Nothing can go wrong when you pretend to date the hot boy you might've once secretly liked, right? We won't spoil it for you but let's just say we were cooing and swooning through the whole movie. Look out for out review on Wednesday of this week. (Sam Devotta)
Crush hard on To All The Boys I've Loved Before, this Friday on Netflix.
From Netflix:
What if all the crushes you ever had found out how you felt about them…all at once? Lara Jean Song Covey's love life goes from imaginary to out of control when the love letters for every boy she's ever loved—five in all– are mysteriously mailed out. From New York Times Bestselling Author, Jenny Han, the film adaption of the popular YA novel stars actress Lana Condor (Alita: Battle Angel, X-Men: Apocalypse) and Noah Centineo (Sierra Burgess Is A Loser, The Fosters).
Disenchantment
Season 1
Fri August 17
On Netflix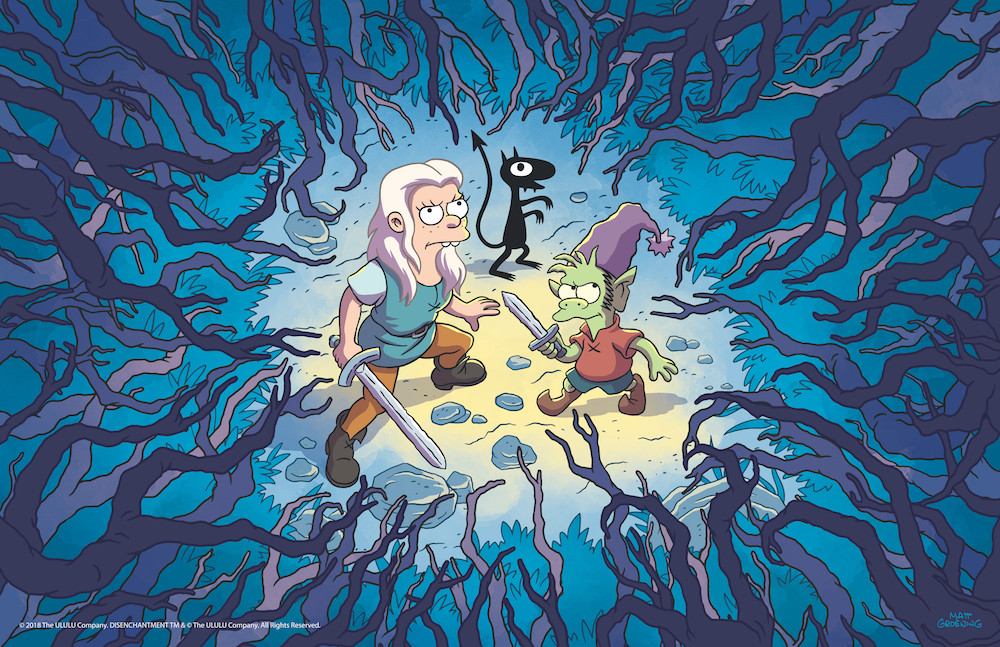 Disenchantment is the newest creation from Matt Groening's (Simpsons and Futurama) humorous mind. Instead of following characters from the future or modern day, we follow a cast in a medieval setting called Dreamland. Charmed with parodies and puns a plenty, the show is lead by the rebellious princess Tiabeanie or Bean (voiced by Broad City's Abbi Jacobson), a booze chugging demon named Luci (get it?) voiced by the ever hilarious Eric Andre, and the on-the-run elf Elfo played by Nat Faxon. While the show's first few episodes take a few shakey steps to find footing, the later ones are pleasing as we follow Bean and her misfit tagalongs on their personal quests to defy their destinies. Bean suffers the curse of princesses everywhere, being roped into an arranged marriage, whereas Elfo's permanent state as a round the clock cheery elf is more a punishment than a lifestyle, and Luci… well you'll see. The show takes off quickly as we follow these odd characters but one can't help but be sucked into their conflicting personalities as they offer wit, humor, and shenanigans. While the show doesn't exactly quench your thirst for more Futurama, Disenchantment certainly helps the pain while offering something new to laugh at. (Heather Glock)
Turn to Disenchantment this Friday on Netflix.
From Netflix:
From the mind of Matt Groening, comes the 10-episode adult animated comedy fantasy series, Disenchantment, launching on Netflix, August 17, 2018. In Disenchantment, viewers will be whisked away to the crumbling medieval kingdom of Dreamland, where they will follow the misadventures of hard-drinking young princess Bean, her feisty elf companion Elfo, and her personal demon Luci. Along the way, the oddball trio will encounter ogres, sprites, harpies, imps, trolls, walruses, and lots of human fools. The series will feature the voice talents of Abbi Jacobson ("Bean"), Eric Andre ("Luci"), and Nat Faxon ("Elfo") along with John DiMaggio, Billy West, Maurice LaMarche, Tress MacNeille, David Herman, Matt Berry, Jeny Batten, Rich Fulcher, Noel Fielding, and Lucy Montgomery.
WYNONNA EARP
"Jolene" – Season 3, Episode 5
Fri August 17 – 9PM
On SYFY
Catch Wynonna Earp every Friday on SYFY.
From NBC:
A demon causes havoc in town as Wynonna, Waverly and Jolene must decide who they can trust.
KILLJOYS
"Greening Pains" – Season 4, Episode 5
Fri August 17 – 10PM
On SYFY
Get into Killjoys every Friday on SYFY.
From NBC:
With D'av's new born son's life on the line, the trio take desperate measures to save him.
SHARP OBJECTS
"Falling" – Season 1, Episode 7
Sunday August 19 – 9PM
On HBO
Watch Sharp Objects on HBO every Sunday.
From HBO:
Camille (Amy Adams) crosses a line in her investigation of the prime suspect. Richard (Chris Messina) coaxes Jackie (Elizabeth Perkins) to offer up info about Marian Preaker's death. Adora (Patricia Clarkson) takes pains to keep an ailing Amma (Eliza Scanlen) under her roof and in her care.
Preacher
"Schwanzkopf" – Season 3, Episode 9
Sun August 19 – 10PM
On AMC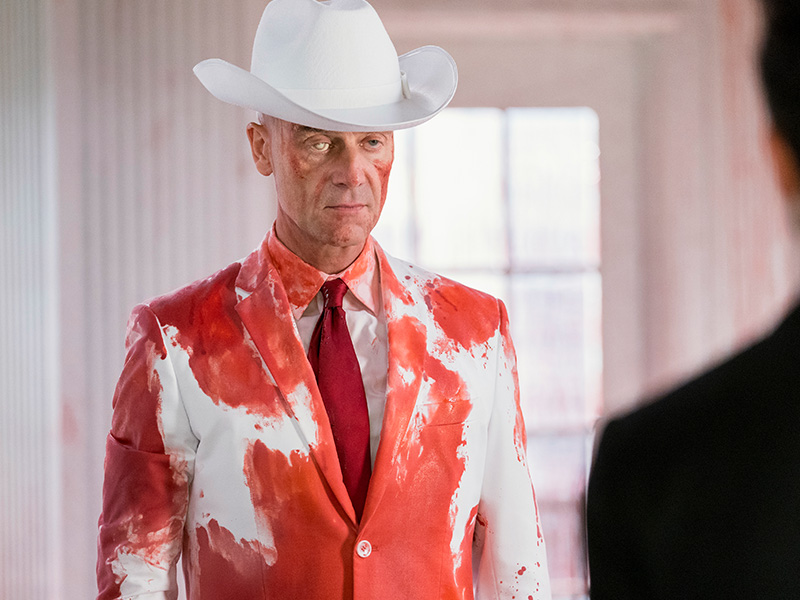 Photo: AMC
After the soul stealing action in the last episode of Preacher, not to mention the literal devil making an appearance, there's really nothing AMC needs to do to get us to tune in again—but telling us Jesse and Cassidy are facing certain death doesn't hurt.
Preacher airs this Sunday on AMC.
From AMC:
Divided and trapped, Tulip, Jesse and Cassidy battle old friends, new enemies and loved ones to escape certain death – or worse.