This week: Patriot Act with Hasan Minhaj, The Terror: Infamy, Young Justice: Outsiders, Tiffany Haddish Presents: They Ready, Pose, Four Weddings and a Funeral, The Handmaid's Tale, Why Women Kill, Mindhunter, Pennyworth, City on a Hill, Preacher
Patriot Act with Hasan Minhaj
"Fentanyl" – Vol 4, Episode 2
New episodes Sunday
On Netflix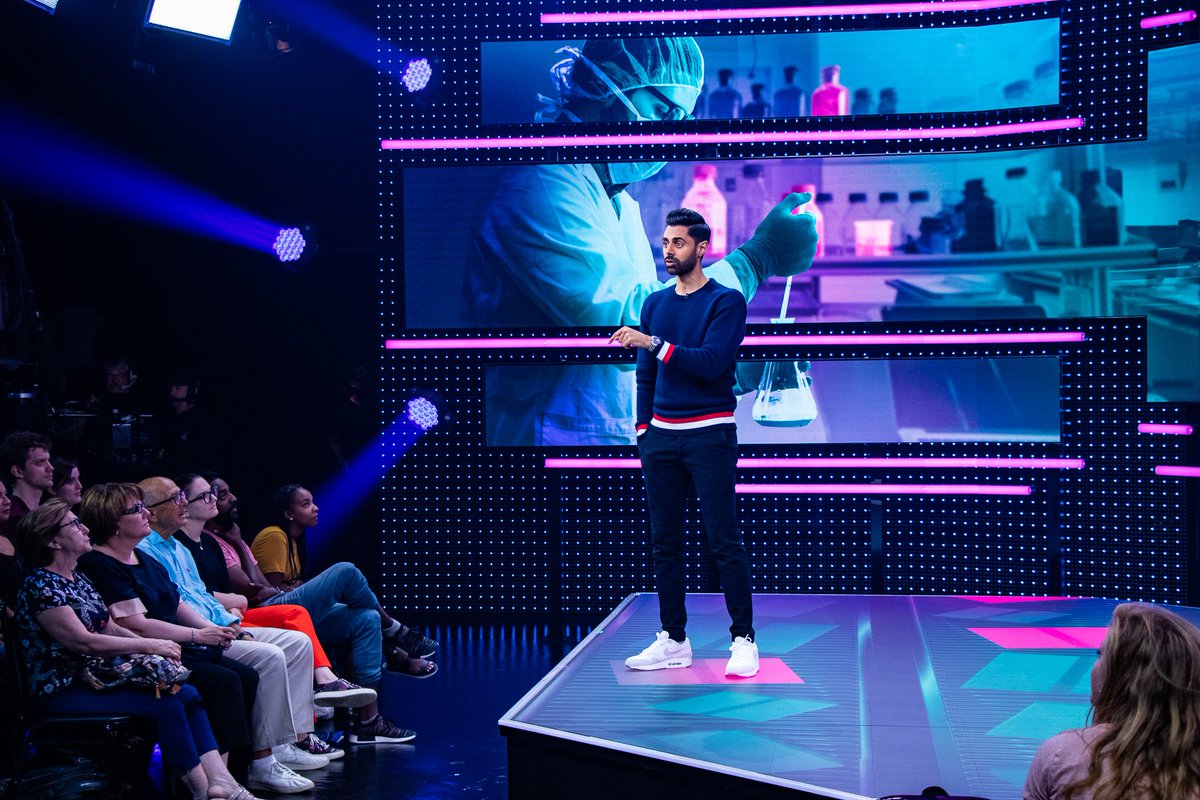 If you were having too much fun talking Fortnite last week, don't worry Hasan Minhaj is tackling a more serious topic in Patriot Act's latest episode. The opioid crisis is now one of the biggest killers in America but statistics say there's hope coming. Minhaj talks from the heart on this one—having lost loved ones to the epidemic—and his analysis goes deeper than any news article you've read on the subject. You won't get a breakdown as simple as this anywhere else, especially one that strikes a perfect balance of jokes and heart, making this episode of Patriot Act
a vital one to watch.
Stream Patriot Act with Hasan Minhaj every Sunday.
From Netflix:
As overdoses involving fentanyl continue to skyrocket, Hasan traces the origins of the synthetic opioid and how drug companies profit from its misuse.
—
The Terror: Infamy
"Infamy: A Sparrow in a Swallow's Nest" – Season 2 premiere
Mon Aug 12 – 9PM
On AMC
The Terror: Infamy returns to AMC tonight.
From AMC:
In 1941 strange events mean Chester Nakayama is caught between his community and personal life.
—
Young Justice: Outsiders
"Antisocial Pathologies" – Episode 22
Tues Aug 13
On DC Universe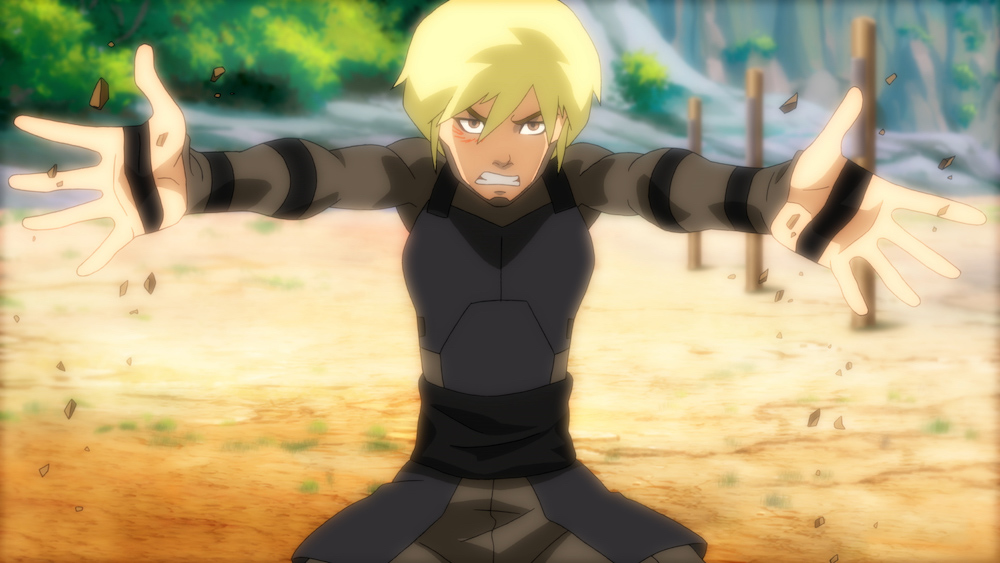 Realizations and accusations are being thrown around more than batarangs in the latest Young Justice: Outsiders; not all of them are true and many of them definitely come from a place of bias. The Outsiders have been working hard to prove themselves but it turns out their missions were not always what they seemed. Ooh, wait until you find out who the traitor is! Yikes. By telling different meta-teens' stories, Young Justice: Outsiders highlights how hidden agendas and outside influences can have profound effects on young people's development. For example, Tara is trying her best but the adults around her are trying to mold her to their own twisted ways. Meanwhile there's hope for Violet but she doesn't know the whole truth…and the research into her diagnosis comes from an unexpected source. What we love most about Young Justice: Outsiders is it proves that even superheroes sworn to protect the earth are not always beacons of light. Everyone has moral gray areas and the show excels at bringing them to the surface.
Stream Young Justice: Outsiders every Tuesday on DC Universe.
From DC Universe:
The betrayals come fast and furious, and with them, a reckoning…
—
Tiffany Haddish Presents: They Ready
Season 1
Tues Aug 13
On Netflix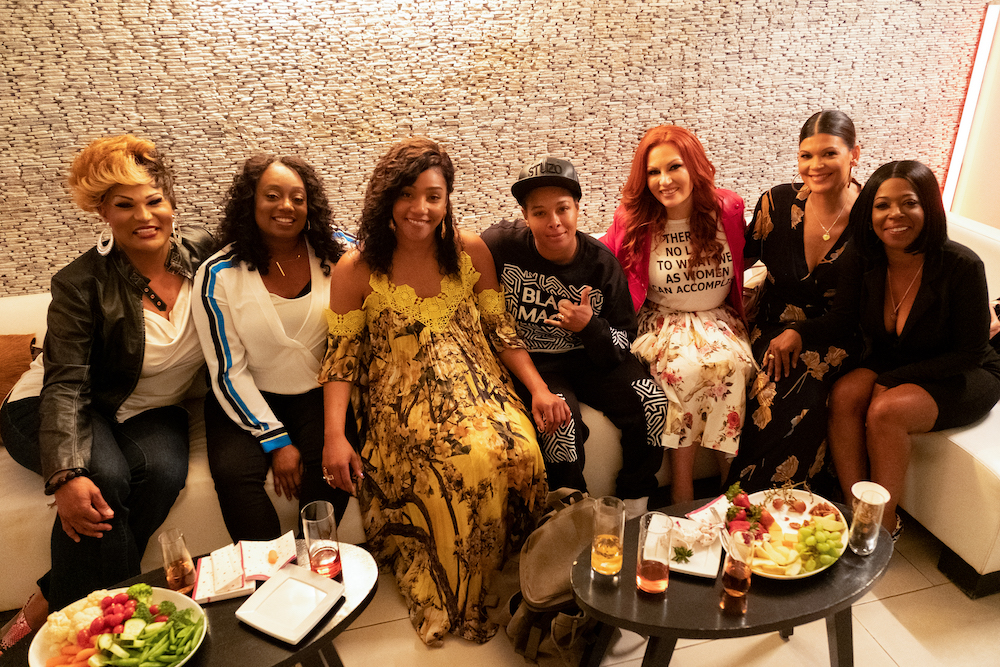 Just when you thought you couldn't love Tiffany Haddish more, she's shining a light on some up-and-coming black female comedians to introduce you to some new faves. Are you ready? Because "they ready". Get to know: Chaunté Wayans (Wild n' Out), April Macie (Last Comic Standing), Tracey Ashley (The Last O.G.), Aida Rodriguez (This Week at the Comedy Cellar), Flame Monroe (Def Comedy Jam), and Marlo Williams (BET's Comicview). From romantic love to a love of food to great friends and funnier family, these ladies of comedy are about to make you giggle into your glass of wine before you raise it to toast to them. Cheers!
Tiffany Haddish Presents: They Ready hits Netflix tomorrow.
From Netflix:
Comedian and Girl's Trip breakout star Tiffany Haddish introduces the world to six of her favorite comedians in Tiffany Haddish Presents: They Ready – a bold new collection of hilarious half-hour stand-up comedy specials. Hosted and executive produced by Haddish and She Ready Productions, the special features a diverse group of comedians with whom she shares a personal history, including Chaunté Wayans (Wild n' Out), April Macie (Last Comic Standing), Tracey Ashley (The Last O.G.), Aida Rodriguez (Comedy Central's This Week at the Comedy Cellar), Flame Monroe (Def Comedy Jam), and Marlo Williams (BET's Comicview). Legendary comic Wanda Sykes and veteran producer Page Hurwitz also serve as executive producers via their production company Push It Productions. The special will launch globally on Netflix on August 13, 2019.
—
Pose
"Life's a Beach" – Season 2, Episode 9
Tues Aug 13 – 10PM
On FX
Watch Pose every Tuesday on FX.
From FX:
With Blanca reeling from an unexpected loss, Elektra organizes a girls trip to the shore.
—
Four Weddings and a Funeral
"Lights, Camera, Wedding" – Season 1, Episode 6
Wed Aug 14
On Hulu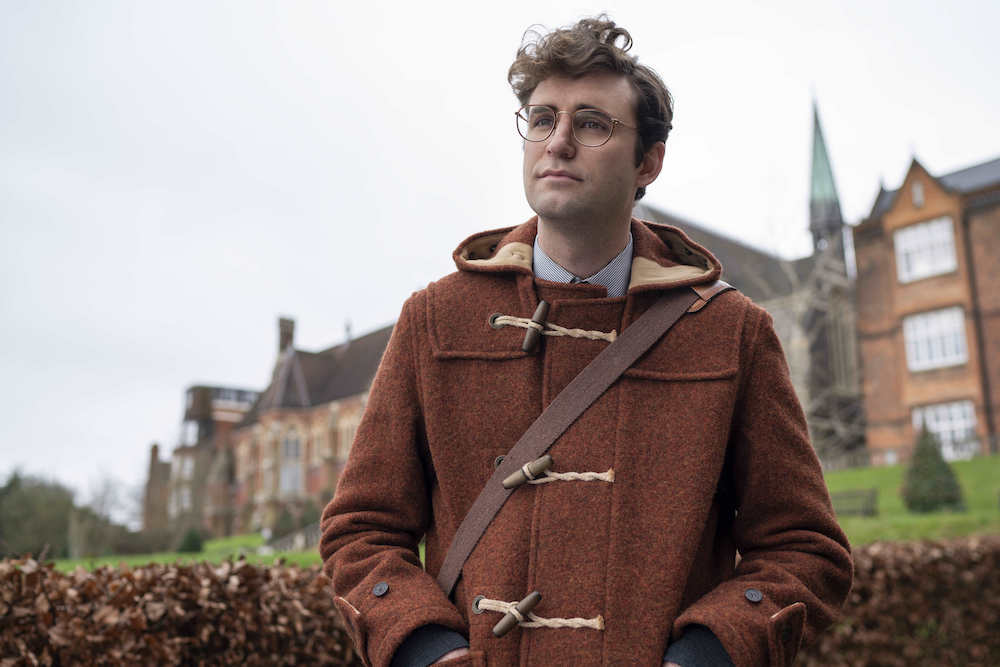 It's time for one of the four weddings and this event is extra with a capital E. Zara (Sophia La Porta) and Craig (Brandon Mychal Smith) are feeling the pressure to perform in front of the camera (and mention all the 'Love Chalet' sponsors in their vows). This wedding is beyond ridiculous and you'll love every second of it. Meanwhile their friends are feeling the pressure to perform…period. Kash
(Nikesh Patel) makes two big decisions about his future (but we won't tell you what). Maya (Nathalie Emmanuel) and Duffy (John Reynolds) are at a crossroads in their relationship. Ainsley (Rebecca Rittenhouse) has to decide whether her work is more important than attending Craig's wedding or if she's just using it as an excuse to avoid her feelings. Weddings always bring up a torrent of emotions—both good and bad—and Four Weddings and a Funeral is taking that romantic friction to new heights. We just hope you have a vat of popcorn ready because ALL the drama
(and there's a lot, y'all) is heading to one big fancy venue for a wedding night
to remember.
Stream Four Weddings and a Funeral on Hulu on Wednesday.
From Hulu:
Ainsley doubles down on her fight with Craig. Duffy stumbles upon a secret love letter that gives him hope. Kash considers taking the next step with Fatima.
—
The Handmaid's Tale
"Mayday" – Season 3 finale
Wed Aug 14
On Hulu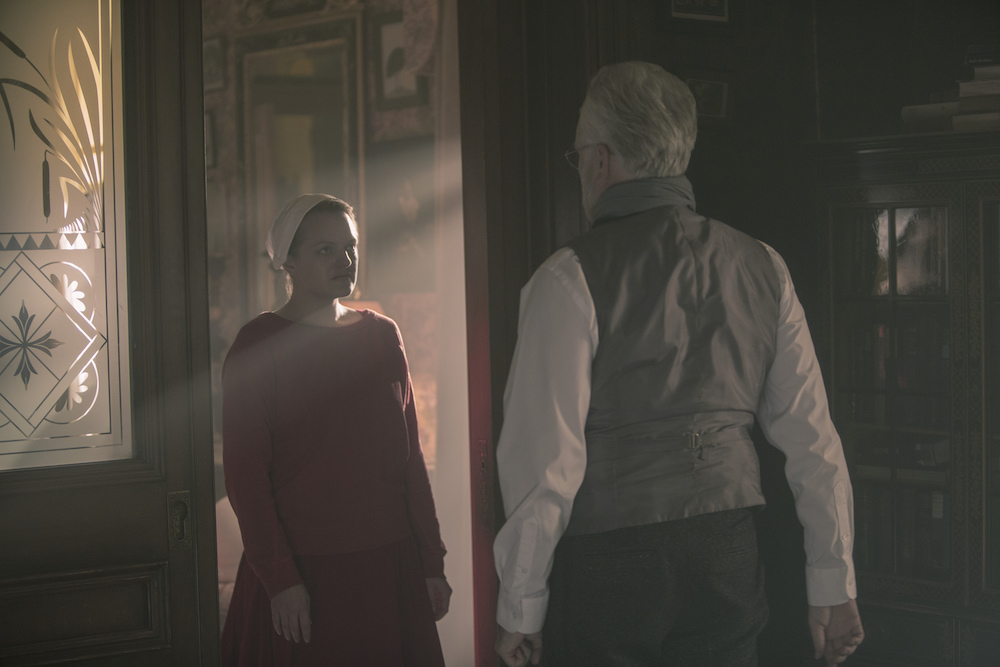 Season 3 is drawing to a close and with it goes the rest of June's (Elisabeth Moss) sanity. She has become so focused on rescuing children from Gilead that she's lost sight of why she formed the plan in the first place. June is acting like a woman with nothing left to lose but there's more at stake than ever. That dichotomy somehow makes her feel more dangerous. The whole of season 3 has been leading up to this mission. While we won't say the outcome, we will say that you won't be able to tell which way it will go right up until the last second—and The Handmaid's Tale will keep you on the edge of your seat the whole time.
Stream new episodes of The Handmaid's Tale
on Hulu every Wednesday.
From Hulu:
June must decide how far she's willing to go. Serena Joy and Commander Waterford think about a new way forward.
—
Why Women Kill
"Murder Means Never Having to Say You're Sorry" – Series premiere
Thurs Aug 15
On CBS All Access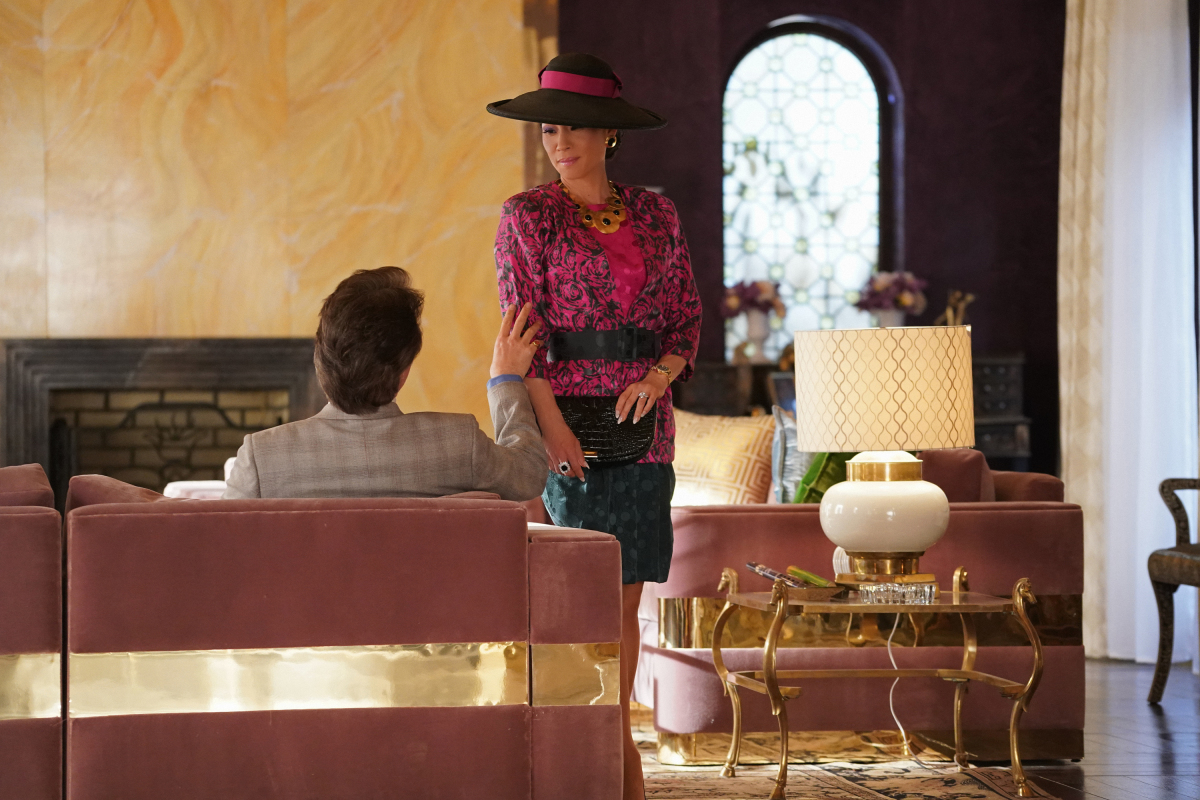 If you deeply miss the perfectly murderous suburbia of Desperate Housewives then Why Women Kill is going to fill the Wisteria Lane sized hole in your heart. In this campy series premiere we're introduced to three women, spanning three decades, who lead seemingly lovely lives with their respective husbands. In 1963, Beth Ann (Ginnifer Goodwin) is a picture-perfect housewife devastated by her husband Rob's (Sam Jaeger) business dinners. In 1984, socialite Simone (Lucy Liu) learns of her husband Karl's (Jack Davenport) hidden side. And, in the present, lawyer Taylor (Kirby Howell-Baptiste) and her husband Eli (Reid Scott) have an open (but nonetheless troublesome) marriage. And yes, my darlings, secrets are about to come pouring out. It takes a little while for you to settle into this series but, once you connect with these women, you'll be waiting for them to crack. We all know a perfect marriage doesn't exist and the decade doesn't change the root of marital problems. You get to see both sides of the story and you'll watch with a sly smile, knowing that there is only one outcome: Murder. Why Women Kill has a sinfully delightful premise and its charming leads do well to draw you into their worlds. It won't be long before you'll be singing, "They had it coming, they had it coming, they only had themselves to blame…"
Why Women Kill premieres on CBS All Access on Thursday.
From CBS All Access:
Series premiere. One Pasadena, Calif. house serves as the focal point for three decades worth of marital strife. In 1963, Beth Ann's (Ginnifer Goodwin) life as a doting housewife is upended when she learns of her husband Rob's (Sam Jaeger) infidelity. In 1984, socialite Simone (Lucy Liu) is blindsided by her husband Karl's (Jack Davenport) devastating secret. In present day, high-powered lawyer Taylor (Kirby Howell-Baptiste) has an open marriage with husband Eli (Reid Scott). Alexandra Daddario, Sadie Calvano, Alicia Coppola and Leo Howard also star. Katie Finneran guest stars.
—
Mindhunter
Season 2
Fri Aug 16
On Netflix
Mindhunter returns to Netflix on Friday.
From Netflix:
FBI agents Holden Ford and Bill Tench probe further into the psyches of those who have done the unthinkable. With help from psychologist Wendy Carr, they apply their groundbreaking behavioral analysis to hunting notorious serial killers.
—
Pennyworth
"Shirley Bassey" – Season 1, Episode 5
Sun Aug 18
On Epix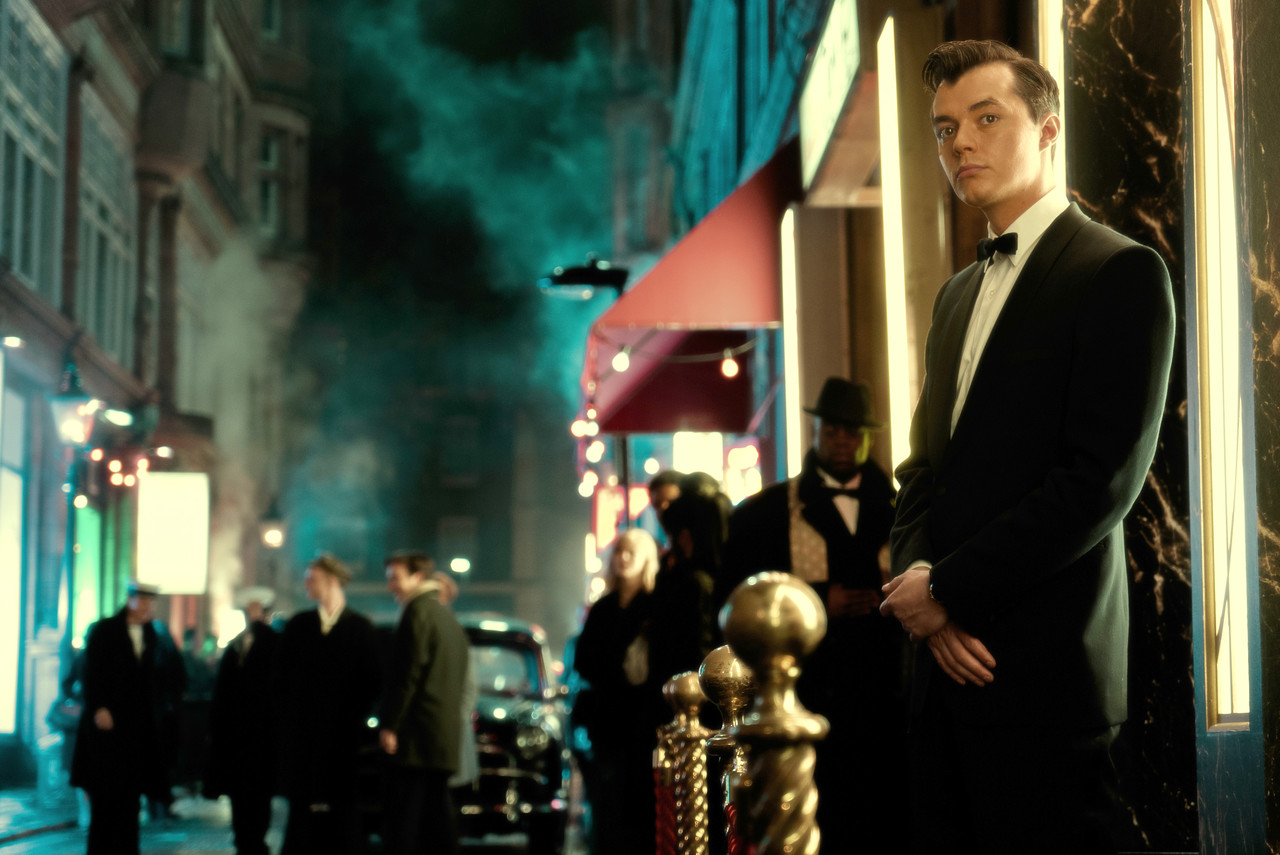 It seems dear ol' Alfie (Jack Bannon) has a knack for avoiding the gallows…even if that means working for the No Name League. If this sounds like a comic book move, it totally is, but told in Pennyworth's distinctly gritty way. They say everyone has a price and Alfred can only be bought with the promise of something more worthwhile than money. That promise includes a whole lot of brutal, bone-shattering, fists-up violence that'll make you squeal and squirm. Unfortunately his penchant for danger hurts those around him. After his successful trip with Martha (Emma Paetz) to find the leader of the Raven Society, Alfie comes home to find Esmé (Emma Corrin) lying dead on the floor. Her funeral brings out an intense amount of guilt and darkness in everyone. Alfred naturally blames himself and his inner demons get the best of him. Martha tries to reach out to him but is her sympathy from a place of honesty? With The Raven Society moving out in the open, the No Name League is getting desperate, but is Alfred truly in a place to help them? Pennyworth keeps drawing in new players to make this world as tangled and messy as the one we live in—painted with a gothic shade of darkness.
Stream Pennyworth every Sunday on Epix.
From Epix:
John Ripper presents Alfred (Jack Bannon) with an offer; meanwhile, Lord Harwood's (Jason Flemyng) fate takes a curious turn.
—
City on a Hill
"Mayor Curley and the Last Hurrah" – Season 1 Finale
Sun Aug 18 – 9PM
On Showtime
All new City on a Hill premieres on Showtime every Sunday.
From Showtime:
Jackie celebrates another moment in the spotlight, though an unfamiliar pang of guilt leaves him reflecting on his legacy. Decourcy considers the best course of action to finally carry out justice for the murdered guards. Jimmy is desperate to weasel his way out of the mess he's created, even if it means putting his brother's future into question. Jenny faces what has been haunting her all these years.
—
Preacher
"Search and Rescue" – Season 4, Episode 4
Sun Aug 18 – 10PM
On AMC
Preacher airs on AMC on Sunday.
From AMC:
Tulip forges an unexpected alliance to save Cassidy; Jesse finds himself stranded.