This week: Orange is the New Black, Rest in Power: The Trayvon Martin Story, The Bold Type, Making It, Love Is___, Castle Rock, Reverie, The Sinner, Take Two, Like Father, Wynonna Earp, Killjoys, Claws,
Sharp Objects, Preacher
Orange is the New Black
Season 6
Friday July 27
On Netflix
Did you spend the weekend binge-watching season 6 of Orange is the New Black? If not, WYD?
Stream season 6 of Orange is the New Black now on Netflix.
From Netflix:
Orange is the New Black is the outrageous and critically-acclaimed series from Emmy® Award-winner Jenji Kohan about a diverse group of inmates serving time in a women's prison.
—
Rest in Power: The Trayvon Martin Story
Series premiere
Mon July 30 – 10PM
On Paramount Network, BET

Photo: BET
Trayvon Martin is a name we all know, a name everyone should know, but it's a name nobody should have learned through his death but rather his life. When the teenager was murdered and his killer wasn't charged, it rightly sparked protests across the nation. We still have a long way to go and this new series is telling Trayvon Martin's story to further open up the dialogue. Jay-Z's six-part documentary digs into the events surrounding Trayvon's death and the racial injustices so deeply prevalent in America. It's painful to watch, you're going to be angry and hurt, but you should also take action. Told through interviews, recordings, and details of the trial, Rest in Power is a raw and unflinching look at race, the power of the media, and the influence the case had on the Black Lives Matter movement. Watch this. Share his story. Say his name.
Rest in Power: The Trayvon Martin Story premieres on BET tonight.
For further watching, stream Jay-Z's 2017 documentary The Kalief Browder Story, which details the horrific case of a Bronx teen who spent three years in jail, despite never being convicted of a crime.
From BET:
From Executive Producer Shawn Carter and The Cinemart, Rest in Power: The Trayvon Martin Story examines the life and legacy of Trayvon Martin. The six-part, unscripted documentary series looks at one of the most talked-about and controversial events of the last decade, including the Black Lives Matter movement that grew after Trayvon's death.
—
The Bold Type
"Trippin'" – Season 2, Episode 9
Tues July 31 – 8PM
On Freeform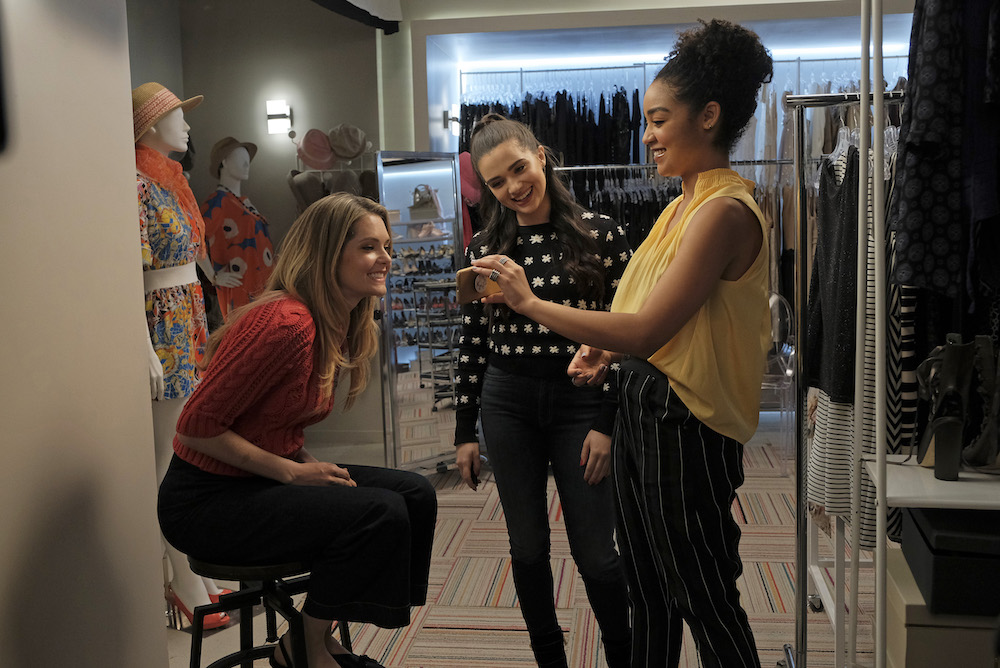 Photo: Freeform/Phillippe Bosse
Our girls on The Bold Type are strong, independent leaders to aspire to…but only when they're safely ensconced in the high-flying city they call home. Put them back where they came from and all bets are off. "Trippin'" takes Sutton (Meghann Fahy) & co. home to see her mom and the truth about their relationship comes out to change more than a few minds. Kat (Aisha Dee) has also been hiding from the truth of her relationship with Adena (Nikohl Boosheri)—she's got some steamy new pictures to prove it…and a choice to make. There ain't no sexual matrix code to crack here, only more complications (sorry ladies). Meanwhile, Jane (Katie Stevens) just wants to have fun (and eat an excessive amount of olives…you okay, girl?). No one is ready to face the truth but The Bold Type wouldn't be one of the most boundary-pushing shows on television if it didn't push our girls to be bold, make big decisions, and take us with them. Speaking of pushing boundaries, Scarlet is disabling comments…because that's totally gonna fly (looking at you, Kat).
The Bold Type airs tomorrow on Freeform.
From Freeform:
The girls take a trip to Sutton's hometown and meet a few important figures from her past. Meanwhile, Jane struggles with planning for her future, and Kat feels a rift in her relationship with Adena. Guest starring Billy Magnussen.
—
Making It
"Meet Your Makers" – Series premiere
Tues July 31 – 10PM
On NBC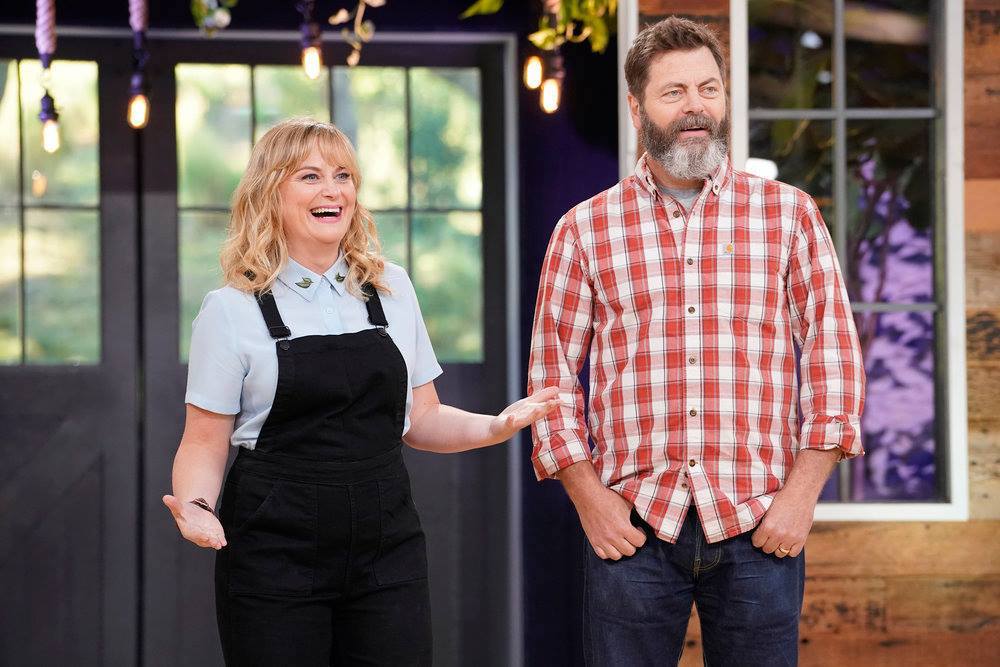 Photo by: Paul Drinkwater/NBC
Amy Poehler and Nick Offerman back together again? We were born ready. Our fave duo are hosting the most Pawnee show to ever come out since Parks & Rec: NBC's Making It sees talented creators compete to craft new things out of unusual materials (are we sure Andy didn't come up with this?). Um, yeah, if this doesn't get you interested in DIY-ing spice racks out of pinecones, we don't know what will—this is the reality competition show to top all others. The contestants make wondrous crafts, vying for the grand prize, but the real treat is getting to see Amy & Nick join in the competition spirit. Prepare for vignettes like "Smell That Wood!" which is not a euphemism…and "Will it Saw?" which, in the case of rollerblades, yes it will. Making It is as ridiculous as it sounds and we are loving every pun-filled minute.
Start Making It tomorrow on NBC.
From NBC:
In the "Making It" season premiere, pop culture BFFS Amy Poehler and Nick Offerman reunite for a lighthearted and unique competition that celebrates the hugely popular DIY maker movement that's taken the country by storm. They bring together eight of the best craftspeople from across the country to compete in one-of-a-kind challenges hoping to be crowned "Master Maker." Etsy trend expert Dayna Isom-Johnson and Barney's Creative Ambassador Simon Doonan serve as judges for a timed "Secret Beast" Faster Craft and a "Modern Heirloom" Master Craft challenge.
—
Love Is___
"Not Valentine's Day" – Season 1, Episode 7
Tues July 31 – 10PM
On OWN
Love Is___ airs on OWN tomorrow night.
From OWN:
Yasir disappoints Nuri by choosing not to celebrate Valentine's Day, putting her in the awkward position of defending him to her family, her boss and her friends.
—
Castle Rock
"The Box" – Season 1, Episode 4
Wed August 1
On Hulu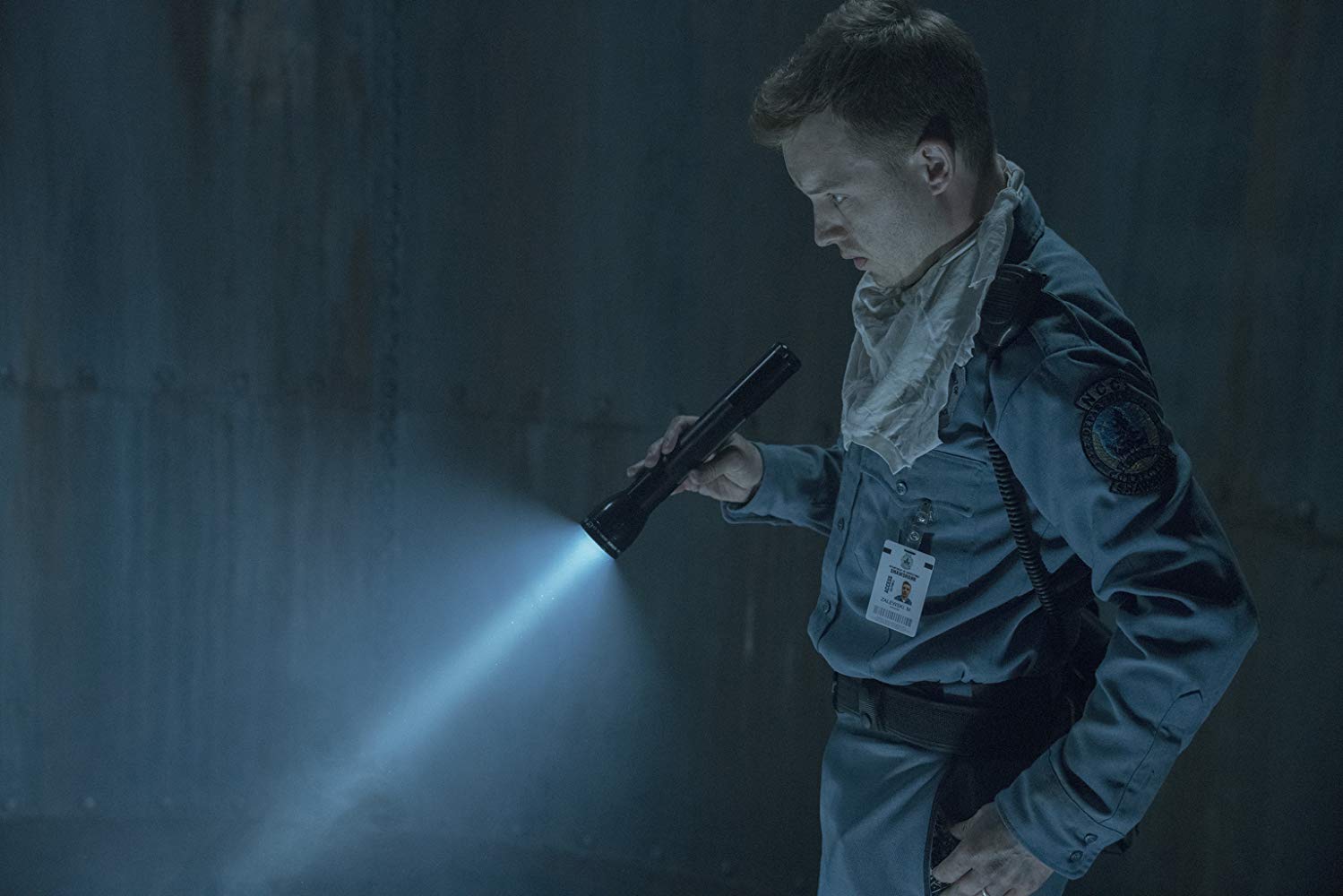 Photo: 

Patrick Harbron/

Hulu
After learning that Bill Skarsgård can even make eating a dry baloney sandwich creepy, we continue Castle Rock's chapter of worst homecoming ever. Henry's (André Holland) dogged efforts to save the young man from his predicament hit a snag. We also delve deeper into the mysterious past of Castle Rock and how it connects to Ruth Deaver (Sissy Spacek), Alan Pangborn (Scott Glenn), and the still-dead Warden Dale Lacy (Terry O'Quinn). To quote Pet Semetary, "Some things it don't pay to be curious about…"
(Philip Jean-Pierre – read our [p]review here)
Stream new episodes of Castle Rock every Wednesday on Hulu.
From Hulu:
A psychological-horror series set in the Stephen King multiverse, Castle Rock combines the mythological scale and intimate character storytelling of King's best-loved works, weaving an epic saga of darkness and light, played out on a few square miles of Maine woodland. The fictional Maine town of Castle Rock has figured prominently in King's literary career: Cujo, The Dark Half, IT and Needful Things, as well as novella The Body and numerous short stories such as Rita Hayworth and The Shawshank Redemption are either set there or contain references to Castle Rock. Castle Rock is an original suspense/thriller — a first-of-its-kind reimagining that explores the themes and worlds uniting the entire King canon, while brushing up against some of his most iconic and beloved stories.
—
Reverie
"The Key" – Season 1, Episode 9
Wed August 1 – 10PM
On NBC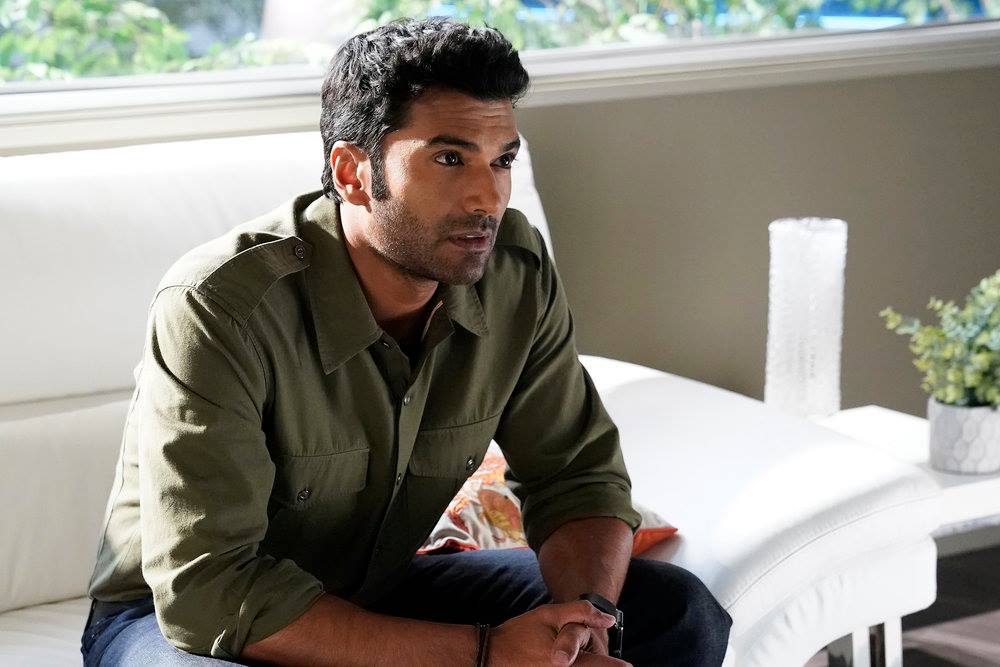 Photo: Greg Gayne/NBC
Memory is a funny thing. We often remember things differently to how they happened, especially when an incident was traumatic. So far Reverie has been digging into people's dreams…but what about their memories? Mara (Sarah Shahi) is so close to figuring out what really happened that fateful day when her sister and niece were killed but what Charlie (Dennis Haysbert) has been keeping from her is going to hurt more than the memories that are already destroying her. Ooh, this episode will sprout even more theories for you to play with and confirm a few too. It hurts to watch but knowledge is a powerful and forgiving thing and Reverie handles the delicate subject of Mara's family honestly and with sincerity.
New episodes of Reverie air every Wednesday on NBC.
From NBC:
Mara's (Sarah Shahi) personal tragedy finally comes to a head and she considers whether she has a future with OniraTech. When the client stuck in Reverie is one of their own, they must all band together before it's too late.
—
The Sinner
Season 2 premiere
Wed August 1 – 10PM
On USA
The Sinner premieres this Wednesday on USA.
From TV Guide:
In new episodes of The Sinner, Detective Harry Ambrose returns back to his hometown in rural New York to assess an unsettling and heart wrenching crime — parents murdered by their 11-year-old son with no apparent motive. As Ambrose realizes there's nothing ordinary about the boy or where he came from, the investigation pulls him into the hidden darkness of his hometown. He's pitted against those who'll stop at nothing to protect its secrets — and the mysterious Vera who proves to be a complicated, enigmatic piece to this haunting puzzle.
—
Take Two
"About Last Night" – Season 1, Episode 7
Thurs August 2 – 10PM
On ABC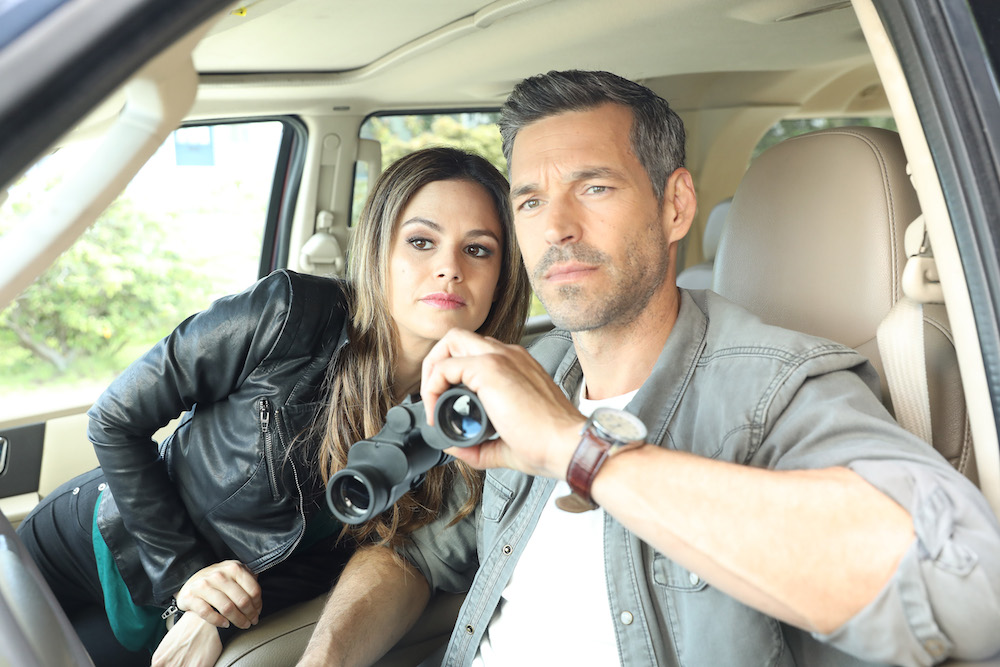 Photo: 

ABC/Jack Rowand
Damn, Take Two knows just how to play with our emotions. This week is a Hangover-style situation where Sam (Rachel Bilson) and Eddie (Eddie Cibrian) wake up in bed…together…but they have no idea what happened the night before. Contain your giggles, y'all. This is a confusing and serious matter especially when a client shows up that they apparently made a deal with—it turns out they were drugged which causes Sam to question her sobriety. That being said…it doesn't mean the duo won't have some fun retracing their steps from the night in question—especially when they lead to a BDSM club…okay, okay, you can giggle a little now. There are several mysteries at stake here but we only care about one: When are these two finally gonna quit playing around? Yep, you caught us, Take Two has us all in and we're team Sam & Eddie forever.
Get into Take Two this Thursday, only on ABC.
From ABC:
When Sam and Eddie wake up in bed together, naked, and with no memory of the previous night, they can't help but wonder what did or didn't happen. But when they discover that the whole previous day is a complete blank, they begin to suspect that they were purposely drugged. The mystery deepens when, back at the office, a client they have no recollection of meeting returns to thank them for helping her recover her lost dog. Working with what little information they have, along with Berto and Monica's help, the pair attempt to reconstruct their lost day, only to discover that there's a lot more at stake than a missing dog. Meanwhile, Sam fears that while drugged she may have broken her sobriety.
—
Like Father
August 3
On Netflix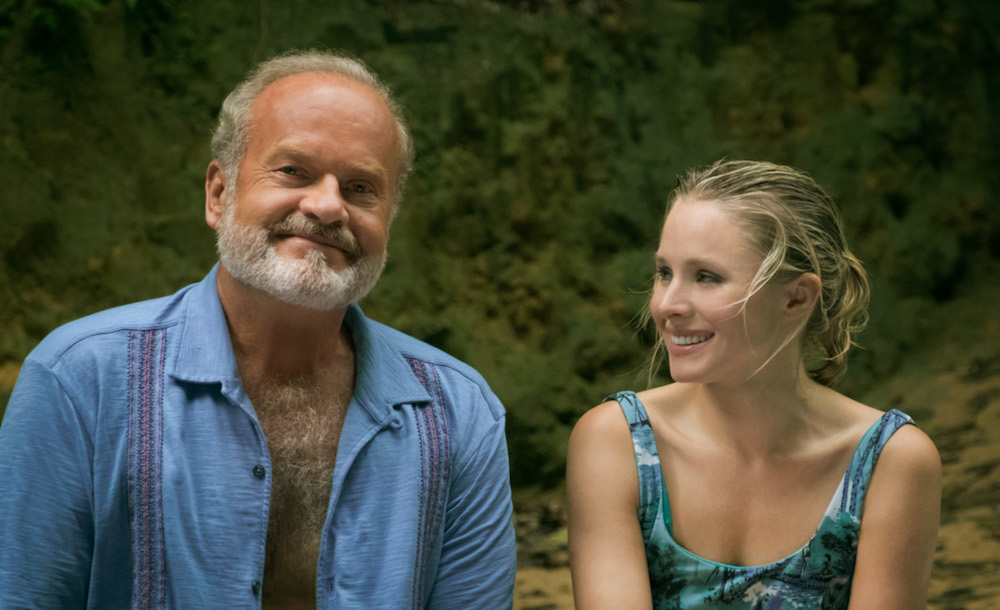 Photo: 

Emily Aragones
Father-daughter dynamics can be complicated, especially in adulthood, and Netflix's new movie is here to explore them with a laugh and a whole lotta heart. When Rachel (Kristen Bell) gets left at the altar, she reconnects with her long-estranged father (Kelsey Grammer) and, after a drunken night out bonding, they end up on her honeymoon cruise together. Yup, this movie sailed right on past embarrassment harbor and into the sea of WTF-happened…and that's just the beginning. The fact that Kristen Bell and Kelsey Grammer are said father-daughter duo is enough to sell anyone on this movie. Together they journey through emotional pain, confusion, childhood issues, and forgiveness as two broken people trying to find some balance on a definitely rocky boat. Of course, with some island adventures (not to mention mishaps), more than a few delicious-looking cocktails, and even a delightful appearance from Seth Rogen along the way. Like Father is a summer comedy-drama that's guaranteed to make you smile (and start looking at cruise holidays for you and the fam).
Stream Like Father on Netflix from Wednesday.
From Netflix:
When a workaholic young executive (Kristen Bell), is left at the altar, she ends up on her Caribbean honeymoon cruise with the last person she ever expected: her estranged and equally workaholic father (Kelsey Grammer). The two depart as strangers, but over the course of a few hilarious adventures, a couple of umbrella-clad cocktails and a whole lot of soul-searching, they return with a renewed appreciation for family and life.
—
Wynonna Earp
"Colder Weather" – Season 3, Episode 3
Fri August 3 – 9PM
On SYFY
Catch Wynonna Earp every Friday on SYFY.
From SYFY:
The team must come to terms with the consequences of their actions. Meanwhile, someone claiming to be from Black Badge Division arrives in Purgatory.
—
Killjoys
"Bro-D Trip" – Season 4, Episode 3
Fri August 3 – 10PM
On SYFY
Get into Killjoys every Friday on SYFY.
From SYFY:
Johnny manipulates D'av into helping him find a green pool while Zeph faces possible death.
—
CLAWS
"Til Death" – Season 2, Episode 9
Sun August 5 – 9PM
On TNT
Claws returns to TNT this Sunday.
From TV Guide:
As Desna plans for a big day, she realizes she can play a two-faced #bossbitch better than the rest of them. Meanwhile, after getting a disturbing message from Marnie, a reeling Polly gets an unexpected visit.
—
SHARP OBJECTS
"Closer" – Season 1, Episode 5
Sunday August 5 – 9PM
On HBO
Watch Sharp Objects on HBO every Sunday.
From HBO:
Despite a potential serial killer on the loose in the community, Wind Gap residents gather for Calhoun Day, an annual southern-pride festival hosted by Adora (Patricia Clarkson) on the grounds of her house. As Amma (Eliza Scanlen) and her friends act out a traditional play depicting the sacrifices made by the wife of a Confederate soldier, Adora shares confidences with Richard (Chris Messina) that may impact his relationship with Camille (Amy Adams).
—
Preacher
"Hitler" – Season 3, Episode 7
Sun August 5 – 10PM
On AMC
Photo: AMC
Name another show that brings God, the Devil, and Hitler together—we'll wait. Preacher promised us even more insanity with its SDCC trailer and they're delivering with this week's episode. Hell's escaped Führer is now working in a grocery store but the hate is still strong within him…but who has more anger, him or the Saint of Killers (Graham McTavish)? We'd like to note that Adolf (Noah Taylor) changed his name to David but kept the name Hitler, and he is also the store's employee of the week. Only on Preacher, man…we're cackling at their attention to detail. The Grail is also making a long-awaited comeback but Herr Starr (Pip Torrens) should know better than to take on Gran'ma (Betty Buckley). He tries to reclaim Jesse (Dominic Cooper) with a bribe. Of course, everyone has a price…even her. Oh, how we wish she'd taken his offer for a new TV spot, Downhome Witching Hour with Voodoo Granny—that is another show we'd watch religiously.
Preacher airs this Sunday on AMC.
From AMC:
Jesse, Tulip, Gran'ma and Starr form an uneasy partnership to avert the apocalypse; Cassidy learns to love Eccarius, but at a cost.