This week: Whitney Cummings: Can I Touch It?, Young Justice: Outsiders, Pose, Four Weddings and a Funeral, Grown-ish, The Handmaid's Tale, Dear White People, Ask the StoryBots, Otherhood, A Black Lady Sketch Show, Swamp Thing, Preacher, Claws,
City on a Hill, Euphoria
Whitney Cummings: Can I Touch It?
Tues July 30
On Netflix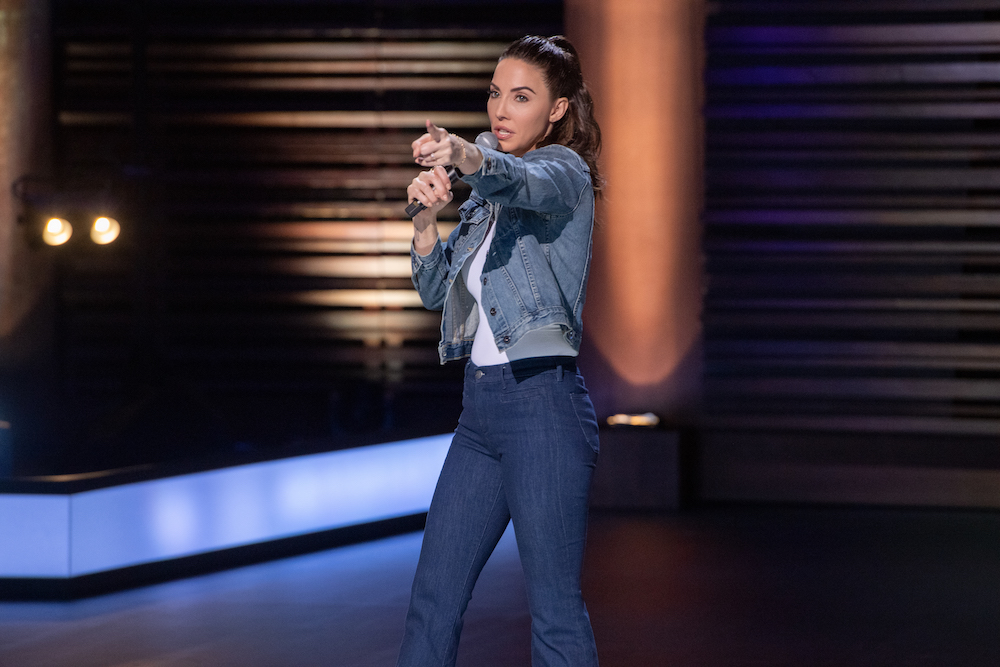 Whitney Cummings is coming out swingin' with her new Netflix standup special. She drops the truth about the #MeToo movement, relationships, and the differences between men and women—saying all the things you're too afraid to say. Before you get your pitchforks: Her statements are all on the side of feminism and how it should be pushing both women and men forward to a better future. Who doesn't want a side of truth served up with plenty of all-out laughs?
Stream Whitney Cummings: Can I Touch It? on Netflix now.
From Netflix:
Multi-hyphenate comedian, Whitney Cummings, makes her Netflix debut with her 4th stand-up special, Whitney Cummings: Can I Touch It? Filmed at the Sidney Harmon Hall in her hometown, Washington, DC. Cummings' signature incisive commentary on gender dynamics is more relevant than ever. Do women need to wear service vests instead of "Rosé All Day" t-shirts? Are their nicknames for each other hurting the cause? Now that people are actually listening what should women change? How are men holding up with all the "new" rules they have to follow now? Tune in for Whitney's take on everything including why we should give sex robots a chance.
—
Young Justice: Outsiders
"Quiet Conversations" – Episode 20
Tues July 30
On DC Universe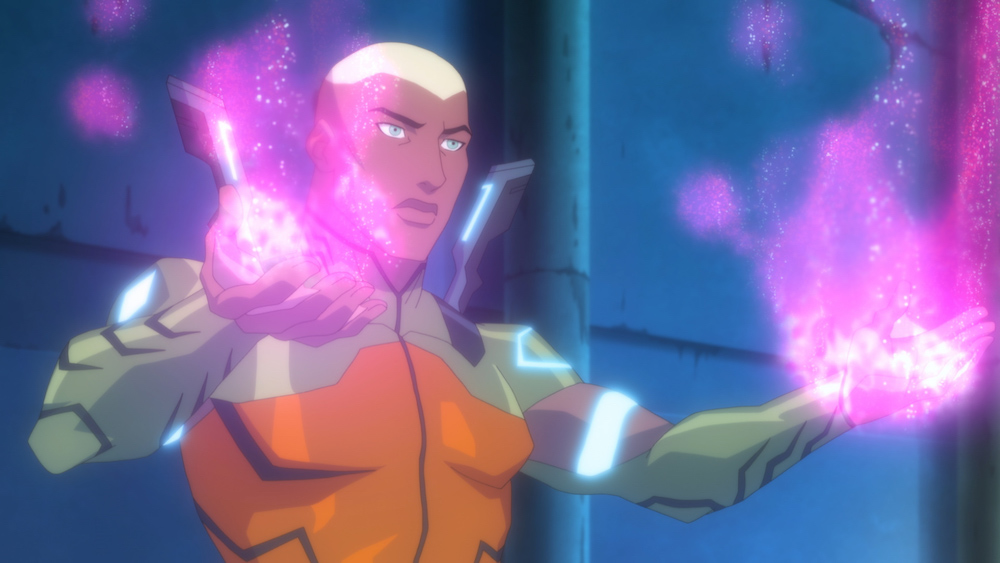 Beware those in powerful positions who act like they're your friend. Aqualad introduces a new protegée to Atlantis in the hopes of finding her a new home, but they both feel more lost than ever. Victor is experiencing…uhh…growing pains of the cyborg kind and there's not much time left to help him. Things aren't looking good for Violet either and watching her break the news to her family is heart-wrenching. Then Young Justice: Outsiders breaks your heart even more, bringing up the issue of child abuse with a real and truly affecting conversation between Harper and her therapist. It's a stark contrast to the manipulations from the characters who have hidden agendas (no spoilers on who they are). Young Justice: Outsiders writes its heroes and villains with such depth you'll be able to feel something for each and every character—no matter which side they're on.
Stream Young Justice: Outsiders every Tuesday on DC Universe.
From DC Universe:
Victor Stone (ZENO ROBINSON) reaches a crisis point. And he's not the only one…
—
Pose
"Blow" – Season 2, Episode 7
Tues July 30 – 10PM
On FX
Watch Pose every Tuesday on FX.
From FX:
The House of Evangelista plan a large prank to antagonize Frederica. Meanwhile, Angel is introduced to the unsavory side of modeling.
—
Four Weddings and a Funeral
Series premiere
Wed July 31
On Hulu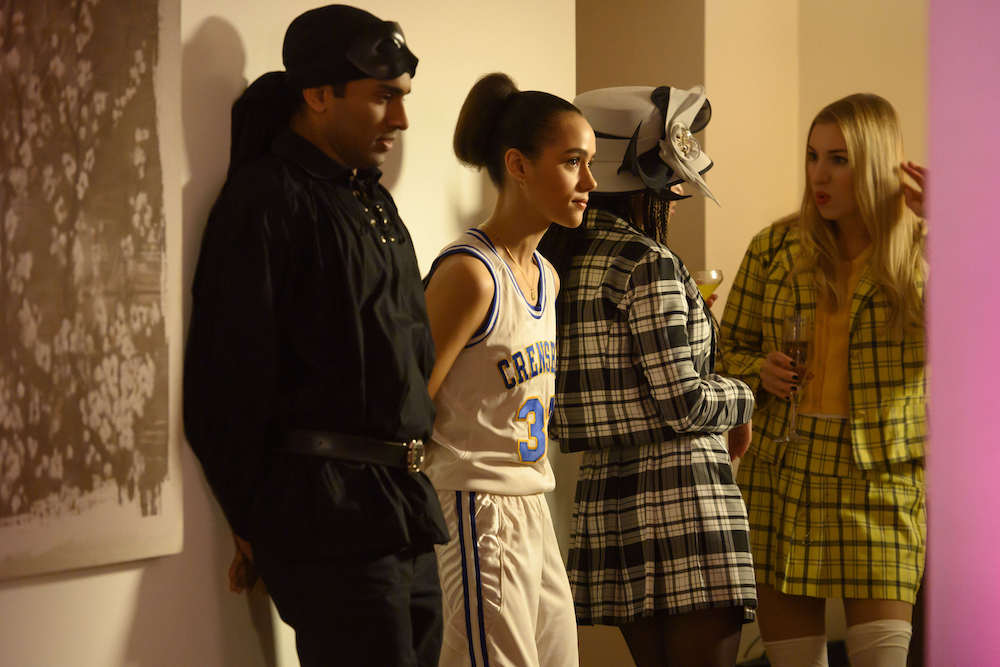 Four Weddings and a Funeral the series has all the classic Richard Curtis recipes and with Mindy Kaling added to the mix it's so freakin' good. The writing is sharp, observant, and witty—often dissecting love, friendship, and the growing pains of going from college grad to "responsible" adult when the last thing you want to be is reasonable. It's like: What if 90210 was funny and filled with adults? AND there's a cliffhanger at the end of every episode, so you really can't stop watching. After viewing the first seven episodes the Londoner in this duo said, "I'm about to sound the most British I've ever sounded (blame the show) but it's bloody brilliant innit?" (read our [p]review)
Four Weddings and a Funeral debuts on Hulu on Wednesday.
From Hulu:
Maya (Nathalie Emmanuel), the young communications director for a New York senatorial campaign, receives a wedding invitation from her college schoolmate now living in London. She leaves her professional and personal life behind, in favor of traveling to England and reconnecting with old friends and ends up in the midst of their personal crises. Relationships are forged and broken, political scandals exposed, London social life lampooned, love affairs ignited and doused, and of course there are four weddings… and a funeral.
—
Grown-ish
"Mind Playing Tricks on Me" – Season 2, Episode 20
Wed July 31 – 8PM
On Freeform
Grown-ish airs on Freeform on Wednesday.
From Freeform:
Aaron hosts an elegant fundraiser for his new "Black Minds Matter" cause, bringing everyone together for a night to remember. The gang is excited to meet the event's special guest, especially Luca, and Zoey makes sure to do everything to get him the face time he wants. Sky is feeling overwhelmed by Jazz and Doug's overattentiveness.
—
The Handmaid's Tale
"Liars" – Season 3, Episode 11
Wed July 31
On Hulu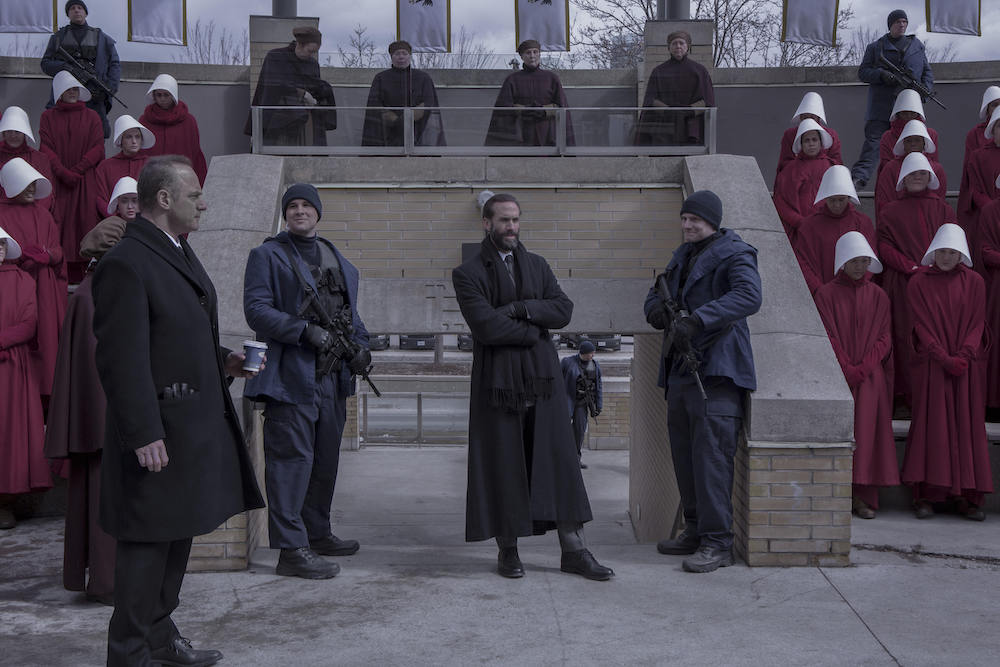 June (Elisabeth Moss) is ramping up her plans to save the children of Gilead. More handmaids—and those higher up—than she anticipated are willing to help. Despite the risks it sparks a resolute fire in June. But that fire may see her and her plans getting burned. June's willingness to put herself in more and more danger is becoming increasingly difficult to watch. The Handmaid's Tale's moral compass keeps on spinning out of control, showing us new depths of the hell that is Gilead. Meanwhile Serena (Yvonne Strahovski) and Fred (Joseph Fiennes) are on a different journey, connecting them in fresh ways that seek to undo all the emotional pull Serena once felt for June. Both Serena and June reach the point of no return and you won't believe it until you see them each cross the line with your own eyes. And when you do, you'll know The Handmaid's Tale has shocked, chilled & thrilled you once again.
Stream new episodes of The Handmaid's Tale
on Hulu every Wednesday.
From Hulu:
A return to Jezebels puts everything in jeopardy. Serena Joy and Commander Waterford take a clandestine trip.
—
Dear White People
Season 3
Fri Aug 2
On Netflix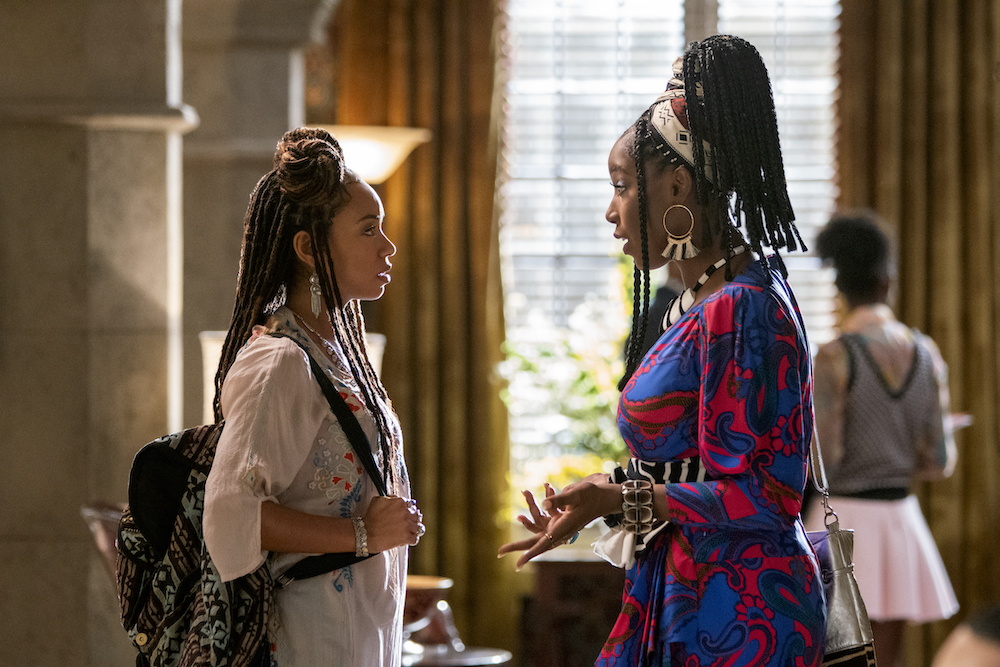 The students of Winchester are about to swerve from their non-stop activism and get personal. And their personal complications are going to hit them hard—with even deeper social ramifications. College students face problems that go far beyond social justice, identity, and romance. S3 goes so deep into those issues you won't see them coming, with characters we haven't gotten to know very well yet. No spoilers here, babe, but the queers, the outcasts, and the secret keepers all get their time to shine (whether or not they want the spotlight). Oh my friends, this is such a good show. It'll take a moment to reconcile your feelings because we're headed  into lots of uncomfortable (sometimes hilarious) places but seasons like, this multifaceted and wittily emotional, season 3 make Dear White People as edifying as it is satisfying.
Dear White People returns to Netflix on Friday.
From Netflix:
Set against the backdrop of a predominantly white Ivy League university where racial tensions bubble just below the surface, Dear White People is an hilarious send-up of "post-racial" America that weaves together the universal story of finding one's own identity and forging a wholly unique path. The satirical series — which picks up where the acclaimed 2014 film by the same name left off – follows a group of Winchester University's students of color as they navigate a diverse landscape of social injustice, cultural bias, political correctness (or lack thereof) and sometimes misguided activism in the millennial age. Through an absurdist lens, Dear White People utilizes biting irony, self-deprecation and sometimes brutal honesty to hold up a mirror to the issues plaguing society today, all the while leading with laughter.
—
Ask the StoryBots
Season 3
Fri Aug 2
On Netflix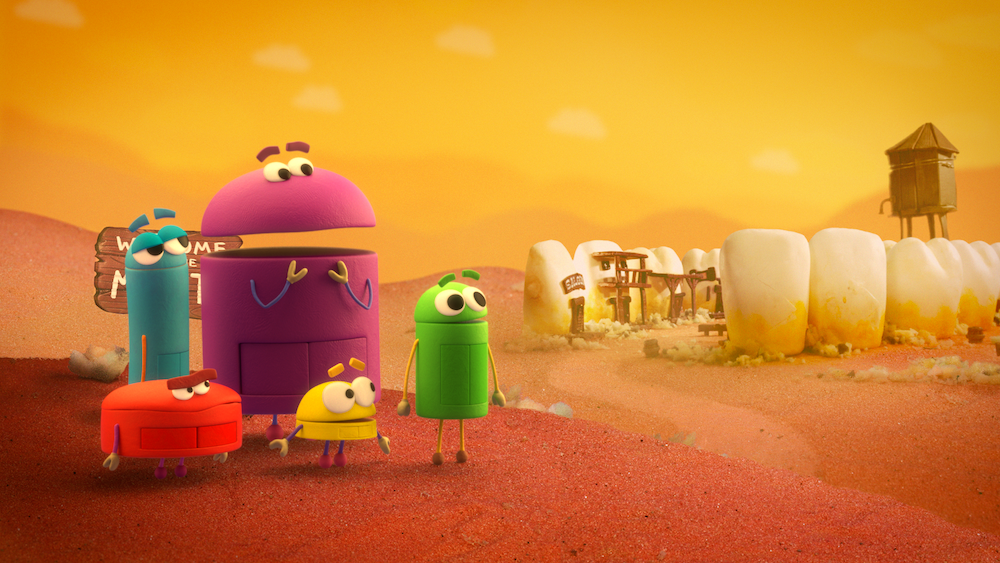 One of Netflix's latest acquisitions is the charming Ask the StoryBots, which aims to bring family education to the little ones in the quirkiest ways possible. Season 3 sees the StoryBots answering more burning questions from kids, covering the basics of light to music to recycling in fun bite-sized chunks of color and whimsy. There are plenty of weird and wicked jokes to appeal to all the parents watching too—watch out for the likes of John Legend, Zoe Saldana, Tony Hale, and more stars who join in on the fun!
Ask the Storybots returns to Netflix on Friday.
From Netflix:
The Emmy-award winning educational preschool series follows five curious little creatures who track down the answers to kid's biggest questions. Join the Storybots and their celebrity friends as they field questions from "Why do people look different?" to "Where does chocolate come from?" Ask the Storybots is executive produced by Gregg and Evan Spiridellis.
—
Otherhood
Fri Aug 2
On Netflix
Stream Otherhood on Netflix on Friday.
From Netflix:
For empty nesters, what's the difference between letting your children grow up and letting them grow distant? This year, on Mother's Day, feeling marginalized and forgotten, long time friends Carol (Angela Bassett), Gillian (Patricia Arquette) and Helen (Felicity Huffman) decide to drive to New York to reconnect with their adult sons, and in the process, they realize their sons are not the only ones whose lives need to change. A journey to relate becomes a journey of rediscovery that forces these women to redefine their relationships with their children, friends, spouses and most importantly, themselves. Written and directed by Cindy Chupack (Sex and the City), OTHERHOOD is a soulful, hilarious and honest exploration of life after motherhood.
—
A Black Lady Sketch Show
"Angela Bassett Is the Baddest B***h" – Series premiere
Fri Aug 2 – 11PM
On HBO
A Black Lady Sketch Show debuts on HBO on Friday.
From HBO:
Two women seek an escape from an ominous fog. 1960s soul group Claude and The Boppers perform their hit song "Ice Cream Shop." A world-renowned author and "philosophizer" promotes her latest masterclass. Maya's confession in a support group gets a less-than-supportive response. Trinity, the Invisible Spy, meets a formidable adversary. Drea confronts a mysterious woman stealing her dance moves at a club. Fun and games lead to tension, as Robin, Ashley, Quinta and Gabrielle are stuck in a house after an end-of-the-world event.
—
Swamp Thing
"Loose Ends" – Series finale
Fri Aug 2
On DC Universe
Stream Swamp Thing on DC Universe every Friday.
From DC Universe:
Still reeling with the revelation of the truth behind his existence, Swamp Thing fights back against the team hunting him to protect his world in the season finale.
—
Preacher
"Masada/Last Supper" – Season 4 premiere
Sun Aug 4 – 9PM
On AMC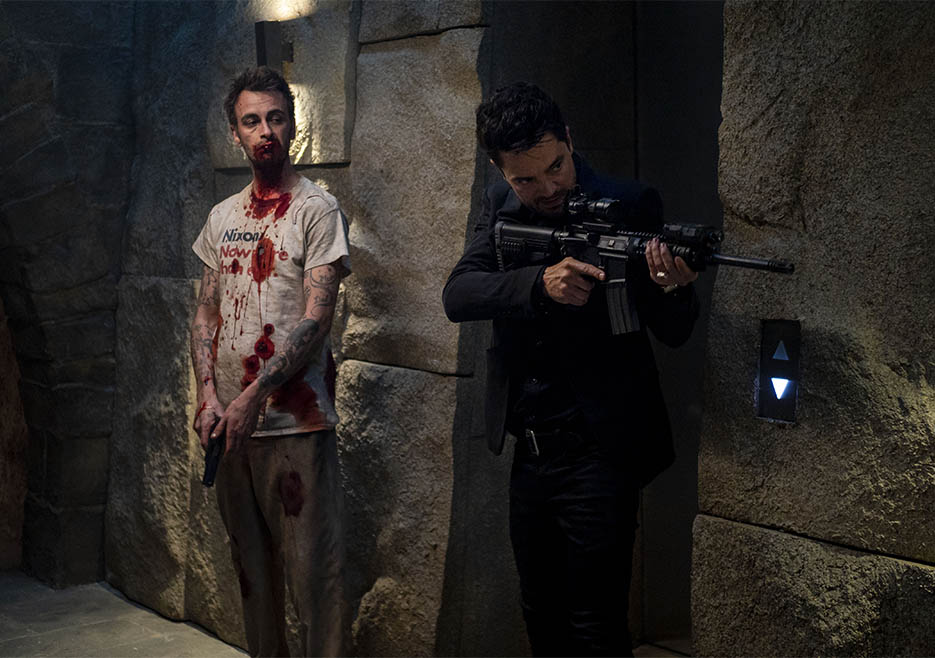 Preacher has never been a show that eases you in but season 4 throws you to the wolves. Y'know, if those wolves are actually servants of the Grail (and y'all know what Herr Starr is capable of…especially now he's had his head split wide open). Cassidy (Joseph Gilgun) is a little bit more than tied up when we find him again, being used as a live anatomy project for Masada's (the Grail's top secret HQ) student classes. Jesse (Dominic Cooper) and Tulip (Ruth Negga) do their best to rescue him, in a couple of fight scenes that can only be described as gloriously bloody (or bloody glorious). Although Cass might not be the one who needs saving. The fallout of the Preacher love triangle is getting in the way of the group's mission and Jesse's having some real strange dreams about what's next. We don't know if it's because it's been a minute since we watched the series or if the violence is cranked up a notch (even for Preacher) but season 4's opening will have you squealing at the blood, gore, and snapping of bones (and other body parts). It'll also have your own blood pumping with anticipation as it lays out the next (and, sadly, final) chapter of the series that has taken us on a wild road trip to hell and back.
Preacher returns to AMC on Sunday.
From AMC:
As the series inches closer to the finale, God's endgame for the universe begins to click into place. Trapped between heavenly prophecies, hellish prisons, and all-out nuclear war, Jesse, Tulip, and Cassidy make their bloody way to the Most High. Whether they can reach God in time — or whether all this carnage is part of His divine plan — will soon be revealed as "Preacher" barrels towards the end of the world.
—
Claws
"Melba Toast" – Season 3, Episode 9
Sun Aug 4 – 9PM
On TBS, TNT
Watch Claws every Sunday on TBS & TNT.
From TBS:
Desna and the crew have to tie up loose ends for the Triads if they want to stay alive. Meanwhile, guilt pushes Toby to do the unexpected, putting the entire crew in jeopardy.
—
City on a Hill
"High on the Looming Gallows Hill" – Season 1, Episode 8
Sun Aug 4 – 9PM
On Showtime
All new City on a Hill premieres on Showtime every Sunday.
From Showtime:
Jackie celebrates a win in front of the cameras but, behind closed doors, he reaches a new low. A shining moment from Decourcy promises a potential future in politics, but any pride Siobhan feels for her husband is squandered by an unexpected betrayal. The Grand Jury reconvenes, and this time Sheik doesn't get off easily. Thanks to Signa's detective work, the Ryan family is now under the watchful eye of the Suffolk DA.
—
Euphoria
"And Salt the Earth Behind You" – Season 1, Episode 8
Sun Aug 4 – 10PM
On HBO
Watch Euphoria on HBO every Sunday.
From HBO:
In the Season One Finale, it's the winter formal at East Highland.