This week: The Bold Type, Love Is___, Castle Rock, Reverie, Take Two, Orange is the New Black, Claws, Sharp Objects, Preacher
The Bold Type
"Plan B" – Season 2, Episode 8
Tues July 24 – 8PM
On Freeform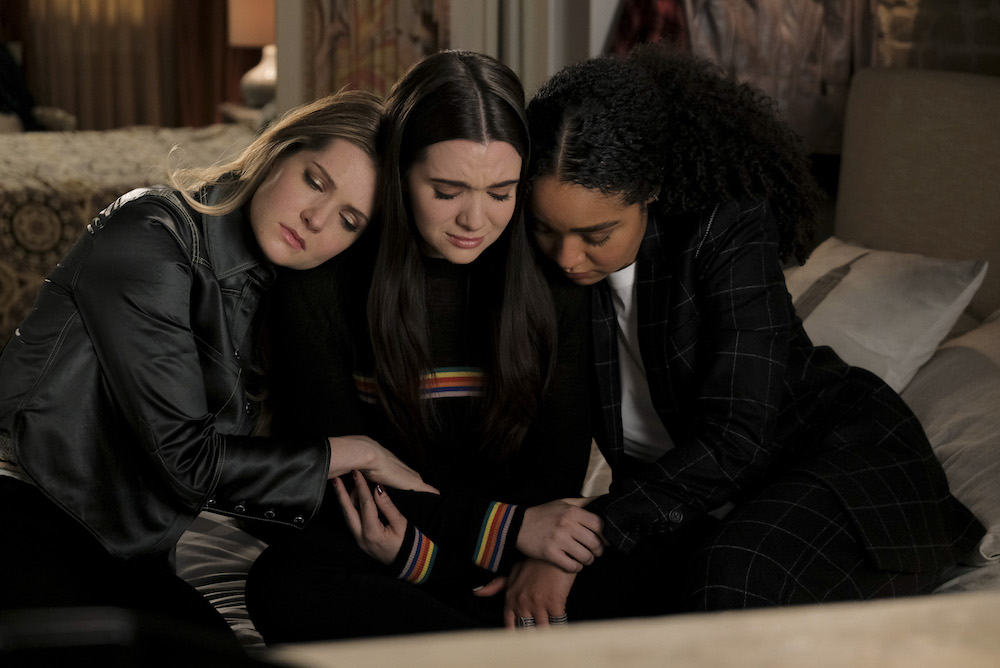 Photo: Freeform/Phillippe Bosse
What journalism should stand for is the freedom of speech and expression. It's a sacred yet often difficult rule to follow for some these days but it's a rule The Bold Type continues to play by—and with. In "Plan B", Jane (Katie Stevens) struggles with her article on young motherhood following a pregnancy scare with Ben (Luca James Lee), raising some tough questions. She has the BRCA2 gene mutation, which increases the risk of certain types of hereditary cancer, and is not only struggling with that personally but on paper too. She looks deep into herself to figure out why she has such writers' block over this particular topic and her answers may surprise you. Meanwhile, Kat (Aisha Dee) is pulled into a new partnership and alarm bells are ringing all over the place—somebody get her a lawyer and a reality check, stat! Bound by contract, she deals with its limits in a very Kat way. The Bold Type opens up the conversation for viewers about new perspectives, emotions and, most importantly, integrity.
The Bold Type airs tomorrow on Freeform.
From Freeform:
After an intimate moment mishap with Ben, Jane evaluates if motherhood is in her future because of her BRCA gene mutation. Kat is eager to flaunt her social media influence by partnering with a beauty brand that offers her an opportunity to be their spokesperson. Meanwhile, Sutton makes her first major fashion department decision without Oliver.
—
Love Is___
"Supportive" – Season 1, Episode 6
Tues July 24 – 10PM
On OWN
Love Is___ airs on OWN tomorrow night.
From OWN:
Nuri experiences friction with Angela at work and confides what's going on to Yasir. He tries to help her keep things in perspective — but can he talk Nuri down before the damage to her relationship with Angela is irreparable?
—
Castle Rock
Series premiere
Wed July 25
On Hulu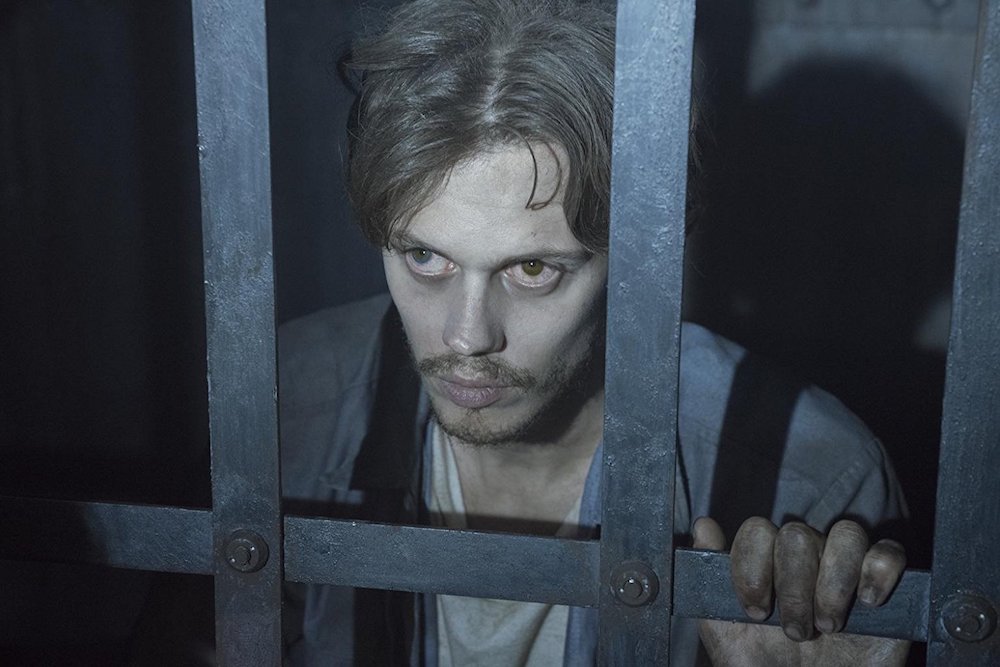 Photo: Patrick Harbron/Hulu
After a mysterious opening featuring a missing child, we're introduced to an eclectic cast of seemingly middling characters with seemingly middling lives in a town the world stopped caring about. And as you know, in King's world, the more mundane the setting the more concerned you should be. The first of these seemingly middling characters is Henry Deaver (Andre Holland), a death-row lawyer and Castle Rock's prodigal son. He returns home after receiving a call involving a young man with an unusual legal problem (Bill Skarsgård). Henry's drop into the rabbit hole begins with his estranged mother Ruth (Sissy Spacek) a woman inextricably haunted by the traumatic events. There's also former sheriff Alan Pangborn (Scott Glenn), Ruth's boyfriend, whose laissez faire manner belies an awareness of Castle Rock's unsettling past. To further disrupt the life of our intrepid wanderer, Henry, we have Molly Strand (Melanie Lynskey). She is an old "friend" of Henry's and a struggling real-estate agent in a town where "Every third property is the site of someone's worst nightmare." Hear me reader, this is the Kingverse and in Castle Rock every corner is full of secrets that are locked away for a reason no one seems to know; secrets that Dale Lacey (Terry O'Quinn), former warden of Shawshank prison—yeah, that one—has locked up in the basement, proving that "Every inch [of this town] is stained with someone's sin." (Philip Jean-Pierre – read our [p]review here)
Stream the debut of Castle Rock this Wednesday on Hulu.
From Hulu:
A psychological-horror series set in the Stephen King multiverse, Castle Rock combines the mythological scale and intimate character storytelling of King's best-loved works, weaving an epic saga of darkness and light, played out on a few square miles of Maine woodland. The fictional Maine town of Castle Rock has figured prominently in King's literary career: Cujo, The Dark Half, IT and Needful Things, as well as novella The Body and numerous short stories such as Rita Hayworth and The Shawshank Redemption are either set there or contain references to Castle Rock. Castle Rock is an original suspense/thriller — a first-of-its-kind reimagining that explores the themes and worlds uniting the entire King canon, while brushing up against some of his most iconic and beloved stories.
—
Reverie
"Despedida" – Season 1, Episode 8
Wed July 25 – 10PM
On NBC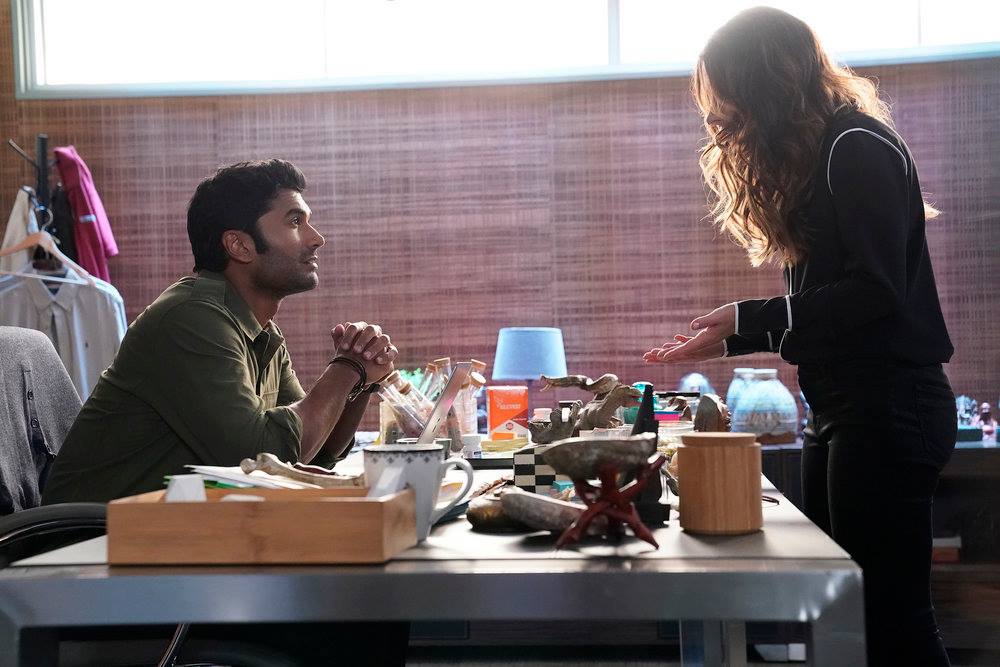 Photo: Greg Gayne/NBC
Ooh Monica (Kathryn Morris), welcome aboard. It seems she has more good intentions than we first thought which means good things for our team—and they're gonna need all the help they can get. Those dark reveries we caught a glimpse of last week are about to pull us right in this week as Mara (Sarah Shahi) starts to unravel. Government and technology definitely don't mix but their foray into testing Reverie's limits has only just begun—and Mara is the program's beta tester. Buckle up, folks, because that thin line between dreams and reality in Reverie just got a whole lot harder to see and you're in for a terrifying thrill ride that feels way too real.
New episodes of Reverie air every Wednesday on NBC.
From NBC:
Romance is in the air when Mara (Sarah Shahi) must track down an elderly woman attempting to relive her lost love, but as Mara dives deeper into her Reverie she realizes she may have a greater mission on her mind. Dennis Haysbert, Sendhil Ramamurthy, Kathryn Morris and Jessica Lu also star.
—
Take Two
"The Devil You Know" – Season 1, Episode 6
Thurs July 26 – 10PM
On ABC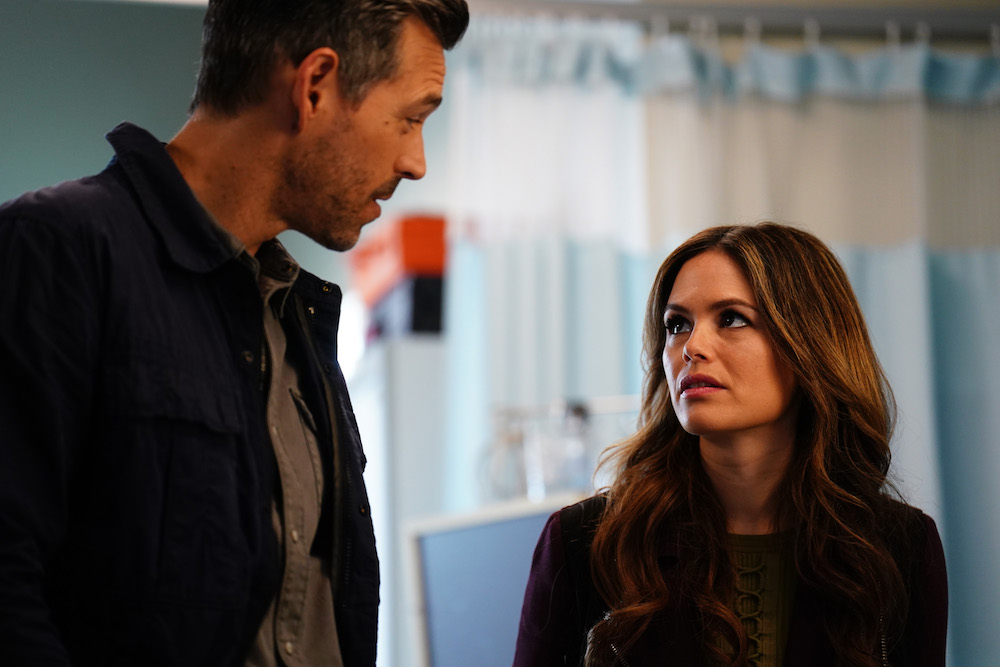 Photo: 

ABC/David Bukach
They say never meet your heroes. What happens when you're a hero to millions but you need someone else to look up to? When Piper Mannox (Tattiawna Jones) shows up on the scene as a badass bounty hunter, Sam (Rachel Bilson) sees her as someone to aspire to…or so she thinks. Turns out, it's hard to live up to expectations, whether you're a superstar actress with a face ex-cons get tattooed (it's uncanny) or a woman willing to do whatever it takes to get what she wants. People—ahem, looking at you, Eddie (Eddie Cibrian)—are always going to put their own assumptions on you so it's up to you to surprise them. And Take Two definitely continues to surprise us with a wink and a red hot torrent of emotional chemistry.
Get into Take Two this Thursday, only on ABC.
From ABC:
Bounty hunter Piper Mannox (guest star Tattiawna Jones) shows up at Valetik Investigations asking Eddie and Sam for help to find an escaped prisoner who killed a guard on his way to freedom. Eddie is hesitant to work with Piper again due to their tumultuous past and her lack of moral code. However, with his cop connections, her experience finding fugitives and a quarter million dollar reward, it makes it difficult for Eddie and Sam to deny the case. Meanwhile, Sam feels a strong connection to Piper and turns into her biggest fan but soon discovers Piper's not all she seems to be. Elsewhere, Monica and Berto partner up to help Eddie and Sam with the case.
—
Orange is the New Black
Season 6
Friday July 27
On Netflix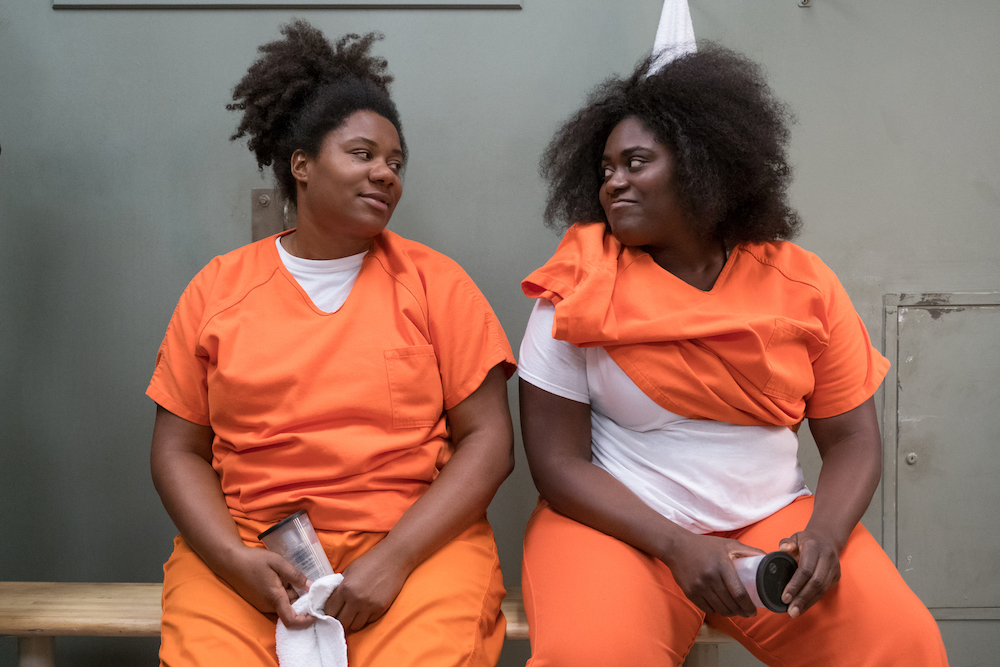 Photo: 

JoJo Whilden / Netflix
This Friday brings the long-awaited return of the ladies of Litchfield. However, will the inmates ever return to the Litchfield they know? Season 5's finale saw all hell break loose over the prison and the inmates lost the standoff against their oppressors. Some of our fave duos were separated and bound for new prisons, leaving behind those who took shelter in the bunker, as the riot team descended. Season 6 opens in the aftermath of the brute Piscatella's (Brad William Henke) death and the guards are tampering with the evidence (where have we heard that one before?). But don't think our girls haven't used their time away to come up with a cover story of their own. The new season is taking Orange is the New Black to the Max, asking, who will take the fall for the riot? Will the women's alliances hold up or disintegrate as threats from the state pile up? Who knew navigating adult female friendships was so complicated? Loyalties are questioned in these new but still confined spaces and, with the return of Daya (Dascha Polanco), tensions mount between inmates over class and race. But hey, at least there's a new dance class to attend, hosted by the always hilarious Luschek (Matt Peters), right? OITNB is back with a whole lot of heart so get ready to binge-watch the weekend away with our favorite lady inmates. (Heather Glock)
Stream season 6 of Orange is the New Black from Friday on Netflix.
From Netflix:
Orange is the New Black is the outrageous and critically-acclaimed series from Emmy® Award-winner Jenji Kohan about a diverse group of inmates serving time in a women's prison.
—
CLAWS
"Crossroads" – Season 2, Episode 8
Sun July 29 – 9PM
On TNT
Claws returns to TNT this Sunday.
From TV Guide:
After a harrowing experience, Desna is offered a deal with the Russian devil, aka Zlata, that's more intriguing than nail art on acrylics.
—
SHARP OBJECTS
"Ripe" – Season 1, Episode 4
Sunday July 29 – 9PM
On HBO
Watch Sharp Objects on HBO every Sunday.
From HBO:
Camille (Amy Adams) agrees to show Richard (Chris Messina) some of Wind Gap's crime scenes, though the tour opens up old wounds.  Alan (Henry Czerny)confronts Adora (Patricia Clarkson) about her sharing confidences with Chief Vickery (Matt Craven), who is concerned about the Crellins hosting the annual "Calhoun Day" attended by Wind Gap's youth. Fired from his job at Preaker Farms, John (Taylor John Smith) shares off-the-record revelations with Camille that raise fresh concerns for her.
—
Preacher
"Les Enfants du Sang" – Season 3, Episode 6
Sun July 29 – 10PM
On AMC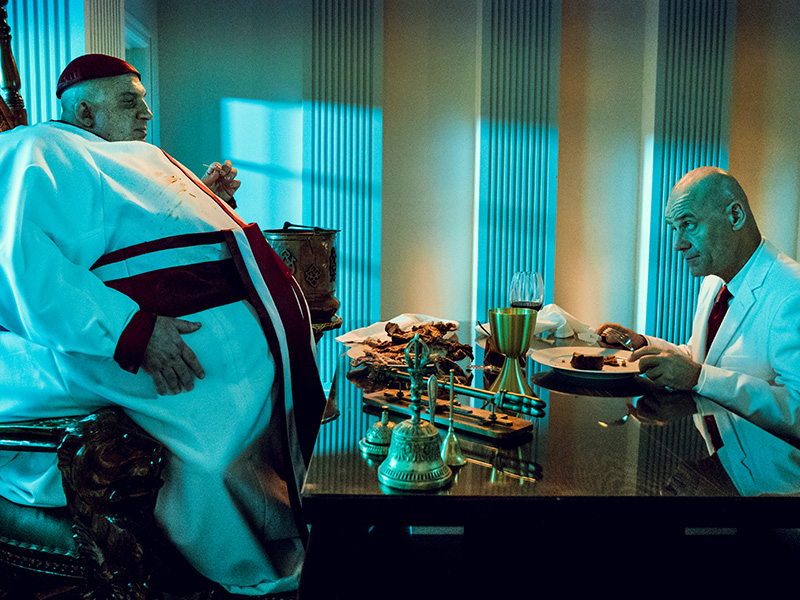 Photo: AMC
Goshdammit, how is Jesse (Dominic Cooper) supposed to save the day without Tulip (Ruth Negga)? We all know she's the one who keeps the s#!t from hitting the fan—but when her fate is magically tied to Gran'ma's (Betty Buckley), Jesse turns to desperate measures…desperate, ridiculous, insane, measures. His plan? To kill Gran'ma and Tulip—only temporarily, of course. Um, okay, maybe it's time for plan B. He's going to rob a bank…with Jody (Jeremy Childs) and TC (Colin Cunningham). Yeah, we told you it was ridiculous but it'll all make sense (at least in Preacher world) eventually, we promise. Who'd have thought those three would ever end up working together? Regardless they are delightful to watch as a team and will have you cackling maniacally as they bounce off each other. Speaking of ridiculous team ups, our boy The Saint of Killers (Graham McTavish) has become a dad again…to Arseface (Ian Colletti)…wait, what? Poor Eugene can't catch a break but maybe this time he'll be on the right side of Hell. Meanwhile, Cassidy (Joseph Gilgun) is off on an adventure of his own and it turns out he's been doing the whole Vampire thing wrong all this time. (We just hope he adopts his new friends' sense of style, wouldn't he look dashing?) This show has us screaming WTF more times than we can count and that is precisely why we love it.
Preacher airs this Sunday on AMC.
From AMC:
Tulip, Jesse, Jody and T.C. hatch an ambitious plan to save both Gran'ma's and Tulip's lives; Cassidy explores a new friendship in New Orleans.
P.S. Did you catch Preacher's SDCC trailer? We're only halfway through season 3 but you ain't seen nothin' yet, kid.