This week: Veronica Mars, Young Justice: Outsiders, Good Trouble, Pose, Grown-ish, The Handmaid's Tale, Another Life, The Boys, Orange is the New Black, Swamp Thing, Claws, City on a Hill, Euphoria
Veronica Mars
Season 4
Now streaming
On Hulu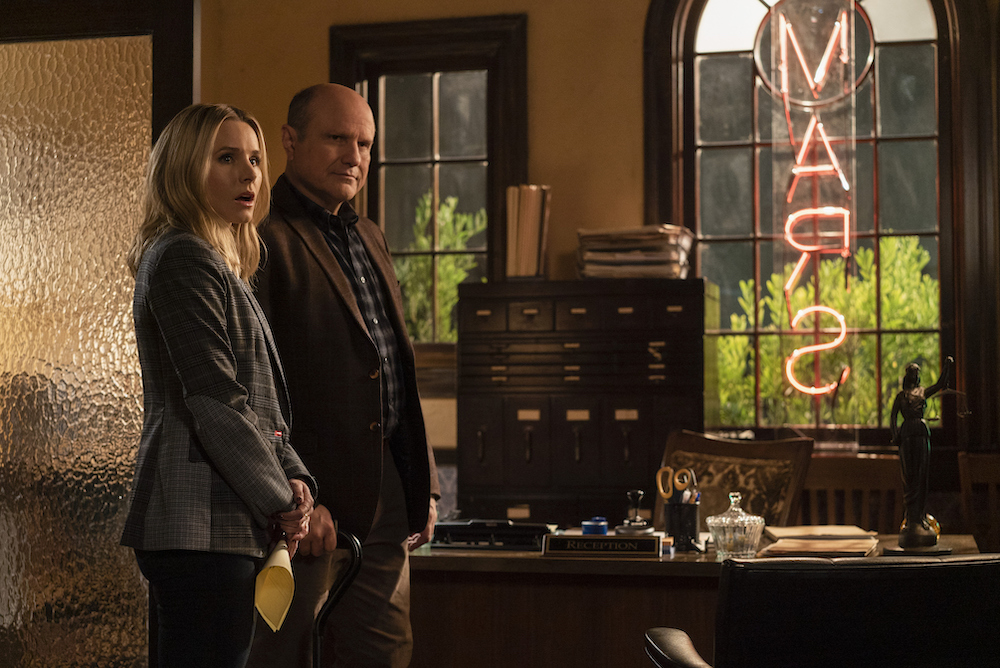 Surprise, Marshmallows—Hulu dropped the whole of season 4 early! Just in case you're not already clicking away furiously to stream Veronica Mars right this second (ya weirdo), here's an excerpt from our [p]review by Devon Sanders to get you hyped:
To say that I enjoyed this season is somewhat of an understatement. I absolutely am not in the same place where this series left me but to see Kristen Bell, the cast and the writer's room which includes NBA legend and former Bruce Lee opponent, Kareem Abdul-Jabbar, slide so seamlessly back into the creation of this seminal series is amazing. The pacing is as quick and agile as ever. The writing and acting are as top notch as anything and, my God, I truly was drawn back into the lives of the characters of Neptune. As much as I cared for them then, the work everyone involved put into this fourth season left me invested in these characters more than I could've in my younger days when time felt like a thing we all had in abundance. To be more succinct, Veronica Mars Season 4 thanks you for being there for it all along. It welcomes you in and lets you enjoy your time with it. It is the strongest yet softest of flexes. It is a fresh look at an early adopter of appointment television and is a very welcoming place for viewers, new, old and lucky who will someday, I hope, find it… (read our [p]review)
Veronica Mars S4 is now on Hulu.
From Hulu:
Spring breakers are getting murdered in Neptune, thereby decimating the seaside town's lifeblood tourist industry. After Mars Investigations is hired by the family of one of the victims to find their son's killer, Veronica is drawn into an epic eight-episode mystery that pits the enclave's wealthy elites, who would rather put an end to the month-long bacchanalia, against a working class that relies on the cash influx that comes with being the West Coast's answer to Daytona Beach.
—
Young Justice: Outsiders
"Elder Wisdom" – Episode 19
Tues July 23
On DC Universe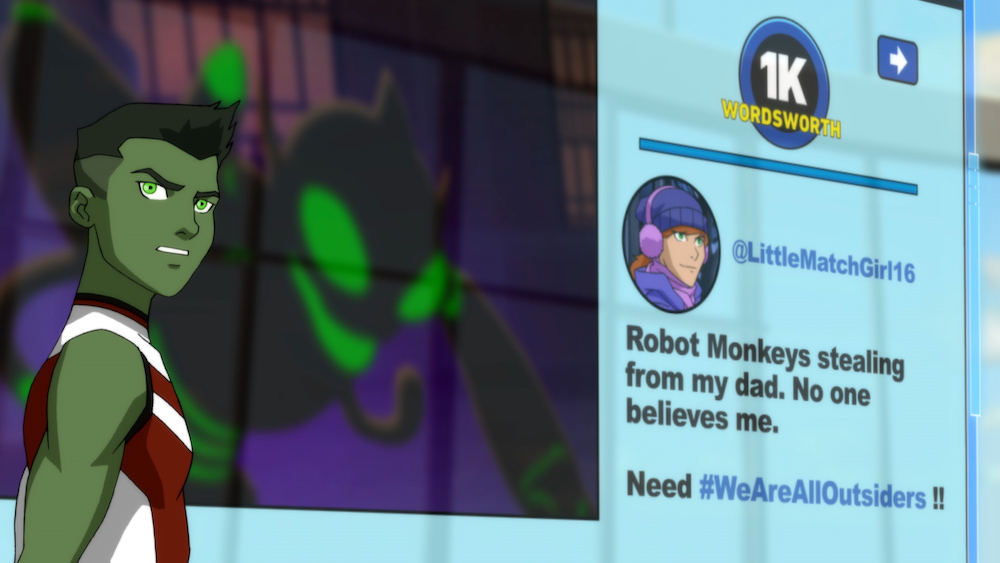 Heroes are easy to anticipate and therefore manipulate. Lex Luthor knows The Outsiders can't resist saving the day so he moves them into position so they're ready to fall. There's also manipulation going on inside the team—not to mention mental health issues, illnesses, and romantic conflicts. Our Outsiders never looked more vulnerable. That doesn't mean they won't put on their game faces and go out swinging which is what makes them true heroes. Besides, they're not the only heroes in town who are ready and willing to save the day…but how far will the Justice League go to make sure the greater good wins? Ooh, Young Justice: Outsiders just upped the ante in drama with an episode full of twists and false appearances—you'd better be ready.
Stream Young Justice: Outsiders every Tuesday on DC Universe.
From DC Universe:
The Outsiders face Lex Luthor's machinations. But Lex (MARK ROLSTON) isn't the only one trying to manipulate them!
—
Good Trouble
"Twenty-Fine" – Season 2, Episode 6
Tues July 23 – 8PM
On Freeform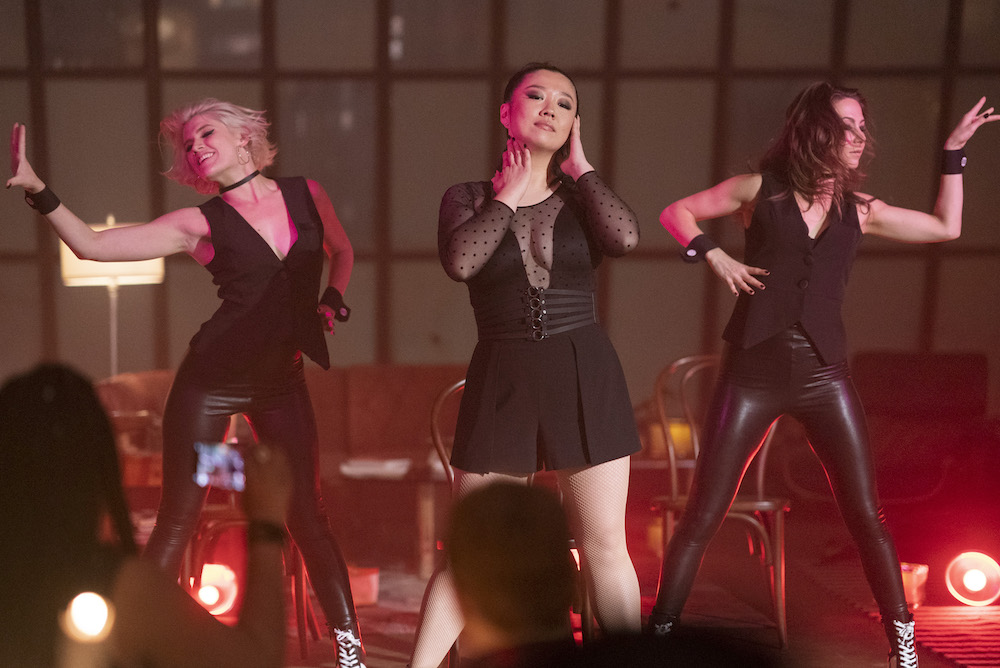 Secrets are getting spilled on this week's Good Trouble and there ain't no good about that trouble. It's Malika's (Zuri Adele) birthday—she's turning Twenty-Fine, y'all—and she gets more than she bargained for when she asks the crew for the gift of the cold hard truth. The pressure to be honest affects more than just Malika—it's even creeping in to snuff out any romantic plans from her friends. Especially when your boo comes out as Republican (looking at you, Jamie). And whoever said the truth brings people closer together ain't ever had to live with a messy roommate (looking at you, Mariana). Bringing all these little battles to Malika's party is sure to light some fireworks. But what is family without a few sparks? Good Trouble shares some hard truths about race, self-image, and politics through deep conversations, powerful spoken-word performances, and some more-than-we-needed-to-know improv at what is sure to be the party of the year.
Get into Good Trouble on Freeform every Tuesday.
From Freeform:
Malika asks the Coterie crew to create performance pieces expressing themselves as their birthday presents to her, leading to a night of improv, music performances, and revelations.
—
Pose
"Love's in Need of Love Today" – Season 2, Episode 6
Tues July 23 – 10PM
On FX
Watch Pose every Tuesday on FX.
From FX:
After falling ill while organizing his annual AIDS Cabaret, PrayTell lands in the hospital leading to a series of unexpected visitors.
—
Grown-ish
"Only Human" – Season 2, Episode 19
Wed July 24 – 8PM
On Freeform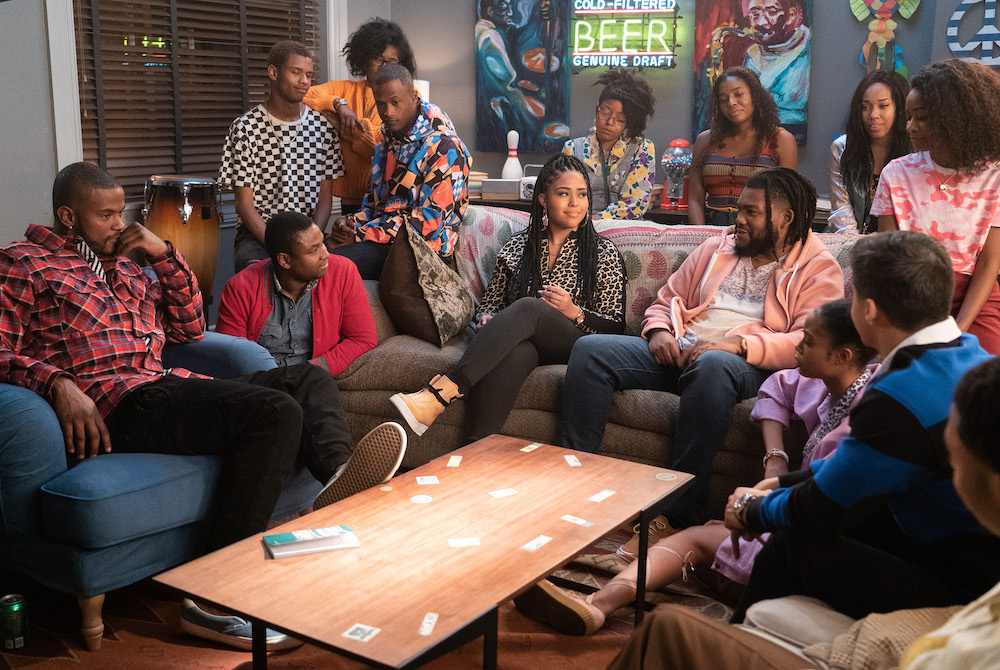 Mental health needs to be talked about more and we applaud Grown-ish for opening up the conversation this week. After one of Hawkins' residents contemplates suicide it leaves the whole house shaken. Aaron (Trevor Jackson) decides to take action—maybe not in the best ways at first but he's trying—to check in on his friends and make sure no one feels that low or alone again. The show raises the importance of distinguishing between serious mental health issues and the sadboi trend on social media. It also highlights the dangerous lack of resources and access to treatment, especially for people of color. Grown-ish makes it clear that it is always okay to open up about how you're feeling while it reminds you to reach out to your friends. We appreciate how the show doesn't shy away from difficult topics, tackling the stigma surrounding black mental health to help make sure it is taken seriously and isn't reduced to memes (no matter how relatable they are).
Grown-ish airs on Freeform on Wednesday.
From Freeform:
Aaron is affected deeply when he learns one of his residents was possibly contemplating suicide and decides to bring awareness to black mental health on campus. With the campuswide "Fundie Run" on the horizon, Jazz and Sky let the competition get the best of them. Meanwhile, Zoey hones in on why fashion is so important to her.
—
The Handmaid's Tale
"Witness" – Season 3, Episode 10
Wed July 24
On Hulu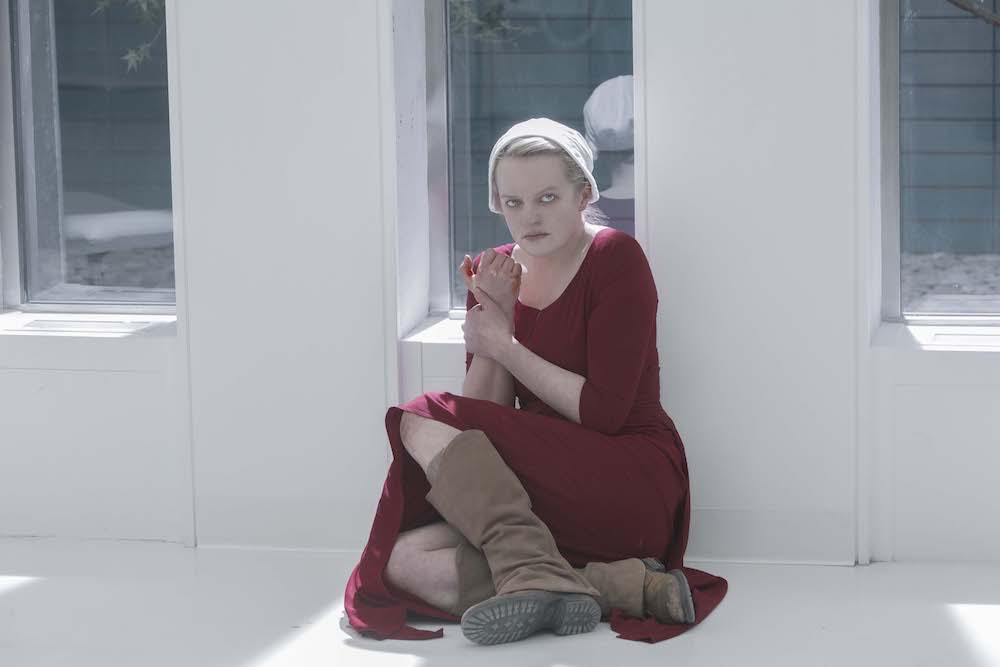 June (Elisabeth Moss) may have plans to save the children of Gilead but Fred (Joseph Fiennes) has plans of his own. What he's about to do will send the unholiest of chills down your spine. This places June on the verge of a huge new shakeup…but not before she finds out how much worse things could get. No matter how many small victories June gains, The Handmaid's Tale soon reminds her—and us—that she is merely a pawn in Gilead's tyrannical game. After all this time it's difficult to keep that spark of hope alive because you'll come to accept that June will never be free. There's no real happy ending here, only a gritty fight for survival.
Stream new episodes of The Handmaid's Tale
on Hulu every Wednesday.
From Hulu:
June must deal with a devious ploy on the part of Commander Waterford. In Canada, hope turns to tragedy.
—
Another Life
Season 1
Thurs July 25
On Netflix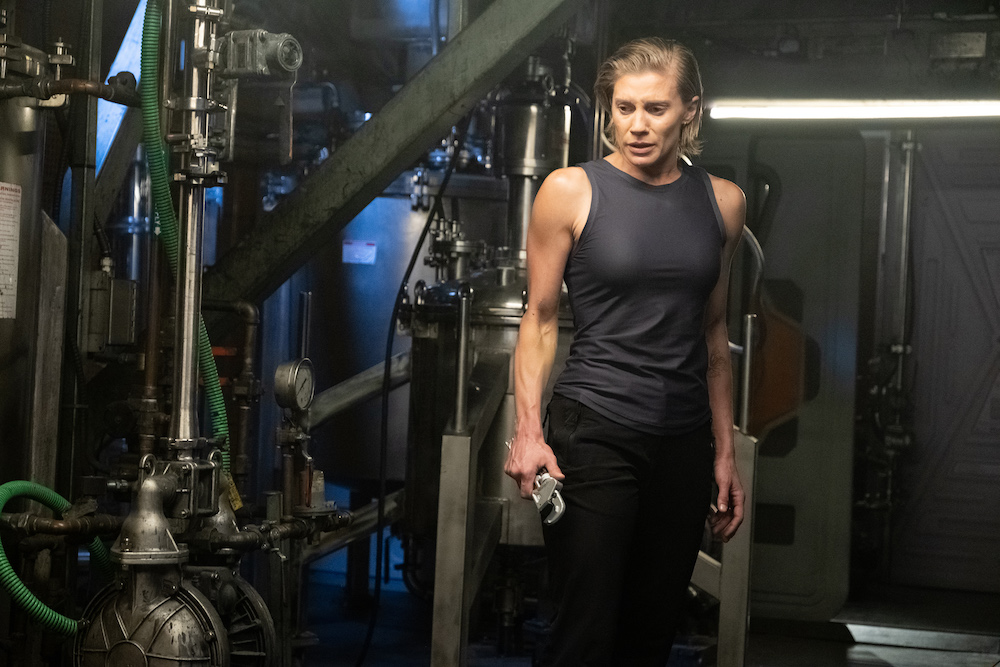 British author Arthur C. Clarke once wrote, "Two possibilities exist: either we are alone in the universe or we are not. Both are equally terrifying." In Another Life an alien artifact has landed on earth but no one knows what's inside or how to communicate with it/them. Astronaut Niko Breckenridge (Katee Sackhoff) is chosen to find the artifact's planet of origin to find out if this is first contact or if our world is about to be under siege. We don't know about you but the silence is scary. Niko leaves behind her husband Erik (Justin Chatwin), an analyst who's trying to figure out how to talk with the aliens, and heads out into space with a ragtag team of astronauts, botanists, doctors, pilots and a few people who hate her with fire.
Survival is not promised—it's not even likely—but that's what makes Another Life so interesting. The series is almost surreal in that everything goes wrong so horribly and so frequently that you start to ask yourself if the characters are in a simulation or if they've died and gone to intergalactic hell…? By the end of season 1 you still won't be sure, but you will be in love with the AI who controls the ship, William (Samuel Anderson). You'll also be waiting for Niko and the pilot Cas (Elizabeth Faith Ludlow) to have words (with their fists). Because, in Another Life, things go wrong. Very wrong. Houston, we have 99 problems and they're all happening at once. As the mysteries and the body count grows you might have to start a dead pool with your friends and lay bets on just how twisted that other life is gonna get.
Another Life premieres on Netflix on Thursday.
From Netflix:
Another Life centers on astronaut Niko Breckinridge's (Katee Sackhoff) search for alien intelligence. Niko and her young crew face unimaginable danger while on a mission to explore the genesis of an alien artifact, and soon go into battle to return home.
—
The Boys
Season 1
Fri July 26
On Amazon Prime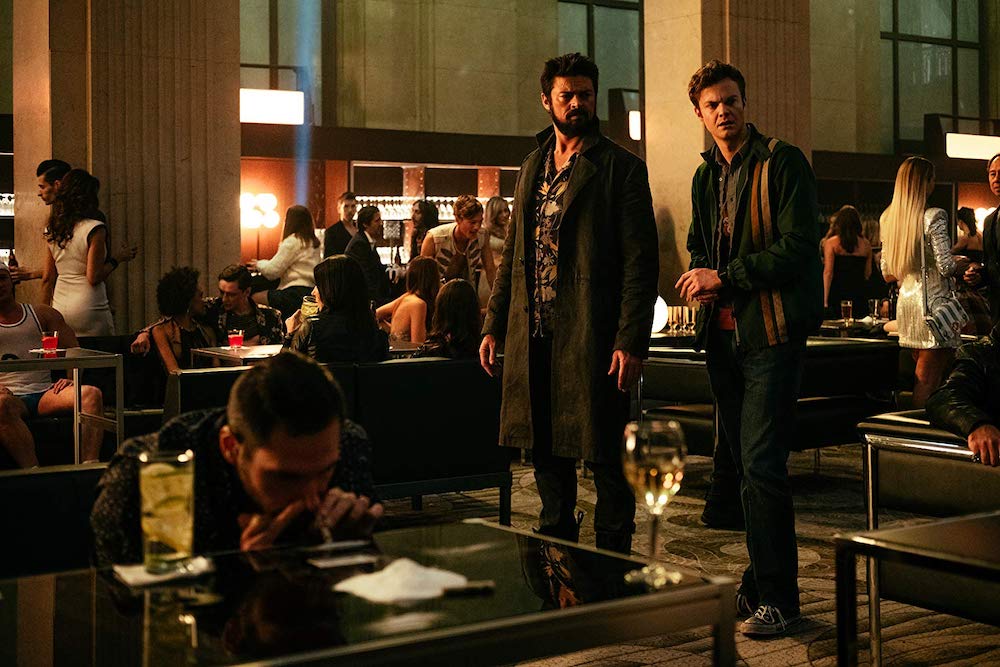 Once again, we enter the world of comics adventure thanks to Eric Kripke, Evan Goldberg, and Seth Rogen, who gave us The Walking Dead and Preacher. The original The Boys (a product of the unhinged minds of Garth Ennis and Darrick Robertson) is a comic book black comedy about the superheroes we love and how that love will be our inevitable downfall. Let's face it, too much of a good thing will kill us all. [We] could go on about how the original story is about the corruption of the "Superhero" and how normals feed that corruption because of "celebrity" or that this could be the ugly step-bastard of Alan Moore's Watchmen. In this case, the cure may be worse than the affliction, which is where we find ourselves in the world of The Boys. There is only "great power" and no responsibility… (read our full [p]review)
Watch The Boys on Amazon Prime on July 26th.
From Amazon:
When Hughie (Jack Quaid, "The Hunger Games") suffers a devastating loss at the hands of a reckless Supe his devastation turns to outrage when he discovers there is no legal recourse for victims of collateral superhero damage. While still reeling from his trauma Hughie meets a mysterious operative, Billy Butcher (Karl Urban, "Star Trek"), who recruits him to join in his pursuit of some vigilante justice against the Supes—who are not exactly what they seem. "The Boys" is a fun and irreverent take on what happens when superheroes – who are as popular as celebrities, as influential as politicians and as revered as Gods – abuse their superpowers rather than use them for good. It's the powerless against the super powerful as The Boys embark on a heroic quest to expose the truth about The Seven, and Vought – the multi-billion dollar conglomerate that manages these superheroes and covers up all of their dirty secrets.
—
Orange is the New Black
Season 7
Fri July 26
On Netflix
Orange is the New Black S7 arrives on Netflix on Friday.
From Netflix:
Orange Is The New Black ushered in a monumental era of television, and for six unforgettable seasons has fearlessly tackled some of the most difficult, relevant, and human stories of our time. In its final season, the ladies of Litchfield come to terms with the fact that prison has changed them forever. Piper struggles with life on the outside, while life in Max, as corrupt and unjust as ever, goes on without her. Taystee's friendship with Cindy still hangs in the balance as her life sentence looms, Gloria and her kitchen staff are confronted by the harsh realities of Polycon's newest profit stream, while others chase drugs or dreams and grapple with the reality of their place in this world.
—
Swamp Thing
"The Anatomy Lesson" – Season 1, Episode 9
Fri July 26
On DC Universe
Stream Swamp Thing on DC Universe every Friday.
—
Claws
"What Is Happening to America" – Season 3, Episode 8
Sun July 28 – 9PM
On TBS, TNT
Watch Claws every Sunday on TBS & TNT.
From TBS:
The crew makes elaborate plans to pay back the casino's debts only to learn that they're nowhere near being out of the woods.
—
City on a Hill
"There Are No F**king Sides" – Season 1, Episode 7
Sun July 28 – 9PM
On Showtime
All new City on a Hill premieres on Showtime every Sunday.
From Showtime:
With the gang's arms dealer in custody, Jackie thinks he's a step closer to glory. But Decourcy is the one in a position to negotiate and he's considering cutting off the gun supply rather than going after the buyers. Jimmy and Frankie must find a new dealer as they prepare for their next job. Cathy and Jenny struggle to comfort their daughters who've undergone trauma. When Michaela falls into some trouble, Rachel decides to take her investigation into her own hands.
—
Euphoria
"The Trials and Tribulations of Trying to Pee While Depressed"
– Season 1, Episode 7
Sun July 28 – 10PM
On HBO
Watch Euphoria on HBO every Sunday.
From HBO:
Rue gets depressed and watches 22 straight episodes of a British reality show. Jules goes to visit an old friend. Cassie looks for advice in the aftermath of Halloween night.