This week: The Bold Type, Suits, Love Is___, GODZILLA: City on the Edge of Battle, Reverie, Doctor Who, Take Two, Pose, Claws, Sharp Objects, Preacher
The Bold Type
"Betsy" – Season 2, Episode 7
Tues July 17 – 8PM
On Freeform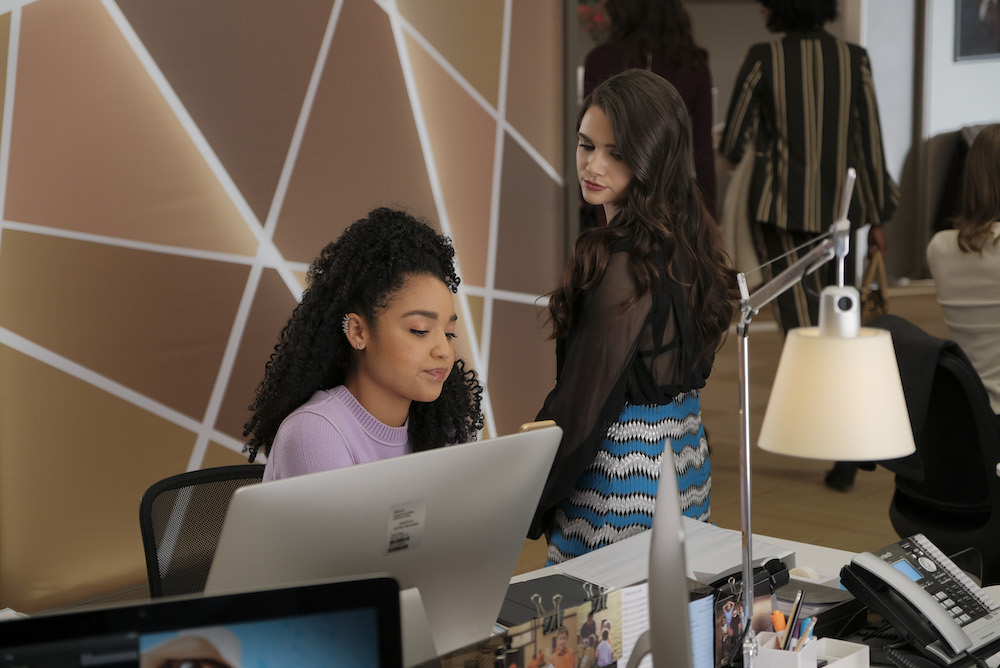 Photo: Freeform/Phillippe Bosse
Sutton (Meghann Fahy) and Jane (Katie Stevens) go head to head over guns. It's a divisive subject in America and The Bold Type isn't shying away from the discussion. The new episode "Betsy" takes aim at gun control with a precise mark, when Jane discovers Sutton keeps one in the apartment. It's a testament to how well the friendships in this show are written that such a difficult conversation can test our girls—and our nerves with high amounts of selfishness and refusals to listen—while opening up the topic in an informed way. This is what makes The Bold Type so important: In a world of troubling grey areas it remains honest and unflinching without ever taking away from the popcorn-worthy entertainment. Also, Kat (Aisha Dee) gets a Freebie List…hubba hubba…goes the motorboat. Yes, you can read us for that filth after you watch the show.
The Bold Type airs tomorrow on Freeform.
From Freeform:
When Jane discovers that Sutton has been hiding a gun in the apartment, the girls realize they have polar opposite views on the subject. Meanwhile, Adena shocks Kat with her latest suggestion.
—
Suits
"Right-Hand Man" – Season 8 premiere
Wed July 18 – 9PM
On USA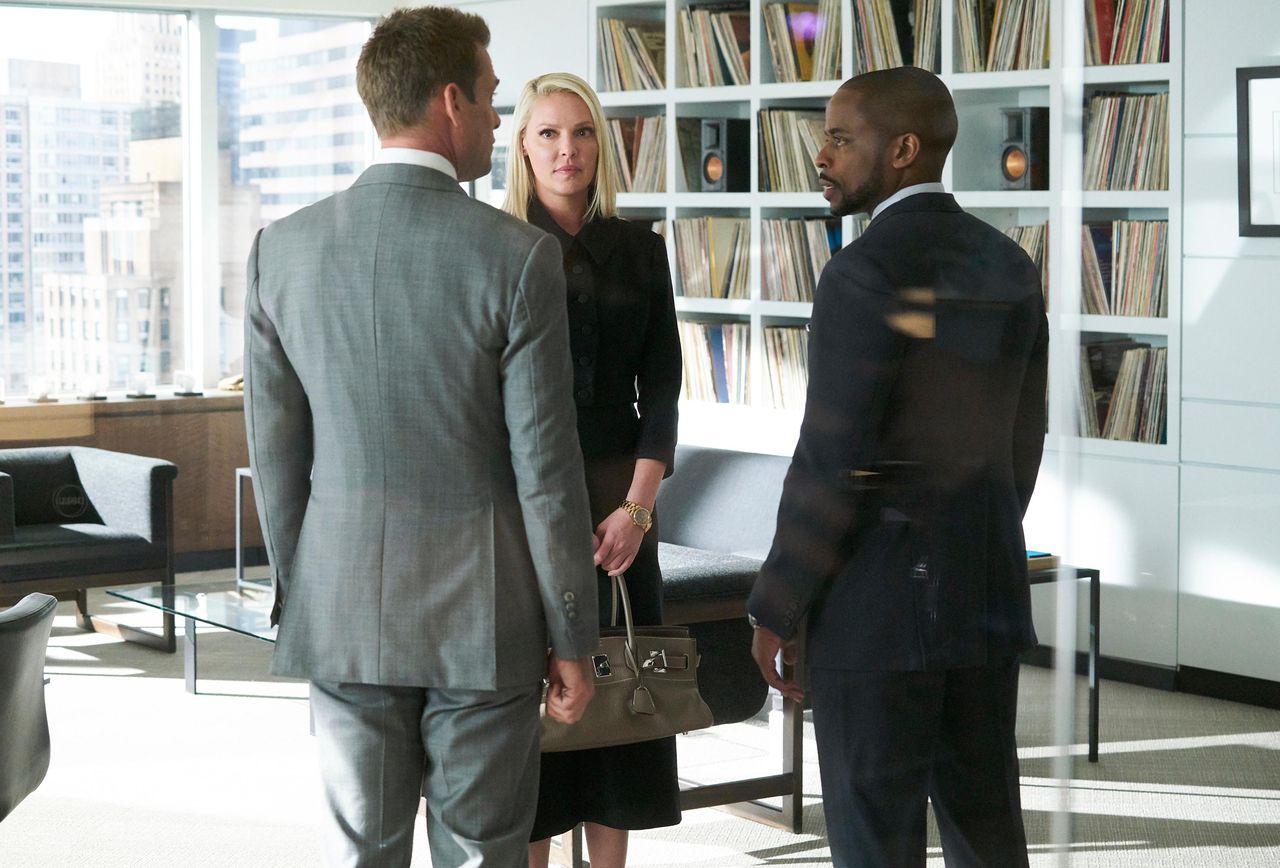 Photo: Ian Watson/USA Network
With Meghan Markle living out a real-life fairytale and Patrick J. Adams moving on to other projects, Suits is getting a whole new outfit. Enter Katherine Heigl, the fierce and fearsome lawyer Samantha Wheeler who's ready to start a riot in the office and woe betide anyone who gets in her way. You're right in thinking the world of Suits is never going to look the same but just one look at Heigl's perfect poison poise and you'll know that's definitely not a bad thing.
Slip back into the world of Suits this Wednesday on USA.
From USA:
Harvey and Zane grapple over who should lead as the firm works through its transition.
—
Love Is___
"Acceptance" – Season 1, Episode 5
Tues July 17 – 10PM
On OWN
Love Is___ airs on OWN tomorrow night.
From OWN:
Nuri leaves for a ski trip with Keith, where he later makes a surprising confession. Then, after Nuri returns to Los Angeles, she and Yasir have a fight about her going on the snowy getaway.
—
GODZILLA: City on the Edge of Battle
Wed July 18
On Netflix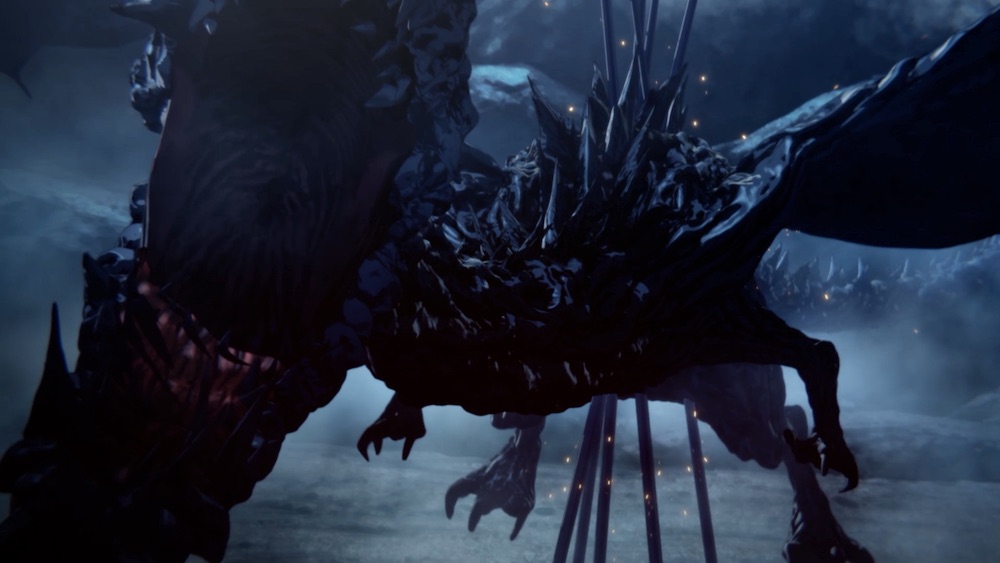 Photo: Netflix
Godzilla: City on the Edge of Battle (or for the japanophile purists Gojira: Kessen Kidō Zōshoku Toshi) is set to rampage through our hearts and minds July 18th on Netflix. Brought to you by the fine folks at Toho Animation, Polygon Pictures, and their partners at Netflix, the movie takes place following the events of Godzilla: Planet of the Monsters. For those of you who missed it: After being driven from the Earth, humans return to reclaim their world. They launch an expedition to fight Godzilla with a lot of bombs, gusto, and gumption. After a hellacious battle [read: futile], they succeed in just annoying the big guy and getting reminded why they left in the first place. As this is the 33rd film in the franchise, you would think they would have figured it out by now but there you have it. In this new movie, Godzilla is awake, doing Godzilla things: roars, rages, stomps, and nuclear blasts. The surviving members of the expedition are on the run and hiding. Any thoughts about reclaiming their planet are buried beneath the King of Monsters' terrifying claws. However a small glimmer of hope lies in a small band of humans—descendants of those left behind—who may be the key to unlocking their only chance for survival. MECHAGODZILLA!!!!
(Philip Jean-Pierre)
Godzilla is storming its way to Netflix this Wednesday.
From Netflix:
The sequel to GODZILLA: Planet of the Monsters, this epic re-imagining of the Godzilla world in a futuristic setting pits humans and robots against the biggest Godzilla ever seen in an interplanetary struggle for survival.
—
Reverie
"The Black Mandala" – Season 1, Episode 7
Wed July 18 – 10PM
On NBC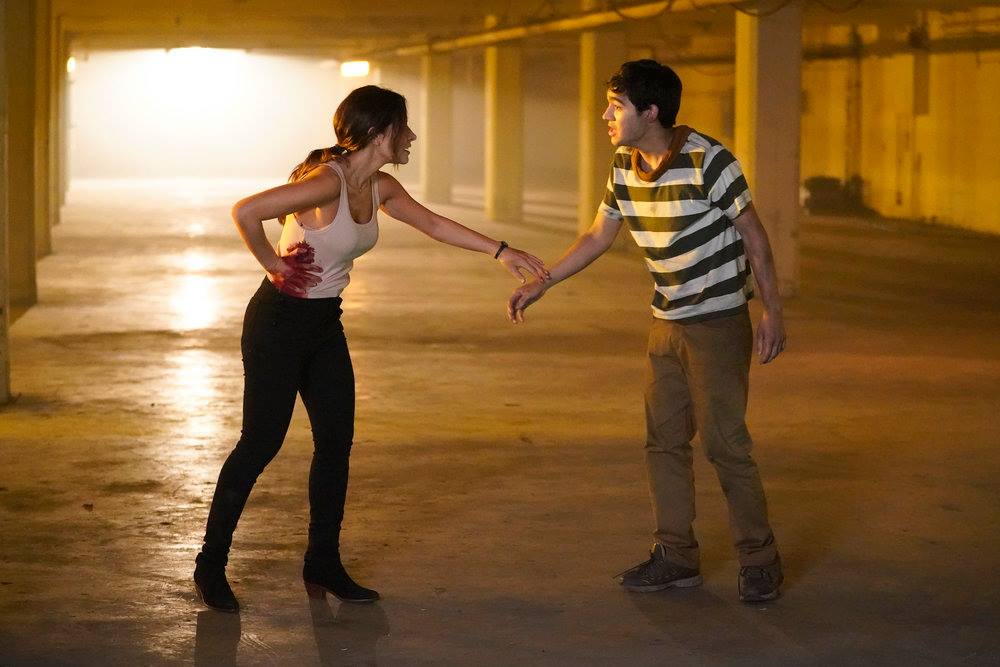 Photo: Greg Gayne/NBC
Technology saves lives and prevents human error on a daily basis. But what happens when the machines we've put in place to help us malfunction? Lives can be put on the line…but in Reverie, it's lives and minds. Mara (Sarah Shahi) thought she was in over her head before but it turns out the NBC show was just easing us in. There's such a thing as "Dark Reveries" and they're like a glitch in the Matrix…if said glitch causes nightmares to cause real physical wounds and the floor literally turns into lava. Um, yeah, Reverie just tore up the rulebook it created to plunge the show deeper into futuristic sci-fi territory and play with everything we thought we knew so far. Of course, Mara rushes in head on because there's a boy wrongfully trapped in there and she's relentlessly impervious (or oblivious) to danger…just in case you forgot what this show is really about: The very human nature—and toll—of emotions.
New episodes of Reverie air every Wednesday on NBC.
From NBC:
The team works together to save the life of a wrongly imprisoned boy and Mara (Sarah Shahi) is introduced to the dangerous world of Dark Reveries where the normal rules don't apply.
—
Doctor Who
"The Lost Episode"
Thurs July 19 – 8PM
On BBC America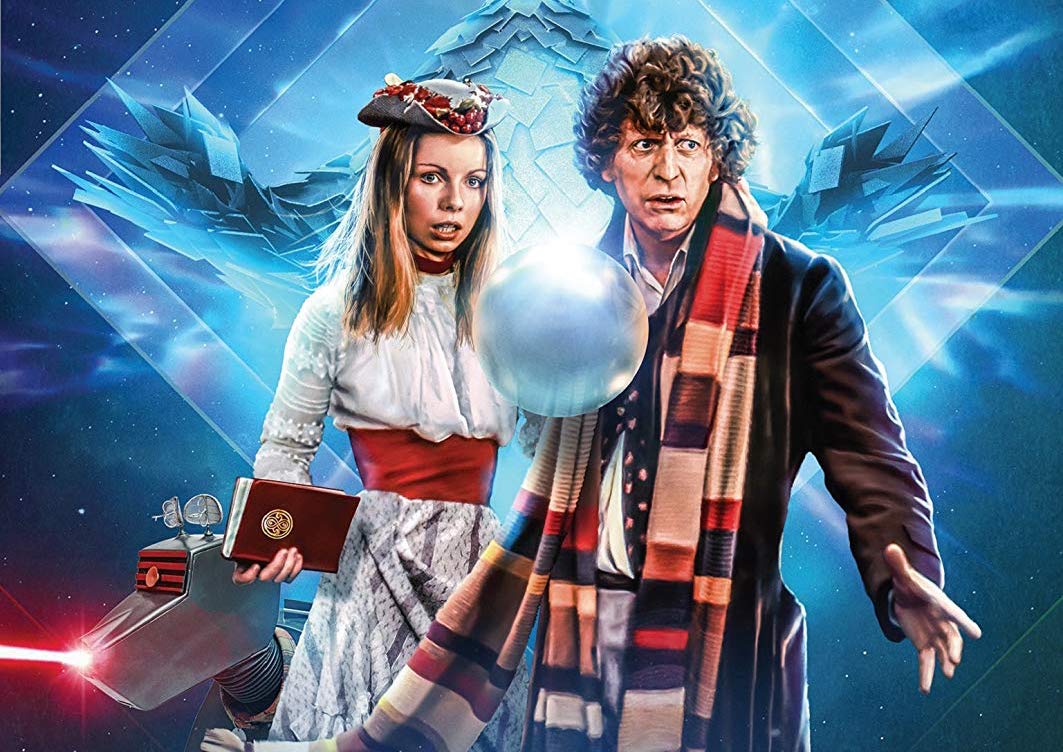 Photo: BBC
From the title alone we'll bet you're making more "ooh" sounds than the Tardis itself. Now, wait 'til you see what you're in for: "Shada"—Whovians you know what that means—a previously unaired story written by the one and only Douglas Adams. Yep, let the squealing commence. The serial was originally meant to end series 17 in 1980, but after a BBC strike it was never finished…until now. The "Shada" footage from back then has been revitalized and edited into a new animation using original cast voices, including Tom Baker (you heard that right, apparently time travel really does exist). Doctor Who and Douglas Adams teaming up to tell the almost legendary lost story is more than enough to get you saying allons-y! but, when you see the incredible way they've reconstructed the past to bring it up to today, you'll realize "Shada" was worth the wait.
Dig into "The Lost Episode" of Doctor Who this Thursday on BBC America.
From TV Guide:
In a previously unbroadcast and legendary story by Douglas Adams, Shada combines original live-action footage with hand-drawn animation, remastered footage and newly-recorded voices of the original cast.
—
Take Two
"Death Becomes Him" – Season 1, Episode 5
Thurs July 19 – 10PM
On ABC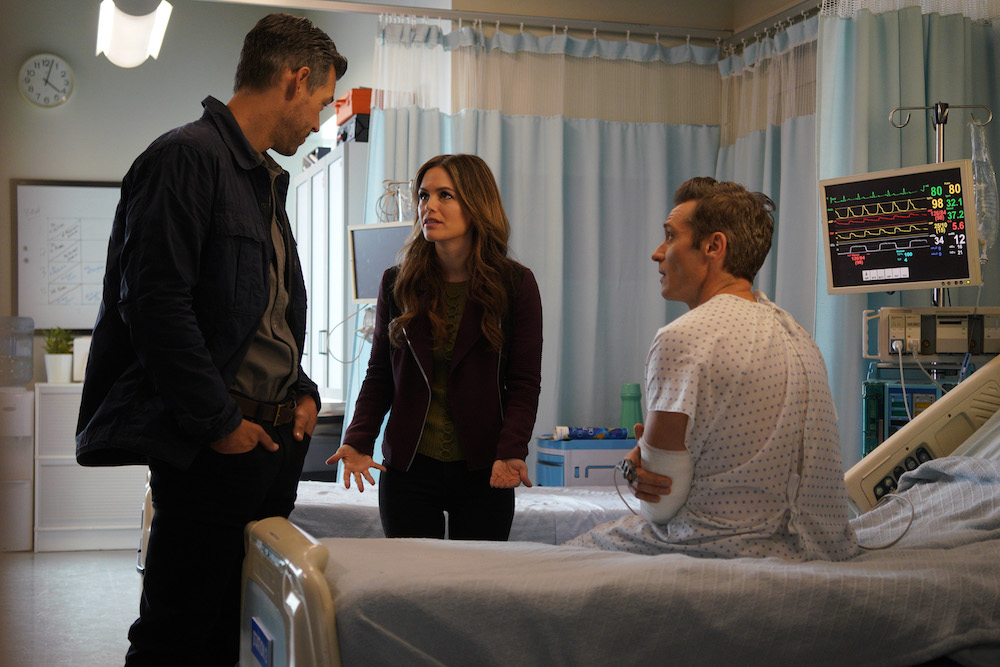 Photo: 

ABC/David Bukach
Dear TV gods: When has meeting in an underground parking lot at night ever ended well? That's where you meet people who put the "strange" in stranger…including a guy who hired a hitman…for himself. Yeah, okay, even we took a minute to wrap our heads round this Take Two episode. Turns out this man was pronounced terminal and decided to make his death look like an accident (what kind of insurance claim do you make for that one?). But when he finds out he was misdiagnosed he wants to get out of the contract. Um, we'll wait while you figure that one out too. Good thing Sam (Rachel Bilson) and Eddie (Eddie Cibrian) are so damn entertaining to watch as they try to roll with the punches—not to mention the accidental cage-traps (wait for it)—and fake a death or two along the way. All in a day's work, right? Not only is Take Two giggle-worthy, it's thrilling too which makes for an irresistible combination.
Get into Take Two this Thursday, only on ABC.
From ABC:
A terminally ill man hires Eddie and Sam to protect him from the very hitman he hired to make his death look like an accident. When he discovers he was misdiagnosed and is going to live, he fears for his life. Together, Eddie and Sam must keep him safe and in hiding long enough to find and stop his hired killer but soon learn that the hitman isn't the only one after him.
—
Pose
"Mother of the Year" – Season 1 finale
Sunday July 22 – 9PM
On FX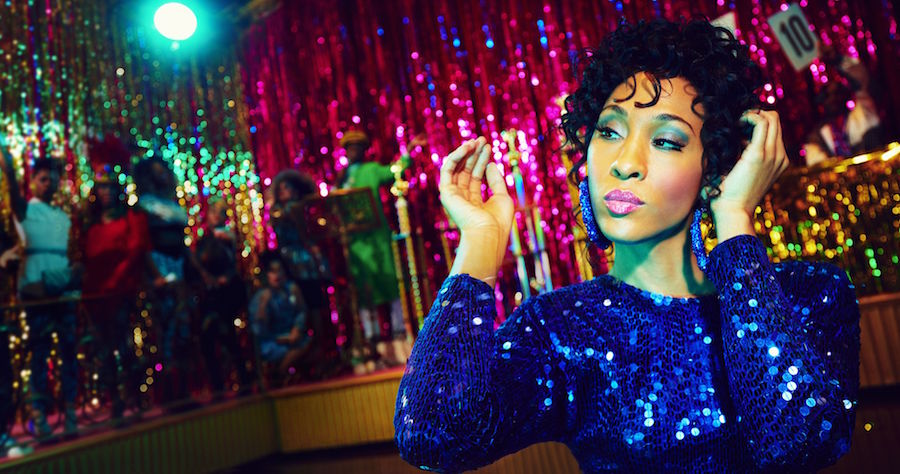 Photo: FX
Pose season 1 is coming to a close—too soon but we know it's going to be the Mother of all episodes. The House of Evangelista is taking us to the Princess Ball which is the most glamorous backdrop of them all…and the most dramatic. Speaking of "Mother of the Year" Mj Rodriguez's performance as Blanca deserves every trophy she's earned, keeping her family thriving with wisdom and tough love in one of the show's standout performances. She sees all—especially when heartbreak and the House of Ferocity pay her a visit—and it ain't pretty. When it feels like her family is falling apart she's ready to fight harder than ever to reclaim her crown even if the fam is looking for a revolution. The melodrama here is higher than the stilettos and twice as sharp—but what else would you expect than a finale you'll be talking about all the way to season 2.
Get into Pose on FX every Sunday.
From TV Guide:
The ultimate showdown takes place at the Princess Ball, when the House of Evangelista battle against the House of Ferocity and Mother of the Year is decided.
—
CLAWS
"Burn" – Season 2, Episode 7
Sun July 22 – 9PM
On TNT
Claws returns to TNT this Sunday.
From TV Guide:
With the help of Uncle Daddy and her crew, Desna plots revenge on those who betrayed her. She soon realizes, however, that vengeance comes at a high cost.
—
SHARP OBJECTS
"Fix" – Season 1, Episode 3
Sunday July 22 – 9PM
On HBO
Watch Sharp Objects on HBO every Sunday.
From HBO:
Camille relives a recent tragedy as she struggles to piece together the murders in Wind Gap. Richard grows frustrated with Chief Vickery's assumptions regarding potential suspects. A defiant Amma shows off her wild side to Camille, while Adora admonishes Camille for meddling in the investigation and a town in mourning.
—
Preacher
"The Coffin" – Season 3, Episode 5
Sun July 22 – 10PM
On AMC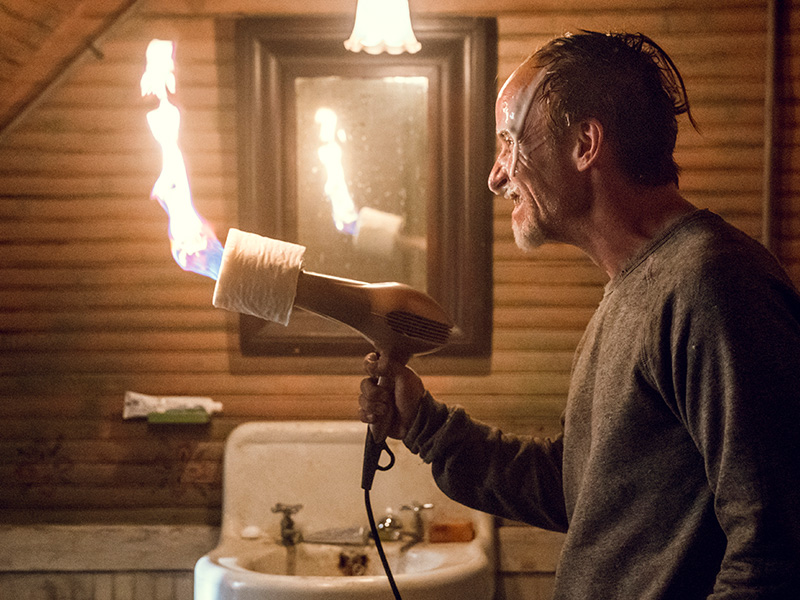 Photo: AMC
Jesse (Dominic Cooper) is pretty much boxed out of this episode, leaving Tulip (Ruth Negga) to contend with Gran'ma (Betty Buckley) and at this point we don't know who's feistier. But what this episode really does is remind us that there's a world outside Angelville with a return of all your old faves (uhh, we use that word loosely). It's still as unholy as ever out there—yes, that man you're about to see with Herr Starr (Pip Torrens) is supposedly from the bloodline of Jesus himself, because Preacher does whatever the F#©k it wants. Talk about keeping bloodlines pure…sheesh…speaking of which, Hitler (Noah Taylor) has escaped back to Earth, along with Arseface (Ian Colletti). That's a sentence we never thought we'd have to write but what a way to shake things up (y'know, because they're interesting characters—we don't need any more Nazis in America than there already are right now.) With the legendary Saint of Killers (Graham McTavish) hunting them we're going to side with the Devil on this chase…if we were stupid enough to make bets in a world where Hitler lives and God is a doG. But whatever. You simply have to watch Preacher to understand the insanity—and even then it'll F#©k with you—you'll get sucked right into its downward spiral and love every second…even those times it makes you scream.
Preacher airs this Sunday on AMC.
From AMC:
As Cassidy falls in with a group of mysterious strangers in New Orleans, Tulip and Jesse deal with the fallout of a failed escape from Angelville.