This week: Young Justice: Outsiders, Frankenstein's Monster's Monster, Frankenstein, Pose, Grown-ish, The Handmaid's Tale, Queer Eye, Comedians in Cars Getting Coffee, Last Chance U: Indy Part 2, Killjoys, Swamp Thing, Big Little Lies, Claws, City on a Hill, Euphoria
Young Justice: Outsiders
"Early Warning" – Episode 17
Tues July 9
On DC Universe
What is it about villains who simply have to explain their insidious plan to their enemy in excruciating detail? Is it part of the torture? Or is it simply to give the hero plenty of time to foil their evil plan? With Young Justice: Outsiders, it's neither. You'll be so entertained by Klarion as he explains to Teekl (or, at least, tries to) why he's capturing metateens that you'll kinda hope the Outsiders take their time in showing up…but only for a split-second. When Static and Wonder Girl take on Klarion's monster of metahuman creation (which, by the way, is disturbing and gross), you'll be cheering on their epic showdown. Dang, Young Justice: Outsiders sure knows how to write their villains with as much depth as their heroes and it's completely refreshing. Not to mention the show's character development is just as delightful to watch as those glorious fight scenes—go, Outsiders, go!
Stream Young Justice: Outsiders every Tuesday on DC Universe.
From DC Universe:
Project Rutabaga threatens to create an international crisis for the Outsiders.
—
Frankenstein's Monster's
Monster, Frankenstein
July 16
On Netflix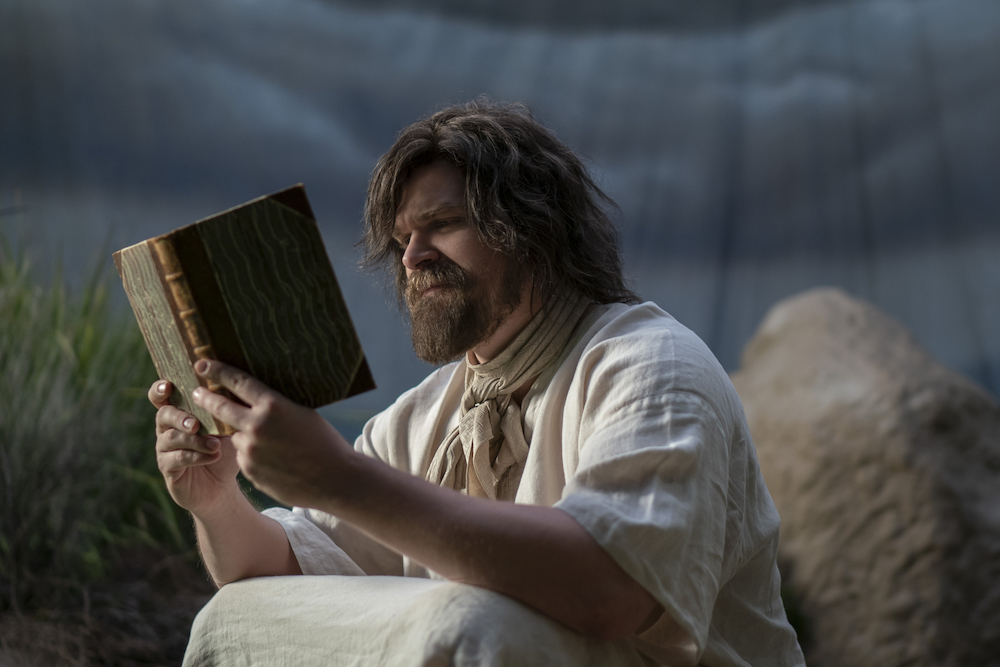 If you've ever so much as breathed on the internet, you've probably seen people loudly correcting others that Frankenstein is actually the name of the doctor who created the monster (if you listen closely you can almost hear keyboards clacking with intellectual outrage). You've also probably seen discussions that imply the true monster is, in fact, Dr. Frankenstein himself. Now, David Harbour AKA Stranger Things' beloved Chief Hopper is going to take the discourse to ridiculous new levels. In Frankenstein's Monster's Monster, Frankenstein Harbour "uncovers" lost footage from his father's televised stage play in an overdramatic and bizarre mockumentary. You'll spend half the time wondering what the hell is going on and the other half laughing at the insanity of the play mixed in with "behind the scenes" discussions of Harbour Sr's life. If you need to unwind after the thrilling events of Stranger Things season 4, this mockumentary is a new Netflix gem that'll get you creating your own discourse on the internet.
Stream Frankenstein's Monster's Monster,
Frankenstein on Tuesday on Netflix.
From Netflix:
In this new mockumentary, join "Stranger Things" actor David Harbour as he uncovers lost footage from his father's televised stage play, Frankenstein's Monster's Monster, Frankenstein. Expect the unexpected in this over-the-top and often dramatic(ish) reimagined tale of mystery and suspense. With appearances by Alfred Molina, Kate Berlant, and more special guests, Harbour explores the depths of his family's acting lineage to gain insight into his father's legacy – all in 28-minutes. Directed by Daniel Gray Longino ("Kroll Show" and "PEN15") and written by John Levenstein ("Arrested Development" and "Kroll Show"), Frankenstein's Monster's Monster, Frankensteinlaunches globally on Netflix on July 16, 2019.
—
Pose
"What Would Candy Do?" – Season 2, Episode 5
Tues July 16 – 10PM
On FX
Watch Pose every Tuesday on FX.
From FX:
Competition gets the best of Damon and Ricky as they audition for a spot on Madonna's Blonde Ambition tour.
—
Grown-ish
"Nice For What" – Season 2, Episode 18
Wed July 17 – 8PM
On Freeform
Grown-ish airs on Freeform on Wednesday.
From Freeform:
Zoey, Ana and Nomi realize that they've been too nice to their significant others at their own expenses. They each take a small stand for their own happiness, resulting in some changes to their relationships.
—
The Handmaid's Tale
"Heroic" – Season 3, Episode 9
Wed July 17
On Hulu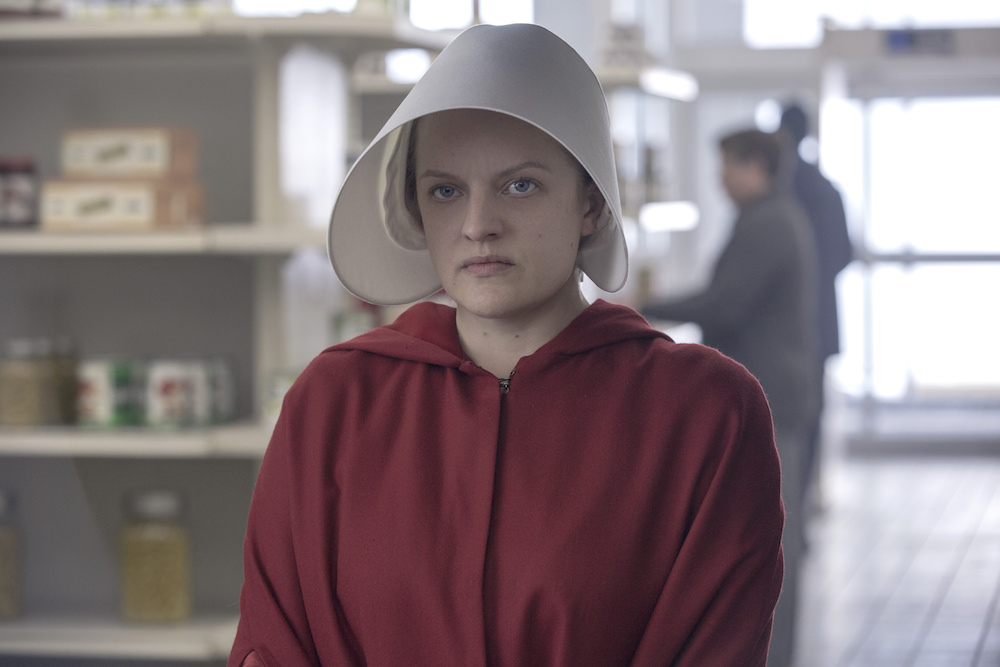 We all hoped The Handmaid's Tale wasn't about to become a blueprint for the real life. Unfortunately, with each passing day, the closer to reality it gets. This week's episode shows us the frightening mantra of Gilead up close: Only the unborn child matters, not the mother. Never the mother, for she is just a walking womb in this world. Sound all too real? "Heroic" will leave you alone and hopeless with your thoughts, lead by a slowly unraveling stream of consciousness from June (Elisabeth Moss). The Handmaid's Tale is dead-set on scaring us all into calling our representatives to make sure Gilead's reality doesn't overcome ours.
Stream new episodes of The Handmaid's Tale
on Hulu every Wednesday.
From Hulu:
Confined in a hospital, June's sanity begins to fray. An encounter with Serena Joy forces June to reassess her recent actions.
—
Queer Eye
Season 4
Fri July 19
On Netflix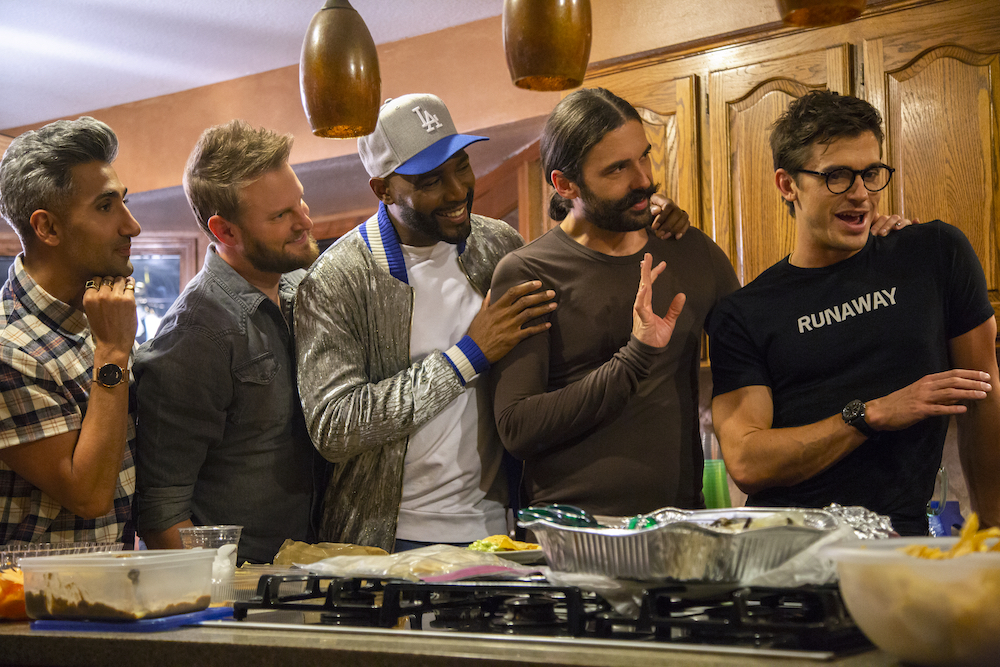 Four seasons in and Queer Eye is getting personal. For a show that's always made everyone ugly-cry over the heart and heartbreak of everyday lives and struggles, this season's about to take it up a notch by bringing into focus the Fab Five's own stories alongside their new style projects. First the beloved Jonathan Van Ness takes us back to his high school which is naturally a walk down memory lane. Bittersweet memories mixed with a new perspective will inspire you and prove how much better things get, especially when you have someone who believes in you—and when you believe in yourself. The new season talks about complicated family relationships, bullying, disability, racism, and growing up as an LGBTQ teen. It tackles these topics with delicate and heartfelt grace, grounded by real stories and a whole lot of self-love.
Queer Eye returns to Netflix on Friday.
From Netflix:
The Emmy® Award-winning Queer Eye returns ready to transform the stylistically challenged and into hip and happening savants at the hands of the Fab Five. Now in its fourth season, Queer Eye's fearless ambassadors of taste return to Kansas City to bring their infectious brand of self-love, confidence and encouragement to a whole new roster of heroes.
—
Comedians in Cars Getting Coffee
Season 11
Fri July 19
On Netflix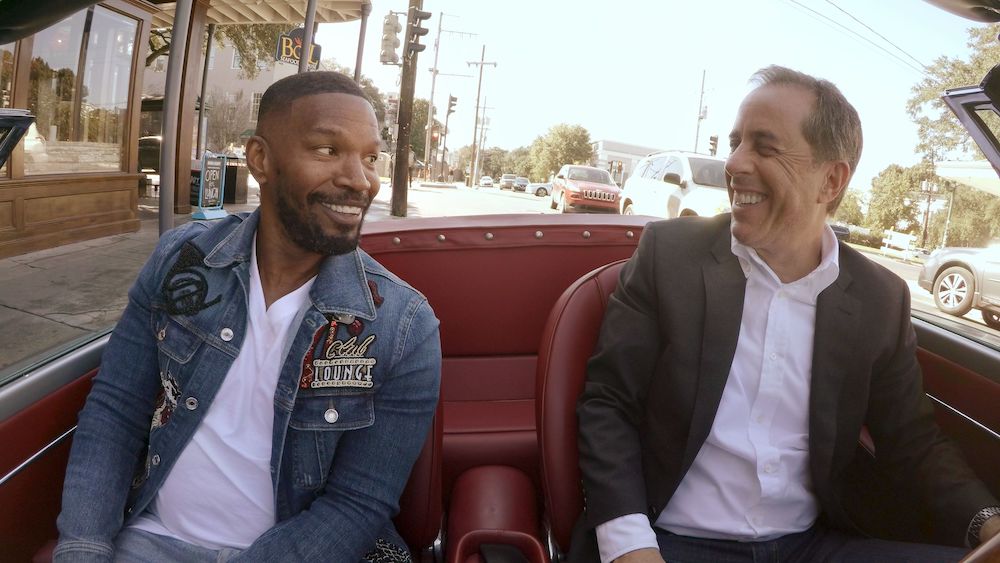 Jerry Seinfeld is back to drive nice cars and grab coffee with Hollywood's finest. This season's guest lineup includes Eddie Murphy, Seth Rogen, Matthew Broderick, and Jamie Foxx to name a few, which means no amount of traffic or avocado toast is going to stop the jokes from being served up hot. No topic is off limits as Seinfeld and his guests swap stories without the usual filters of being onstage in front of an audience. You know some of those one liners muttered in between stories definitely wouldn't make it onto a primetime network show (and that makes them all the more priceless). Each episode is simply two friends reminiscing—and those friends happen to be hilarious entertainers with plenty of outrageous tales to tell. Comedians in Cars Getting Coffee has nailed the kind of comedy that doesn't feel forced and doesn't take itself too seriously, allowing you to get to know Seinfeld and his guests in a completely different way.
Comedians in Cars Getting Coffee hits Netflix on Friday.
From Netflix:
Jerry Seinfeld's roving talk show combines coffee, laughs, and vintage cars into quirky, caffeine-filled adventures with the sharpest minds in comedy. This season's guests include: Eddie Murphy, Seth Rogen, Ricky Gervais, Matthew Broderick, Jamie Foxx, Sebastian Maniscalco, Martin Short, Mario Joyner, Melissa Villaseñor, Bridget Everett, and Barry Marder.
—
Last Chance U: Indy Part 2
Season 4
Fri July 19
On Netflix
Catch Last Chance U: Indy Part 2 on Netflix on Friday.
From Netflix:
Netflix's critically acclaimed, Emmy-nominated series Last Chance U returns to give viewers an intense, unfiltered look at a rising junior college football program. Entering his third season with ICC and second season on Last Chance U, Coach Brown has assembled a team that looks sure to compete for a national championship. But a disastrous season on field puts a spotlight on all of the ugliness of the business of college football that winning tends to polish over.
—
Killjoys
"Run, Yala, Run" – Season 5 premiere
Fri July 19 – 10PM
On Syfy
Killjoys returns to Syfy on Friday.
From Syfy:
Dutch realizes The Lady has put Westerley under a collective delusion – in a world without memory, nothing is what it seems.
—
Swamp Thing
"Long Walk Home" – Season 1, Episode 8
Fri July 19
On DC Universe
Stream Swamp Thing on DC Universe every Friday.
From DC Universe:
After a harrowing journey of survival through the swamp, Avery comes face to face with Swamp Thing, who rescues the injured man and helps his recovery.
—
Big Little Lies
"I Want to Know" – Season 2, Episode 7
Sun July 21 – 9PM
On HBO
Catch Big Little Lies on Sunday, only on HBO.
From HBO:
Season Two Finale. Celeste questions Mary Louise about a tragic event from Perry's childhood; Madeline worries their lie is tearing the Monterey Five apart.
—
Claws
"Chicken P****y" – Season 3, Episode 7
Sun July 21 – 9PM
On TBS, TNT
Watch Claws every Sunday on TBS & TNT.
From TBS:
While Desna (Niecy Nash) works to get Dean (Harold Perrineau) away from Mac (Michael Horse) and Melba (Rebecca Creskoff), Quiet Ann (Judy Reyes) gets the crew deeper into trouble.
—
City on a Hill
"It's Hard to Be a Saint in the City" – Season 1, Episode 6
Sun July 21 – 9PM
On Showtime
All new City on a Hill premieres on Showtime every Sunday.
From Showtime:
Decourcy is a step closer to connecting the stolen guns to the Revere robbery when an insider agrees to talk. Jenny is no longer able to ignore Jackie's indiscretions after they show up on her doorstep. An unexpected rush to the hospital worsens money problems for the Ryan family and Reverend Fields discovers that his longstanding influence doesn't make him invincible.
—
Euphoria
"The Next Episode" – Season 1, Episode 6
Sun July 21 – 10PM
On HBO
Watch Euphoria on HBO every Sunday.
From HBO:
On Halloween, Rue worries about her reliance on Jules, while Jules starts exhibiting concerning behavior. McKay questions his future in football. After a weird night with McKay, Cassie spends some time with Daniel. Business is booming for Kat as she continues to push Ethan away. Nate comes up with a plan to get his life back on track.