This week: Katherine Ryan: Glitter Room, Young Justice: Outsiders, Grown-ish, The Handmaid's Tale, Stranger Things, Swamp Thing, The Rook, Big Little Lies, Claws, City on a Hill, Euphoria
Katherine Ryan: Glitter Room
Mon July 1
On Netflix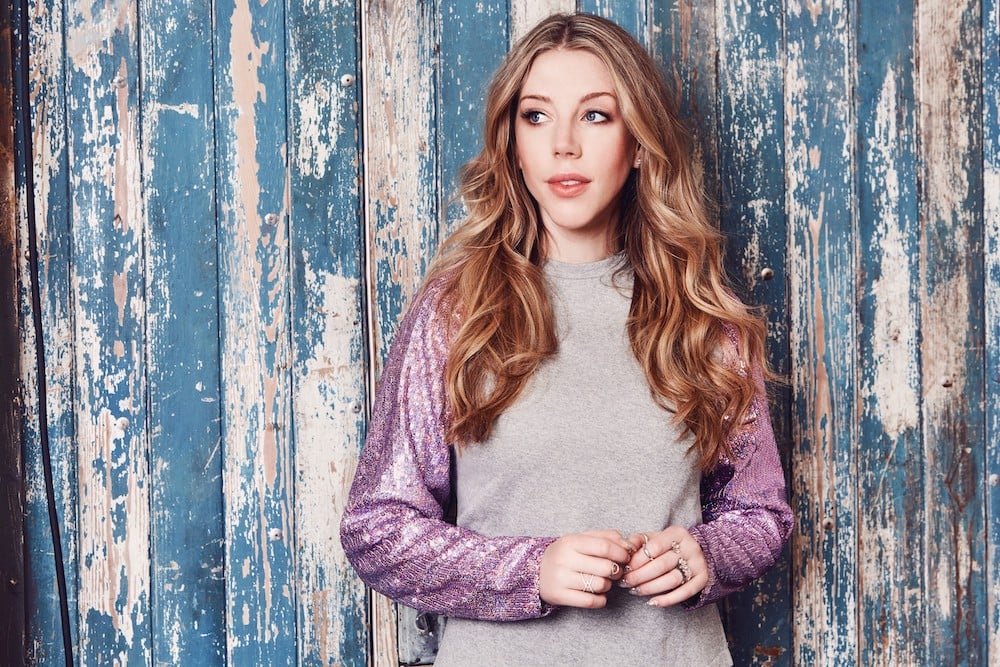 Katherine Ryan has never been afraid to speak her mind. If you're a man who doesn't like opinionated women, you're gonna make her speak up even more (and call you out on it). #SlayGirlSlay. She takes on the world of dating in your thirties and why caving to that pressure to settle down is not always the best idea. Woe betide anyone sitting in the front rows as she gets the audience thoroughly involved. You'll be cackling and cringing with second-hand embarrassment at the same time. Her unapologetic humor has the crowd nodding at the truth behind every one of her lines about relationships and family. Plus, from the stories she tells, her daughter sounds just as awesome as her mom—Katherine Ryan is one #relatable parent we wanna share a bottle of wine with.
Katherine Ryan: Glitter Room is out now on Netflix.
From Netflix:
Everyone's favorite single mom is back with her second Netflix original stand-up special Katherine Ryan: Glitter Room, launching globally on July 1. A follow-up to her 2017 special In Trouble, Katherine toured Glitter Room across the UK with an unprecedented four-week run at London's Garrick Theatre in the West End. After dividing The Belasco Theater audience on their love or dislike of the Kardashians, Katherine showcases her skillful and hilarious storytelling style with tales about following a man to Japan and meeting her daughter's first celebrity crush, Anna Kendrick.
—
Young Justice: Outsiders
Episodes 14-16
Tues July 2
On DC Universe
Young Justice: Outsiders returns to DC Universe on Tuesday.
From DC Universe:
Episode 14, "Influence": The team reassembles while the Justice League faces a new threat in space.
Episode 15, "Leverage": A new Gamma Squad is sent out on its first mission to investigate rumors of meta-trafficking in Russia.
Episode 16, "Illusion of Control": Across the nation, the team gives thanks for what they have…and for what they very well might lose.
—
Grown-ish
"Self Care" – Season 2, Episode 16
Wed July 3 – 8PM
On Freeform
Grown-ish airs on Freeform on Wednesday.
From Freeform:
Zoey and her girls head to the Johnson family home in Sherman Oaks for a weekend of self-care and detoxing…but Zoey soon learns that her idea of relaxation may not align with what they all really need. Aaron reconnects with his passion for activism and hosts a fundraiser for his community.
—
The Handmaid's Tale
"Under His Eye" – Season 3, Episode 7
Wed July 3
On Hulu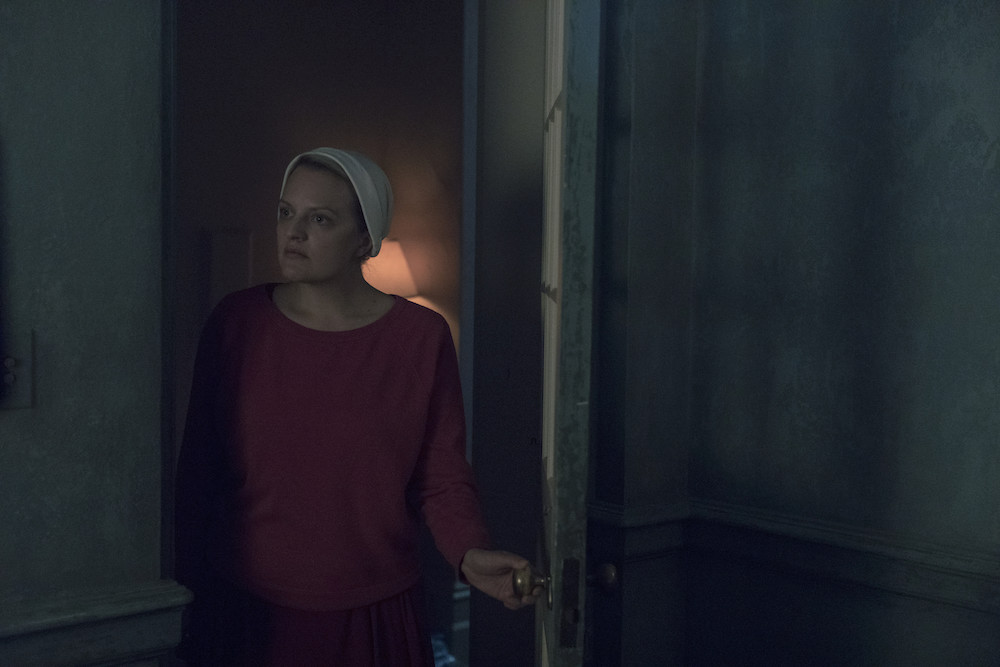 The Handmaid's Tale is a brilliant portrayal of imprisonment. Simplistic logic might ask, "why do they not just run away?" or "why won't the government/UN/other countries intervene?" But the show proves how much more complicated these matters can get. The handmaids may be able to walk the streets of Gilead unaccompanied but they have been broken and beaten into submission. As we saw in last week's episode, there are far worse consequences for disobedience than we ever feared. Not to mention June (Elisabeth Moss) can no longer count on Serena (Yvonne Strahovski) in spite of everything they've been through.
Meanwhile Canada is now embroiled in a legal battle with their powerful neighbors over taking in Emily (Alexis Bledel) and baby Nichole. "Why can't they just say no? It's a clear violation of human rights." That's the scariest part of The Handmaid's Tale: Other countries, who clearly know what is happening is wrong, do nothing for fear of "diplomatic upset". It reminds you of what's actually happening in the world—if that thought doesn't make you sick, you need to watch this show again. June is renewing her resolve to find Hannah this week because, as we all know, subverting "diplomatic upset" is much more complicated than simple logic.
Stream new episodes of The Handmaid's Tale on Hulu every Wednesday.
From Hulu:
June escalates her risky efforts to find Hannah. Emily must face her past crimes as the ongoing international diplomatic crisis becomes more complicated. Serena and Fred contemplate their future.
—
Stranger Things
Season 3
Thurs July 4
On Netflix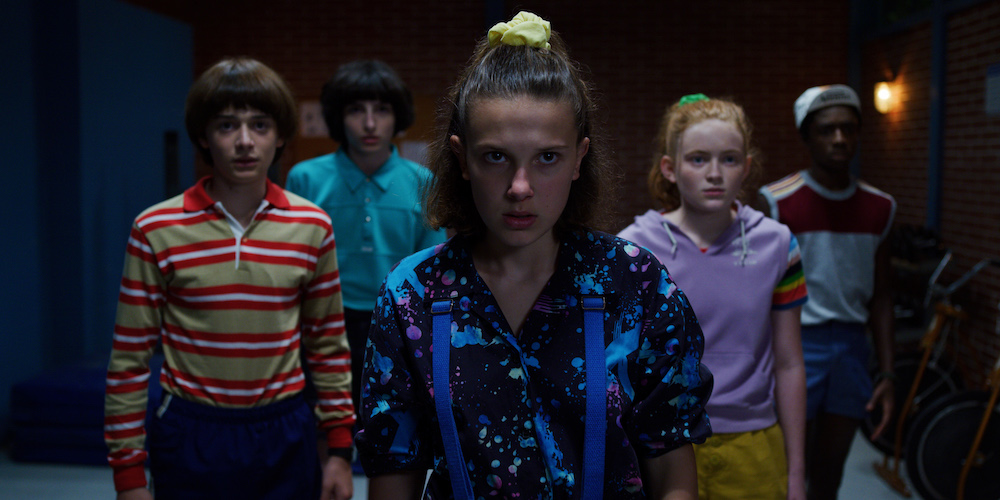 We're ready for all kinds of fireworks this Fourth of July, especially from the new season of Stranger Things. S3 fast-forwards to the summer of '85 in Hawkins, Indiana where our gang are celebrating the national holiday. Any party in this strange town means plenty of reunions…and plenty of monsters. The Mind Flayer is BACK (and he's found a new host—damn, Billy!). He has a chilling message for Hawkins, Indiana…but our kids are ready to fight. There are new levels of power and experiments being stirred up along with a dynamic shift in the group. We'll get to see them growing up and navigating changing friendships. Gear up for more explosions—your binge-watching holiday is gonna be a wild one.
Stranger Things S3 hits Netflix on July 4th.
From Netflix:
It's 1985 in Hawkins, Indiana, and summer's heating up. School's out, there's a brand new mall in town, and the Hawkins crew are on the cusp of adulthood. Romance blossoms and complicates the group's dynamic, and they'll have to figure out how to grow up without growing apart. Meanwhile, danger looms. When the town's threatened by enemies old and new, Eleven and her friends are reminded that evil never ends; it evolves. Now they'll have to band together to survive, and remember that friendship is always stronger than fear.
—
Swamp Thing
"The Price You Pay" – Season 1, Episode 6
Fri July 5
On DC Universe
Stream Swamp Thing on DC Universe every Friday.
From DC Universe:
While Swamp Thing finds a new way to communicate with Abby, Matt learns the truth about Alec Holland and Avery pressures Woodrue to deliver results.
—
The Rook
"Chapter 2" – Season 1, Episode 2
Sun July 7 – 8PM
On STARZ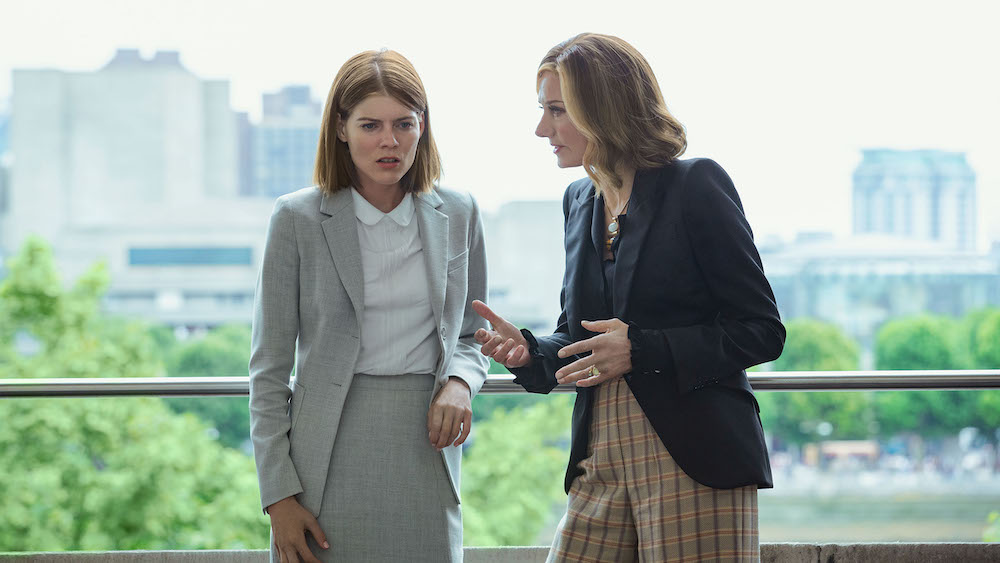 Pilots are always tricky, so we were willing to go into "Chapter 2" of The Rook with an open mind. After all, we enjoyed the book of the same name by Daniel O'Malley and there's plenty of story there to play with. Unfortunately there is none of the tension that fueled the original plot; Myfanwy Thomas (Emma Greenwell) remains more of a lost child than she does a determined and smart agent with sharp survival instincts. In this episode, at least, we get more background about her powers as well as a dive into why she lost her memory. Myfanwy does some investigating of her own, returning again and again to the disturbing crime scene she's inextricably linked to. However, rather than chilling and thrilling us with paranormal mystery, there's still no real buildup of suspense that pays off.
Stay tuned for our full thoughts on the season so far on Geek Girl Riot, Tuesday at 11pm ET, only on idobi Radio.
New episodes of The Rook air on STARZ on Sunday.
From STARZ:
While Myfanwy revisits the crime in search of her past, Monica discovers a dark truth about one of the victims – her lover and fellow agent. One of Myfanwy's dead attackers disappears from the morgue.
—
Big Little Lies
"Kill Me" – Season 2, Episode 5
Sun July 7 – 9PM
On HBO
Catch Big Little Lies on Sunday, only on HBO.
From HBO:
Renata (Laura Dern) deals with the fallout from Gordon's (Jeffrey Nordling) legal troubles and attempts to help Celeste (Nicole Kidman). Bonnie (Zoë Kravitz) relives painful memories from her past.
—
Claws
"Zaddy Was a Rolling Stone" – Season 3, Episode 5
Sun July 7 – 9PM
On TBS, TNT
Watch Claws every Sunday on TBS & TNT.
From TBS:
Desna and Dean's world turns sideways when an unexpected relative appears from their past. Things take an even more unexpected twist when the Lovestones retaliate against Desna for getting in their way.
—
City on a Hill
"The Wickedness of the Wicked Shall Be Upon Himself" – Season 1, Episode 4
Sun July 7 – 9PM
On Showtime
All new City on a Hill premieres on Showtime every Sunday.
From Showtime:
Jackie strong-arms Jimmy to get a step closer to finding the presumably dead armored truck guards. Decourcy rattles a suspect called to testify before the Grand Jury. Siobhan learns something unsettling about a leader of the Coalition and worries it could jeopardize the future of the group. Kick's nightmares continue as she senses her father might be in harm's way.
—
Euphoria
"Shook One Pt. II" – Season 1, Episode 4
Sun July 7 – 10PM
On HBO
Watch Euphoria on HBO every Sunday.
From IMDb:
Rue tries to get clean for Jules and chaperones Gia at the carnival; Cassie and Maddy decide to do molly together; Kat hangs out with Ethan until she misreads a situation; Nate reveals who he really is.