This week: Supermansion, Supergirl, Dietland, Face Off, Humans, Legion, The Handmaid's Tale, The Expanse, Reverie, Marvel's Cloak & Dagger, Sense8, Alex Strangelove, The Tony Awards, Vida, Pose, Claws, Westworld, Into the Badlands
Supermansion
Season 3, Episode 5
Now streaming
On Crackle
Photo: Stoopid Buddy Stoodios
Psst…Leprechauns are real, didn't ya hear? They're hitting up Supermansion to add a new layer of magical madness this week and we can't stop cackling at the thought. Suit up, League of Freedom, suit the F up!
Supermansion is now streaming on Crackle.
From Crackle:
In episode 305, "Brokeback Saturn," when Cooch's (Heidi Gardner) claims that Leprechauns are attacking Storm City turn out to be true, the League of Freedom is drawn into a battle with assorted mythical creatures. The injured Black Saturn (Tucker Gilmore) recruits Courtney (Breckin Meyer) to join the fight in a mechanized suit.
—
SUPERGIRL
"Not Kansas" – Season 3, Episode 21
Mon June 4 – 8PM
On The CW
Photo: Katie Yu/The CW -- © 2018 The CW Network, LLC.
Supergirl just stepped into nightmare territory…by having our eponymous hero leave Earth. You can't leave humanity to our own devices, haven't you learned anything from history?! Okay, okay, we get why Kara (Melissa Benoist) has to go back to what's left of Krypton and we're tearing up at the thought of her reunion with her mother (they grow up so fast don't they?). She might also find the answer to saving Sam (Odette Annable) along the way. BUT…it means there's no defense against Sam's alter ego Reign who is only getting stronger. Yup, we're doomed. Damn, Supergirl, you know just how to ride our emotions like a rollercoaster and we're screaming for more.
Tune into The CW every Monday for all new Supergirl.
From The CW:
Kara (Melissa Benoist) makes a major life decision. Meanwhile, J'onn (David Harewood) finds out that special DEO-caliber guns have hit the streets of National City.
—
Dietland
"Pilot" / "Tender Belly" – Episodes 1 & 2
Mon Jun 4 – 9PM
On AMC
Photo: AMC
The fashion world looks glamorous, sure, but AMC's new show Dietland is taking you behind the scenes to the unflinching hot button issues that run the industry…and then it'll take you a little deeper into the world of murder. Wait, what? Yup, our leading lady Plum Kettle (Joy Nash) is facing the many struggles women face: body image, the #MeToo movement, the patriarchy, and to top it all off she's got crimes to blog about. Get it, girl (before it gets you). DUN-DUN-DUUUUN!!!
Head to Dietland with the season premiere on AMC.
From AMC:
"Dietland" is a wickedly funny and extraordinarily timed satire about Plum Kettle, a ghost-writer for the editor of one of New York's hottest fashion magazines. Struggling with self-image and fed up with how she's treated by her boss and society, Plum sets out on a wildly complicated road to self-awakening. At the same time, everyone is buzzing over news reports about men, accused of sexual abuse and assault, who are disappearing and meeting untimely, violent deaths. Plum also finds herself in the middle of two warring factions—one sisterhood who may be responsible for the attacks on male harassers, and the other which preaches female empowerment. She straddles these two groups, trying to make sense of the changing world and her part in it. Equal parts revenge fantasy and heartfelt journey to self-acceptance, "Dietland" is a darkly comedic story that explores a multitude of issues faced by women today – including patriarchy, misogyny, rape culture and unrealistic beauty standards.
—
Face Off: Battle Royale
Final season premiere
Tues June 5 – 9PM
On Syfy
Face Off returns for its final season tomorrow on Syfy.
From Syfy:
"Face Off: Battle Royale" features fan-favorite artists from previous seasons as they are paired against one another for the first time ever. These All-Stars will battle in a head-to-head competition and two contestants will be eliminated every other episode.
—
HUMANS
"Episode 301" – Season 3 premiere
Tues June 5 – 10PM
On AMC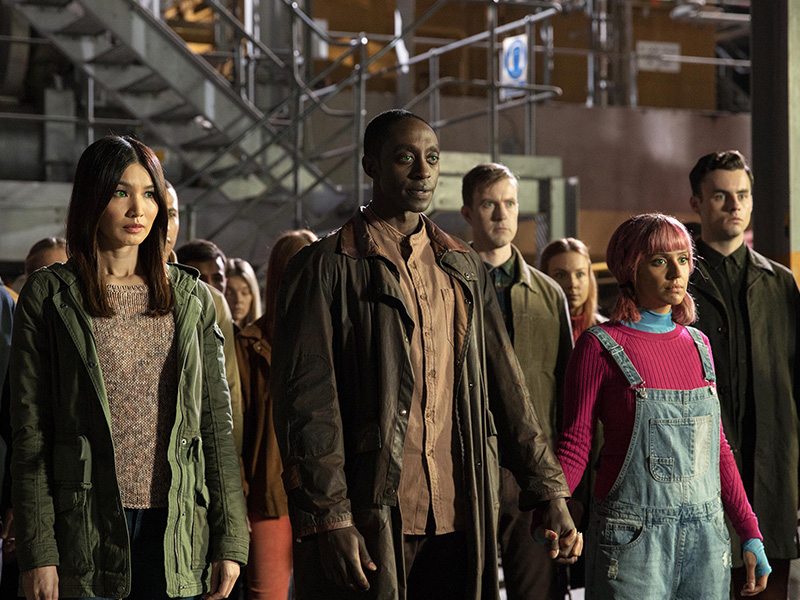 Photo: AMC
Your Tuesday nights are about to get a whole lot more chilling: Humans is back and it's even more apocalyptic. Season 3 returns a year after Day Zero—when the consciousness code killed thousands of humans and synths alike—and tensions between the two species are at breaking point. The sentient synths campaign for their rights while a new batch of non-sentients are distributed (because apparently humans have learned nothing). With every spark of altercation, Humans steps deeper into all-out war and we cannot help but cheer the synths on…because this show is about so much more than just robots. The prejudices are unsettlingly close to reality, framing difficult questions about race, injustice, and humanity in a thrilling sci-fi world.
Humans returns for season 3 tomorrow, only on AMC.
From AMC:
One year on from the release of the consciousness code, a catastrophic event puts the future of human and synth-kind in jeopardy once again.
—
LEGION
"Chapter 18" – Season 2, Episode 10
Tues June 5 – 10PM
On FX
Legion is all new every Tuesday on FX.
From TV Guide:
Reunion, ruination and rage.
—
THE HANDMAID'S TALE
"Women's Work" – Season 2, Episode 8
Wed June 6
On Hulu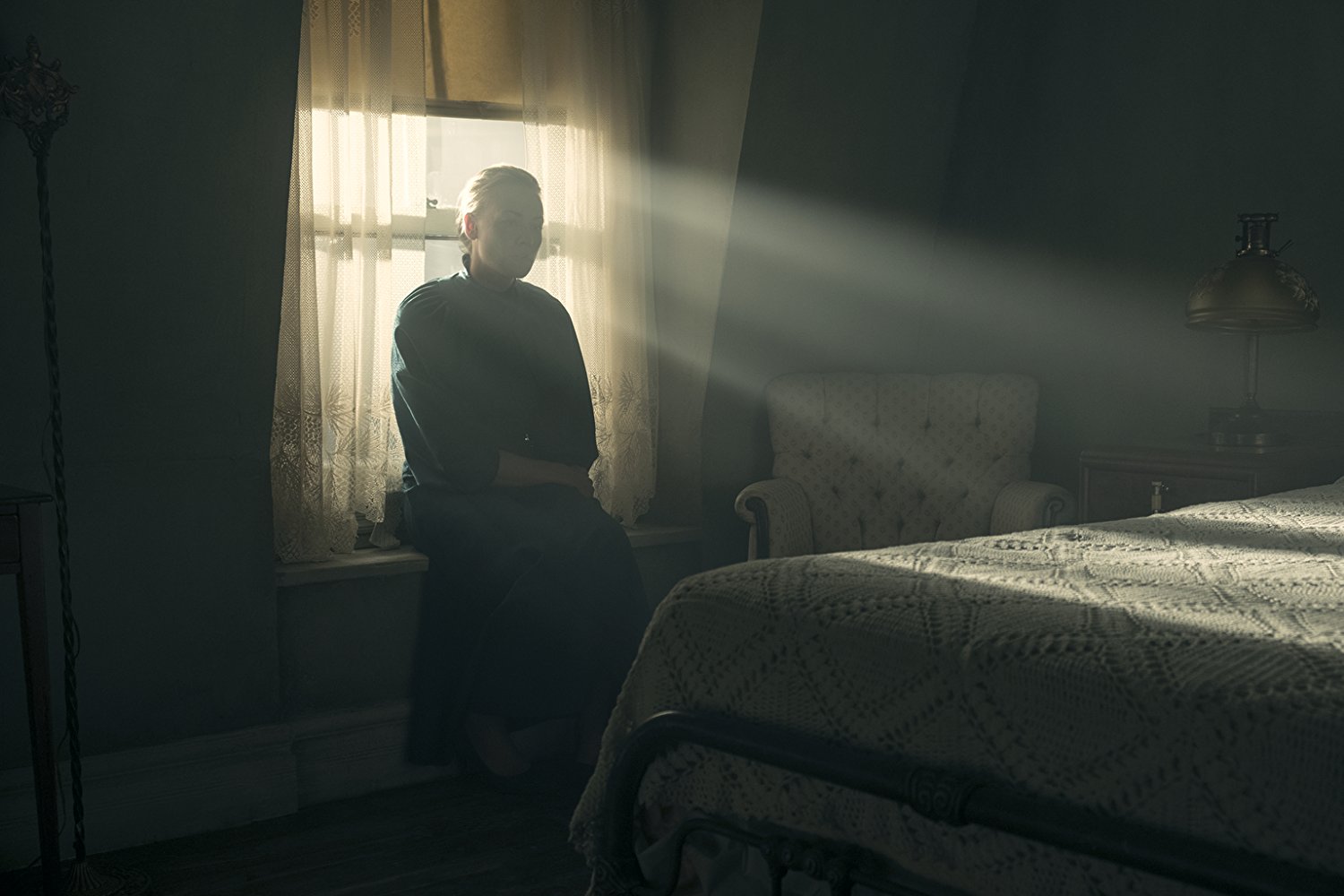 A woman's work is never done. And woe betide anyone if two women on opposing sides find common ground and decide to team up. The complicated relationship between June/Offred (Elisabeth Moss) and Serena Joy (Yvonne Strahovski) has been tipping ever so slightly towards positive lately and we're holding our breath so we don't disturb that precarious balance. Especially now Serena has gotten a taste of her old power again—you can say many awful things about Ms Joy but her determination and strength are to be admired. It's this sense of survival that makes The Handmaid's Tale so fascinating to watch because it brings out parallels in characters you'd never expect and pushes others to their limits.
Watch The Handmaid's Tale on Hulu every Wednesday.
From Hulu:
Offred and Serena share a common goal while The Commander recovers from a terrifying ordeal.
—
THE EXPANSE
"Intransigence" – Season 3, Episode 9
Wed June 6 – 9PM
On Syfy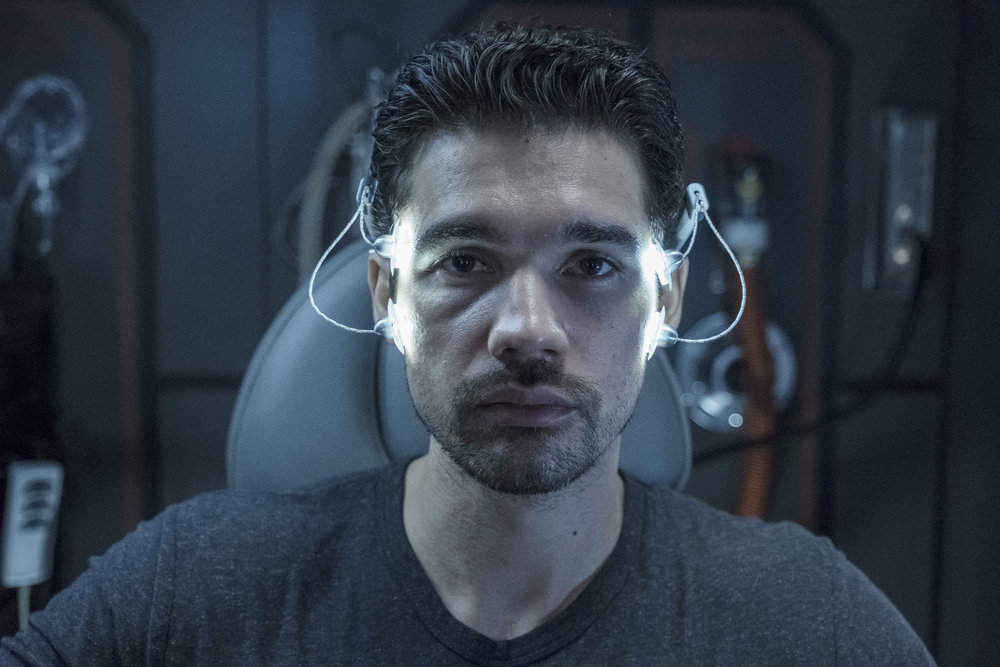 Photo by: Rafy/Syfy
Are you ready to give up the ship? Because we sure aren't. This week's episode of The Expanse is a proverbial "out of the frying pan, into the fire" moment and things don't look good for the Roci. Leave it up to Miller (Thomas Jane) to turn up the heat with his constant questioning (we really have missed him). Telling you how they get out of this one would be spoilers but you already know The Expanse is light years ahead and ready to surprise us at every turn.
The Expanse airs on Syfy every Wednesday night.
From NBC:
The Rocinante seeks a new gameplan as they attempt to avoid capture. Melba's true motives are revealed. Naomi is torn between identity and ideal. Anna seeks a way to stay aboard the Thomas Prince.
—
REVERIE
"Bond. Jane Bond." – Season 1, Episode 2
Wed June 6 – 10PM
On NBC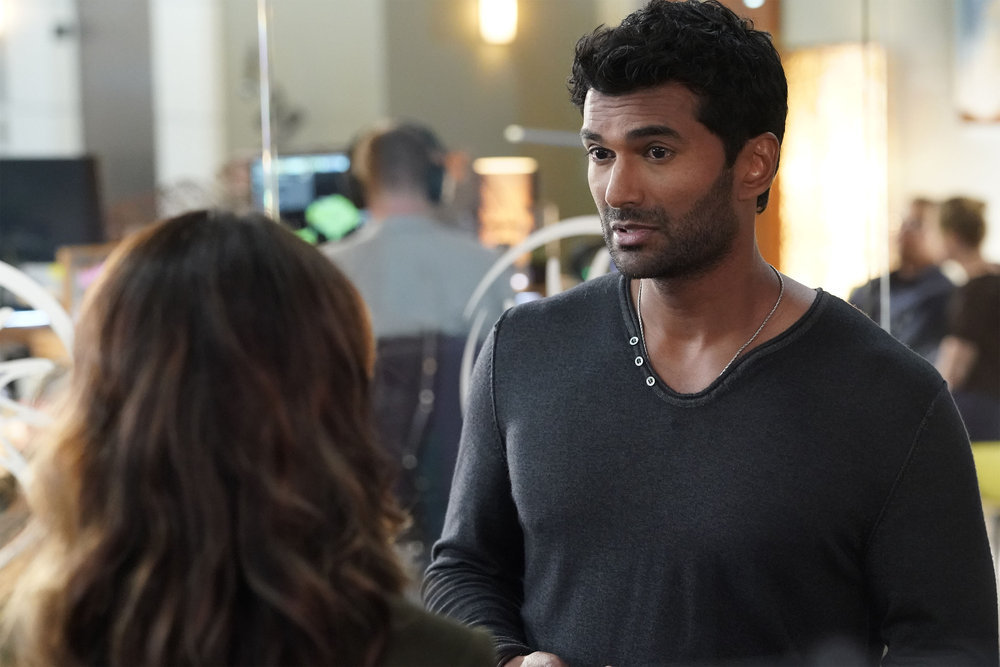 Photo by: Chris Haston/NBC
The Reverie 2.0 program is getting to know Mara (Sarah Shahi) better and unfortunately that makes things more real…for her and for us. This week has the vibe of Philip K. Dick's superbly meta short story "We Can Remember It For You Wholesale" aka the Schwarzenegger blockbuster Total Recall. That's right, we're going superspy in an ep called "Bond. Jane Bond." but while it begins with espionage this episode ends up being a shot to the heart of a different kind. Family is fuel on Reverie and as the show builds up the layers we see just how much damage those ties that bind can do. You can't dive into someone's emotions without getting affected and this NBC show turns reality on its head. By the end you'll be questioning how much difference there is between a ghost and a memory.
Reverie airs on NBC this Wednesday.
From NBC:
When a client becomes addicted to a "Jane Bond" adventure, Mara (Sarah Shahi) must help her assemble the missing pieces in her life to save her. At the same time, Mara deals with the unanticipated side effects of Reverie. Dennis Haysbert, Sendhil Ramamurthy, Kathryn Morris and Jessica Lu also star.
—
Marvel's Cloak & Dagger
"First Light" / "Suicide Sprints"
Thu June 7 – 8PM
On Freeform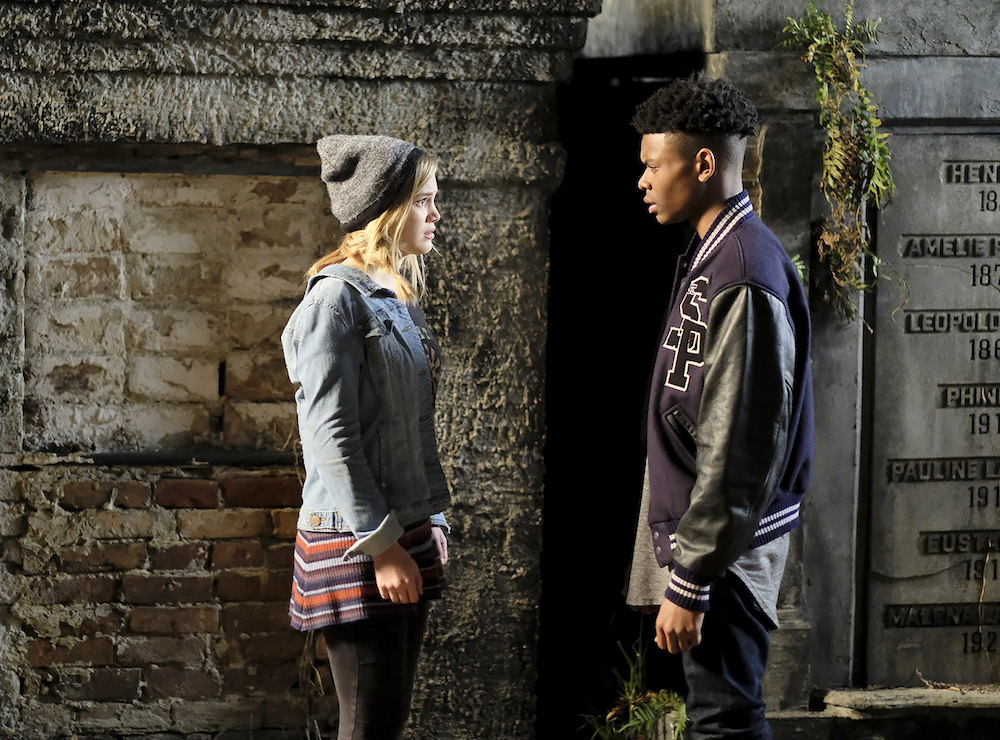 Photo: Freeform
Marvel's Cloak & Dagger has been getting rave reviews from critics which is great because we love Marvel and we love comic book adaptations. But we have to be honest with you here…we don't love it and we're not even sure if we liked it. Still, we're going to tell you all about it so you can try and find what we missed. To paraphrase an Avril Lavigne song, She was a girl, he was a boy, can we make it any more obvious? He was a punk (well, more of a boy from the streets), she did ballet…(no, for real) until one fateful night when they both ended up drowning by the docks. Something mysterious happens—kind of like a Big Bang of the chemical explosion sort—which leaves them with superpowers: Tyrone Johnson (Aubrey Joseph) aka Cloak, has the ability to disappear and teleport at will through shadows, and Tandy Bowen (Olivia Holt) aka Dagger, has the ability to create knives out of light. Danger brings them together but it also complicates things, especially their feelings for each other. We'll keep watching but…yeah, we'll just keep watching.
Marvel's Cloak & Dagger premieres this Thursday on Freeform.
From Freeform:
Two teenagers from very different backgrounds find themselves burdened and awakened to newly acquired superpowers which are mysteriously linked to one another. The only constant in their lives is danger and each other.
Sense8
The series finale
Fri June 8
On Netflix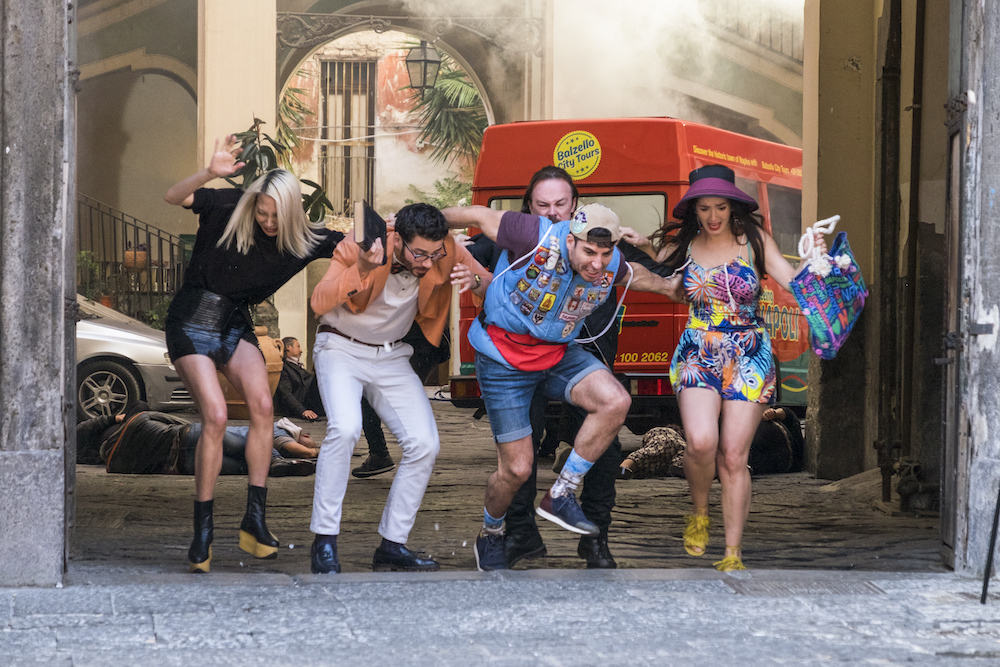 Photo: 

Segolene Lagny / Netflix
Sense8 is living proof that audiences matter. The series was canceled after season 2 but fans campaigned hard and they're being rewarded with a two-hour finale this Friday. Y'all, it's going to get emotional for so many reasons. The finale asks what it means to be human and takes on the fight for that right with cinematic grace packed full of emotional and physical gut-punches. This incredibly diverse and eye-opening show deserved to have its ending and this goodbye promises to be passionate, stunning, and full of the heart that made us fall in love with the series. We're all in this together and in that sense the 8 leads to infinity.
Say goodbye to Sense8 this Friday on Netflix.
From Netflix:
Picking up where season one left off, Capheus (Toby Onwumere), Kala (Tina Desai), Lito (Miguel Angel Silvestre), Nomi (Jamie Clayton), Riley (Tuppence Middleton) , Sun (Donna Bae), Will (Brian J. Smith) and Wolfgang (Max Riemelt) come together both physically and mentally, plunged into the middle of each other's tragedies and triumphs. On the run from Whispers (Terrence Mann), and forced to question their very identity, it's a matter of survival as the Sensates must find a way to live with, understand and protect one another against all odds.
—
Alex Strangelove
Film premiere
Fri Jun 8
On Netflix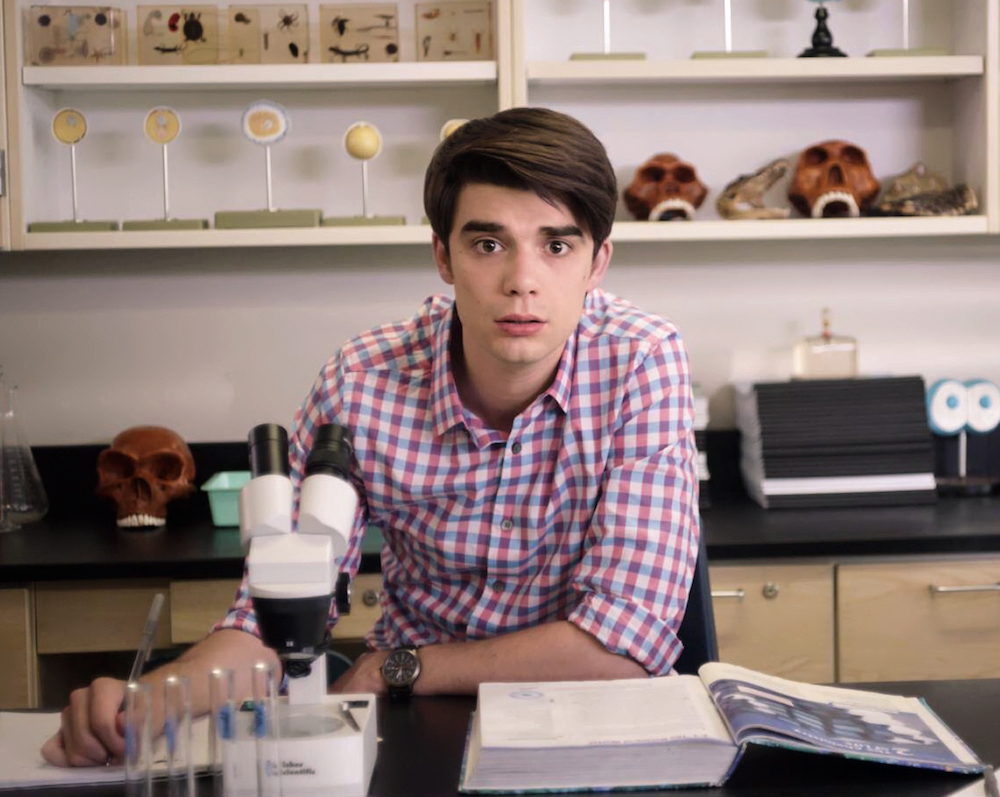 Photo: Netflix
Alex Truelove (Daneil Doheny) has the seemingly perfect life: he has a perfect GPA, a perfect college resume, a perfect girlfriend…until the perfect boy walks in to steal his heart and make his head spin. Alex Strangelove explores love, sex, and relationships in a high school setting to make you giggle, cry, and cheer on Alex and his friends as they give you faith in the new generation.
Stream Alex Strangelove on Netflix this Friday.
From Netflix:
ALEX STRANGELOVE tells the story of Alex Truelove (Daniel Doheny), a well-rounded high school senior with a wonderful girlfriend Claire (Madeline Weinstein) and a bright future ahead of him – and with plans to achieve his last teenage milestone by losing his virginity. But things get complicated when he meets Elliot (Antonio Marziale), a handsome and charming gay kid from the other side of town, who unwittingly sends Alex on a rollercoaster journey of sexual identity, kicking off a hilarious and moving exploration of love, sex and friendship in our liberated and confusing modern times. Written and directed by Craig Johnson (The Skeleton Twins, Wilson), produced by Ben Stiller, Nicky Weinstock, and Jared Ian Goldman.
—
The 72nd Annual Tony Awards
Sun Jun 10 – 8PM
On CBS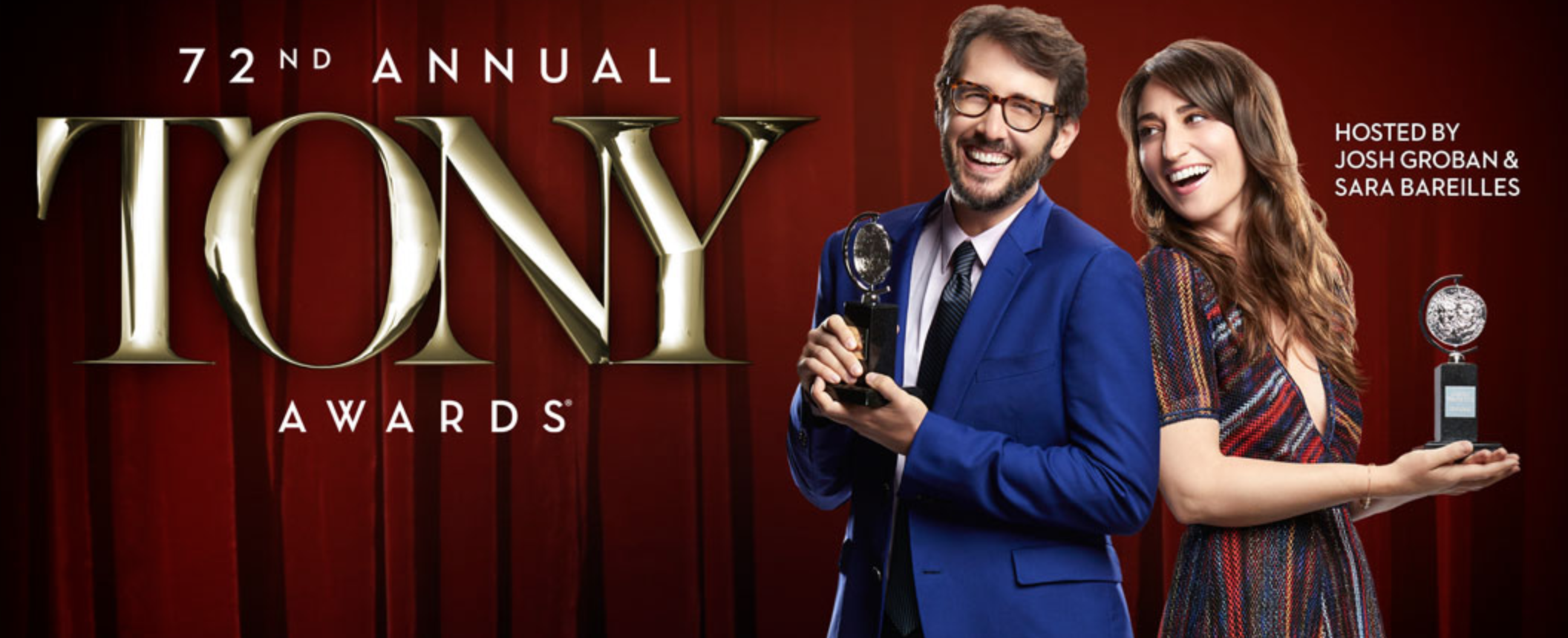 The Tony Awards are happening…so yeah, cancel all your Sunday night plans.
Tune into CBS for the Tony Awards this Sunday from 8PM.
From CBS:
Sara Bareilles and Josh Groban will host The 72nd Annual Tony Awards®, live from the historic Radio City Music Hall in New York City, Sunday, June 10 (8:00-11:00 PM, live ET/delayed PT) on the CBS Television Network. The Tony Awards, which honors theater professionals for distinguished achievement on Broadway, has been broadcast on CBS since 1978. This year marks the 72nd anniversary of the TONY Awards, which were first held on April 6, 1947, at the Waldorf Astoria's Grand Ballroom. The ceremony is presented by Tony Award Productions, which is a joint venture of the Broadway League and the American Theatre Wing, which founded the Tonys.
—
VIDA
"Episode 6" – Season 1 finale
Sun Jun 10 – 8:30PM
On Starz
Vida airs on Starz this Sunday.
From Starz:
Lyn finally realizes she's messing up Johnny's life, and Emma learns the true value of the bar, but is it too late for Eddy?
—
Pose
"Access" – Season 1, Episode 2
Sun Jun 10 – 9PM
On FX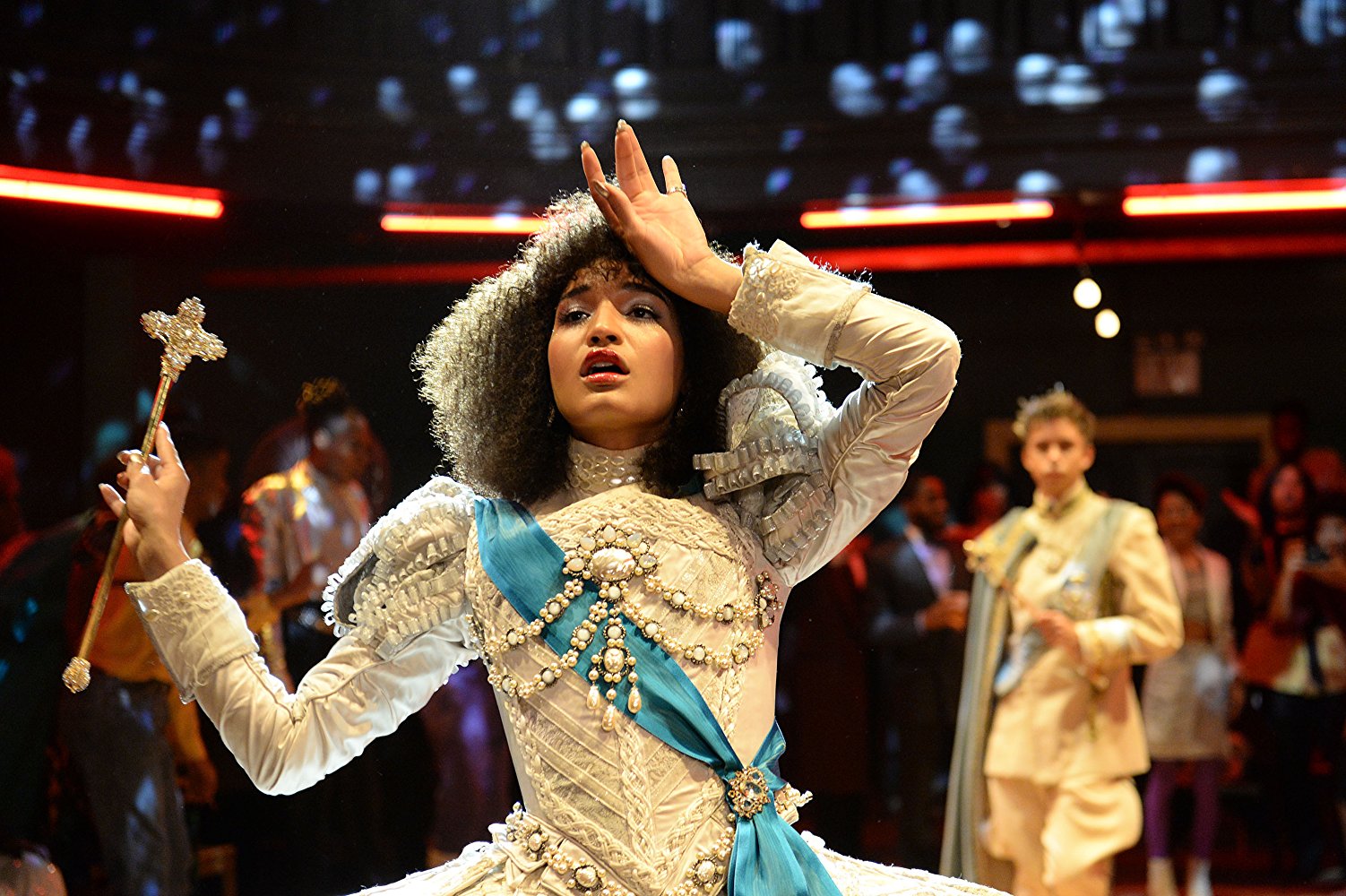 Photo: FX
Ryan Murphy's new and glamorous series is off to a fiery start with family, feuds, and fashion taking center stage. Everything about Pose pulls you in—from the clothes to the stories to the high emotional drama—and the poignant self-awareness with which this show carries itself is truly remarkable. Watching this gorgeous world play out featuring the largest transgender cast ever for a scripted series is the perfect way to celebrate Pride month and we're raising our glasses high.
Get into Pose on FX every Sunday.
From FX:
Blanca is denied access to a popular bar leading to a purposeful feud. Meanwhile, inexperienced Damon learns the truth about love and sex when he is asked on a date.
—
Claws
"Shook" – Season 2 premiere
Sun Jun 10 – 9PM
On TNT
Claws returns to TNT this Sunday.
From TV Guide:
In the Season 2 premiere, Desna and the girls struggle to keep their hope alive while still working under the thumb of the new Russian regime, spearheaded by Riva. A blissful Desna remains in the dark about her gangster-gyno boyfriend, Ruval. Virginia tells Dean that she's pregnant with his baby. A newly domesticated Polly is jubilant when tasked with being a madam for an all-male dance troupe. Meanwhile, a depressed Uncle Daddy is still reeling from the loss of his beloved Juanda.
—
WESTWORLD
"Kiksuya" – Season 2, Episode 8
Sun Jun 10 – 9PM
On HBO
Dive into Westworld every Sunday on HBO.
—
INTO THE BADLANDS
"Dragonfly's Last Dance" – Season 3, Episode 7
Sun Jun 10 – 10PM
On AMC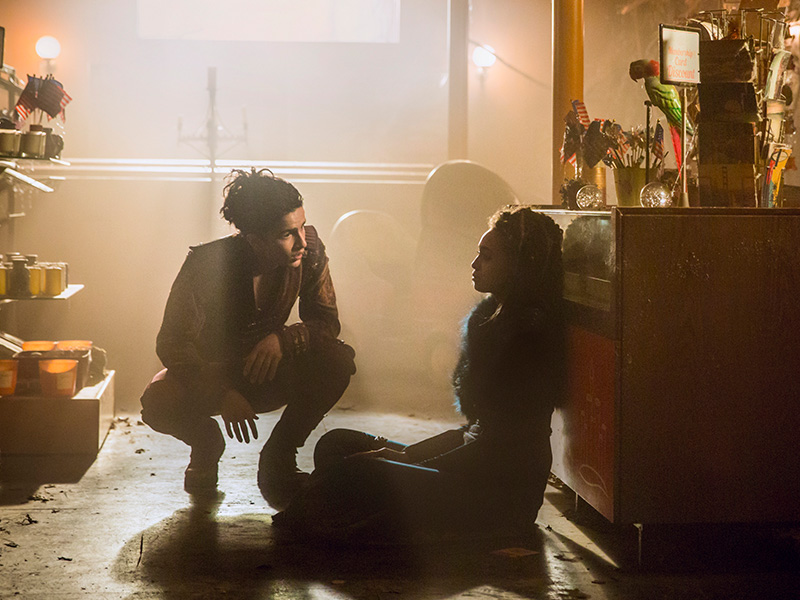 Photo: AMC
"Get ready to see The Widow's world turn upside down," LaToya Morgan says of "Dragonfly's Last Dance" and, just moments in, you'll believe her. We're not surprised she's behind this week's episode of Into the Badlands because the character development and rich details are calling out to us. Ooh, and that homage to Once Upon a Time in China II! (You'll see.) Nix (Ella-Rae Smith) grows suspicious of Pilgrim (Babou Ceesay), and MK (Aramis Knight) steps in to show Nix the way (aren't they such a good match?). Sunny (Daniel Wu) digs deeper into his past and finds himself making dangerous deals to get there. Bajie (Nick Frost), meanwhile, is just tryna' get some lovin'. The Widow (Emily Beecham) and Chau (Lewis Tan) grow closer in a tough spot (isn't that where folks get resourceful?). Everyone's got their agendas but Lydia (Orla Brady) is the one to watch in this episode—she's got warnings and plans for everyone they'll never see coming. There is so much to learn packed into one episode our heads are still spinning, so we'll leave you with some thoughts from LaToya herself about "Dragonfly's Last Dance":
"An important thread of this week's episode can be found in the title 'Dragonfly's Last Dance'. A dragonfly is a symbol for change and wisdom. There are lots of revelations for Sunny in his quest with Bajie to find a cure for Henry, as well as with The Widow as she tries to go in for a kill strike in the ongoing war with Chau. Sunny learns a very important piece of information about his past this week. So that's not to be missed! And the war comes home for The Widow—quite literally when a mutiny amongst a small group of her disgruntled fighters lands right on her doorstep. The Sanctuary has fallen and we see the return of a character who wants nothing less than to rebalance the scales of war with The Widow's blood. Plus we have a badass ladder fight that's so cool it's ridiculous."
Head Into the Badlands every Sunday on AMC.
From AMC:
Sunny works with the River King to secure passage to Pilgrim's Fortress; The Widow faces mutiny from discontented troops.