This week: Patriot Act with Hasan Minhaj, L.A.'s Finest, The Bold Type, Miranda Sings Live… Your Welcome, Jonas Brothers' Chasing Happiness, Grown-ish, The Handmaid's Tale, Black Mirror, Tales of the City, The Chef Show, Swamp Thing
Patriot Act with Hasan Minhaj
"Indian Elections Update and the 1MDB Scandal" – Volume 3, Episode 4
New episodes Sunday
On Netflix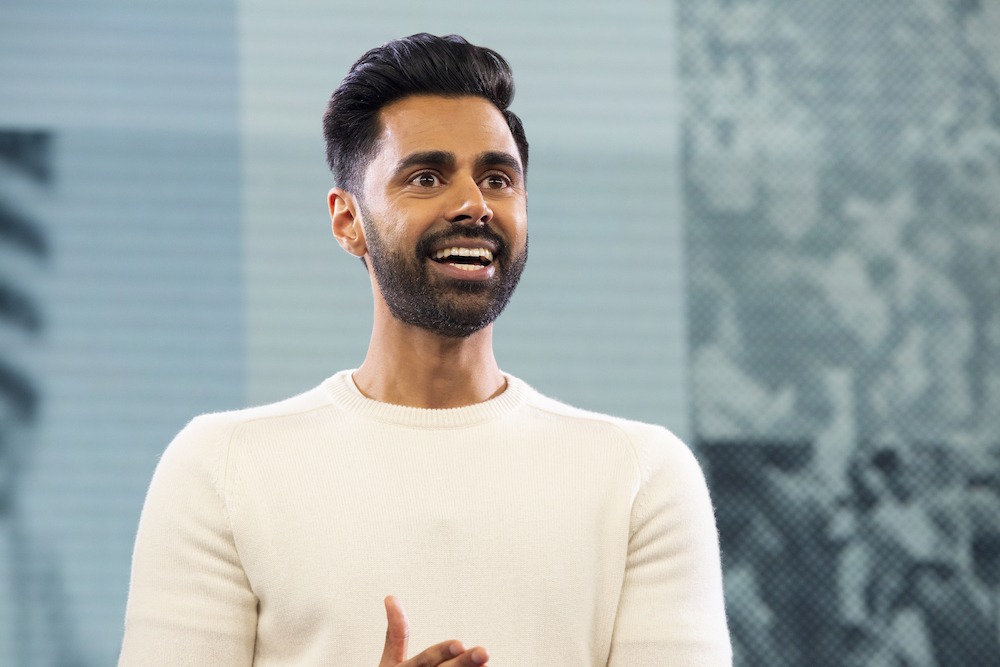 Hasan Minhaj is doing the unthinkable again: Giving us an update on Indian politics. The election results are in and Narenrda Modi's right-wing nationalist Bharatiya Janata Party have been elected. It's no surprise they won but the landslide results need to be broken down. Minhaj takes a deeper look at some of the BJP's candidates and what they've been accused of—including (but not limited to) corruption and even terrorism—and why people still voted for Modi. Speaking of corruption, in the second half of the episode Minhaj switches his aim to Goldman Sachs. He takes a look at the ties the company has to foreign investors, namely the Malaysian government. The 1MDB scandal rocked the financial world—not only because billions of dollars were stolen but because that money was blown on the most insane birthday party (including appearances from LMFAO, Pharrell, and Psy). Just when you think that politics can't get any wilder Minhaj delivers his take on some of the world's biggest events to make you laugh at the absurdity.
Stream new episodes of Patriot Act every Sunday on Netflix.
From Netflix:
Hasan discusses India's election results, then relays the astonishing story of a multibillion-dollar scandal involving Goldman Sachs and Malaysia.
—
L.A.'s Finest
"Dead Men Tell No Tales" & "Dangerous Minds" – Episodes 8 & 9
Mon June 3
On Spectrum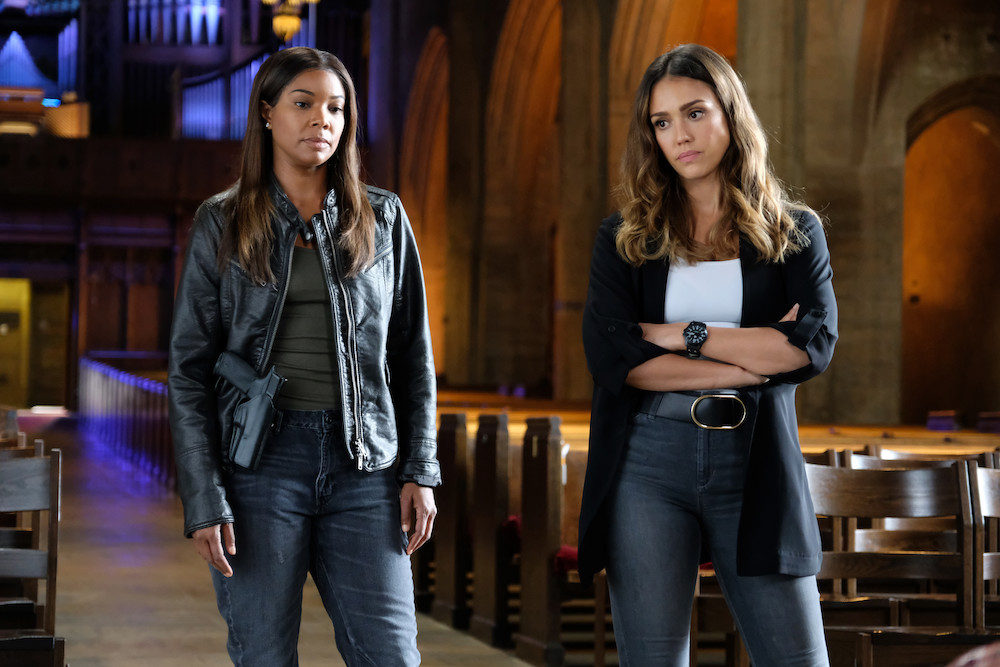 The lies are catching up to our girls but it's a good thing they're at their best when they're backed into a corner. McKenna (Jessica Alba) fesses up to Patrick (Ryan McPartlin) and he's not handling it well. Unfortunately there's no time for him to process when she throws another curveball at him. How much longer will he hold on without knowing the truth? Watching the pain in McKenna's face as she risks her marriage to protect her family is difficult and moving. Alba plays her role with extreme conviction. Then there's Patrick, his choices will surprise you. Meanwhile the team are called into a case of stolen untraceable diamonds. They're worth enough to kill for and there's a trail of blood leading all the way to trouble.
Stream new episodes of L.A.'s Finest on Spectrum every Monday.
From Spectrum:
McKenna is forced to come clean about her past to her husband, and both she and Syd attempt to convince him to bend the rule of law to save a life. In the meantime, our team find themselves trailing a group of thieves who managed to steal millions of dollars' worth of untraceable diamonds.
—
The Bold Type
"The Final Push" – Season 3, Episode 9
Tues June 4 – 8PM
On Freeform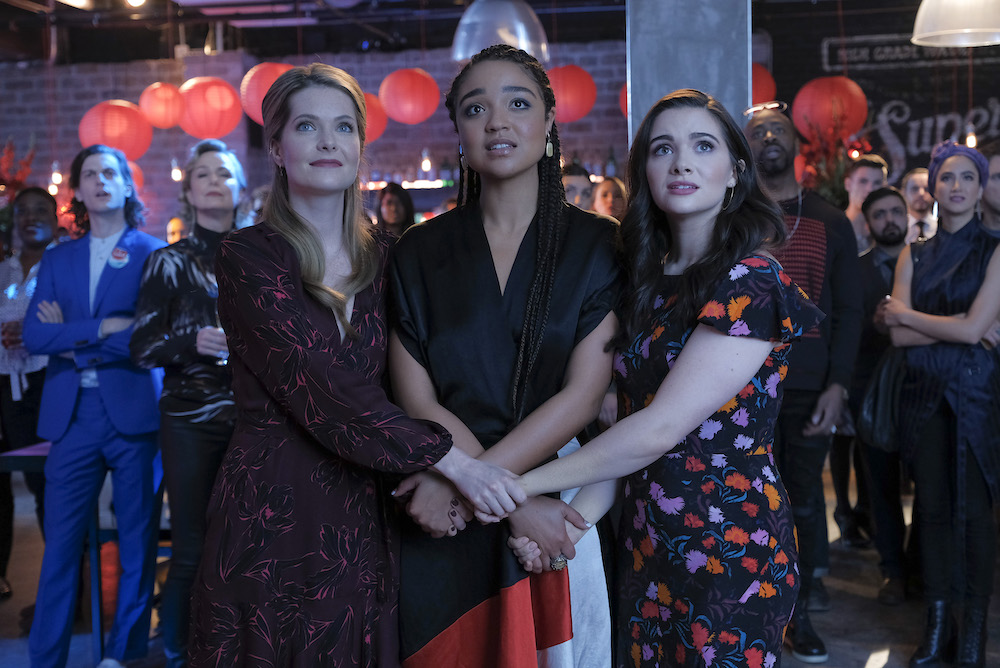 **idobi rated: ❤️❤️**
Adena (Nikohl Boosheri) is back and ready to admit how she really feels…a matter of hours before the elections. Kat (Aisha Dee) has more than one decision to make and she's freaking out over leaving Scarlet. It's crunch time for her—and for all the girls. Sutton (Meghann Fahy) is facing a huge deadline ahead of the fashion show but her day job is keeping her more than occupied. She takes Oliver's (Stephen Conrad Moore) daughter Carly (Kiara Groulx) under her wing and their bonding will make you smile. Meanwhile Jane (Katie Stevens) is getting ready to face off with the all-powerful photographer Pamela Dolen (Laila Robins). Jacqueline (Melora Hardin) is on her game and she's ready to sacrifice everything to win. She sees right through Pamela's act—what's her game? You'll have newfound respect for Jacqueline by the end of this episode. Big changes are coming for the entire magazine and it'll make you nostalgic for the girls' fashion closet hangouts. But you'll still be cheering on as Kat, Sutton, and Jane all take the next steps towards new futures. Cheers!
The Bold Type airs on Freeform tomorrow.
From Freeform:
When Kat beings to doubt herself on the eve of her election, an unexpected person gives her the reassurance she needs. Jane and Jacqueline are confident about their workplace harassment investigation and decide to take action. Sutton coaches Carly through a difficult situation at school.
—
Miranda Sings Live…Your Welcome
Tues June 4
On Netflix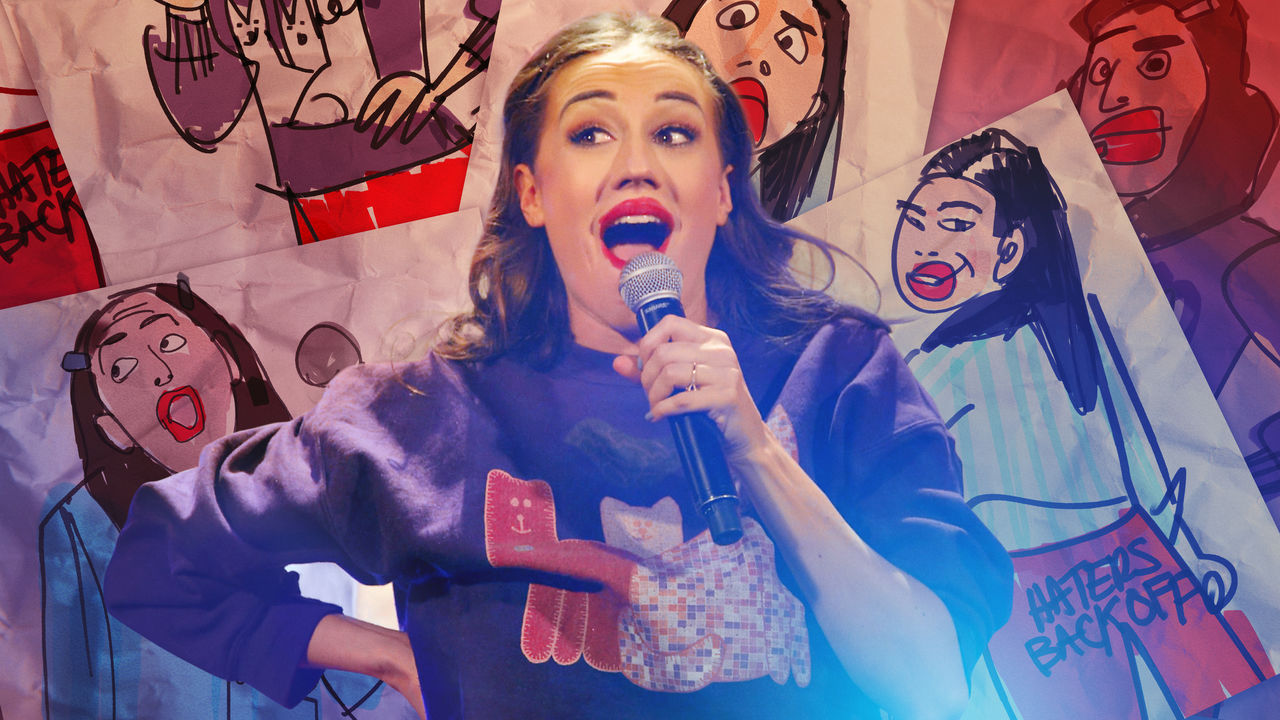 Miranda Sings is bringing her bright lipstick and brighter humor to the Netflix stage for her new special. Colleen Ballinger has been performing as her alter-ego for a decade now and is all grown up—she's about to become a mom—and makes jokes about what her kid is going to be like growing up with an internet sensation parent. One thing's for sure, her baby will be lucky to have such an honest and snarky mom, one who has done so many silly things on the internet they could probably get away with anything (because their mom probably did it first…on camera). Miranda will perform some fan-favorite songs and you'll be treated to some special appearances (not to mention those crocs). Just wait 'til you get to her diary entries—you'll be cackling at the thought of how embarrassing you were as a 12 year old and mortified at the thought of having to read your own diary out. You've gotta applaud Colleen/Miranda for going all out. The question is: Mirfandas, you ready?
Head to Netflix on Tuesday for Miranda Sings Live… Your Welcome.
From Netflix:
With more than 2 billion views across her YouTube channels, Colleen Ballinger has become an international sensation with her hilarious alter-ego Miranda Sings. Filmed in front of a packed house of "Mirfandas," Miranda Sings Live…Your Welcome launches globally on Tuesday, June 4. While Colleen reads snippets of her diary and sings through some of the weird comments she receives, the next 'Virgin Mary' Miranda blesses the audience with her combination of acting, singing, dancing, modeling, and magic.
—
Jonas Brothers' Chasing Happiness
Tues June 4
On Amazon Prime
Stream Jonas Brothers' Chasing Happiness on Amazon Prime.
From Amazon:
Chasing Happiness is a story of brotherhood. From humble roots as pastor's sons in New Jersey, through their meteoric rise to fame, the Jonas Brothers' bond was unshakeable-until a surprising and painful breakup led Joe, Kevin and Nick down very different paths. With deeply personal interviews, previously unreleased footage and exclusive music, this is the Jonas Brothers as never seen before.
—
Grown-ish
"Fake Love" – Season 2, Episode 12
Wed June 5 – 8PM
On Freeform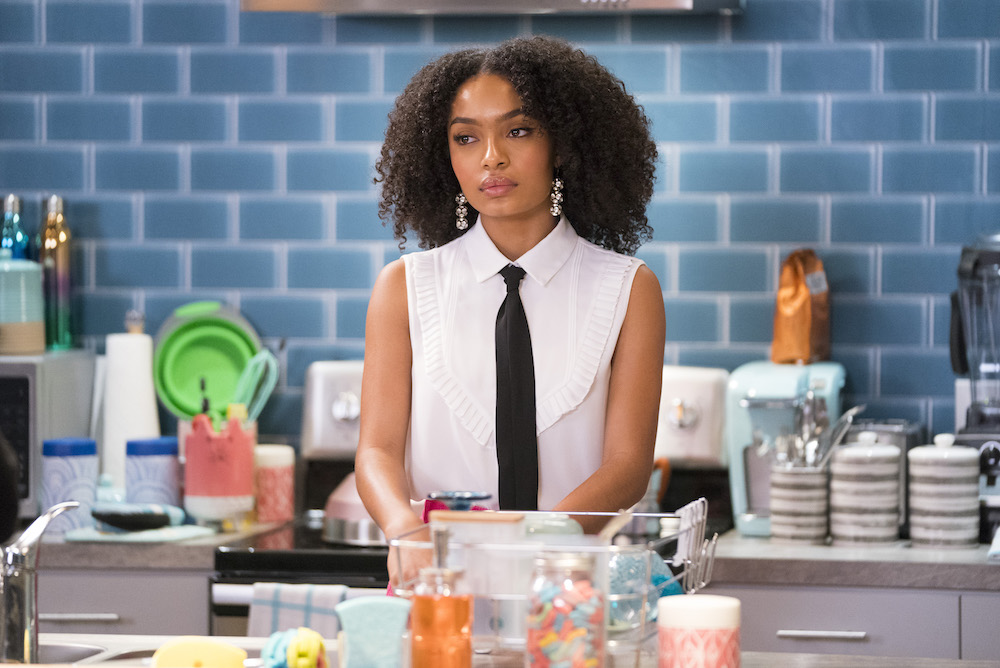 Grown-ish is back, people! Shut your notifications off and dial up the emojis 'cause the drama is about to get real…real extra. Just in case you forgot the madness here's a reminder: Aaron (Trevor Jackson) and Ana (Francia Raisa) have been kickin' it…y'know, naked. Ana has broken girl code (well, kinda) and Zoey (Yara Shahidi) is mad. Like real shade-throwing mad. Not that she's dealing with her real feelings about it. The girls are rallying to get Ana to fix things. The boys are rallying to compare notes and give the WORST advice (boys, what is up with y'all?). This causes splits between the whole group—what constitutes a #situationship? Did Ana really do anything wrong? Unfortunately the boys (read: Luca) don't get girl code and they're too dumb to get the F outta the way. But then the boys (read: Vivek) take the girl code and lay down some logic…if only Zoey would listen.
Grown-ish is back on Freeform on Wednesday.
From Freeform:
Zoey is left to deal with the aftermath of getting caught cheating on her exam, including getting cut off financially by her parents. She takes another devastating hit when Aaron accidentally reveals that he and Ana have been hooking up, causing a snowball of feelings, fracturing her friendships with everyone around her.
—

The Handmaid's Tale
Season 3 premiere
Wed June 5
On Hulu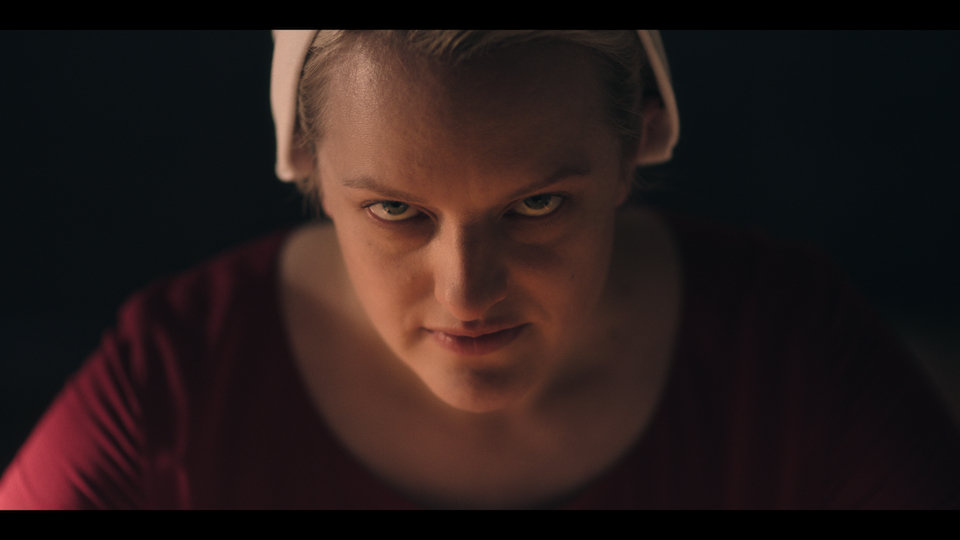 When we last left June (Elisabeth Moss) she was on the verge of escaping Gilead with her baby but at the last minute she handed her over to Emily (Alexis Bledel) and decided to stay behind. It was a twist that left us all reeling in horror at the thought of what was waiting for her and season 3 returns to twist the knife. Instead of being broken, the women in Gilead are more resolute than ever and are going to do everything they can to protect their children. The whisper of revolution is growing louder with every episode. The connection June and Serena (Yvonne Strahovski) forged during June's pregnancy can never be undone no matter the consequences, but what does that mean for their positions? And did Emily and baby Nichole escape? There's a fiery moment where things really go to hell and this season takes a turn into demonic, set to the tune of "I Don't Like Mondays". It's enough to turn your blood to ice. The Handmaid's Tale is back and it's not pulling any punches…
Here's something we can't help but think about after watching several episodes of S3 (and also the news): The ladies of Geek Girl Riot attended a talk with writer Margaret Atwood and showrunner Bruce Miller just before season 1. There at the Smithsonian, Atwood said something we'll never forget. She told the gathering she hopes The Handmaid's Tale won't be used as an instruction manual. It might be a sign of the times, but perhaps the show should be used as a guide to countermeasures or an introduction to setting off the revolution—for women. Get into that.
The Handmaid's Tale returns to Hulu on Wednesday.
From Hulu:
Season Three of The Handmaid's Tale is driven by June's resistance to the dystopian regime of Gilead and her struggle to strike back against overwhelming odds. Startling reunions, betrayals, and a journey to the terrifying heart of Gilead force all characters to take a stand, guided by one defiant prayer: "Blessed be the fight."
—

Black Mirror
Season 5
Fri June 5
On Netflix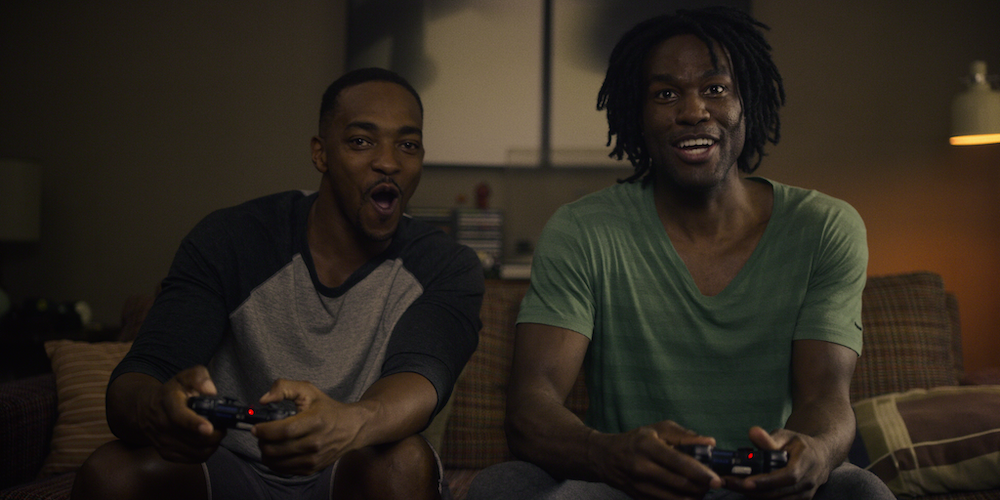 Black Mirror's long-awaited return brings only three episodes but they're lengthy—and enthralling—enough to satisfy your morbid curiosity. We won't get into the stories or twists because those are best enjoyed fresh but we will say that each of the rotating leads shine in their roles. They truly make you believe their struggle and frustration in the age of being watched and of being consumed, of watching and consuming, twenty-four hours a day. The messages the episodes send are a little too on-the-nose at times (yeah, we get it, humans abuse technology and the more advanced it gets the more it enhances our flaws) but it won't bother you too much because the actors deliver them so well. Anthony Mackie and Yahya Abdul-Mateen II will make you rethink the lines we draw around love and identity in a deeply affecting way. Andrew Scott and Damson Idris are particular standouts, sparring and feeding off of each other's pain and fear in one of the most intense standoff/locked room situations you'll see. And when Miley Cyrus starts singing those reworked Nine Inch Nails songs? The chills you'll get will be out of this world (we checked, Trent Reznor gave his blessing and we're so glad he did).
Black Mirror S5 hits Netflix on Wednesday.
From Netflix:
"SMITHEREENS": A cab driver with an agenda becomes the centre of attention on a day that rapidly spirals out of control. Cast: Andrew Scott, Damson Idris, Topher Grace

"RACHEL, JACK AND ASHLEY, TOO": A lonely teenager yearns to connect with her favorite pop star – whose charmed existence isn't quite as rosy it appears… Cast: Miley Cyrus, Angourie Rice, Madison Davenport

"STRIKING VIPERS": Two estranged college friends reunite in later life, triggering a series of events that could alter their lives forever. Cast: Anthony Mackie, Yahya Abdul-Mateen II, Nicole Beharie, Pom Klementieff, Ludi Lin
—
Tales of the City
Season 1
Fri June 7
On Netflix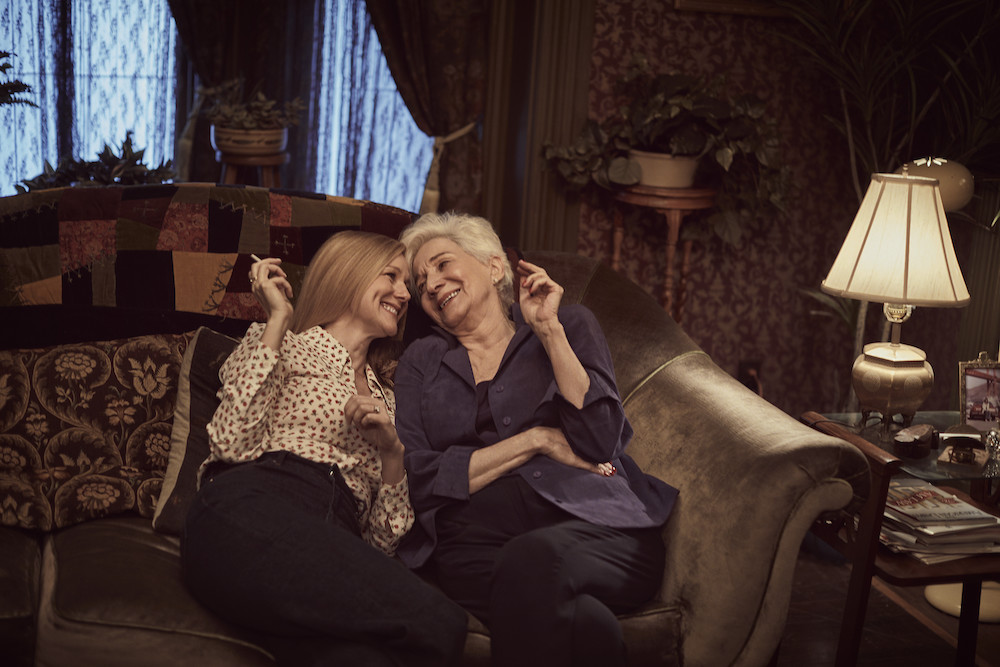 Tales of the City takes us back to 28 Barbary Lane, 26 years after it first appeared on PBS. Returning to their roles are Olympia Dukakis as the lane's eccentric landlady Anna Madrigal, Laura Linney as the runaway actress Mary Ann, and Paul Gross as Mary Ann's ex-husband Brian Hawkins. Anna is the beloved head of a flourishing queer community in San Francisco where the bonds of chosen family are strong and will make your heart sing. While Dukakis reprising her role means yet again we get cis actress playing a trans woman—something that must be called out especially in 2019—it's worth noting that the production was self-aware enough to have young Anna portrayed in a flashback by the trans actress Jen Richards who is wonderful in her role. Well done on maintaining continuity while handing the baton off the way it always should've been. The new additions to the cast run the LGBTQIA+ spectrum both onscreen and behind the camera—the showrunner is Orange is the New Black's Lauren Morelli.
Laura Linney is the prodigal lead, returning to her old life after many years away. Much of the story revolves around her trying to reconnect with her daughter Shawna (Ellen Page) and the community she once was a part of. Shawna wants nothing to do with Mary Ann but she may be more lost and in need of family than she realizes. The season explores the loves and lives of its central characters, who all get pulled into the mystery and challenge of saving the house they grew up in. A special shoutout to Shawna's friends May Hong and Garcia as Margot and Jake—you'll root for them as a couple and as individuals who are trying to figure out what their love for each other means. The stories are beautifully told and interwoven in a complex, heartfelt, and messy way that makes you feel like part of the family. Their community makes you marvel at how, one day, all love and relationships will be this open and understanding. But the show is never far away from reminding you why the characters needed to form such a tight-knit community in the first place. Tales of the City walks us through LGBTQIA+ history and reminds us of how far we've come and how much further we still have to go. This is the kind of show all teens need to grow up watching, so they know that: Home isn't a place, it's a feeling.
Watch Tales of the City on Friday, only on Netflix.
From Netflix:
Inspired by the books of Armistead Maupin, Netflix Limited Series Armistead Maupin's Tales of the City begins a new chapter in the beloved story. Mary Ann (Laura Linney) returns to present-day San Francisco and is reunited with her daughter Shawna (Ellen Page) and ex-husband Brian (Paul Gross), twenty years after leaving them behind to pursue her career. Fleeing the midlife crisis that her picture-perfect Connecticut life created, Mary Ann is quickly drawn back into the orbit of Anna Madrigal (Olympia Dukakis), her chosen family and a new generation of queer young residents living at 28 Barbary Lane. Armistead Maupin's Tales of the City is a Working Title Television and NBCUniversal International studios production for Netflix. Lauren Morelli serves as Showrunner and Executive Producer, alongside Executive Producer/Director Alan Poul, and Executive Producers Armistead Maupin and Laura Linney. Working Title's Andrew Stearn, Liza Chasin, Tim Bevan and Eric Fellner executive produce.
—
The Chef Show
Season 1
Fri June 7
On Netflix
Ever wanted to see what the Avengers do on their day off? Happy AKA Jon Favreau is teaming up with chef Roy Choi once again for a new cooking show, bringing in the likes of Robert Downey Jr, Tom Holland, Gwyneth Paltrow, Kevin Feige, and the Russo brothers to celebrate and explore cuisine from all over the world. And yup, it's just as Marvel-ous as you'd expect. If you fell in love with Favreau and Choi's 2014 film Chef, The Chef Show is the real life version that'll still make you fall in love with food all over again. Favreau is the eternal student under Choi's expert guidance. He never stops learning or loving what he discovers—watching that level of passion for a craft is inspiring in itself. Each guest brings their signature charm and love of food to the table while the chefs that Favreau and Choi meet on their culinary roadtrip bring their own home-bred cultural flavors. You'll of course hear some fantastic stories from the guests—and watching Tom Holland's reactions to everything around him is as entertaining as ever—but the conversation will always return to the food and how the craft of cooking keeps the creative juices flowing.
The Chef Show arrives on Netflix on Friday.
From Netflix:
Cooking is a journey. And making a meal is about more than just food. It's about appreciating friends, family and tradition. An opportunity to come together. To learn, to share and to celebrate different flavors, cultures and people. In The Chef Showactor/director Jon Favreau and award-winning Chef Roy Choi reunite after their critically acclaimed film Chef to embark on a new adventure. The two friends experiment with their favorite recipes and techniques, baking, cooking, exploring and collaborating with some of the biggest names in the entertainment and culinary world. From sharing a meal with the Avengers cast in Atlanta, to smoking brisket in Texas with world-renowned pitmaster Aaron Franklin, to honoring the legendary food critic Jonathan Gold in Los Angeles – Favreau and Choi embrace their passion for food, but more importantly their love for bringing people together over a delicious meal. Guests on The Chef Show include: Gwyneth Paltrow, Bill Burr, Robert Downey Jr, Tom Holland, Kevin Feige, and the Russo brothers, Andrew Rea, Evan Kleiman, Jazz Singsanong, Robert Rodriguez, David Chang, Aaron Franklin and many more. The Chef Show is executive produced and directed by Jon Favreau. Roy Choi and Annie Johnson also serve as executive producers.
—
Swamp Thing
"Worlds Apart" – Season 1, Episode 2
Fri June 7
On DC Universe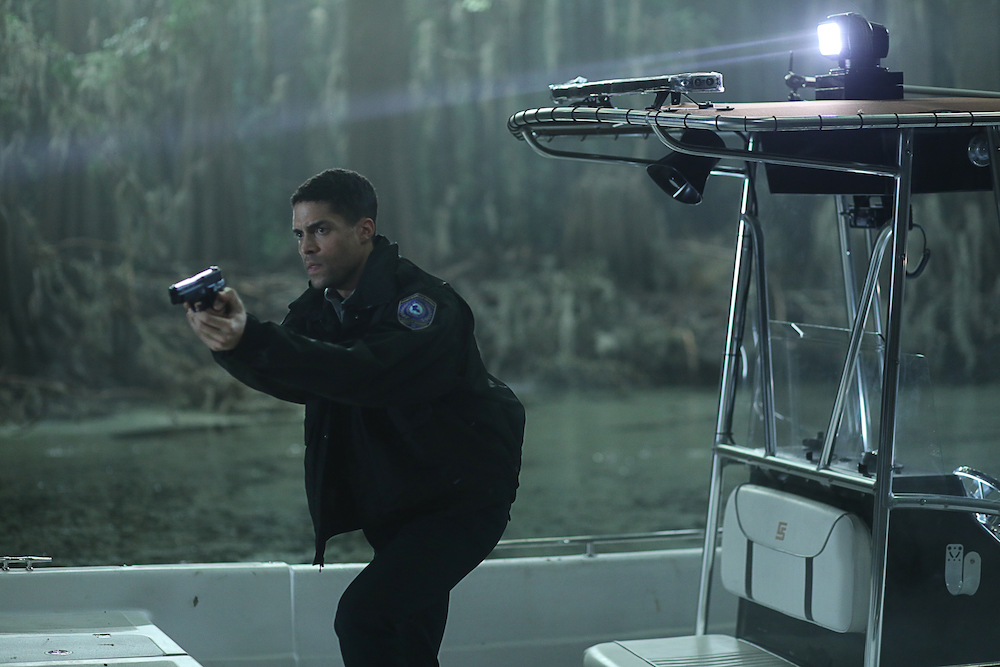 Is it a bear? Is it a plane? Nope, just the stuff of nightmares. Swamp Thing has arrived but Abby's (Crystal Reed) having a hard time convincing the town that he's real. They're used to seeing all kinds of $#!t come outta the swamp—but Swamp Thing (Andy Bean & Derek Mears) is a special kind of WTF. The virus sweeping across Marais is affecting its victims more than the doctors realize. Are they too late to save the most vulnerable? When things take a dark and bloody turn and the swamp becomes the safest place our team of scientists can be, you'll realize humans might just be the greatest monsters of them all.
Swamp Thing hits DC Universe on Friday.
From DC Universe:
Certain that Alec's disappearance is more than an accident, Abby and Matt venture into the swamp, where she encounters Swamp Thing. Scientist Jason Woodrue comes to Marais.
—
Saweetie – "My Type" [Claws Remix]
Saweetie's got her Claws out and she's ready to take you on with this fiery version of "My Type", remixed to honor TNT's most badass show. The new music video arrived today in anticipation of Claws' season three premiere on Sunday, June 9 at 9PM!