This week: Patriot Act with Hasan Minhaj, L.A.'s Finest, Adam Devine: Best Time of Our Lives, Good Trouble, Pose, Grown-ish, The Handmaid's Tale, Mr. Iglesias, Swamp Thing, Euphoria
Patriot Act with Hasan Minhaj
"Why Your Internet Sucks" – Volume 3 finale
New episodes Sunday
On Netflix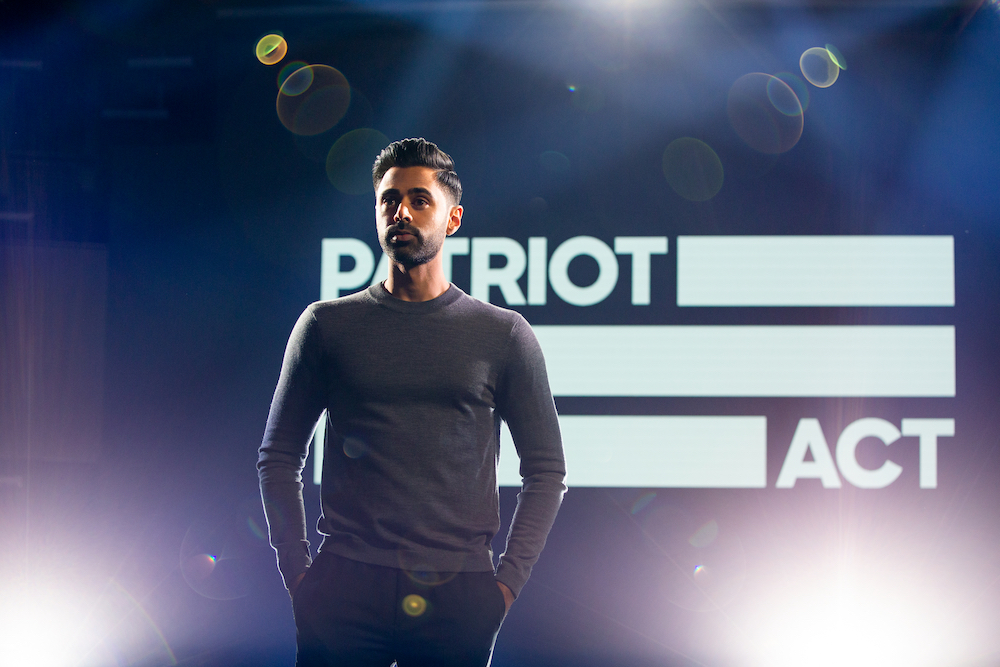 If you're reading this, there's a 100% chance you're on the internet (duh). Yup, it's safe to say we're all addicted. But there are plenty of people who don't have endless cat memes and Snapchat filters at their fingertips. Get ready to check your privilege and spare a thought for the students who have to hang out in McDonalds' parking lots just to do their homework. Hasan Minhaj breaks down the problems with Internet Service Providers (ISPs) and the scams they pull on the daily. The season finale might focus on a more lighthearted topic than recent Patriot Act episodes but "Why Your Internet Sucks" will still make you think deeper than any subreddit you've stumbled on lately.
P.S. Did you know you can still rent DVDs from Netflix? Neither did we—which is why Minhaj is giving you the chance to get this episode of Patriot Act in a physical format! (Yup, he's making sure you don't forget how hilarious he is while you wait for Volume 4 to return on August 4th.)
Stream new episodes of Patriot Act every Sunday on Netflix.
From Netflix:
As millions of Americans lack internet access, Hasan looks at the ways government and providers fail citizens and how some cities are fighting back.
—
L.A.'s Finest
"Armageddon" & "Bad Girls" – Season 1 finale
New episodes Monday
On Spectrum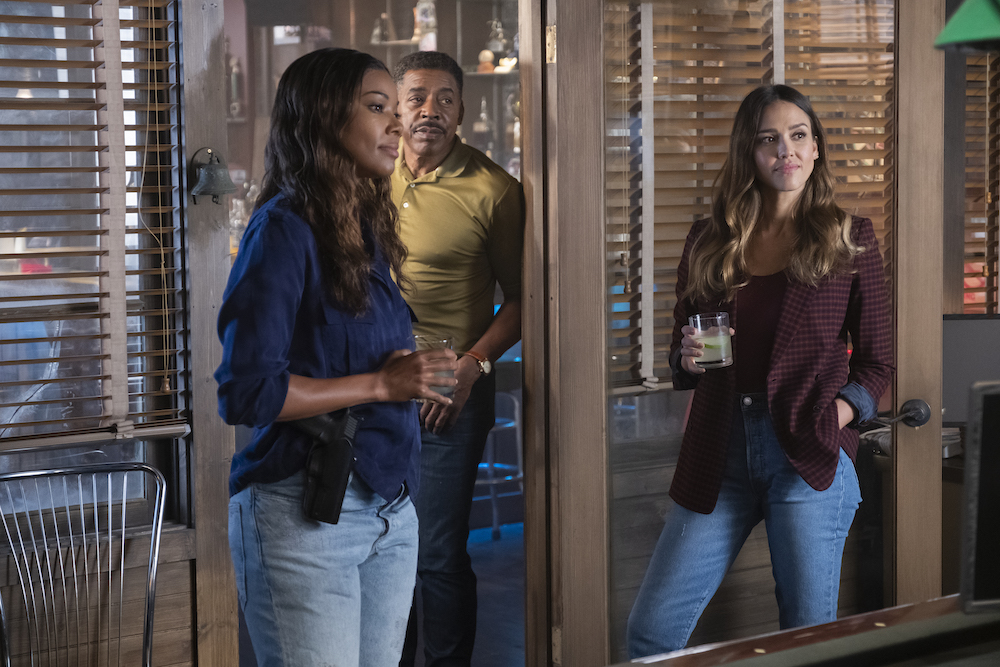 Busted…the criminal ring knows Syd and McKenna (Gabrielle Union, Jessica Alba) are cops which means things are about to spiral out of control in crazy ways. Carlene (Rebecca Budig) knows they're after her and she'll stop at nothing to protect her back. All we wanna know is: How does she stay so perfectly composed even when she's being shot at? She may be pure evil but we admire her badassery. Meanwhile Joe and Fletch's (Ernie Hudson, John Salley) bar/hacking station gets raided by police, leaving the team suspended and under internal investigation. Kicking Syd and McKenna off the LAPD is the biggest mistake they'll ever make, but even those enforcing their removal know they won't go out without a fight. And what a fight it is! The entire season has been building towards the showdown between Syd and the ones who put her in the hospital. The finale primes all the complicated storyline threads to explode. There's more than just the team's lives on the line—it's their whole worlds, their families, and everyone they know—and the results are devastating. Every single player is going to do what it takes to save the ones they love. How far they each go will shock you. Over the past 13 episodes L.A.'s Finest has painted the team with so much color and passion you'll be fully invested in their chase (and Walker and Baines' jokes. Love those guys). With the finale they're going to make your heart race and ache as you root for our Bad Girls to come out on top.
P.S. Congrats to L.A.'s Finest on being renewed for season 2!
Stream new episodes of L.A.'s Finest on Spectrum every Monday.
From Spectrum:
As Syd and McKenna finally close in on Gabriel Knox, a shocking revelation makes their fight more personal than ever before.
Syd, McKenna and the team band together as they race against the clock to save one of their own, finally coming face-to-face with their greatest enemy.
—
Adam Devine: Best Time of Our Lives
Tues June 18
On Netflix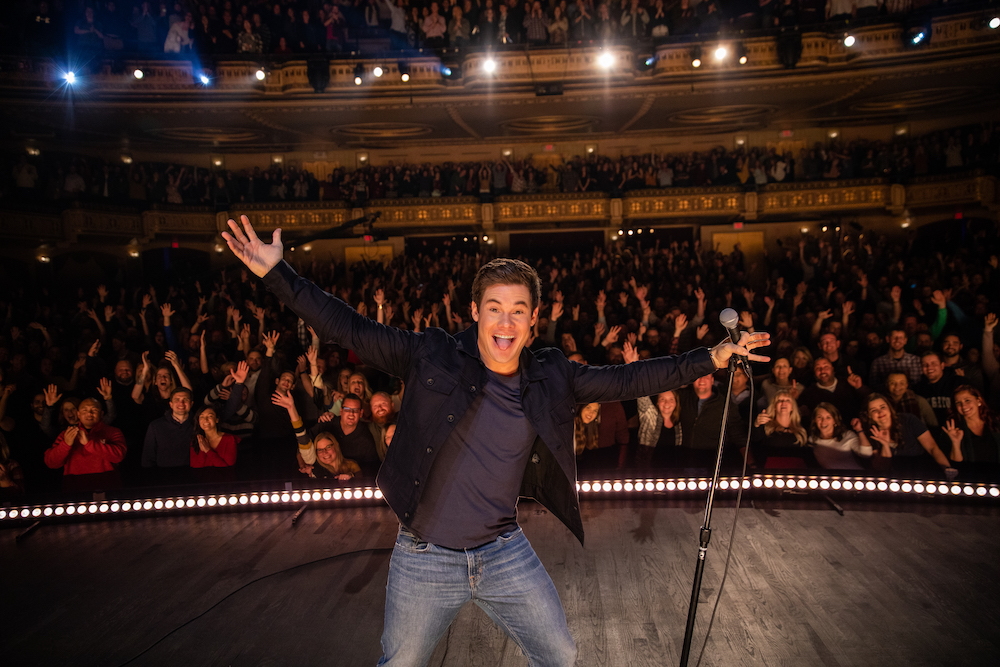 Adam Devine takes to the stage to compare the differences between being a kid and viewing the world as an adult (we know which viewpoint we prefer). He dives into the weirdness of dating in 2019 and, of course, performs his best impressions. You won't be able to resist cackling as he nails his impression of what it was like to be a teenager and shares some of the more magical (and embarrassing) memories from his own childhood. His energy is turned up to 110% and he keeps the audience entertained with stories that never seem to end, only diving down more and more sidebars. Whether you know him from Pitch Perfect or Workaholics (or you misread his name and thought he was from Maroon 5), Devine brings his brand of self-deprecating humor to spin some stories from the entertainment industry you'll have to hear to (almost) believe.
Stream Adam Devine: Best Time of Our Lives on Netflix tomorrow.
From Netflix:
Critically acclaimed comedian, Adam Devine, knows that growing up sucks and is here to tell you why. Filmed in front of a packed house at The Orpheum Theater in his hometown of Omaha, Nebraska, Devine's new Netflix comedy special will give a comedic take on the worst parts of growing up including puberty, parental judgment, and almost dying on your 21st birthday. Adam Devine: Best Time of Our Lives will launch globally on June 18, 2019.
—
Good Trouble
"Percussions" – Season 2 premiere
Tues June 18 – 8PM
On Freeform
Good Trouble returns to Freeform tomorrow.
From Freeform:
The outcome of the Jamal Thompson case is decided, and Callie is forced to decide what she's willing to fight for. Mariana jumps into a new relationship but stumbles into a situation she wasn't prepared to face. Alice attempts to win Joey back, while Davia attempts to help Dennis.
—
Pose
"Worth It" – Season 2, Episode 2
Tues June 18 – 10PM
On FX
Watch Pose on FX every Tuesday.
From FX:
Determined to be an example to her children, Blanca launches a business venture with unexpected results. Meanwhile, Ricky's travels have unpredicted consequences for his relationship with Damon, and Elektra shocks the ballroom community with a bold move.
—
Grown-ish
"Can't Knock The Hustle" – Season 2, Episode 14
Wed June 19 – 8PM
On Freeform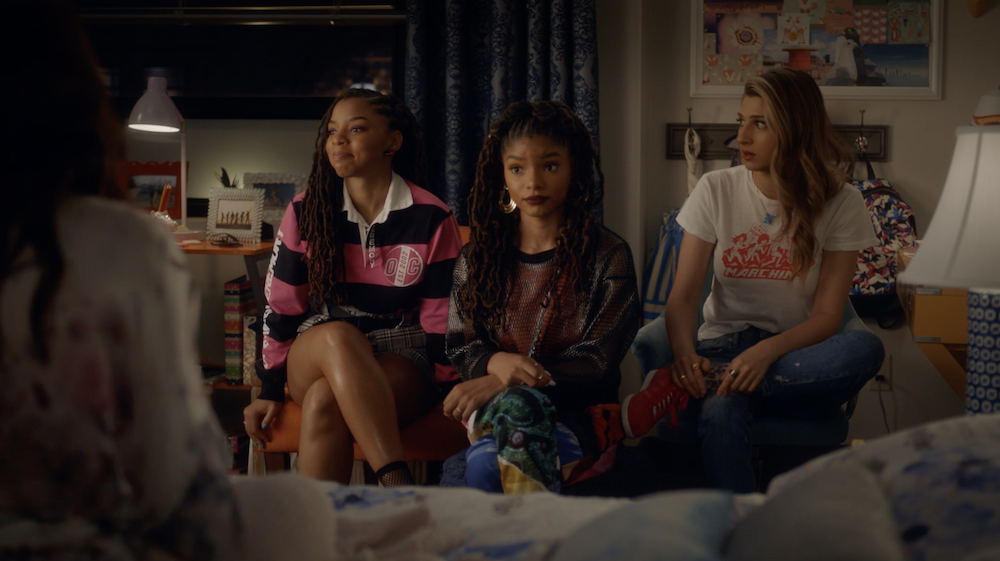 Zoey (Yara Shahidi) is on her way to fixing all her #problems… But ignoring the biggest one—her dad cutting her off—probably isn't gonna work. Her friends' advice to "Get a real job, bitch" isn't what she wants to hear though. They're all hustling to make a living. Why shouldn't Zoey? She'll make you roll your eyes so hard with her attitude. Cutting Zoey off might be the best thing for her growth but you'll find it harder and harder to root for her. But that frustration is what makes Grown-ish so endearing—these kids are learning (maddeningly slowly at times) to pick themselves up and live in the real world. Meanwhile Ana and Aaron (Francia Raisa, Trevor Jackson) take on one of the campus' long-held traditions. Y'know, out of love. Totally not out of peer pressure. It's cute how much Ana is trying to fit in (so long as she has hand sanitizer). The real talk from all our girls—friendly or otherwise—will bring the episode's ridiculousness back down to the ground to make for one hell of a steep (and rollercoaster ride) learning curve.
Grown-ish airs on Freeform on Wednesday.
From Freeform:
Zoey starts to feel the impact of her dwindling bank account. Her friends encourage her to get a job, but she struggles to find something that vibes with her career goals. Ana and Aaron consider attempting the "Shield Challenge."
—
The Handmaid's Tale
"Unknown Caller" – Season 3, Episode 5
Wed June 19
On Hulu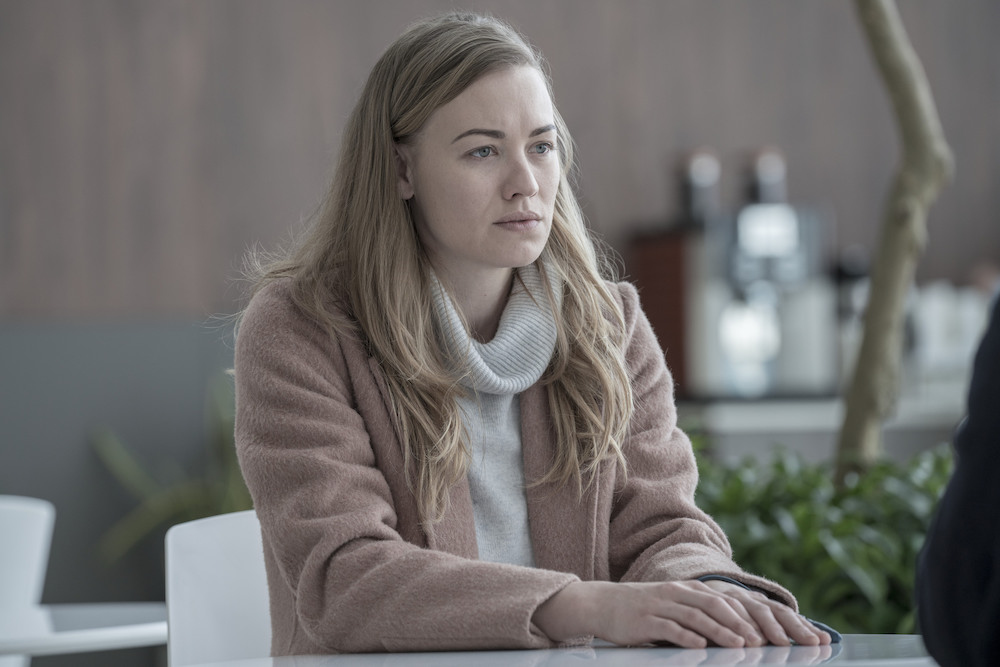 Gilead are petitioning Canada to return the "kidnapped" baby Nichole. June can't help but roll her eyes at the terminology as she continues to feed her captors what they want to hear. Serena is at her breaking point—she knows Nichole is safe but she aches to see her. When she suggests arranging a visit for Serena to say goodbye, you can see something inside June snap. That hard line that has kept her alive for the past three seasons comes to the forefront and will chill you to your very soul. You'll have newfound respect for Elisabeth Moss when you watch her bargaining for her family. Yvonne Strahovski's performance in this episode will break your heart as well. She plays the bargaining mother without a child, doing anything she can for a moment of love. The soundtrack in this episode is another highlight, used only sparingly to make the emotional moments all the more jarring. By the end you'll realize how different the two women are yet how similar they are at the same time. The unbreakable pull of motherhood makes them do unspeakable things but their decisions take them on two opposing paths. The dichotomy is all at once beautiful and terrible, bringing out the best in The Handmaid's Tale.
Stream new episodes of The Handmaid's Tale on Hulu every Wednesday.
From Hulu:
June and Serena grapple with a new revelation about Nichole, leading to an incident that will have far-reaching ramifications.
—
Mr. Iglesias
Season 1
Fri June 21
On Netflix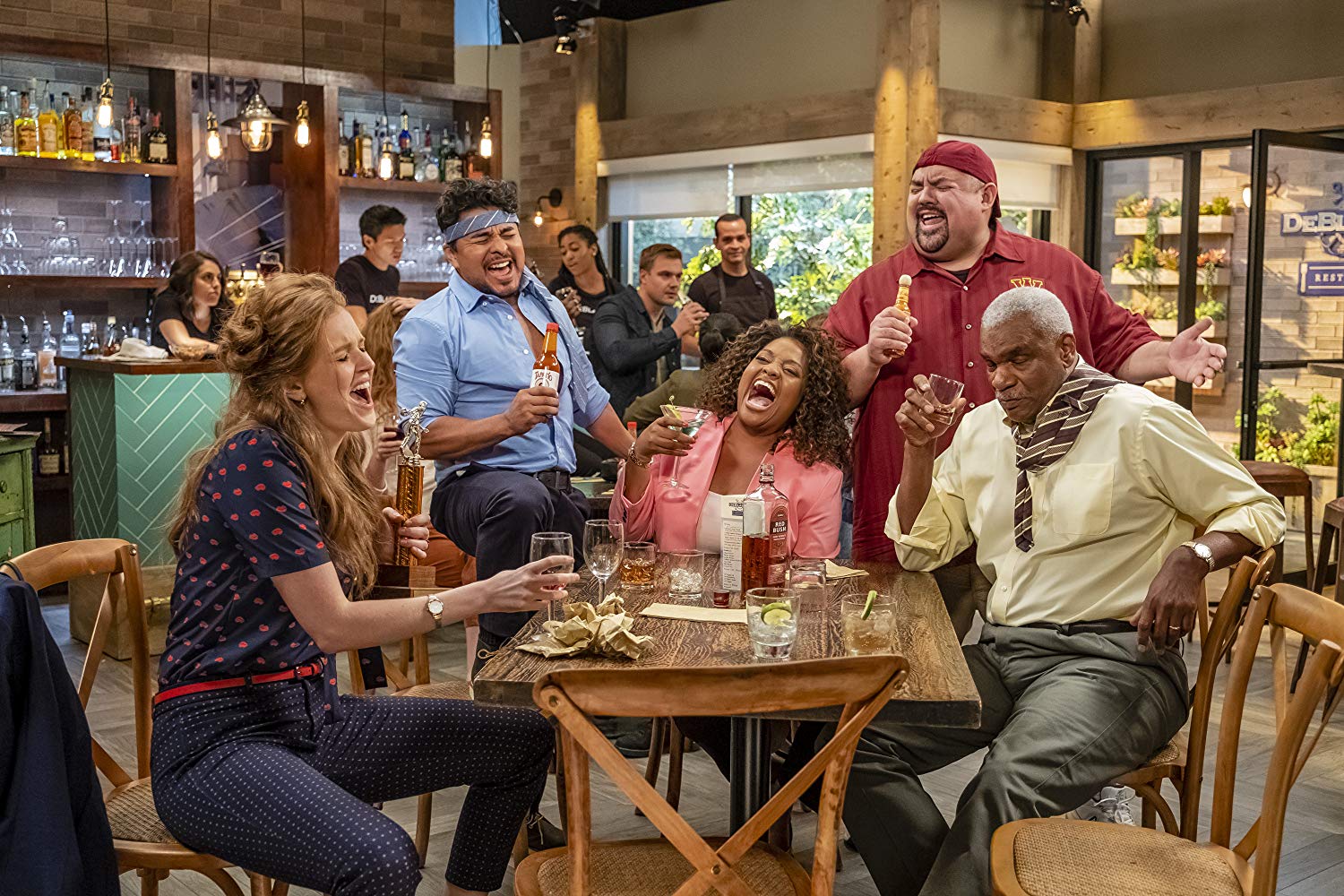 Man, if we had a teacher like Mr. Iglesias (Gabriel Iglesias) we would've enjoyed high school a whole lot more. Just one listen to his Braveheart impression when teaching the history of Scotland and you'll be sold. He cares about his students and they care about him—even if they don't really wanna learn. When a bunch of kids get "counseled out" for underperformance, he signs up to teach them in summer school. Iglesias brings the jokes and the charm and his fellow teachers bring great chemistry too. A highlight is Sherri Shepherd as the school principal who has a tough job but has an even tougher job dating. The kids are all pretty endearing too—while the supporting characters are sometimes one-dimensional they all get As for effort.
Mr. Iglesias hits Netflix on Friday.
From Netflix:
On this new Netflix multi-camera series, Gabriel Iglesias plays a good-natured public high school teacher who works at his alma mater. He takes on teaching gifted but misfit kids to not only save them from being "counseled out" by a bully bureaucrat Assistant Principal (Oscar Nuñez), but also to help them unlock their full potential. Sherri Shepherd co-stars as Principal of the high school. Iglesias executive produces alongside Kevin Hench, who executive produces FOX's Last Man Standing.
—
Swamp Thing
"Darkness on the Edge of Town" – Season 1, Episode 4
Fri June 21
On DC Universe
Stream Swamp Thing on DC Universe every Friday.
—
Euphoria
"Stuntin' Like My Daddy" – Season 1, Episode 2
Sun June 23 – 10PM
On HBO
The first episode of Euphoria had us reeling. The new HBO show is the diary of Rue Bennett (Zendaya), as she goes through life with various cognitive disabilities, gets addicted to a variety of drugs, and now has to cope with life after rehab. Imagine a teen movie but one that is abrasively honest and not at all amusing. These kids are dealing with real problems, in a format is similar to a Young Adult novel. Rue narrates the events while rewinding and fast forwarding to show us the impactful moments in her life. And also the many lives that intersect with hers. There's Jules (Hunter Schafer) the transgender new-girl-at-school who has the look of a pixie dream and the hard knock life of being objectified; Fezco (Angus Cloud) the local urban drug dealer who doesn't like to judge anyone; Kat (Barbie Ferreira) the girl mostly likely to do almost anything to feel included. And more…so many more. Euphoria is well written and hazy as a memory, which means we might be in too deep before we realize just how much it hurts.
Watch Euphoria on HBO every Sunday.
From HBO:
On the first day of school, Rue's (Zendaya) excited about her new friend, Jules (Hunter Schafer), but struggles to put the past behind her and gets into trouble at Fezco's (Angus Cloud). Nate (Jacob Elordi) becomes obsessed with Maddy's (Alexa Demie) hookup, Tyler (Lukas Gage), while trying to get back together with Maddy. Kat (Barbie Ferreira) finds out that a video of her has surfaced online. McKay (Algee Smith) takes the stress of college out on Cassie (Sydney Sweeney).