This week: Dear White People, Supermansion, Supergirl, The Flash, Chicago Med, Legion, Riverdale, The Expanse, Krypton, Station 19, Atlanta, Ali Wong: Hard Knock Wife, Killing Eve, Vida, Westworld,
Into the Badlands
—
Dear White People
Season 2
Now streaming
On Netflix
Did y'all watch Dear White People yet? Go watch, it's glorious and you can hear more about it on Geek Girl Riot.
Dive into Dear White People season 2 on Netflix now.
From Netflix:
Set against the backdrop of a predominantly white Ivy League university where racial tensions bubble just below the surface, Dear White People is an hilarious send-up of "post-racial" America that weaves together the universal story of finding one's own identity and forging a wholly unique path. The satirical series — which picks up where the acclaimed 2014 film by the same name left off – follows a group of Winchester University's students of color as they navigate a diverse landscape of social injustice, cultural bias, political correctness (or lack thereof) and sometimes misguided activism in the millennial age. Through an absurdist lens, Dear White People utilizes biting irony, self-deprecation and sometimes brutal honesty to hold up a mirror to the issues plaguing society today, all the while leading with laughter.
—
Supermansion
"Home Is Where the Shart Is" – Season 3 premiere
Mon May 7
On Crackle
Stream the season 3 premiere of Supermansion now on Crackle.
New episodes air every Monday.
From Crackle:
In the premiere episode, "Home Is Where the Shart Is," Dr. Devizo (Chris Pine) and his team of villains move into the Mansion as bona fide heroes after helping the League of Freedom save the world. The team struggles with their new roommates as Robobot (Zeb Wells) travels across the country in search of the elusive Swine Kampf (Chris Pine).
—
SUPERGIRL
"Trinity" – Season 3, Episode 17
Mon May 7 – 8PM
On The CW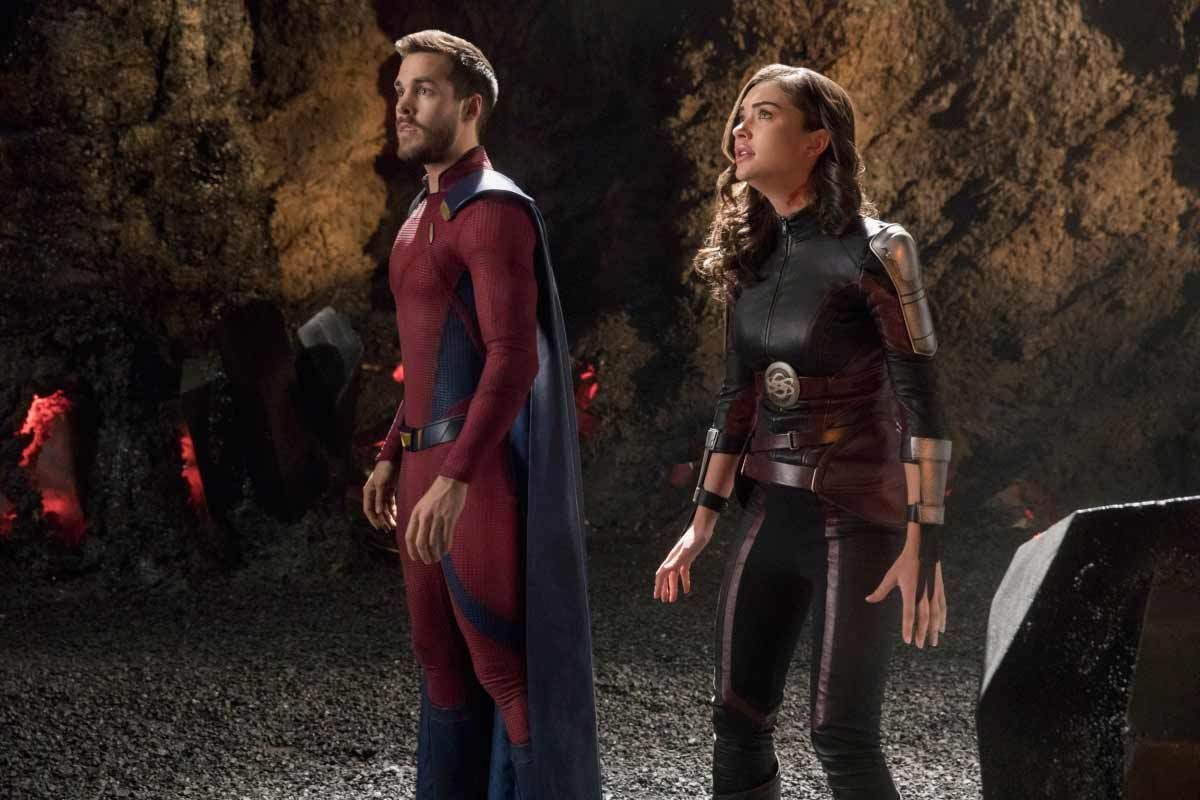 Photo: Jack Rowand/The CW — © 2018 The CW Network, LLC.
Reign (Odette Annable), Purity (Krys Marshall), and Pestilence (Angela Zhou) have been reunited like the world's most ominous girl group. Things are looking dark on Supergirl, especially when an eclipse threatens to take away Kara's (Melissa Benoist) powers. This is the showdown we've all been waiting for. There's betrayal, an uphill battle, and a rollercoaster ride of pure emotion…and Supergirl has earned every single feeling we're about to go through.
Tune into The CW every Monday for all new Supergirl.
From The CW:
Still reeling after learning about Lena's (Katie McGrath) secret, Supergirl (Melissa Benoist) asks Guardian (Mehcad Brooks) for a favor that could alter his relationship with Lena forever. Meanwhile, with all three Worldkillers united, Supergirl and the team brace for an epic battle.
—
THE FLASH
"Harry and the Harrisons" – Season 4, Episode 21
Tues May 8 – 8PM
On The CW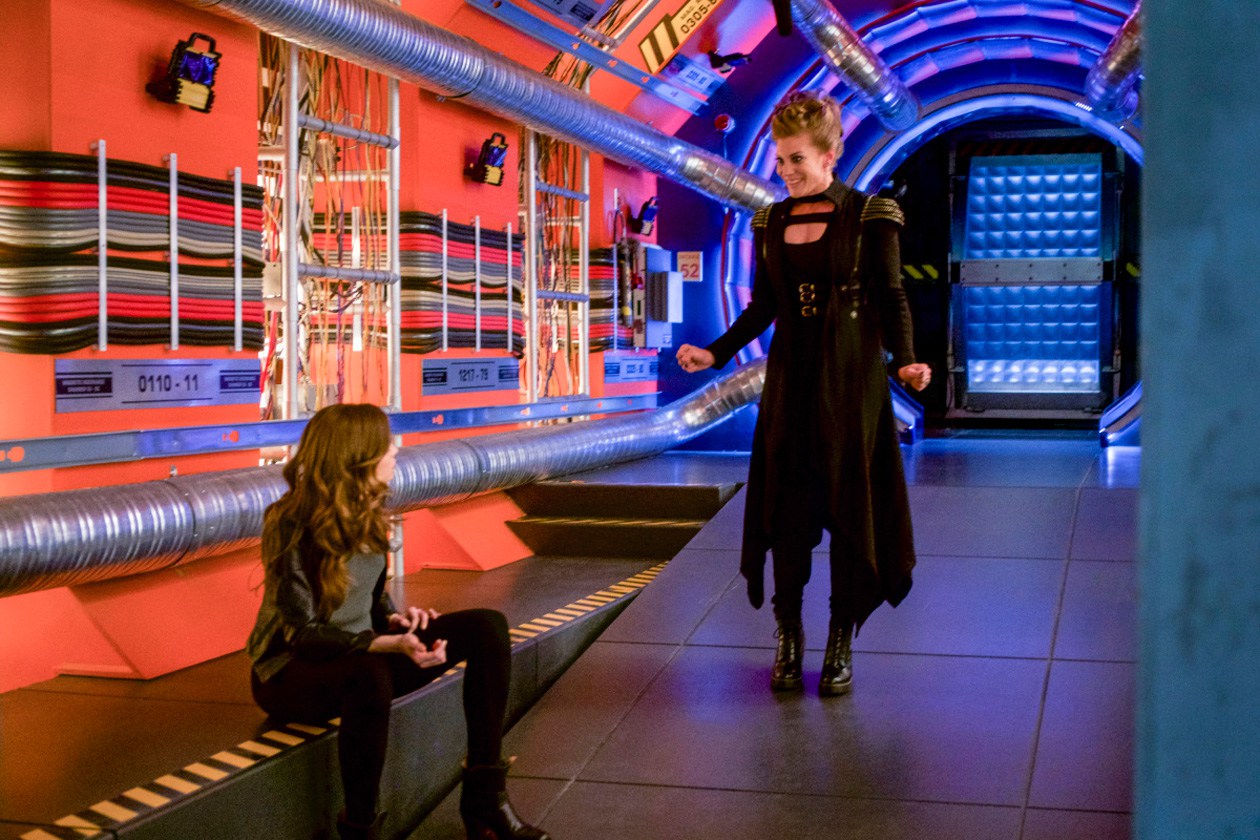 Photo: Shane Harvey/The CW — © 2018 The CW Network, LLC.
When times get tough for Team Flash, Team Flash turns to Amunet (Katee Sackhoff). Wait. What? Yup, she's the only one who's immune to DeVoe's (Neil Sandilands) powers and, even though she's a criminal with a penchant for ruining bachelorette parties, she brings a tenacious new dynamic to the group with a whole lotta firepower and even more sass. We sure have missed her.
Tune in to The CW tomorrow for all new The Flash.
From The CW:
With DeVoe's Enlightenment device nearly complete, in order to disable it The Flash (Grant Gustin) and his team must put their faith in an unlikely ally – Amunet Black (guest star Kattee Sackhoff). Meanwhile, Harry (Tom Cavanagh) hits an all-time low when the "Council of Wells" kicks him out but then Cisco (Carlos Valdes) introduces him to the "Council of Harrisons."
—
CHICAGO MED
"Crisis of Confidence" – Season 3, Episode 19
Tues May 8 – 10PM
On NBC
New episodes of Chicago Med air every Tuesday on NBC.
From NBC:
Dr. Manning rushes to save a young boy who has a life-threatening case of the flu. After discovering that opioid pain killers were stolen during last week's mass casualty, April believes Dr. Choi's sister took them. Dr. Rhodes and Dr. Bekker disagree over the best treatment for a cardiac patient who is 21 weeks pregnant.
—
FOR THE PEOPLE
"Flippity-Flop" – Season 1, Episode 7
Tues May 8 – 10PM
On ABC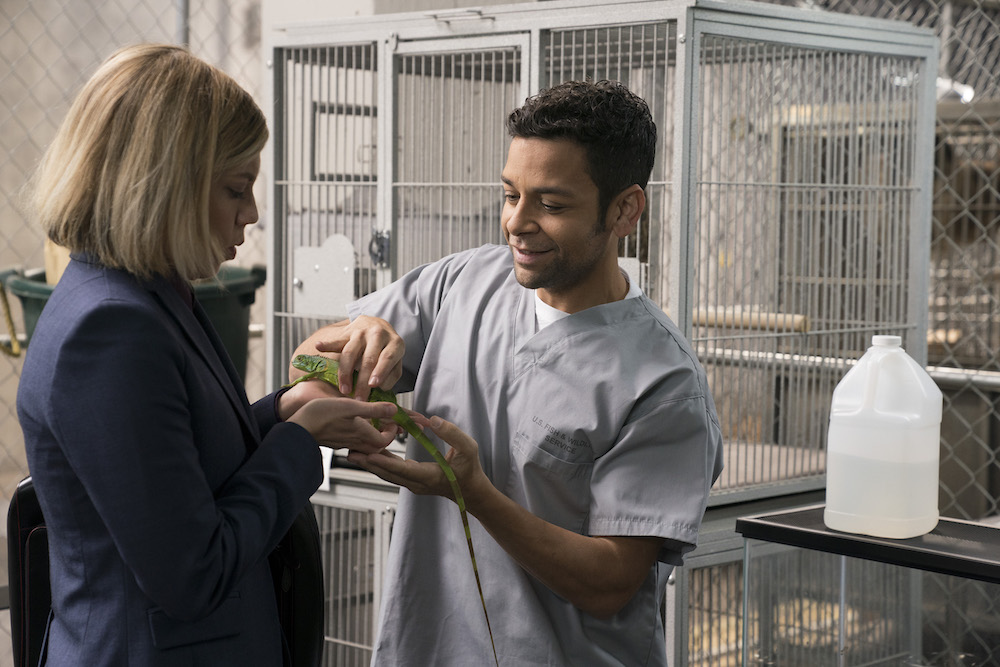 Photo: 

ABC/Mitch Haaseth
What happens when the criminals you're trained to prosecute become the ones who can help you? Ooh, For The People loves testing the limits of the law and breaking hearts, minds, and rules to keep us on our toes. We're ready to jump right in every week. Jill (Hope Davis) and Roger (Ben Shenkman) do a complete 180 and swap sides while still trying to take each other down…woe betide anyone who gets in their way. This face-off feels like two master fighters circling each other before the bell sounds and all hell breaks loose. The tension is sparking and we're on edge. There's more to law than dusty old books and rigid sentences—when people are involved things are bound to get messy. Add in complex relationships, fiery tension, along with personal gut feelings and For the People serves up a cocktail of delicious drama. And we're ordering more, more, more!
For the People airs tomorrow on ABC.
From ABC:
Jill and Roger's complicated friendship is tested when they finally square off over a DEA raid that left an inmate clinging to life. Meanwhile, Kate is assigned to an animal smuggling case involving the death of an endangered panda; and Jay's emotions are thrust into a case when he learns his trusting father was a victim in a pyramid scheme.
—
LEGION
"Chapter 14" – Season 2, Episode 6
Tues May 8 – 10PM
On FX
Legion is all new every Tuesday on FX.
From TV Guide:
Madness visits Division Three.
—
The Handmaid's Tale
"Other Women" – Season 2, Episode 4
Wed May 2
On Hulu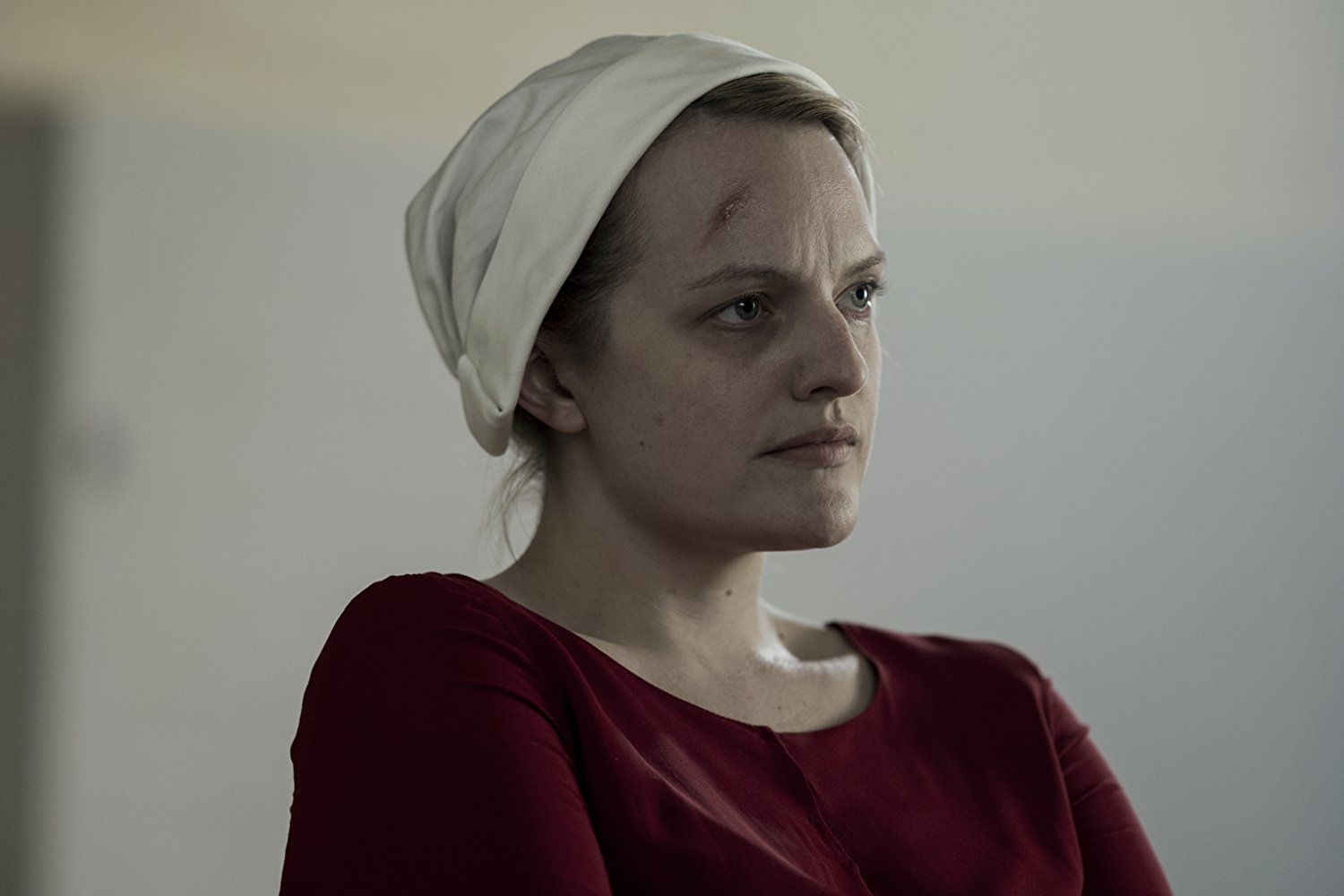 Photo by George Kraychyk - © 2018 Hulu
Season 2 of Hulu's The Handmaid's Tale has gone beyond Margaret Atwood's novel and the expansion is chilling. We see more of June/Offred's (Elisabeth Moss) story before this world in flashbacks and the contrast between the two serves as a dire warning: This future could happen and it's the people who say nothing who let it. Don't be one of them.
Dive into our The Handmaid's Tale discussion on Geek Girl Riot.
Watch The Handmaid's Tale on Hulu every Wednesday.
—
RIVERDALE
"Chapter Thirty-Four: Judgement Night" – Season 2, Episode 21
Wed May 9 – 8PM
On The CW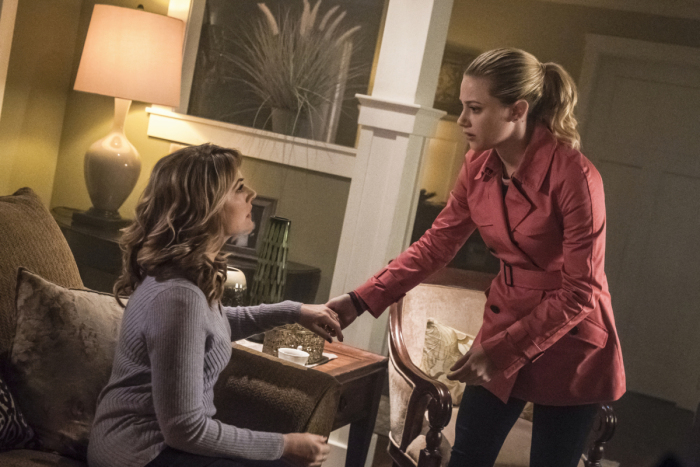 Photo: Katie Yu/The CW — © 2018 The CW Network, LLC.
Dear Betty (Lili Reinhart), what were you thinking? If you suspect Hal (Lochlyn Munro) is the Black Hood then why on earth would you confront him? Just because he's your father doesn't mean he's not potentially a murderer who's been terrorizing Riverdale. Unfortunately it might be Cheryl (Madelaine Petsch) who's going to pay the price for your carelessness. Yup, the Black Hood is about to go all The Shining on her and we're hiding behind our fingers already. The Serpents and the Ghoulies are bringing some destruction of their own to bring the season full circle, setting up every facet of Riverdale to clash head-on in next week's finale. If the penultimate "Judgement Night" is the calm before the storm then roll on the thunder. Betty, we just hope you're ready.
Head back into Riverdale this Wednesday, only on The CW.
From The CW:
When an incident at the Sheriff's station triggers an all-out war between the North and the Southside, Archie (KJ Apa) and Jughead (Cole Sprouse) find themselves in the fight of their lives. Meanwhile Veronica (Camila Mendes) makes a devastating discovery about Hiram (Mark Consuelos), just as someone from his past arrives in Riverdale looking for revenge. Finally, Betty (Lili Reinhart) comes face to face with the Black Hood.
—
THE EXPANSE
"Triple Point" – Season 3, Episode 5
Wed May 9 – 9PM
On Syfy
The Expanse airs on Syfy every Wednesday night.
From Syfy:
The search for Prax's daughter comes to a head. Admiral Souther's men plan for mutiny aboard the Thomas Prince.
—
KRYPTON
"Savage Night" – Season 1, Episode 8
Wed May 9 – 10PM
On Syfy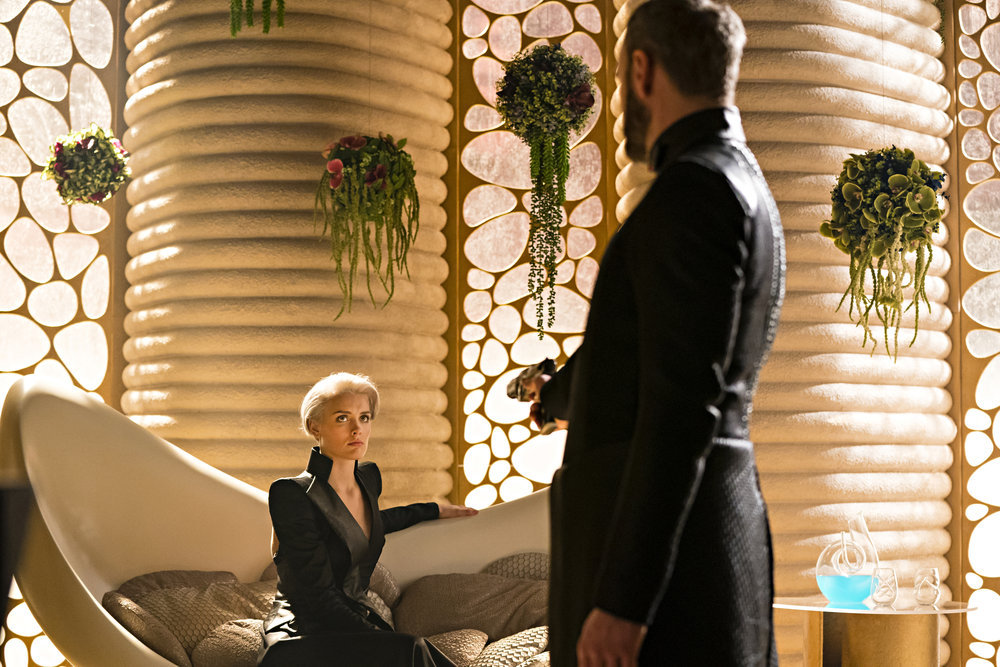 Photo by: Steffan Hill/Syfy
Every action has an equal and opposite reaction. Every power grab has an uprising. Every tyrant has their downfall. It's the law of the universe and Krypton's is no different. The people of Krypton have had enough and they're forming a resistance to the Voice of Rao AKA Brainiac's (Blake Ritson) reign. Seg-El (Cameron Cuffe) is beginning to realize that Rao-niac might not be his only enemy. Is Adam Strange (Shaun Sipos) working with him or against him? Wouldn't that be the ultimate betrayal by the universe? Krypton's got us by the heartstrings and they're playing fast and tight with the storytelling—one shocking revelation at a time.
Head to Krypton this Wednesday on Syfy.
From Syfy:
A resistance movement begins to form to impede the Voice of Rao's increasing power and influence.
—
STATION 19
"Hot Box" – Season 1, Episode 9
Thurs May 10 – 9PM
On ABC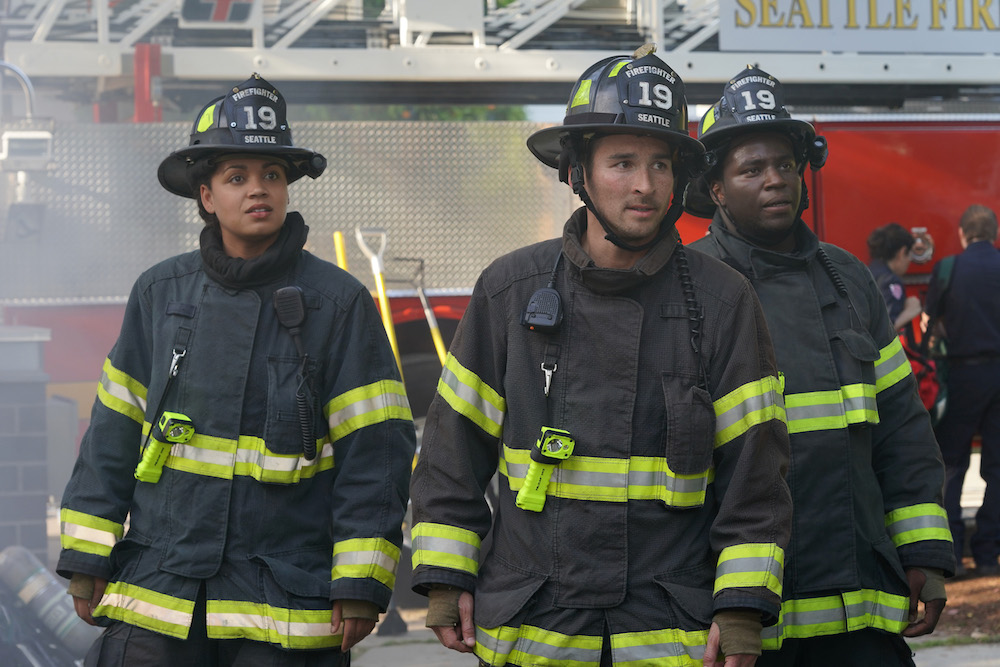 Photo: 

ABC/Byron Cohen
There's nothing like the penultimate episode of a season to heat things up. There's also nothing like being stuck in a house that's on fire to really put the pressure on. Luckily Station 19 thrives under pressure and keeps adding to it to set up an explosive finale. Andy (Jaina Lee Ortiz) and some of the crew get trapped in a burning garage and it'll take an intensity like this for the truth to come out…we just hope Andy doesn't find out what her dad (Miguel Sandoval) said about her becoming captain. That's the kind of truth that cuts deep. Once again Station 19 knows just how to twist the knife and make you feel every second of it.
Watch Station 19 on ABC this Thursday.
From ABC:
In the final days before the Station 19 captaincy is announced, Pruitt warns Andy not to be disappointed with the outcome. Meanwhile, Ben gets upset with Pruitt for having told Bailey the dangers of firefighting; and the team gets trapped inside the garage of a burning house, putting several lives at risk.
—
ATLANTA
"Crabs in a Barrel" – Season 2, Episode 11
Thurs May 10 – 10PM
On FX
Atlanta airs this Thursday on FX.
From TV Guide:
Going where the money goes is important, but it's hard when something holds a person back.
—
Childish Gambino – "This Is America"
And if you haven't watched Childish Gambino's seminal video "This Is America", then prepare to have your heart ripped out. Gambino uses cartoonish violence and dance to lampoon multiple layers of America's issues, as they relate to its black populace. Here we see not only black people but black-American musical iconography slayed with guns that are treated better. Meanwhile, Gambino spits repetitive verses that explode cultural landmines while dancing like a Jim Crow minstrel. This video is stunning and painful. There is so much to see—even the background exposes the many ways the pseudo lavish lifestyle we're being fed on social media is actually a distraction tool. Blink and you'll miss it, blink and your culture will become nothing but coins on the ground. Then there are the high school students dancing behind Gambino, mimicking his every move, symbolically showing how the next generation is being infected by the new minstrel show…and…yeah, we have to say this is well done satire—the kind of art that can fuel a movement. Wake up.
—
Ali Wong: Hard Knock Wife
Stand-Up Comedy Special
Fri May 13
On Netflix
Yeah, it's Ali Wong getting real about parenthood. We're raising our glasses and getting ready to cheer in anticipation.
Ali Wong: Hard Knock Wife premieres on Netflix this Friday.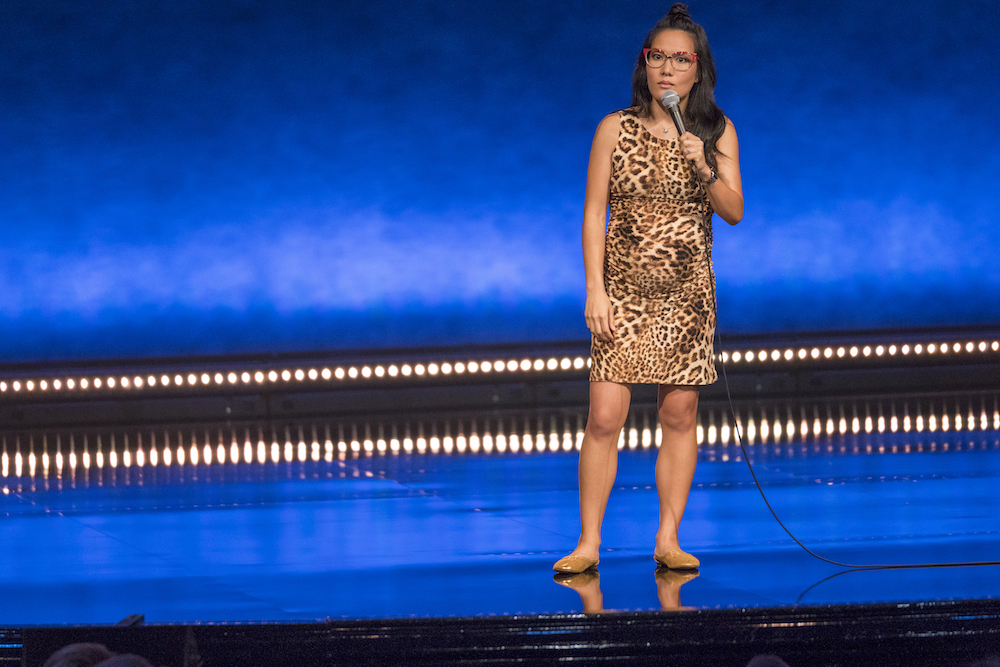 Photo: Ken Woroner
From Netflix:
Two years after giving birth to her daughter, a very pregnant Ali Wong returns to Netflix in her second original stand-up comedy special, Ali Wong: Hard Knock Wife. The always unapologetic and nasty first time mom gets real on why having kids is not all it's cracked up to be, including the challenges of breastfeeding, balancing family and career post pregnancy, and why all women deserve three years of paid maternity leave. Filmed at Toronto's Winter Garden Theatre, the one-hour special premieres globally on May 13, 2018, only on Netflix.
—
KILLING EVE
"Take Me to the Hole!" – Season 1, Episode 5
Sun May 6 – 8PM
On BBC America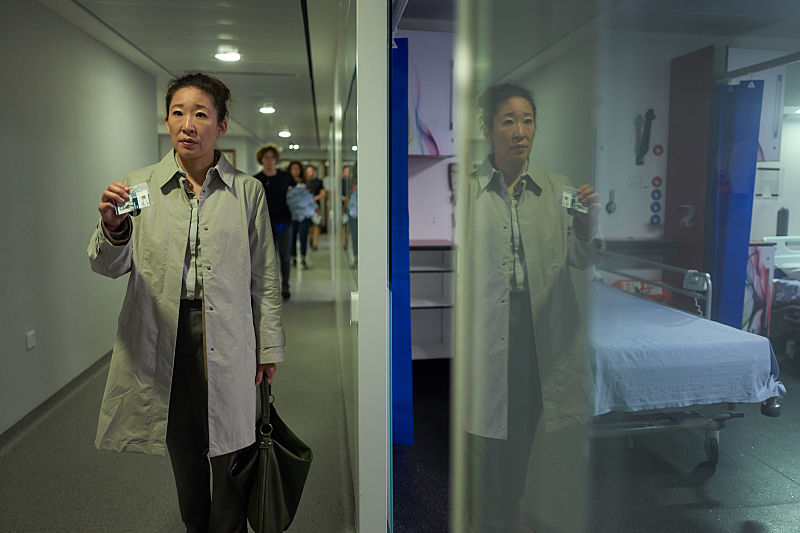 Photo: BBC America
Eve (Sandra Oh) and Villanelle (Jodie Comer) are set to cross paths again on Killing Eve this week but under much different circumstances. This time it's Villanelle who's being held prisoner…although for her it's a choice. Does she realize the gravity of the…um…place she's headed into? If she does, she hides it well. This Russian institution is colorless, grim, and completely devoid of humanity. We'd be scared for her if we didn't know her game. (Okay, we're holding our breath anyway.) Meanwhile Eve heads to the same prison to negotiate access to another inmate and we're not entirely sure she realizes the gravity of her situation either…in spite of last week's tumultuous "date". Oh, her husband, poor clueless Niko (played to annoying brilliance by Owen McDonnell) has finally snapped but Eve isn't backing down. She's in too deep. Both leads will stop at nothing and we're both ready for the showdown and hoping the chase will never end—it's too damn thrilling. The beauty of this show lies in its paradox: You do and don't want them to find each other, you do and don't fear for them, you do feel a sense of camaraderie with them but you sure as hell don't want to meet them in life…or death.
Killing Eve airs every Sunday on BBC America.
From BBC America:
A female assassin is taken into custody in Russia, and Eve and Carolyn head out to Moscow to negotiate access. She could hold the key to the organisation that runs Villanelle. Meanwhile, Villanelle is smuggled into the same Russian jail. It's a grim and brutal place, where not even Villanelle is safe.
—
Vida
"Episode 2" – Season 1, Episode 2
Sun May 13 – 8:30PM
On Starz
Vida airs on Starz this Sunday.
From Starz:
Eddy struggles to connect with the two sisters as Lyn falls into old neighborhood patterns and Emma searches for a way out.
—
WESTWORLD
"The Riddle of the Sphinx" – Season 2, Episode 4
Sun May 13 – 9PM
On HBO
Dive into Westworld every Sunday on HBO.
From HBO:
Is this now? If you're looking forward, you're looking in the wrong direction.
—
INTO THE BADLANDS
"Blind Cannibal Assassins" – Season 3, Episode 4
Sun May 13 – 10PM
On AMC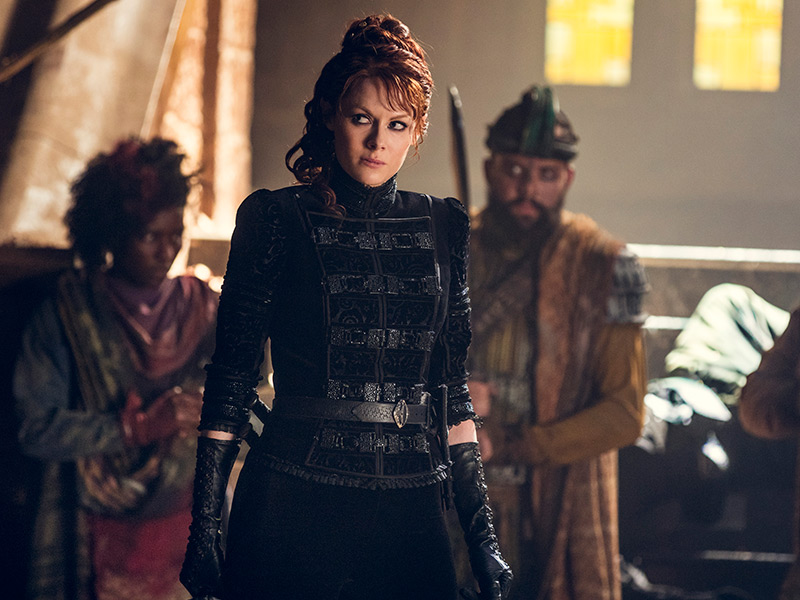 Photo: AMC
Violence = power on Into the Badlands and Sunny (Daniel Wu) can't escape either force. Nathaniel (Sherman Augustus) is hot on his trail but Sunny's got other problems to deal with first. Pilgrim (Babou Ceesay) is back in the spotlight this week and we're about to unwrap another layer of mystery surrounding his powers. He's got incredible pull and is bringing dangerous ideas of freedom and sacrifice (dangerous to who, exactly, we're not sure yet). Tilda (Ally Ioannides) is on a mission to save M.K. (Aramis Knight) and while we're so excited to see the pair reunite we fear it's not the right time…but when is the timing ever good for our faves? Revolution is in the air and we all know that means blood…and even more glorious fight scenes. Also, did you check out that title? Because this time around Into the Badlands does what it says on the tin…we're just hoping the tin doesn't have someone's baby in it (that's not a spoiler that's a scream).
Head Into the Badlands every Sunday on AMC.
From AMC:
Sunny and Bajie face off against a deadly new foe with a dark connection to Sunny's past; Chau enlists her brother in the fight against Pilgrim.