This week: Supergirl, The Terror, The Flash, The Middle, For The People, Legion, The Handmaid's Tale, The Expanse, Krypton, Trollhunters, Killing Eve, Vida, Westworld, Into the Badlands
SUPERGIRL
"The Fanatical" – Season 3, Episode 19
Mon May 21 – 8PM
On The CW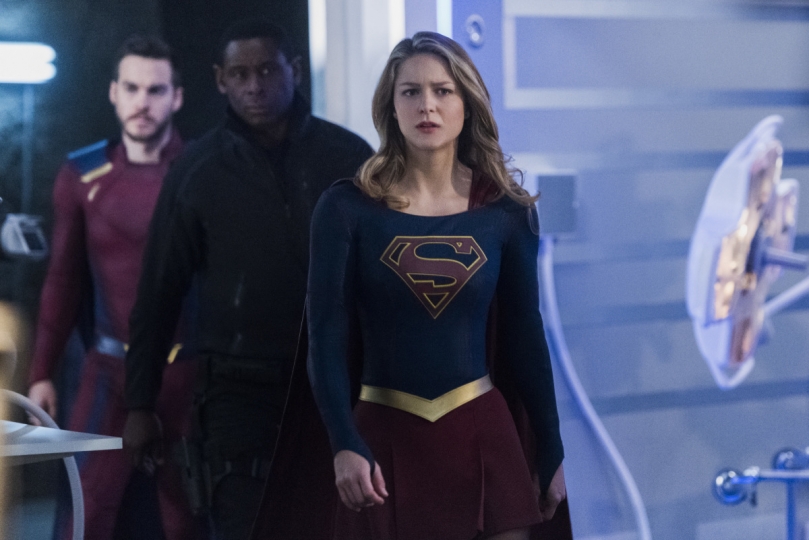 Photo: Dean Buscher/The CW -- © 2018 The CW Network, LLC.
Supergirl continues to dig deep and ask tough questions that plague not just superheroes but us regular humans too. Reign (Odette Annable) might be under Supergirl's (Melissa Benoist) watch for now but they're still no closer to figuring out how to save Reign's better half, Sam. As the team tries to balance between the Worldkiller and their friend, the focus shifts to James (Mehcad Brooks) in tonight's episode. He questions what it's like to be a black vigilante in America and the realities he faces are both eye-opening and heartbreaking. Supergirl blends fantasy and reality so seamlessly sometimes you forget it's not real—and, damn, the show will move you. And our good friend Paula Yoo wrote this episode along with Eric Carrasco so you know it's gonna be good.
Tune into The CW every Monday for all new Supergirl.
From The CW:
When Tanya (guest star Nesta Cooper), a disciple of Coville's, escapes from what's left of his cult, she gives Kara (Melissa Benoist) and James (Mehcad Brooks) a journal that could hold the key to saving Sam (Odette Annable). Someone learns Guardian's identity and threatens to expose James if he doesn't do what they ask. James contemplates what it means to be a black vigilante without a mask in America.
—
THE TERROR
"We Are Gone" – Season 1 finale
Mon May 21 – 9PM
On AMC
Watch the season finale of The Terror tonight on AMC.
From AMC:
The expedition's epic journey reaches its climax as men find themselves in a final confrontation with the Inuit mythology they've trespassed into.
—
THE FLASH
"We Are The Flash" – Season 4 finale
Tues May 22 – 8PM
On The CW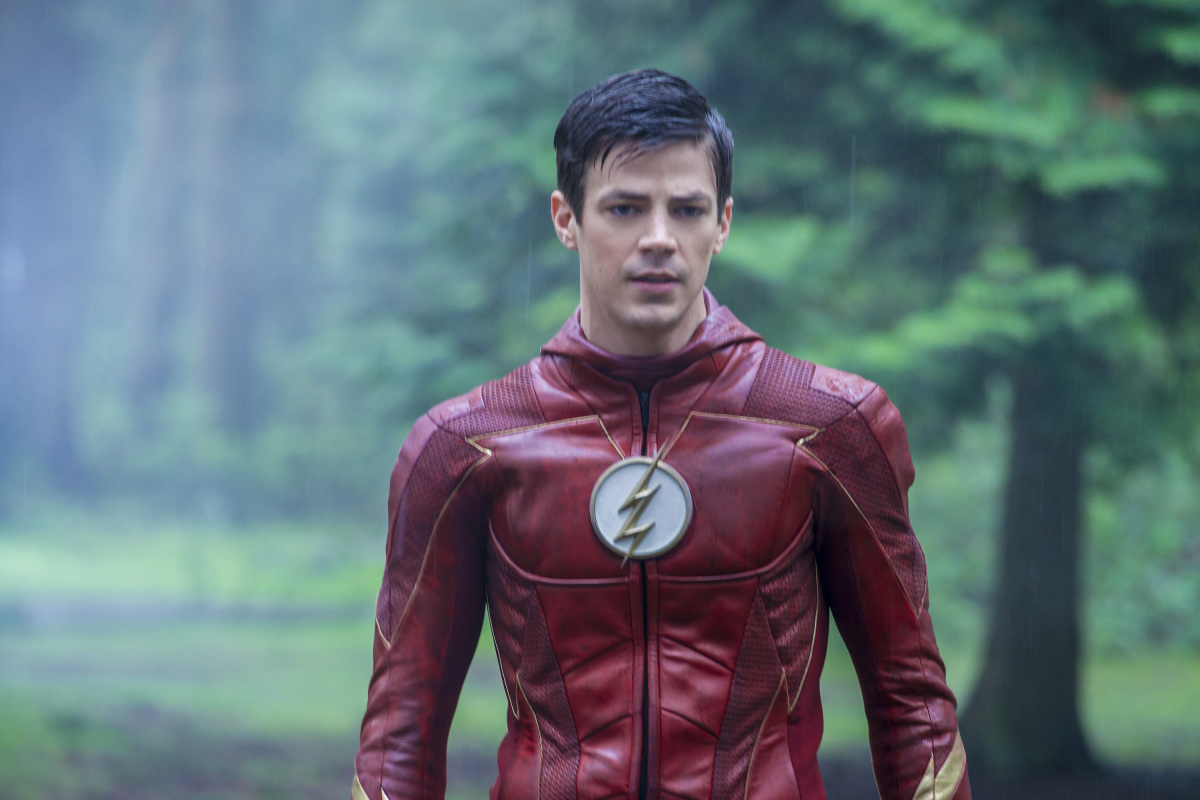 Photo: Shane Harvey/The CW -- © 2018 The CW Network, LLC.
The Flash is about to take a leaf out of Inception's book in the season finale. When Barry (Grant Gustin) goes into The Thinker's (Neil Sandilands) mind, y'all, things are about to get very weird. Barry might be in too deep. Fortunately Team Flash gains a few more allies this week to help in their fight, including Cecile Horton (Danielle Nicolet) and, finally, Marlize DeVoe (Kim Engelbrecht). You go, girl! Team Flash is pulling out all the stops to take down The Thinker and his wife's defection will make the final showdown not only a battle of power but one of raw emotion. The Flash mixes all the action of a big screen blockbuster with a whole lotta heart. Even after four seasons, the show is still as fresh as day one. Dammit, Flash, you know just how to hook us!
Tune in to The CW tomorrow for all new The Flash.
From The CW:
Team Flash gets help from a surprising ally in their battle against DeVoe (Neil Sandilands).
—
THE MIDDLE
"A Heck of a Ride" – Series finale
Tues May 22 – 8:30PM
On ABC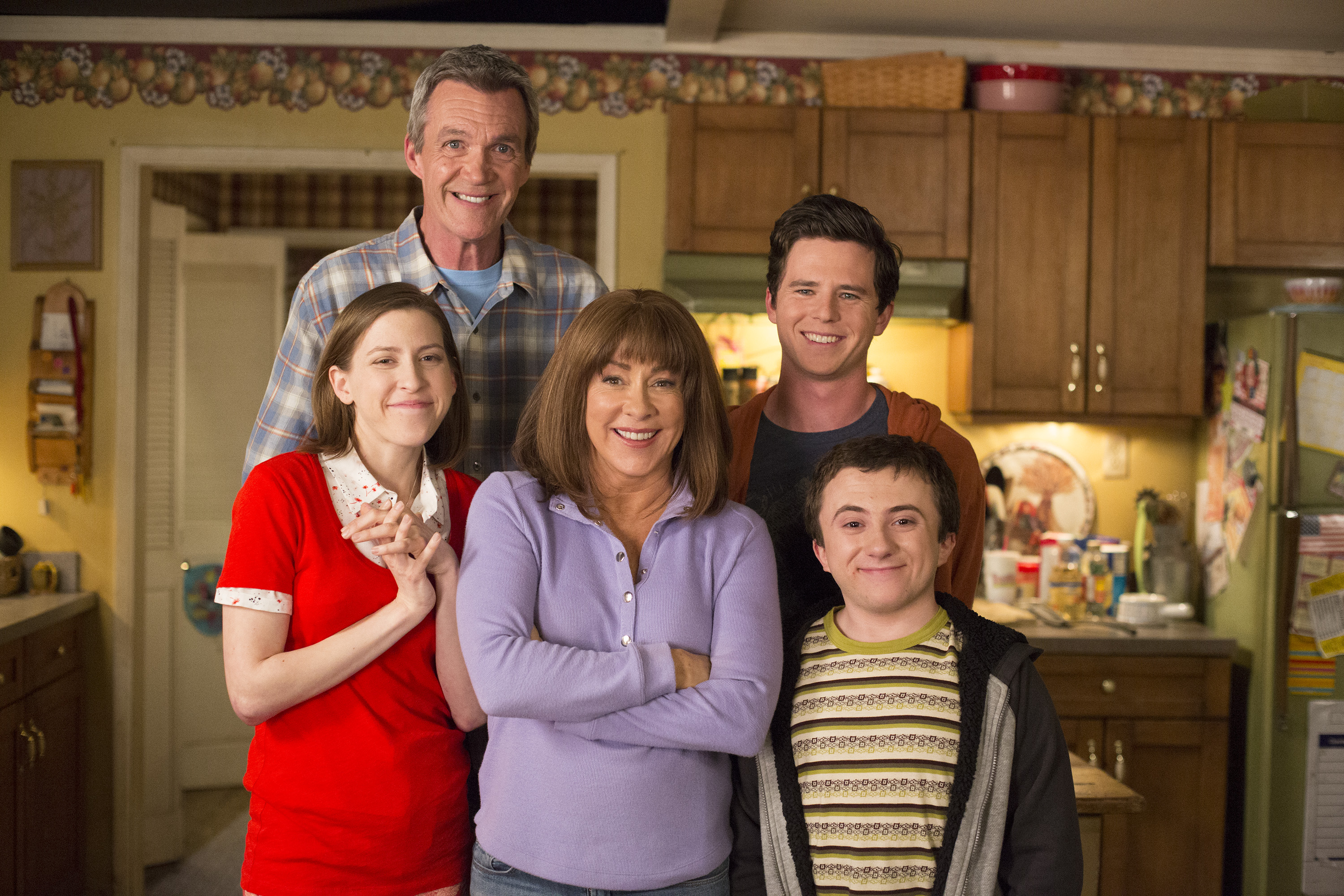 Photo: 

ABC/Michael Ansell
The Hecks have been filling your living room with family comedy for nearly ten years but their time in The Middle has come to an end. Like Everybody Loves Raymond and Malcolm In The Middle before it the show will live on in reruns. Also we'll keep that fuzzy feeling of watching a good sitcom as we fall asleep on the sofa. To close out their ninth season, oldest child Axl (Charlie McDermott) moves to Denver to start a new job. Is it a coincidence he'll end up in the mile high city? Probably not. Either way we're stocking up on tissues to watch Frankie (Patricia Heaton) say goodbye to her first baby while we say farewell to a well loved TV family.
Say goodbye to the Hecks tomorrow on ABC's The Middle.
From ABC:
After nine hilarious and heartfelt seasons, a Heck leaves the nest as the family takes a road trip to Denver, where Axl will start his new job – and new life away from home.
—
FOR THE PEOPLE
"This is What I Wanted to Say" – Season 1 finale
Tues May 22 – 10PM
On ABC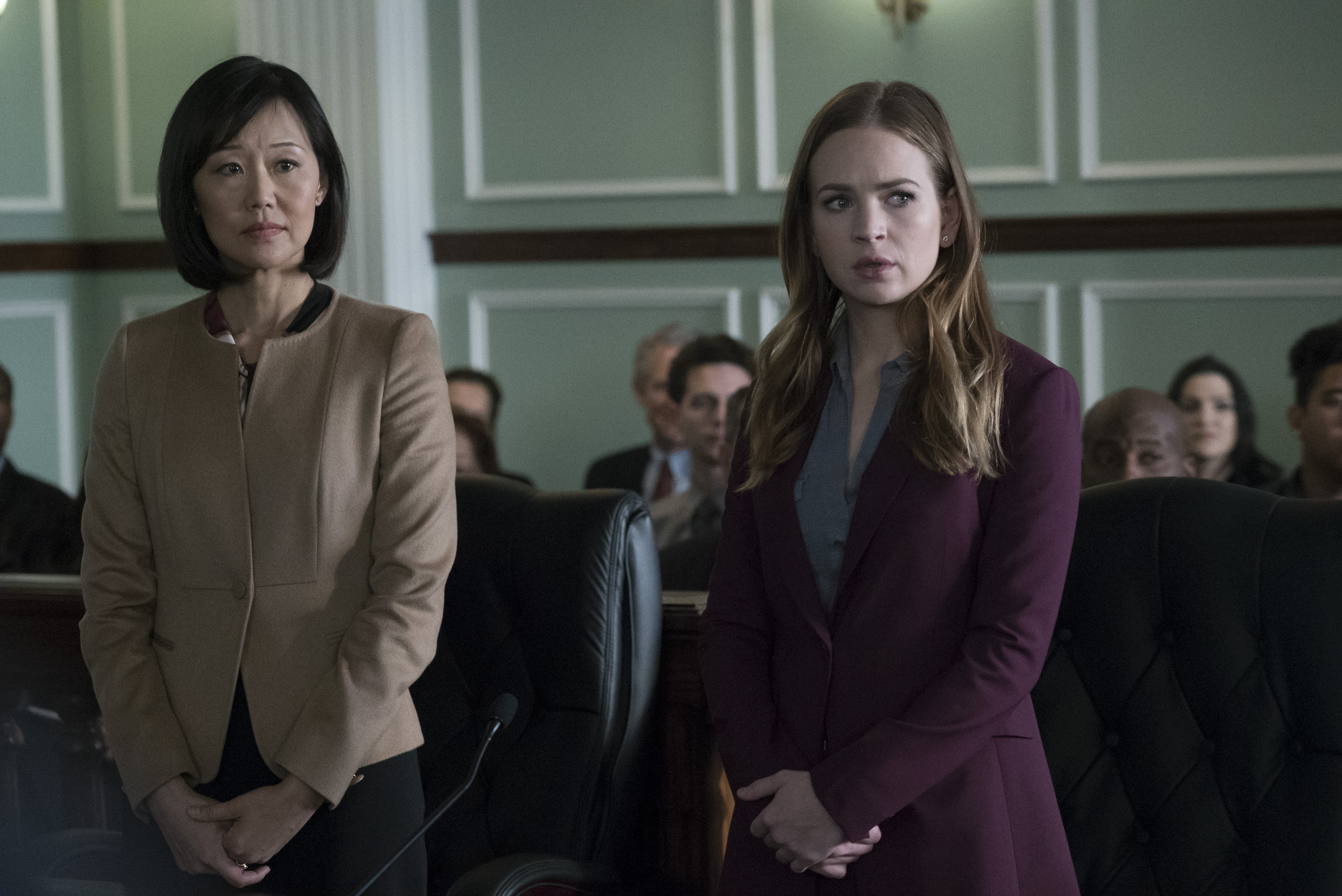 Photo: 

ABC/Richard Cartwright
Y'know the phrase "you could cut the tension like a knife"? Well, you're gonna need something a whole lot sharper for the season finale of For The People. It seems like everyone's butting heads this week…even more than usual…whether it's Leonard (Regé-Jean Page) and Kate (Susannah Flood) trading competitive remarks about how well their day is going (let's see how long that lasts) or Jay (Wesam Keesh) having to step up against…Kate (welp). After the emotional turmoil of last week's case, Sandra (Britt Robertson) can't catch a break; she's gotta try, try, try again at a case very similar to one she previously lost. Practice makes perfect, right? Over the course of the season For The People has mastered an uncanny ability to back its characters into a corner just to see how well they come out swingin' and we can't get enough. Good thing this Shonda is coming for more drama next season.
For the People airs tomorrow on ABC.
From ABC:
Sandra defends a hydrologist accused of spying for the Chinese government, but the similarities between this and a former case she lost has her confidence shaken. Meanwhile, Jay faces his fears and goes up against Kate in a case involving a PTA president accused of selling drugs to students; and Allison receives a tempting proposition from her wine-forger client and Leonard reaches out to Kate for advice that culminates with a surprising confession.
—
LEGION
"Chapter 16" – Season 2, Episode 8
Tues May 22 – 10PM
On FX
Legion is all new every Tuesday on FX.
From TV Guide:
The path forward is revealed.
—
The Handmaid's Tale
"First Blood" – Season 2, Episode 6
Wed May 23
On Hulu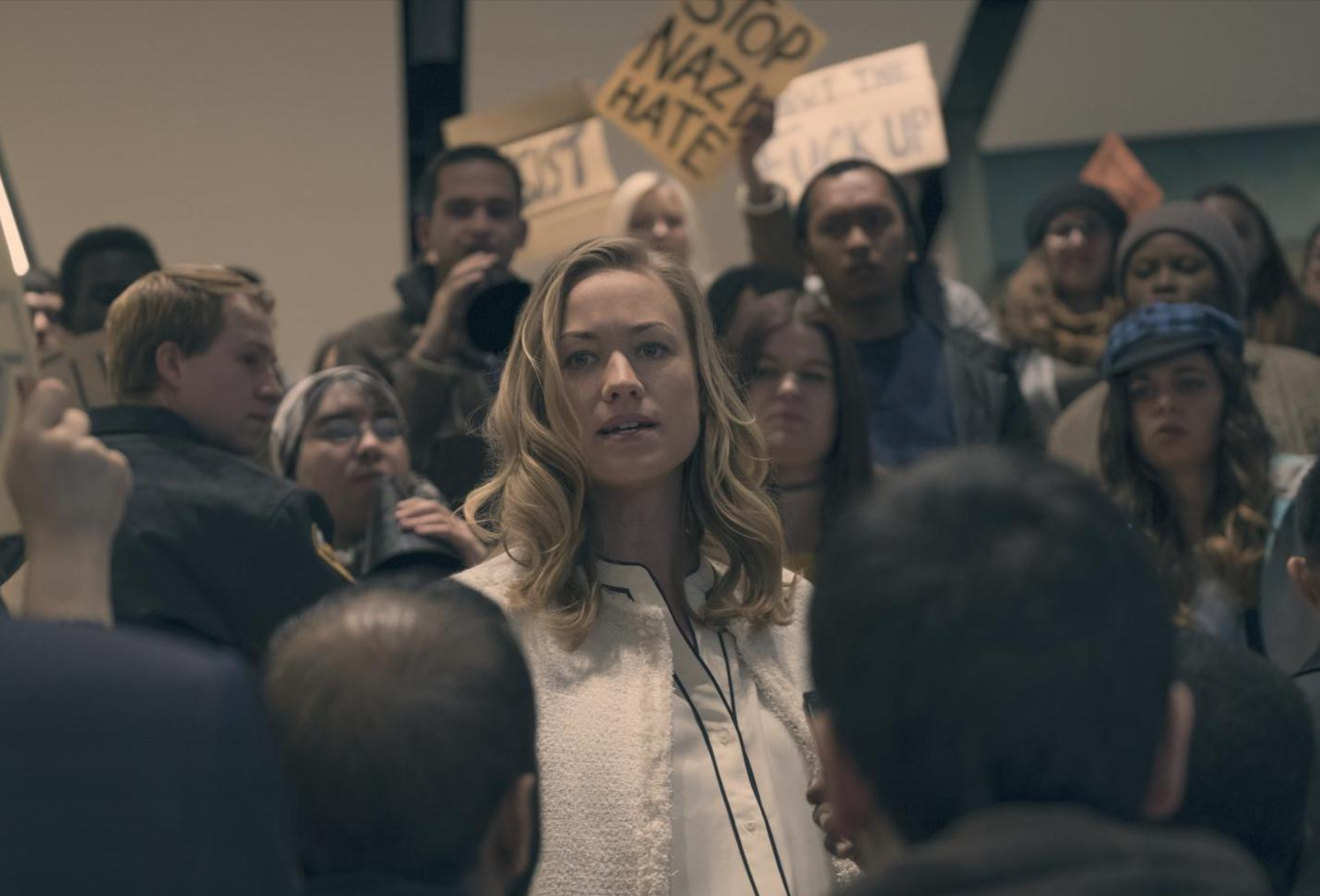 Photo: Hulu
We may watch The Handmaid's Tale wondering how long it'll take June/Offred (Elisabeth Moss) to break…but this week it's Serena Joy (Yvonne Strahovski) who's giving us pause. In "First Blood" we get a glimpse into her past and how she spiralled from radical speaker into leader of the government revolution. Every story, no matter how twisted, has a beginning—even if we don't want to believe it. Most of the time with The Handmaid's Tale we don't want to see these stories but we must in order to truly understand the pain, the loss, the terror. This fiction must never become reality. This ain't a cautionary tale, it's a warning siren.
Watch The Handmaid's Tale on Hulu every Wednesday.
—
THE EXPANSE
"Delta-V" – Season 3, Episode 7
Wed May 23 – 9PM
On Syfy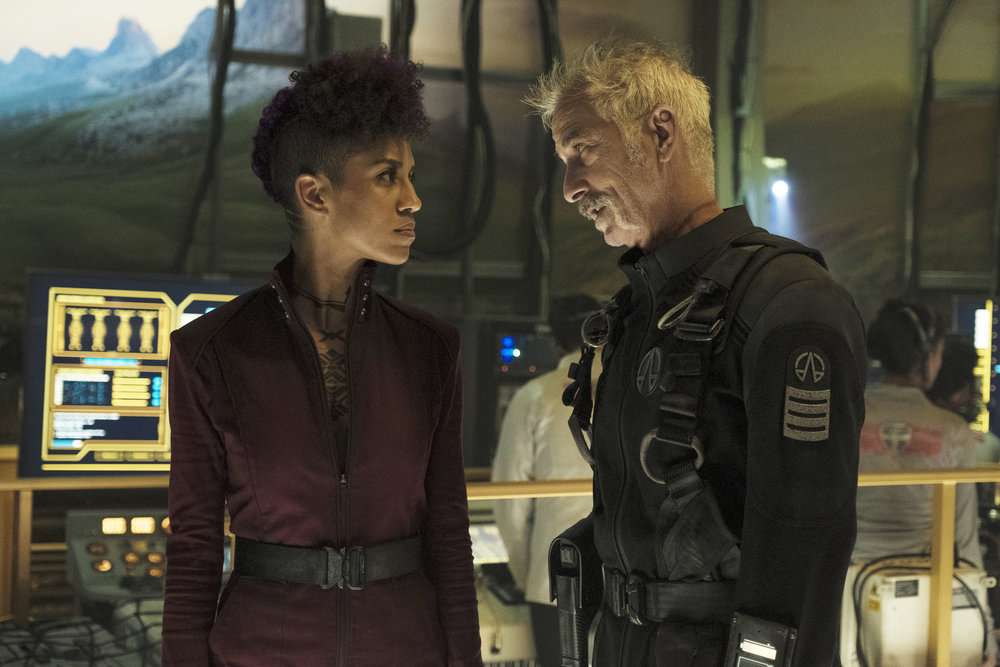 Photo by: Rafy/Syfy
Our favorite deep space rebels are  looking for a new home for season 4 so fans have launched a campaign to #SaveTheExpanse. You can help by signing this fan petition. Also, shows rely on ratings: Go watch the latest episode ASAP—your view will only count if it's within the first 48 hours after each episode airs live. After that post about the series and share the campaign using the hashtag #SaveTheExpanse. The Expanse is an incredibly important show with so many more stories to tell—let's help them find it a new home. Find out more on how to help at savetheexpanse.org.
Update: It looks like Amazon is in talks to pick up The Expanse for season 4! We're cheering on the show & the fans. Wishing the team the best of luck as the show gets set to continue its journey into deep space. 
Dive even further into The Expanse via our chat with Cas Anvar, who plays Alex, and explore the show all the way up to season 3 on Geek Girl Riot.
The Expanse airs on Syfy every Wednesday night.
From Syfy:
All eyes turn to the edge of the solar system as a mysterious new presence emerges. Naomi recommits to her roots. Drummer butts heads with a seasoned new commander aboard the Behemoth. A young Belter makes a name for himself.
—
KRYPTON
"The Phantom Zone" – Season 1 finale
Wed May 23 – 10PM
On Syfy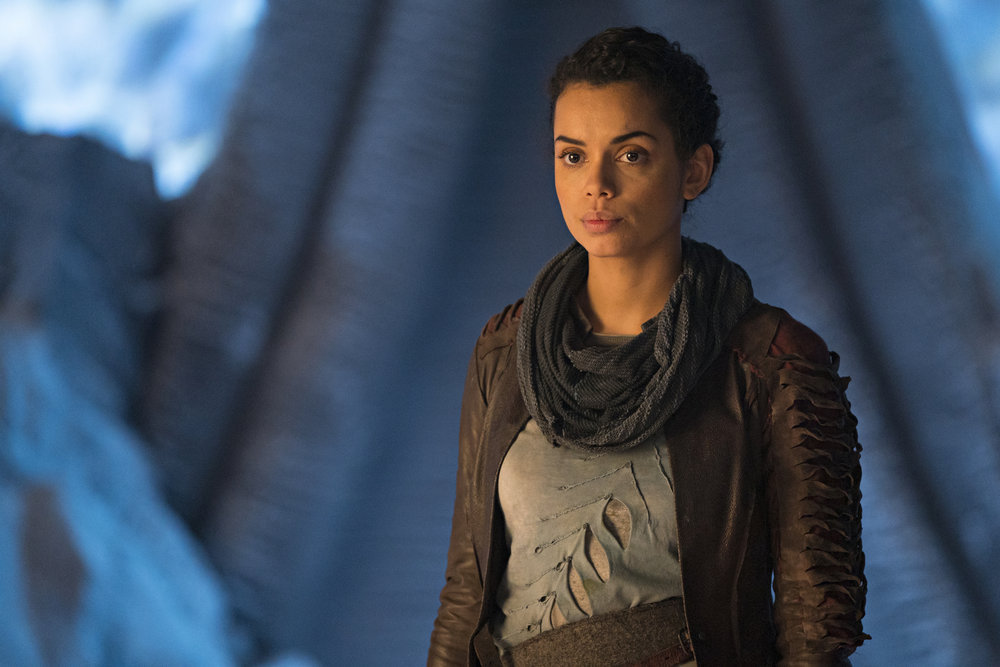 Photo by: Steffan Hill/Syfy
Krypton season 1 is coming to an end and we have so many questions that NEED to be answered in the finale. Is Doomsday really happening? Is Adam (Shaun Sipos) really gone? Just who is Superman's grandmother? Will Seg-El (Cameron Cuffe) and Lyta (Georgina Campbell) make it? And how will they blow our minds one last time? Krypton has so much story to pack in we can feel an explosive tell-all to end all tell-alls coming. (Okay, one last question before we go…when is season 2?!)
Head to Krypton this Wednesday on Syfy.
From Syfy:
Seg races to save his city from being overtaken as the bottling of Kandor begins.
—
Trollhunters
Part 3 premiere
Fri May 25
On Netflix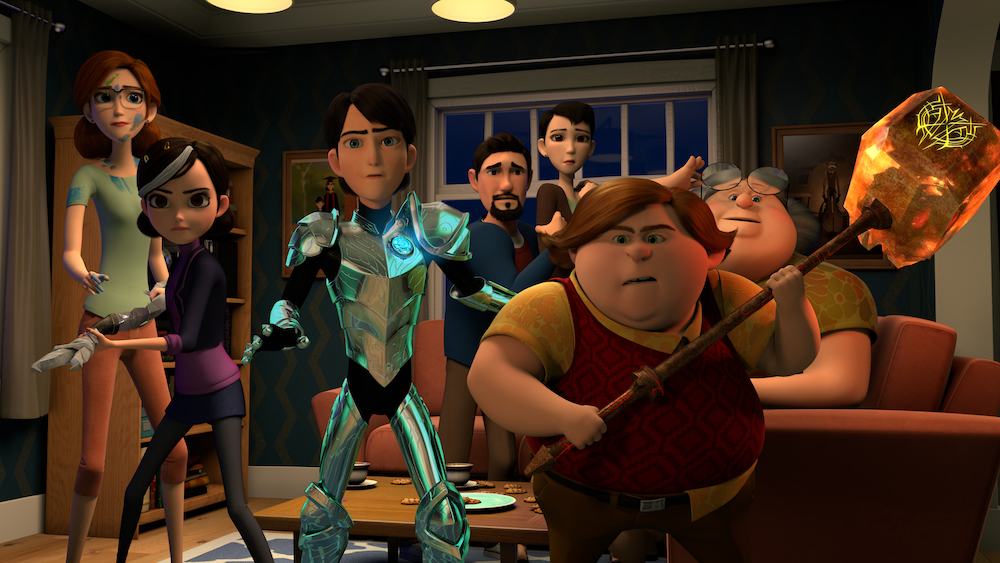 Photo: 

Beth Dubber/Netflix
DreamWorks and Guillermo del Toro have teamed up again to weave more Trollhunters magic. In the third installment our intrepid heroes are in a race to stop the Eternal Night from plunging the world into everlasting darkness. And what do Trollhunters do when faced with such peril? They call upon Merlin (yup, David Bradley was too damn good to keep away for long!). Everything about Trollhunters invites you into its world: The animation, the vivid colors, the camaraderie in the epic journey…not to mention this season's cast: Kelsey Grammer, Mark Hamill, Lena Headey, Ron Perlman, Steven Yeun, Anjelica Huston, to name a few. Emile Hirsch has stepped into the role of Jim Lake, Jr., originally voiced by the late Anton Yelchin. Yelchin had already recorded much of the new season before his untimely passing and the creative team have left his performance intact wherever possible—merging some portions with Hirsch. We can't think of a better way to honor the bright legacy Yelchin left behind than to let him lead us on one last adventure.
Stream Trollhunters on Netflix this Friday.
From Netflix:
In the final season of DreamWorks Trollhunters the fate of troll and human civilizations hang in the balance. The Trollhunters are racing to stop Gunmar and the now resurrected Morgana from bringing about the Eternal Night and shrouding the world in darkness forever. To defeat them, the team must seek the help of the legendary wizard Merlin to unlock his ancient magic and unleash a powerful weapon that will alter the course of their lives forever.
—
KILLING EVE
"God, I'm Tired" – Season 1, Episode 8
Sun May 27 – 8PM
On BBC America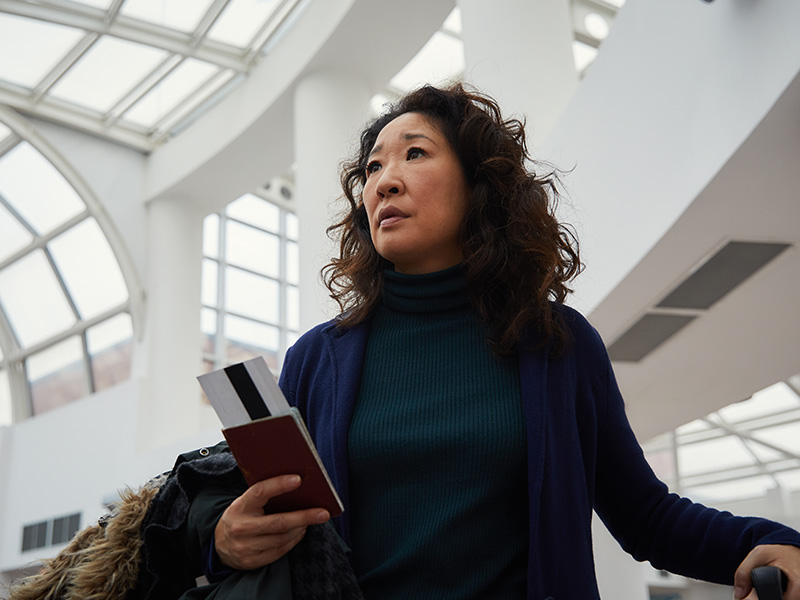 Photo: AMC/BBC America
Women are beautiful and terrifying beings. That's why we love us and why we love watching the women on Killing Eve. Eve (Sandra Oh) keeps pushing Kenny (Sean Delaney) to go up against his own mother Carolyn (Fiona Shaw) and we're terrified…for him. Villanelle (Jodie Comer) goes up against Anna (Susan Lynch) who'll stop at nothing to protect herself. But here's where it gets bizarre (and if you're thinking the series already is bizarre, you ain't seen nothin' yet, kid). Eve and Konstantin (Kim Bodnia) find themselves playing pretend in the most dangerous way. Even when the laughter stops Eve isn't done messing around—she's lost everything including her control and it is glorious to watch that undoing. No spoilers here—we couldn't begin to articulate them if we tried, we're still reeling—but you'll spend the entire hour with your mouth open in shock at each new turn. Every episode of Killing Eve has been stellar but the season finale ups the game to leave you gasping for more.
Killing Eve airs every Sunday on BBC America.
From BBC America:
In the season finale, Villanelle's mission is proving anything but straight-forward, forcing her to take drastic measures. Meanwhile, Eve has made a shocking discovery, which leads her right to Villanelle and an electrifying confrontation from which neither will emerge unscathed.
—
Vida
"Episode 4" – Season 1, Episode 4
Sun May 20 – 8:30PM
On Starz
Vida premieres on Starz this Sunday.
From Starz:
Lyn escapes the Eastside while market research in the neighborhood leads Emma to open an old wound. Mari is publicly humiliated by someone she trusted.
—
WESTWORLD
"Phase Space" – Season 2, Episode 6
Sun May 27 – 9PM
On HBO
Dive into Westworld every Sunday on HBO.
—
Into the Badlands
Season 3
Every Sunday
On AMC
Get caught up on Into the Badlands over the next two weeks—especially last week's episode "Carry Tiger to Mountain" which was written by the fabulous LaToya Morgan. And stay tuned for LaToya's guest shot on Geek Girl Riot on Tuesday at 11pm ET. You'll have as much fun as we did.