This week: Supergirl, Lucifer, The Flash, Chicago Med, Legion, Riverdale, The Expanse, Krypton, Station 19, 13 Reasons Why, Cargo, Killing Eve, Vida, Brooklyn Nine-Nine, Westworld, Into the Badlands
SUPERGIRL
"Shelter From the Storm" – Season 3, Episode 18
Mon May 14 – 8PM
On The CW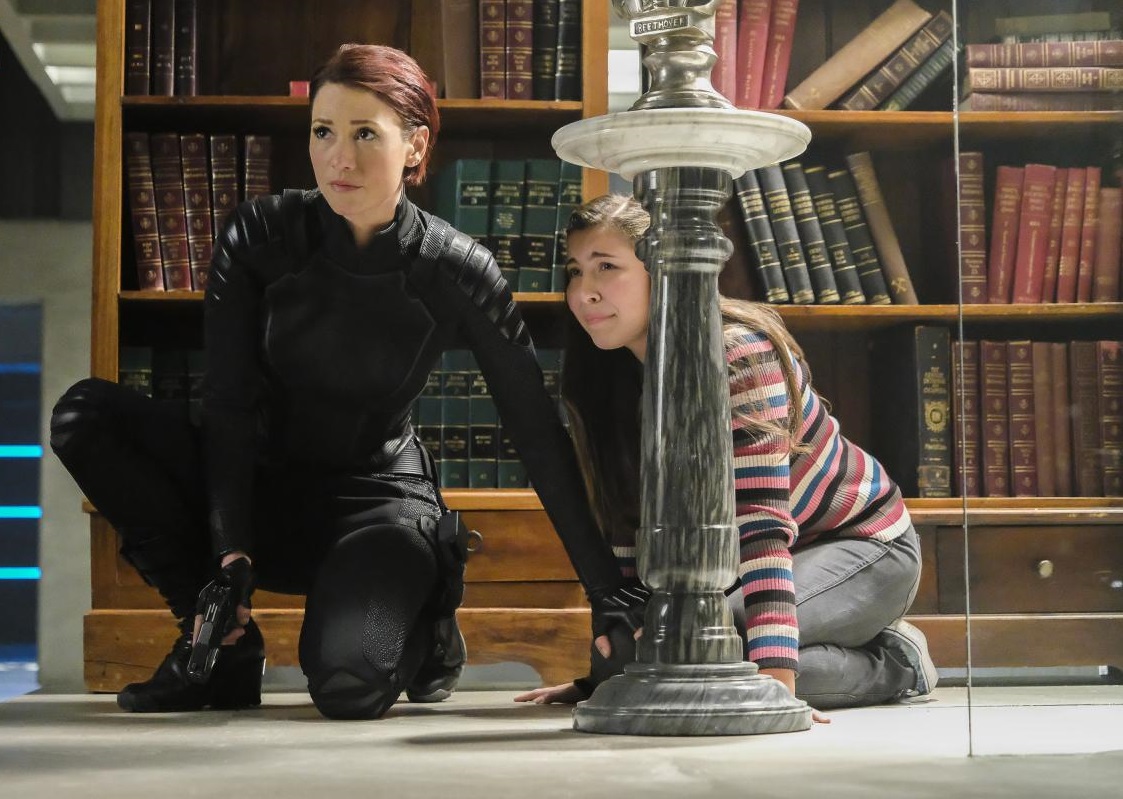 Photo: Bettina Strauss/The CW -- © 2018 The CW Network, LLC.
Two Worldkillers down, one to go…except the one remaining is Reign (Odette Annable) and she's not just a Worldkiller to us. She's also Sam, a loving single mother and part of the Supergirl family. Reign's trying to make her better half disappear forever by taking away Sam's world, their daugher Ruby (Emma Tremblay). We knew this Worldkiller showdown would come with casualties but Supergirl is going for the heart and all we can do is scream internally at the TV screen because we don't want to miss a second.
Tune into The CW every Monday for all new Supergirl.
From The CW:
When Reign (Odette Annable) starts hunting Ruby (guest star Emma Tremblay), Supergirl (Melissa Benoist) and Alex (Chyler Leigh) work together to keep her safe. Supergirl and J'onn (David Harewood) look to Sam's mother (guest star Betty Buckley) for advice on how to stop Reign and come away with some shocking news.
—
Lucifer
"A Devil of My Word" – Series finale
Mon May 14 – 8PM
On FOX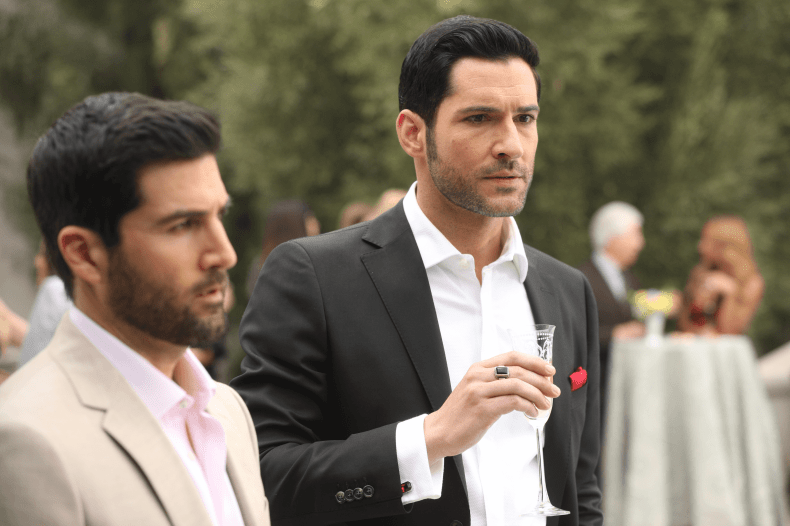 Photo: FOX
We're still reeling from the string of cancellations over the weekend and one that stings is Lucifer. Especially as tonight's now final episode is about to drag us to the edge of a cliff and leave us hanging. If Brooklyn Nine-Nine can be saved…can Lucifer? Make sure you watch tonight's episode live and take to social media to make some noise if you want to #SaveLucifer from purgatory.
Watch the finale of Lucifer tonight on FOX.
From TV Guide:
The Season 3 finale: Shocked by someone's death, Chloe, Lucifer and the rest of the team work together to investigate and take down the killer. Then, Lucifer has an epiphany, Maze decides to mend a broken friendship and Chloe finally sees the truth.
—
THE FLASH
"Think Fast" – Season 4, Episode 22
Tues May 15 – 8PM
On The CW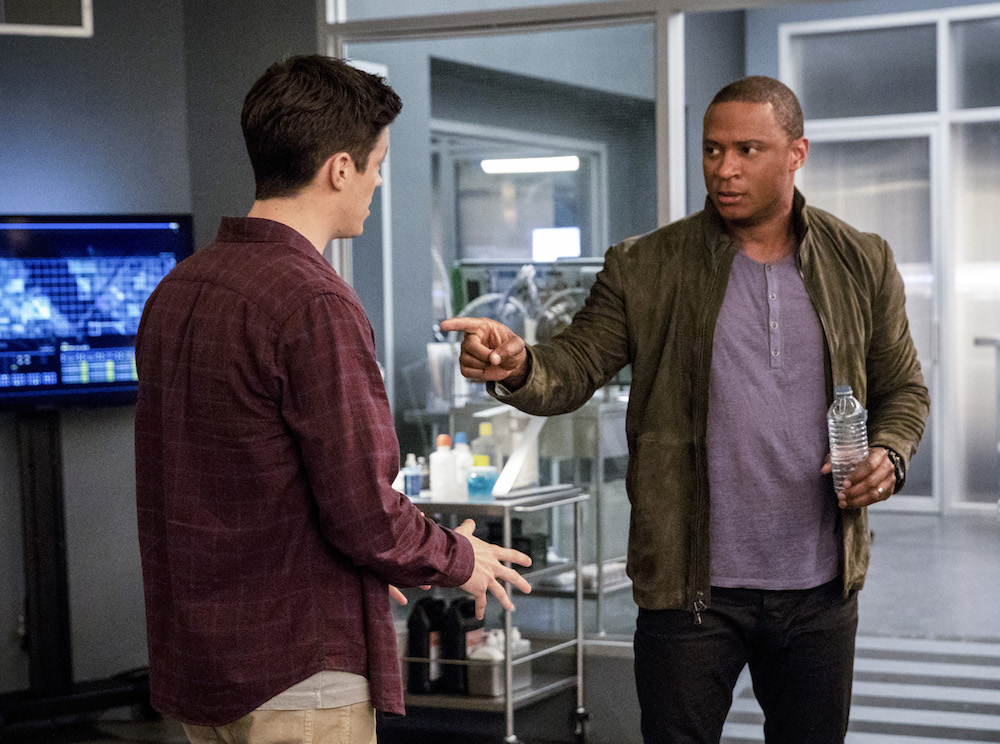 Photo: Jack Rowand/The CW -- © 2018 The CW Network, LLC.
As the final showdown with The Thinker (Neil Sandilands) looms ever closer, Team Flash call on another hero for help: Arrow's John Diggle (David Ramsey). Except things aren't what they seem—or should we say, Diggle isn't who he seems. DeVoe is up to his old tricks to gain access to Fallout (Ryan Alexander McDonald) and Barry (Grant Gustin) is ready to take desperate measures to stop him. The CW does crossovers in their DC shows so well and, even though we wish it was under more light-hearted circumstances, getting to watch Ramsey play The Thinker playing Diggle is going to be delightfully wicked.
Tune in to The CW tomorrow for all new The Flash.
From The CW:
When DeVoe assaults an A.R.G.U.S. facility to complete his Enlightenment Machine, Barry (Grant Gustin) realizes the only way he can stop him is if he allows Cisco (Carlos Valdes) and Caitlin (Danielle Panabaker) to accompany him into the facility. Still shaken by Ralph's death, Barry isn't sure he wants to risk any more of his friends' lives and considers taking on DeVoe solo.
—
New Girl
"The Curse of the Pirate Bride; Engram Pattersky" – Series finale
Tues May 15 – 9PM
On FOX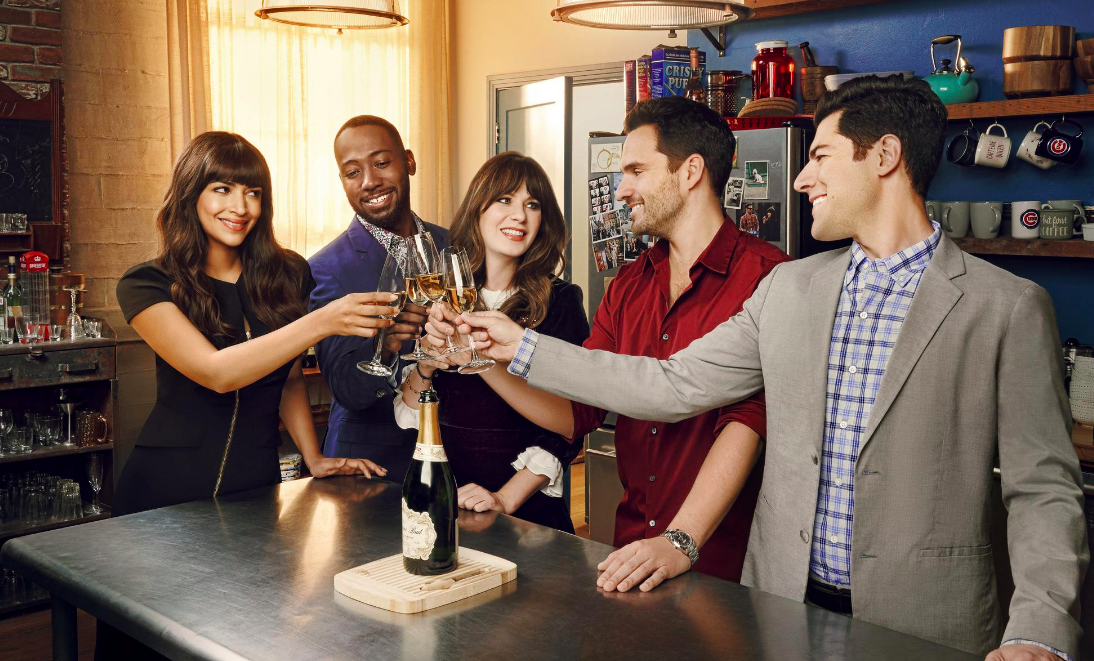 Photo: FOX
It's time to say goodbye to New Girl and we're not crying you are. Jess (Zooey Deschanel) and Nick (Jake Johnson) are finally on the road to happily ever after in their usual roundabout way and we hear wedding bells…or maybe cowbells…or xylophones… Things seem pretty settled for our beloved gang and we're so glad we get this chance to say goodbye to the friends we've had all these years. Even though the showrunners have promised a twist we won't see coming we're not nervous, nope…well, kinda…but we have faith in our faves to keep us laughing, tearing up, and squealing with feels until the very end. Cheers to you, New Girl, you may be leaving our screens but there's always a place for you in our hearts.
Say goodbye to New Girl tomorrow on FOX.
From TV Guide:
In the series finale, Jess and Nick make two life-changing decisions and Winston and Aly's big day arrives. Then, the gang takes a tour down memory lane, which includes a final round of "True American."
—
CHICAGO MED
"The Tipping Point" – Season 3, Episode 20
Tues May 8 – 10PM
On NBC
New episodes of Chicago Med air every Tuesday on NBC.
From NBC:
Dr. Rhodes second guesses his decision to remove himself from the team of doctors who work to separate conjoined twins. Dr. Choi and April make a startling discovery about his sister, Emily, and Dr. Charles uncovers troubling information concerning Dr. Reese's father.
—
FOR THE PEOPLE
"Extraordinary Circumstances" – Season 1, Episode 9
Tues May 15 – 10PM
On ABC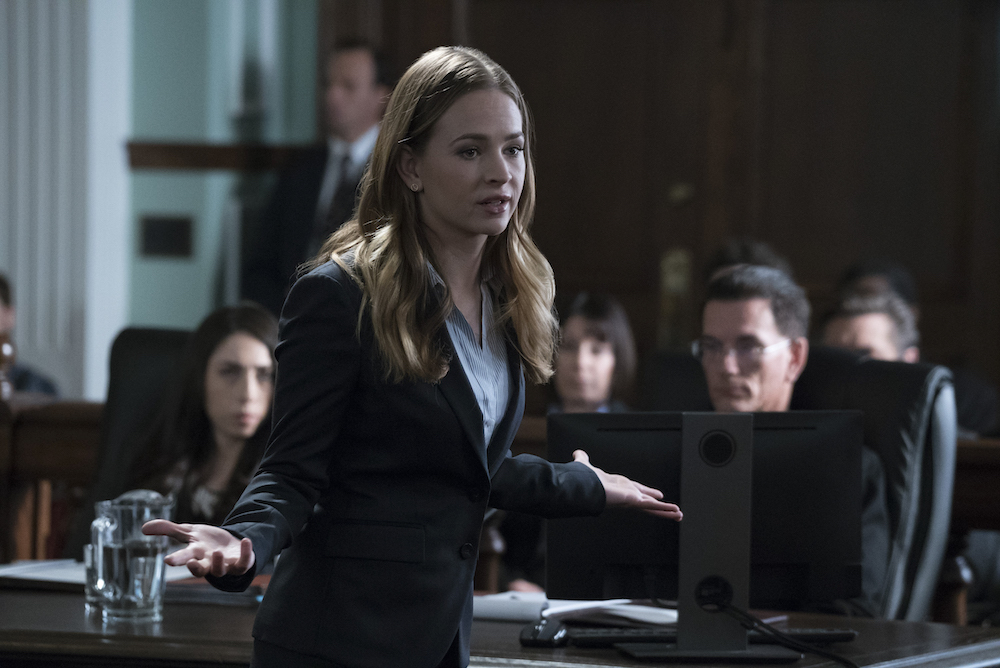 Photo: 

ABC/Mitch Haaseth
In the courtrooms the law is on their side. On the streets anything can happen—including Sandra's (Britt Robertson) arrest in a hospital for defending her client. Last week dealt with a difficult case of police neglect and this week it's dealing with abuse of the law. This will hit a little too close to home for many but For The People handles it well, pushing you to face tough questions and examining limits in ways that will inspire you and break your heart. And isn't that just what any good Shondaland show should do?
For the People airs tomorrow on ABC.
From ABC:
Sandra goes the extra mile for a client when she goes up against the FBI and ends up in one of the most unexpected and compromising situations of her young career. Meanwhile, Roger assigns Kate, Seth and Leonard to work on a highly sensitive case after receiving a tip alleging that the governor of New York is trying to illegally sell a seat.
—
LEGION
"Chapter 15" – Season 2, Episode 7
Tues May 15 – 10PM
On FX
Legion is all new every Tuesday on FX.
From TV Guide:
A delusion starts like any other idea, but it ends in disaster.
—
The Handmaid's Tale
"Seeds" – Season 2, Episode 5
Wed May 16
On Hulu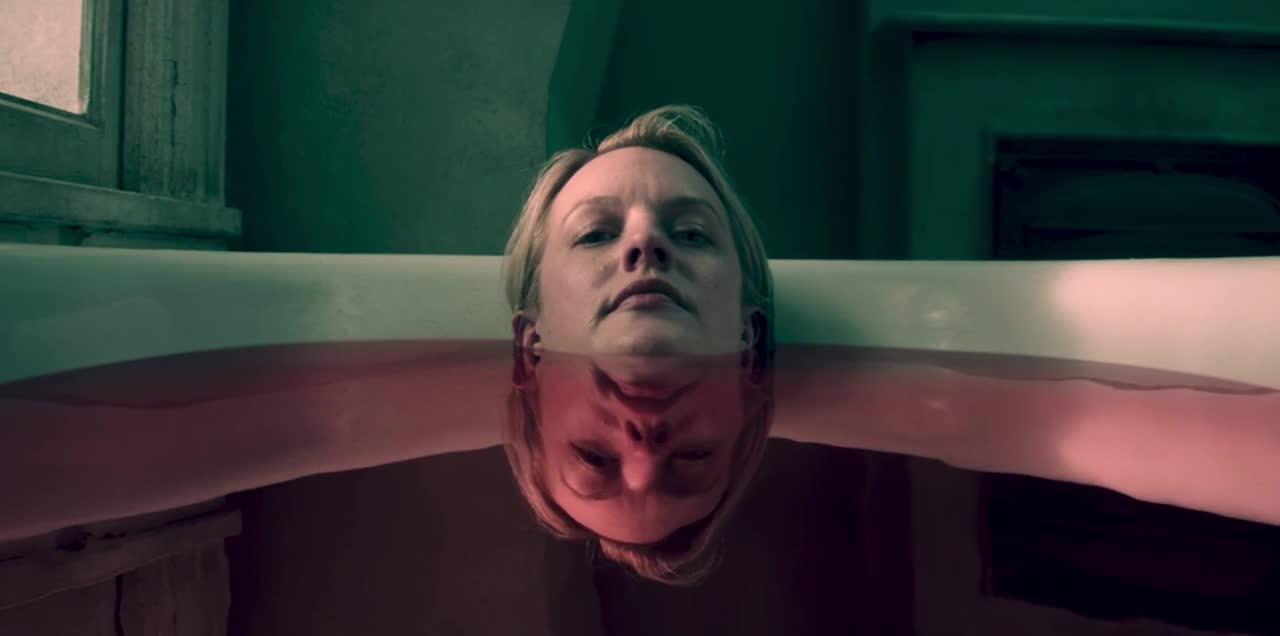 Photo: Hulu
The Handmaid's Tale is at its most chilling when it relies on the visuals to tell the story. In episode 5, after a brief glimpse of hope, June/Offred (Elisabeth Moss) is back to being held captive—her pregnancy ensures she is well looked after physically but she's seemingly emotionally broken. Here's to drinking healthy smoothies and staying calm and demure in the face of her oppressors. "Blessed be the Fruit Loops." Has June given way to Offred? Her words seem to say so but back to those visuals…every shot is so carefully planned to cut so much deeper to show us what goes unsaid. Perhaps, just maybe, June is still fighting and is not only more determined but also more desperate. We're rooting for and terrified for her as the Hulu show plays out our worst nightmares with such hypnotizing visual finesse we cannot look away. And the music will get you too.
Dive into our The Handmaid's Tale discussion on Geek Girl Riot.
Watch The Handmaid's Tale on Hulu every Wednesday.
—
RIVERDALE
"Chapter Thirty-Five: Brave New World" – Season 2 finale
Wed May 16 – 8PM
On The CW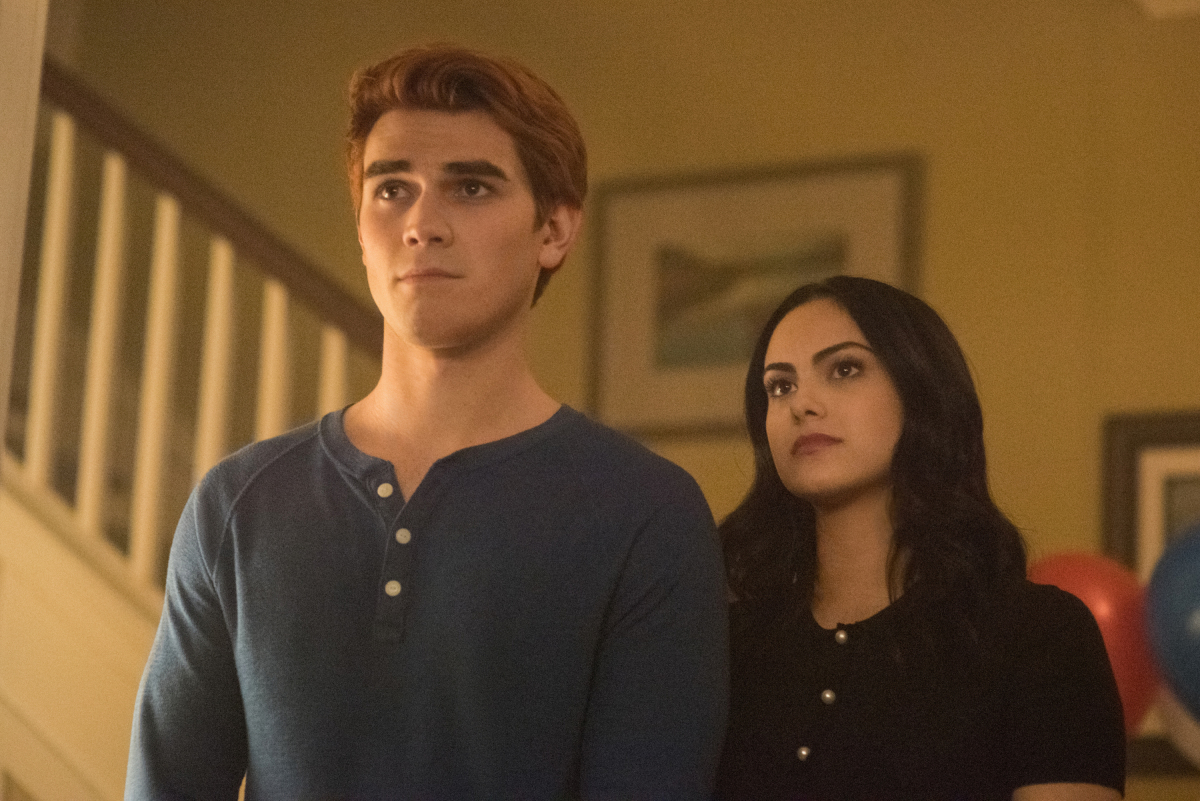 Photo: Dean Buscher/The CW -- © 2018 The CW Network, LLC. 
We've been waiting for so long to say this: Hal (Lochlyn Munro) is the Black Hood. Yes, all your fan theories are confirmed. But in true Riverdale fashion this seems like small fries now (how do they do that? Oh yeah, because they're evil geniuses). The town is in a complete state of chaos and the only question on our mind is: Is Jughead (Cole Sprouse) still alive?
Head back into Riverdale this Wednesday, only on The CW.
From The CW:
With Fred (Luke Perry) trailing in the polls, Archie (KJ Apa) steps in to lend a hand in his dad's mayoral campaign. Veronica (Camila Mendes) stays one step ahead after uncovering Hiram's (Mark Consuelos) latest scheme. Elsewhere, Cheryl (Madelaine Petsch) finalizes her emancipation from her mother, while FP (Skeet Ulrich) makes a surprising announcement to Jughead (Cole Sprouse) and the Serpents. Finally, Betty (Lili Reinhart) confronts her darkest demons.
—
THE EXPANSE
"Immolation" – Season 3, Episode 6
Wed May 16 – 9PM
On Syfy
Pictured: Cas Anvar as Alex Kamal -- (Photo by: Kurt Iswarienko/Syfy)
We're sad to hear the news that The Expanse has been canceled. This gripping, emotional, diverse and powerful show is going to leave a huge hole in the sci-fi genre and will be sorely missed. We hope someone picks it up. Purty please? Until then we're going to soak up every last bit of TV goodness until the finale, starting with this week's episode and those truly killer last two episodes.
Dive even further into The Expanse via our chat with Cas Anvar, who plays Alex, and explore the show all the way up to season 3 on Geek Girl Riot.
The Expanse airs on Syfy every Wednesday night.
From Syfy:
The final battle between Earth and Mars threatens the very future of humanity. A new monster is unleashed on Prospero Station. Anna receives the smoking gun she needs.
—
KRYPTON
"Hope" – Season 1, Episode 9
Wed May 16 – 10PM
On Syfy
Photo by: Steffan Hill/Syfy
We all know Superman's home planet of Krypton was destroyed when he was a baby. So watching Krypton has always been a waiting game, a show with a definite end, except now we're not so sure. This week, it looks like General Zod (Colin Salmon) has decided that Doomsday is the answer to all his problems—the monster that defeats Superman in another timeline. Why not? What's up, buddy! If all signs point to destruction, do we need to say goodbye to the planet? Or does the show have a few tricks up its sleeve? With two whole episodes left in this season we're leaning towards the latter. Krypton has been blowing our minds since day one. We can't wait to see how our squad is going to get out of this one, even if it means turning everything we know about the Superman universe upside down…or is that Brainiac side up?
Head to Krypton this Wednesday on Syfy.
From Syfy:
Seg must decide if he is willing to make the ultimate sacrifice in service of the greater good of Kandor.
—
STATION 19
"Not Your Hero" – Season 1 finale
Thurs May 17 – 9PM
On ABC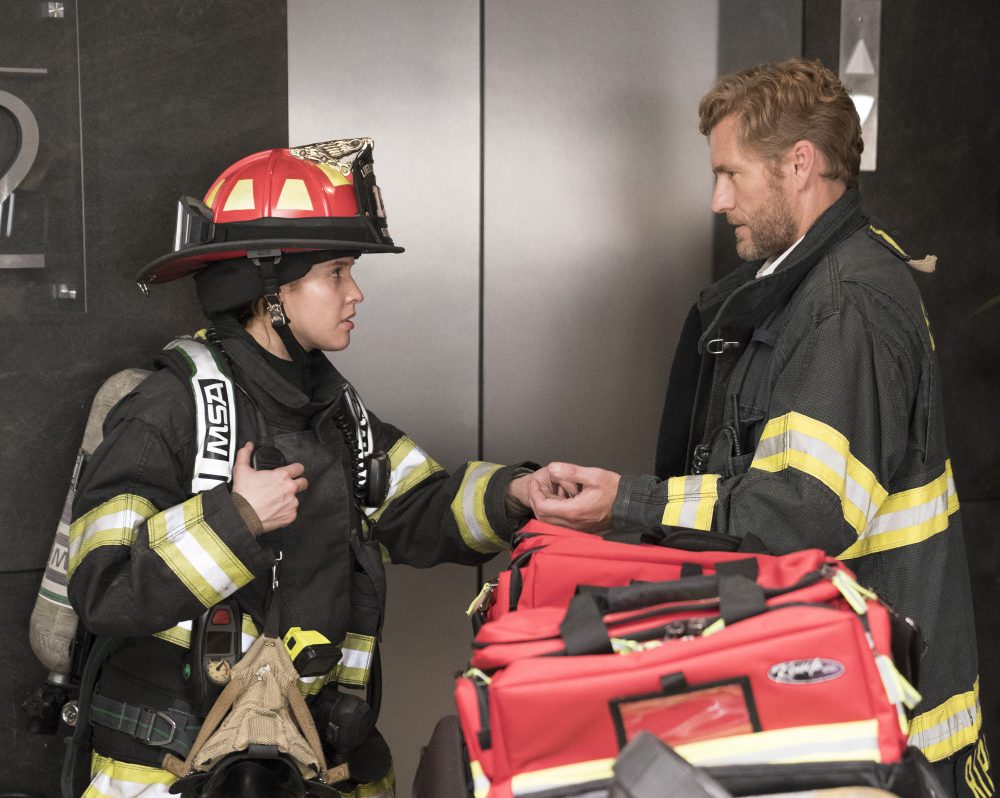 Photo: 

ABC/Byron Cohen
Just when you think Station 19 can't get any hotter than last week's "Hot Box" garage fiasco, the season finale is turning up the heat tenfold. There's no time to stress over who's going to be captain when a fire breaks out in a skyscraper. In fact, time is running out for several of our crew as the fire claims its victims. Station 19 is setting us up for the mother of all cliffhangers to get us screaming for season 2 and it's already working. Who will survive? This is Shondaland which means no one—and we mean no one—is safe.
Watch Station 19 on ABC this Thursday.
From ABC:
Ben reaches a new milestone as a rookie and, as is tradition, receives something from the crew. Chief Ripley holds final interviews for the role of captain but is interrupted when the team is called to a massive skyscraper fire, causing several lives to hang in the balance.
—
13 Reasons Why
Season 2 premiere
Fri May 18
On Netflix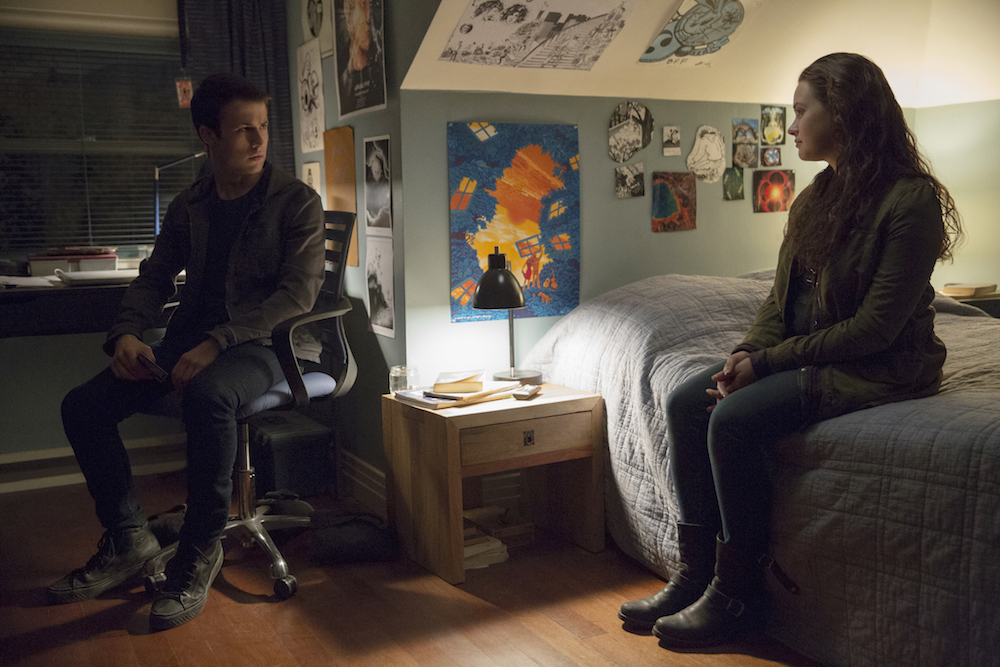 Photo: 

Beth Dubber/Netflix
Whether you agree with it or not, there's no denying 13 Reasons Why has opened up a lot of discussions about suicide, abuse, and bullying. Now it's back and it's digging deeper than the original novel ever did. Following the tragic events of last season, Clay (Dylan Minnette) receives an ominous message. As his high school prepares to go on trial for the events surrounding Hannah's (Katherine Langford) death, Clay and his classmates learn of a sickening conspiracy to cover it up. If you thought season 1 was harrowing, the new season is about to prove they're only getting started—for better or worse, we never know with this show. We recommend watching it with others and then talking about it and, most importantly, remember this is fiction. If you've been affected by the show or any of the topics it raises head to 13ReasonsWhy.info which includes a Discussion Guide and a set of videos where the cast address the issues in the series.
13 Reasons Why returns to Netflix this Friday.
From Netflix:
Season 2 picks up in the aftermath of Hannah's death and the start of our characters' complicated journeys toward healing and recovery. Liberty High prepares to go on trial, but someone will stop at nothing to keep the truth surrounding Hannah's death concealed. A series of ominous polaroids lead Clay and his classmates to uncover a sickening secret and a conspiracy to cover it up.
—
Cargo
Fri May 18
On Netflix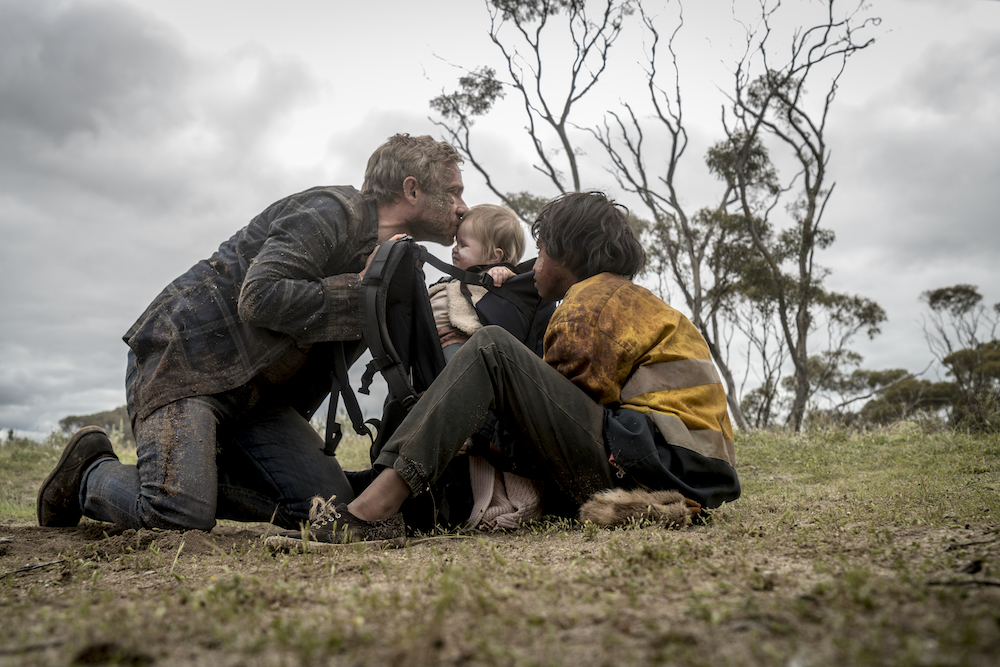 Photo: 

Matt Nettheim/Netflix
Cargo is breathing fresh life into the zombie apocalypse genre. Not only is the pandemic's cause or effects mostly a background story, the film deals gives the infected options before their time runs out. With a countdown of around 48 hours until the change happens, there's a race against the clock and every person reacts to facing their own mortality differently. It's not something you see often in this genre and it covers the whole range of human connection and emotions—from the pensive to the outright diabolical. An expanded version of Yolanda Ramke and Ben Howling's 2013 short of the same name, Netflix's Cargo adds Martin Freeman's trademark everyman lost in a non-everyday situation style of acting to dissect blood ties and chosen family and the difficult choices they can bring.
From Netflix:
Stranded in rural Australia in the aftermath of a violent pandemic, an infected father desperately seeks a new home for his infant child, and a means to protect her from his own changing nature.
—
KILLING EVE
"I Don't Want to Be Free" – Season 1, Episode 6
Sun May 20 – 8PM
On BBC America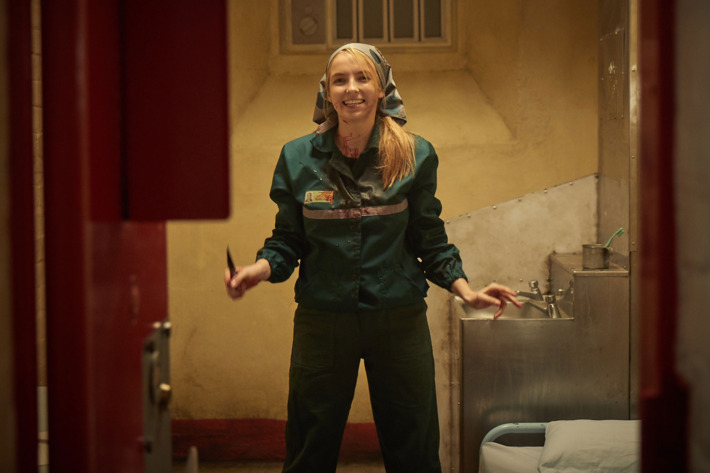 Photo: BBC America/Sid Gentle Films Ltd 2018/Robert Viglasky
Coincidences never happen. Especially when those pulling the strings are all tied together at the top. As Kenny (Sean Delaney) investigates his own mother Carolyn (Fiona Shaw), Eve (Sandra Oh) is at risk of taking more of her team down into her spiral of obsession. Just when you think Villanelle (Jodie Comer) might really be in trouble you realize she's the one inviting trouble in. The next person on Villanelle's hit list is a strangely emotional one which makes her mask slip a little more. We get a glimpse into her life before she became an assassin and it's chilling in ways you'd never even expect. And yet, Eve still isn't frightened, only more consumed by her fixation. She's the truly frightening one in this show and we're fascinated—she's determined and possessive and just Villanelle's type. When everything slows down and the body count goes up everything seems artistic in all the most absurd ways. With every new death Killing Eve takes one more step away from reality to mess with your head…only to bring you back with a gut-punch from the past…and one to totally mess with everybody's future.
Killing Eve airs every Sunday on BBC America.
From BBC America:
Tensions are running high as the situation in Moscow escalates, and Eve starts to question who she can trust. Despite the danger, with her sights firmly set on Villanelle, Eve goes rogue. Meanwhile, Villanelle is given her next target – and it's astonishing. With both women under pressure, the stakes are higher than ever.
—
Vida
"Episode 3" – Season 1, Episode 3
Sun May 20 – 8:30PM
On Starz
Vida premieres on Starz this Sunday.
From Starz:
Lyn and Johnny's relationship takes another turn. Starring Mishel Prada and Melissa Barrera.
—
Brooklyn Nine-Nine
"Jake & Amy" – Season 5 finale
Sun May 20 – 8:30PM
On FOX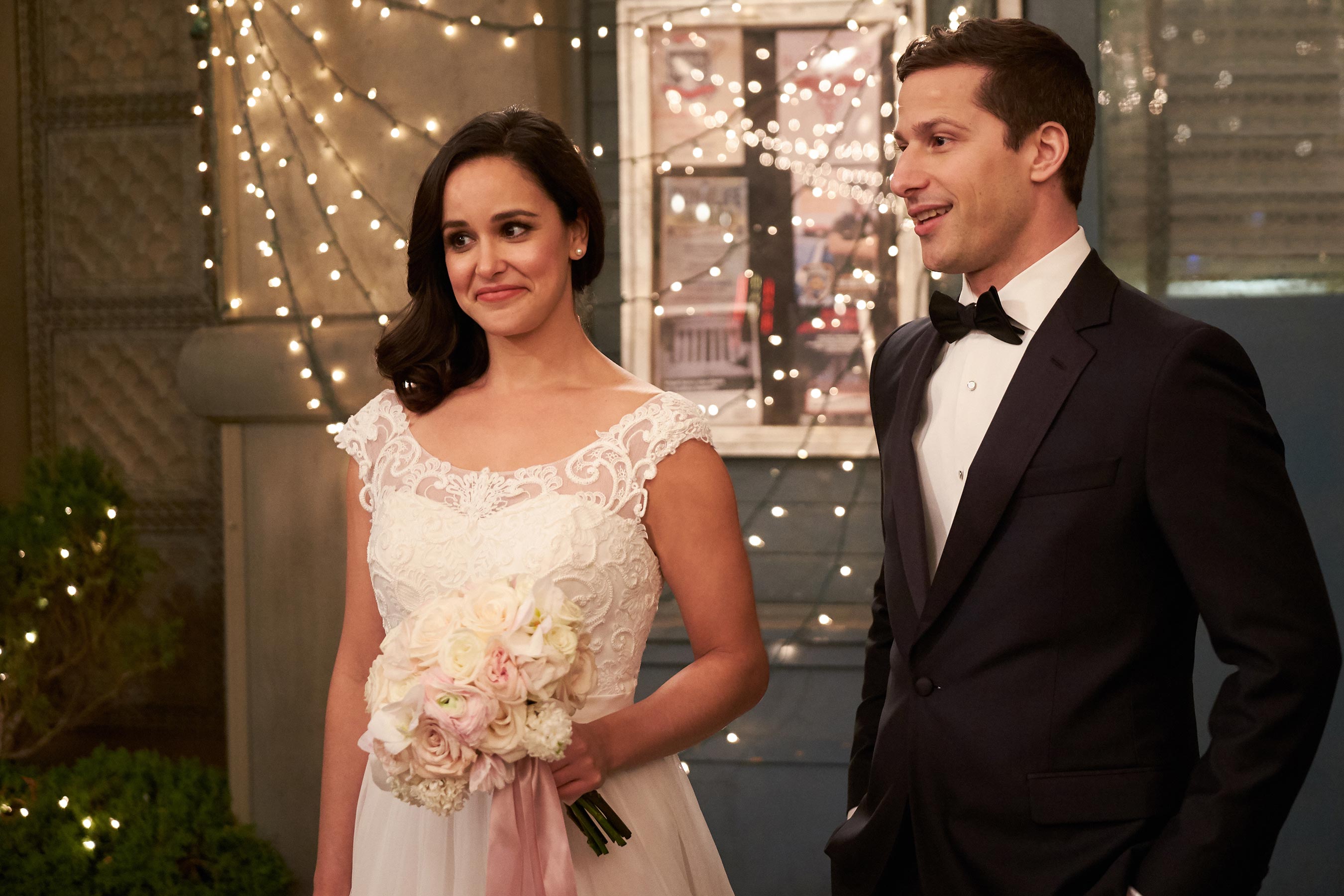 Photo: John P Fleenor/FOX
Three cheers for NBC picking up Brooklyn Nine-Nine! The show is going to live on—'til then you have a season finale to get your giggles on. It's Jake (Andy Samberg) and Amy's (Melissa Fumero) wedding! Nothing ever goes wrong at weddings, right? They're in good hands with the squad…right? Um, we'll just adhere to section 7, page 145 of Captain Holt's (Andre Braugher) mentorship binder—"No emotional displays in the workplace"—for as long as we can because this season finale is going to hit us right in the feels.
The season finale of Brooklyn Nine-Nine airs this Sunday on FOX.
From TV Guide:
In the Season 5 finale, Jake and Amy's wedding day is threatened, and Charles and the whole squad rush to help save it. Amidst the chaos, Holt hesitates to open the email that will indicate if he has won his campaign for commissioner, despite Gina's encouragement. Meanwhile, Terry gently pushes Rosa towards a potential love interest.
—
WESTWORLD
"Akane No Mai" – Season 2, Episode 5
Sun May 20 – 9PM
On HBO
Dive into Westworld every Sunday on HBO.
From HBO:
Welcome to Shogun World.
—
Into the Badlands
"Carry Tiger to Mountain" – Season 2, Episode 5
Sun May 20 – 10PM
On AMC
Family means everything and nothing on Into the Badlands. Loyalties change faster than the winds especially when new secrets come out. The past comes back to haunt The Widow (Emily Beecham), in the shape of a man and we all know how things turn out with The Widow and the men in her life. With that in mind she makes what may turn out to be an emotionally-charged mistake. Sunny (Daniel Wu) learns something from his own past which sets a new path for him and Henry—and it ain't leading to Wonderland. Baron Chau (Eleanor Matsuura) and Pilgrim (Babou Ceesay) face off but the outcome is unsettling…let's just say heads will roll…but what's even more unsettling is watching all the characters' futures converge into bonds of blood. "Carry Tiger to Mountain" holds prophecy and foreshadowing in every scene; blink and you might miss something. And we've got our theories. That's the beauty of Into the Badlands, the world is so complex that there's still so much to discover and we'll never get tired of going there.
Head Into the Badlands every Sunday on AMC.
From AMC:
Sunny and Bajie seek help from a former Master; The Widow must confront a spectre from her past.