This week: The Flash, New Girl, Chicago Med, For the People, Harry Potter: A History of Magic, Krypton, Station 19, Atlanta, Scandal,
Lost in Space, Killing Eve
THE FLASH
"Null and Annoyed" – Season 4, Episode 17
Tues Apr 10 – 8PM
On The CW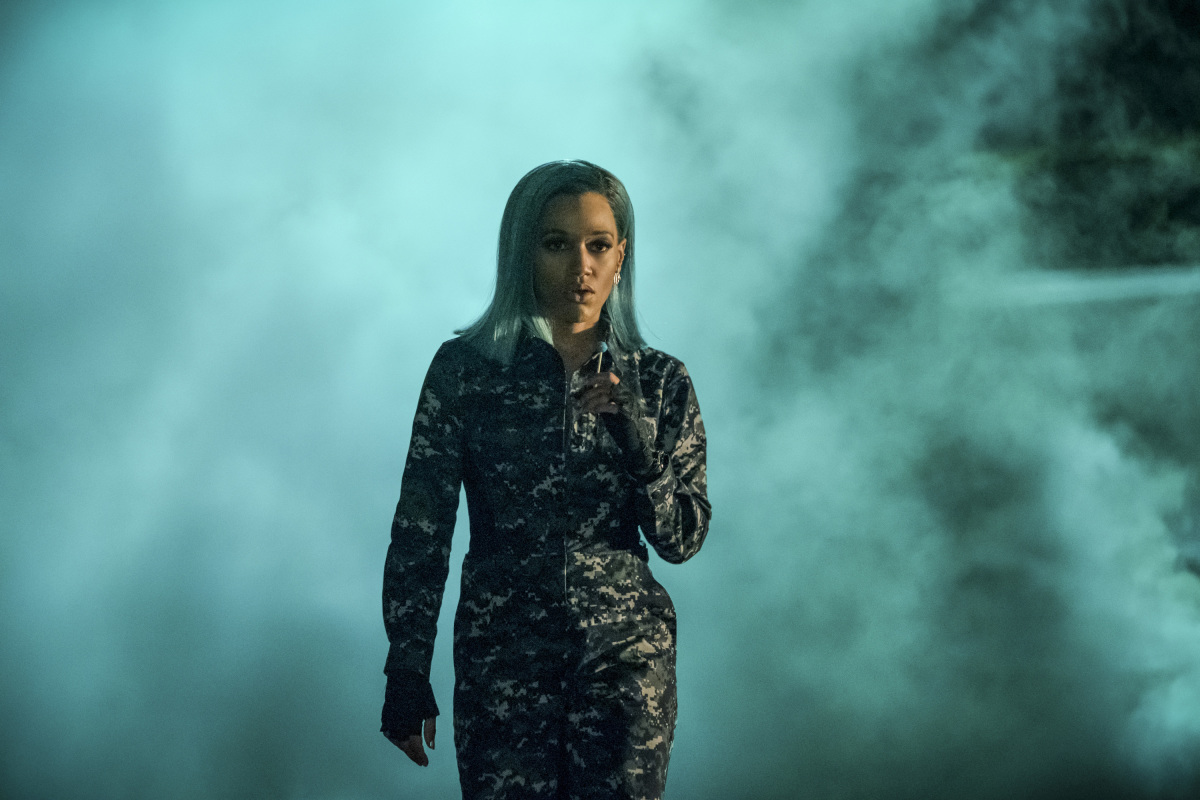 Photo: Katie Yu/The CW — © 2018 The CW Network, LLC. 
The Flash is back this week and we're so happy we could float away…oh wait…that's what Barry (Grant Gustin) is doing. Team Flash are up against Null (Bethany Brown), a jewel thief who's so damn good at her job she can…manipulate gravity. Yup, she's one of the latest metas in Clifford DeVoe's (currently Miranda MacDougall) project and we're dying to see everyone get lifted (although not too high, please not too high). This season's focus on taking away the speedster's powers so Barry and his team can become heroes in other ways cements The Flash as one of the most dynamic superhero shows on TV.
Tune in to The CW tomorrow for all new The Flash.
From The CW:
DANNY TREJO RETURNS AS BREACHER; KEVIN SMITH DIRECTS – Barry (Grant Gustin) and Ralph (guest star Hartley Sawyer) take different approaches to finding the remaining bus metas before DeVoe gets to them. However, Ralph's cavalier attitude frustrates Barry and the two clash over what it means to be a hero. Meanwhile, Breacher (guest star Danny Trejo) returns to ask Cisco (Carlos Valdes) for a favor.
—
NEW GIRL
"About Three Years Later" – Season 7 premiere
Tues Apr 10 – 9:30PM
On FOX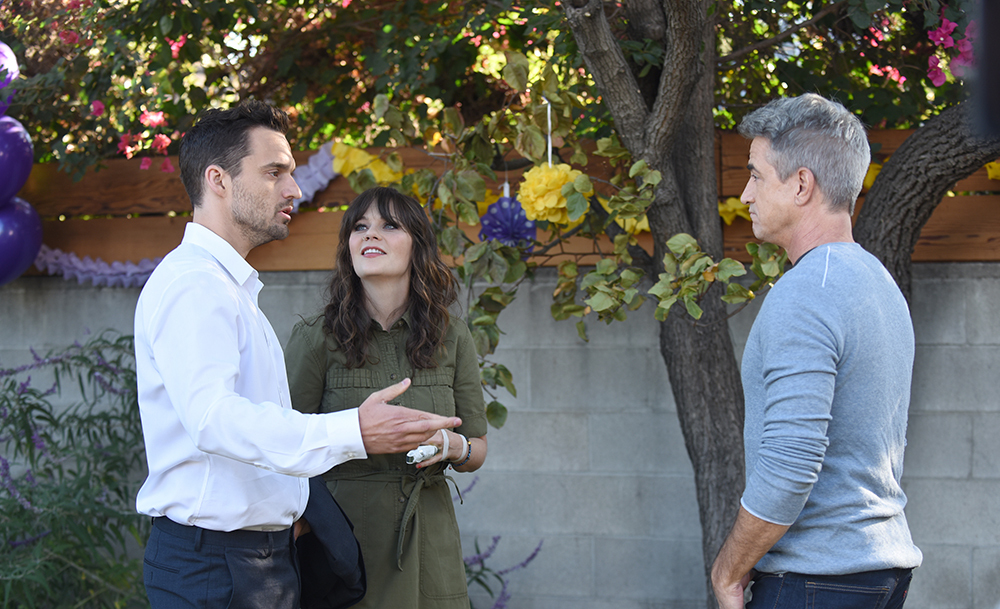 Photo: Ray Mickshaw/FOX
New Girl ain't so new anymore—it's taking its final bow with one more season, giving us time to say goodbye to the friends who've hung out with us for seven straight years. Nick (Jake Johnson) and Jess (Zooey Deschanel) have had more will-they-won't-they moments than Ross & Rachel so if they don't get married we'll be writing letters. Looking at you, FOX. With the three-year time jump, Cece (Hannah Simone) and Schmidt's (Max Greenfield) daughter Ruth (Danielle & Rhiannon Rockoff) has arrived and is about to steal hearts everywhere. And the now-married Winston (Lamorne Morris) and Aly (Nasim Pedrad) are expecting! Which brings us to more questions. How else have our crew moved on (because let's face it, they don't move on all that fast normally)? What is up with Jess' nose ring? What did she do to her finger? And more importantly how is Ferguson coping with all their life changes?
New Girl's final season begins tomorrow on FOX.
From TV Guide:
The Season 7 premiere picks up about three years after the end of Season 6 with Jess and Nick returning from a European book tour for "The Pepperwood Chronicles." Schmidt and Cece celebrate their daughter Ruth's birthday with a party, where Jess runs into her ex, Russell. Meanwhile, Winston and Aly try to pick a pregnancy photo.
—
CHICAGO MED
"Devil in Disguise" – Season 3, Episode 15
Tues Apr 10 – 10PM
On NBC
New episodes of Chicago Med air every Tuesday on NBC.
From NBC:
Dr. Charles and Dr. Reese search for answers when a mother brings in her daughter claiming she is possessed. Dr. Rhodes and Dr. Bekker are tasked with finding a way to save a pair of conjoined twins. Dr. Halstead struggles to get Dr. Manning's attention. Maggie measures her options in the wake of her recent actions.
—
FOR THE PEOPLE
"World's Greatest Judge" – Season 1, Episode 5
Tues Apr 10 – 10PM
On ABC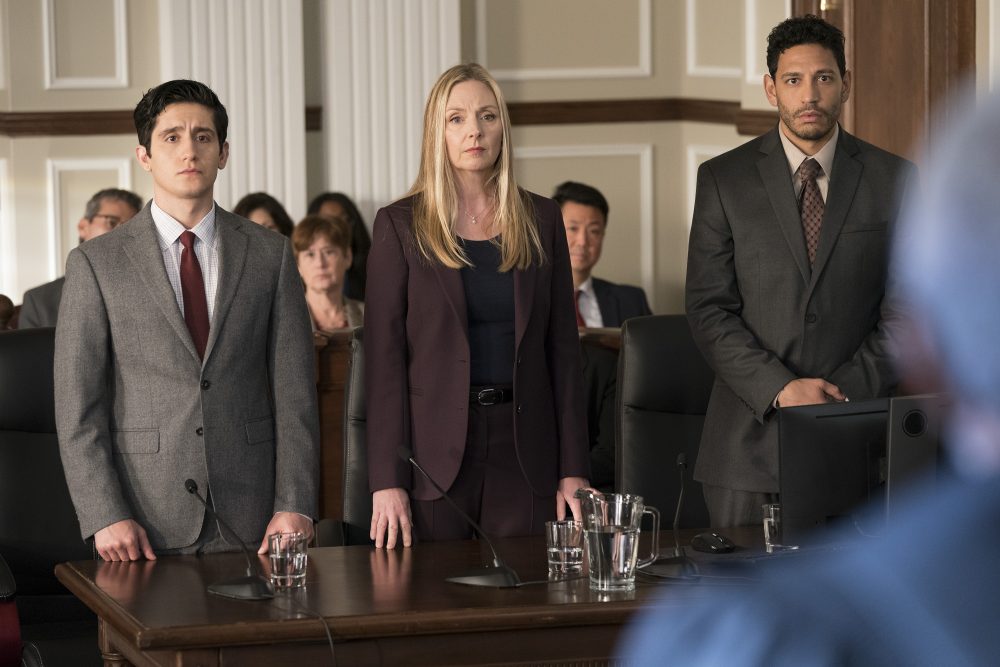 Photo: 

ABC/Mitch Haaseth
Hands up: How many of us can really tell the difference between a $1000 bottle of wine and a $10 one? Answer honestly. Our firm "no" must be why Allison's (Jasmin Savoy Brown) client this week thought he could get away with swapping out the two and committing fraud. But what can you do when you're devastatingly charming and can win over anyone with a quick smile? Oh, For the People loves putting its own lawyers on trial and testing their limits. With the drinki– ahem, wine tasting (you know, for research purposes) added in, true feelings come out and it ain't always pretty. Or ethical. Speaking of ethical dilemmas, Leonard (Regé-Jean Page) takes on Kate (Susannah Flood) in every sense of the word and we're here for it (even if we are a little scared…for him). For the People ain't your dusty old courtroom drama, the chemistry is red-hot and more than a few characters are about to get burned.
For the People airs tomorrow on ABC.
From ABC:
Judge Byrne finds himself at a crossroads in his career when he presides over a case that requires a disproportionate mandatory minimum sentence. Allison represents a charming defendant in a fraud case while on duty for the first time, and Leonard struggles to decide whether or not to bring charges against a political figure.
—
HARRY POTTER: A HISTORY OF MAGIC
Special premiere
Wed Apr 11 – 8PM
On The CW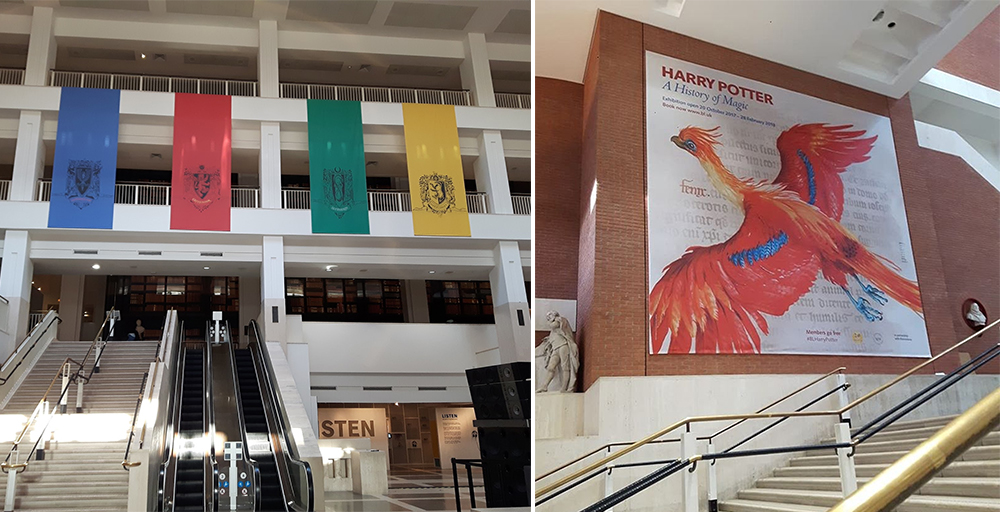 History of Magic exhibit at the British Library. (Photos: Sam Devotta)
It's been twenty years since The Boy Who Lived emerged from the cupboard under the stairs to weave a little magic into our childhoods. To celebrate the anniversary J.K. Rowling herself is taking us into the wizarding world with a look at the British Library's exhibition, Harry Potter: A History of Magic. If you weren't lucky enough to visit the London exhibition in person, you don't have to be a Slytherin green with envy any longer: Rowling is showing off hidden gems from her private archives to the world for the first time so you can be enchanted once more. Consider us all Hermiones because this special will be infinitely more interesting than any History of Magic classes Professor Binns ever taught.
Dive into Harry Potter: A History of Magic on The CW this Wednesday.
From The CW:
MORE THAN MERE MAKE BELIEVE – Celebrate the 20th anniversary of the first Harry Potter book along with the British Library as they host an exhibition of the real-life magical history behind J.K. Rowling's beloved classics. Go behind the scenes of this mesmerizing show with exclusive access to a priceless collection of artifacts and other items on display as J.K. Rowling opens her private archive to reveal drawings and drafts that have been hidden away for years. Her magical writing is brought to life with readings from actors from the "Harry Potter" films (David Thewlis, Evanna Lynch, Warwick Davies, Miriam Margoyles and Mark Williams) while illustrator Jim Kay illuminates Rowling's imaginary world.
—
KRYPTON
"The Word of Rao" – Season 1, Episode 4
Wed Apr 11 – 10PM
On Syfy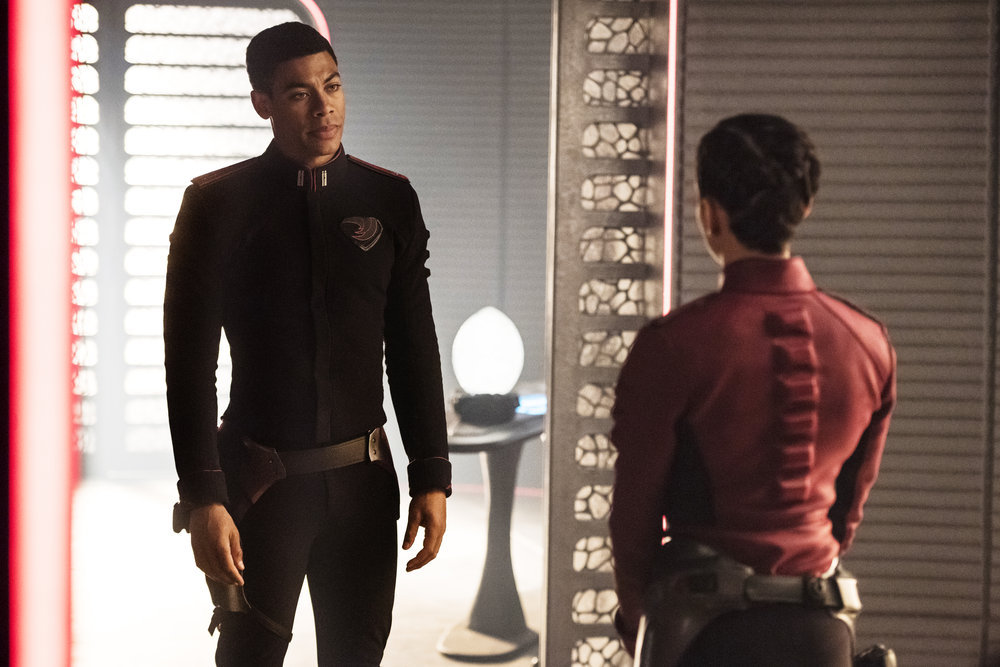 Photo by: Steffan Hill/Syfy
Krypton is taking its time to establish the world—and with so much to unpack we can't tell where this is going. Like who is Clark Kent's grandma? We need to know. This week we're finally going to learn more about the mysterious Black Zero group and whether they're going to help or hinder Seg-El's (Cameron Cuffe) story. Why do we get the feeling it's both? Although we don't like their chances—they may have survived last week's raid but Rao (voiced by Oliver Cotton) hasn't given up yet. His mask is more than just a symbol of omnipotence, it's a metaphor for just how many faces the god can present. Even without once seeing his true appearance Cotton's delivery has created a feeling of trepidation that gives us shivers every time. We don't know which face we'd want to see when Rao walks amongst his people in "The Word of Rao" but we sure wouldn't want him staring us down.
Head to Krypton this Wednesday on Syfy.
From NBC:
Seg is approached by a Black Zero leader as Rao finds a scapegoat for the failed Rankless Initiative.
—
STATION 19
"Shock to the System" – Season 1, Episode 5
Thurs Apr 12 – 9PM
On ABC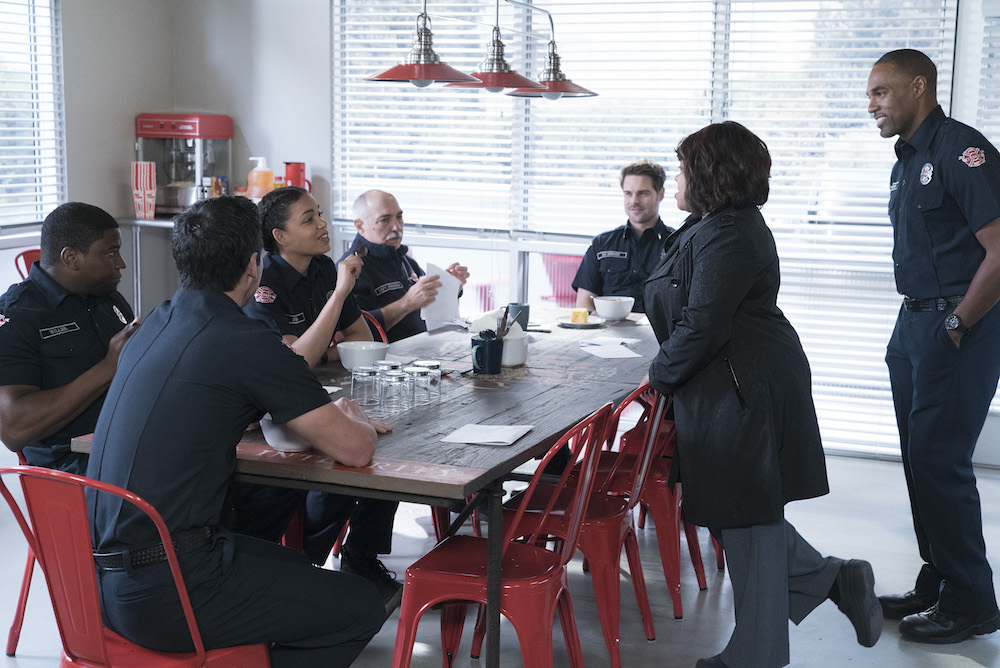 Photo: ABC/Eric McCandless
The Grey's Anatomy family ties grow stronger in "Shock to the System" with Miranda Bailey (Chandra Wilson) stopping by Station 19 to visit Ben (Jason George) at work. The rising tension between their relationship and his new job isn't the only thing that's sparking, though, when the team respond to a car that's crashed into some live electrical wiring. The life-threatening situations may change day-to-day but there's only so many times the characters can use the bell as an excuse not to face what's really going on in their lives. With Andy (Jaina Lee Ortiz) and Jack (Grey Damon) going hot and cold every episode it's impossible to tell where they'll be this week…but there's still that unanswered question of whether she'd stay interested if he made full-captain. Add Ryan (Alberto Frezza) and now Maya (Danielle Savre) into the mix to make a love…square(?) and Station 19 has artfully primed a lot of drama to explode. If Shondaland can do all that in just five episodes, we can't wait to see how they'll up the stakes in the next five. Bring it on.
Watch Station 19 on ABC this Thursday.
From ABC:
Miranda Bailey visits Ben at work, meeting his new co-workers for the first time. While most of the team responds to a motor vehicle accident involving an electrical danger, Andy and Maya are paired up to go on their first stakeout.
—
ATLANTA
"Champagne Papi" – Season 2, Episode 7
Thurs Apr 12 – 10PM
On FX
Atlanta airs this Thursday on FX.
From TV Guide:
It's time for some partying, but it's debatable if that partying occurred if there wasn't a post about it.
—
SCANDAL
"Standing in the Sun" – Season 7, Episode 17
Thurs Apr 12 – 10PM
On ABC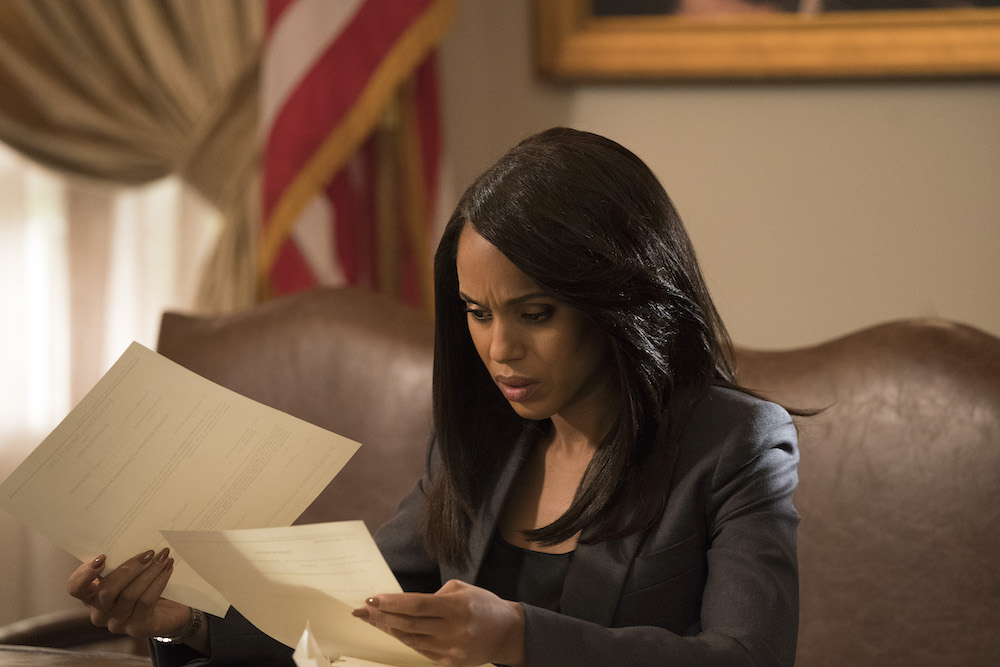 Photo: ABC/Mitch Haaseth
Olivia Pope (Kerry Washington) is on the path to redemption and she's standing strong. Even when it could be all too easy to make the connection between Cyrus (Jeff Perry) and that metal chair she's clutching. You know, for old times' sake. But those days are seemingly gone with Scandal preparing to bow out with hope for a better brand of politics. Call it wishful thinking—murder and other felonies aside—we find ourselves longing for the parallels of Shonda Rhimes' US government to come through in real life. Especially the chance for redemption; we need that now just like Olivia needs to hold firm against Cyrus and Jake's (Scott Foley) attempt to sabotage the White House. We're going to miss Scandal and its escapism to a reality that, sadly, isn't too different from ours but is far more entertaining.
Scandal's second-to-last episode airs this Thursday, only on ABC.
From ABC:
Cyrus and Jake's mission to take the White House reaches a new level of deceit when Liv is called to testify against Mellie, on "Scandal," airing THURSDAY, APRIL 12 (10:00-11:00 p.m. EDT), on The ABC Television Network
—
Lost in Space
Season one premiere
Fri Apr 13
On Netflix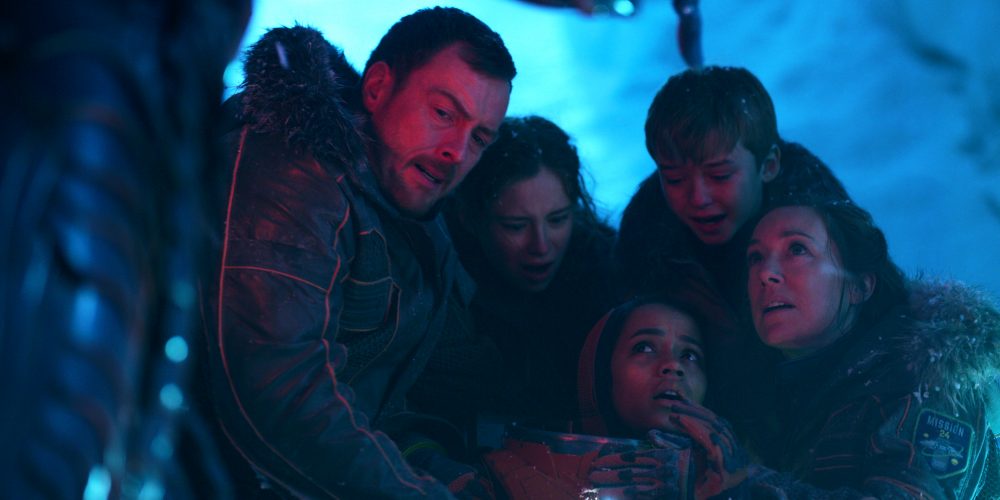 Photo: 

Courtesy of Netflix
…the Lost In Space reboot is a true adventure series. The Robinsons cannot win. Every smart choice they make leads them into trouble and every silly decision is emotional flambeau. The show is harrowing and fun and engaging. You find yourself getting mad at the characters because they're so human and you care about them (also because they're all brilliant and yet deeply stupid). The tension is relentless as you watch the colonists consistently act like real people in a bad situation. Rather than amped up technology, Lost In Space is rooted in real life survival skills and plausible science. The creators don't stir up ridiculous scenarios to fabricate thrills, they gives us the full range of humanity. That's exciting. (Read our full season 1 [p]review)
You can stream Lost in Space season one from Friday on Netflix.
From Netflix:
Lost in Space is a Netflix Original dramatic and modern reimagining of the classic 1960's science fiction series. Set 30 years in the future, colonization in space is now a reality, and the Robinson family is among those tested and selected to make a new life for themselves in a better world. But when the new colonists find themselves abruptly torn off course en route to their new home they must forge new alliances and work together to survive in a dangerous alien environment, lightyears from their original destination.
—
KILLING EVE
"I'll Deal with Him Later" – Season 1, Episode 2
Sun Apr 15 – 8PM
On BBC America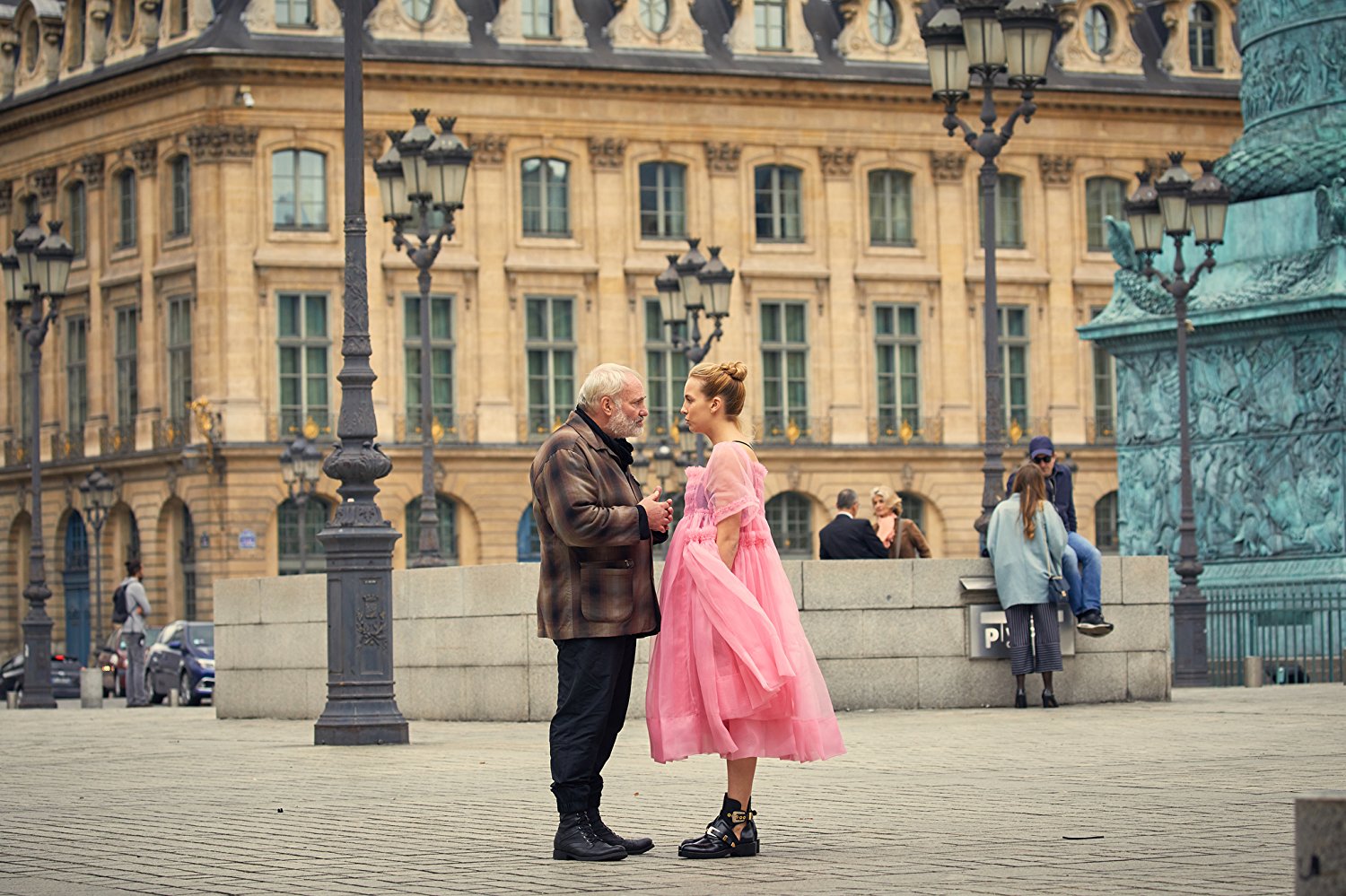 Photo: BBC America
Why is Villanelle (Jodie Comer) here? No idea. Why is she doing this? No idea. Does she enjoy it? Honestly, it's hard to tell. There are concerns about her state of mind and work attitude this week on Killing Eve (only two episodes in and we agree it's about time). Who is Anna and why is she the only person that produces any kind of real reaction from Villanelle? Her childlike approach to the world is unsettling at best, deadly at its most volatile. Just when you think she's letting other people—and you—in she pulls out a knife with a shrug and a small smile. "I'll Deal with Him Later" is a slow burn; Villanelle takes time off from assassinating (mostly, you know she can't resist killing the breathy asthmatic ones) to date, dream of Paris, and sell (toxic) perfume. You know, normal girl-stuff. Meanwhile Eve (Sandra Oh) is meeting resistance in places she didn't anticipate with her investigation…and getting the green light in completely unexpected ways. It all plays out like an average everyday slice of life with seemingly small details forgotten…the first time…then those details come back and slap the characters round the face to remind them that, even though they're hyper-intelligent counterparts in almost every way, sometimes they miss important clues and it's too late to stop the strings of fate pulling them together. You see it coming before the characters do and yet you still feel the sting of horror as realization sets in—they're realizing the next step, you're realizing you're officially hooked.
Killing Eve airs every Sunday on BBC America.
From BBC America:
In the aftermath of her recent assignment, Villanelle is ordered to take a break. Never one to do as she's told, she goes ahead with her next mission regardless. Meanwhile, Eve is given a dream opportunity to join a secret MI6 unit tracking Villanelle and the shady organisation she works for.