This week: Supergirl, James Cameron's Story of Science Fiction, The Flash, Chicago Med, Legion, Riverdale, The Expanse, Krypton, Station 19, Champions, Atlanta, Dear White People, Anon, The Rain, Killing Eve, Vida, Westworld, Into the Badlands
SUPERGIRL
"Of Two Minds" – Season 3, Episode 16
Mon Apr 30 – 8PM
On The CW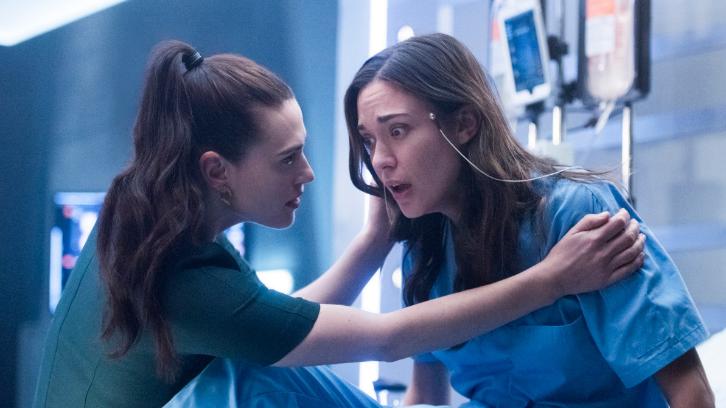 Photo: Dean Buscher/The CW — © 2018 The CW Network, LLC.
Just when you think the relationships in Supergirl are on the way to recovery the story takes a turn down the post-apocalyptic road…and we ain't ready. Pestilence, the third Worldkiller, has arrived and is causing birds to fall from the sky. Her deadly and incurable illness is spreading to humans and infects Alex (Chyler Leigh) and Winn (Jeremy Jordan). Supergirl's going for the one-two punch this week—tugging at the heartstrings with the threat of losing some of its own, while upping the action intensity with an epidemic-fueled panic. As Imra (Amy Jackson) so helpfully pointed out, Supergirl (Melissa Benoist) couldn't stop Pestilence before. Will these two ever stop butting heads? When they're forced to team up the tension only gets higher. Their drama is more addictive to watch than reality TV. We don't know whether to get the tissues ready or bust out the popcorn—'cause tonight's episode of Supergirl has a dangerous mix of emotion and turmoil primed to explode.
Tune into The CW every Monday for all new Supergirl.
From The CW:
Supergirl (Melissa Benoist) and Imra (guest star Amy Jackson) have different ideas on how to stop the third Worldkiller, Pestilence. However, when both Alex (Chyler Leigh) and Winn (Jeremy Jordan) are seriously injured by Pestilence, Supergirl and Imra team up to stop the destruction.
—
James Cameron's Story of Science Fiction
Series premiere
Mon Apr 30 – 10PM
On AMC
James Cameron's Story of Science Fiction airs tonight, only on AMC.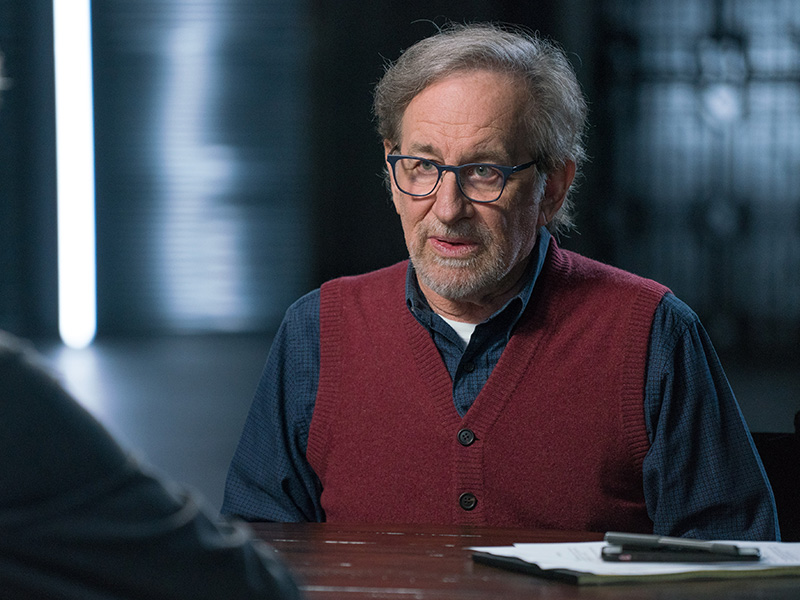 From AMC:
From its earliest days, science fiction has asked whether or not we're alone in the universe. Steven Spielberg, Ridley Scott, Sigourney Weaver and others ponder the question: What can aliens teach us about ourselves?
—
THE FLASH
"Therefore She Is" – Season 4, Episode 20
Tues May 1 – 8PM
On The CW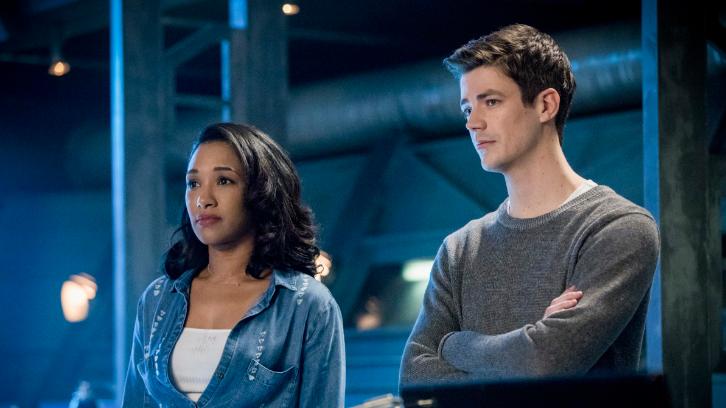 Photo: Jack Rowand/The CW — © 2018 The CW Network, LLC. 
The Thinker (Neil Sandilands) is building something and his wife, The Mechanic (Kim Engelbrecht), is getting suspicious (again). Is she the key to his downfall? We sure hope so—Engelbrecht brings incredible emotional depth to their relationship, making us wish for a showdown just so we could see the dynamic shift. Wouldn't it be so poetic? We're team Mechanic all the way this week (sorry, Flash)…she's the perfect example of why this is an exceptional show: Even The Flash's secondary characters are fully fleshed out and thoroughly enthralling to watch. That's just damn good writing.
Tune in to The CW tomorrow for all new The Flash.
From The CW:
Barry (Grant Gustin) and Team Flash team up with Gypsy (guest star Jessica Camacho) to try to thwart Thinker's plan. Meanwhile, Cisco (Carlos Valdes) and Gypsy have a heart to heart talk about their relationship.
—
CHICAGO MED
"This is Now" – Season 3, Episode 18
Tues May 1 – 10PM
On NBC
New episodes of Chicago Med air every Tuesday on NBC.
From NBC:
After a shooting occurs during a block party at a local park, Med is overrun with victims that stretch the hospital and staff to its limits. In the midst of the chaos, Dr. Choi devises a new mass casualty plan on the fly and Dr. Manning struggles to stay focused when she realizes her son and nanny might have been at the scene.
—
FOR THE PEOPLE
"Have You Met Leonard Knox?" – Season 1, Episode 7
Tues May 1 – 10PM
On ABC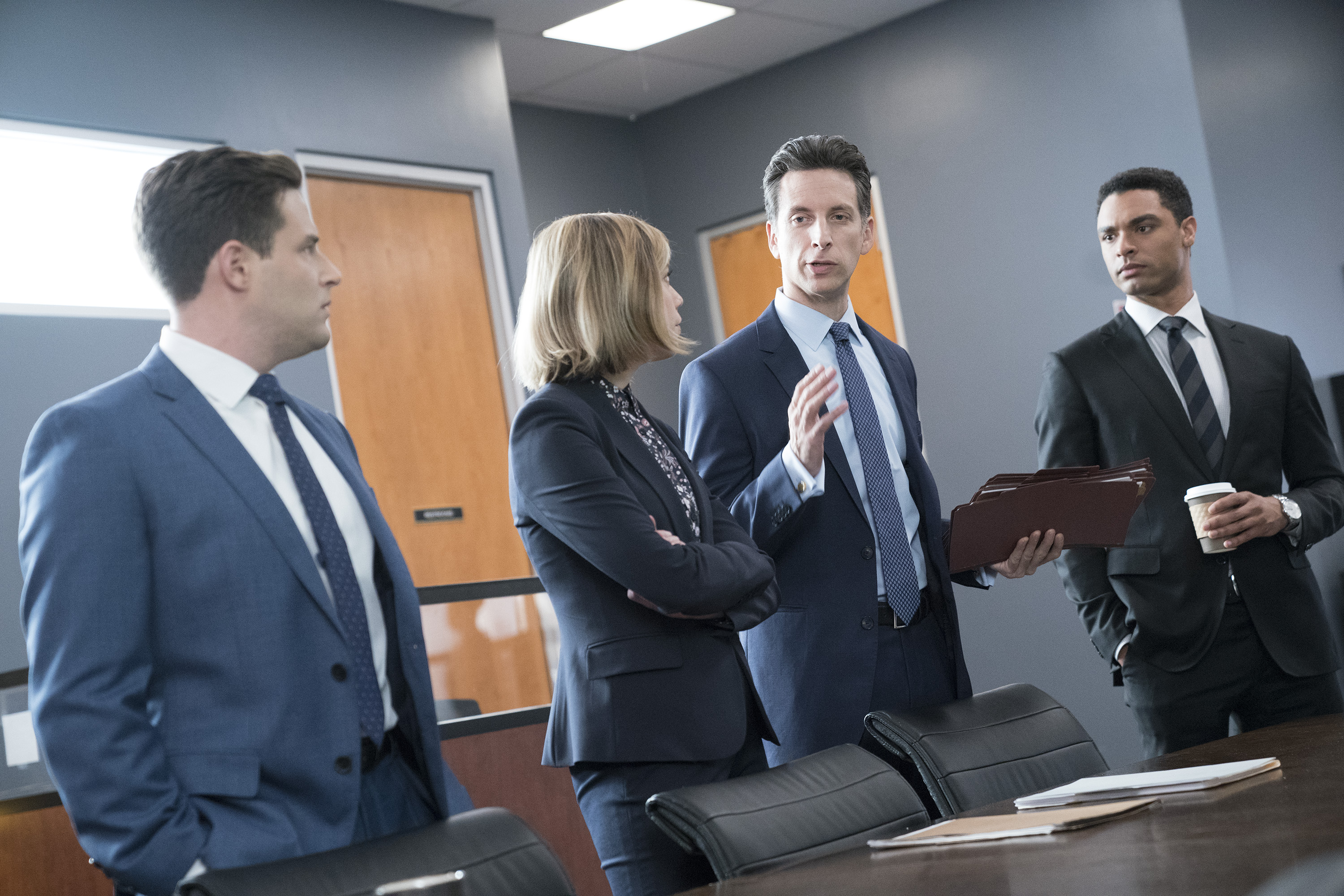 Photo: 

ABC/Mitch Haaseth
For The People returns this week and they're not easing us back in (did you expect anything less?). Bribery, fraud, and possible treason are on the agenda and Leonard's (Regé-Jean Page) having a hard time of it. Not only does he have his whole worldview brought into question when he takes on a new case, it also seems he's lost the girl. Things are heating up between Kate (Susannah Flood) and ATF agent Anya (Caitlin Stasey) and we can almost feel the jealousy radiating from Leonard. That's what makes this show so compelling—law is supposed to be devoid of emotion but For the People never is. Our team of young lawyers can't stop their personal feelings from fueling their cases which only gets us more invested with every impassioned speech they make.
For the People airs tomorrow on ABC.
From ABC:
Leonard is forced to confront some longstanding insecurities when his new high-stakes case leads him to question what is right and what is wrong. Sandra goes head-to-head with Seth who files charges against a daring comedian accused of threatening a U.S. president's life; and Jay defends a tennis player accused of intentionally throwing a match to help his coach win a bet he placed against him.
—
LEGION
"Chapter 13" – Season 2, Episode 5
Tues May 1 – 10PM
On FX
Legion is all new every Tuesday on FX.
From TV Guide:
An uneasy reunion leads to a shocking truth.
—
The Handmaid's Tale
"Baggage" – Season 2, Episode 3
Wed May 2
On Hulu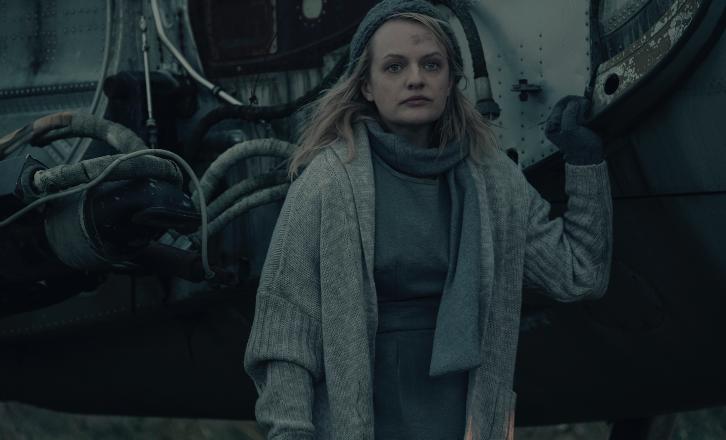 Credit: Hulu
"Hulu's The Handmaid's Tale is an intense ride with powerful emotional resonance, complex storytelling, and brilliant visuals—a definite must-watch even if, like us, you need a little ice cream for comfort afterwards."
Read our [p]review here and stay tuned for our The Handmaid's Tale discussion tomorrow on Geek Girl Riot!
Watch The Handmaid's Tale on Hulu every Wednesday.
From Hulu:
Offred reflects on her relationship with her mother as she navigates her way through Gilead. In Little America, Moira tries to cope with the trauma she endured.
—
RIVERDALE
"Chapter Thirty-Three: Shadow of a Doubt" – Season 2, Episode 20
Wed May 2 – 8PM
On The CW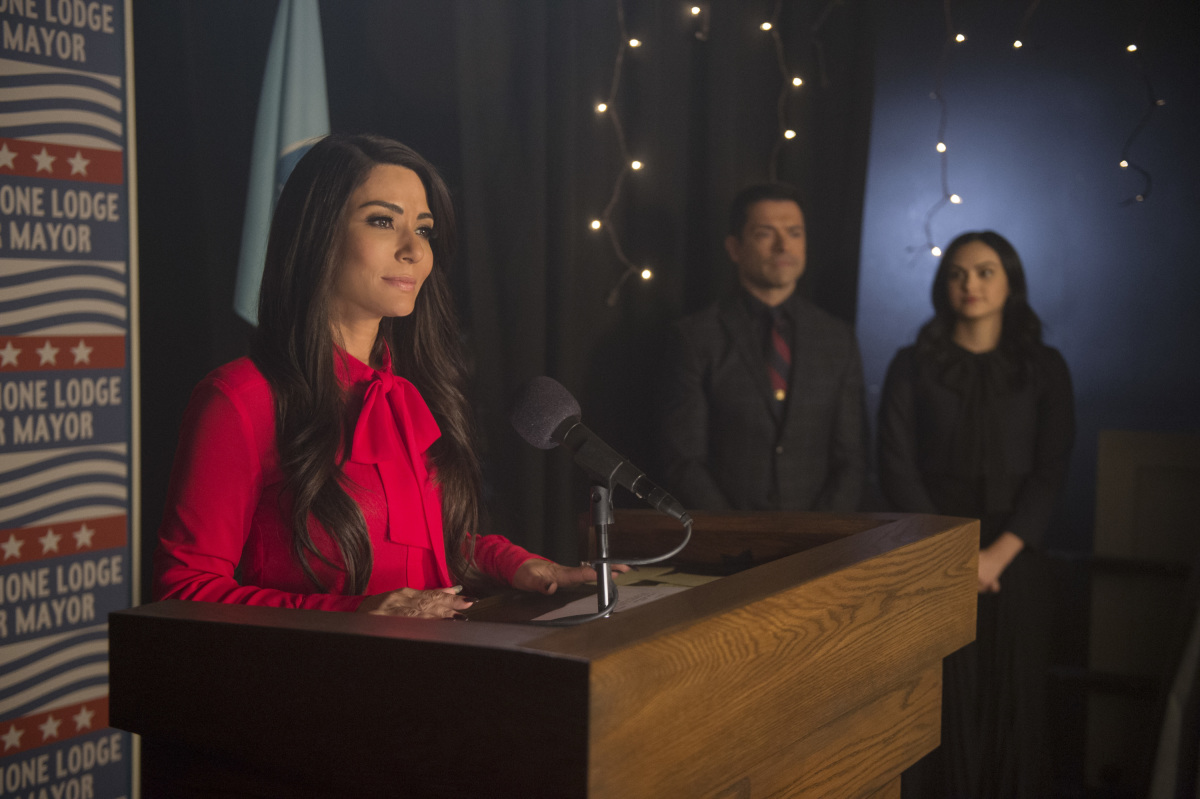 Photo: Diyah Pera/The CW — © 2018 The CW Network, LLC.
Chic (Hart Denton) is not Betty's (Lili Reinhart) real brother! We repeat, Chic is not Betty's real brother! The family impersonator's reign of creeping us the F out may finally be over but the cost of getting him out of the way was high. The thought of the impending fallout is enough to give anyone shivers. But, in true Riverdale fashion, this isn't the biggest revelation we're facing right now because currently all signs point to Hal (Lochlyn Munro) being the Black Hood…and he's already named his next victim. They say keep your friends close and your enemies closer but what happens when family's involved? Riverdale has set up an intricate domino effect to knock each and every character into its web of deception, connecting them in ways we haven't even begun to imagine. So don't gasp in horror just yet because we've still got three episodes left and, if we know this show, Hal ain't the end of the story. We wouldn't be so obsessed with Riverdale if the writers made it easy to guess the right theory first time, now would we?
Head back into Riverdale this Wednesday, only on The CW.
From The CW:
As the town's mayoral race between Fred (Luke Perry) and Hermoine (Marisol Nichols) heats up, Hiram (Mark Consuelos) sets his sights on a new ally – Sheriff Minetta (guest star Henderson Wade). Betty (Lili Reinhart) turns to Cheryl (Madelaine Petsch) for help when she has a suspicion about the Black Hood. Meanwhile, the reveal of a dark secret forces Archie (KJ Apa) and Jughead (Cole Sprouse) to try and ease tensions between the Bulldogs and Serpents. Finally, on the eve of the mayoral debate, a mysterious message leaves everyone on edge.
—
THE EXPANSE
"Reload" – Season 3, Episode 4
Wed May 2 – 9PM
On Syfy
The Expanse airs on Syfy every Wednesday night.
From Syfy:
The Rocinante tends to wounded Martian soldiers in exchange for supplies. Avasarala struggles with how to disseminate a key piece of evidence despite being in hiding.
—
KRYPTON
"Transformation" – Season 1, Episode 7
Wed May 2 – 10PM
On Syfy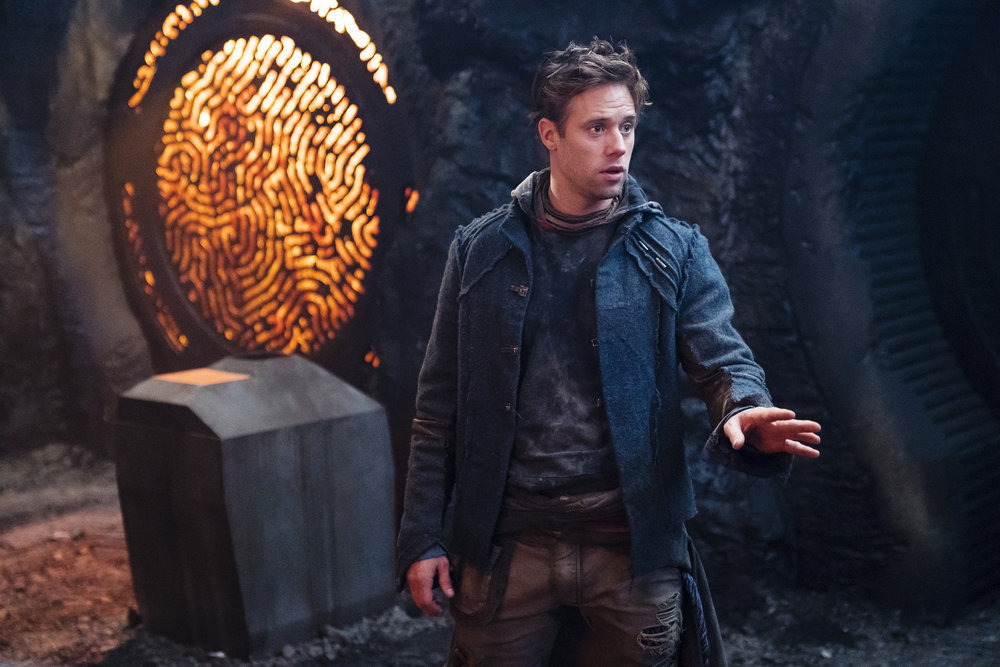 Photo by: Steffan Hill/Syfy
What sells Krypton as one of the finest up-and-coming superhero shows is it tests the limits of family vs. ideology. It blurs the lines between the two until you're left wondering where your own loyalties would lie in each situation. How far will Daron-Vex (Elliot Cowan) go to save his daughter Nyssa (Wallis Day)? In "Transformation" we get to watch him toe the line between father and ruthless leader and you feel the conflict in Cowan's every line. It's painful to watch but it'll make you realize just how invested you already are in these characters—you root for them regardless of what side they're on.
Head to Krypton this Wednesday on Syfy.
From Syfy:
After a failed coup, Daron punishes the conspirators. Lyta and Dev go in search of Jayna.
—
STATION 19
"Every Second Counts" – Season 1, Episode 8
Thurs May 3 – 9PM
On ABC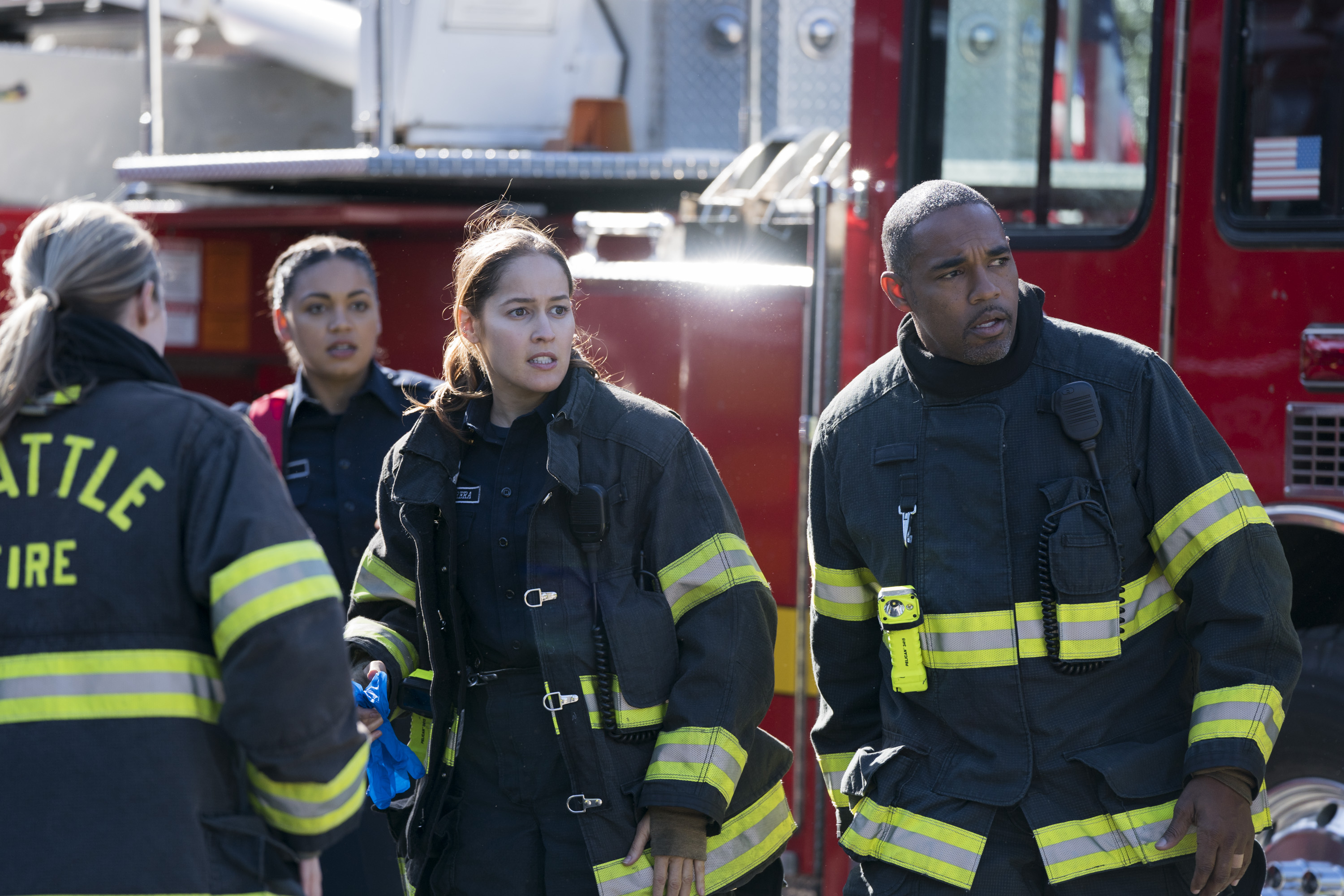 Photo: 

ABC/Mitch Haaseth
Andy (Jaina Lee Ortiz) has the confidence, judgement, and no-one-left-behind mentality it takes to lead. Jack (Grey Damon) has the passion and fearlessness to match. Seeing as we're now eight episodes in and still no one has decided on who should be captain, the only option left is to ask the Station 19 staff who they think is right for the role. Various truths are about to come out and some of them are gonna hurt—Station 19 knows just how to keep us guessing without ever getting tired.
Watch Station 19 on ABC this Thursday.
From ABC:
Ripley interviews each member of the Station 19 crew to determine whether Andy or Jack should be given the role of captain. Meanwhile, a mom's day out on a party bus takes a turn for the worst; and Captain Pruitt continues his treatment.
—
CHAMPIONS
"Deal or No Deal" – Season 1, Episode 7
Thurs Apr 26 – 9:30PM
On NBC
Get into Champions this Thursday on NBC.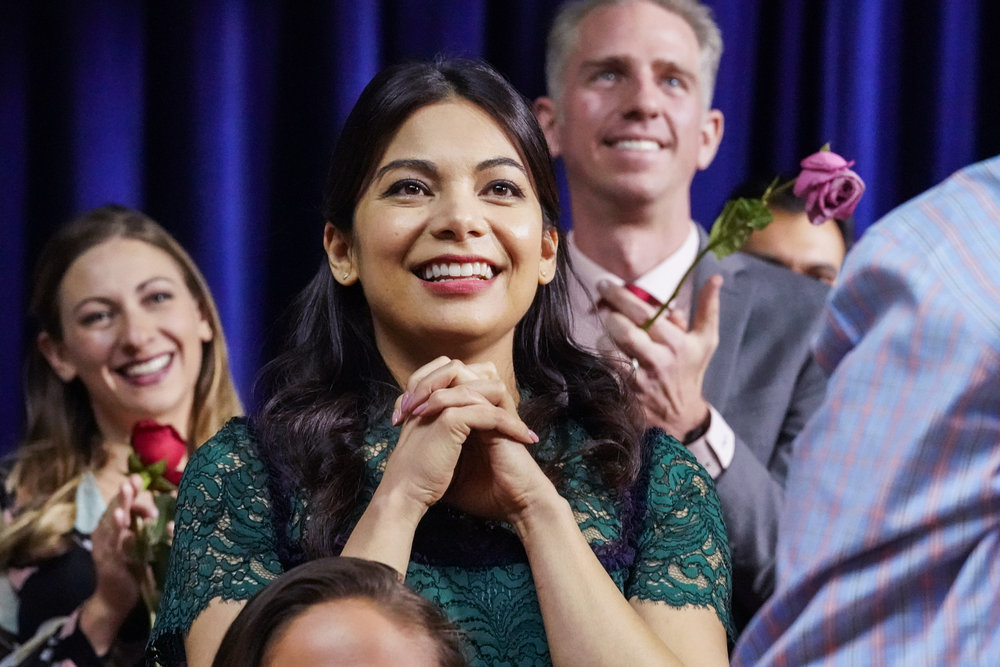 Photo by: Evans Vestal Ward/NBC
From NBC:
Michael prepares for his first date as Vince and Matthew prepare to expand the gym. But an unexpected offer threatens to change all their lives forever.
—
ATLANTA
"FUBU" – Season 2, Episode 10
Thurs May 3 – 10PM
On FX
Atlanta airs this Thursday on FX.
From TV Guide:
Memories of middle school, with a shout-out to Miller Grove, are spotlighted.
—
Dear White People
Season 2
Fri May 4
On Netflix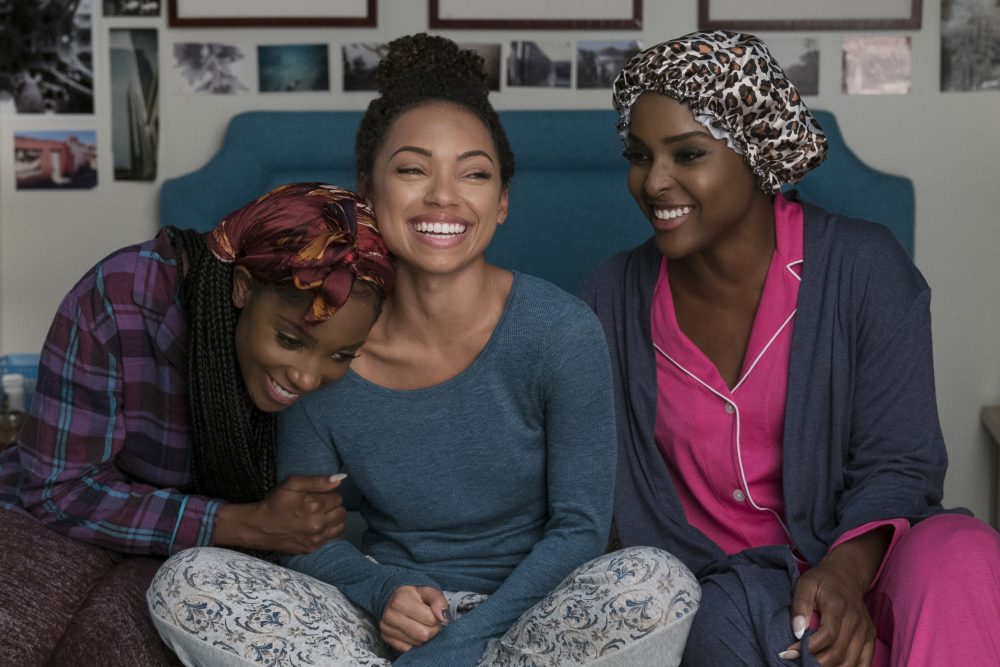 Photo: Netflix
We didn't know how much we missed Dear White People until we got it back. Seriously, the feels are all over the place with this dead-on harpooning of supposedly "post-racial" America. One minute you're mad because…racism, one minute you're laughing because…racism, and then you're all gooey on the inside because…romance. And it's emotional too. But above all else, Dear White People is satirical snarkasm, delightfully exposing the worst and best of us—with the unrest at an ivy league school as its backdrop. We're not just talking about the issues that divide us with this series, we're talking about the things that remind us how similar we are. (We all got pain, Effie.) Justin Simien comes through as the creative scion of Spike Lee's legacy, specifically School Daze (don't think we didn't notice Giancarlo Esposito is the narrator). We were all in through ten episodes and when it ended…gotdammit…all we could do is scream. Well played, Justin Simien, well played.
Stay tuned for our full season 2 [p]review!
Dive into Dear White People season 2 on Netflix this Friday.
From Netflix:
Set against the backdrop of a predominantly white Ivy League university where racial tensions bubble just below the surface, Dear White People is an hilarious send-up of "post-racial" America that weaves together the universal story of finding one's own identity and forging a wholly unique path. The satirical series — which picks up where the acclaimed 2014 film by the same name left off – follows a group of Winchester University's students of color as they navigate a diverse landscape of social injustice, cultural bias, political correctness (or lack thereof) and sometimes misguided activism in the millennial age. Through an absurdist lens, Dear White People utilizes biting irony, self-deprecation and sometimes brutal honesty to hold up a mirror to the issues plaguing society today, all the while leading with laughter.
—
Anon
Fri May 4
On Netflix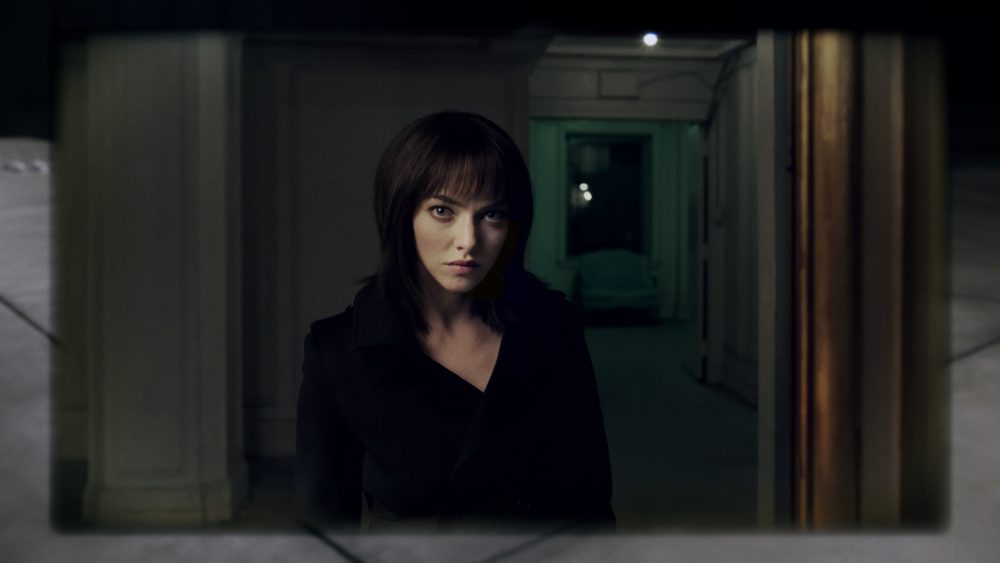 Photo: Netflix
Anon is just a few steps away from reality. In a world without privacy, where every part of a person's life is recorded by the authorities, where is the line? Sound familiar? In Anon's world, crime is almost non-existent, but a series of murders leads detective Sal Frieland (Clive Owen) to a woman known only as the Girl (Amanda Seyfried). Seyfried and director Andrew Niccol previously worked together on the fantastic In Time and Anon is set to be just as thought-provoking. From the tone to the color-grading, Anon is a darkly compelling exploration of identity and technological control, which just might get you to switch off everything (…except Netflix).
Anon is available to stream on Netflix from Friday.
From Netflix:
Sal Frieland (Owen) is a detective in a world with no privacy, ignorance, or anonymity; where everyone's lives are transparent, traceable, and recorded by the authorities; where crime almost ceases to exist. But in trying to solve a series of unsolved murders, Frieland stumbles on a young woman known only as the Girl (Seyfried). She has no identity, no history and is invisible to the cops. Sal realizes this may not be the end of crime, but the beginning.
—
The Rain
Season 1
May 4
On Netflix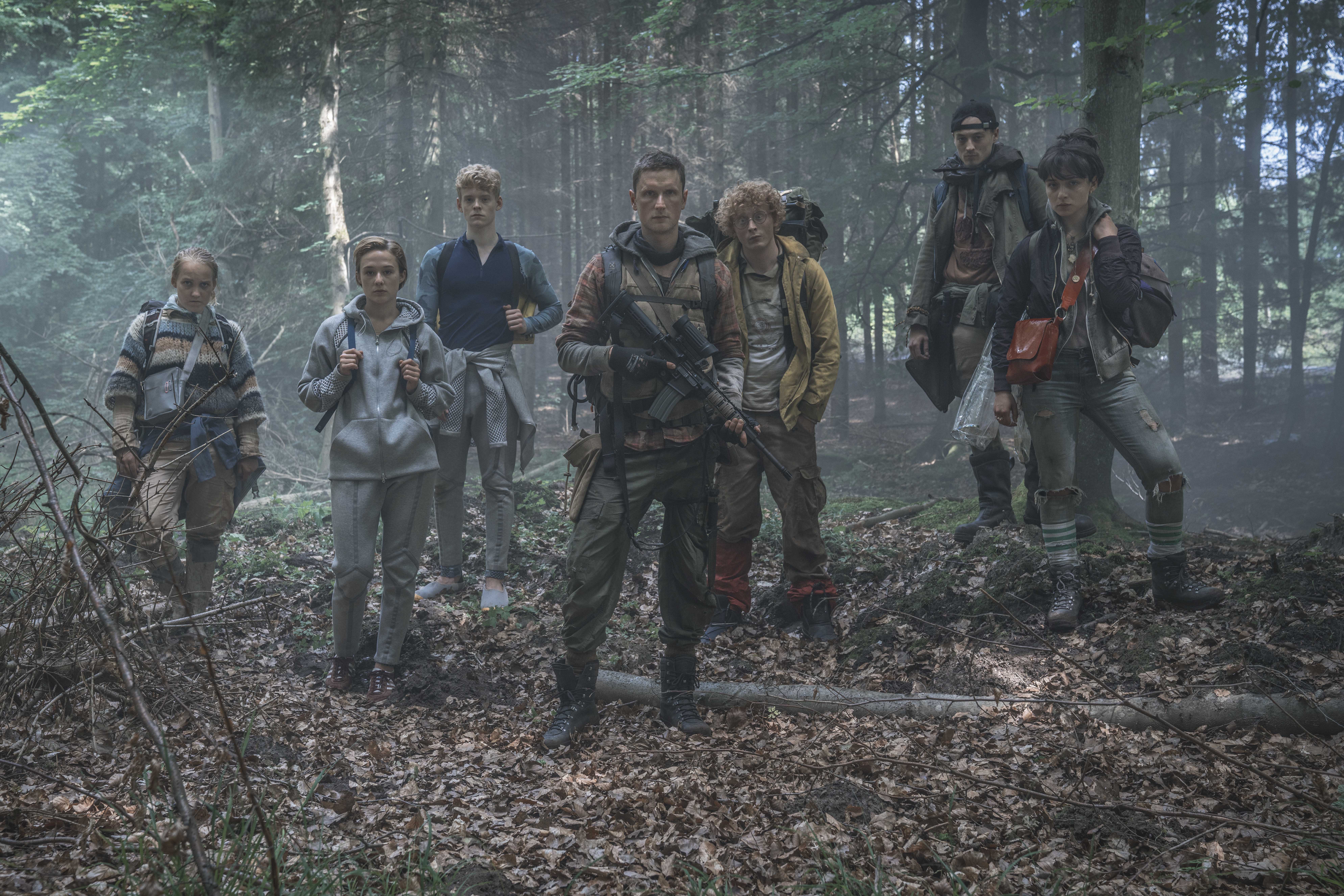 Photo: Per Arnesen/Netflix
The Rain starts like any other day. School, grades, friends…until the weather changes. When the rain comes, people die. There's a virus and the only survivors are out to save only themselves. With similar tones to the hugely popular series The Tribe, this is Netflix's first Danish original series and it's not holding back. They've used an everyday weather occurrence to strike fear and it works wonderfully, thanks in no small part to having two children—Simone (Alba August) and Rasmus (Lucas Lynggaard Tønnesen)—take the lead. They're naive and overly trusting of adults, showing us the story through their eyes, bit by terrifying bit. You fear for them because you know from other post-apocalyptic shows how cruel the world can be, and you're haunted by the memory of how overwhelming childhood fears are. But it's their naivety that keeps them alive in a world that wants to wash it away.
Stream season 1 of The Rain from this Friday on Netflix.
From Netflix:
The world as we know it has ended. Six years after a brutal virus carried by the rain wipes out almost all humans in Scandinavia, two Danish siblings emerge from the safety of their bunker to find all remnants of civilisation gone. Soon they join a group of young survivors and together set out on a danger-filled quest through an abandoned Scandinavia, searching for any sign of life.
Set free from their collective past and societal rules, the group has the freedom to be who they want to be. In their struggle for survival, they discover that even in a post-apocalyptic world there's still love, jealousy, and many of the coming of age dilemmas they thought they'd left behind with the disappearance of the world they once knew.
Who will you be when the rain comes?
—
KILLING EVE
"I Have a Thing About Bathrooms" – Season 1, Episode 5
Sun May 6 – 8PM
On BBC America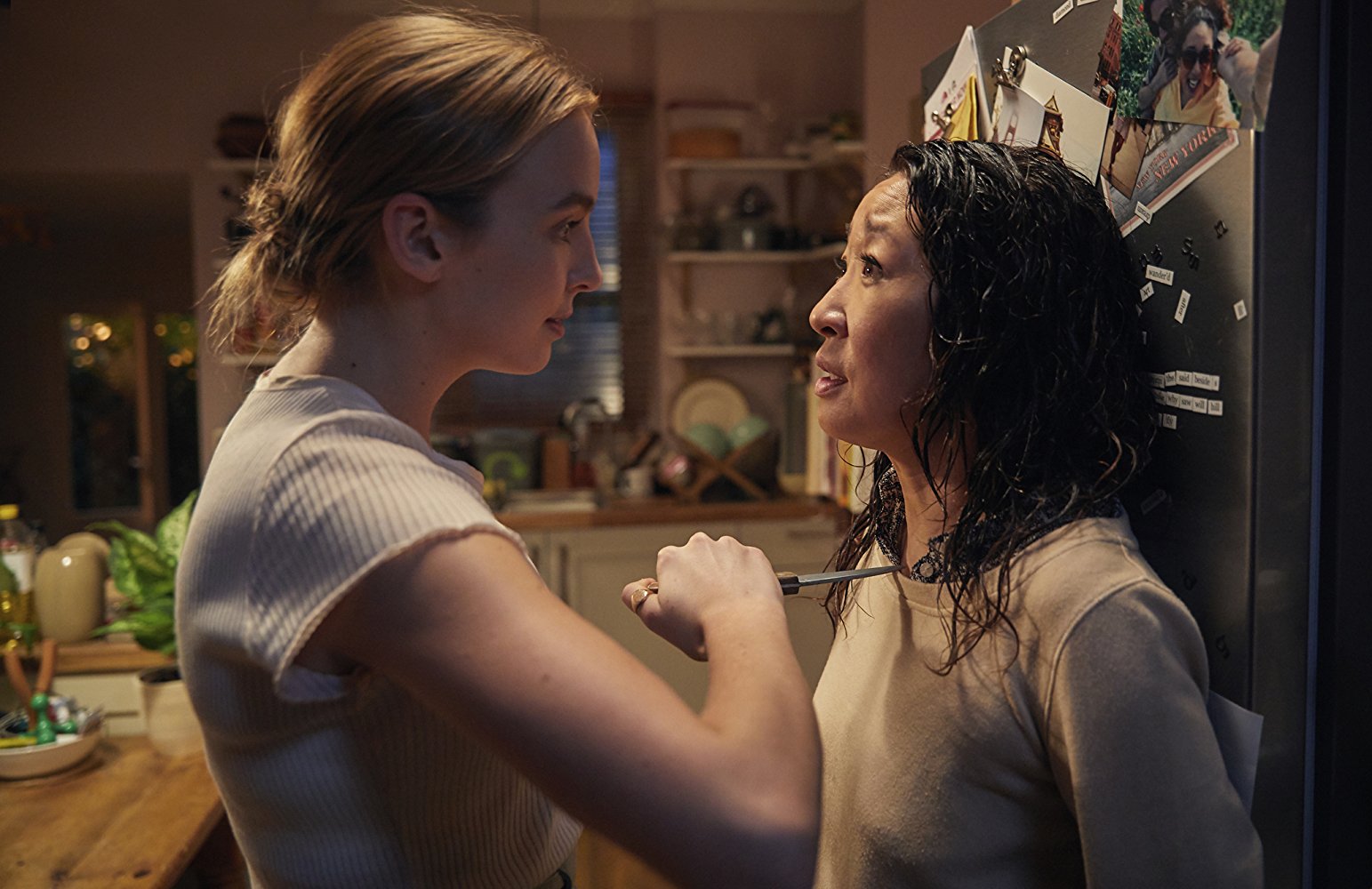 Photo: © BBC America
Killing Eve is taking "fight or flight" to the next level this week. Eve (Sandra Oh) finally comes (knowingly) face to face with Villanelle (Jodie Comer) and the tension in the air is…confusing. The whole episode plays out like the creepiest first date you'll ever go on, right down to the choice of perfume and the obsession with bathrooms (you'll see). It's bizarre and frightening to the point of almost comical. We're still trying to work out what they both want…is it each other? In what way? The show's incredibly skillful writing means we may never know but the excitement lies in the clues the characters leave behind—in those small, seemingly inconsequential moments where you catch glimpses of who these women really are and just how far they'll go. Eve sees right through Villanelle's bullshit but she's harder to read than the assassin. It's here you realize Eve is the truly terrifying one—you felt it leading up to this episode but you'll be left wondering just who is playing the game here?
Killing Eve airs every Sunday on BBC America.
From BBC America:
Having survived a terrifying close call with Villanelle, Eve now has the mole ensconced in a safe house and is buzzing. They have an exciting opportunity to glean information and crack this thing open. But Villanelle hasn't finished with Eve, and boldly forces an escalation in their relationship from which there can be no return.
—
Vida
Series premiere
Sun May 6 – 8:30PM
On Starz
Vida premieres on Starz this Sunday.
From Starz:
Familia isn't just important, it's everything.
—
WESTWORLD
"Virtù e Fortuna" – Season 2, Episode 3
Sun Apr 29 – 9PM
On HBO
Dive into Westworld every Sunday on HBO.
From HBO:
There is beauty in who we are. Shouldn't we, too, try to survive?
—
INTO THE BADLANDS
"Leopard Snares Rabbit" – Season 3, Episode 3
Sun May 6 – 10PM
On AMC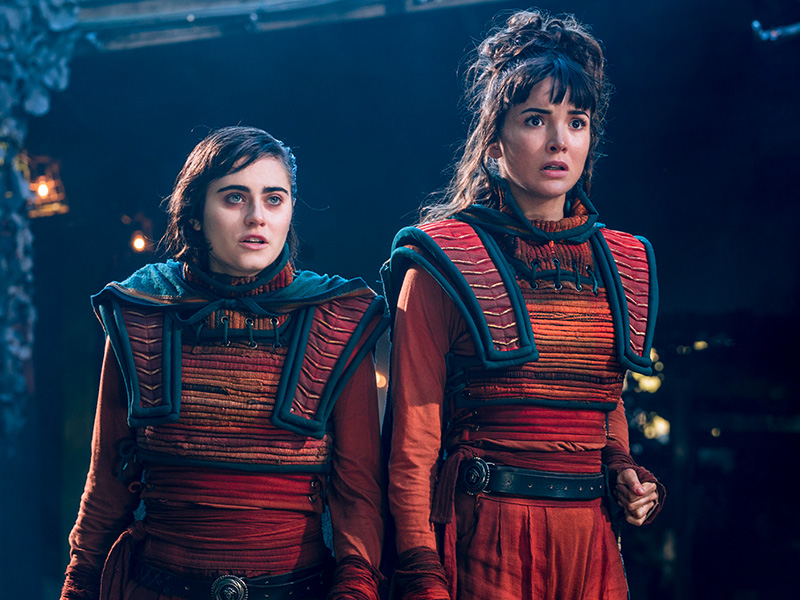 Photo: AMC
Into the Badlands kicks into high gear this week—just when you think it couldn't get any more jaw-dropping—with Sunny (Daniel Wu) and Bajie (Nick Frost) trying to get across the wall to find help for baby Henry. But the Baron war has other plans. As an enemy closes in on Tilda (Ally Ioannides) and the Iron Rabbits, allegiances are called into question and she's got some hard truths to learn…like just how far Lydia (Orla Brady) will go. Bajie shows more heart than ever before (how much is he letting on?) and the Widow (Emily Beecham) proves she's still as cold-hearted as ever. But it's M.K. (Aramis Knight) who surprises here—he begins to reconcile with his past and makes an explosive decision…yup, there are plenty of moments that'll make you squeal. This season of Into the Badlands is wild; we do not know what these characters are going to do next but one thing's for sure, we are not leaving our TV screens.
Head Into the Badlands every Sunday on AMC.
From AMC:
Sunny and Bajie go undercover on The Widow's frontlines, seeking passage to a possible cure for Henry; Tilda confronts The Widow.