This week: Supergirl, The Flash, The 100, Chicago Med, Legion, Deception, Riverdale, The Expanse, Krypton, Station 19, Champions, Atlanta, Candy Jar, Killing Eve, Westworld, Into the Badlands
SUPERGIRL
"In Search of Lost Time" – Season 3, Episode 15
Mon Apr 23 – 8PM
On The CW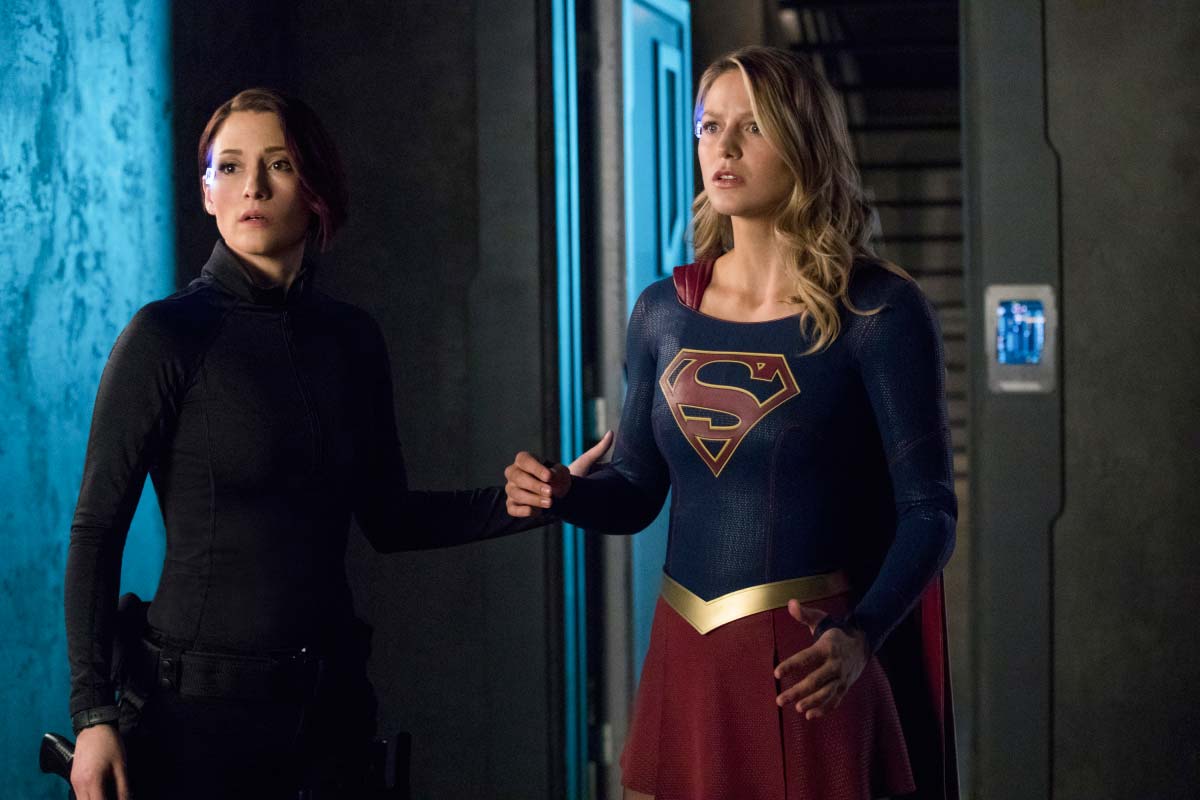 Photo: Jack Rowand/The CW — © 2018 The CW Network, LLC.
The hunt is on for the third Worldkiller in tonight's Supergirl. Blight is destined to destroy the planet Winath in a thousand years but right now she's the problem Mon-El (Chris Wood) is ready take on. Meanwhile Kara (Melissa Benoist) has problems closer to home to deal with as My'rnn's (Carl Lumbly) illness is causing psychic disturbances. The relationships in Supergirl are the show's biggest strength which means it hurts all the more to see them struggle. Especially when no one can help. Lena's (Katie McGrath) friendship with Sam/Reign (Odette Annable) is under strain this week adding an even more interesting dynamic to Lena's friendship with Kara, and, in turn, her alter ego. Because that's the problem with close-knit bonds; you pull at one of them, and they all start to unravel. It's something Supergirl demonstrates beautifully and grounds the characters in such a human way to make this show so much more than a superhero flick.
Tune into The CW every Monday for all new Supergirl.
From The CW:
When Myr'nn (guest star Carl Lumbly) inadvertently causes psychic disturbances at the DEO, Supergirl (Melissa Benoist) must work with J'onn (David Harewood) to contain the resulting chaos. Meanwhile, Mon-El (Chris Wood) begins training Kara in fighting techniques he's learned in the future for battling Worldkillers.
—
THE FLASH
"Fury Rogue" – Season 4, Episode 19
Tues Apr 24 – 8PM
On The CW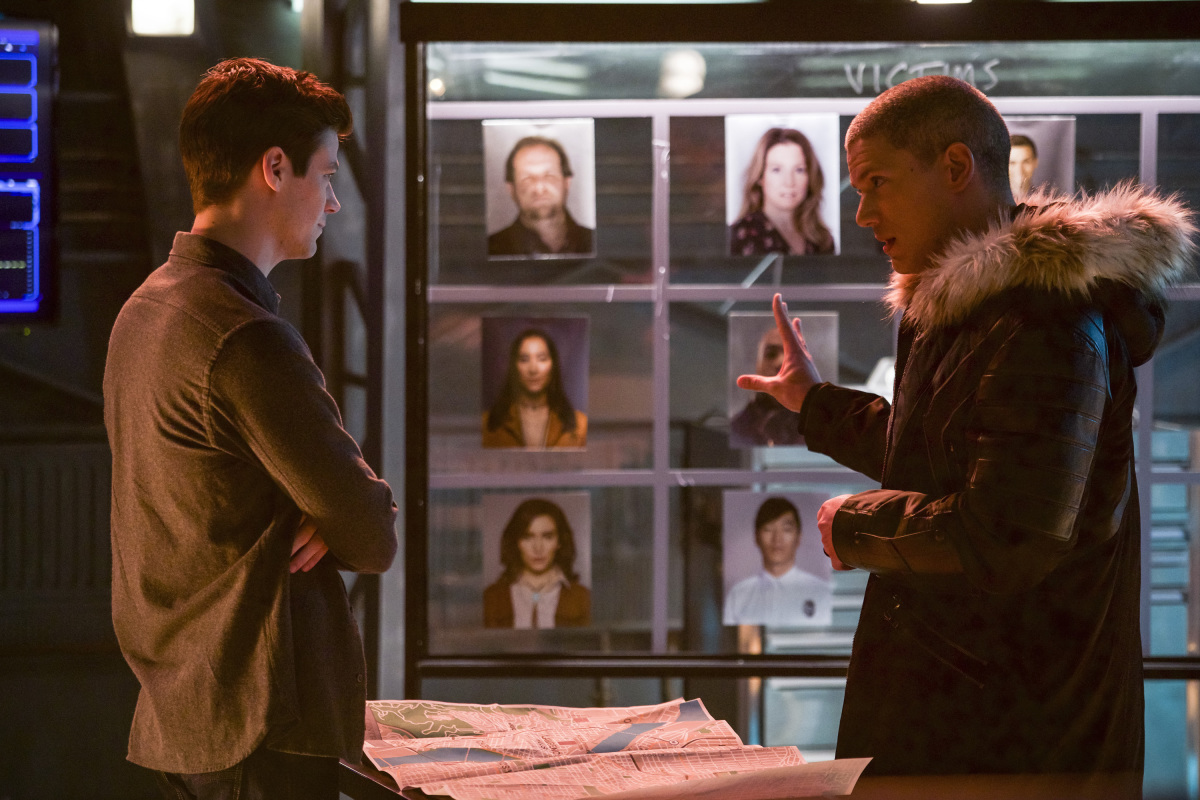 Photo: Shane Harvey/The CW — © 2018 The CW Network, LLC
Our boy The Flash (Grant Gustin) is calling on our boy Citizen Cold (Wentworth Miller) from the "Crisis of Earth-X" crossover for help this week. Need we say more?
Tune in to The CW tomorrow for all new The Flash.
From The CW:
When Barry (Grant Gustin) needs help transporting a dangerous meta, he calls on a new friend for help – Leo Snart AKA Citizen Cold (guest star Wentworth Miller). Meanwhile, Cisco (Carlos Valdes) becomes suspicious of Harry (Tom Cavanagh).
—
THE 100
"Eden" – Season 5 premiere
Tues Apr 24 – 9PM
On The CW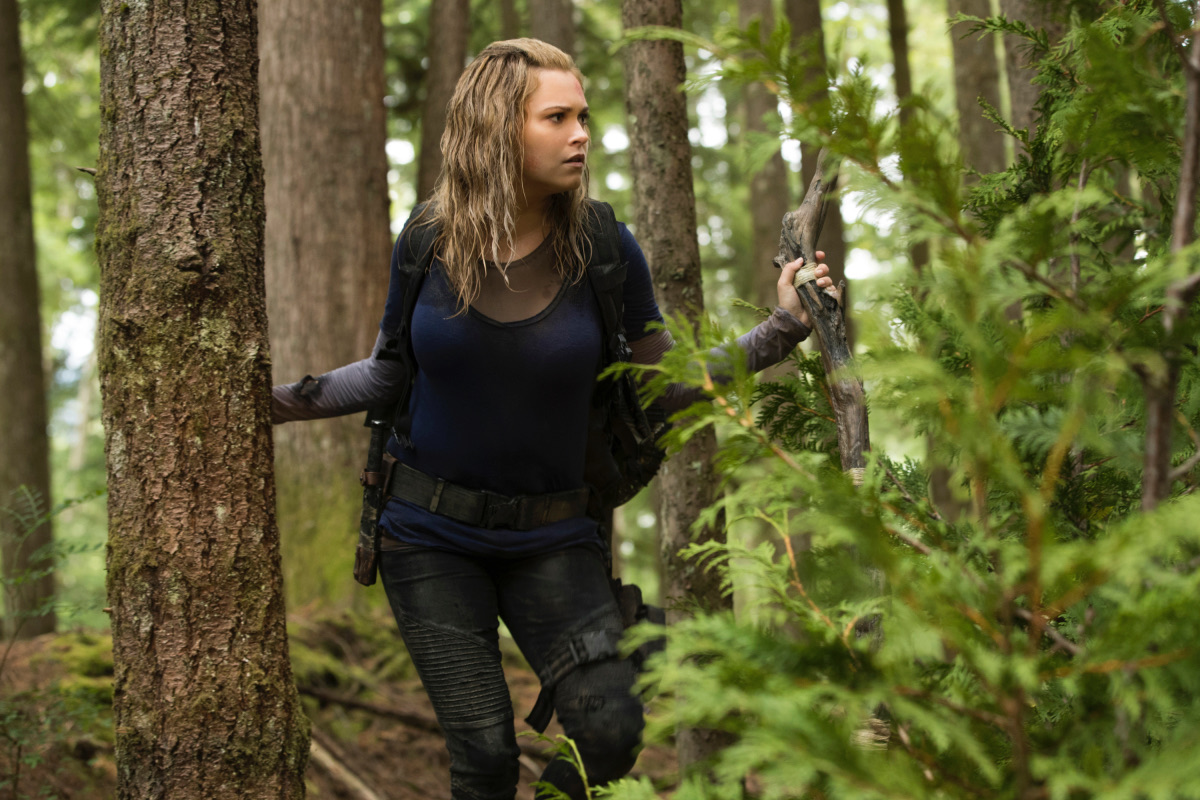 Photo: Jack Rowand/The CW — © 2018 The CW Network, LLC.
Six years have passed since season 4 of The 100 ended (both onscreen and what's felt like six years offscreen) and we're so ready for its return. Six years after the world came to an end with only a few survivors who found refuge in a bunker or in space on the Ark (anyone else imagining that Lost in Space crossover? No? Just us?). Six years of being hidden away and trying to survive…that's a whole lot of emotion, fear, and nuclear reset to deal with. The show creators essentially have a blank slate to soft-restart The 100 in any way they see fit and judging by the past four seasons we're in for one hell of a ride.
Catch the season premiere of The 100 this Tuesday, only on The CW.
From The CW:
In the fifth season premiere, Clarke (Eliza Taylor) struggles to survive on a desolate, scorched earth while her friends in space come across a long-awaited beacon of hope.
—
CHICAGO MED
"The Parent Trap" – Season 3, Episode 17
Tues Apr 24 – 10PM
On NBC
New episodes of Chicago Med air every Tuesday on NBC.
From NBC:
After a 10-year-old boy is admitted to the hospital, Dr. Manning and Dr. Halstead disagree on how to best handle the boy's parents. Dr. Rhodes rushes to fix a heart that will be given to Dr. Reese's estranged father (guest star Michel Gill).
—
Legion
"Chapter 12" – Season 2, Episode 4
Tues Apr 24 – 10PM
On FX
Legion is all new every Tuesday on FX.
From TV Guide:
David is tested.
—
Deception
"Sacrifice 99 to Fool One" – Season 1, Episode 7
Tues Apr 24 – 10PM
On ABC
Tune into ABC for new episodes of Deception every Tuesday.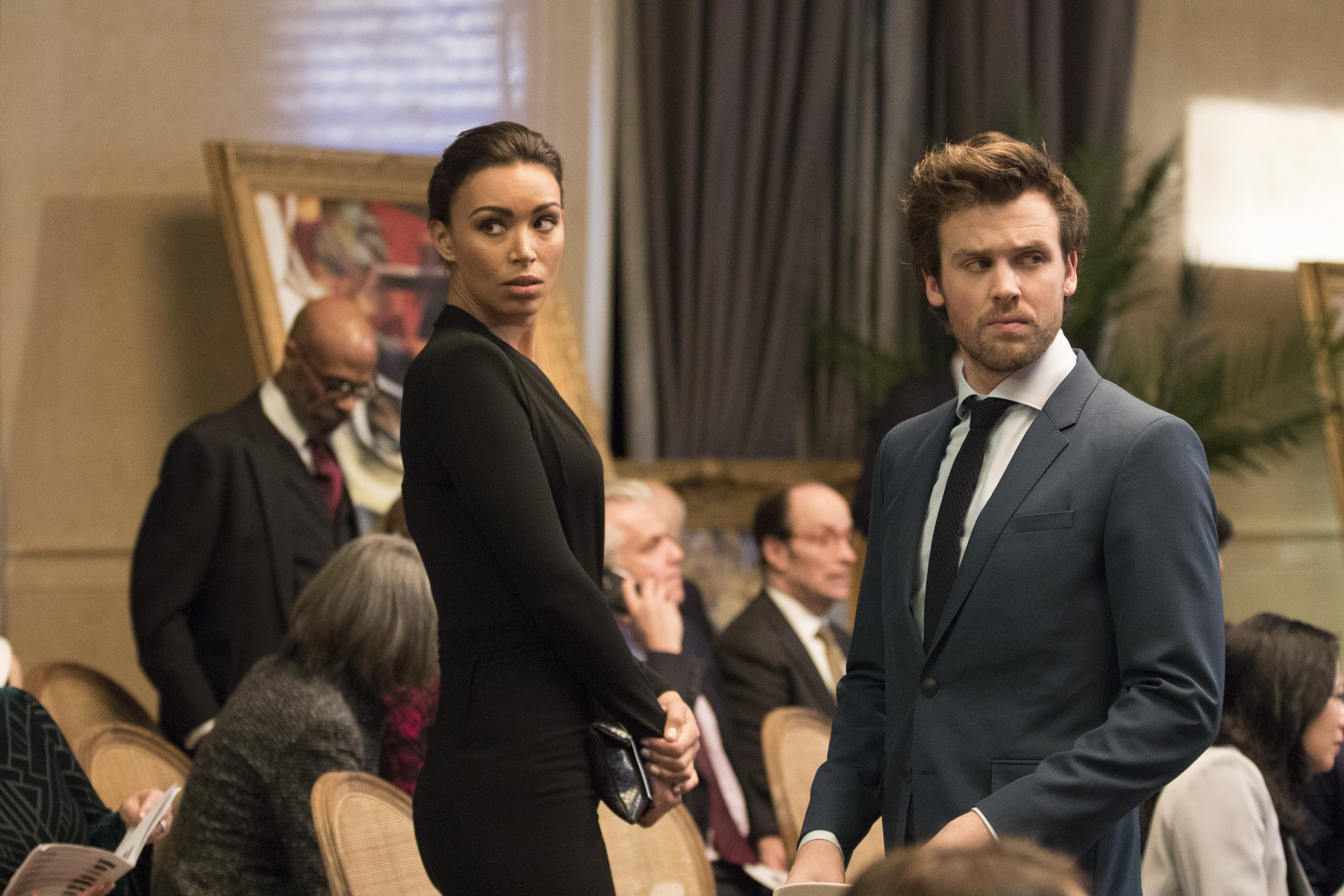 Photo: 

ABC/Giovanni Rufino
From ABC:
The FBI calls on Jonathan Black to help stop the Mystery Woman from committing her next crime.
—
RIVERDALE
"Chapter Thirty-Two: Prisoners" – Season 2, Episode 19
Wed Apr 25 – 8PM
On The CW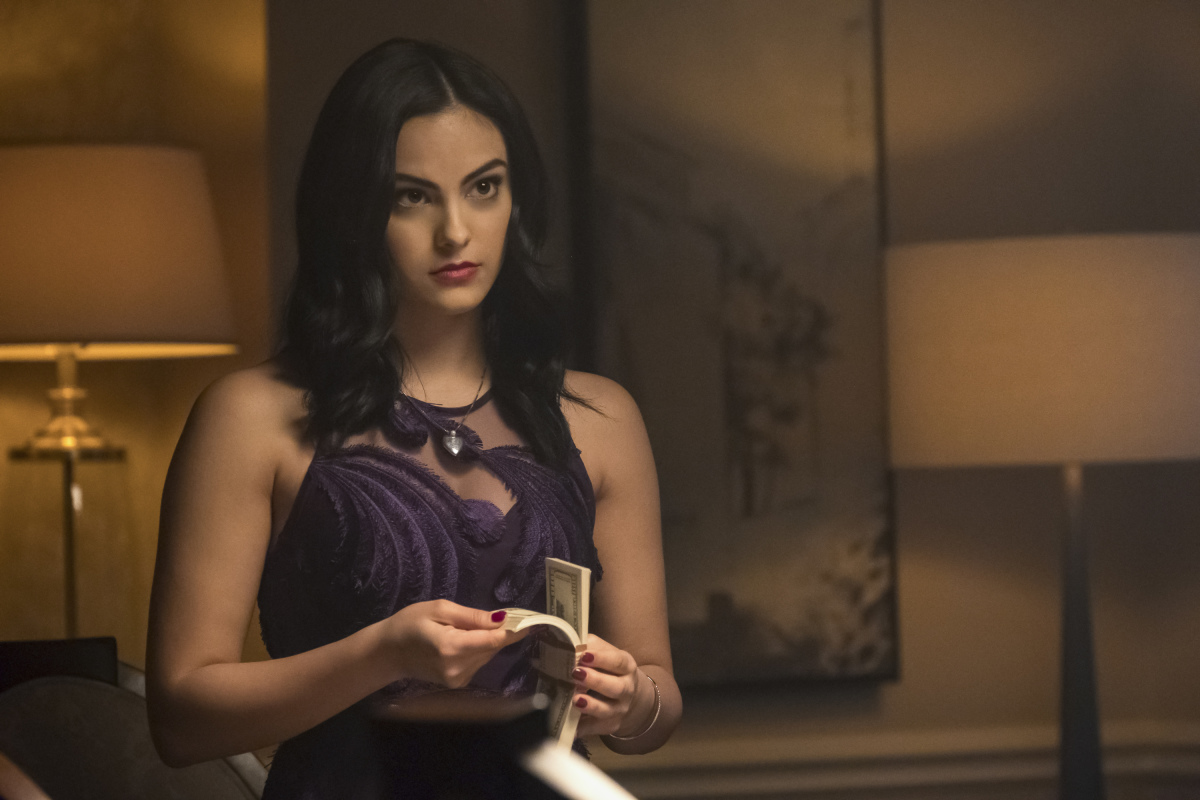 Photo: Katie Yu/The CW — © 2018 The CW Network, LLC. 
We still haven't stopped screaming about last week's "Carrie" episode. Screaming over everything that went down and also screaming we toldja so. Can open, worms everywhere. The Black Hood is back (did ya miss 'em?) with a thirst for blood and there are all too many suspects. Each character is guilty of something in Riverdale after all…nobody's safe and that's what makes this show so goddamn thrilling.
Head back into Riverdale this Wednesday, only on The CW.
From The CW:
After an incident at Riverdale High leaves the town on edge, Archie (KJ Apa) leads the charge to uncover the culprit. Meanwhile, the reveal of a devastating secret leads to a violent showdown between Chic (guest star Hart Denton), Jughead (Cole Sprouse), Betty (Lili Reinhart) and Alice (Madchen Amick). Elsewhere, Veronica (Camila Mendes) takes matters into her own hands when someone from her past comes to town seeking revenge. Finally, Hermoine (Marisol Nichols) and Cheryl (Madelaine Petsch) conspire to take down Sheriff Keller (guest star Martin Cummins).
—
The Expanse
"Assured Destruction" – Season 3, Episode 3
Wed Apr 25 – 9PM
On Syfy
The Expanse airs on Syfy every Wednesday night.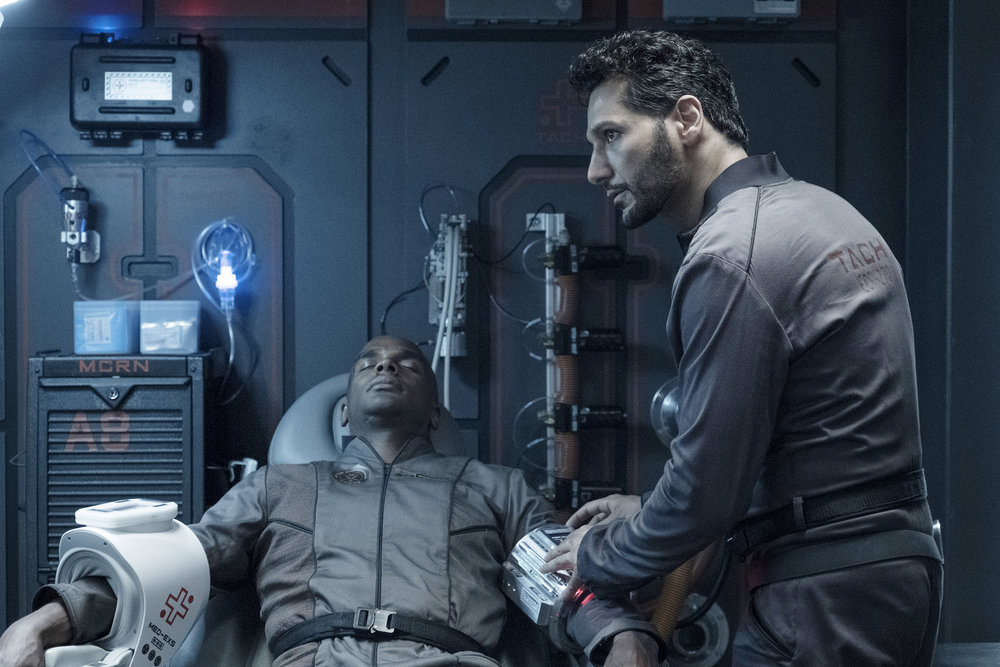 Photo by: Rafy/Syfy
From Syfy:
As Earth strategizes a costly ploy to gain advantage in the war against Mars, Anna struggles to convince Sorrento-Gillis to do the right thing. Avasarala and Bobbie seek refuge aboard the Rocinante.
—
KRYPTON
"Civil Wars" – Season 1, Episode 6
Wed Apr 25 – 10PM
On Syfy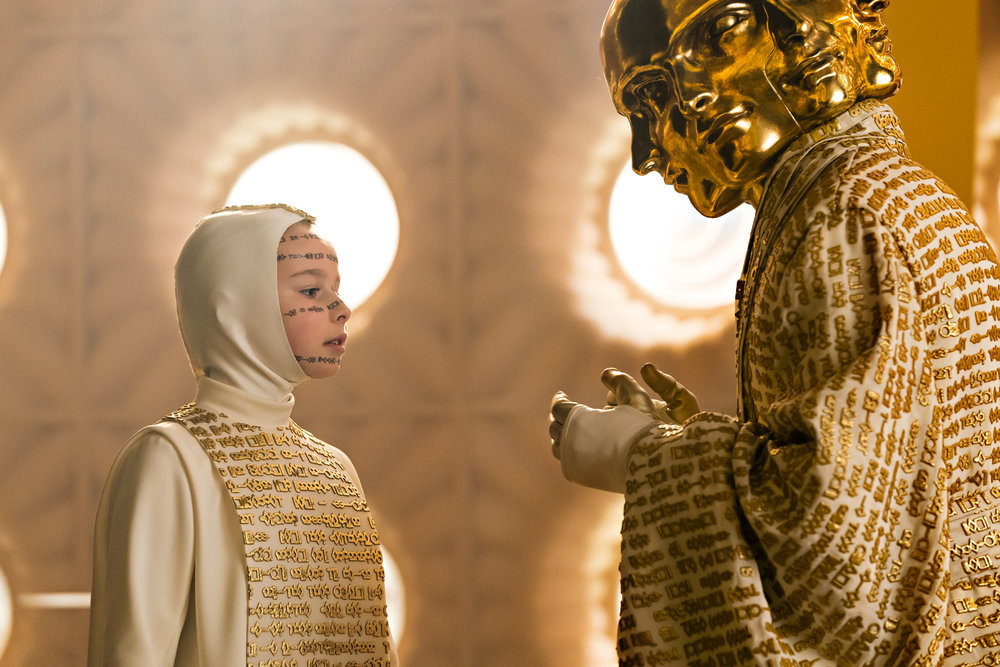 Photo by: Steffan Hill/Syfy
Timelines are wibbly-wobbly, timey-wimey things. Just one small change could alter the course of the future—so with Krypton dropping huge truth-bombs this week we're throwing everything we know of the Superman universe out the window. In "Civil Wars" we learn Brainiac's (Blake Ritson) true intentions which might prevent the entire existence of Superman if he isn't defeated. As if the stakes weren't high enough Krypton just blew our minds with how far it's willing to push the limits of the universe. If Lor-Zod (Emmanuel Ighodaro) is correct in his theory that Brainiac isn't from the future, and goes through with his plan to unleash Doomsday to defeat him, Earth will never know Clark Kent. Also, Adam's (Shaun Sipos) mission would be over and Seg (Cameron Cuffe) will be faced with the impossible choice: To accept Krypton's fate or stop Brainiac and Superman's future. Either way there's a whole lot of heartache and betrayal brewing in Krypton and it's these impossible choices that the show thrives on (even if making sense of it all makes our brains hurt).
Head to Krypton this Wednesday on Syfy.
From NBC:
Seg is faced with an impossible choice that will shape the El legacy and the fate of the universe.
—
STATION 19
"Let it Burn" – Season 1, Episode 7
Thurs Apr 26 – 9PM
On ABC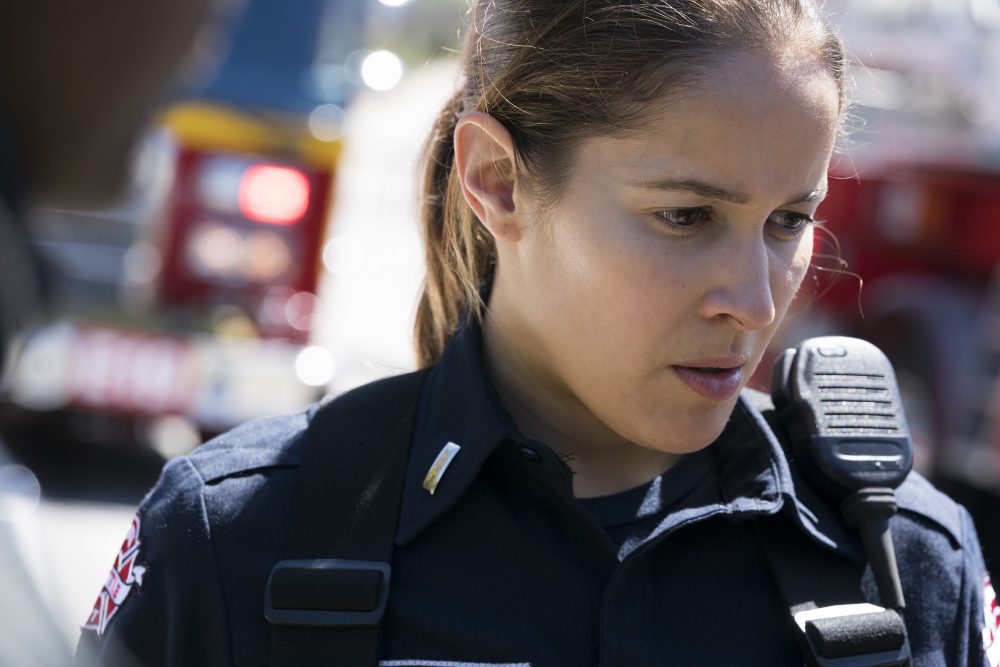 Photo: ABC/Mitch Haaseth
Station 19 further cements its place in must-see drama by tugging at our heartstrings with real emotions we all know (and tear up to). Because it's hard to admit when you need help. It's even harder to accept when your loved ones need help. When Captain Pruitt's (Miguel Sandoval) health gets worse, Andy (Jaina Lee Ortiz) is staying by his side whether he likes it or not (and good luck to him if he tries to stop her). Luckily he can count on his good friend Miranda Bailey (Greys Anatomy's Chandra Wilson) to take care of him. With Andy out of the station, Jack (Grey Damon) and Ryan (Alberto Frezza) are forced to work together…good thing they're both firefighters because the amount of macho competition in the air just got hotter than ever. What, you didn't think they'd leave you without some good face-off drama too, did you? Station 19 has got the delicious blend of family drama and love triangle drama down, they're just refining the process with each week to pull us deeper.
Watch Station 19 on ABC this Thursday.
From ABC:
Ryan tags along to a disaster drill training at Station 19 where he and Jack get competitive. Captain Pruitt's health weakens and Andy is sticking by his side. Meanwhile, both the firehouse crew and police department respond to a strip mall fire, forcing Jack and Ryan to work together.
—
Champions
"Nepotism" – Season 1, Episode 7
Thurs Apr 26 – 9:30PM
On NBC
Get into Champions this Thursday on NBC.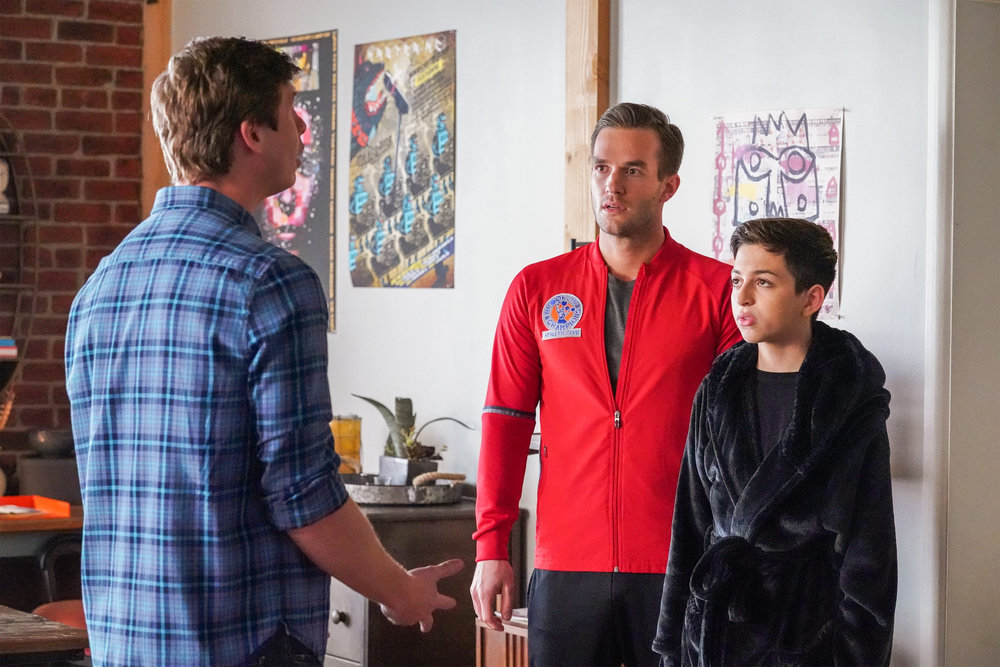 Photo by: Evans Vestal Ward/NBC
From NBC:
As Michael waits to hear if the musical he wrote will be picked for the freshman show, Vince is accused of treating some staff members better than others.
—
ATLANTA
"North of the Border" – Season 2, Episode 9
Thurs Apr 26 – 10PM
On FX
Atlanta airs this Thursday on FX.
From TV Guide:
A pajama party is being held and Paper Boi is rumored to be there.
—
Candy Jar
Fri Apr 27
On Netflix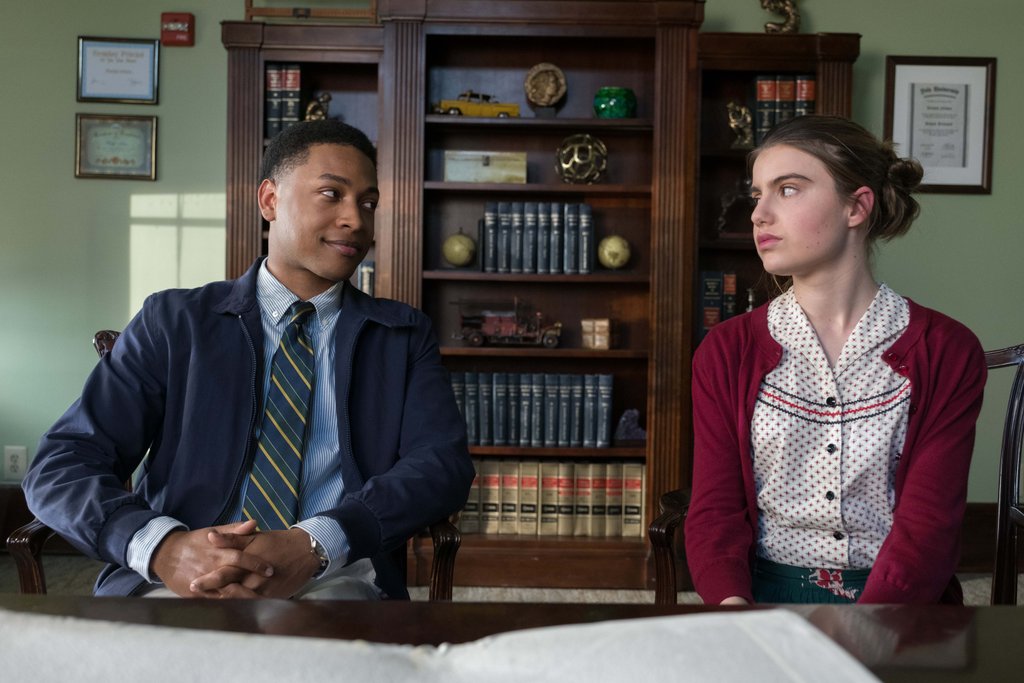 Photo: Netflix
Netflix is putting a fresh spin on the term "opposites attract" with their original film Candy Jar. Because how can you meet in the middle when you argue about everything…and your talent is arguing? Two halves of a debate team—played to almost-annoying perfection by Bennett (Jacob Latimore) and Lona (Sami Gayle)—must find some common ground to win the state championship and, well…you know the rest. It will add another dimension to Netflix's foray into YA movies with a brilliant supporting cast of Uzo Aduba (Orange Is The New Black), Tom Bergeron (Dancing with the Stars), Tracey Bonner (Black Lightning), Helen Hunt, and Christina Hendricks (Mad Men). Candy Jar nails the electric atmosphere and challenges (and frustrations) of high school debate leaving you uplifted and inspired, making it the pick-me-up you need.
Stream Candy Jar on Netflix from Friday.
From Netflix:
An introverted high school girl from a working-class background and her wealthy debate team nemesis can't agree on anything, but when they're forced to work together to compete in the state championship, they discover opposites can sometimes attract.
—
KILLING EVE
"Sorry Baby" – Season 1, Episode 4
Sun Apr 29 – 8PM
On BBC America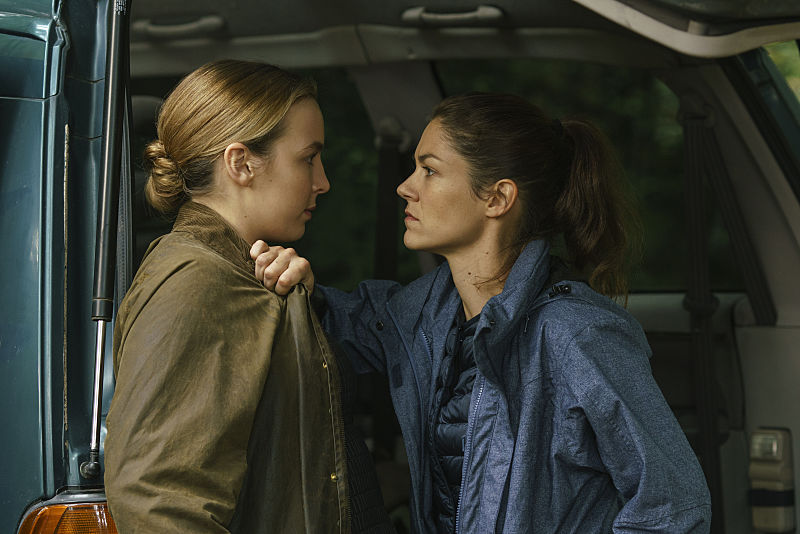 Photo: © BBC America/Nick Briggs
Villanelle (Jodie Comer) just made things personal. In the wake of Bill's (David Haig) funeral, Eve (Sandra Oh) is more determined than ever to find his killer…and kill her. No matter what Villanelle tries to do to make things up to her (and believe us, she tries), Eve's pushing forward—even if it means putting herself and more of her loved ones in danger. Meanwhile, Villanelle finds someone from her past and it ain't pretty. All we've seen so far of Villanelle is the childlike façade she puts on, lulling everyone—even her boss—into a false sense of security until you almost forget she's a cold-blooded assassin. Almost. With this shift in dynamic, you get to see that mask slip, just a little, and it's chilling. Both women let their emotions get in the way this week which adds another layer of obsession making sure they've reached the point of no return. You're left wondering just which parts of them they let us see are real (Eve lets her lovely façade slip too…). Both women are in too deep and so are we. We don't know what we'll do when these two women find each other and finally face off. Much like a dog chasing its tail—spinning in a never-ending circle—we don't want the game to end…because it's just too much fun.
Killing Eve airs every Sunday on BBC America.
From BBC America:
Intel from Berlin points to the existence of a mole, prompting Eve to undertake her first surveillance operation. Meanwhile, Villanelle is sent to England to eliminate a member of British Intelligence. Villanelle wonders, could it be Eve? Meanwhile Eve, in emotional turmoil, now knows how high the stakes are.
—
WESTWORLD
"Reunion" – Season 2, Episode 2
Sun Apr 29 – 9PM
On HBO
Dive into Westworld every Sunday on HBO.
From HBO:
Why don't we start at the beginning?
—
INTO THE BADLANDS
"Moon Rises Raven Seeks" – Season 3, Episode 2
Sun Apr 29 – 10PM
On AMC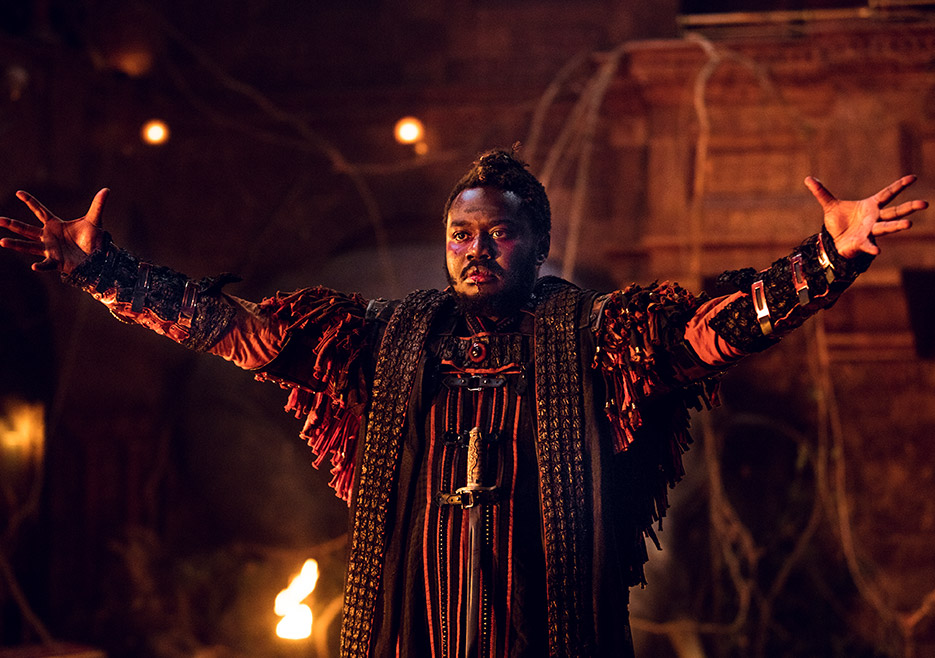 Photo: Aidan Monaghan/AMC
Into the Badlands promised us new worlds and characters—and season 3 is delivering in ways we couldn't have even imagined. Just when the characters have given up hope of escaping the hell of their pasts we get new introductions—we just don't know whose side these new characters are on…if any. With the arrival of Pilgrim (Babou Ceesay) bringing new mystery, we'll get a glimpse into his religion…and why he shouldn't be challenged in his mission. It turns out the season premiere last week was just easing us in because "Moon Rises Raven Seeks" ups the ante and shows us the true meaning of power.
Meanwhile, with baby Henry getting sicker, Sunny (Daniel Wu) turns to drastic measures for a solution. He and Bajie (Nick Frost) come dangerously close to getting discovered by the Widow (Emily Beecham), whose eyes are fixed on getting Lydia (Orla Brady) on her side. The political games are deadly especially when family is involved, making you wonder just how each character is going to play the hand they're dealt. (Of course, we can always count on Bajie to be the voice of rationality in every situation…okay we laughed too…but only to relieve the tension.) This episode does not hold back, y'all, and we guarantee you'll be squealing all the way through. The emotions here are toxic and twisted, hooking you in and pushing characters to new limits so each revelation slaps you round the face with a fresh sting.
Head Into the Badlands every Sunday on AMC.
From AMC:
Sunny and Bajie seek help from Lydia. The Widow struggles to control M.K. Pilgrim seeks to establish a new order in the Badlands.