This week: Supergirl, The Flash, Chicago Med, For the People, Riverdale, Krypton, Station 19, Atlanta, Scandal, Kodachrome, Killing Eve, Westworld, Into the Badlands
SUPERGIRL
"Schott Through the Heart" – Season 3, Episode 14
Mon Apr 16 – 8PM
On The CW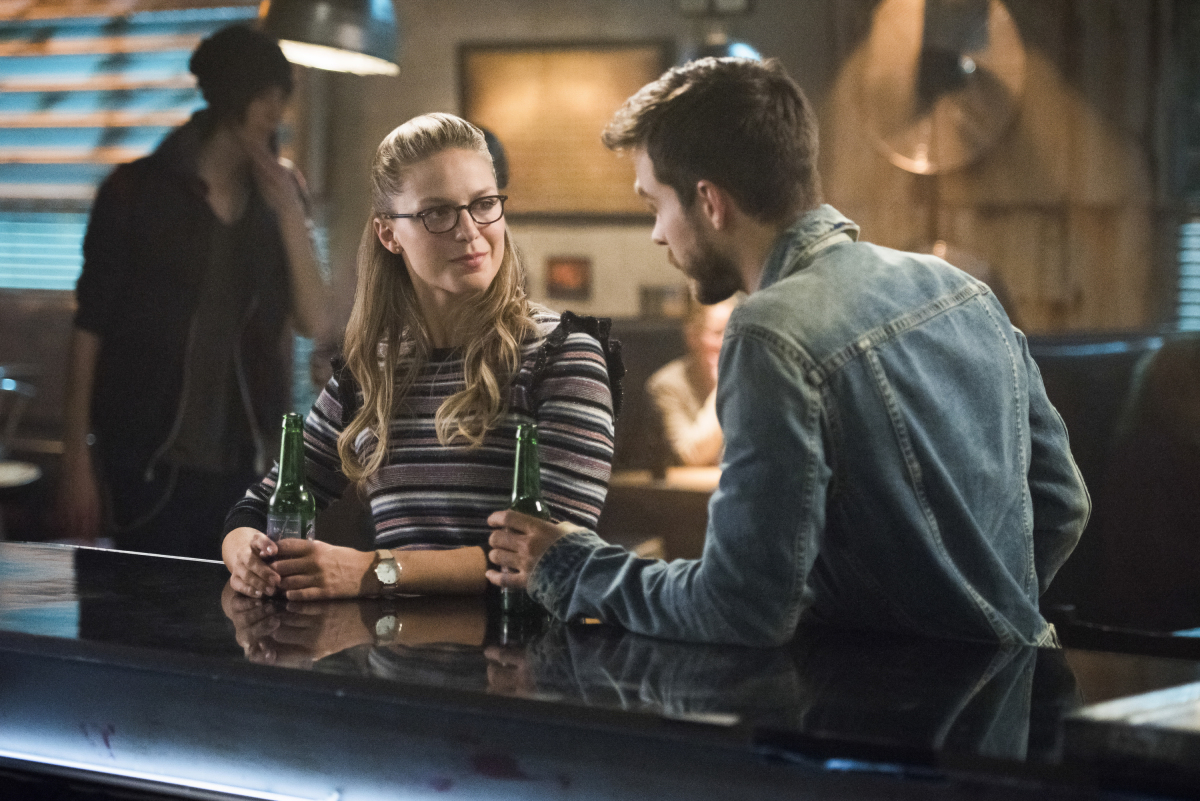 Photo: Dean Buscher/The CW — © 2018 The CW Network, LLC.
Parents: The one entity destined to shake things up when they visit. After Winn's (Jeremy Jordan) father (Henry Czerny) passes away, his estranged mother Mary (Laurie Metcalf) comes to visit. She abandoned Winn as a child and he understandably wants nothing to do with her…until the pair have to team up to stop a copycat of his father's Toyman. Ahh, there's nothing like a bit of mother-son bonding over a new villainous threat. Especially when Schott Sr. blows up his own casket as one last farewell (or to cover up the fact he's not really dead…this is Supergirl after all). Are those flying monkeys? Yes…sort of. What's more, J'onn's (David Harewood) father, Myr'nn (Carl Lumbly), also stops by to cast some doubt over his true motivations. Both parents in this week's episode have hidden agendas (don't they always) and make their kids conflicted about following in their footsteps. Can children ever truly deviate from the path their parents put them on? Supergirl just upped the stakes of family drama by throwing in some superpowers and complicated history to make this an episode primed to explode.
Tune into The CW tonight for all-new Supergirl.
From The CW:
When Winn's (Jeremy Jordan) father dies, his estranged mother, Mary (guest star Laurie Metcalf), reappears trying to reconnect and to explain why she abandoned him all those years ago. Winn is too embittered from his rough childhood to forgive her but when a copycat Toyman attacks, the two must work together to stop him. Mon-El (Chris Wood) tells Kara (Melissa Benoist) something important about the Worldkillers, and Alex (Chyler Leigh) becomes suspicious of Myr'nn's (guest star Carl Lumbly) recent behavior.
—
THE FLASH
"Lose Yourself" – Season 4, Episode 18
Tues Apr 17 – 7PM
On The CW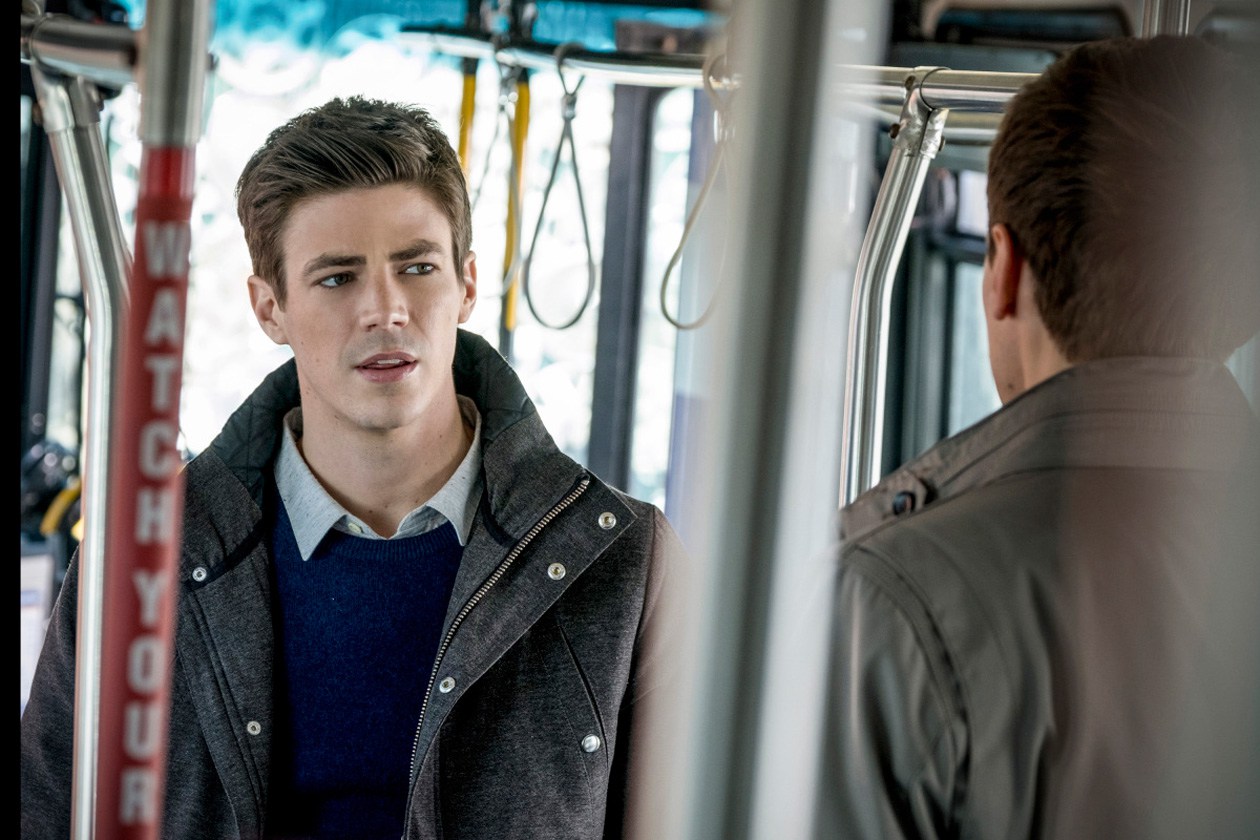 Photo: Katie Yu/The CW — © 2018 The CW Network, LLC.
"Prepare yourselves…tonight we take on The Thinker." So far, on this season of The Flash, the team has been chasing after DeVoe's (currently Miranda MacDougall) metas but now they're headed to the root of the cause: The Thinker herself. When DeVoe goes after their computer systems, they go after her right back. But is Ralph (Hartley Sawyer) about to go too far and play right into her hands? Things are looking pretty dire for Team Flash when The Thinker is always ten steps ahead but we're begging Ralph not to do the unthinkable. Every time the crew get too close it's only a matter of time before they're ripped apart again and we're way too invested to let that happen. Ya hear us? We're with The Flash through thick and thin, cheering them on even in the darkest times, especially when it comes to that Iris vs. Marlize (Candice Patton, Kim Engelbrecht) showdown we've all been waiting for.
Tune in to The CW tomorrow for all new The Flash.
From The CW:
When Barry (Grant Gustin) and Team Flash find a way to enter The Thinker's lair, Ralph (guest star Hartley Sawyer) considers crossing a dangerous line to defeat DeVoe. Meanwhile, Joe (Jesse L. Martin) is concerned by Harry's (Tom Cavanagh) recent behavior.
—
CHICAGO MED
"An Inconvenient Truth" – Season 3, Episode 16
Tues Apr 17 – 10PM
On NBC
New episodes of Chicago Med air every Tuesday on NBC.
From NBC:
After taking the lead on a surgery, Dr. Bekker feels the heat after something goes wrong. Dr. Manning and Dr. Charles are faced with a tough decision concerning the gender of a 9-year-old girl. April and Dr. Reese rush to find the son of a dying patient. Goodwin's godson is admitted to the hospital.
—
FOR THE PEOPLE
"Everybody's a Superhero" – Season 1, Episode 6
Tues Apr 17 – 9PM
On ABC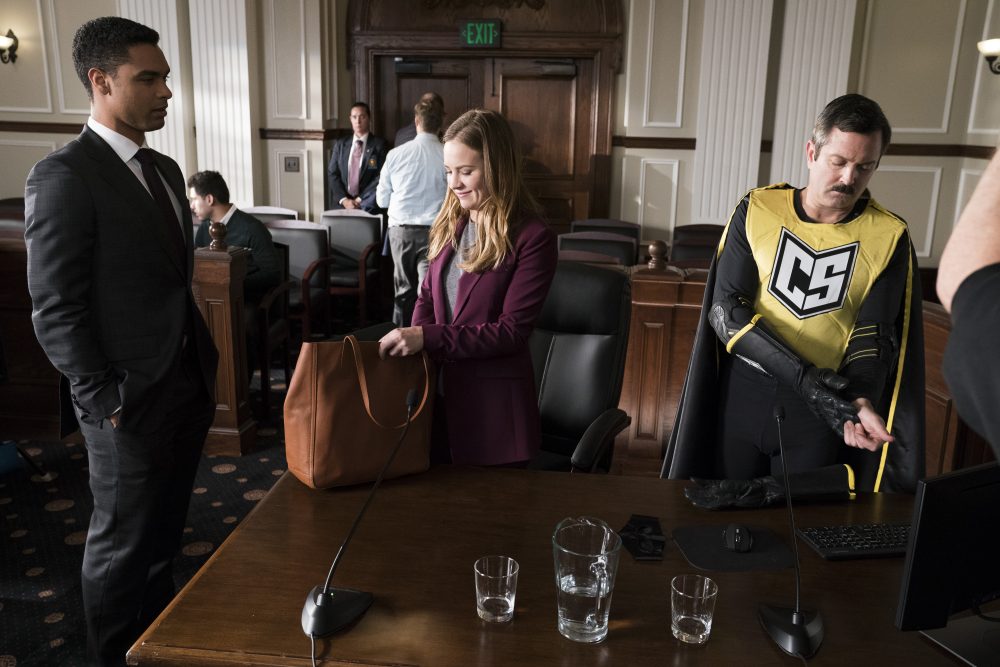 Photo: 

ABC/Mitch Haaseth
What happens when someone breaks the law…for the right reasons? Lately we've learned more than ever that some laws aren't made in the people's best interests. Allison's (Jasmin Savoy Brown) case continues For the People's streak of hitting a little too close to home in all the most heartfelt ways. Especially when the defendant is accused of stealing hurricane supplies…to help stop the suffering around him. Since last week's episode saw Vondie Curtis-Hall's brilliant performance as Judge Byrne, a man conflicted over upholding the law "at all costs", there's a sense of defeat caused by the system permeating the show. However, a spark of hope for change through its young lawyers balances this out. After all, it wouldn't be Shondaland if you didn't gain new wisdom with every loss and be ready to rise with each new case.
For the People airs tomorrow on ABC.
From ABC:
Allison defends a man accused of stealing supplies intended for victims of a devastating island hurricane and goes up against Celia Chavez (Olivia Sandoval), a tough Assistant U.S. Attorney for whom losing is not an option. Sandra defends a peculiar client accused of assault, but with an altered view of reality and on the other side, Kate is being sought after by an ATF agent in need of legal advice for an unlikely suspect.
—
RIVERDALE
"Chapter Thirty-One: A Night to Remember" – Season 2, Episode 18
Wed Apr 18 – 8PM
On The CW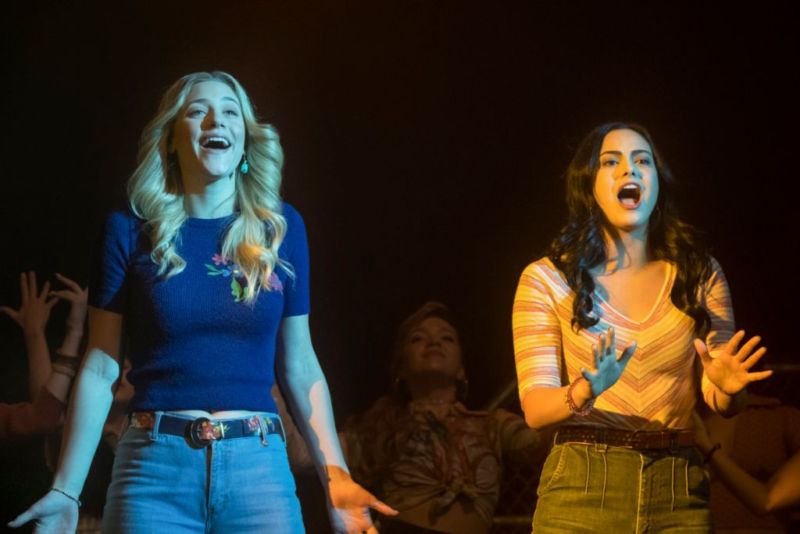 Photo: Katie Yu/The CW — © 2018 The CW Network, LLC.
As if Riverdale couldn't get any more creepy…this week, Riverdale High is rehearsing Carrie the musical. Um, yeah, because acting out a story where everyone gets murdered at their senior prom is a real stellar idea in this town. Needless to say we're glad no one in RH has telekinetic powers because the drama isn't limited to onstage. Carrie terrified a whole generation, and Riverdale's about to terrify a whole new one—we're just waiting to see which one of them gets stabbed in the back…
From The CW:
As Riverdale High begins rehearsals for its upcoming production of "Carrie the Musical," the arrival of an ominous letter forces director Kevin (Casey Cott) to make a difficult decision about the show.  Jughead (Cole Sprouse) uses his cover as the musical's documentarian to solve the mystery behind the letter. Meanwhile, tensions between Betty (Lili Reinhart) and Veronica (Camila Mendes) continue to escalate just as Alice (Madchen Amick) announces she is joining the musical to spend more time with Betty.  Elsewhere, Hiram (Mark Consuelos) enacts a devious plan to further drive a wedge between Fred (Luke Perry) and Archie (KJ Apa), while Cheryl (Madelaine Petsch) channels Carrie White during a showdown with her mother.
—
KRYPTON
"House of Zod" – Season 1, Episode 5
Wed Apr 18 – 10PM
On Syfy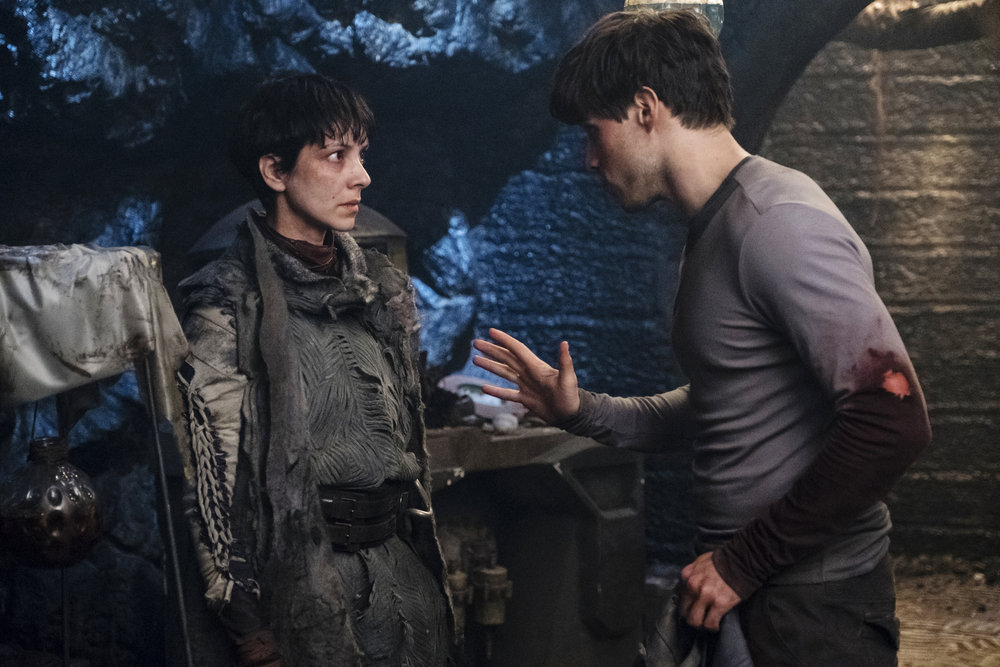 Photo by: Steffan Hill/Syfy
Remember when Krypton was so much simpler last week? There were two adversaries: The Voice of Rao and Brainiac (if you were paying attention, they were both played by Blake Ritson). Now, Rao is infected by Brainiac and things just got a whole lot more complicated…not to mention dangerous. Our villain-odometer just went through the roof and we're itching to see how the two powers will come together. But that's not the only thing that's complicated on Krypton: What is up with the new love triangle between Seg-El (Cameron Cuffe), Nyssa-Vex (Wallis Day), and Lyta-Zod (Georgina Campbell)? We know Seg-El is Superman's grandfather, but we still don't know who his grandmother is. Is it Seg's betrothed Nyssa or his current squeeze Lyta? Nyssa knows about Lyta, so why is she helping with Lyta's trial? And what scheme is Nyssa planning with her father Daron-Vex (Elliot Cowan)? This show keeps us guessing at every turn, creating new and thrilling complexities to expand the Superman universe. Something's definitely off in Krypton and we gotta know, stat.
Head to Krypton this Wednesday on Syfy.
From Syfy:
Jayna grapples with her torn loyalties as Seg fights for survival within the heart of Black Zero.
—
STATION 19
"Stronger Together" – Season 1, Episode 6
Thurs Apr 19 – 9PM
On ABC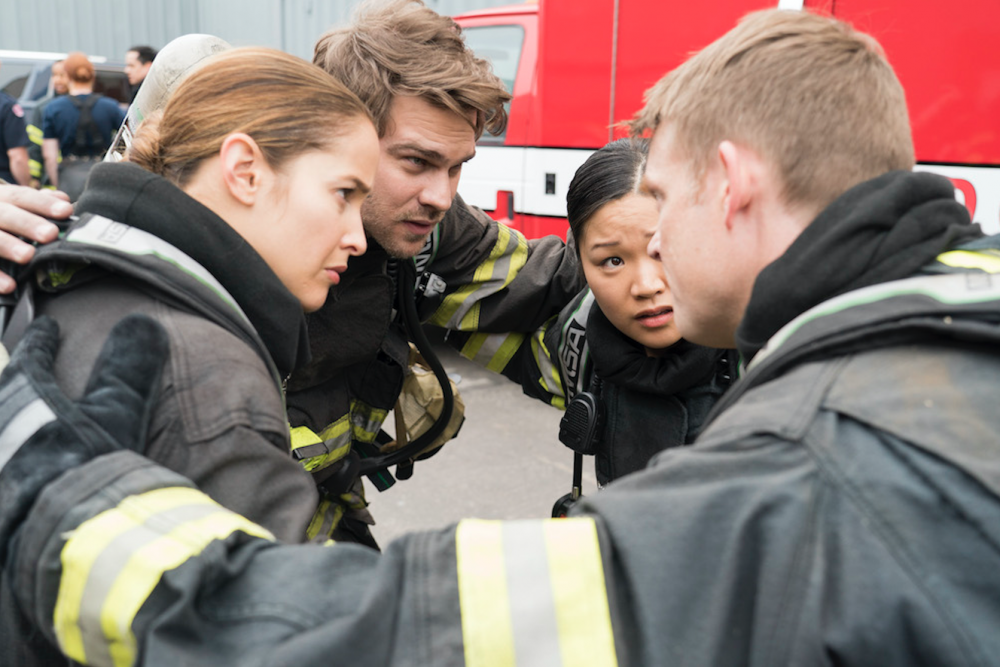 Photo: 

ABC/Eric McCandless
We're six episodes in and there's still no definite captain for Station 19 (seriously, is it that hard to pick?). So Andy (Jaina Lee Ortiz) and Jack (Grey Damon) are going head to head in a captaincy drill test, along with 18 others. We're ready for one to come out on top (Team Andy all the way) but at the same time, we don't know how they'll deal with the fallout. (Just when those two were starting to make it work!) With Ryan (Alberto Frezza) potentially out of the running—he's busy chasing after Maya (Danielle Savre) instead—will Andy and Jack last? It's the conflict that makes those two spark and without all the competition, nobody's going to come out of this mess a winner…and doesn't all that tension make for damn good drama.
Watch Station 19 on ABC this Thursday.
From ABC:
Andy, Jack and 18 other candidates take the captaincy drill test, gunning for one spot as captain of Station 19. Meanwhile, Travis is serving as acting captain while Andy and Jack are away for the day; and Ben confronts Vic about her fears.
—
ATLANTA
"Woods" – Season 2, Episode 8
Thurs Apr 19 – 10PM
On FX
Atlanta airs this Thursday on FX.
From TV Guide:
Paper Boi seems to always have a bad attitude, despite the fact that he's rich.
—
SCANDAL
"Over a Cliff" – Series finale
Thurs Apr 19 – 10PM
On ABC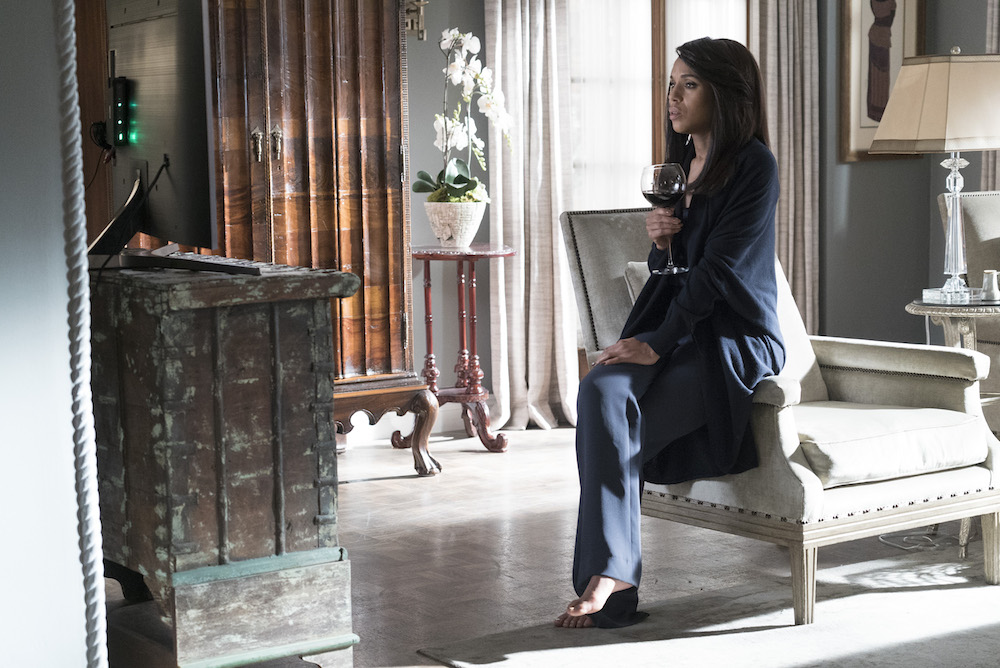 Photo: ABC/Eric McCandless
It's been a long time since we met Olivia Pope (Kerry Washington) and her law-bending breaking friends. Over seven seasons, we've watched a political minefield play out in engaging storylines and characters that make us come back for more every week. Sadly though, it's time to say goodbye. The last scandal is about to be laid on the table as Cyrus (Jeff Perry) and Jake (Scott Foley) need to be taken down—at all costs. Every secret, every confession the show has bottled up is about to come pouring out as all of our favorite cast members from Mellie (Bellamy Young) to Huck (Guillermo Diaz) take a trip to the courtroom, and the fate of everything they've worked for comes down to one final episode. We're on the edge of our seats to see how the journey ends―we just wish it didn't have to.
Say goodbye to Scandal this Thursday, only on ABC.
From ABC:
With the existence of B613 exposed to the world, the Gladiators make the ultimate sacrifice in order to take down Cyrus and Jake – but how far will they go to get justice?
—
Kodachrome
Fri Apr 20
On Netflix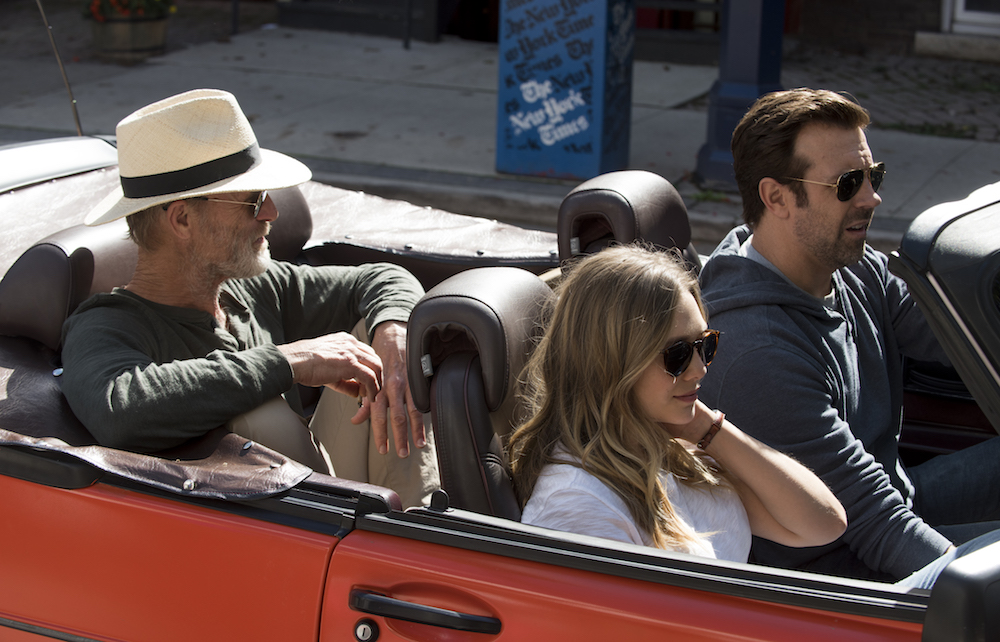 Photo: 

Christos Kalohoridis
Family relationships can be difficult. Especially when your father is a world-renowned photographer with a penchant for being a miserable asshole. Especially when he wants you to drive him across the country to develop his last few rolls of film. Especially when he's dying. Kodachrome isn't your average roadtrip movie; it's not got teenagers preparing to go to college (although the father may act like one) or a happy ending. There's no warm & fuzzy family-special feeling to be found. But it has got a lifetime of memories, hurt, anger, and redemption to unravel along the way. It's the three main cast who make this film—son Matt played by Jason Sudeikis, his father played by Ed Harris, and his nurse played by Elizabeth Olsen—lending incredible depth to make you believe their complicated relationships that roll out like a photojournal of better days gone by.
From Netflix:
Struggling A&R executive Matt (Jason Sudeikis) finds his world turned upside down when his estranged father's nurse (Elizabeth Olsen) shows up unexpectedly in his office. Matt's father, a famed bad-boy photojournalist (Ed Harris), is facing terminal cancer and his dying wish is for Matt to join him on a road trip from New York to Kansas to process his last rolls of Kodachrome film before the sole remaining lab closes and those captured moments are gone forever. Kodachrome tells the story of three damaged people coming to terms with themselves, each other, and a world swiftly changing from analog to digital.
—
KILLING EVE
"Don't I Know You?" – Season 1, Episode 3
Sun Apr 22 – 8PM
On BBC America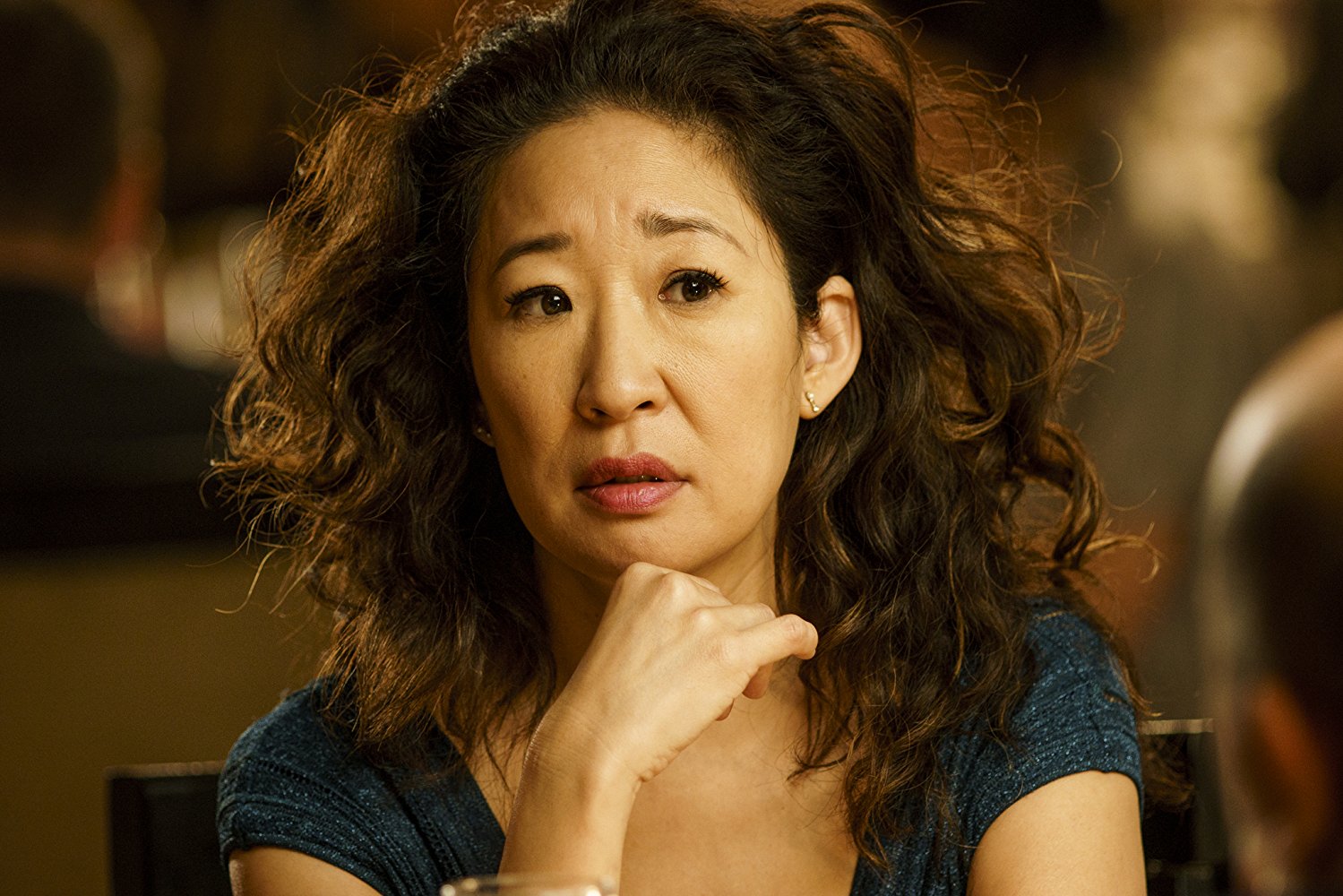 Photo by Nick Briggs - © BBC America
The game of cat vs. cat intensifies this week on Killing Eve, with things taking a rather…romantic turn? It appears Eve's (Sandra Oh) obsession with finding Villanelle (Jodie Comer) is due to fascination, admiration, and perhaps a little attraction—whether for Villanelle herself or because of the excitement she brings to Eve's all too normal life. And this goes both ways: Villanelle watches Eve like a love-crazed stalker, following her wherever she goes, stealing what contact (and clothing) she can to play a twisted game of dress-up, and even going so far as to let herself be noticed by Eve's colleague Bill (David Haig). When Eve travels to Berlin to track Villanelle's latest murder, the two women roam the city like it's a Where's Waldo book, just waiting to be caught in this seemingly childish yet dangerous game. Just like the characters you'll get swept up in the chase, your heart pounding louder than the beat of the city's nightlife, but in Villanelle's case, catching her might be the last thing you do…
Killing Eve airs every Sunday on BBC America.
From BBC America:
When Villanelle kills a Chinese Colonel at a kink clinic in Berlin, Eve and Bill travel out to investigate. While Eve and Bill chase up a number of promising leads, Villanelle enjoys the cat and mouse of their proximity. But as they draw closer, Eve comes to realise that this is much more than a game.
—
Westworld
"Journey Into Night" – Season 2 premiere
Sun Apr 22 – 9PM
On HBO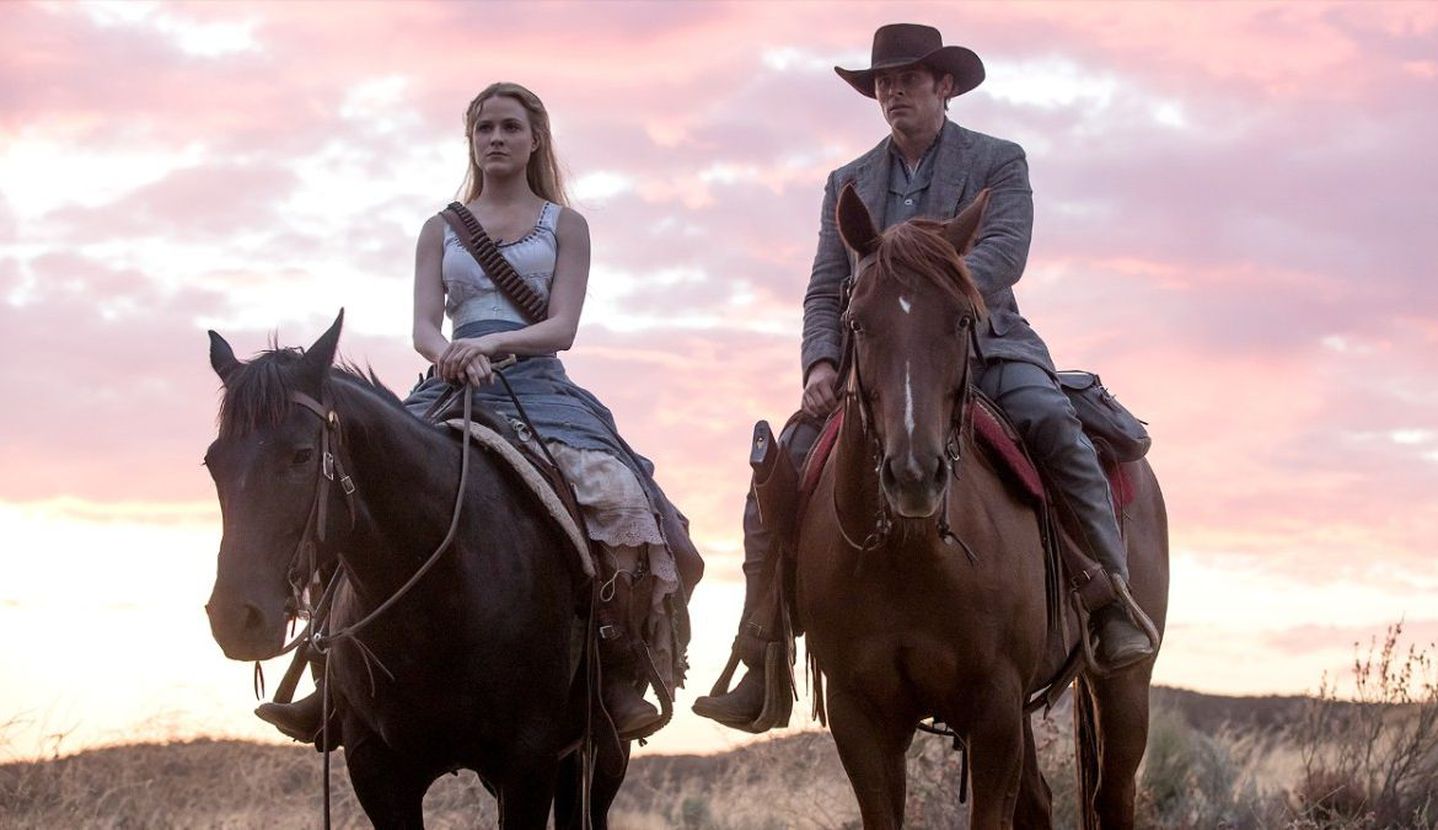 Photo: HBO
What makes us human? HBO's hit show Westworld is back to answer that question with many more questions and we're so ready to have our perceptions of reality challenged once again. Season 2 follows our robots as they rise up and break free from their world, to find their place in ours. "Journey Into the Night" picks up where season 1's slaughter left off with security trying to contain its newly aware subjects. But now they have knowledge they cannot be stopped: Bernard (Jeffrey Wright) is still coming to terms with the fact that he isn't human and is having nightmares (or are they?) about Westworld's future. Maeve is trying to find her daughter—even though she may not exist. The Man in Black (Ed Harris)—who we now know is an older William (Jimmi Simpson)—got what he wanted after all this time: A story with real stakes. The uprising is here and we are helpless; all we can do is stay glued to our screens as the insanely clever writing takes us to new heights in ways only Westworld could possibly think of.
From HBO:
The puppet show is over, and we are coming for you and the rest of your kind. Welcome back to Westworld.
—
Into the Badlands
"Enter the Phoenix" – Season 3 premiere
Sun Apr 22 – 10PM
On AMC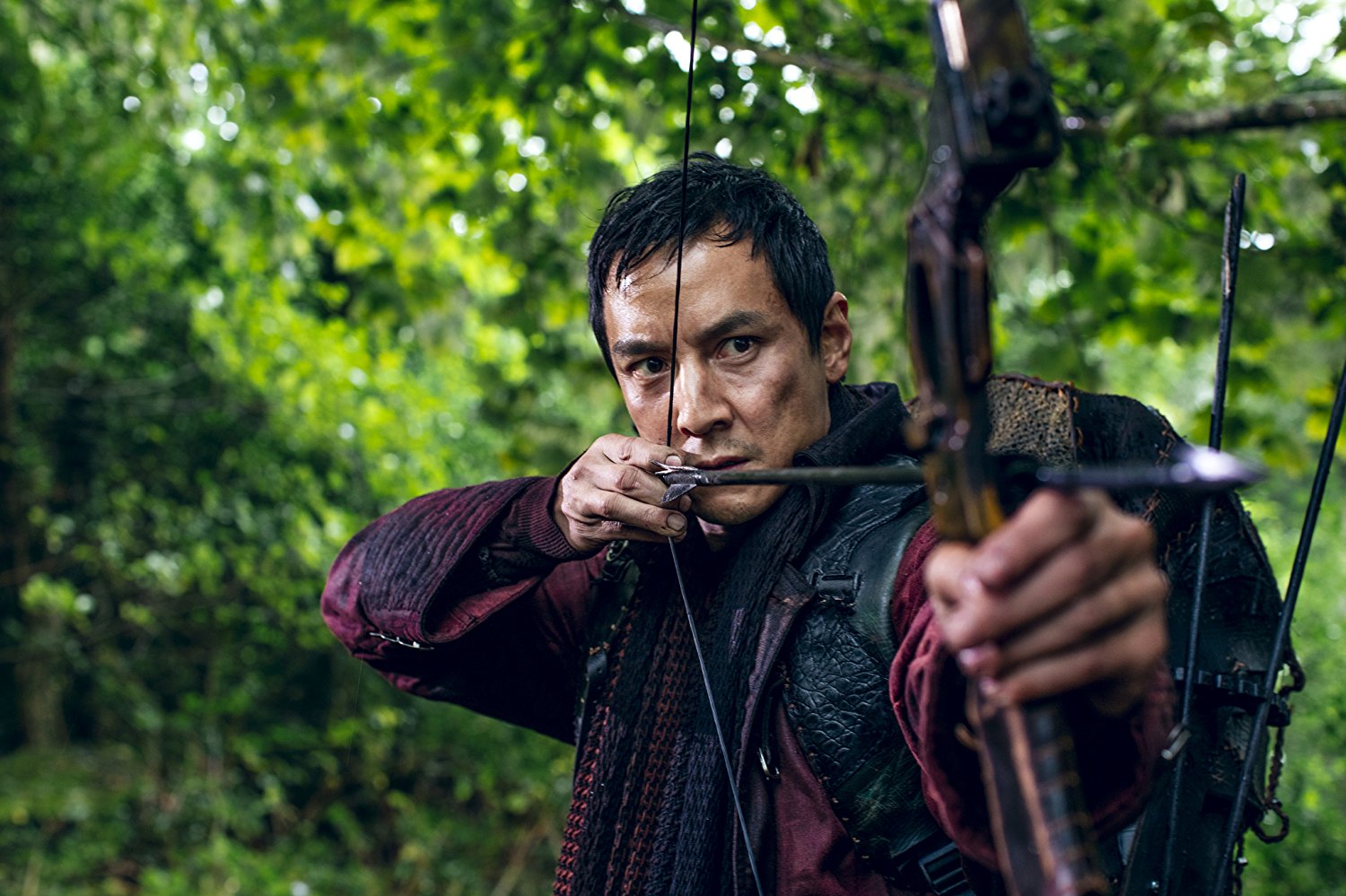 Photo by Aidan Monaghan/AMC - © 2017 AMC Film Holdings LLC. 
Season 3 of Into the Badlands has finally arrived and it's bigger and more badass than ever. We've been telling you to watch this show from the get-go and now our screams are only getting louder because this show is so damn good, y'all. When we last left Sunny (Daniel Wu), he had just defeated Quinn (Marton Csokas) but lost the love of his life, Veil (Madeleine Mantock), in the process. Now we find him living on the edges of the Badlands, looking after his son Henry and trying to stay away from the civil war between the Widow (Emily Beecham) and Chau (Lewis Tan). But the tangled web this place weaves is about to draw him back in when Henry gets sick. The Badlands are in a state of chaos with more arriving to challenge everything our characters know. Season 3 doesn't hold back: the fight scenes have stepped up (just wait 'til you see the fight between the Widow and Nathaniel Moon—yes, Sherman Augustus is back!), the color palettes and world-building is gorgeous, and the new characters up the ante to expand the world outside the wall. It's a credit to the show writing that the Badlands has kept us completely enthralled with two seasons of teasing…but now we can't wait to see what lies beyond. We'll get to see our beloved characters dig deeper than ever before and finally explore the dark gift M.K. (Aramis Knight) has been struggling with because it may well go beyond our comprehension.
Stay tuned for our Into the Badlands segment on tomorrow's Geek Girl Riot, and our season 3  feature with interviews from Daniel Wu and Ally Ioannides!
From AMC:
Sunny returns to the Badlands, seeking a cure for his son Henry. The Widow and Chau wage a bloody civil war. A new threat emerges.