This week: 9-1-1, Into the Badlands, The Bold Type, Bless This Mess, For the People, Ramy, Someone Great, Lunatics, Doom Patrol, Killing Eve, American Gods, Game of Thrones

9-1-1
"Broken" – Season 2, Episode 14
Mon Apr 15 – 9PM
On FOX
New episodes of 9-1-1 air every Monday on FOX.
From FOX:
A massive power outage knocks down Los Angeles' 9-1-1 system and the call center must go back to old-school methods to respond to emergencies; The first responders face multiple explosions and a complicated child birth; Michael opposes Bobby.

—
Into the Badlands
"Black Lotus, White Rose" – Season 3, Episode 12
Mon Apr 15 – 10PM
On AMC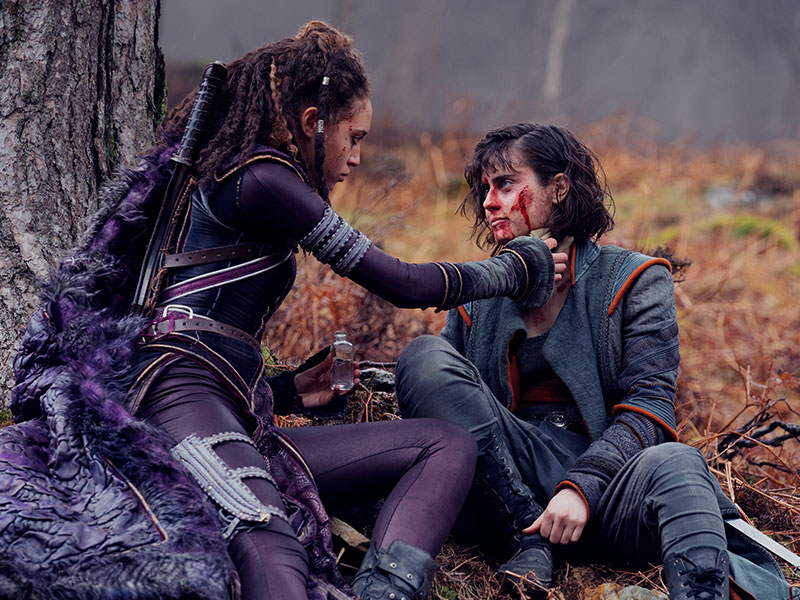 **idobi rated: ❤️❤️**
Just when you thought the Badlands couldn't get more deadly, the show ups the insanity and goes full on Journey to the West. Ooh, Sunny's (Daniel Wu) in trouble. His destiny's calling but he doesn't like what he sees. He gets a history lesson through his own memories but we all know Sunny is not one to fight for other people's causes any more—and that attitude will lead him right back into chaos. Pilgrim (Babou Ceesay) is collecting new followers and it's terrifying how compelling his madness is. The Widow (Emily Beecham) and Tilda (Ally Ioannides) are finally reunited but is it a happy occasion? In these times of war, never. In battles as terrible and epic as the Badlands there's never fully a case of good vs. bad—there are sinners on both sides and petty agendas everywhere trying to gain small victories. The symbolism and narrative journey in "Black Lotus, White Rose" is compelling and will send shivers down your spine by its fiery resolution.

Head Into the Badlands on AMC tonight.

From AMC:
Sunny discovers an important figure from his past is working with the Black Lotus.

—

The Bold Type
"Plus It Up" – Season 3, Episode 2
Tues Apr 16 – 8PM
On Freeform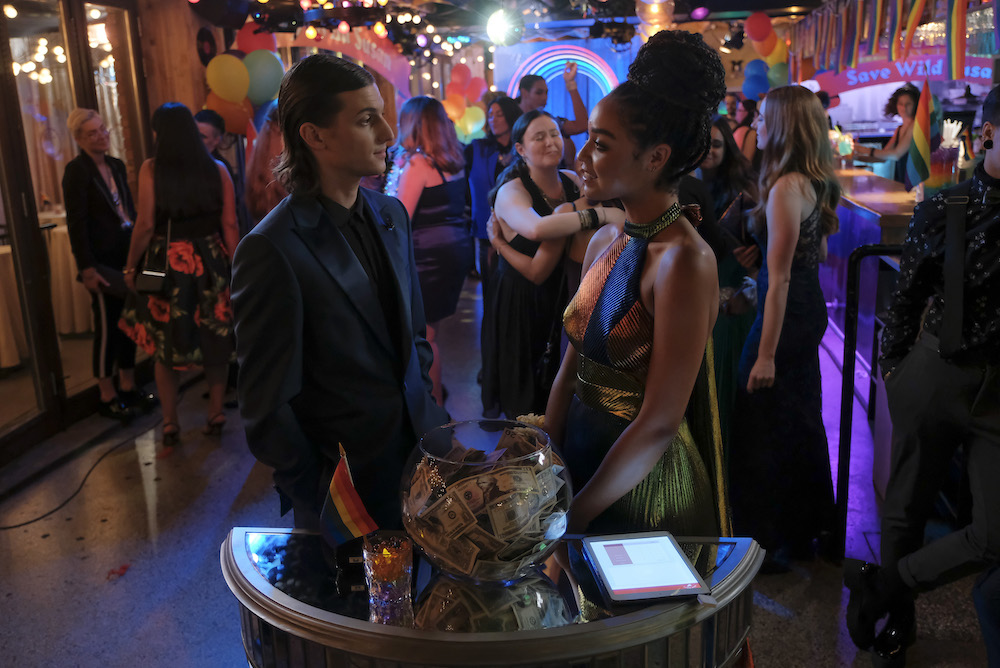 **idobi rated: ❤️❤️**
Sutton (Meghann Fahy) is moving in with Richard (Sam Page)…and his housekeeper. But she doesn't have time to celebrate (or process) because there's a disaster with her photoshoot. You'll find yourself half exasperated, half cheering her on as she becomes less Sutton-like under the pressure. Speaking of pressure, Jane (Katie Stevens) is injecting hormones to start her egg freezing process—which means nobody should mess with her. It's a shame Patrick (Peter Vack) didn't get the memo. While it may be delightful watching him annoy Jane, you'll be waiting for the explosion—but will it come from Jane, Patrick, or Pinstripe (Dan Jeannotte)? The girls unite over lunch at one of NY's only queer bars and find out it's facing closure…but not if Kat (Aisha Dee) has anything to do with it. It's refreshing to see her being proactive and regaining her sense of self. Also this episode will give you a chance to fawn over all the amazing outfits the crew wear to the queer prom fundraiser to save the bar. The Bold Type continues to face important topics head on with its own sense of fabulousness—complete with all the drama and high fashion—to make it one of the most important shows on TV right now.
P.S. Jacqueline (Melora Hardin) is still queen bee and we're blowing her a kiss.
The Bold Type airs on Freeform tomorrow.
From Freeform:
Jane begins her fertility treatments in preparation for freezing her eggs and is assigned an article to write about her experience, but with a very personal twist. Kat learns that a prominent lesbian bar is being closed down and replaced with condos and decides to throw a Queer Prom to fundraise its rescue. Sutton moves in with Richard but struggles to accept his help when Oliver's mysterious absences force her to put in more hours at work.

—

Bless This Mess
Series premiere
Tues Apr 16 – 9:30PM
On ABC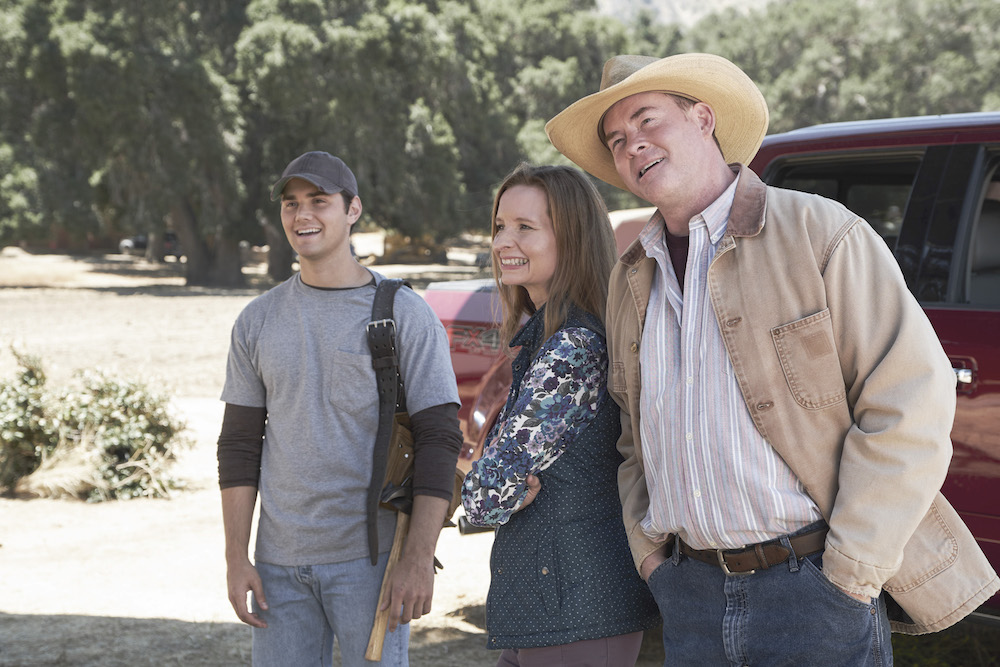 Every city person dreams of escaping to a simpler life outside of the chaos (especially when you get on the subway next to that one weird person who won't stop staring). But for most of us it's a fleeting wish. Enter Rio (Lake Bell) and Mike (Dax Shepard): The newlyweds trade in their high-flying jobs for rural farm life in Nebraska. You can probably guess half the jokes already: There's no such thing as gluten-free, the word "soon" replaces any and all timeframes, and your neighbors are so "friendly" they walk into your house unannounced. But Bell and Shepard are both charming which makes the jokes come easy. If you feel like escaping to the country for a little bit of ridiculousness, why not give Bless This Mess a try?

Bless This Mess premieres on ABC tomorrow.

From ABC:
Newlyweds Rio and Mike drop everything (including their jobs and overbearing mother-in-law) to make the move from big city New York to rural Nebraska in search of a simpler life. They soon realize that becoming farmers isn't as easy as they planned as they are faced with unexpected challenges.

—

Homecoming: A Film By Beyoncé
Wed Apr 17
On Netflix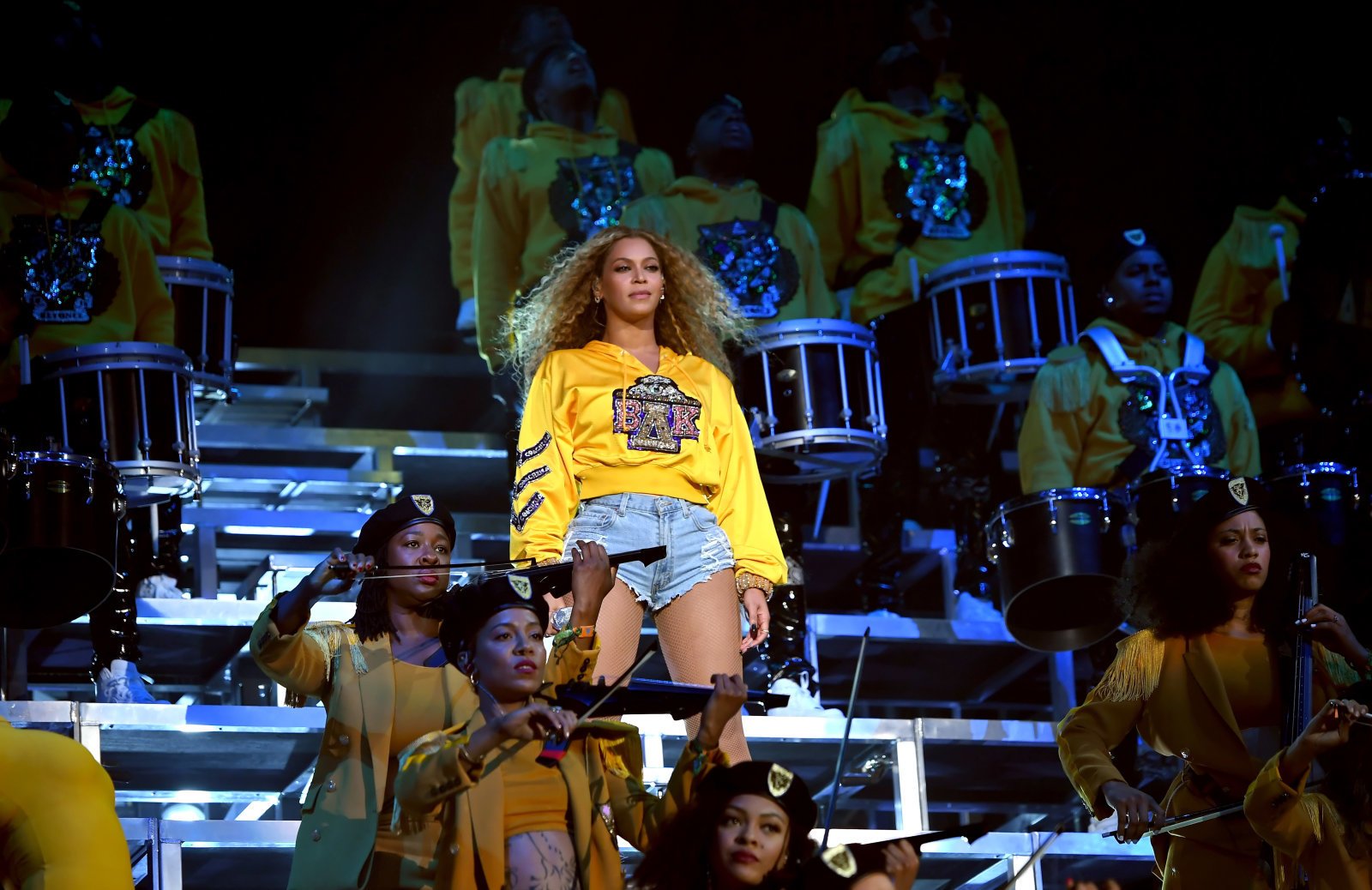 Homecoming: A Film By Beyoncé is about to take you on an emotional journey leading up to her 2018 Coachella performance. Paying homage to America's HBCUs (historically black colleges and universities), Beyoncé's set went down in history, and anyone who experienced it can recall every emotion it made them feel. Now we get even more layers to the performance as the documentary dives back through the history of the institutions her set was dedicated to. Through candid footage and interviews that highlight the immense amount of preparation and meaning behind her vision, we're about to get educated—Beyoncé style—and it's going to be nothing short of incredible.
Homecoming: A Film By Beyoncé comes to Netflix on Wednesday.
From Netflix:
Homecoming presents an intimate look at Beyoncé's historic 2018 Coachella performance that paid homage to America's historically black colleges and universities. Interspersed with candid footage and interviews detailing the preparation and powerful intent behind her vision, Homecoming traces the emotional road from creative concept to cultural movement.

—

For the People
"The Boxer" – Season 2, Episode 7
Thurs Apr 18 – 10pm
On ABC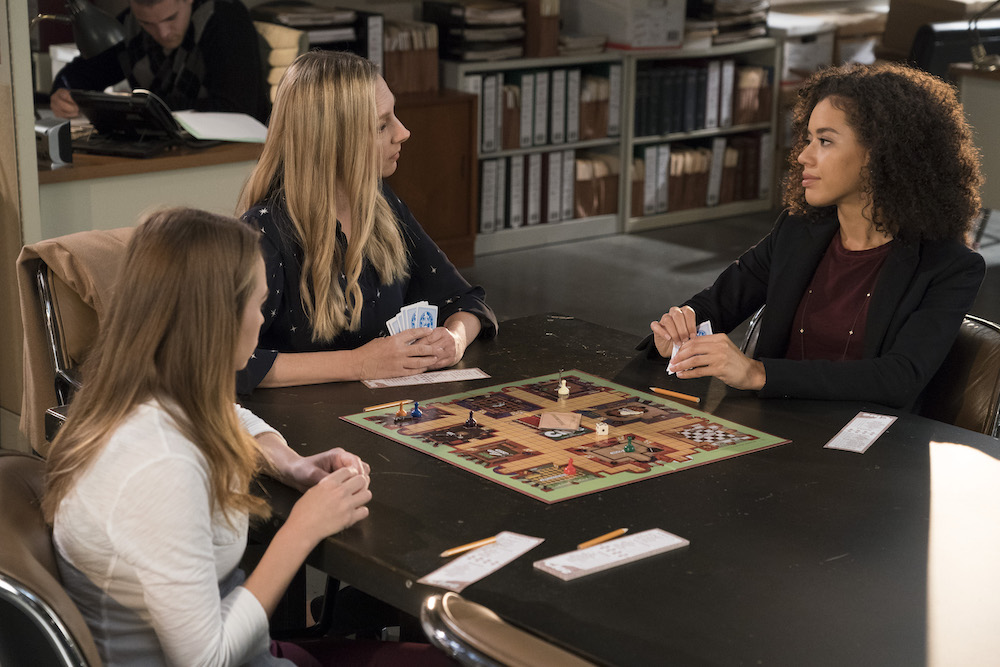 Negotiating the law often seems more about playing the game than seeking the truth. But we all know our young team of lawyers like to throw out the rules as much as they can. When Sandra (Britt Robertson) takes on the case of a homeless man caught trespassing, something sinister is weighing on his mind and she doesn't know what to do. Client confidentiality is the cornerstone of law but this case is about to take a chilling turn. Anything that gets Jill (Hope Davis) snapping the blinds shut and leaning closer is primed to explode. Sandra's inside knowledge is going to get her in a whole lotta trouble—which means a lot of conflicted feelings in the court—and you'll be equal parts on edge and thrilled by the impending clash.

For the People hits ABC on Thursday.

From ABC:
Sandra is tasked with negotiating a plea agreement for a homeless man accused of trespassing a national wildlife refuge. However, she later suspects that he might have been involved in a more serious offense and enlists Ted to help her investigate. Meanwhile, Roger and Jill's relationship is tested when the prosecution is forced to subpoena Sandra after learning she may have further knowledge of the crime. Elsewhere, Seth starts spiraling out of control after accidentally stealing evidence in a drug case.
—

Ramy
Season 1
Fri Apr 19
On Hulu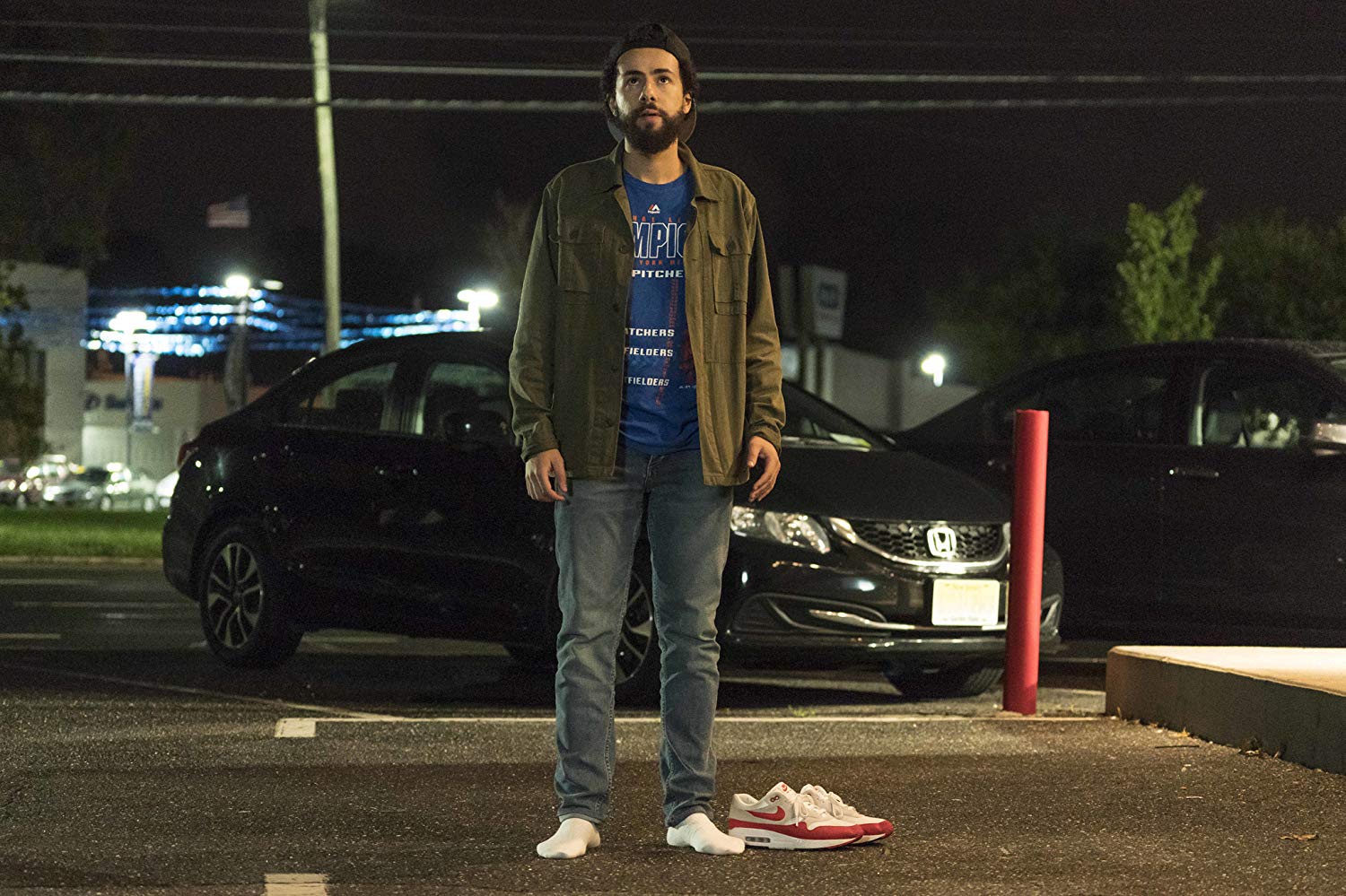 Ramy is the new comedy with a Muslim main character, that everyone needs to see. The show takes us into the life of Ramy (Ramy Youssef who is also the show creator and one of the directors), a 20-something guy who's trying to find the right girl, the right job, the right crowd. Caught between his overprotective mother Maysa (Hiam Abbass), his strictly business father Farouk (Amr Waked), his racist diamond-selling uncle Naseem (Laith Nakli), and his progressive feminist sister May (who we wanna be friends with. You slay, May Calamawy), Ramy is trying to figure out who he is in the world as a first generation Egyptian-American. He walks the line between American culture and his faith with the kind of confusion and "hope for the best" attitude that will have you laughing and sighing at the truth of it all.
Ramy brings each of its multifaceted characters to life with so much color you'll believe them and their journeys. There are no real archetypes. Ramy messes up, he's sweet but is prone to following the wrong advice, and his faith kicks in habitually—often when he's scared. Steve (Steve Way) is kind of an asshole but he's the best friend Ramy has. Cheers for even wider representation in this disabled character who has more sides than one (and calls Ramy out with wicked humor). The women Ramy meets have desires and needs, they refuse to be defined by society which is what draws him to them every time. Each of the characters' flaws, vices, and habits make them wholly human and fascinating to watch, adding a brilliant layer to this poignant and downright funny exploration of American life.
Ramy premieres on Hulu on Friday.

From Hulu:
Ramy Hassan is a first generation Egyptian-American who is on a spiritual journey in his politically-divided New Jersey neighborhood. RAMY will bring a new perspective to the screen as it explores the challenges of what it's like being caught between a Muslim community that thinks life is a moral test and a millennial generation that thinks life has no consequences.

—

Someone Great
Fri Apr 19
On Netflix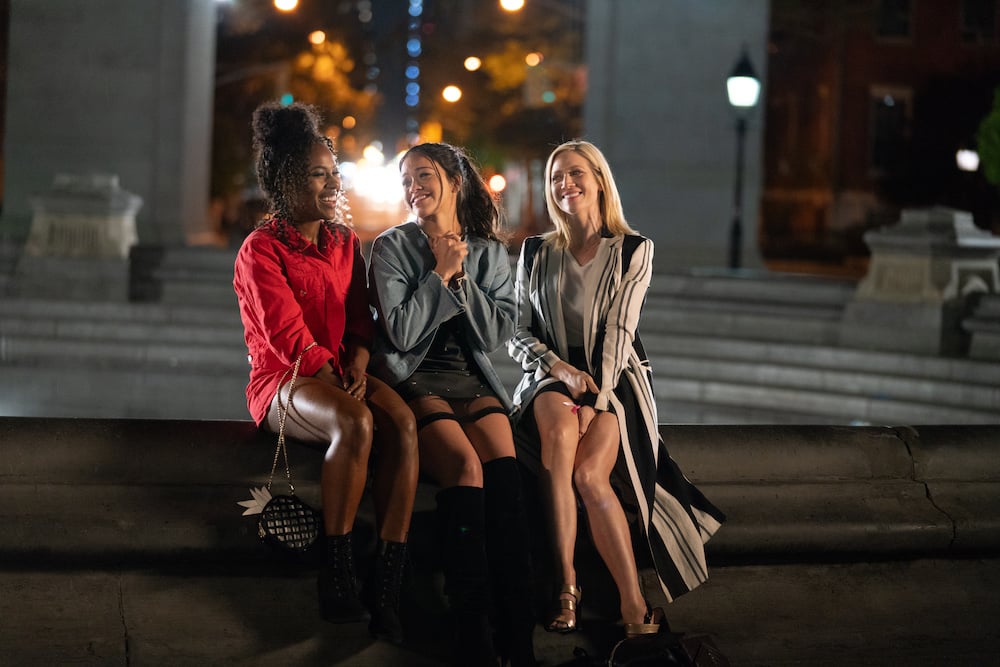 We haven't seen Someone Great yet but we're waiting to break out the ice cream for comfort. It looks like Netflix's latest rom-com is all about those times when your SO suddenly gets gone. The movie stars everyone's fave Gina Rodriguez as Jenny, a music journalist who just landed her dream job which means moving from New York to San Francisco. But her long-term bae (LaKeith Stanfield) says bye when she announces the news and she's left brokenhearted. What's a girl to do? Call up her two best friends, Erin (DeWanda Wise) and Blair (Brittany Snow) for one last adventure together, of course! Fueled by the teams behind the likes of Bridesmaids and MTV's Sweet/Vicious, Someone Great has the recipe for a wild girls' night out and we're pouring a glass of the good stuff in anticipation…anybody ever heard of a Chardonnay Float?
Watch Someone Great on Netflix on Friday.

From Netflix:
Aspiring music journalist Jenny (Gina Rodriguez) has just landed her dream job at an iconic magazine and is about to move to San Francisco. Rather than do long distance, her boyfriend of nine years (Lakeith Stanfield) decides to call it quits. To nurse her broken heart, Jenny gathers up her two best friends Erin (DeWanda Wise) and Blair (Brittany Snow) for one outrageous last adventure in New York City. From writer/director Jennifer Kaytin Robinson (creator of MTV's Sweet/Vicious) SOMEONE GREAT is a hilarious and heartfelt story of friendship, love, and what it means to let go of your twenties and enter adulthood.

—

Lunatics
Season 1
Fri Apr 19
On Netflix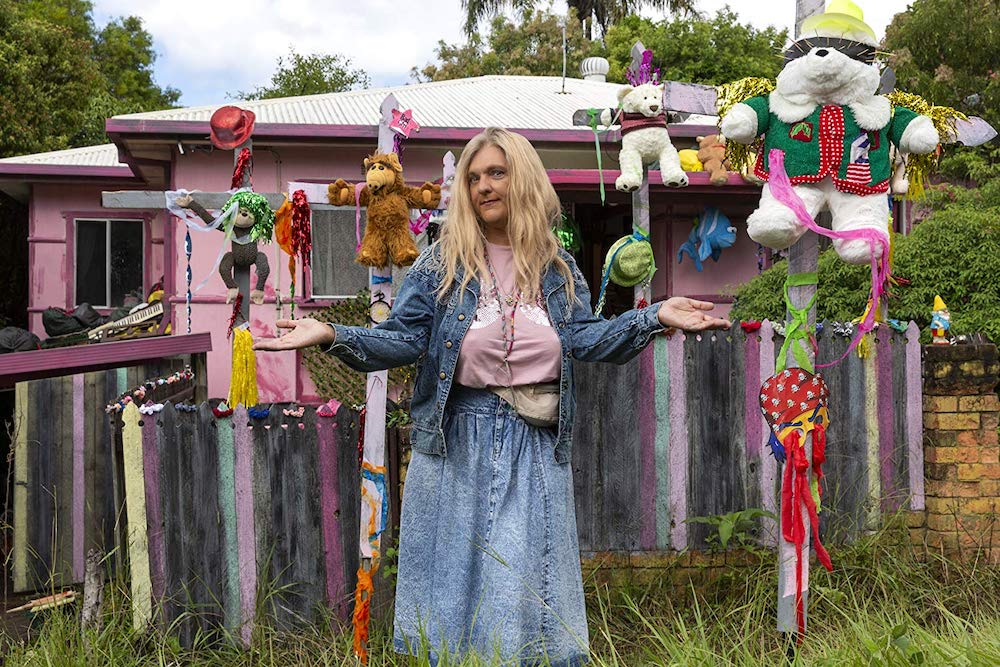 If you've ever seen anything by Chris Lilley, you'll know what you're in for with Lunatics. Netflix's new mockumentary introduces six of his new "subjects"—all played by Lilley—who come from different backgrounds with some utterly wild stories to tell. We first meet Subject #1, Keith, on his last day of working in a department store. He's just inherited a fashion boutique from his father-in-law which his wife is sooooo happy about (for real, she's got less of a will to live than the store's mannequins). Well, her lack of…anything…is probably because Keith is more in love with the clothes than she is and he's struggling with his sexuality (and uses some pretty terrible methods of repressing it). Meanwhile Subject #2, Becky, is heading off to college, dealing with becoming an adult and the fact that she's super tall. Yup. Gavin (#3), however, has enough confidence in himself to lend Becky some. This teenager lives life for the #gram and thinks he's f#$!ing awesome. He's next in line—for a bunch of ridiculous "old English" reasons—to becoming Earl of a country estate.
You still with us? Okay, Jana (#4) is a pet psychic who's known as a celebrity dog-whisperer and also a gay icon. Y'know, the kind of pet celebrity who buys "dog kale" for her pets and has her dearest departed pups turned into #fashion. Um. Yeah. Quentin (#5) is the new boss (who's definitely not the same as the old boss) at his family real estate company…but he has dreams of becoming a famous DJ and street artist instead. And, finally, subject #6 AKA Joyce used to be a porn star. Now she hoards paper cranes in the bathtub, amongst other things. Completely caught up in her need to hold onto the past, she's oblivious to her impending eviction…or anything else. Lunatics is a bizarre collection of stories that will either make you laugh or deeply cringe—but ultimately will show you there's more to each subject's life than the camera first tells you. Whether that's a good or bad thing, we're not entirely sure.

Lunatics hits Netflix on Friday.

From Netflix:
Lunatics is a 10-part comedy series presented as a documentary with the characters played by writer/creator Chris Lilley (Summer Heights High). The documentary examines the lives of six extraordinary individuals and explores the idea that people are not what they seem at first. Through documentary interviews, self recorded and fly on the wall footage the six intriguing subjects are observed over a period of months. Their stories unfold with hilarious results. As eccentric and odd as they all are, they are scarily recognisable types and they teach us that its ok to just be you.

—
Doom Patrol
"Hair Patrol" – Season 1, Episode 10
Fri Apr 19
On DC Universe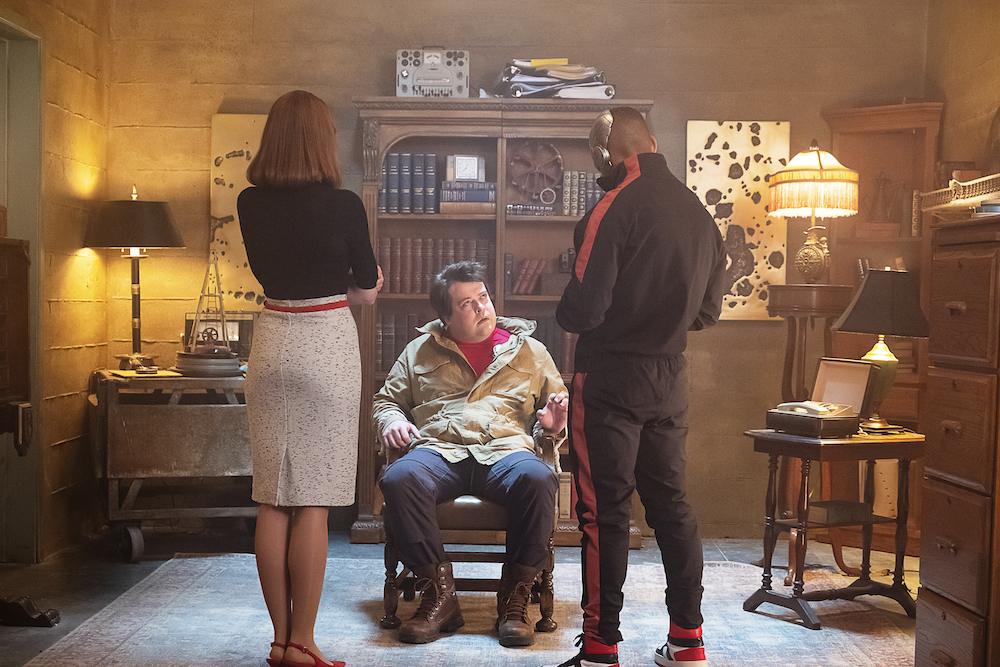 The Beard Hunter has arrived and he's looking for Niles (Timothy Dalton). Uh oh. Some comics context: The Beard Hunter does exactly what his name suggests—he hunts beards (and don't ask us how). Unable to grow one of his own, he tracks men and takes their beards as some kind of weird trophy. Uh, yeah. That's a thing—and should never be underestimated. As if the Doom Patrol didn't have enough to deal with. But this week's episode will give you a rather comical reprieve from last week's Doom Patrol, when we learned All About Jane (Diane Guerrero) and Cliff (Brendan Fraser) had to step out of his skin to find a new identity. Yup, it was heavy but this week we'll go spinning in the complete opposite direction on the weirdness scale. We're here for it…but where in the universe is Niles?

Stream Doom Patrol every Friday on DC Universe.

From DC Universe:
Vic and Rita face a dangerous man called The Beard Hunter, who's been activated by the Bureau of Normalcy to find Niles Caulder.
—

Killing Eve
"The Hungry Caterpillar" – Season 2, Episode 3
Sun Apr 21 – 8PM
On BBC America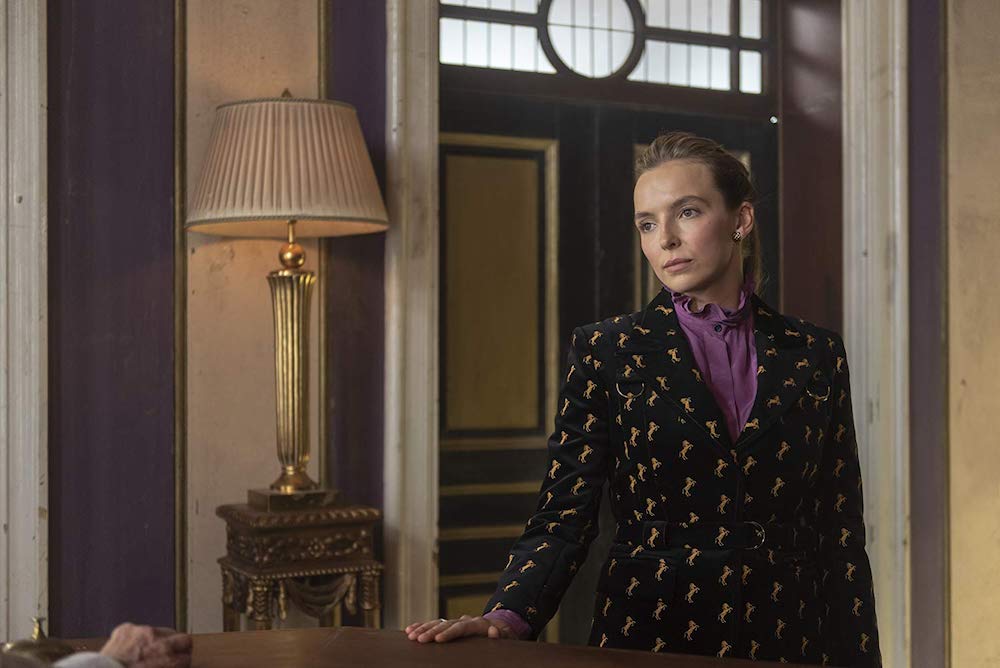 There's a new girl in town and Villanelle (Jodie Comer) is soooo not jealous. Nope. She's totally not dressing up as an art teacher—complete with a pasta shell necklace—to attend Niko's (Owen McDonnell) staff party in the hopes of getting Eve's (Sandra Oh) attention again. Nuh uh. Raymond (Adrian Scarborough) is one step ahead of Villanelle but for how long? We all know what happens when something or someone comes between #Villaneve. Eve takes a break from work to support Niko but Villanelle's location isn't the only thing Eve is missing. There's trouble in paradise and Villanelle is stirring the pot big time. Eve's search for the truth is taking her further away from Niko and we're not even sure she cares any more. "The Hungry Caterpillar" has a The Shining hallway moment which may be more chilling than the original—with a twist more romantic than anything Eve has shared with her husband. The way Killing Eve takes everyday references and normal interactions and makes them completely unsettling is a fine art the show has perfected. How much closer can the two get before their love pulls them together for good…and which one of them will wind up dead?
Killing Eve airs on BBC America every Sunday.

From BBC America:
Villanelle's new circumstances are looking bleak. Eve makes a dangerous deal with an old acquaintance. Villanelle is surprised when she is approached by a figure from her past.

—

American Gods
"Treasure of the Sun" – Season 2, Episode 7
Sun Apr 21 – 8pm
On STARZ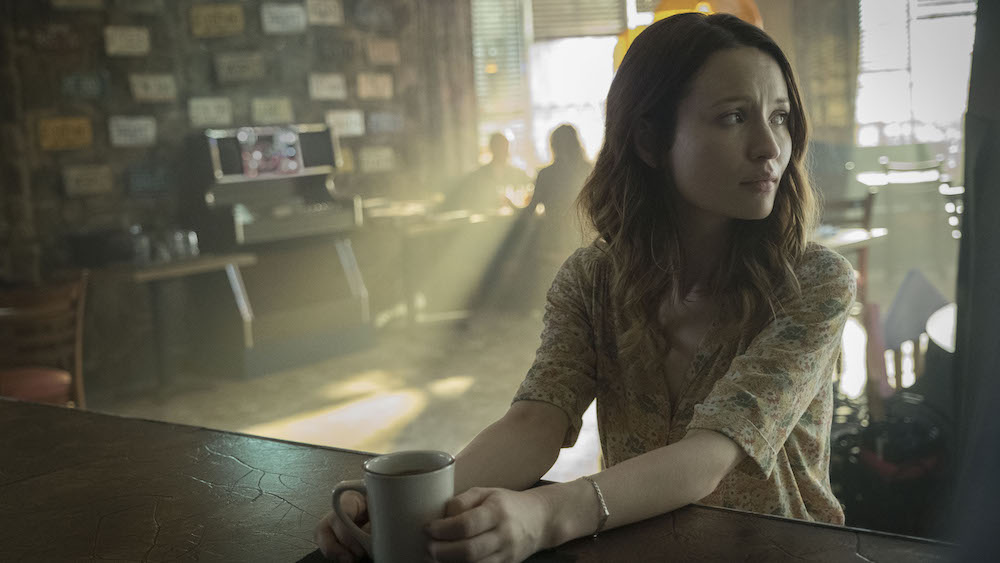 We asked for it. We know we did. We wanted to know more about Mad Sweeney (Pablo Schreiber)—to find out all the tics and tocs that wind him up. Well, we got it…and all we can say is OH MY GODS. Brace yourselves. The mystical magical carousel is over and we're about to enter a haunted house of the soul. Not only is Sweeney remembering the past, Shadow (Ricky Whittle) is dealing with all the lies Mr. Wednesday (Ian McShane) may or may not have told. And as the World Tree grows all our characters become more entangled. It's possible no one will escape this episode unscathed, which makes us wonder how badly the season finale is gonna hurt next week. If we had to bet we'd put our money on BAD.
American Gods airs on Sunday, only on STARZ.

From STARZ:
In Cairo, Mr. Wednesday entrusts Shadow with the Gungnir spear. Mad Sweeney, plagued by the cries of Banshees, recalls his journey through the ages as he awaits his promised battle. Again, he warns Shadow about Wednesday.
—

Game of Thrones
Season 8, Episode 2
Sun Apr 21 – 9PM
On HBO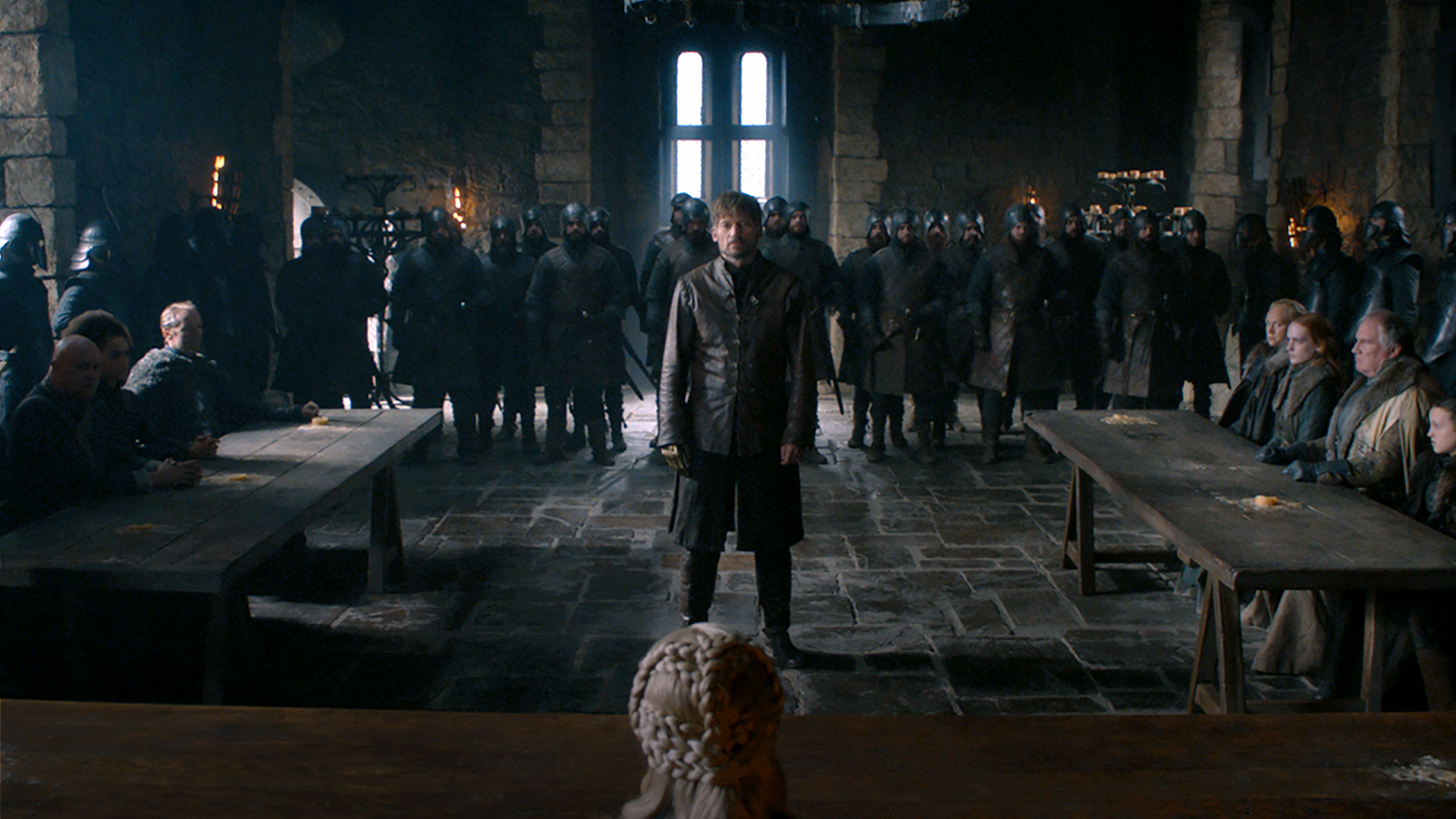 "Death has many faces." That's all HBO has said about this week's episode. They're definitely messing with us and who knows how many ways they can play around with the word "death" or how many of our faves will fall prey to it. We'll wait and see. As a matter of fact we only have two questions: As an assassin, could Arya (Maisie Williams) be the death they're talking about? And where in The North did Grey Worm (Jacob Anderson) and Missandei (Nathalie Emmanuel) go?
Game of Thrones airs on HBO on Sunday.

From HBO:
Death has many faces.