This week: The Terror, Chicago Med, For the People, Riverdale, Grown-ish, Alex Inc., Krypton, Siren, Station 19, Atlanta,
A Series of Unfortunate Events
The Terror
"Go For Broke" – Series premiere
Mon Mar 26 – 9PM
On AMC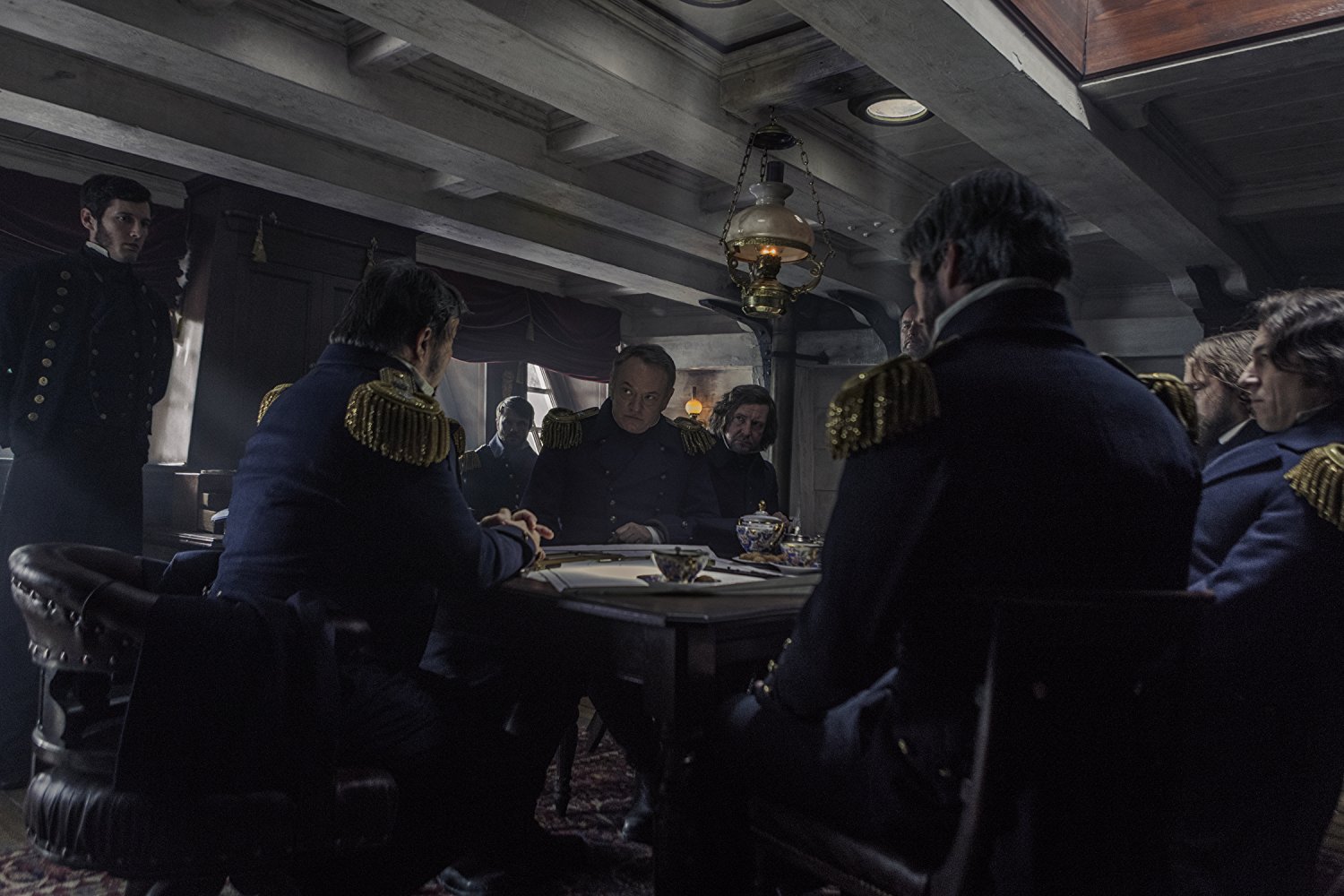 Photo: Aidan Monaghan/AMC - © 2018 AMC Film Holdings LLC.
Read our full preview and get ready to tackle The Terror of the deep, tonight on AMC.
"Go For Broke" with AMC's The Terror tonight.
From AMC:
An accident at sea cripples a Royal Navy expedition 200 miles from finding the Northwest Passage, forcing its captains to make dire choices.
—
CHICAGO MED
"Best Laid Plans" – Season 3, Episode 13
Tues Mar 27 – 10PM
On NBC
New episodes of Chicago Med air every Tuesday on NBC.
From NBC:
Dr. Halstead and Dr. Manning are at odds over the care of a vegetative man; a woman won't wake up.
—
FOR THE PEOPLE
"18 Miles Outside of Roanoke" – Season 1, Episode 3
Tues Mar 27 – 10PM
On ABC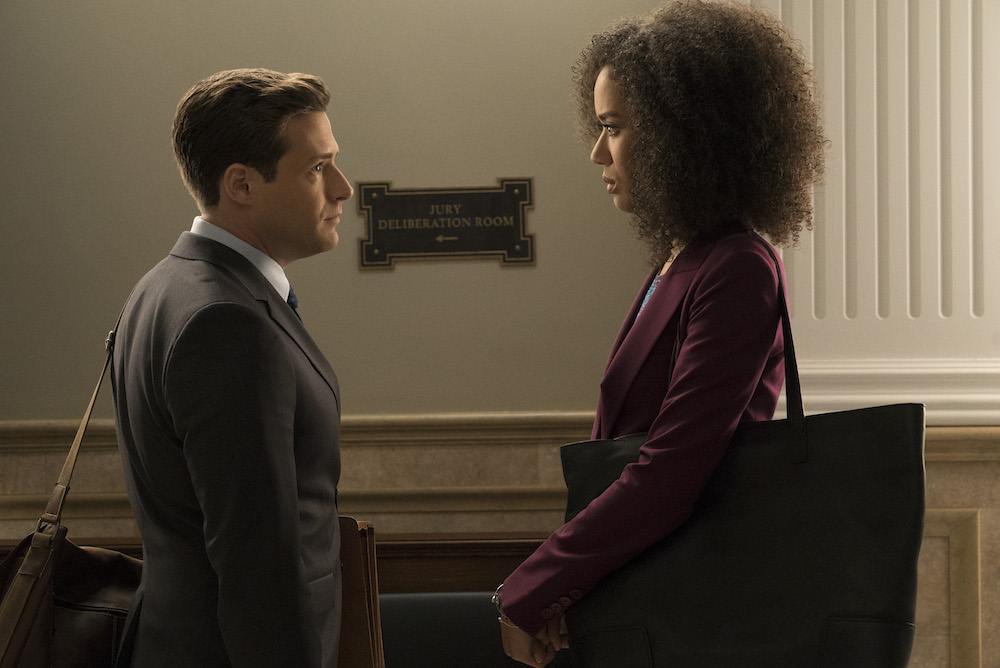 Photo: ABC/Byron Cohen
The drama intensifies on the brand new episode of For The People. If we hadn't learned by now that Kate Littlejohn (Susannah Flood) is not to be messed with, Jay (our very own Wesam Keesh) is about to give us a Mean Girls-style rundown that both terrifies and makes us giggle like mad. But he's only easing Sandra (Britt Robertson) in, when classified information leads her and Kate to band together for justice. Allison (Jasmin Savoy Brown) is in some trouble of her own as she works with new bias-avoiding technology—that seems to have been created by the inherent biases in the system. (How's that gonna work?) We may not be qualified for all that legal talk but those red-hot emotions are never too far from the whole truth and we're ready for another episode of court-filled, justice-serving, sizzling drama from a cast that's just like us.
For the People airs tomorrow on ABC.
From ABC:
Sandra and Kate go head-to-head on a high-profile case involving a young woman accused of leaking classified information, but they learn to find common ground in their fight for justice and pursuit of the common good. Allison struggles to make a case for her client as the courts look to new technology to avoid bias, and Leonard seeks professional legitimacy at the cost of a personal relationship.
—
RIVERDALE
"Chapter Thirty: The Noose Tightens" – Season 2, Episode 17
Wed Mar 28 – 8PM
On The CW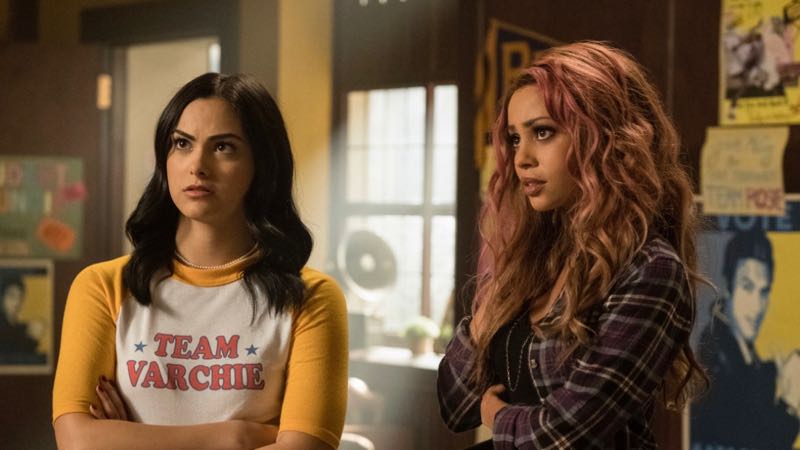 Photo: 

Katie Yu/The CW — © 2018 The CW Network, LLC. All rights reserved.
Finally we know that Chic (Hart Denton) is Alice's (Mädchen Amick) son but not Hal's (Lochlyn Munro)…although we still don't know who his real father is (and we're betting Hal must be all kinds of relieved—we know we would be). It seems the DNA Chic and Betty (Lili Reinhart) share is still strong, though, because she's turning up the heat (or the zippo lighter) on him. Betty, oh Betty, haven't you learned by now? Revenge is a dish best served cold. Meanwhile, poor Cheryl (Madelaine Petsch) is facing a (somehow still legal) form of torture in the form of conversion therapy and, of all the terrifying outlooks in Riverdale right now, we're the most afraid for her. But Josie (Ashleigh Murray) and the all new Pussycats are coming to the rescue. Who we're not afraid for is Nana Rose (Barbara Wallace), because no one could survive both a fire and being pushed down the stairs without some kind of magic on her side. Just sayin' Nana's a witch…in the best way.
Head to Riverdale every Wednesday on The CW.
From The CW:
UNWELCOMED GUESTS — Just as the town's mayoral race gets underway, Riverdale High's own student council election heats up. Archie (KJ Apa) steps up to help after learning that Hiram's (Mark Consuelos) mobster associates have come to Riverdale to stir up some trouble. Meanwhile, things take a dangerous turn for Alice (Madchen Amick), Betty (Lili Reinhart) and Chic (guest star Hart Denton) when an unexpected guest shows up at the Cooper residence. Finally, Toni (guest star Vanessa Morgan), Veronica (Camila Mendes) and Josie (Ashleigh Murray) team up to solve a strange mystery involving Cheryl (Madelaine Petsch).
—
GROWN-ISH
"Back & Forth" – Season 1, Episode 13
Wed Mar 28 – 8PM
On Freeform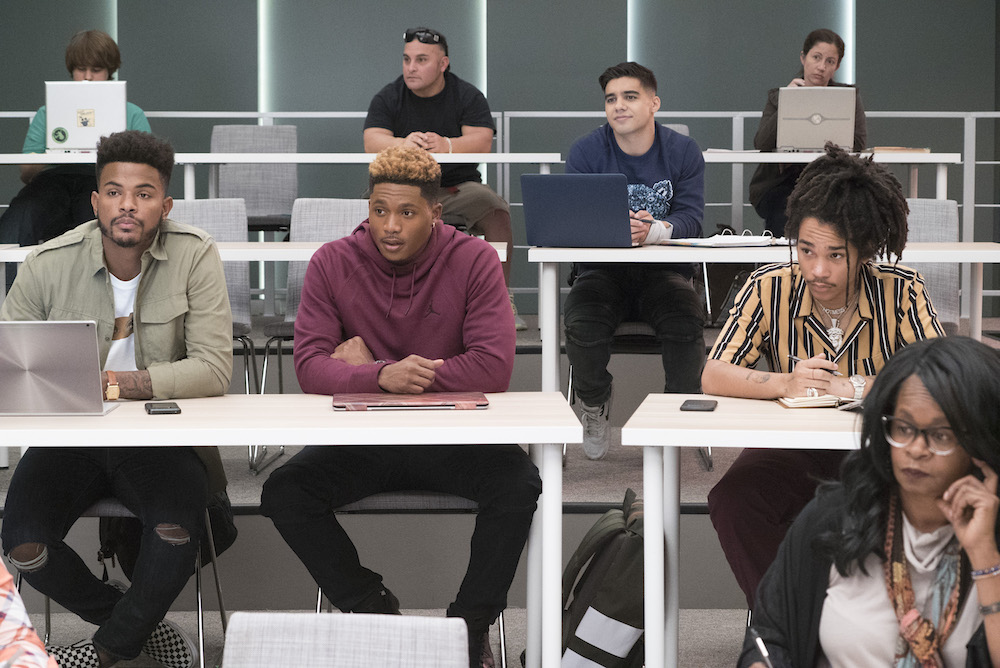 Photo: 

Freeform/Ron Tom
Holy love-triangle, Grown-ish! Or is it a square? Maybe a cone. Nope it's a pyramid! Three dudes crushing hard on one girl is the ultimate 3D form and it's looking like Zoey is going to win from all angles…so you know she won't, right? Either way we're still squealing over last week's episode mega-triple-fantastic-love reveal that even Drake couldn't write a song about. Zoey (Zara Shahidi) has one hard-ish decision to make. Could it be eligible bachelor no. 1: Aaron (Trevor Jackson), Zoey's truly woke friend who has turned something more. Or is it no. 2: Luca (Luka Sabbat), free spirit, hot young Basquiat, and total smooth-talker (we're gonna be real, we are #TeamLuca all the way. No we're not, we're team #TeamAaron after his inevitable makeover next season. Pardon us while we argue with ourselves). Anyhoo, there's also bachelor no. 3: Cash (Da'Vinchi), our beloved bad boy baller who's back for some post game chill time…and maybe even a path to redemption. Okay, okay, we're starting to sound like some cheesy dating show from the 90s and, seeing as the folks at ABC are keeping this reveal even more tightly under wraps, we'll let them work their magic in the spring season finale. (Somebody better bring us popcorn, stat!)
Watch Grown-ish every Wednesday on Freeform.
From Freeform:
Zoey has a big decision to make about her love life, and everyone has an opinion about it.
—
Alex, Inc.
"The Unfair Advantage" – Series premiere
Wed Mar 28 – 8:30PM
On ABC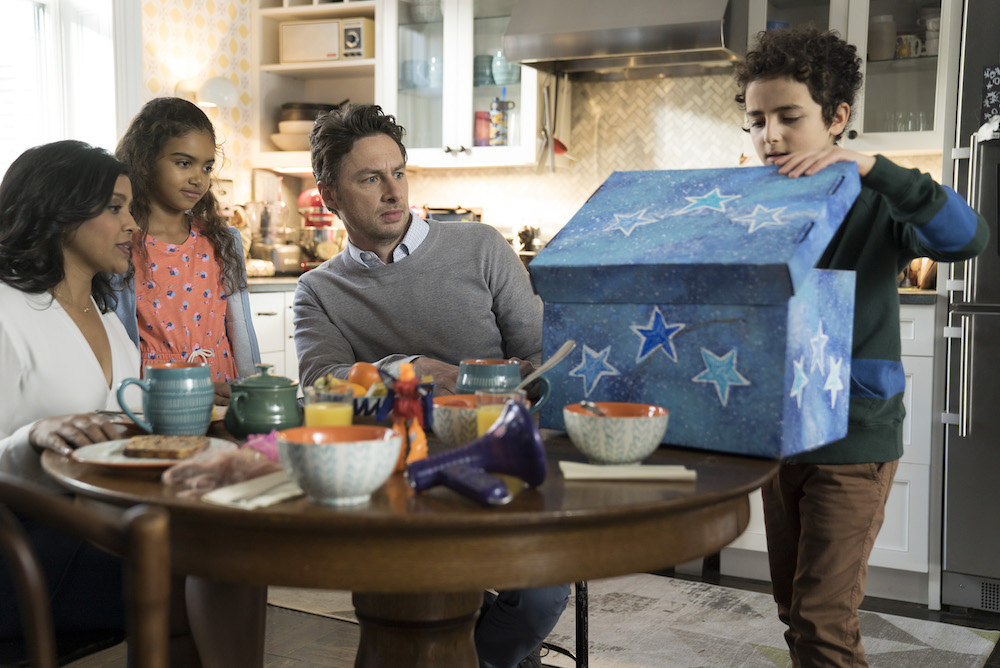 Photo: ABC/Elizabeth Fischer
Scrubs fans rejoice! Zach Braff is back on TV! This week, Braff's new show, Alex, Inc. starts on ABC and it's a delightful family-friendly affair. When Alex Schuman (Braff) decides to quit his radio journalist job to start his own podcast company, his wife (Tiya Sircar) and kids (Elisha Henig and Audyssie James) support him, despite their misgivings. Based on the real-life story of Alex Blumberg, founder of Gimlet Media, and produced by Matt Tarses (Scrubs, The Goldbergs) and Braff, this new sitcom is a sweet story about family and following your dreams with plenty of laughs and a lot of heart. If, like me, you loved the gang at Sacred Heart Hospital, you'll slowly fall in love with the Schumans.
Check out our full review of the first three episodes here then tune in on Wednesday for the premiere.
Dive into Alex, Inc. this Wednesday, only on ABC.
From ABC:
With the help of wife Rooni and their children, Alex Schuman quits his prominent job to start his own podcast company telling real stories that matter. He hires his cousin Eddie and former producer, Deirdre, to help achieve his dream. Meanwhile, Ben performs magic at the school talent show which teaches Alex an important lesson about his future.
—
KRYPTON
"House of El" – Season 1, Episode 2
Wed Mar 28 – 10PM
On Syfy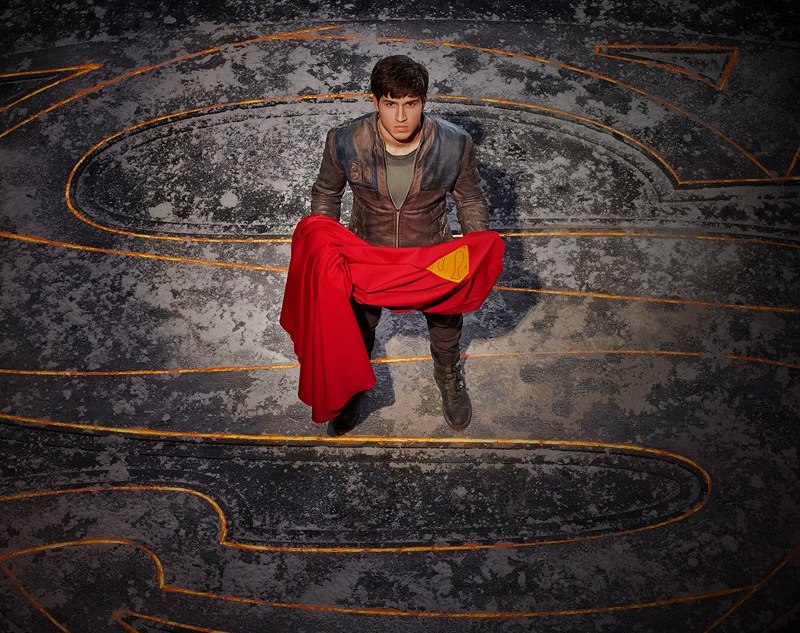 Photo: Syfy
What would happen if our greatest superhero was never born? That's the goal of the supreme being Rao AKA Brainiac (as in THE Brainiac). Inversely, Brainiac's (Blake Ritson) goal is Seg-El's (Cameron Cuffe) greatest conflict on the new Syfy series Krypton. Brainiac is out to destroy the planet before Superman can ever be born. Which means Seg is in a lot of trouble—him being Kal-El AKA Superman's granddad and all. Krypton is pretty much the Dune of the DC Universe with a taste of Back to the Future thrown in and it gets more fascinating with every week, taking us into the rich history of the superpowered aliens of the Superman universe and their decidedly inhumane take on life…and who gets to live it. Leave it to Daron-Vex (Elliot Cowan) to explain his whole plan so beautifully (they never learn, do they?) and add a new layer of intensity only a British villain can. Krypton is a show tailor-made for comic book fans, digging into the politics and powers behind the red cape for a show that may be worlds away, but closer to home than ever. Plus, there's El x Zod (Georgina Campbell) frolicking…hubba hubba.
Head to Krypton this Wednesday on Syfy.
From Syfy:
Seg is called upon by the clerisy, where he gets a crash course in Kryptonian theology and some deets about this marriage.
—
Siren
"Pilot" / "The Lure" –  Double series premiere
Thurs Mar 29 – 8PM
On Freeform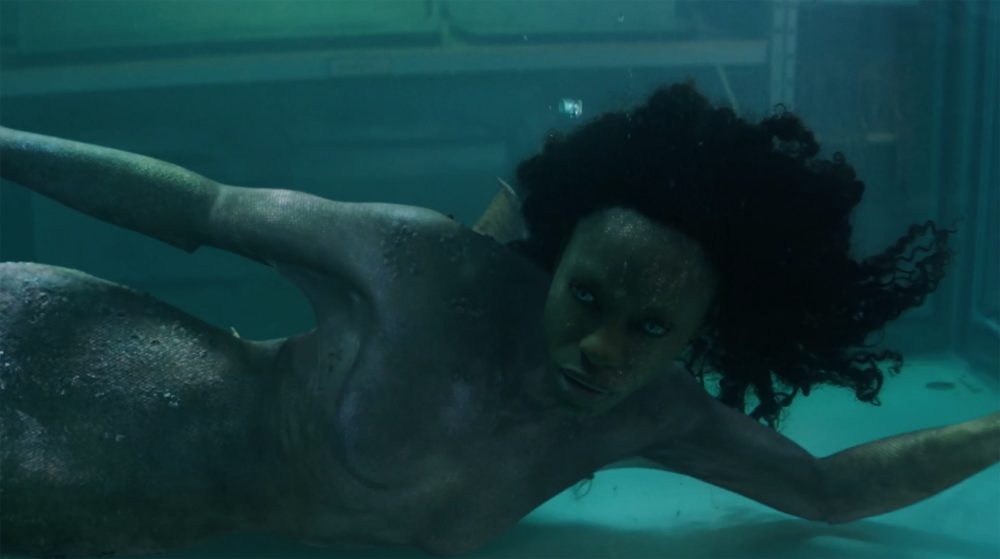 Photo: 

Freeform
There's something mystical going on in Bristol Cove. The town was once known for being home to mermaids but were they anything more than a sailor's myth? More importantly, what happens when one comes to shore? Freeform is out to answer that question via a mysterious mermaid with wide questioning eyes and a violent streak. Siren is taking mermaids to darker depths by bringing them up to the surface and into the even more volatile human world. Ryn (played by Eline Powell with unsettling charm) is like an alien in our world, discovering everything that makes society what it is (starting with choosing her favorite sports team). What will become of her once the town finds out her origins? We guess that creeping feeling of fear and intrigue we get from Siren is what the tales of old warned us about.
Dive into Siren on Freeform this Thursday.
From Freeform:
The coastal town of Bristol Cove, once known for being home to mermaids, is turned upside down with the arrival of a mysterious girl.
Ben and crew of The North Star uncover a device emitting a strange sound. Meanwhile, Ryn finds shelter in the home of the local folklore expert.
—
STATION 19
"Contain the Flame" – Season 1, Episode 3
Thurs Mar 29 – 9PM
On ABC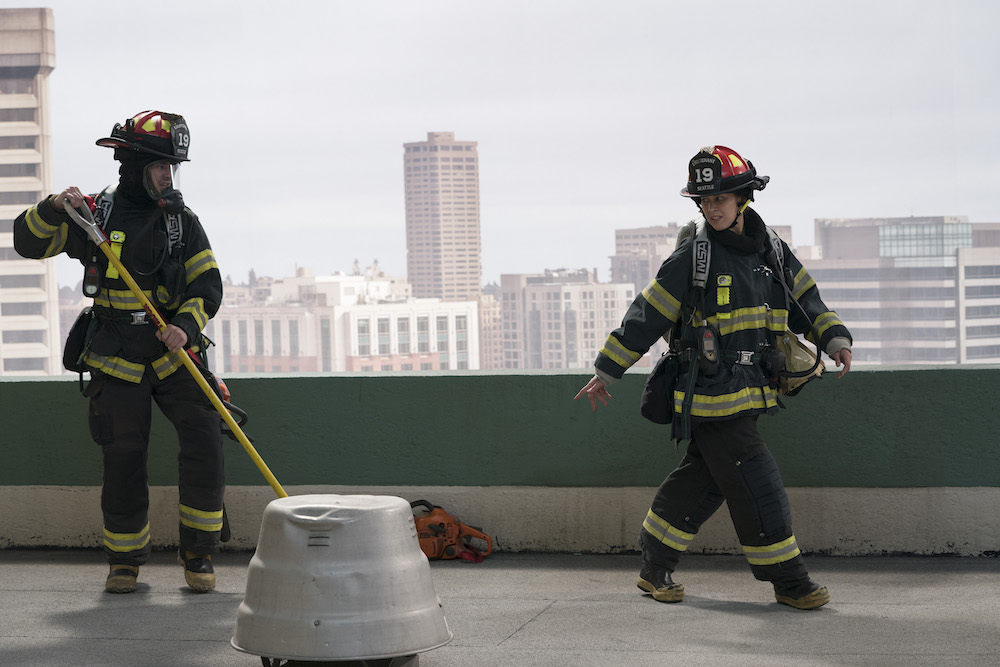 Photo: ABC/Mitch Haaseth
There ain't no drama like Shondaland drama. Station 19 hit the ground running in its double premiere last week, with Andy (Jaina Lee Ortiz) now vying for captain along with her almost-fiancé Jack (Grey Damon) as if there wasn't enough pressure in their secret relationship. Especially when you sorta break up then definitely hook up in the backroom. The pair now take turns to co-captain in shifts but Andy is way too headstrong to take that lightly and when does that ever end well? Instead we're rooting for her and her ex Ryan (Alberto Frezza)—this is Shondaland after all and we don't settle for anything less than complicated.
Watch Station 19 on ABC this Thursday.
From ABC:
Upon the arrival of Batallion Chief Frankel, Jack begins his first shift as co-captain and continues to butt heads with Andy on leadership styles. Captain Pruitt has a difficult time following doctor's orders and winds up back at the station to take on administrative duties. Meanwhile, the rest of the team at Station 19 responds to an attic fire at JJ's apartment building and a call to a pool house party.
—
ATLANTA
"Barbershop" – Season 2, Episode 5
Thurs Mar 29 – 10PM
On FX
Atlanta airs this Thursday on FX.
From TV Guide:
Trust in one's barber is spotlighted.
—
A Series of Unfortunate Events
Season 2 premiere
Fri Mar 30
On Netflix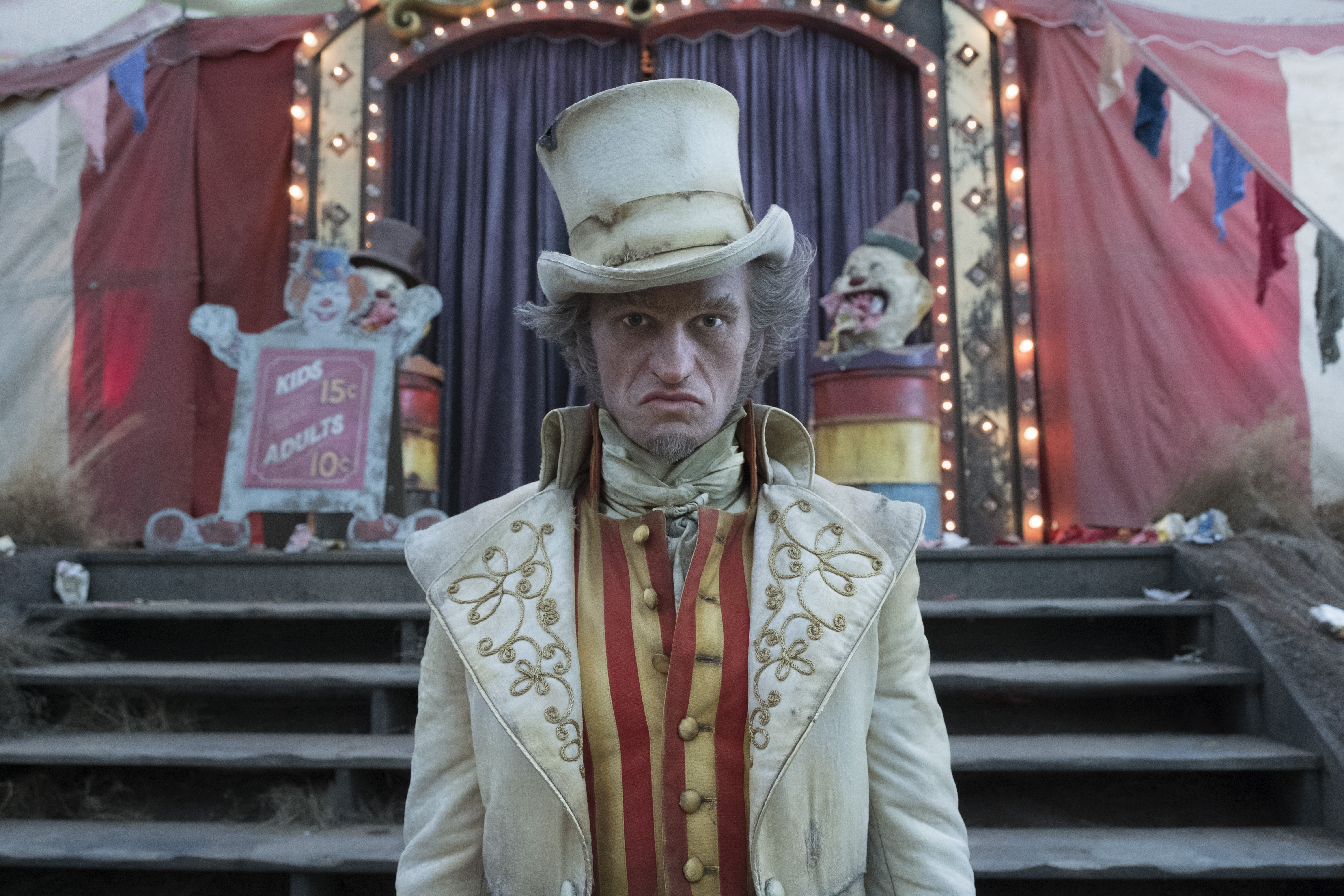 Photo: Eric Milner / Netflix
The Baudelaire orphans are back and as unfortunate as ever in the second season of Netflix's A Series of Unfortunate Events. This time, Violet, Klaus, and Sunny (Malina Weissman, Louis Hynes, and Presley Smith) find themselves enrolled in a boarding school where the vice principal is a violin-playing egomaniac, the resident bully decides to make their lives even more miserable, and Count Olaf (Neil Patrick Harris) turns up disguised as a gym teacher. It's not all doom and gloom though: They meet the Quagmire siblings who just might be able to tell them a little more about the mysterious fire that killed their parents… You can tune into their miserable experiences on March 30, but wouldn't you rather watch a happy cartoon instead? When you're weeping over their fates, don't say we didn't warn you.  
Check back for our full review on Wednesday. In the meantime, you can catch up with the first season on Netflix—if you're one of those people who can't look away from extreme tragedy and like to cry a lot.
Don't look away from A Series of Unfortunate Events
season 2 this Friday on Netflix.
From Netflix:
Based on the internationally best selling series of books by Lemony Snicket (aka Daniel Handler), season two of the Netflix original series plunges further into the epic world of this darkly comedic mystery. Executive produced by Emmy Award-winner Barry Sonnenfeld and Daniel Handler – the new season of A Series of Unfortunate Events consists of ten cinematic one-hour episodes, and premieres worldwide spring 2018, exclusively on Netflix. Starring Emmy and Tony Award-winner Neil Patrick Harris, A Series of Unfortunate Events recounts the tragic tale of the Baudelaire orphans – Violet, Klaus, and Sunny – and their extraordinary encounters with the devious Count Olaf who will stop at nothing to get his hands on their inheritance. Foiling his many dastardly plans and disguises, the young siblings discover clues to their parents' mysterious death, links to a covert organization, and begin to unlock long-held family secrets.