This week: Patriot Act with Hasan Minhaj, Miracle Workers, This Is Us, Grown-ish, Chicago Med, Deadly Class, Brooklyn Nine-Nine,
How to Get Away with Murder, The Umbrella Academy
Patriot Act with Hasan Minhaj
"Censorship In China"
New episodes Sunday
On Netflix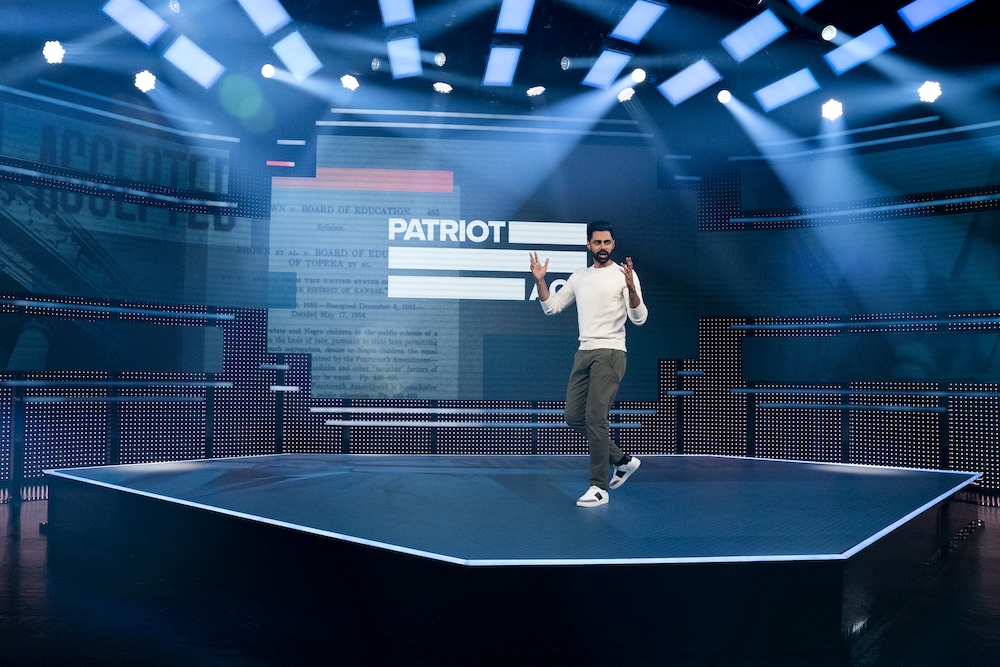 Photo: Cara Howe/Netflix
Remember when Netflix decided to remove the Saudi Arabia episode of Patriot Act? The internet was shook and Hasan Minhaj isn't about to let it go. On his first show of 2019 he's about to get himself even more #banned—but, boy, he's gonna do it in style. Freedom of speech and information is so incredibly important and Minhaj will take you on a journey, from personal experience to the bigger picture, to break down censorship in other countries. When you see the creative ways some activists get around censorship you'll be ready to join them…using emojis. It's funny and searingly honest with a touch of terrifying—all to get you thinking deeper. We're so glad Patriot Act is back to help us all make sense of this world.
Stream new episodes of Patriot Act with Hasan Minhaj
every Sunday on Netflix.
From Netflix:
Minhaj's weekly comedy show will explore the modern cultural and political landscape with depth and sincerity. Each week, Minhaj will bring his unique comedic voice and storytelling skill to investigate the larger trends shaping our fragmented world.
—
Miracle Workers
"Hit or Miss" – Series premiere
Tues Feb 12
On TBS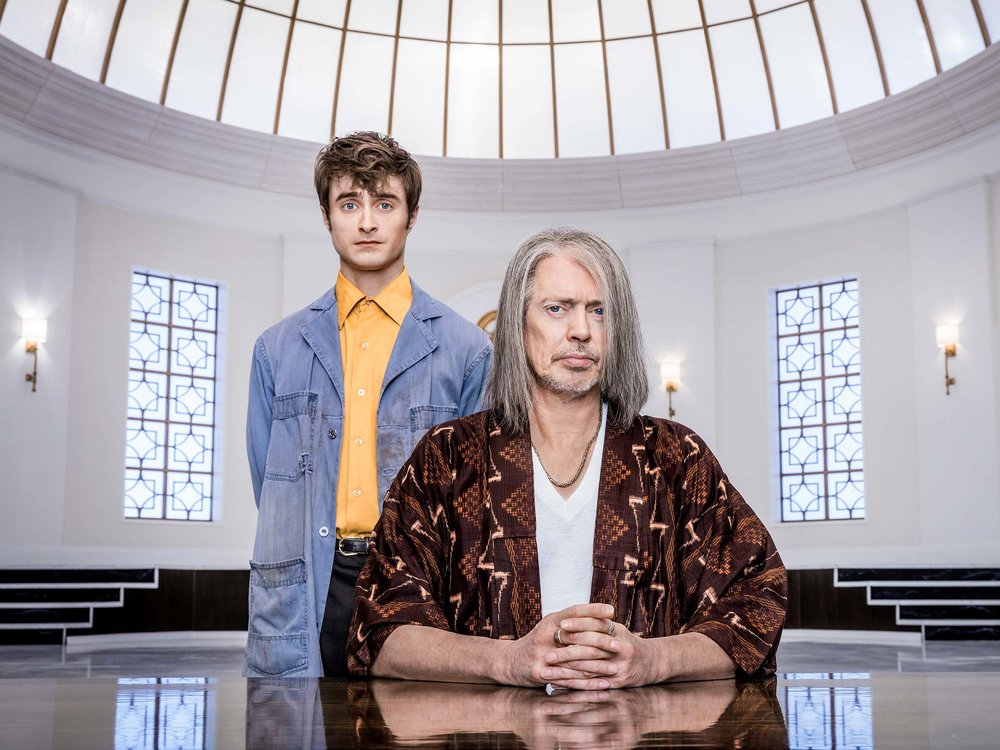 Photo via TBS
Steve Buscemi is God. Um, yeah, we're talking about on his new TBS show Miracle Workers, where he plays the Almighty himself…well…a drunk, depressed version of Him at least. God watches the state of the world and even He is feeling lost. But one of his angels, Eliza (Geraldine Viswanathan), still has faith and works to make a difference (via some accidental natural disasters)…if God doesn't bring about the apocalypse first. To save the world, she teams up with Craig (Daniel Radcliffe)—who is possibly even more lost than God—and makes a bet to answer an impossible prayer. Based on the book What in God's Name by Simon Rich, Miracle Workers is a quirky new comedy that'll get you questioning the afterlife and what's really important. With the popularity of The Good Place it's no wonder afterlife shows are getting new…well…life and Miracle Workers fits right in. The new show has some hilarious moments but unfortunately the writing is very hit and miss—the random jokes that are slotted in don't always make sense. That being said, Miracle Workers is a pretty enjoyable effort to tide you over 'til you're back in The Good Place.
Miracle Workers debuts on TBS on Tuesday.
From TBS:
Frustrated with the mess that earth's become, God contemplates the end while two determined Angels try to change his mind.

—
This Is Us
"Songbird Road: Part 2" – Season 3, Episode 12
Tues Feb 12 – 9PM
On NBC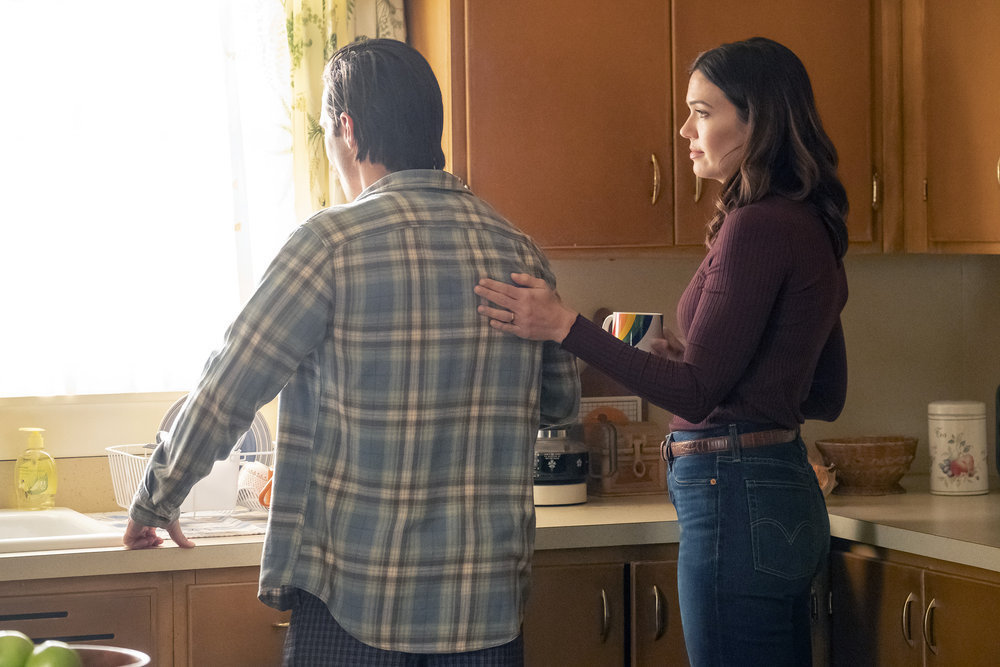 Photo by: Ron Batzdorff/NBC

**idobi rated: ❤️❤️**
This Is Us have kept us in suspense for three whole weeks…or maybe it was to give us time to process what Nicky (Griffin Dunne) told us about what really happened in Vietnam. We still can't get the image out of our minds. The repercussions of that fateful day have taken their toll on the present Pearson family timeline. But we all know that, while the Pearson kids might be wondering if they really knew their father at all, they were raised by Jack (Milo Ventimiglia) to be kind-hearted and compassionate. When there's a soul in need of saving they'll do everything they can, especially when it's family.
New episodes of This Is Us air every Tuesday, only on NBC.

From NBC:
Kevin attempts to help Nicky. Randall and Kate reflect on differing memories of their childhood.
—
Grown-ish
"Workin' Me" – Season 2, Episode 7
Wed Feb 13 – 8PM
On Freeform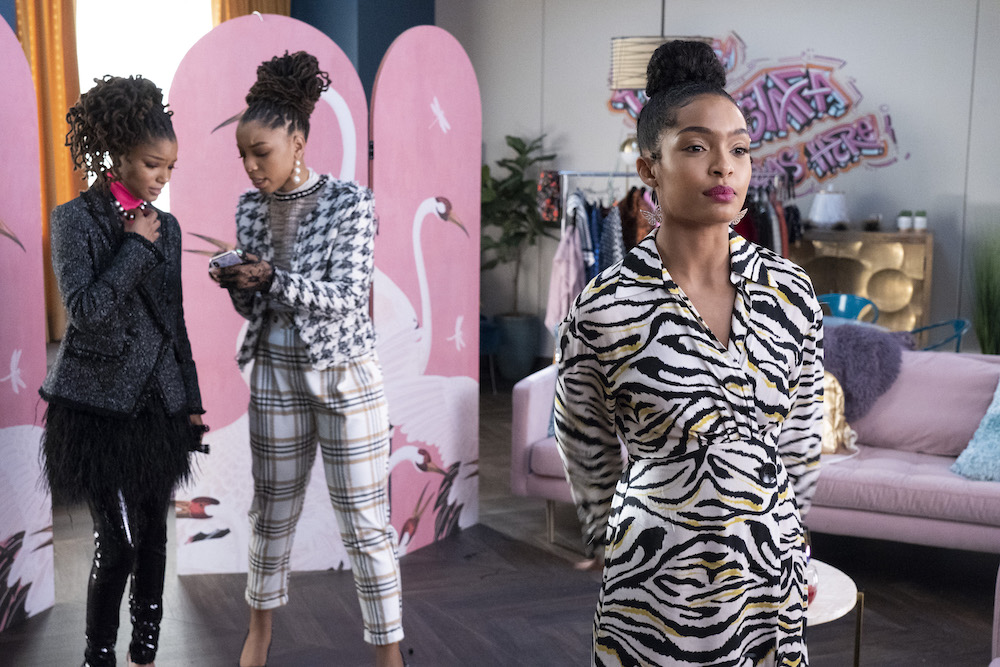 Photo: Freeform/Ron Tom

**idobi rated: ❤️❤️**

Everyone needs a #rebrand every once in a while…especially when your competition is kicking your ass in Insta likes. The Forster Twins are a little jealous of the hot new female athlete on campus but Zoey (Yara Shahidi) sees it as an opportunity to style them. Now they just need to agree on their vision. Get ready for an honest and heated conversation about empowerment and sexuality, 'cause your Grown-ish girls are about to get real.
New episodes of Grown-ish debut on Freeform every Wednesday.
From Freeform:
Zoey decides to give styling a try and offers to help the twins revamp their image in the hope of boosting their social media following. Knowing that sex sells, Jazz wants to play up her sexuality more than the other girls are comfortable with, sparking a conversation about image and empowerment. Meanwhile, Ana's new romance heats up.
—
Chicago Med
"Can't Unring that Bell" – Season 4, Episode 14
Wed Feb 13 – 8PM
On NBC

Catch Chicago Med on NBC every Wednesday.

From NBC:
Will's personal issues continue to interfere with his relationship with Natalie and his life at the hospital. Dr. Bekker tries to mend things with Dr. Rhodes. Goodwin questions Maggie's life-threatening decision and Dr. Charles tries to lend a hand to the daughter of a new friend.
—
Deadly Class
"Saudade" – Season 1, Episode 5
Wed Feb 13 – 10PM
On SYFY

Photo by: Katie Yu/SYFY

Nothing before the acid matters. When you're trying to hide something it only becomes obvious—it's the beating heart beneath the floorboards, it's the lack of eye contact, it's the blood on your hands… How many more secrets can our crew keep? This week Deadly Class is going on a trip—road or otherwise—to Vegas to do what any teens would: Get high and plan some patricide. This show doesn't take its foot off the gas and will make you feel all kinds of weird. You'll feel like you're tripping right there on the rippling carpet next to them…and then things take a turn into gruesome and you'll be thankful you didn't end up where they do at the end
of the night.
Deadly Class airs every Wednesday, only on SYFY.

From SYFY:
On a mission to Vegas to kill Billy's dad, Marcus accidentally takes way too much acid.
—
Brooklyn Nine-Nine
"The Crime Scene" – Season 6, Episode 6
Thurs Feb 14 – 9PM
On NBC

Head to Brooklyn Nine-Nine this Thursday on NBC.
From NBC:
Jake and Rosa must deal with a mother in mourning as they work and rework a crime scene in order to solve a difficult murder case with confusing evidence.

—

How to Get Away With Murder
"Where Are Your Parents?" – Season 5, Episode 13
Thurs Feb 14 – 10PM
On ABC
How to Get Away with Murder returns this Thursday on ABC.
From ABC:
Annalise gathers everyone together for the holidays while she wrestles over a difficult decision about her future, and the investigation into Miller's murder starts to widen.

—

The Umbrella Academy
Season one
Fri Feb 15
On Netflix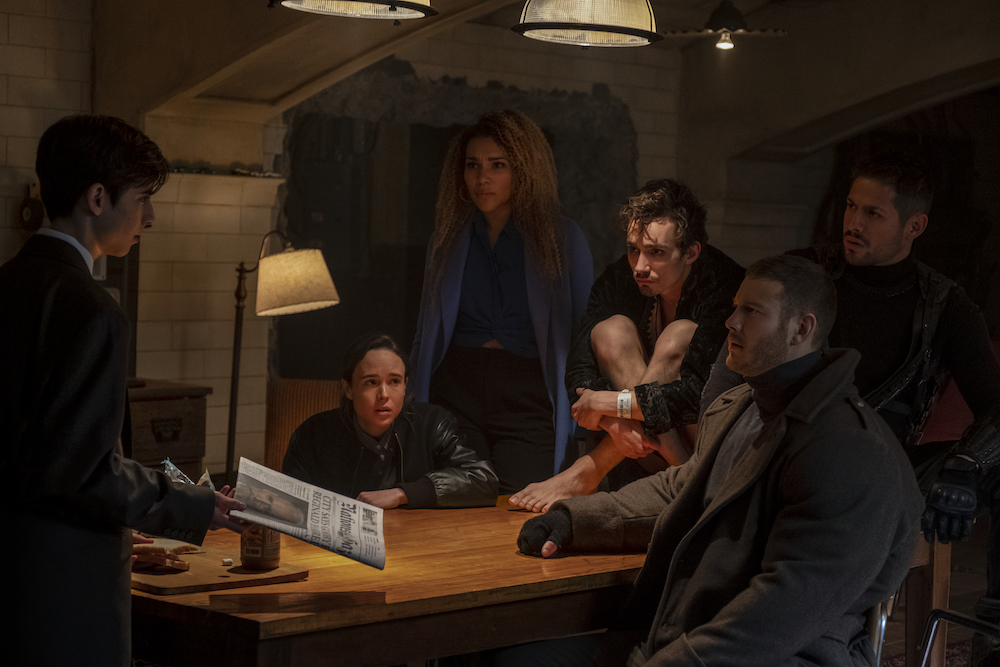 Photo: Christos Kalohoridis/Netflix
**idobi Rated: ❤️❤️**
The Hargreeves aren't your typical family unit. Made up of seven miraculous children, adopted by the visionary but super-strict Sir Reginald Hargreeves (Colm Feore), these kids (the only seven Hargreeves could "obtain") are The Umbrella Academy. Oh yeah, six of them have superpowers (more on that later) and they've been vigorously trained to become heroes. Totally normal, right? Fast-forward to adulthood, the team is disbanded and disillusioned… What could bring this dysfunctional family back together under one big ole mansion roof? The mysterious death of their father, of course. Also there may be an, um, apocalypse coming. So…take out your black umbrellas and get ready for one helluva good storm…
This is the kind of show that will take your jaded, I'm-so-tired-of-superhero-adaptations mindset, screw it up, and blow it away. The original comics were instant classics. Writer Gerard Way and artist Gabriel Bá cleverly ripped open the seams of superheroics to reveal the messy stuffing inside. The stories felt familiar and yet explored the aftermath of being "super" in ways we hadn't seen. Steve Blackman and Jeremy Slater get why we love the books, and they manage to give us a fresh take on a fresh take. Fans of the comics will recognize many of the plot threads but there's so much they won't see coming. That's part of what makes the series so exciting to watch. The Umbrella Academy inherently feels like its comic book counterpart—the artsy cuts, the vivid color palettes, and oh, the action sequences—are like you're turning the pages as the story leaps forward. Also, the snark, the deliciously vicious snark. Bravo, to the writers. Take a bow. (read our full [p]review)
Get into The Umbrella Academy on February 15th on Netflix.

From Netflix:
On the same day in 1989, forty-three infants are inexplicably born to random, unconnected women who showed no signs of pregnancy the day before. Seven are adopted by Sir Reginald Hargreeves, a billionaire industrialist, who creates The Umbrella Academy and prepares his "children" to save the world. But not everything went according to plan. In their teenage years, the family fractured and the team disbanded. Now, the six surviving thirty-something members reunite upon the news of Hargreeve's passing. Luther, Diego, Allison, Klaus, Vanya and Number Five work together to solve a mystery surrounding their father's death. But the estranged family once again begins to come apart due to their divergent personalities and abilities, not to mention the imminent threat of a global apocalypse.