This week: Patriot Act with Hasan Minhaj, Chicago Med, I Feel Bad, The Good Place, Dumplin', Nailed It Holiday, Mowgli: Legend of the Jungle, Titans, Doctor Who, Outlander
Patriot Act with Hasan Minhaj
"Content Moderation and Free Speech" – Fall Finale
New episodes on Sunday
On Netflix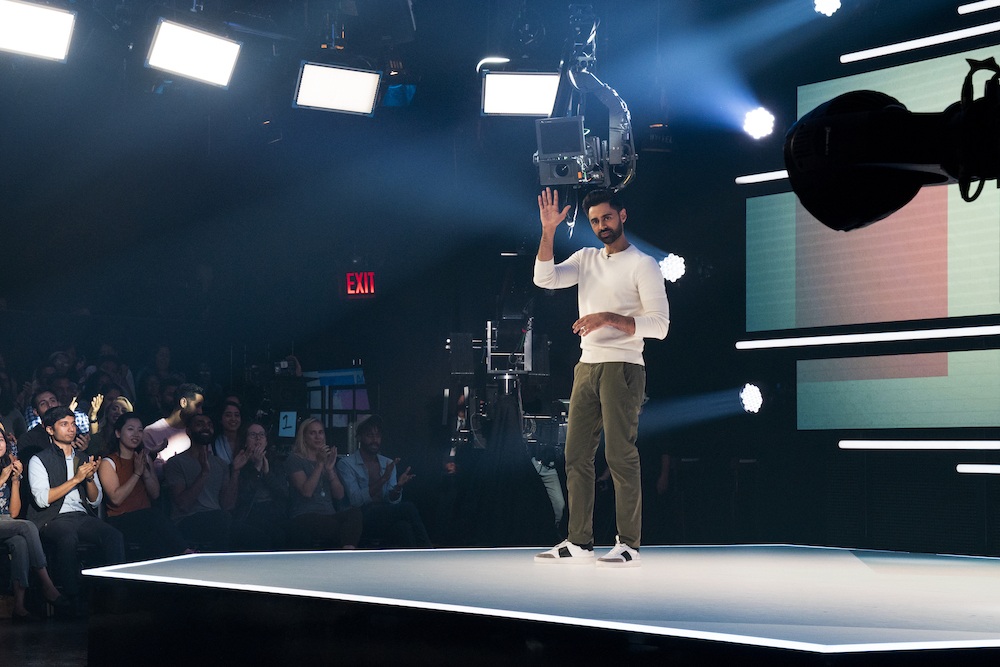 Photo: 

Cara Howe/Netflix
**idobi rated: ❤️❤️**
Get your reaction memes ready 'cause this week Hasan Minhaj tackles his home of the internet. As a child of the technology era he recognizes the value of social media and the web but also its pitfalls. These ain't your mama's (useless) warnings—Minhaj knows what he's talking about and he's using Super Mario and animal videos to connect with you in a way no non-Millennial could. "Content Moderation and Free Speech" is the last Patriot Act episode of 2018 and Minhaj is going out with a bang, giving you plenty of new and irrefutable #logic to deal out to your family when you're home for the holidays.
Stream new episodes of Patriot Act with Hasan Minhaj
every Sunday on Netflix.
From Netflix:
Patriot Act with Hasan Minhaj will explore the modern cultural and political landscape with depth and sincerity. Each week, Minhaj will bring his unique comedic voice and storytelling skill to investigate the larger trends shaping our fragmented world.
—
Chicago Med
"Death Do Us Part" – Season 4, Episode 9 (Fall Finale)
Wed Dec 5 – 8PM
On NBC
Watch Chicago Med every Wednesday on NBC.
From NBC:
Will and Natalie prepare for their big day, but an unsuspecting Will soon finds himself sidetracked. Dr. Charles disagrees with Goodwin on how to best handle a patient's treatment while Dr. Choi and April are on their own when a pregnant woman delivers. Dr. Rhodes finds himself operating on a patient that is of great importance to Det. Halstead.
—
I Feel Bad
"My Kids Barely Know Their Culture" – Season 1, Episode 10
Thurs Dec 6 – 9:30PM
On NBC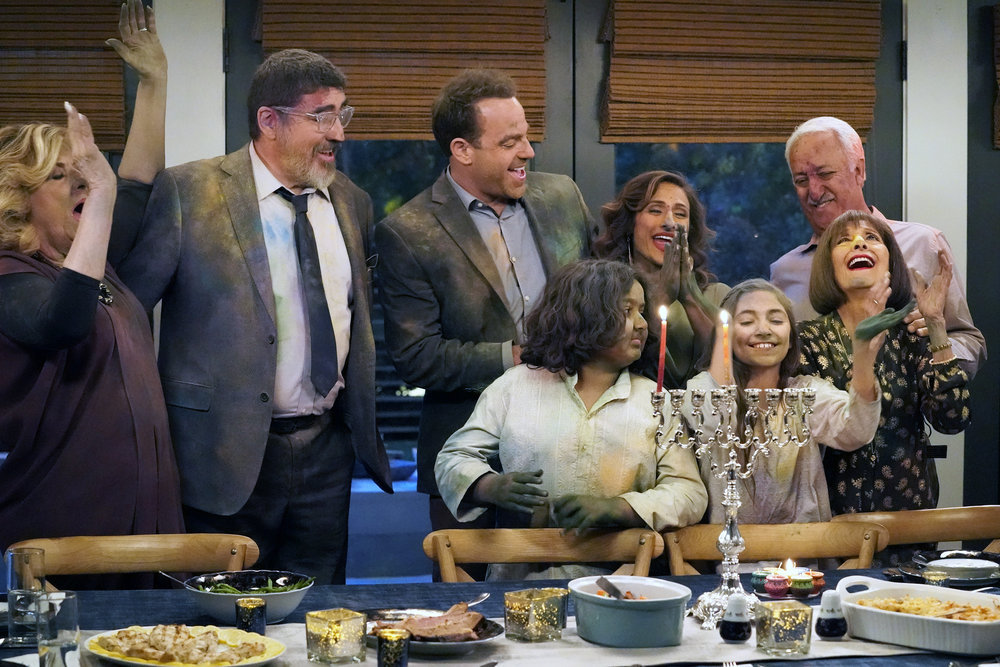 Photo: Evans Vestal Ward/NBC
**idobi rated: ❤️❤️**
Brace yourselves: The in-laws are coming to visit. That's enough to send most sitcom families into a frenzy of dread. Not I Feel Bad. Amazingly enough, Emet (Sarayu Blue) gets on super well with David's (Paul Adelstein) mom…because Emet turns up the Jewish when her in-laws come to visit. Even if it means shipping off her own mother to a casino to avoid the question: Why doesn't Emet celebrate her Hindu heritage with the same energy? Break out the Menorah errr…fancy candle holders and get ready to celebrate Hanukkah—Emet-style. Of course, we've all learned her parents aren't that easy to get rid of even with the promise of free gambling—Maya (Madhur Jaffrey) has plans to make Hanukkah her own. Yup, y'all ain't ready. I Feel Bad delivers a holiday episode in its own hilarious way to prove that you don't always have to have it together when family comes knockin'.
Catch I Feel Bad every Thursday, only on NBC.
From NBC:
When David's parents come to town for Hanukkah, Emet and David pretend the family is more observant than they actually are. But when Maya finds out, an in-law culture clash ensues. At GamePunch, the group discovers Chewey has adopted an American persona to win the affections of a girl.
—
The Good Place
"Janet(s)" – Season 3, Episode 9 (Fall Finale)
Thurs Dec 6 – 8:30PM
On NBC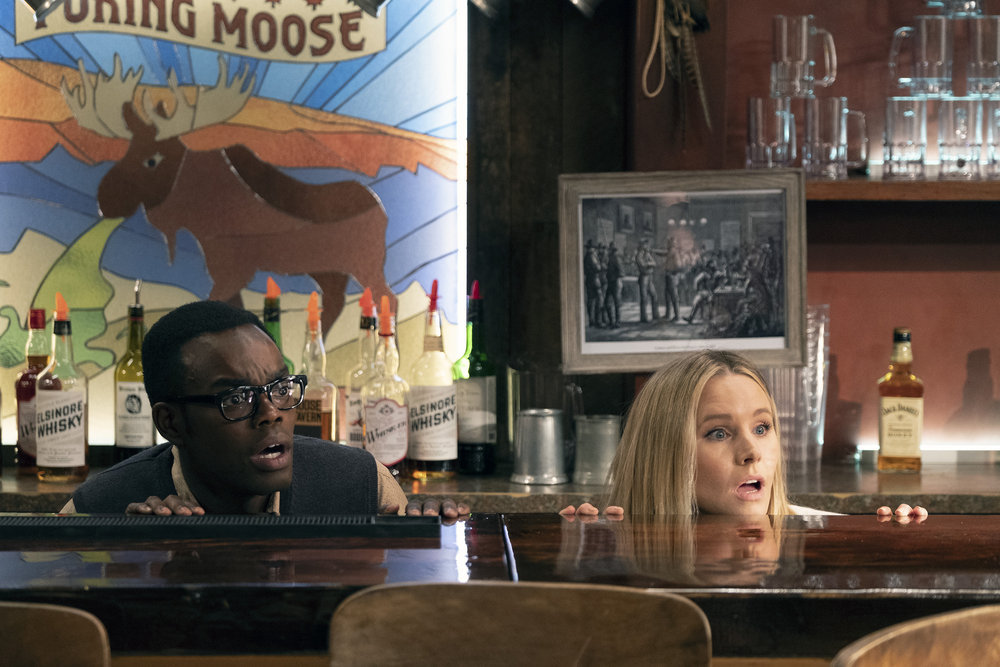 Photo by: Colleen Hayes/NBC
**idobi rated: ❤️❤️**
NBC are keeping the fall finale of The Good Place under wraps (mean giraffes)…but given the huge void of information last week's episode left in its wake, we get it. But we gotta know! Our OTP-hearts can barely handle the suspense. The humans are with Janet (D'Arcy Carden) in…uhh…The Void Place and we get the feeling this means the show is about to fork with us on a whole new level. Would we expect anything less from the fall finale? Ooh, our brains are about to sound like a fork stuck in a garbage disposal because The Good Place is the master of switching things up to have us screaming for more.
Head back to The Good Place this Thursday on NBC.
From NBC:
With Janet's help, Michael hatches a plan.
—
Dumplin'
Fri Dec 7
On Netflix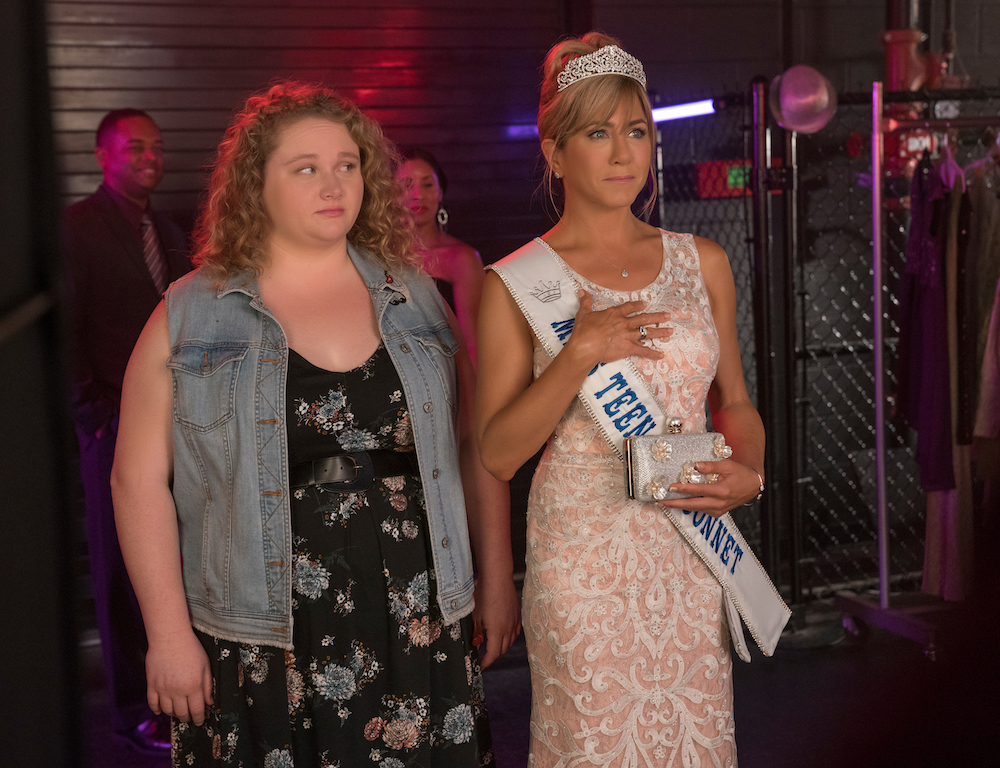 Photo: 

Bob Mahoney / Netflix
Dumplin', based on the best-selling novel by Julie Murphy, is the body positive story we all wanted (unlike some other shows and movies we could mention…). Here's the setup: Willowdean (Danielle Macdonald) is "fat" but she's comfortable with her body and proud of who she is. When she decides to enter a beauty pageant, no one, not even her former beauty queen mom (Jennifer Aniston), thinks she has a shot. But Willowdean is persistent and full of confidence—and it doesn't hurt that the boy she's crushin' on (Luke Benward) seems to like her back. Long story short: We need more heroines like Willowdean in our lives. With such an important story to tell we're excited to see where Netflix takes Dumplin'…so stay tuned for our full review. (Sam Devotta)
Stream Dumplin' on Netflix on Friday.
From Netflix:
Dumplin' (Danielle Macdonald) is the plus-size, teenage daughter of a former beauty queen (Jennifer Aniston), who signs up for her mom's pageant as a protest that escalates when other contestants follow her footsteps, revolutionizing the pageant and their small Texas town.
—
Nailed It! Holiday!
Fri Dec 7
On Netflix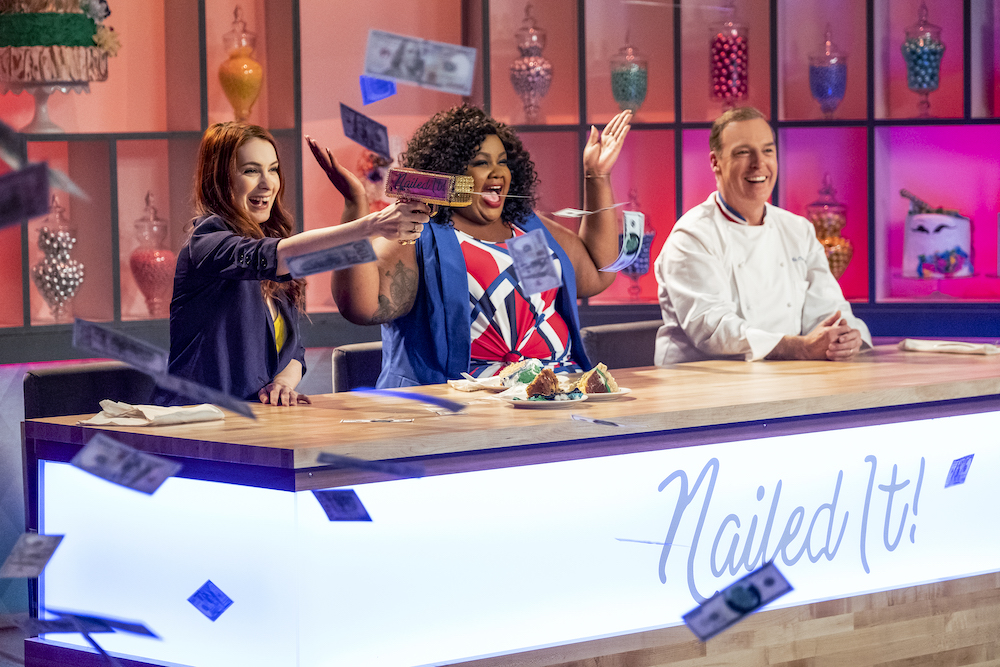 Photo: 

Adam Rose / Netflix
We can only describe this show as "chaotic good". Nailed It! is always great fun to giggle over even when the #fails still turn out better than our own efforts. Nailed It! Holiday! ups the madness with a dash of glitter and a sprinkling of gleeful yelling. When the amateur bakers are tasked with making a snowman mountain cake, an avalanche—pardon the pun, this show brings it out in us—of frosting ensues and the judges' reactions are the best present you could ask for this Christmas. This delightful special will make you relax about trying to achieve perfection over the holidays—sometimes it's better to just eat some frosting and chill on the sofa watching Nailed It! instead.
Nailed It! Holiday! drops on Netflix this Friday.
From Netflix:
Hosted by Nicole Byer and Jacques Torres, this holiday-themed competition sees home bakers with a terrible track record take a shot at recreating edible holiday masterpieces for a $10,000 prize. It's part competition, part hot mess.
—
Mowgli: Legend of the Jungle
Fri Dec 7
On Netflix
Watch Mowgli: Legend of the Jungle on Netflix this Friday.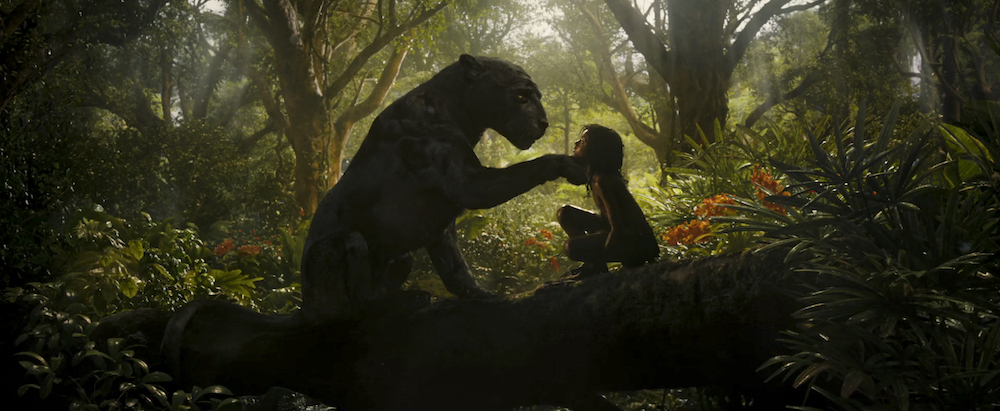 Photo: Netflix
From Netflix:
Acclaimed actor and director Andy Serkis reinvents Rudyard Kipling's beloved masterpiece, in which a boy torn between two worlds accepts his destiny and becomes a legend. Mowgli (Rohan Chand) has never truly belonged in either the wilds of the jungle or the civilized world of man. Now he must navigate the inherent dangers of each on a journey to discover where he truly belongs. Christian Bale, Cate Blanchett, Benedict Cumberbatch, Andy Serkis, Freida Pinto, Rohan Chand, Matthew Rhys and Naomie Harris lead an all-star cast in this visually spectacular and emotionally moving adventure.
—
Titans
"Hank and Dawn" – Season 1, Episode 9
Fri Dec 7
On DC Universe
New episodes of Titans stream on DC Universe every Friday.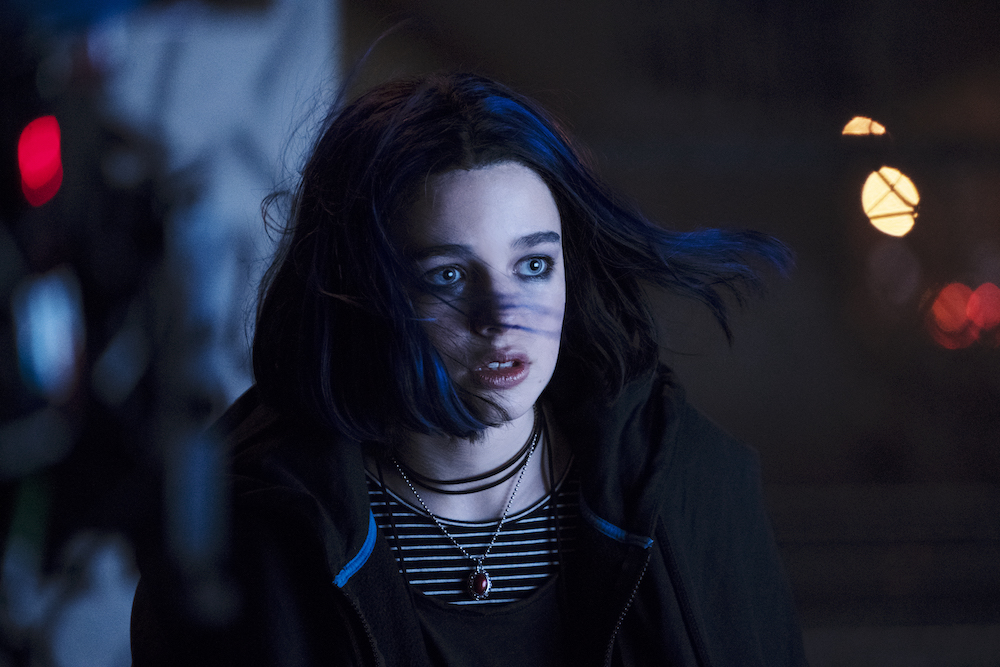 Photo: Steve Wilkie/2018 Warner Bros. Entertainment Inc.
From DC:
The origin story of Hank Hall and Dawn Granger's relationship and the loss in each of their pasts that brings them together as vigilante Super Heroes Hawk and Dove.
—
Doctor Who
"The Battle of Ranskoor Av Kolos" – Season 11, Episode 10 (Series Finale)
Sun Dec 9 – 8PM
On BBC America
Doctor Who season 11 ends this Sunday on BBC America.
From BBC America:
On the planet of Ranskoor Av Kolos, lies the remains of a brutal battlefield. But as the Doctor, Graham, Yaz and Ryan answer nine separate distress calls, they discover the planet holds far more secrets. Who is the mysterious commander with no memory?
—
Outlander
"Blood of My Blood" – Season 4, Episode 6
Sun Dec 9 – 8PM
On STARZ
Outlander airs on STARZ this Sunday.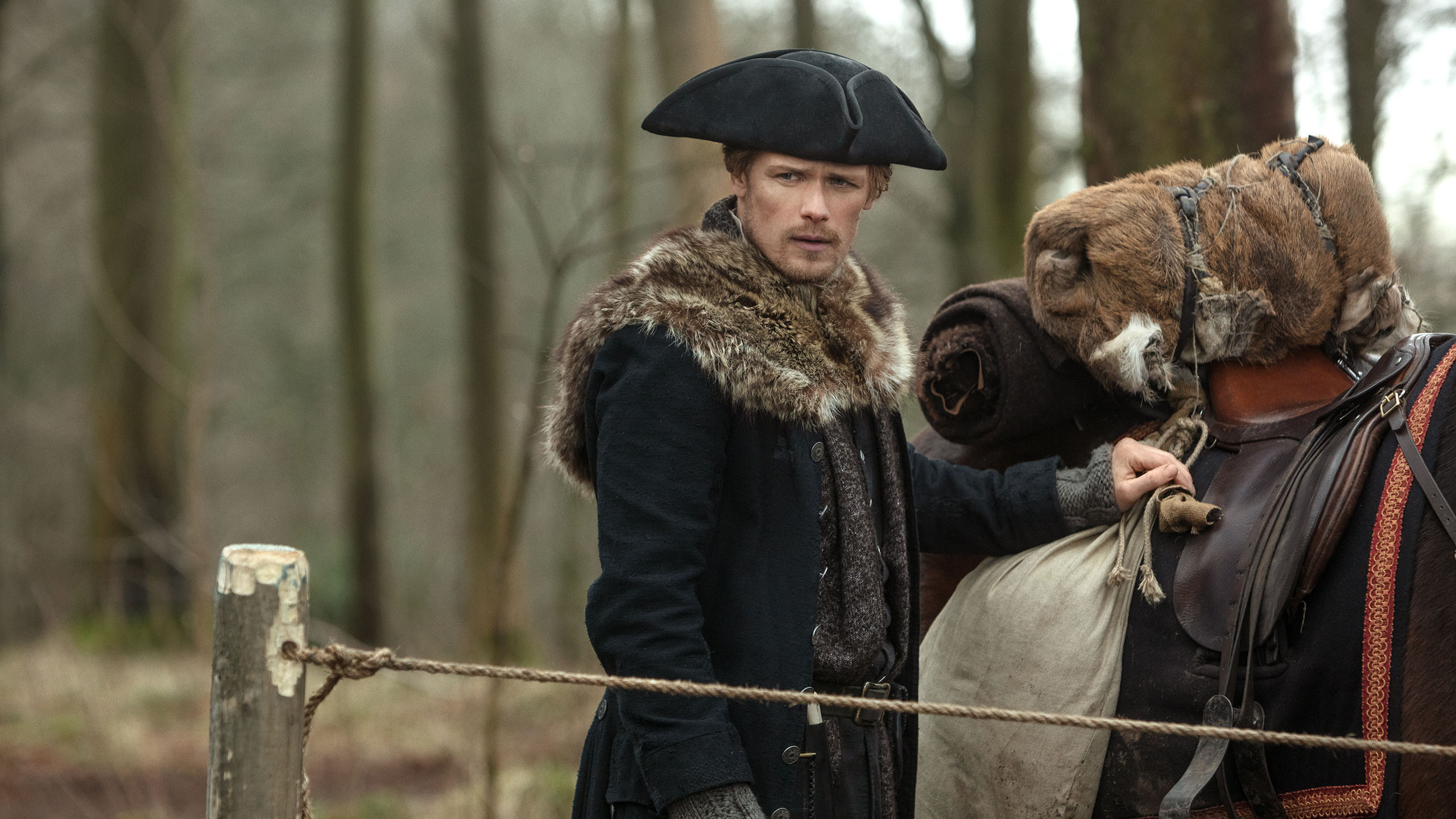 Photo: 

© 2018 Sony Pictures Television Inc. All rights reserved.
From STARZ:
Jamie and Claire are surprised when Lord John Grey drops in on Fraser's Ridge with an unexpected traveling companion. When Grey takes ill, Claire must reconcile her personal feelings with her duties as a doctor.