This week: Homecoming, 9-1-1, Mayans M.C., Chicago Med, The Good Place, Station 19, How to Get Away with Murder, Westside, Patriot Act with Hasan Minhaj, Doctor Who, Outlander
HOMECOMING
Season 1
Now streaming
On Amazon Prime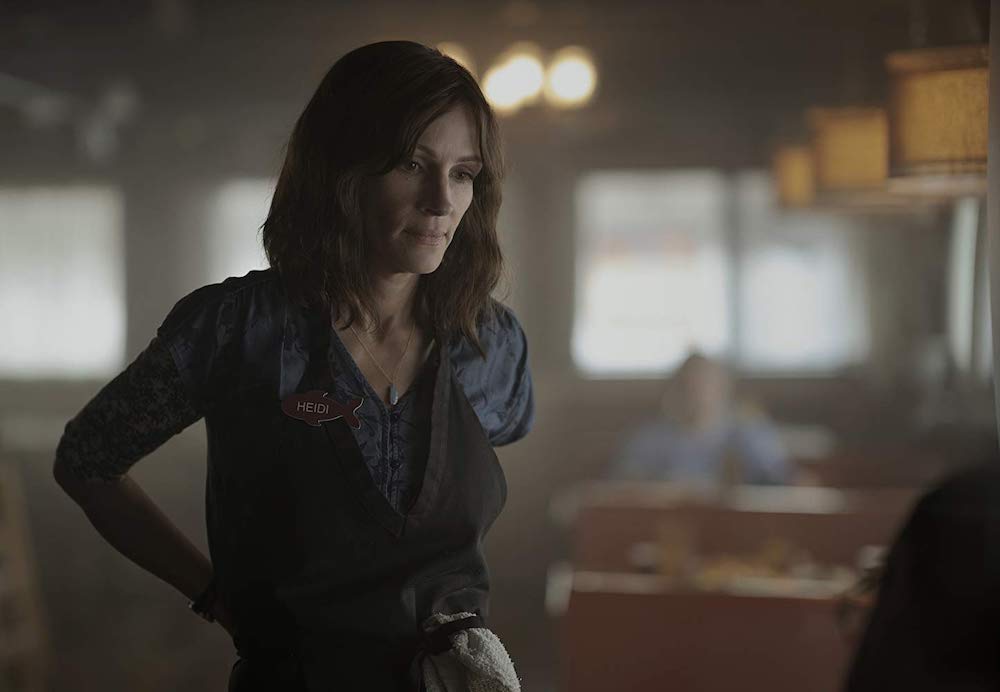 Photo: Jennifer Clasen/Amazon
**idobi rated: ❤️❤️**
Have you seen this yet? Homecoming is a visually lush exploration of trauma, memory, and the human heart vs. the mind. Who can we trust if we cannot trust our memories? Homecoming endeavors to answer that question and it's a slow burning thrill to watch it unfold. Julia Roberts plays Heidi, a therapist working for a government program seeking to welcome soldiers home and reintegrate them into civilian life. When she bonds with one of of her veterans, Walter (Stephan James), she begins to see the world through his eyes and that world becomes more wonky the further Walter gets into Homecoming. The series does an incredible job of making its soundscape as wholly immersive as the podcast and the visuals are equally enthralling. Everything feels claustrophobic, from the closed in facility setting to the hazy vertical framing—meant to pull you in and make you question each person's reality…or at least their perception of events… (read our review)
Stream Homecoming season 1 on Amazon Prime.
From Amazon:
Good intentions. Erratic bosses. Mounting paranoia. Unforeseen consequences spiraling out of control. Heidi (Julia Roberts) works at Homecoming, a facility helping soldiers transition to civilian life. Years later she has started a new life, when the Department of Defense questions why she left Homecoming. Heidi realizes there's a whole other story behind the one she's been telling herself.
—
9-1-1
"Buck, Actually" – Season 2, Episode 8
Mon Nov 5 – 9PM
On FOX
9-1-1 airs every Monday, only on FOX.
From TV Guide:
Buck jumps back into the dating scene but fears he will return to his pre-Abby scoundrel-ous ways, while questioning if Maddie and Chimney are more than just friends. Emergencies involve a woman goings to great extremes on top of a freeway overpass to get the attention of her husband; a couple involved in a car accident on their wedding day; and a first date goes down the toilet.
—
MAYANS M.C.
"Cuervo/Tz'ikb'uul" – Season 1, Episode 8
Tues Nov 6 – 10PM
On FX
Get into Mayans M.C. every Tuesday on FX.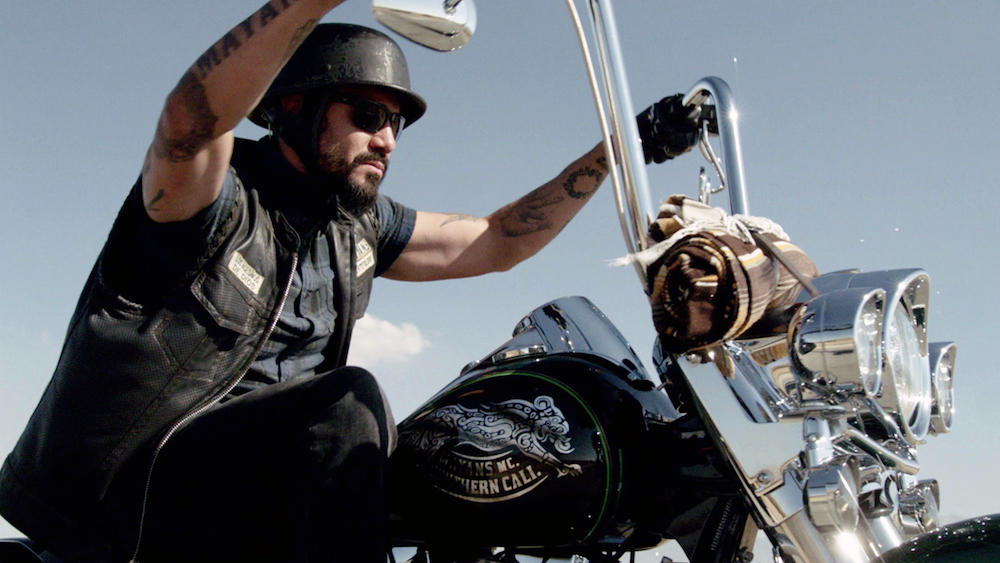 Photo: FX
From FX:
The club has reason to celebrate, but big changes leave the future uncertain.
—
CHICAGO MED
"The Poison Inside Us" – Season 4, Episode 7
Wed Nov 7 – 9PM
On NBC
New episodes of Chicago Med air every Wednesday on NBC.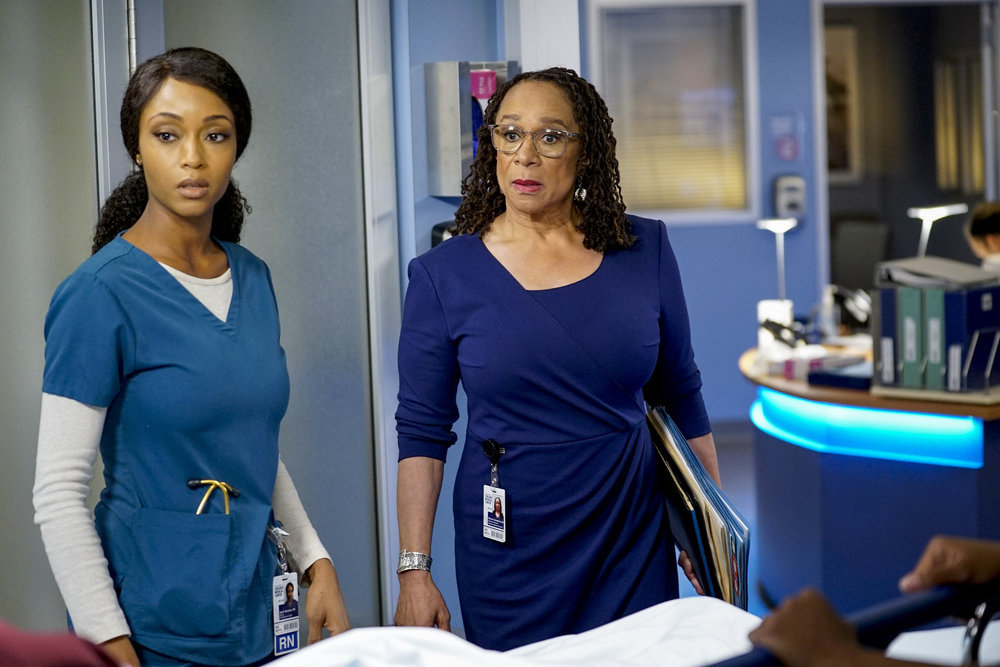 Photo by: Elizabeth Sisson/NBC
From NBC:
The hospital is forced to evacuate when a toxic chemical is brought into the E.D., leaving patients and the staff in grave danger. Stuck in an elevator, Dr. Charles and Dr. Manning are forced to take drastic measures with a pregnant woman. Goodwin is tasked with making difficult choices and Dr. Rhodes discovers a secret that Dr. Bekker has been holding from him.
—
THE GOOD PLACE
"The Worst Possible Use of Free Will" – Season 3, Episode 7
Thurs Nov 8 – 8:30PM
On NBC
Photo by: Colleen Hayes/NBC
**idobi rated: ❤️❤️**
Is there such a thing as free will? Humans have been debating this for centuries—probably beginning around the time Chidi (William Jackson Harper) first started deciding what puppy he likes best—and it's the topic of this week's The Good Place. Eleanor (Kristen Bell) has discovered something deeply unsettling about her time in the afterlife and she wants the truth from Michael (Ted Danson)…even if it makes her bald…(you'll see). We'll all see some memories from the Jeremy Bearimy timeline of the Good Place and it's…err… filled with exotic pets—judgemental mirror centaurs and mythical penguins and tarantula squids—along with a healthy dose of truth-bombs for Eleanor. This episode of The Good Place give you the most entertaining lesson on ethics, that won't cost you thousands of dollars' worth of college fees. No wonder all the libraries in Eleanor's home of Arizona are deserted—everyone's too busy getting all the knowledge they need from NBC's genius show.
Head back to The Good Place this Thursday on NBC.
From NBC:
Eleanor recalls some forgotten events from her past.
—
Station 19
"Last Day on Earth" – Season 2, Episode 6
Thurs Nov 8 – 9PM
On ABC
Head back to Station 19 this Thursday on ABC.
From ABC:
Just when Ryan agrees to talk it out with his dad, Greg Tanner makes an unexpected visit to Station 19, leaving Ryan and others confused. In an effort to connect with his crew, Captain Sullivan enlists the help of an unlikely source for some bonding tips.
—
HOW TO GET AWAY WITH MURDER
"I Got Played" – Season 5, Episode 7
Thurs Nov 8 – 10PM
On ABC
Watch How to Get Away With Murder this Thursday on ABC.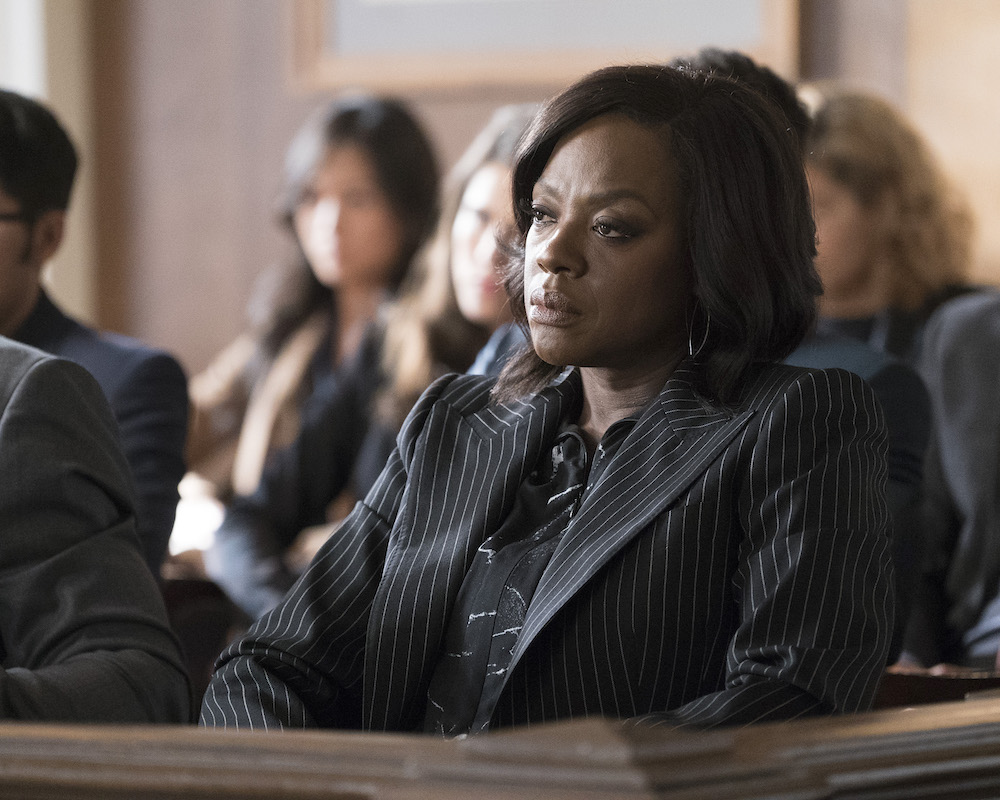 Photo: 

ABC/Kelsey McNeal
From ABC:
Connor and Oliver attempt to secure a church for their wedding to appease their moms. Meanwhile, Annalise and Nate continue their quest for justice in the face of endless obstacles and grave circumstances, and Annalise begins to doubt the governor's dedication to her cause.
—
Westside
Series premiere
Fri Nov 9
On Netflix
Photo: Greg Gayne/Netflix
Peel away the glitz and glamor of LA with Netflix's new docu-series Westside. The show brings together nine musicians with the same dream: To share their songs with the world. Westside is an unscripted reality music series, digging into each artist's backstory, soundtracked by resplendent videos of original songs written by the legendary likes of Diane Warren, Philip Lawrence, and Ryan Tedder. The nine artists are brought together to perform and rehearse a showcase of each of their talents. It's refreshing to see that everyone involved still deeply believes in music and the art of performance; music is what kept these artists going in the tough LA scene and even tougher personal stories. Westside is definitely not all sunshine and roses, for the most part it doesn't stray into a corny love affair with the medium. The reality of having to work day jobs, the anxiety of trying to make it while facing rejection, and the struggle with addiction and mental health issues aren't shied away from. The series grates at times—when competitiveness and egos flare up in a setting that tries to strip it all away—but it's raw and honest and exactly what you'd expect with that many creatives in one room. You have to appreciate it for that. Westside is ultimately about finding each participant's truth, whether they're looking for answers, commitment, closure, or simply something more, and that's what makes this a moving collection of stories to believe in.
Stream Westside on Netflix this Friday.
From Netflix:
Westside offers an unscripted and deeply personal glimpse into the journeys of nine young L.A.-based musicians. Each episode sheds light on their creative processes and personal struggles, interspersing cinema verité-style documentary footage with beautifully produced music videos featuring original songs.
—
Patriot Act with Hasan Minhaj
New episodes weekly
Sun Nov 11
On Netflix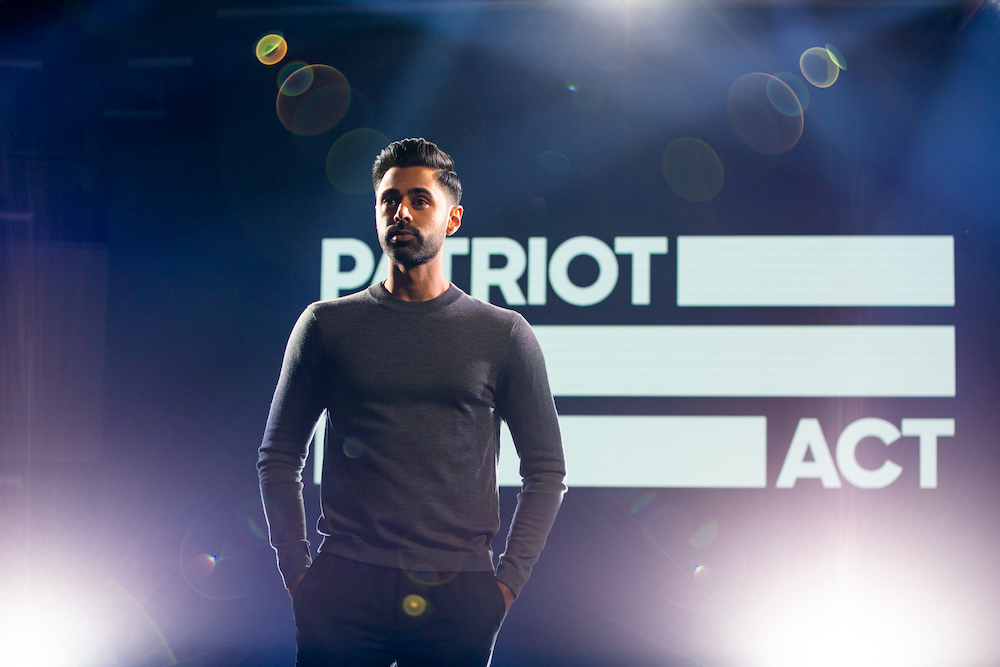 Photo: 

Cara Howe/Netflix
**idobi rated: ❤️❤️**
Have you been checking the news lately? Not that fake stuff you find blasted out at 3am on Twitter (seriously, is 2018 even real?). We're talking about Hasan Minhaj's new comedy-news show Patriot Act. He drops some truth with a side of context to provide detailed timelines of how we got to the most unbelievable headlines of today—and that $h!t is hilarious. Nothing and no one—not even Jeff Bezos or Minhaj's home of Netflix—is safe from paying the price of getting read for filth and we're squealing over every bit of shade. Especially when it comes to hitting the midterm polls this week. Minhaj is searingly honest, even when he admits sometimes even he buys into the biggest BS of today. The level of #burn he serves up in every line could be turned into a spoken word Monty Python song and you'll be crying at the truth of it all. Patriot Act is the exact kind of reality check the world needs every week and we're cheering in appreciation.
Stream new episodes of Patriot Act with Hasan Minhaj
every Sunday on Netflix.
From Netflix:
Patriot Act with Hasan Minhaj will explore the modern cultural and political landscape with depth and sincerity. Each week, Minhaj will bring his unique comedic voice and storytelling skill to investigate the larger trends shaping our fragmented world.
—
Doctor Who
"Demons of the Punjab" – Season 11, Episode 5
Sun Nov 11 – 8PM
On BBC America
Doctor Who airs every Sunday on BBC America.
From BBC America:
India, 1947. The Doctor and her friends arrive in the Punjab, as the country is being torn apart. While Yaz attempts to discover her grandmother's hidden history, the Doctor discovers demons haunting the land. Who are they and what do they want
—
Outlander
"Do No Harm" – Season 4, Episode 2
Sun Nov 11 – 8PM
On STARZ
Outlander returns to STARZ this Sunday.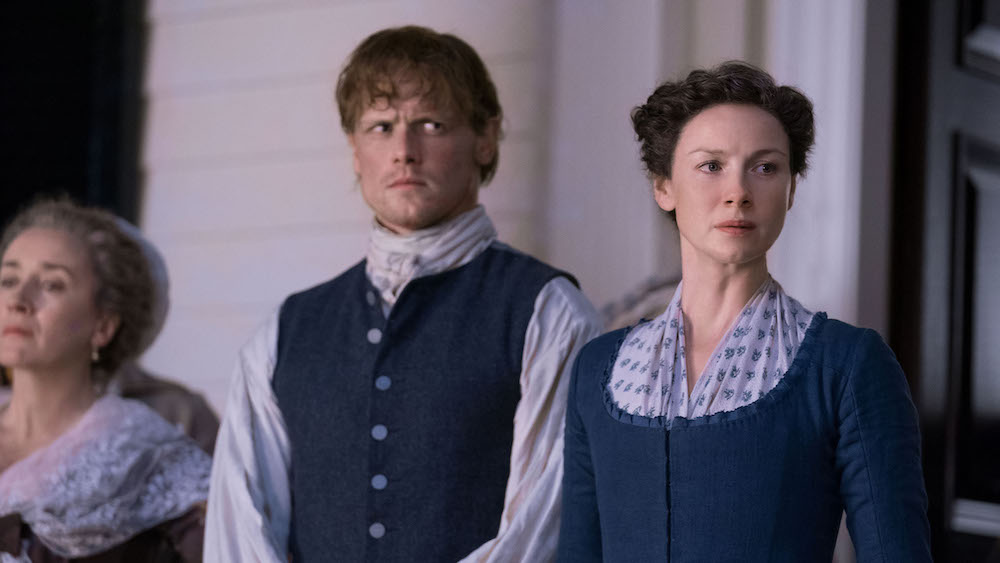 Photo: 

© 2018 Sony Pictures Television Inc. All rights reserved.
From STARZ:
Claire and Jamie visit his Aunt Jocasta at her plantation, River Run. When tragedy strikes at the plantation, Jamie and Claire find themselves caught between what's right and the law of the land.