This week: Patriot Act with Hasan Minhaj, His Dark Materials, Iliza Shlesinger: Unveiled, This Is Us, Mixed-ish, Emergence, Castle Rock, Chicago Med, Stumptown, The Good Place, Nailed It! Holiday, Dolly Parton's Heartstrings, Titans
Patriot Act with Hasan Minhaj
"Trump's Worst Policy: Killing Asylum" – Volume 5, Episode 2
New episodes Sunday
On Netflix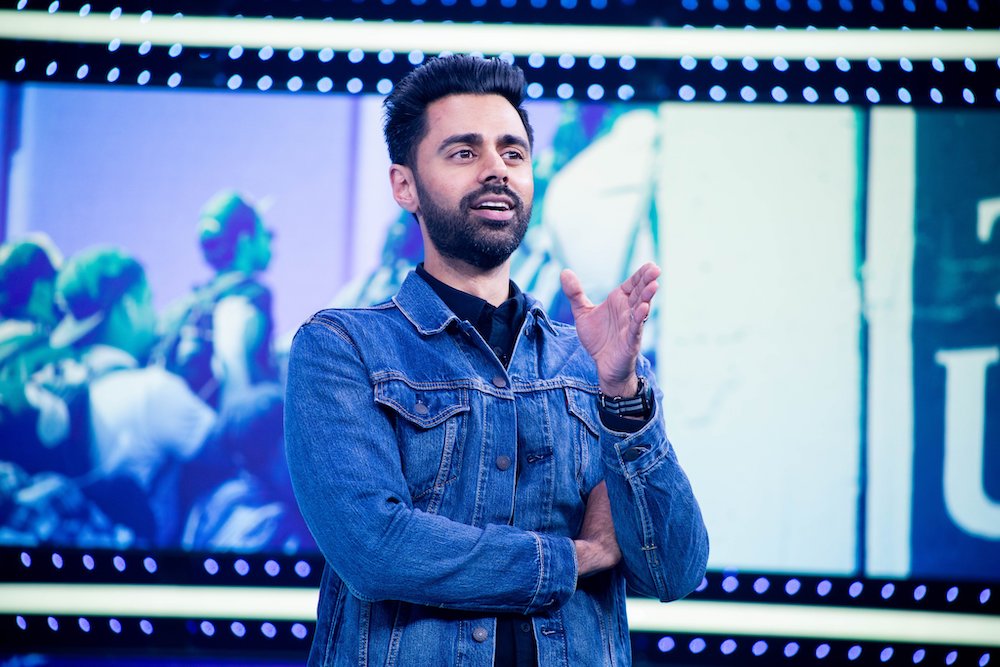 We've been so focused on the impeachment hearings lately that Trump's other scandals are slipping through the cracks. Which scandal is Hasan Minhaj focusing on this week, you say? (Good question, there are far too many.) The latest episode of Patriot Act is about asylum. Over 55,000 migrants are living in deplorable camps at the southern border. Minhaj breaks down just how difficult Trump has made it to apply for asylum and how much danger these immigrants are in while they're waiting to be processed (the waiting list is around nine months!). You'll be disgusted by the Trump administration's crimes against humanity, which are piling up while the media focuses on literally anything else. Hasan also reaches out to the ACLU to spread awareness of the issues facing immigrants and highlight what the organization is doing to fight against these inhumane laws. At one point, Minhaj says: "When we look back on this time, we will be ashamed". Watching this episode, you will already be ashamed—the time to act is now.
New episodes of Patriot Act with Hasan Minhaj
stream every Sunday on Netflix.
From Netflix:
As record numbers of migrants flee perilous conditions in Central America's Northern Triangle, Hasan looks at all the unscrupulous ways the Trump Administration is trying to block them from seeking asylum in the United States.
—
His Dark Materials
"The Spies" – Season 1, Episode 3
Mon Nov 18 – 9PM
On HBO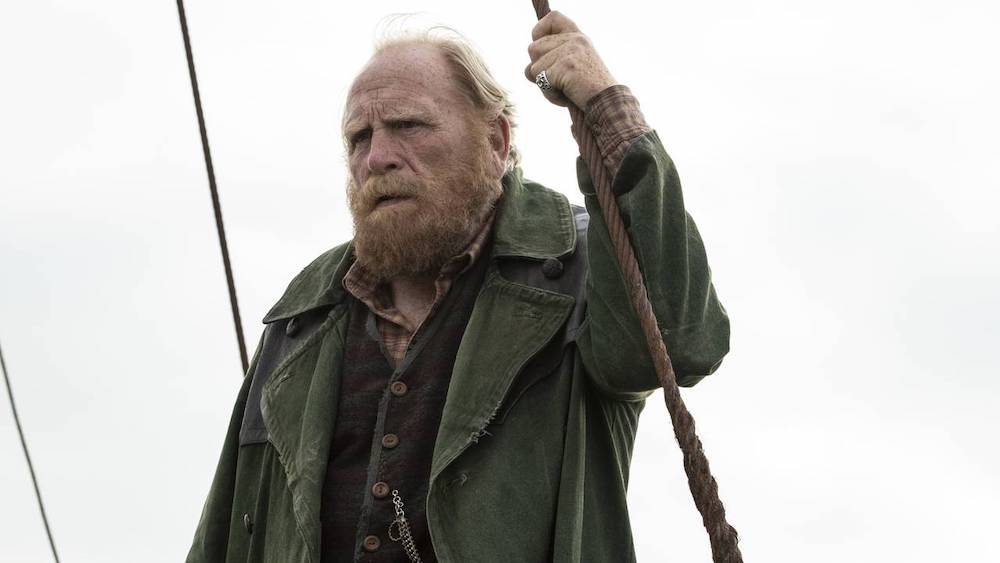 Lyra has been taken…but her kidnappers are not who she was expecting. She's united with others who share her goal of finding the lost children and they believe she is the key to saving them. Her frustration at not being told the truth is heartbreaking—Dafne Keen does fantastically well in portraying Lyra's pain. Meanwhile Marisa is on a mission to discredit and shut down The Master (Clarke Peters) on the pretense of saving Lyra. Ooh, she's good. Ruth Wilson plays Marisa with finesse and we want to see a spinoff just based on her. The Master isn't afraid of her though and it might be his downfall. In those quiet moments, His Dark Materials asks: How can you love a monster? You'll find your answer when you see the emotional toll it takes on Lyra. Only a child can have the kind of trust she has in those who may not have the best interests at heart—and when that faith is broken, it cannot be fixed. You don't know who to trust in this series and that's what makes
it riveting.
Watch His Dark Materials on HBO every Monday.
From HBO:
Following her kidnapping, Lyra (Dafne Keen) falls in with a new group, but struggles to know who to trust.
—
Iliza Shlesinger: Unveiled
Tues Nov 19
On Netflix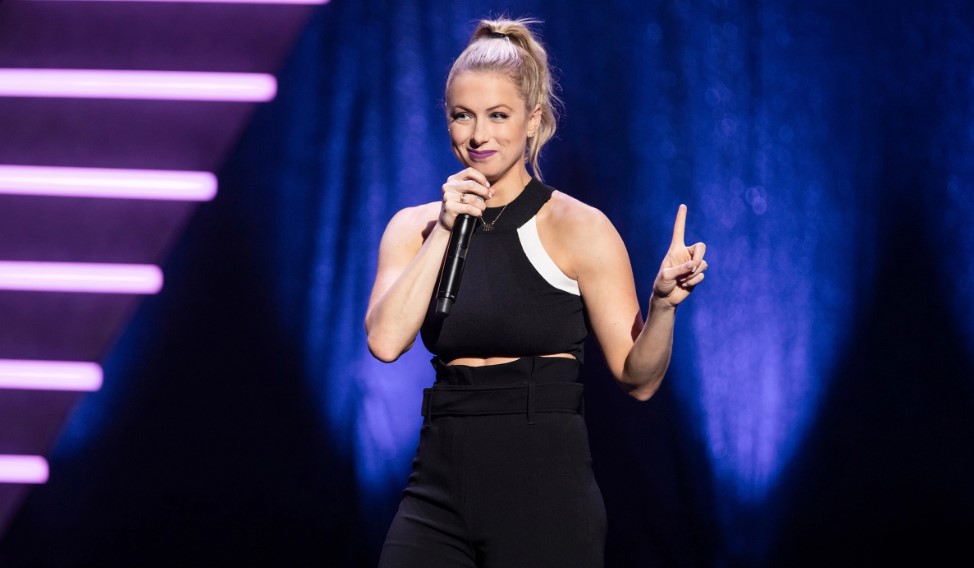 Iliza Shlesinger comes out swinging with her latest Netflix special. She starts off telling women why we should eradicate the word "amazing" from our vocabulary—in the name of feminism. Instead she takes on the likes of "slay queen" and "killing it" to explain why women should be leading the way. Iliza makes out-there comparisons with lots of hyperbole before checking herself with a joke to make you laugh even harder. She also uses impressions and slapstick to underline her stories and pull out cheers from the audience. Unveiled breaks down social constructs with such truth that it catches everyone off guard. This is one show every feminist should watch—to check themselves and help educate others. Iliza's fans will love the references to her previous Netflix specials that she works in, while new fans will be ready to go check out more of her standup—Iliza Shlesinger: Unveiled is a fired up introduction.
Stream Iliza Shlesinger: Unveiled on Netflix.
From Netflix:
Iliza Shlesinger is back in her fifth Netflix original comedy special titled Unveiled. Armed with the newly wed ring on her finger and stories to tell, Iliza pulls back the veil on wedding planning, garters, honeymooning, and the dangers of a zombie bachelorette army. Iliza: Unveiled launches globally on Netflix on November
19, 2019.
—
This Is Us
"So Long, Marianne" – Season 4, Episode 9
Tues Nov 19 – 9pm
On NBC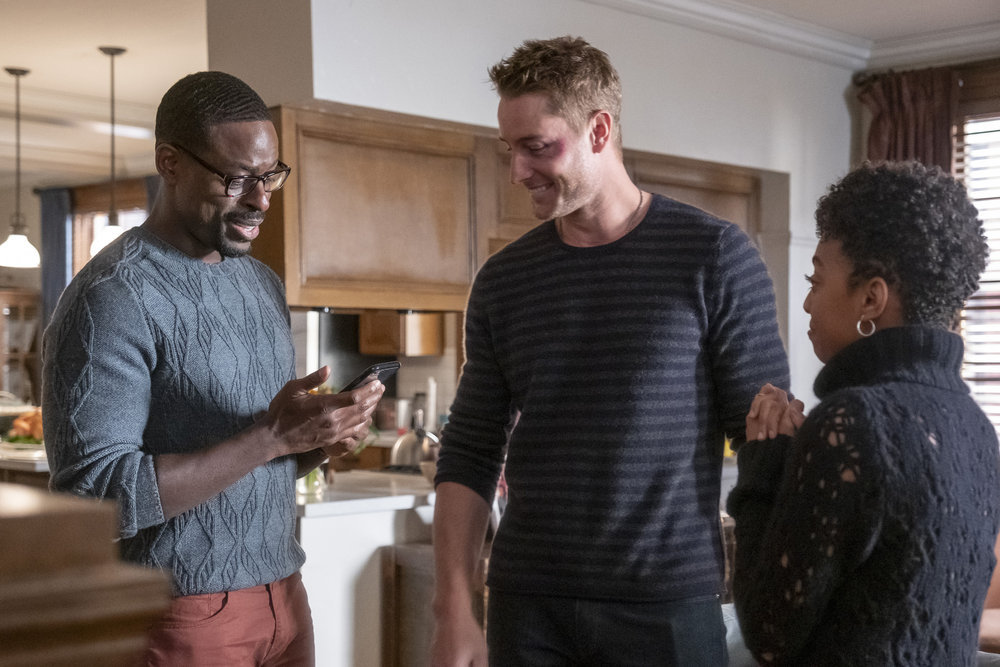 Thanksgiving is a time for families to come together to share love and memories. For This Is Us, it's also a chance to break our hearts as we head into the holiday season. Kevin (Justin Hartley) decides to invite Uncle Nicky (Griffin Dunne) to the family dinner in spite of his reservations—which is bound to stir up more than just the cranberry sauce. We also get the answers we've been waiting for about Kate (Chrissy Metz) and Toby's (Chris Sullivan) relationship. Then, in another blow to our hearts, we jump forward to see Rebecca's (Mandy Moore) illness take hold. This one is going to hurt deeply so the show is giving us a break until the new year to recover—we're gonna need it.
This Is Us airs on NBC tonight.
From NBC:
The Pearson family gathers for their first Thanksgiving at Randall's Philadelphia
town house.
—
mixed-ish
"Weird Science" – Season 1, Episode 8
Tues Nov 19 – 9PM
On ABC
Catch mixed-ish on ABC tonight.
From ABC:
Rainbow's passion for science deflates when her peers convince her that science isn't cool. During Career Day, Rainbow code-switches and pursues journalism in order to fit in, only to find that the local news anchor attending the fair has also been hiding a part of herself. Meanwhile, Harrison works to mold a testimony from Denise who struggles to be anyone but herself, and Santamonica tries to steal the spotlight back after Johan suffers an injury.
—
Emergence
"Fatal Exception" – Season 1, Episode 7
Tues Nov 19 – 10PM
On ABC
Emergence hits ABC every Tuesday.
From ABC:
Jo and Chris rush to find Piper before she's put in harm's way. Meanwhile, Jo faces new challenges at home after betraying Alex and Ed's trust.
—
Castle Rock
Season 2, Episode 7
Wed Nov 20
On Hulu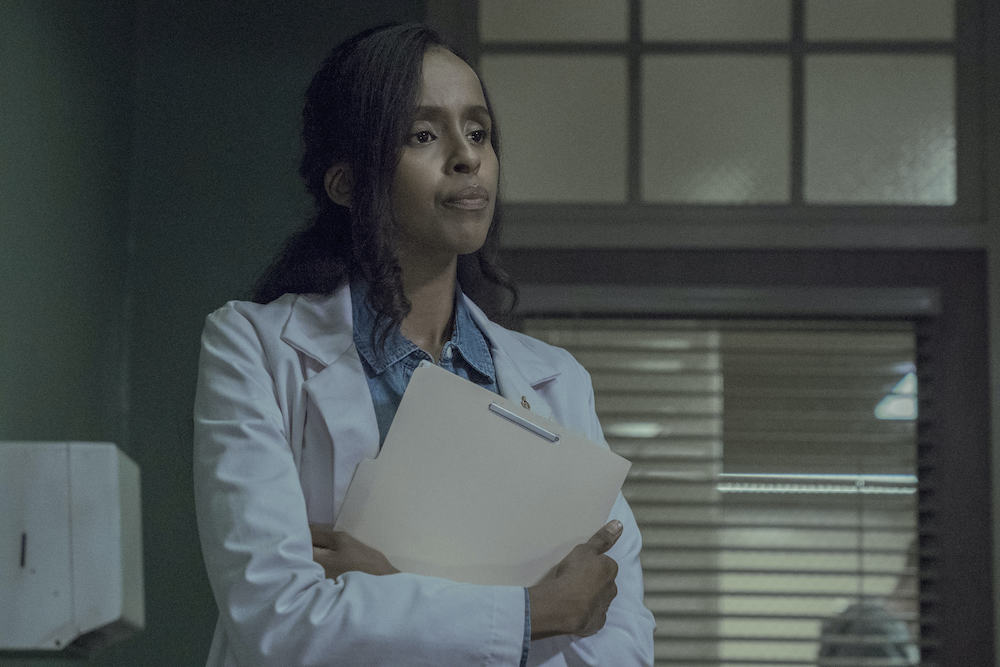 What can we tell you? Hmmm… Annie (Lizzy Caplan) and Joy (Elsie Fisher) grow closer + try to get their stories together, while Pop (Tim Robbins) is dismayed by why so many townsfolk are suddenly listening to Ace (Paul Sparks). He's Ace, y'all, and his new "charisma" feels more like a precursor to a restraining order than his old creepiness did. Ooh, and girl, there's backstory. So much horrifying backstory that you will be riveted while throwing holy water at your TV. Pops warned us that the legendary "witches" of Salem's Lot weren't witches at all—and this time he wasn't lying. Those folks had the devil in them and you won't believe everything they did to prepare for their demonic resurrection. AND THEN this show will break your brain with a connection to Season 1 that will leave you screaming…and frantically pressing refresh in hopes Ep 8 will drop a whole week early.
Castle Rock streams on Hulu on Wednesday.
From Hulu:
In Season 2, a feud between warring clans comes to a boil when budding psychopath Annie Wilkes, Stephen King's nurse from hell, gets waylaid in Castle Rock.
—
Chicago Med
"I Can't Imagine the Future" – Season 5, Episode 9
Wed Nov 20 – 8PM
On NBC
Chicago Med airs on NBC every Wednesday.

From NBC:
April receives unfortunate news that makes her question her future with Ethan. Dr. Charles and Maggie see tough times on the horizon. Natalie's memory from the accident starts to return.
—
Stumptown
"November Surprise" – Season 1, Episode 7
Wed Nov 20 – 10PM
On ABC
All new Stumptown comes to ABC on Wednesday.
From ABC:
Dex goes undercover after she is hired by a local politician to dig up dirt on his political opponent. Meanwhile, Grey and Liz's romance continues, and Dex celebrates a tense Friendsgiving at Bad Alibi.
—
The Good Place
"The Answer" – Season 4, Episode 9
Thurs Nov 21 – 9pm
On NBC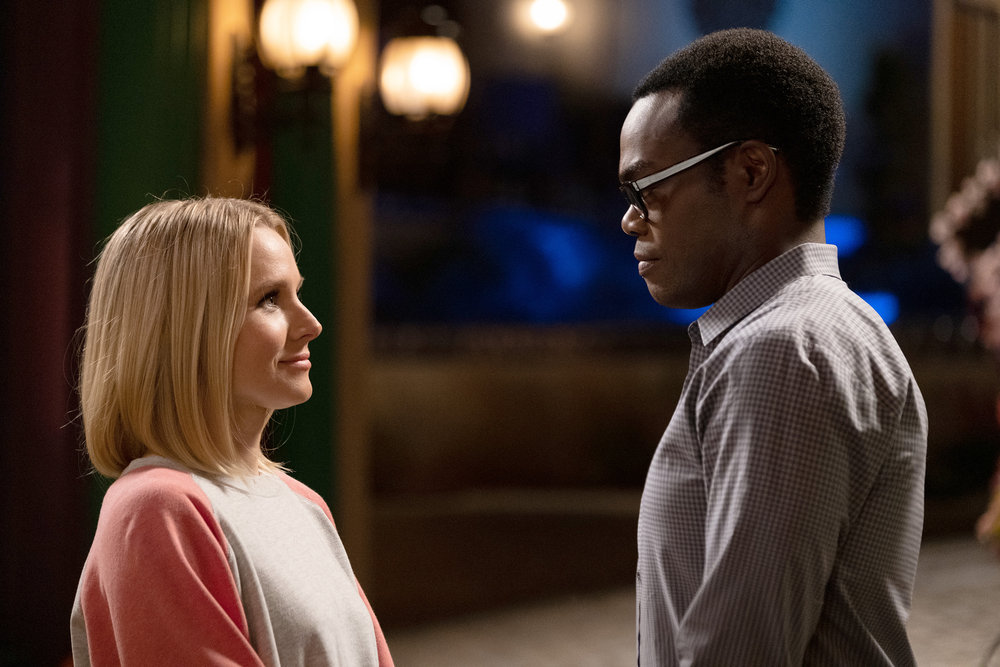 In an attempt to save humanity, Eleanor (Kristen Bell) decides to wake up Chidi (William Jackson Harper). But rebooting him with all 802 of his lifetime memories could turn out like Chidi's infamous Peeps chilli—things could get messy. As the memories come back, we jump into the Jeremy Bearimy of Chidi's life to look at some key moments that shaped him (or gave him a stomach ache). Eight-year-old Chidi is the most adorable smart kid EVER, who'll make you squeal with cuteness. And then he takes a trip down lovers lane with Eleanor and you'll squeal even more. Throughout this journey you'll get the best philosophy lesson yet—and Chidi does his best writing on The Good Place to date.
Watch The Good Place on NBC every Thursday.
From NBC:
In an attempt to plan a better future, Chidi considers his past.
—
Nailed It! Holiday!
Season 2
Fri Nov 22
On Netflix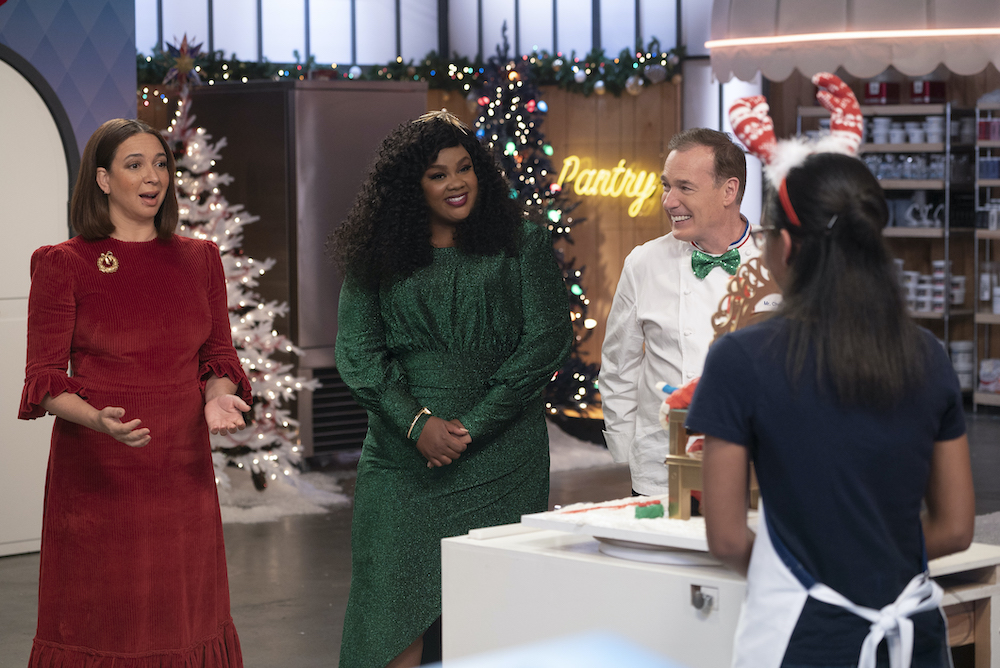 Nailed It! just got even better. Jason Mantzoukas and Maya Rudolph are two of the guest judges for the show's Holiday! special and they both essentially lose their shirt over the process (and yell about needing some tea). It's like The Good Place is invading and there's no way you can be mad at that. With the holiday season adding unnecessary pressure on all of us, Nailed it! Holiday! is here to remind you that not everything has to be perfect in order for you to have a good time. Some of the cakes are spectacular messes and you'll be laughing all the way (ha ha ha!) to the new year over them. Somehow the baking gets worse with every season but you'll be cheering them on nonetheless—we love this show's trademark positivity in the face of failure. Let's be real…one lady pours tea over her dessert and, instead of being horrified, you'll think: "I need to try this immediately". Take a break from all the holiday madness with Nailed It! Holiday! for the pinch of holiday cheer you need.
Get into Nailed It! Holiday! on Friday, only on Netflix.
From Netflix:
Grab your loved ones because Nailed It! Holiday! is back! The messes are-a-plenty as St. Nicole and Jacques Frost deliver the best of the worst baking fails this season. Whether wrecking the halls or destroying the dreidel, jaws will drop as the bakers attempt all new challenges inspired by the holidays. From Santa to Scrooge and angels to elves, these bakers find new ways to destroy the kitchen and ruin more taste buds in Nailed It! Holiday! – even The Grinch makes an appearance to help ring in the New Year! Guest judges include: Maya Rudolph, Jillian Bell, David Burkta, Bridget Everett, Jason Mantzoukas and Ron Ben Israel.
—
Dolly Parton's Heartstrings
Season 1
Fri Nov 22
On Netflix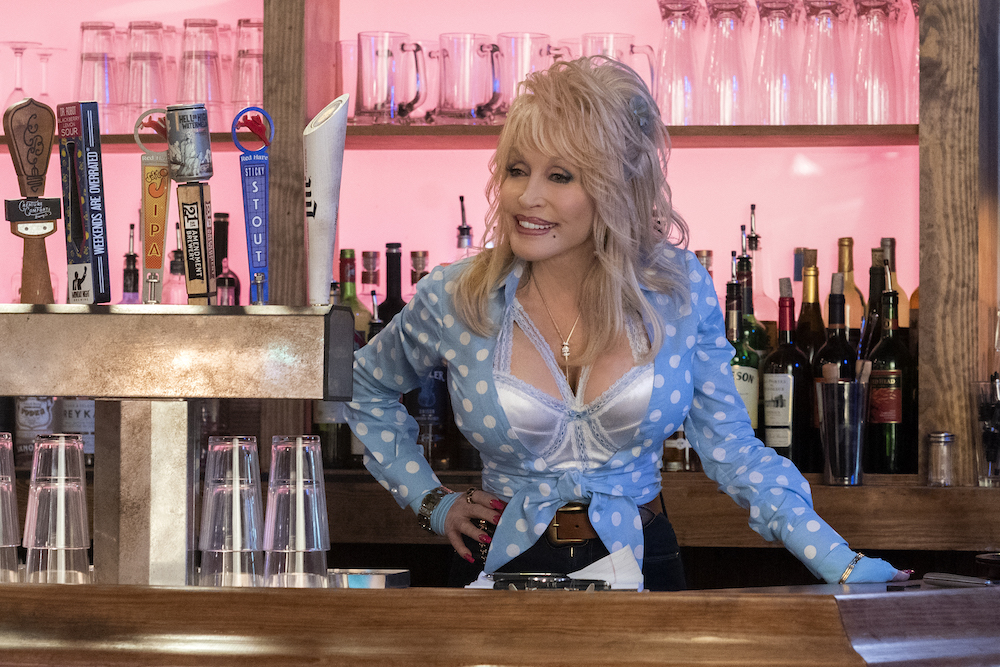 Jolene, Jolene, Jolene, Joe-LEAN-EEN…you've belted out the words to Dolly Parton's classic so many times but have you ever wondered about the story behind it? Dolly Parton herself introduces her own tracks and the inspiration behind them before each episode of Heartstrings launches us into a dramatic retelling. We could listen to Dolly tell stories forever but these adaptations are charming and a welcome addition to her words. You'll never think the same way about the songs again as Dolly Parton's Heartstrings adds new layers in this sweet and warm series set across different timelines and places. It'll reaffirm your knowledge that Dolly Parton is one of music's greatest storytellers, as well as the belief that music from the heart really does stand the test of time.
Dolly Parton's Heartstrings debuts on Netflix on Friday.
From Netflix:
The Dolly music you love, the stories you've been waiting for. Dolly Parton's Heartstrings is an anthology series that showcases the stories, memories, and inspirations behind her most beloved songs. New and classic Dolly music will score every episode. Each story will vary in tone, from love stories and inspirational tales to family dramas, westerns, and revenge comedies.
—
Titans
"Faux-Hawk" – Season 2, Episode 12
Fri Nov 22
On DC Universe
Titans streams on DC Universe on Friday.
From DC Universe:
Hank finds himself at a new low, cage-fighting for money, when he finds an imposter now acting as Hawk.