This week: Star Trek: Short Treks, She-Ra and the Princesses of Power, Blackish, This Is Us, Chicago Med, The Good Place, SuperMansion, Station 19, How to Get Away with Murder, Titans, Dogs, Narcos: Mexico, The Kominsky Method, Patriot Act with Hasan Minhaj,
Doctor Who, Outlander
Star Trek: Short Treks
"Calypso"
Now streaming
On CBS All Access
Photo: CBS
Star Trek is about to blow your mind and break your heart with its latest Short Trek (film). "Calypso" takes place a thousand years after Star Trek: Discovery, when an escape pod containing the injured Craft (Aldis Hodge) is picked up by the Discovery…which is now helmed by a sentient AI called Zora (Sash Striga), who is carrying out a LONG standing mission. What does this mean?! Our brains are fried just thinking about the possibilities…especially contemplating a future where nobody knows "what" Betty Boop is, or a time without Taco Tuesday. This episode is desolate yet intimate, lonely yet full of emotional connection. When Zora plays the classic 1957 film Funny Face, starring Audrey Hepburn and Fred Astaire, you'll feel genuinely homesick for a time that has long disappeared. The conversations between Craft and Zora show the real effects of war and the fractured lives it leaves in its wake… Written by Michael Chabon, in just 16 minutes "Calypso" will completely entrap you. This is damn good storytelling. Also, Aldis Hodge now has uncontested ownership of chairs, DISCO t-shirts, and the future—you'll soon see why.
Watch Star Trek: Short Treks' new episode on CBS All Access.
From CBS All Access:
After waking up in an unfamiliar sickbay, Craft (Aldis Hodge) finds himself on board a deserted ship, and his only companion and hope for survival is an A.I. computer interface.
She-Ra and the Princesses of Power
Season 1
Now Streaming
On Netflix
For the honor of Greyskull! Relive your childhood with She-Ra!
She-Ra is now streaming on Netflix.
From Netflix:
She-Ra and the Princesses of Power is the story of an orphan named Adora (Carrero), who leaves behind her former life in the evil Horde when shediscovers a magic sword that transforms her into the mythical warrior princess She–Ra. Along the way, she finds a new family in the Rebellion as sheunites a group of magical princesses in the ultimate fight against evil.
—
Blackish
"Purple Rain" – Season 5, Episode 4
Tues Nov 13 – 9PM
On ABC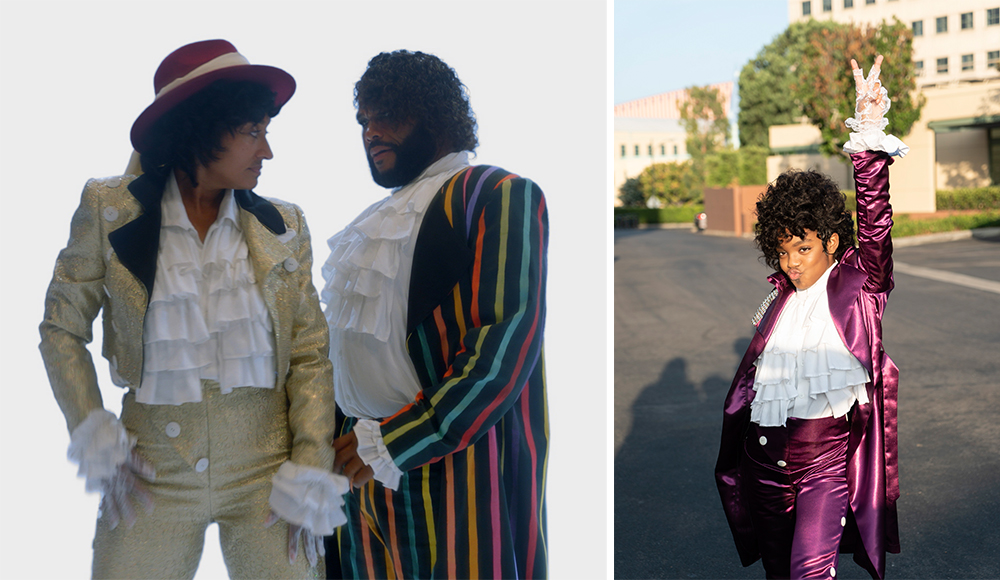 Photos: ABC
"Raising children is always an adventure because you never know how they're going to disappoint you." Blackish delivers this harsh truth of parenting in a phenomenal way. To celebrate the show's 100th episode the Johnson family are going…Purple-ish. Prepare yourselves: Jack (Miles Brown) and Diane (Marsai Martin) have never heard of The Artist Formerly Known As Prince. WHAT? "Who was that lady singing?" Double WHAT!? Yeah, um, pick your jaws up off the floor, "turn off the mumbly Gucci Gang nonsense," and get ready to dance in the purple rain. What ensues is a beautiful discovery of the impact of Prince and a whole lotta good tunes. Y'all ain't ready for the costumes, tho…especially that crop top. You'll know the one. Also, Anthony Anderson can ROCK the guyliner. The 100th episode of Black-ish celebrates how various generations of a family can bond over great music, and it proves a great musician can reach the multitudes by connecting to the things that matter to each person as individuals. When music becomes more than just the notes, when an artist becomes more than just a performer, then a legend is born. This week Blackish is bowing down to his Royal Purple Badness. Yes, the family bonding will make you giggle but this episode is also a deep dive into how inspiring Prince and how worthy he is of this touching tribute…and more.
Celebrate Blackish's 100th episode tonight on ABC.
From ABC:
The family is shocked to learn that Jack and Diane are not familiar with the iconic music of Prince. One by one, each member of the family works to explain Prince's tremendous impact on their lives through his music.
—
THIS IS US
"Sometimes" – Season 3, Episode 8
Tues Nov 13 – 9PM
On NBC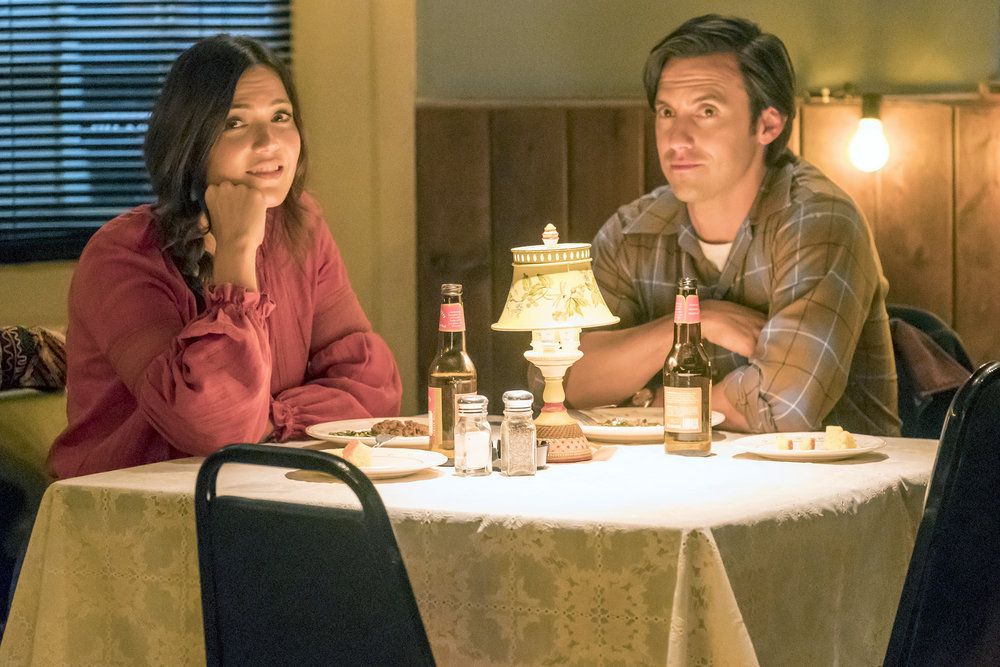 Photo by: Ron Batzdorff/NBC
**idobi rated: ❤️❤️**
This Is Us took a break last week to give you time to prepare for what's next: Another deep dive into what happened to Jack (Milo Ventimiglia) in Vietnam. If that sentence alone doesn't put a lump in your throat, what Rebecca (Mandy Moore) says to Jack sure will: "You've been having a lot of bad dreams…". Between their first date and the couple's first road trip, "Sometimes" will pull your heartstrings in so many directions you'll be tied up for the rest of the week.
Tune in to This Is Us tonight on NBC.
From NBC:
Kevin and Zoe land in Vietnam. In the past, Jack and Rebecca take a road trip to Los Angeles. Jack's war story continues to be revealed.
—
CHICAGO MED
"Play By My Rules" – Season 4, Episode 8
Wed Nov 14 – 9PM
On NBC
New episodes of Chicago Med air every Wednesday on NBC.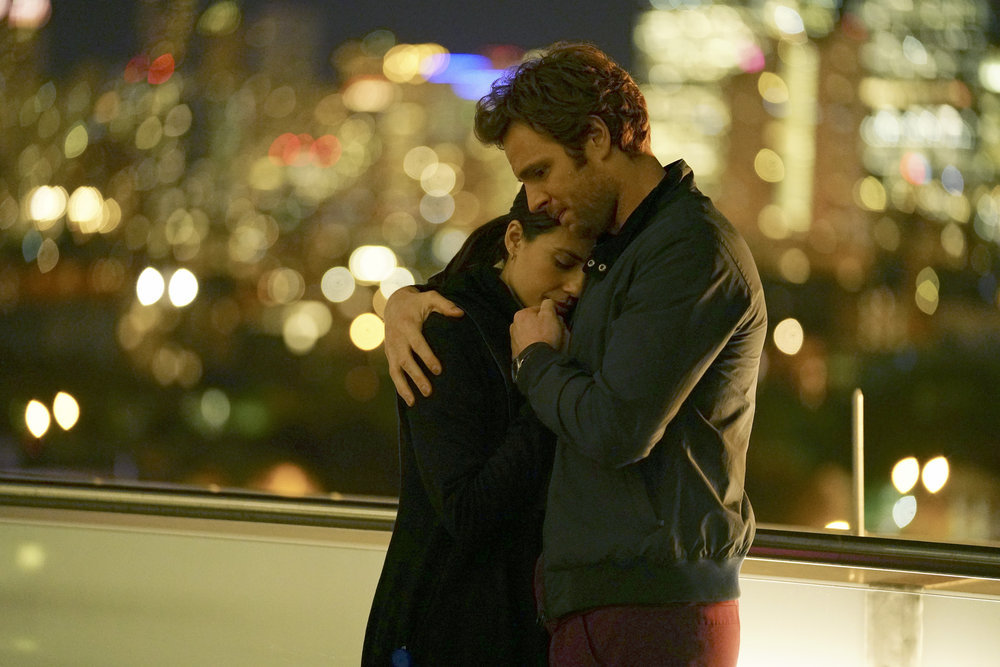 Photo by: Elizabeth Sisson/NBC
From NBC:
Dr. Charles struggles to convince Dr. Choi that surgery isn't always the answer. Dr. Rhodes finds himself in hot water with Goodwin when he disobeys her direct order. April becomes frustrated with Maggie when she continues to question her leadership role as the stand-in charge nurse. Dr. Manning suspects Dr. Halstead is keeping something from her.
—
THE GOOD PLACE
"Don't Let the Good Life Pass You By" – Season 3, Episode 8
Thurs Nov 15 – 8:30PM
On NBC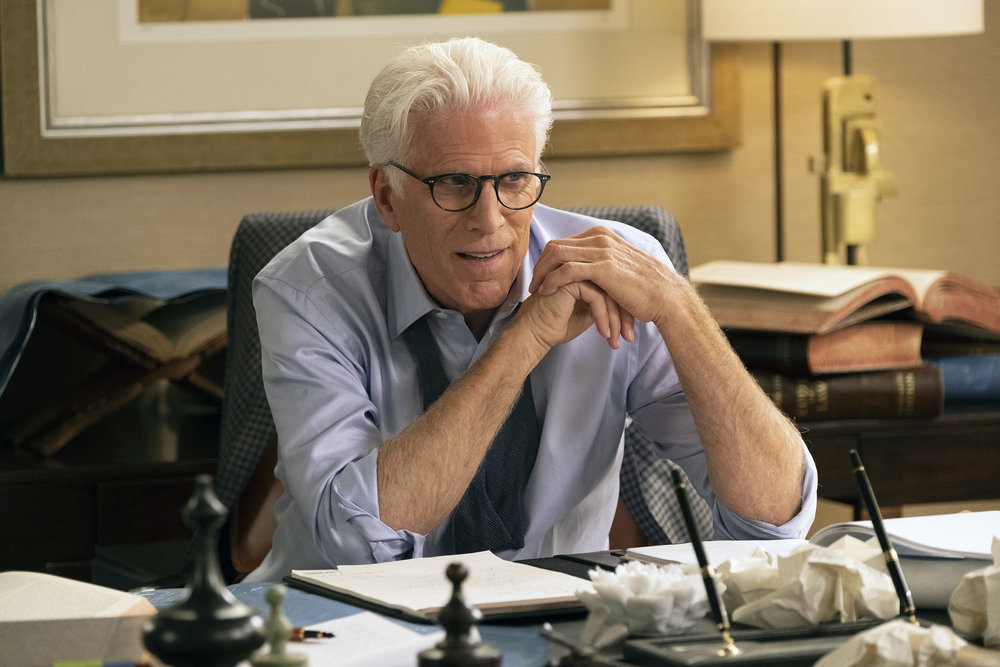 Photo by: Colleen Hayes/NBC
**idobi rated: ❤️❤️**
Stars…they're just like us. Michael (Ted Danson) and Janet (D'Arcy Carden) find out firsthand when they visit a celebrity from the Good Place (yeah, even higher beings have #goals). They're trying to figure out how to beat the Judge's system—which we can all agree is a little bit more than forked up. Just sayin'. This particular celebrity helped us make a resolution: If getting into the Good Place means not living at all or laying down for life to shirt all over you, then see ya in hell, benches. Meanwhile Eleanor (Kristen Bell) seeks boy advice from Tahani (Jameela Jamil) and you'll be squealing in delight. But you'll be squealing even harder when Janet goes full on Sigourney Weaver…ya' know if demons were aliens, which technically they kinda are, since they're not from around here… You'll see (and may we add, hot DAMN). The Good Place has more twists than a cheap garden hose. We can't say much more than that for fear of getting zipped up in a slimy cocoon by Shawn (Marc Evan Jackson)—guess it makes sense that he's the original slimeball. Anyhoo, where this episode is about to take you will have you screaming at demons. We're as sure of that as we are of Eleanor's Mr. Peanut tattoo.
Head back to The Good Place this Thursday on NBC.
From NBC:
Michael and Janet take an important journey. Eleanor ponders whether she should share a secret.
—
SuperMansion
"A Prayer For Mr. T: The SuperMansion Thanksgiving Special"
Thurs Nov 15
On Crackle
SuperMansion's Thanksgiving special debuts this Thursday on Crackle.
From Crackle:
In the holiday special, the annual Thanksgiving turkey competition between Titanium Rex (Bryan Cranston) and Dr. Devizo (Chris Pine) goes awry when Rex's turkey transforms into a nightmarish bird monster whose eggs hatch additional freakish bird creatures at an alarming rate. Lex (Jillian Bell) aims to prove herself worthy of a seat at the grown ups' table while Black Saturn (Tucker Gilmore) brings The Groaner (Zeb Wells) to his family's mansion for a traditional Wheelihan Thanksgiving dinner, complete with snobby gherkins and snobbier guests.
—
Station 19
"Weather the Storm" – Season 2, Episode 7
Thurs Nov 15 – 9PM
On ABC
Head back to Station 19 this Thursday on ABC.
From ABC:
As the team gathers for a Friendsgiving celebration at Dean's, a violent windstorm touches down in Seattle. As the storm picks up speed, creating dangerous fire conditions, the crew must put the festivities on hold and report for duty, leaving some of them in a life-threatening situation.
—
I Feel Bad
"I Miss Important Moments" – Season 1, Episode 8
Thurs Nov 15 – 9:30PM
On NBC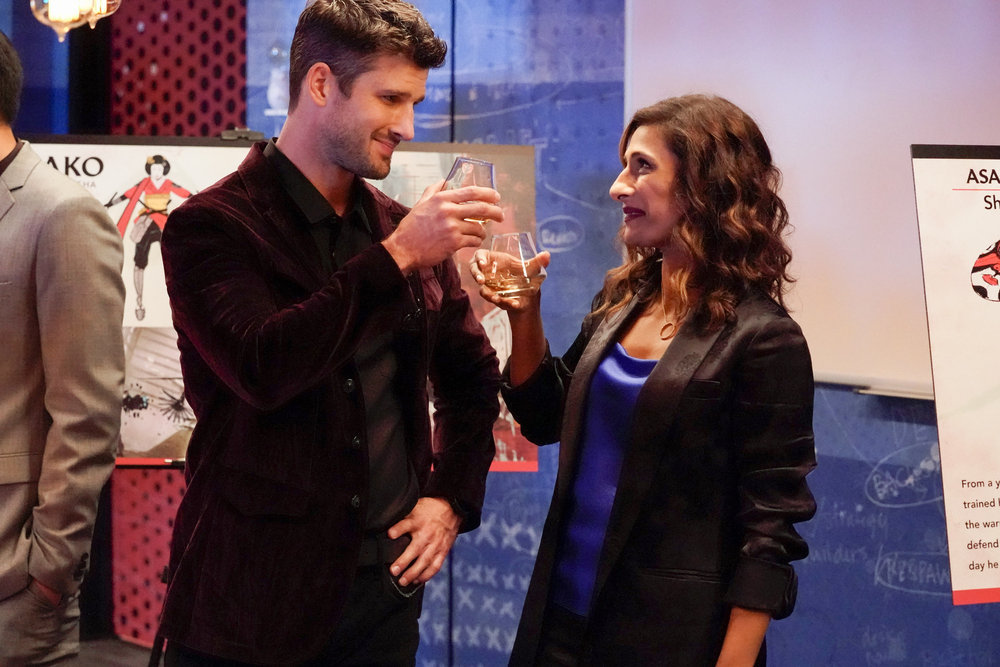 Photo by: Evans Vestal Ward/NBC
**idobi rated: ❤️❤️**
Creating a baby is something special…especially when it's your work baby and it's yours…all yours. But sometimes too much work can make you miss the important moments in your human baby's life. So when Emet (Sarayu Blue) misses Jake's first steps she has to make some tough decisions. If her newest video game character creation can be both a geisha and a warrior, Emet can have it all too. Right? Even if that means being in two places at once. Um, yeah, it's possible—so long as you don't get caught by your eagle-eyed mother (Madhur Jaffrey). I Feel Bad is an entertaining commentary on being a woman in the workplace while trying to balance what society thinks…and also trying to maybe do the sleep-thing once in a while. If you've ever had someone take credit for your work, you'll be toasting to this show. In this ep, Emet is willing to use anything—including unintentional racism—to her advantage. Good thing she's got family around her to jump in and help without asking. Right? Dang, I Feel Bad keeps writing the stories of our lives with brutal honesty and we can't stop laughing.
I Feel Bad airs every Thursday on NBC.
From NBC:
After missing her baby's first steps, Emet vows not to miss any other important moments. But when a huge, career-making presentation at work comes up at the same time as Lily's dance competition, Emet scrambles to pull off both.
—
HOW TO GET AWAY WITH MURDER
"I Want to Love You Until the Day I Die" – Season 5, Episode 8
Thurs Nov 15 – 10PM
On ABC
Watch How to Get Away With Murder this Thursday on ABC.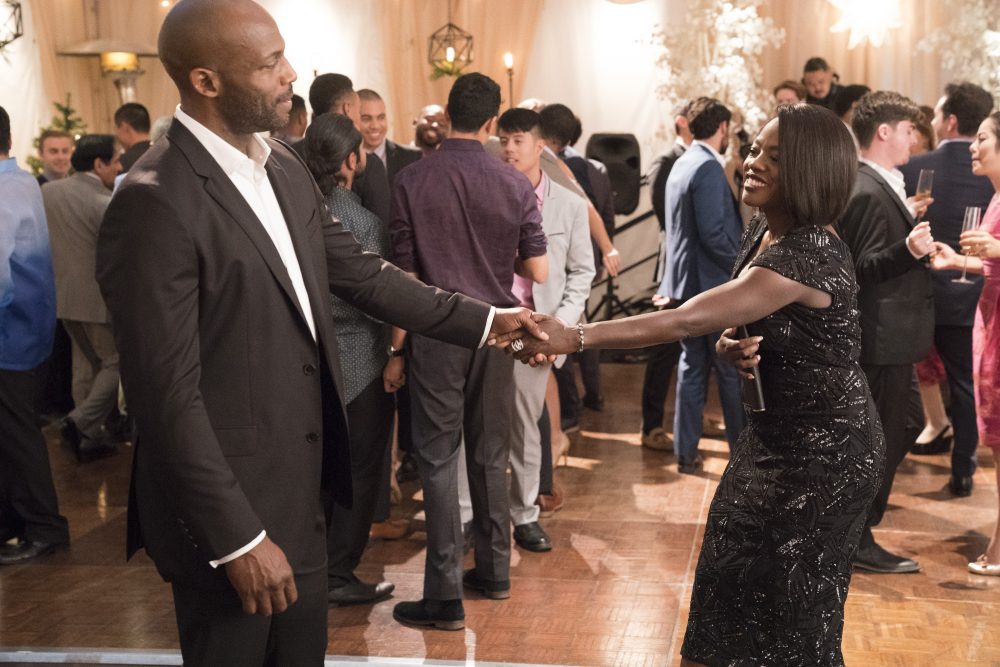 Photo: 

ABC/Mitch Haaseth
From ABC:
In the explosive winter finale, Connor and Oliver's big wedding day has arrived, but there's murder in the air; and the mystery of who the unlucky victim is will be revealed.
—
Titans
"Jason Todd" – Season 1, Episode 6
Fri Nov 16
On DC Universe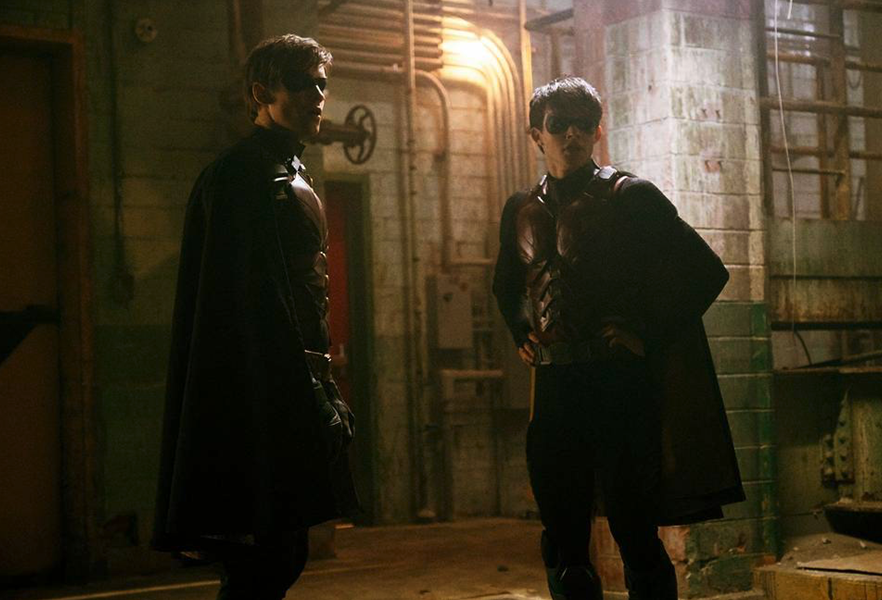 Photo Credit: Steve Wilkie / ©2017 Warner Bros. Entertainment Inc.
While we can't tell you anything about this episode of Titans without facing the wrath of The Red Hood, we can tell you the series seems to have turned a corner. We had a lot of problems with episodes 1–4 (seriously, Robin's face does not need blood splatter and Raven really isn't Snow White—even if Doom Patrol are the flyest Seven Dwarves known on all the earths). But now, with episode 5, also known as "Together" (as in "Titans, together!"): We're seeing the light at the middle of a poorly lit tunnel and it just might turn into a thrill ride. Our heroes have distinct personalities, there's humor, and people still die violently. Ooh and somebody got some…mm-hm... We may be starting to like this. Come back and talk to us next week when we're allowed to discuss that one thing in episode 6. Uh huh, we're such a tease and Titans is starting to tickle us.
New episodes of Titans stream on DC Universe every Friday.
From DC:
Before Dick can reunite with The Titans, he reluctantly teams with Jason Todd (recurring guest star CURRAN WALTERS), the new Robin, to catch a serial killer targeting performers from Dick's surrogate circus family from when he was a member of the Flying Graysons. But Jason's perspective on Bruce Wayne forces Dick to reexamine the truth behind their falling out.
—
Dogs
Season 1
Fri Nov 16
On Netflix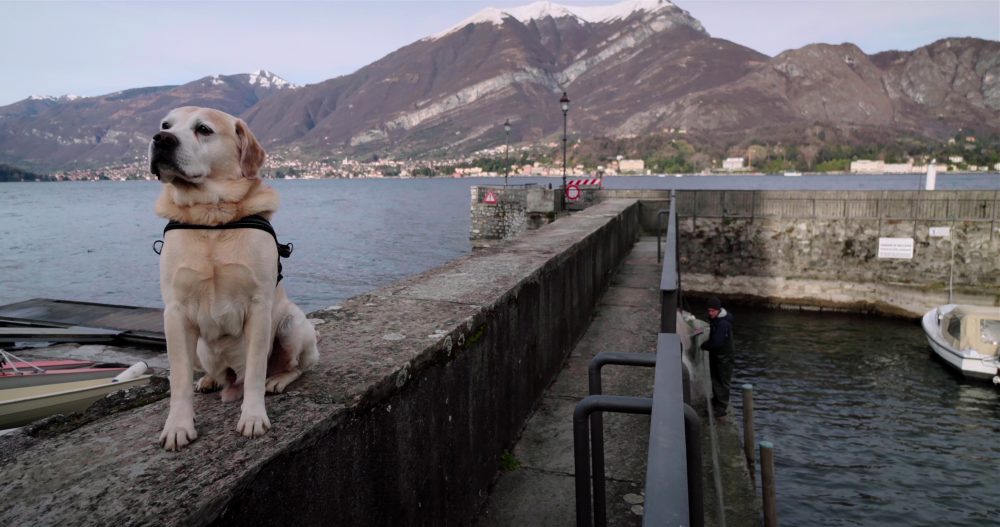 Photo: Netflix
Man's best friend—that's undeniable when you read the countless stories of dogs saving their owners' lives—when they wag their tail 'til you think it might fall off just because you're home from work and it's the reason why the "what the fluff" challenge has gone viral. Netflix's new documentary will increase your love for pups exponentially while showing off the world's most breathtaking scenery. Dogs has plenty of aww moments; dog-lovers will be sold from the title alone. But the show is a lot more profound than simply looking at cute canines. In beautifully shot vignettes Netflix uses the dogs as a jumping off point to explore the households they are integral parts of. Ultimately Dogs is a story of how pets enrich the lives of the humans around them. From working dogs to pampered puppies, no matter what country the series takes you to, one thing remains the same: Dogs become family. If you've ever owned a pet you'll tear up at the beauty of the simple but never-ending bond shared between each person and their dog. For some, that connection is the only thing keeping them going through hard times. In one particularly poignant moment, one man says of his Labrador, "Ice is the heartbeat of our family." It only takes a few moments to understand why.
Stream season 1 of Netflix's Dogs on Friday.
From Netflix:
An elegant, engaging and cinematic verite documentary series celebrating the deep emotional bonds between people and their beloved four-legged best friends. The series tracks six incredible stories from across the globe including Syria, Japan, Costa Rica, Italy and the US—each proving that the unconditional love one feels for their dog is a beautiful universal truth. With episodes helmed by critically acclaimed directors including: Academy Award-nominated Amy Berg (Deliver Us From Evil), Academy Award-winning Roger Ross Williams (Life Animated, Music by Prudence), Academy Award-nominated Heidi Ewing (Jesus Camp, One of Us), Emmy Award-winning Richard Hankin (The Jinx) and Academy Award-winners T.J. Martin and Daniel Lindsay (Undefeated), Dogs takes us on an inspirational journey exploring the remarkable, perhaps even magical qualities that have given these animals such a special place in all of our hearts.
—
Narcos: Mexico
Season 1
Fri Nov 16
On Netflix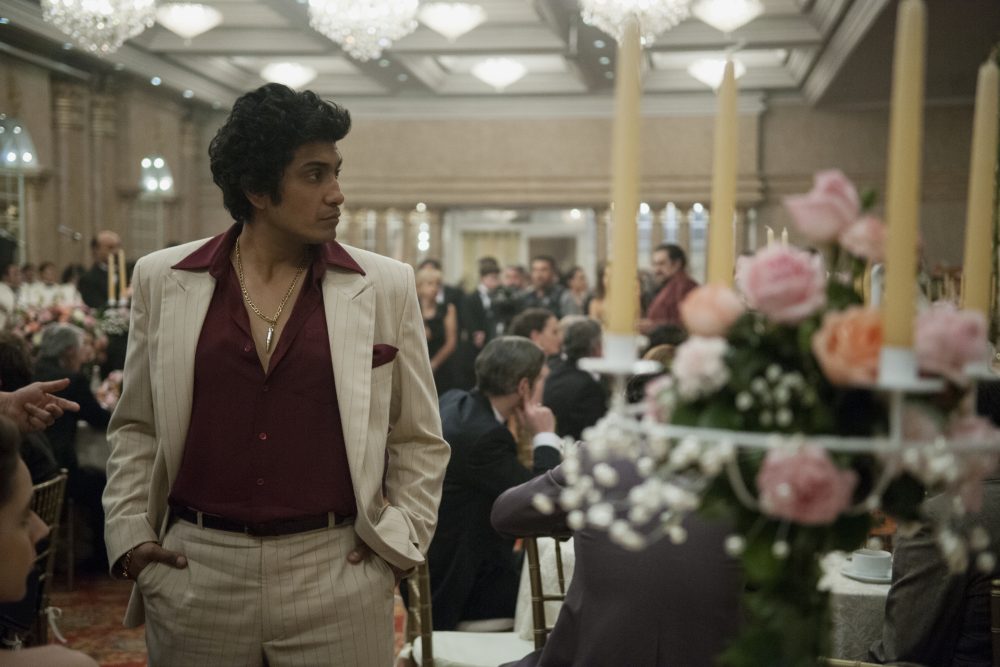 Photo: 

Carlos Somonte/Netflix
Narcos: Mexico is a prequel of sorts to the original Narcos series, taking us back to the late 1970s and the country's escalating drug war. With the government and police force just as fractured and as corrupt as the dealers, the tensions in Mexico are balanced on a knife's edge. This balance is where our main character Félix Gallardo (Diego Luna) thrives. His sights are set on a new kind of drug to market and he aimed to streamline the dealing process into a trade business, long before that was a thing. He comes up against DEA agent Kiki Camerena (the beloved Michael Peña), who similarly organizes his force—which lacks the resources or motivation ("nobody talks more shit than a drunk Mexican cop")—into a force to be reckoned with. The ever-shifting power dynamic between the two players is fascinating as each opposing team unites to raise the stakes higher and higher. The casting is fine-tuned with a bilingual script that is great to see. Whether you've ever watched Narcos or not the Mexico series does an excellent job of immersing you in its world from the start. It lives and breathes the era; you can almost smell the cigarette smoke and stale coffee. It's intense and definitely not an easy watch. Narcos: Mexico may not be for everyone—it is a supremely male-driven show with little attention paid to any female cast—but even the drugs take second place to its most addictive element: The lives behind them.
Narcos: Mexico drops this Friday on Netflix.
From Netflix:
Narcos: Mexico will explore the origins of the modern drug war by going back to its roots, beginning at a time when the Mexican trafficking world was a loose and disorganized confederation of independent growers and dealers. Witness the rise of the Guadalajara Cartel in the 1980s as Félix Gallardo (Diego Luna) takes the helm, unifying traffickers in order to build an empire. When DEA agent Kiki Camarena (Michael Peña) moves his wife and young son from California to Guadalajara to take on a new post, he quickly learns that his assignment will be more challenging than he ever could have imagined. As Kiki garners intelligence on Félix and becomes more entangled in his mission, a tragic chain of events unfold, affecting the drug trade and the war against it for years to come.
—
The Kominsky Method
Season 1
Fri Nov 16
On Netflix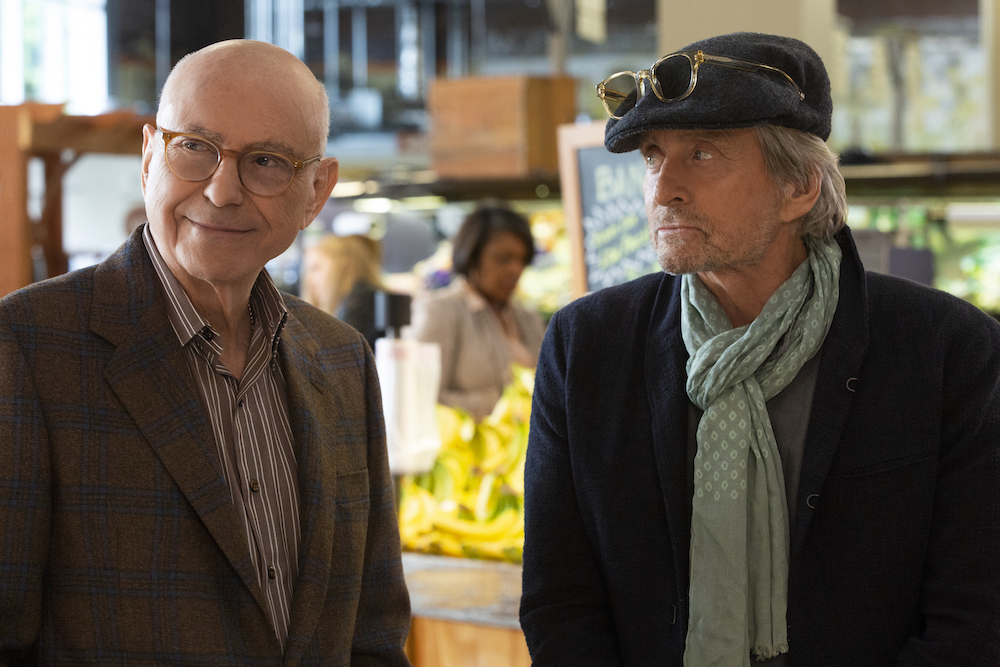 Photo: Mike Yarish/Netflix
The Kominsky Method asks: What is acting? The show opens with a bold answer: "Acting is playing God". Michael Douglas plays Sandy Kominsky, a veteran acting coach who now hosts an acting class we'd pay good money to attend. Using his natural charisma to pull you in immediately, you'll be completely enthralled before the show throws its metaphorical hands in the air and says, "fuck it". Kominsky's students don't always want to listen, and he walks the line between frustration and belief in his craft, which is where The Kominsky Method finds its humor. The new comedy created by Chuck Lorre (the creative giant behind the likes of Two and a Half Men and The Big Bang Theory) tackles ageism in Hollywood and the generational gap, family, the lasting bonds of old friendships, and the spark of new flames. Douglas and Alan Arkin, who plays Sandy's agent Norman Newlander, carry the show with curmudgeonly banter and their trademark charm. They really do feel like old friends. The Kominsky Method finds light in the face of dark times, ditching cheap laughs for emotional honesty—making a show for those times when you have to laugh or else you'll cry.
Watch The Kominsky Method on Netflix this Friday.
From Netflix:
The sun isn't setting yet on the once famous Sandy Kominsky and his longtime agent Norman Newlander. Academy Award® Winners Michael Douglas (Kominsky) and Alan Arkin (Newlander) star as two friends tackling life's inevitable curveballs as they navigate their later years in Los Angeles, a city that values youth and beauty. Both comedic and emotional, The Kominsky Method is an 8-episode, half-hour single camera show created by 8-time Emmy Award Nominee Chuck Lorre.
—
The Princess Switch
Fri Nov 16
On Netflix
Get into the holiday spirit with The Princess Switch on Netflix this Friday.
From Netflix:
One week before Christmas, Margaret, the gorgeous Duchess of Montenaro, switches places with Stacy, a "commoner" from Chicago, who looks exactly like her. With the assistance of a magical Santa's helper, Margaret falls in love with Stacy's handsome co-worker, while Stacy falls in love with Margaret's fiance, the dashing Prince.
—
Patriot Act with Hasan Minhaj
New episodes weekly
Sun Nov 18
On Netflix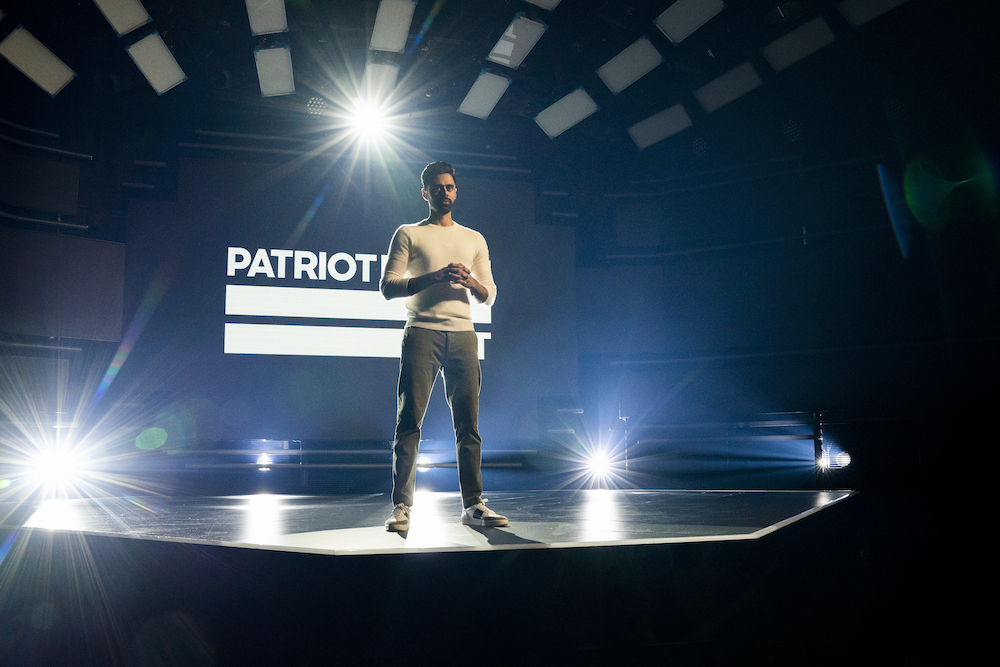 Photo: 

Cara Howe/Netflix
**idobi rated: ❤️❤️**
School is in session and Hasan Minhaj's only agenda is the truth. Patriot Act tackles the US obsession with oil and breaks down climate change's long history…and why that history needs to stay in the past. Minhaj also lists what categories America is no. 1 in—especially when it comes to the gap in bathroom stall doors (seriously, what is up with that?). The show moves a mile a minute, using bizarre comparisons—like how we are only one Zendaya away from Mad Max: Fury Road—to get you snorting with laughter. You'll have to watch it for those comparisons to make sense but hot damn, does this show make all the sense in the world. Stay woke, Netflix.
Stream new episodes of Patriot Act with Hasan Minhaj every Sunday on Netflix.
From Netflix:
Patriot Act with Hasan Minhaj will explore the modern cultural and political landscape with depth and sincerity. Each week, Minhaj will bring his unique comedic voice and storytelling skill to investigate the larger trends shaping our fragmented world.
—
Doctor Who
"Kerblam!" – Season 11, Episode 6
Sun Nov 18 – 8PM
On BBC America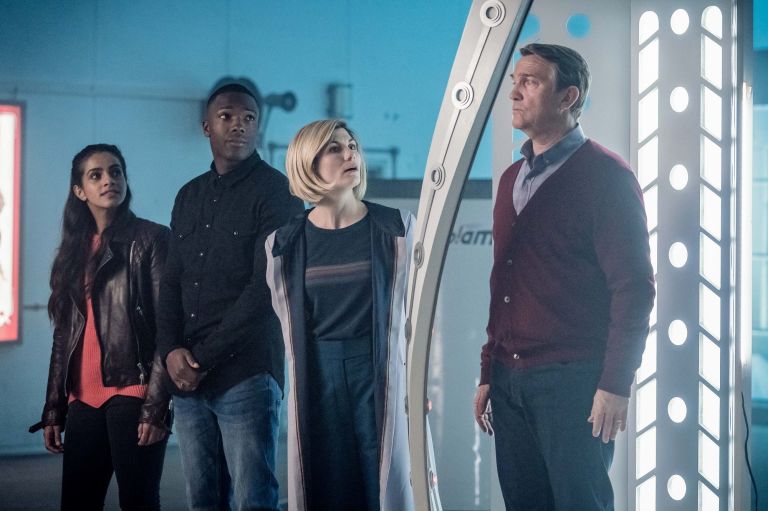 Photo: BBC America
After a disappointing (although highly rated) start to the season, Doctor Who's 11th round has started to show some promise with "Demons of the Punjab". Written by Vinay Patel, the storylines and characters finally feel more natural and we're hoping that will continue. This is the first episode we've collectively loved. It's impactful and unflinching in its look at historical events, without the obliviousness of earlier episodes. By taking an honest look at history—deeply researched and drawn from personal stories and experiences—this is a show we can get behind. We hope the creators keep that in mind moving forward.
Hear our thoughts on season 11 on this week's Geek Girl Riot tonight at 11pm ET: ido.bi/player
Doctor Who airs every Sunday on BBC America.
From BBC America:
A mysterious message arrives in a package addressed to the Doctor, leading her, Graham, Yaz and Ryan to investigate the warehouse moon orbiting Kandoka, and the home of the galaxy's largest retailer, Kerblam.
—
Outlander
"The False Bride" – Season 4, Episode 3
Sun Nov 18 – 8PM
On STARZ
Outlander returns to STARZ this Sunday.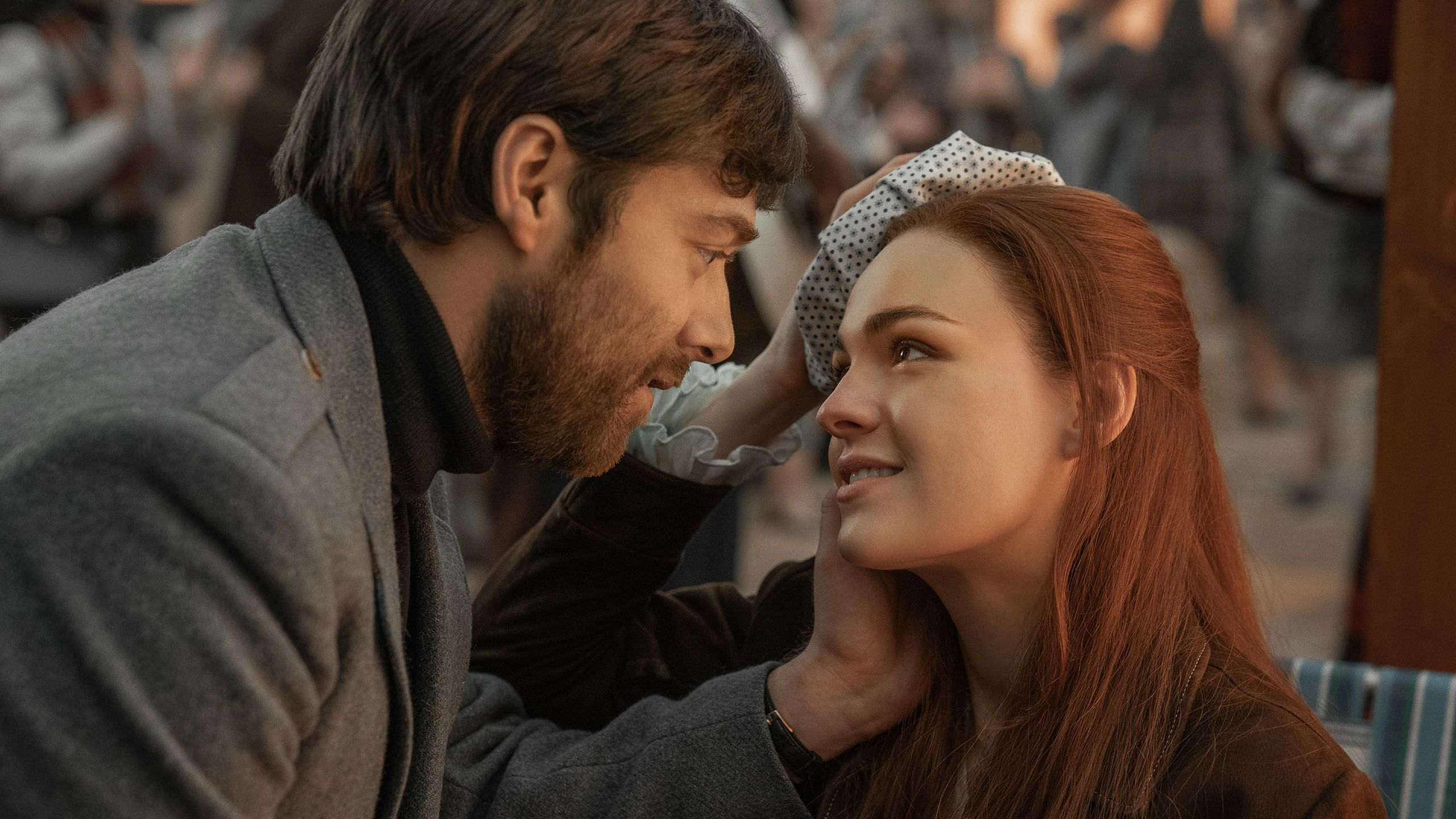 Photo: 

© 2018 Sony Pictures Television Inc. All rights reserved.
From STARZ:
Jamie and Claire search for a place to call home. Meanwhile, in the 29th century, Brianna and Roger's romance heats up and then fizzles during a road trip that winds up highlighting their differences.