This week: 9-1-1, All Rise, Jenny Slate: Stage Fright, This Is Us, Mixed-ish, Castle Rock, Breakfast, Lunch & Dinner, Chicago Med, Daybreak, The Good Place, Will & Grace, BoJack Horseman, The Kominsky Method, Titans, Watchmen
9-1-1
"Rage" – Season 3, Episode 5
Mon Oct 21 – 8pm
On FOX
Watch 9-1-1 on FOX every Monday.
From FOX:
Athena takes action after Michael, May and Harry experience a traumatic traffic stop.
—
All Rise
"Devotees in the Courthouse of Love" – Season 1, Episode 5
Mon Oct 21 – 9PM
On CBS
Catch All Rise on CBS tonight.
From CBS:
Lola officiates her first nuptials on "Wedding Day," an annual event when couples flock to the Hall of Justice to be married free of charge. Also, Lola and public defender Emily Lopez are torn between civil laws and the laws of a higher power when it seems they must allow Phoebe (Emma Dumont), a nun with a shady past, to go to prison for a criminal act against the church that she believes is morally right, on All Rise
—
JENNY SLATE: STAGE FRIGHT
Tues Oct 22
On Netflix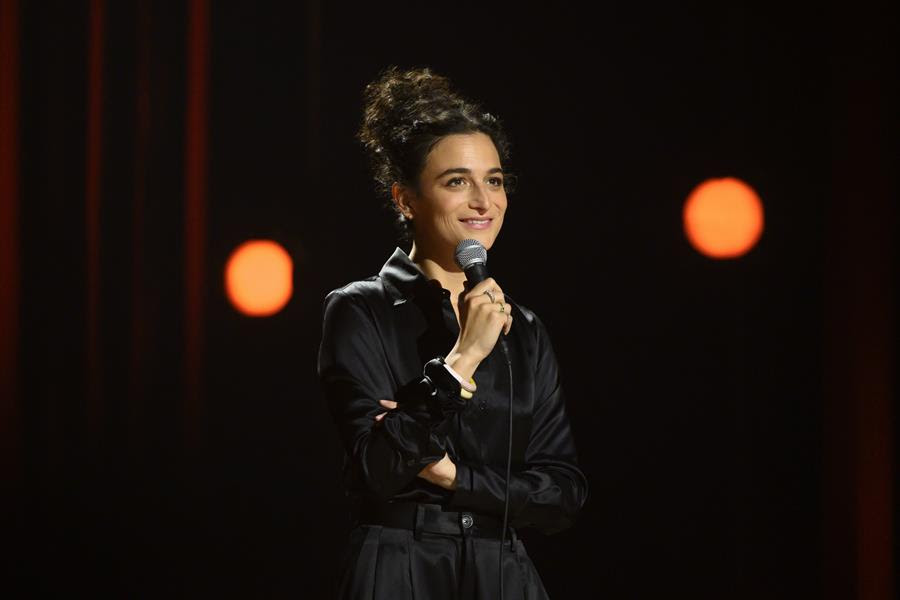 Jenny Slate cannot stop giggling as she takes the stage and that laughter is infectious, making her jokes land even harder. Jenny Slate: Stage Fright takes on all aspects of her life—from growing up to dating to seeing ghosts (yup, ghosts)—and intersperses her performance with home videos and childhood memories. This adds a charming layer to her comedy and you'll get to see what makes the comedian tick (plus you'll also realize that her family are just as hilarious as she is).
Stream Jenny Slate: Stage Fright on Netflix tomorrow.
From Netflix:
Comedian and actress Jenny Slate's first Netflix original comedy special Stage Fright gives the audience an inside look at the comedian's world. Interspersed within her hilarious stand-up set, Jenny shares personal clips of her childhood and interviews with her family in an intimate look at her life. Launching globally on October 22, Jenny overcomes her stage fright while telling stories about her visit to a midnight Catholic Mass and the ghosts that haunted her childhood home.
—
This Is Us
"Storybook Love" – Season 4, Episode 5
Tues Oct 22 – 9pm
On NBC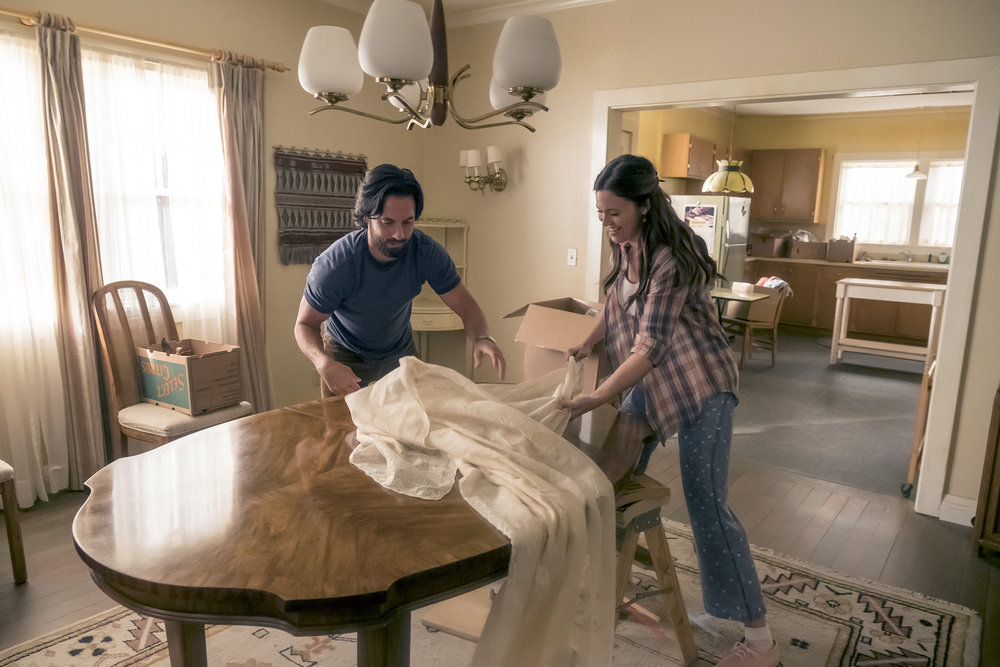 All the best episodes of This Is Us use pieces of furniture in the Pearson family home as a centerpiece, showing the stories that have happened around them. This time we get to look back at the family meals that took place around the dining room table over the years. With Rebecca (Mandy Moore) hosting a dinner party, it's bound to bring up memories of the good times held there (and it's bound to get to us..nostalgia is what the show is all about, after all). This episode also has us seriously worried about Beth (Susan Kelechi Watson) and Randall (Sterling K. Brown) as Déjà (Lyric Ross) makes it clear she wants nothing to do with her father. C'mon y'all, please work it out! We know that's a long shot with This Is Us but we don't know if our hearts can take it.
This Is Us airs on NBC tonight.
From NBC:
Rebecca hosts a dinner party. Kevin tries to support those around him. Randall faces concerns about how his family is adjusting to their new home.
—
Mixed-ish
"All She Wants to Do is Dance" – Season 1, Episode 5
Tues Oct 22 – 9pm
On ABC
Photo: ABC/Jessica Brooks
From ABC:
It's time for the Johnson kids' first school dance, but before Bow can dance the night away, she'll have to consider the social impact of her date choice. Johan finds an outfit for the dance and discovers his love of fashion, while Santamonica spends some time with Harrison.
—
Castle Rock
Season 2
Wed Oct 23
On Hulu
Stay tuned for our review coming tomorrow…
Castle Rock returns to Hulu on Wednesday.
From Hulu:
In Season 2, a feud between warring clans comes to a boil when budding psychopath Annie Wilkes, Stephen King's nurse from hell, gets waylaid in Castle Rock.
—
BREAKFAST, LUNCH & DINNER
Season 1
Wed Oct 23
On Netflix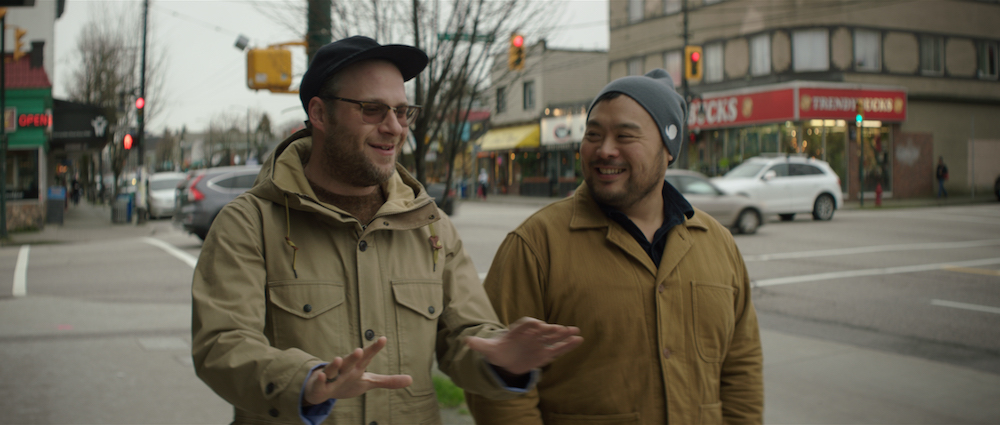 Netflix is adding to its slate of food-slash-celebrity-talk shows with Breakfast, Lunch & Dinner. Have a smoke and hit up the best foodie spots in Vancouver with Seth Rogen, explore the amazing views and cultures of Marrakesh with Chrissy Teigen, chill in LA with Lena Waithe, and take in the wonders of Phnom Penh with Kate McKinnon. The guests all bring hilarious stories and share their connections to the cuisine contained within the cities, which will make you want to travel to each place just for the food alone.
Dig into Breakfast, Lunch & Dinner on Wednesday on Netflix.
From Netflix:
Each episode of Breakfast, Lunch & Dinner will feature David Chang accompanied by a different celebrity guest exploring a single city, its culture and its cuisine. As the pair travels through each city, they will also uncover new and surprising things about themselves.
—
Chicago Med
"Got a Friend in Me" – Season 5, Episode 5
Wed Oct 23 – 8pm
On NBC
Chicago Med airs on NBC every Wednesday.
From NBC:
Dr. Choi and Dr. Marcel don't see eye-to-eye over the treatment of a patient's chronic pain and rumors start to circulate about Maggie. Dr. Manning works to help a young boy, but her treatment suggestions are challenged by the parents who believe in only using holistic remedies.
—
DAYBREAK
Season 1 premiere
Thurs Oct 24
On Netflix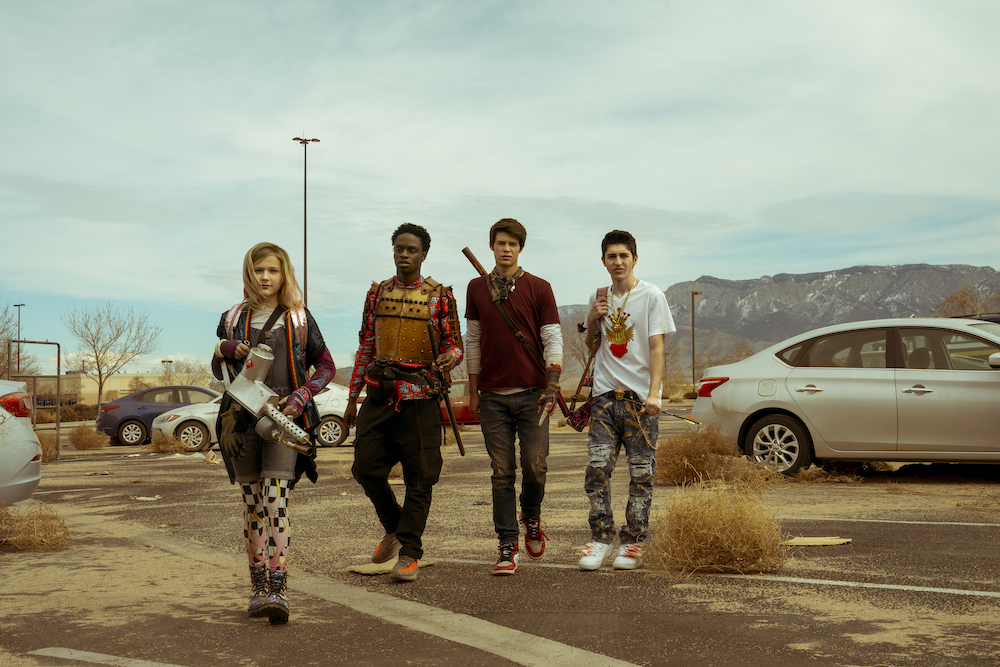 Welcome to the apocalypse—you're late. By the time we meet Josh (Colin Ford), the end of the world has already happened and he's finally found his place in it. Adults have turned into "ghoulies" and teenagers rule. So, basically, this is a gen Z Lord of the Flies set in present-day Glendale. Josh is a charming seen-it-all lead warrior you can cheer for, breaking the fourth wall to add an extra layer of satire as he navigates what is basically high school without any teachers…or police…or adults of any kind. Yes, that makes Daybreak slightly ridiculous but the show totally leans into it. Gear up and prepare to snort-laugh at an apocalypse you don't need to worry about—'cause these kids are the future…right?
Stream Daybreak on Thursday, only on Netflix.
From Netflix:
High school isn't the end of the world… until it is. In this post-apocalyptic, genre-bending series, the city of Glendale, California is populated by marauding gangs of jocks, gamers, the 4-H Club, and other fearsome tribes who are kicking ass as they fight to survive in the wake of a nuclear blast (on the night of Homecoming…ugh). Following an eclectic group of survivors as they navigate this strange and treacherous world, Daybreak is part samurai saga, part endearing coming-of-age story, and part Battle Royale. This Generation A series (A for Apocalypse! Get it?) is rated TV MA.
—
The Good Place
"Employee of the Bearimy" – Season 4, Episode 5
Thurs Oct 24 – 9pm
On NBC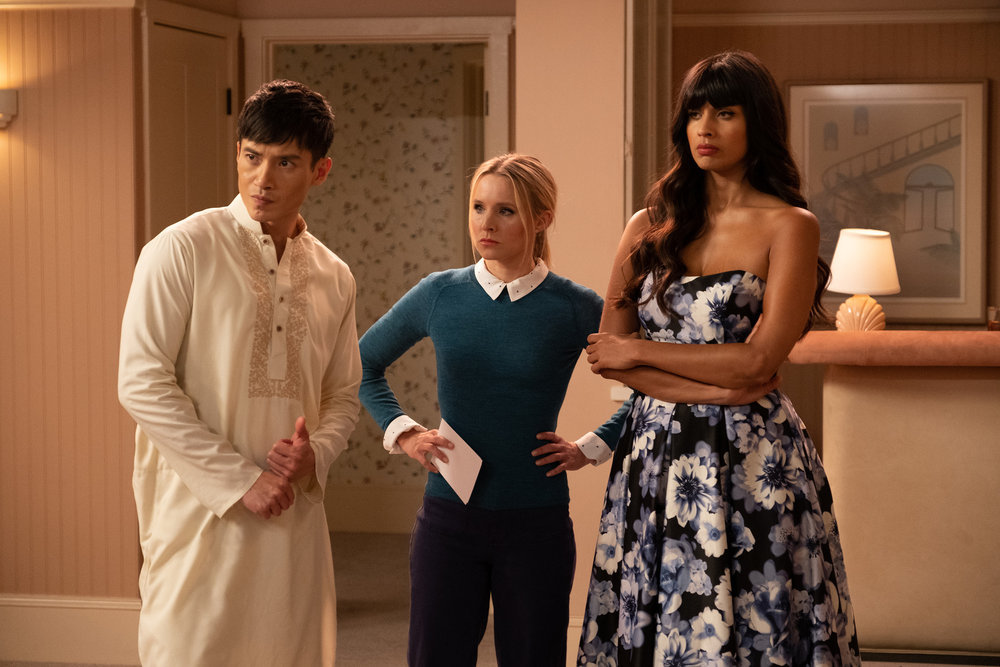 Our crew have put together a clever plan to rescue Janet (D'Arcy Carden) from The Bad Place…and that plan, for some reason, involves Michael (Ted Danson) and Jason (Manny Jacinto) sneaking into Demon Con. Uhh, yeah. Michael, we get, being a demon and all, but…Jason? That's a recipe for explosive-goo-ridden disaster. But this also means we get to see Shawn (Marc Evan Jackson) and Vicky (Tiya Sircar) take center stage and they're both delightfully evil in this episode. It's also an opportunity for Michael and Jason to bond over some past emotions—Jason's so in touch with his feelings and we're here for it. Meanwhile, as Janet is out of commission in the fake The Good Place, it's up to Derek (Jason Mantzoukas) to keep the Neighborhood going. Which leads to some…unexpected results (Derek is code for D'oh!). Tahani (Jameela Jamil) gets stuck throwing one of her lavish parties—full-size sandwiches and everything—to keep the humans from noticing that Derek is making the whole neighborhood go wonky. Phew! That's a lot—no wonder Eleanor (Kristen Bell) is having a hard time running things. But you'll be cheering for our trash bag from Arizona as she does her forking best to keep everything together.
Watch The Good Place on NBC every Thursday.
From NBC:
Michael and Jason hatch a plan. Eleanor learns firsthand the difficulties of running the neighborhood.
—
Will & Grace
"Eat, Pray, Love, Phone, Sex" – Season 11 premiere
Thurs Oct 24
On NBC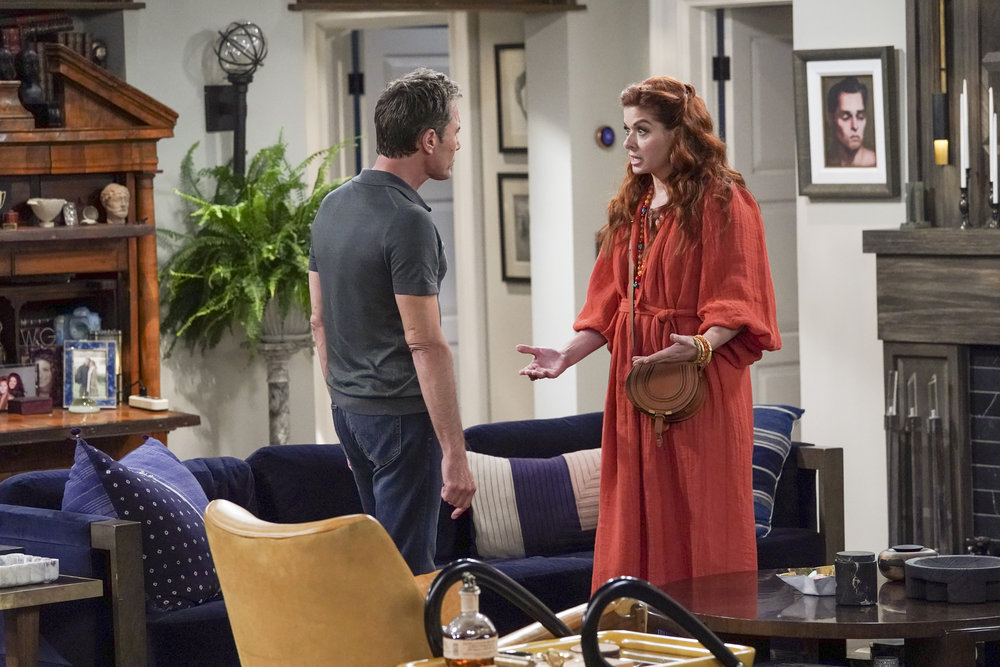 Pour yourself a strong one (no olives, they just take up space) and toast to the final season of Will & Grace. That's right, honey, your faves are taking one last bow but they won't be leaving without a few surprises. Grace is…pregnant…and "old" (according to her, we think Debra Messing looks ah-may-zing). Will (Eric McCormack) will of course be by her side through the whole pregnancy…and Jack (Sean Hayes) and Karen (Megan Mullally) are also there for her in their own fabulous ways. We're excited that Grace is having a baby but, honestly, we're more excited for the jokes this storyline is going to produce. It might finally be time for our characters to grow up (not a chance, honey) and we're so glad Will, Grace, Karen & Jack are getting another chance at ending the show in the way they truly want. Bravo!
The final season of Will & Grace starts on NBC on Thursday.
From NBC:
That's right, honey! A decade after their unforgettable eight-season run, comedy's most fabulous foursome is back. Debra Messing, Eric McCormack, Sean Hayes and Megan Mullally reprise their celebrated roles as Will, Grace, Jack and Karen. The 11th and final season of Will & Grace will feature 18 episodes. Behold once again, from the minds of Max Mutchnick and David Kohan, TV's wittiest ensemble ever. The legendary James Burrows, director of every original Will & Grace episode, has returned with a slew of razor-sharp jabs and dirty martinis. Will & Grace stands as NBC's most watched comedy in seven years. Originally debuting in 1998, Will & Grace has been nominated for 91 Emmy Awards, winning 18 of them, including Outstanding Comedy Series. The series has also earned seven SAG Awards and the show is one of the few in TV history where each member of the cast has won an Emmy.
—
BOJACK HORSEMAN
Season 6 – Part 1
Fri Oct 25
On Netflix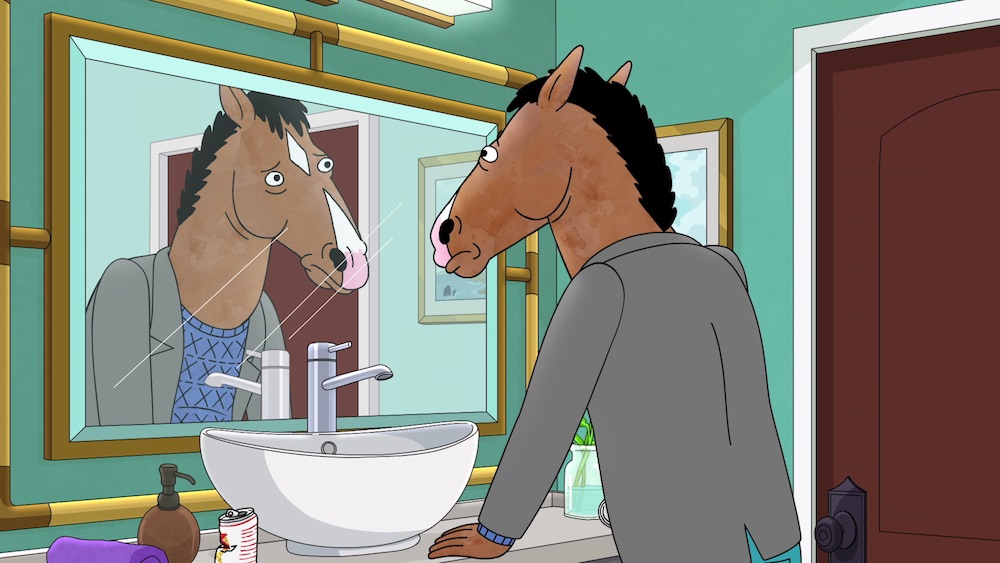 When we last left BoJack Horseman (Will Arnett), he was on a long and winding path to self-improvement. In the opening minutes of season 6, we see his next attempt to follow that path by checking himself into rehab. Everything is looking up—complete with a sunny upbeat-music-led montage—but we all know that the 12 Step Program needs a few extra for BoJack. If anything, you'll be rooting for him to be the self-deprecating smartmouth you've always known him to be…because the people he's stuck with are even more self-involved than he is (did you think that was possible?). It turns out, though, some of the messages BoJack has been learning in therapy have stuck and allow him to help out some of his fellow patients. That's something to applaud and the show goes about it with its usual brash yet self-aware sense of humor. Whether what he's learned truly helps him become a better horseman is up to you to decide…
BoJack Horseman returns to Netflix on Friday.
From Netflix:
Will Arnett voices BoJack, the failed legendary 90's sitcom star from the favorite family sitcom Horsin' Around, who has been trying to find his way through a muddle of self-loathing, whisky and failed relationships. Now, in the presence of his human sidekick Todd (Aaron Paul) and his feline agent and ex-paramour Princess Carolyn (Amy Sedaris), BoJack is primed for his comeback…
—
THE KOMINSKY METHOD
Season 2
Fri Oct 25
On Netflix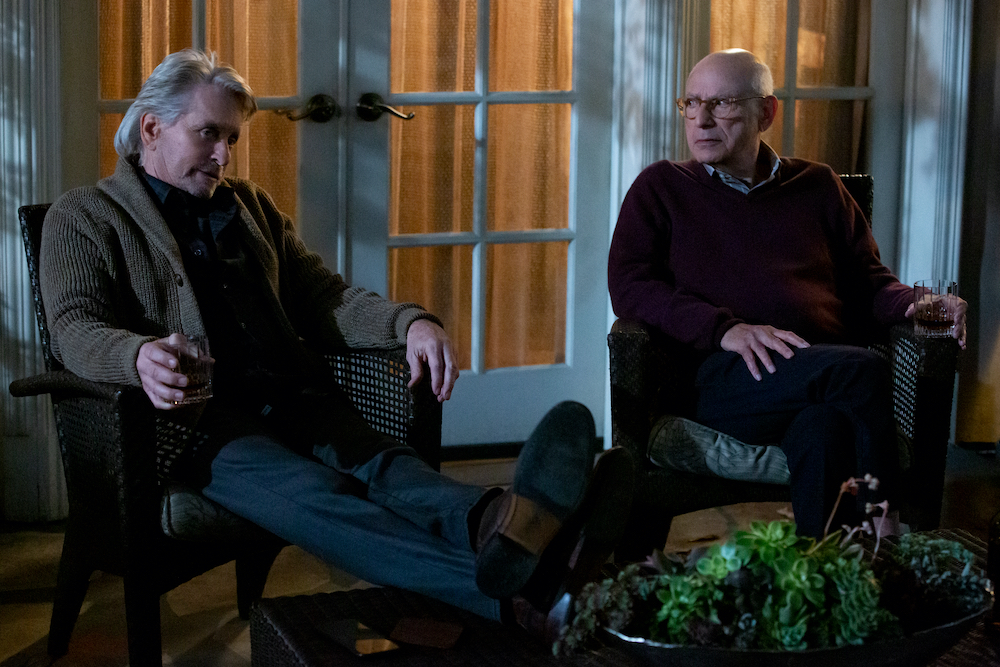 Michael Douglas and Alan Arkin are back for The Kominsky Method. When we rejoin our dear old boys, Norman (Arkin) is mourning the death of his wife Lisa (Nancy Travis) and is reluctant—or downright stubborn—about letting Sandy (Douglas) help him. Getting older is on their minds more than ever, particularly when they can never remember the name of that one person…you know the one…he was married to that, um… You get the point. And yet Norman and Sandy are as belligerent as ever, cracking jokes at the most inappropriate times and trying to find a new lease of life in the most unlikely places. Sandy tries his best to maintain and grow his relationships, even when shocking announcements takes him through a rollercoaster of emotions (it's called ACTING, darling). It might only be the second season but settling back into The Kominsky Method is like returning to an old favorite. The characters are charming even when they're being grumpy as hell, they're comforting and at times laugh-out-loud funny, and most importantly the storylines are filled with heart.
Watch The Kominsky Method on Netflix on Friday.
From Netflix:
The sun isn't setting yet on aging actor slash acting coach, Sandy Kominsky and his longtime agent Norman Newlander in the award-winning Netflix comedy series The Kominsky Method. Academy Award® Winners Michael Douglas (Kominsky) and Alan Arkin (Newlander) continue their journey as two friends tackling life's inevitable curveballs as they navigate their later years in Los Angeles, a city that, above all else, values youth. This season, Sandy meets and bonds with his daughter's new boyfriend (guest star Paul Reiser) who is uncomfortably close to Sandy's age. Meanwhile, Norman reconnects with an old flame from his youth (guest star Jane Seymour) and after fifty years, they decide to start again. Nancy Travis and Sarah Baker co-star.
—
Titans
"Jericho" – Season 2, Episode 8
Fri Oct 25
On DC Universe
Titans streams on DC Universe on Friday.
From DC Universe:
—
Watchmen
"It's Summer and We're Running Out of Ice" – Series premiere
Sundays – 9pm
On HBO
Watchmen has begun airing on HBO every Sunday.
From HBO:
In an alternate America where police conceal their identities behind masks to protect themselves from a terrorist organization, Detective Angela Abar investigates the attempted murder of a fellow officer under the guidance of her friend and Chief, Judd Crawford. Meanwhile, the Lord of a Country Estate receives an anniversary gift from his loyal servants.