This week: The 76th Annual Golden Globe Awards, Chicago Med, Grown-ish, Schooled, Brooklyn Nine-Nine, The Orville, The Good Place, Sex Education, Young Justice: Outsiders, Friends From College, Outlander
The 76th Annual Golden Globe Awards
Sun Jan 6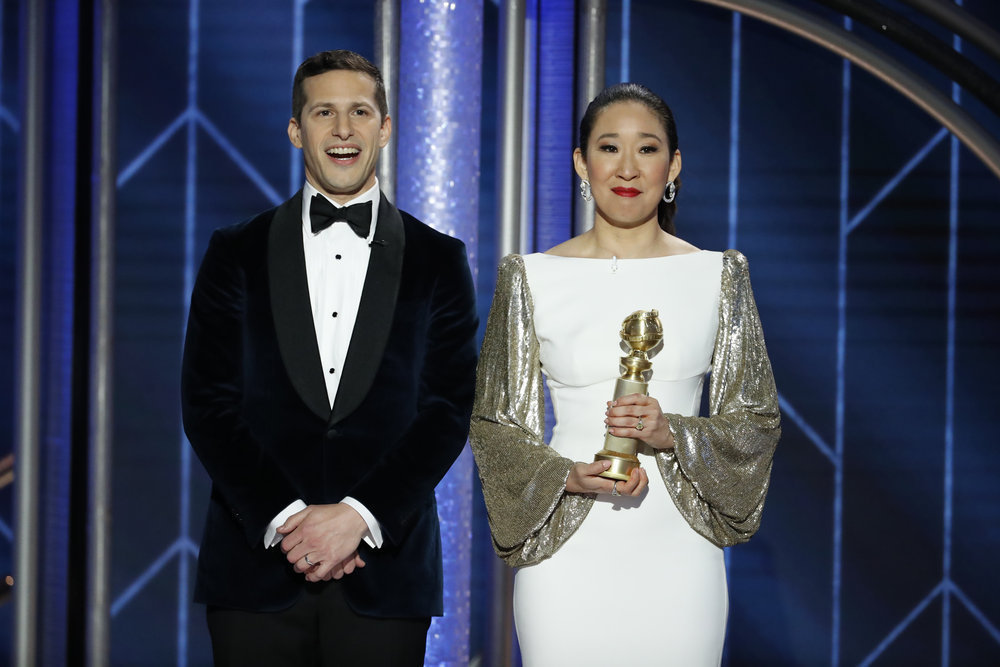 Photo by: Paul Drinkwater/NBC
Hollywood's finest walked the red carpet last night for the Golden Globes, giving us a few surprises and a few "yeah, no surprises there" moments. We're cheering about how: Spider-Man: Into the Spider-Verse swooped in and scored Best Animated Feature! Netflix's Roma also scored big in the Best Foreign-Language and Best Director categories. Shoutout to the amazing Regina King for taking home the Best Supporting Actress award for If Beale Street Could Talk, and we're applauding the legendary Sandra Oh for killing it with her Best Actress in a TV Drama for
Killing Eve!
See the full list of winners here.
From NBC:
Sandra Oh and Andy Samberg host the 76th Annual Golden Globe Awards as film and television stars are honored at Hollywood's party of the year.
—
Chicago Med
"All the Lonely People" – Season 4, Episode 10
Wed Jan 9 – 8PM
On NBC
Watch Chicago Med every Wednesday on NBC.
From NBC:
April finds herself in a dangerous situation and Natalie gets an update on Will. Dr. Rhodes gears up for a gala honoring his hybrid O.R. and tries to convince Dr. Bekker to join him.
—
Grown-ish
"New Rules"
Wed Jan 9 – 8PM
On Freeform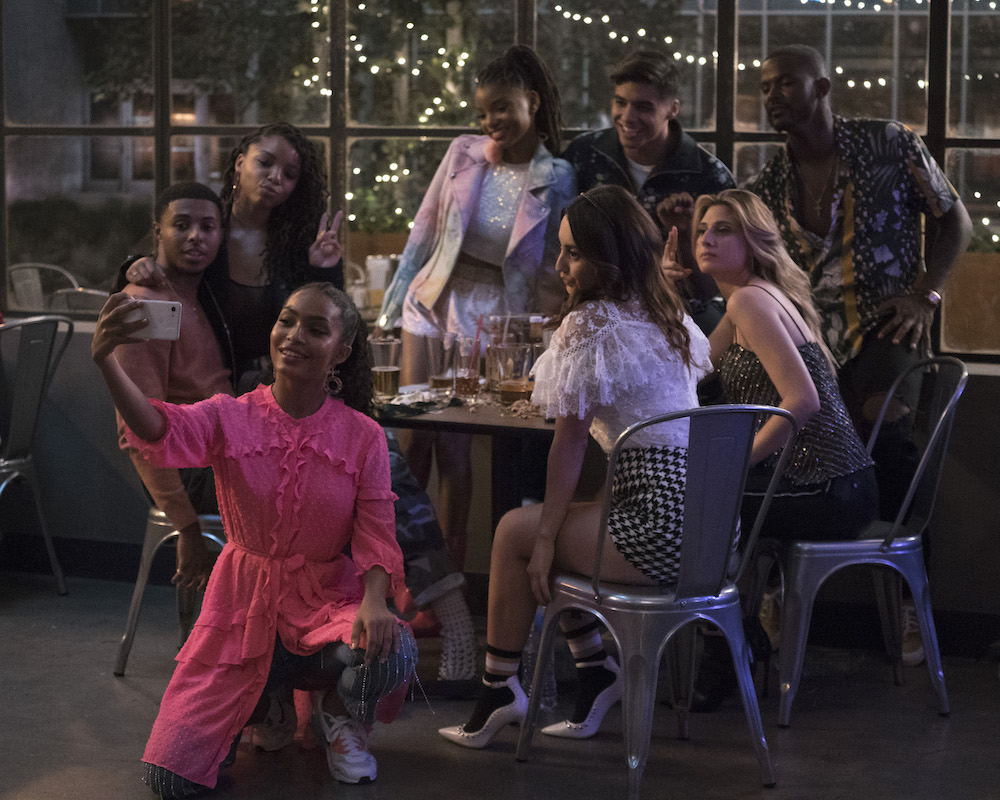 Photo: 

Freeform/Kelsey McNeal

 
**idobi rated: ❤️❤️**
We're playing the TLC classic "What About Your Friends" in anticipation of this week's episode. Just like any generation, our Grown-ish crew has rules: don't post a pic without approval, check in with your SO before heading to parties, keep your BFFs updated at all times. What happens when you break one of these unspoken rules? This episode will make you mad over the completely preventable drama when rules get in the way of common sense. It's maddening because it cleverly displays how one tiny thing can spiral, especially in the age of social media and screenshots. Everyone involved needs to chill…most of all Prof Telphy (Deon Cole) who is trying to be…well, an actual Dean of Students for once (and we can't stop cackling at the thought). So authoritative! Grown-ish is taking down all the rules this week because sometimes you need to remind yourself why you make them: Out of respect for
your crew.
New episodes of Grown-ish debut on Freeform every Wednesday.
From Freeform:
Zoey struggles to make amends after accidentally breaking one of the group's unspoken social rules and upsetting both Jazz and Luca. After Aaron and Vivek's kickback is shut down by campus police, they try to find other ways to turn up.
—
Schooled
"Be Like Mike" – Series premiere
Wed Jan 9 – 8:30PM
On ABC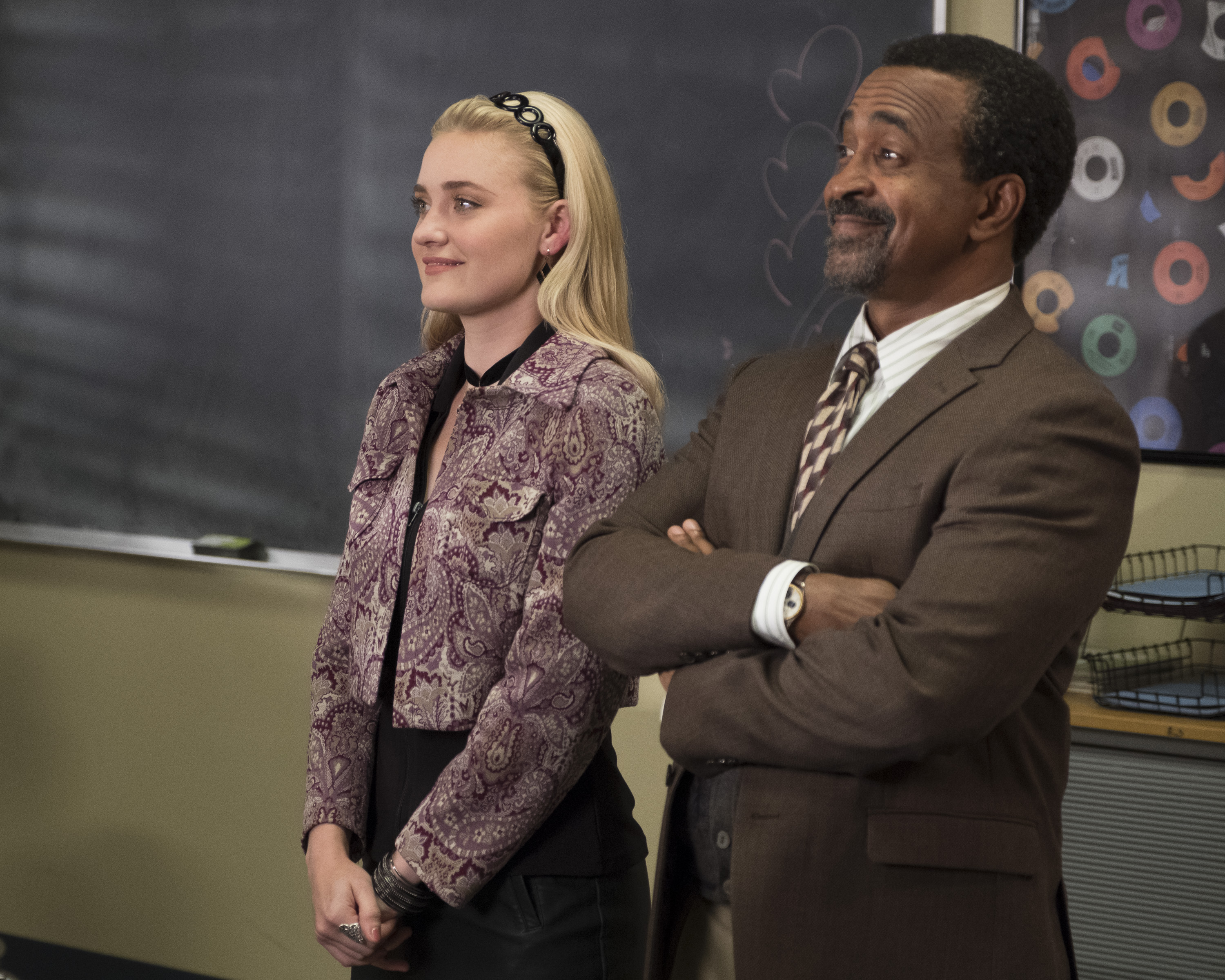 Photo by: ABC/John Fleenor
Straight out of The Goldbergs' nostalgia-fueled world springs ABC's latest spinoff and we're not sure why it exists. Lainey (AJ Michalka)—aka Erica's best friend and Barry's girlfriend—is the main focus of the new series Schooled. Set in the 90s, Lainey is back at William Penn High but this time as a music teacher. The faculty were always a delightful part of The Goldbergs and Schooled gives them more to play with, but the show overall doesn't quite gel with the new structure. If you enjoyed The Goldbergs you'll know what you're in for with the humor, with plenty of nods back to the original series, and Lainey makes for an interesting lead…but unfortunately Schooled doesn't have half the heart. Also, can you not play R. Kelly songs on your soundtrack, thanks.
Schooled premieres on ABC this Wednesday.
From ABC:
It's 1990-something, and since Lainey still hasn't achieved rock 'n' roll greatness, she returns to William Penn Academy as the new music teacher. Lainey has a hard time adjusting to being an authority figure, but she realizes she might not be so bad at it when she discovers a kindred spirit in Principal Glascott's niece, Felicia. Meanwhile, Coach Mellor struggles with Michael Jordan's influence on modern-day basketball.
—
Brooklyn Nine-Nine
"Honeymoon" – Season 6 premiere
Thurs Jan 10 – 9PM
On NBC
Photo by: Vivian Zink/NBC
Yippie kayak, other buckets! Brooklyn Nine-Nine is coming back and we are so thankful that NBC picked them up because we simply can't let this squad go. Last season, Amy (Melissa Fumero) and Jake (Andy Samberg) finally got married but we were left on a cliffhanger, waiting for Captain Holt (Andre Braugher) to reveal whether or not he would be the new NYC Police Commissioner. It's safe to say we're all kinda hoping Holt won't leave, even if it would make for some interesting storylines—and give Terry (Terry Crews) the chance to practise being top-dog (he needs it). We ain't telling you the outcome but one thing's for sure, Jake won't get his reaction right. In any case, we're ready to laugh and cry along with our favorite squad. Bring on the margherita coconuts and the grapes 'cause B99's honeymoon phase ain't over…it just got weird. Nine Nine! (Sam Devotta)
Brooklyn Nine-Nine is back this Thursday on its new home of NBC.
From NBC:
Jake and Amy go on their honeymoon. Capt. Holt finds out whether he is the new commissioner of the NYPD.
—
The Orville
"Home" – Season 2, Episode 3
Thurs Jan 10 – 9PM
On FOX
All new The Orville airs every Thursday on FOX.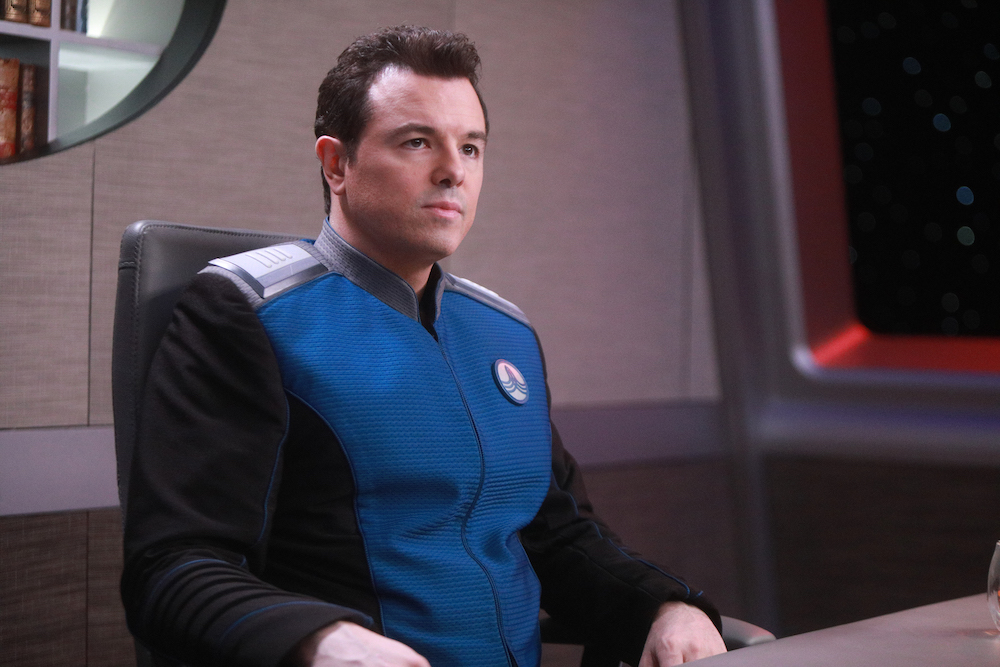 Photo: Michael Becker/FOX
From FOX:
Ed, Gordon and Alara visit Alara's home planet.
—
The Good Place
"The Book of Dougs" – Season 3, Episode 10
Thurs Jan 10 – 9:30PM
On NBC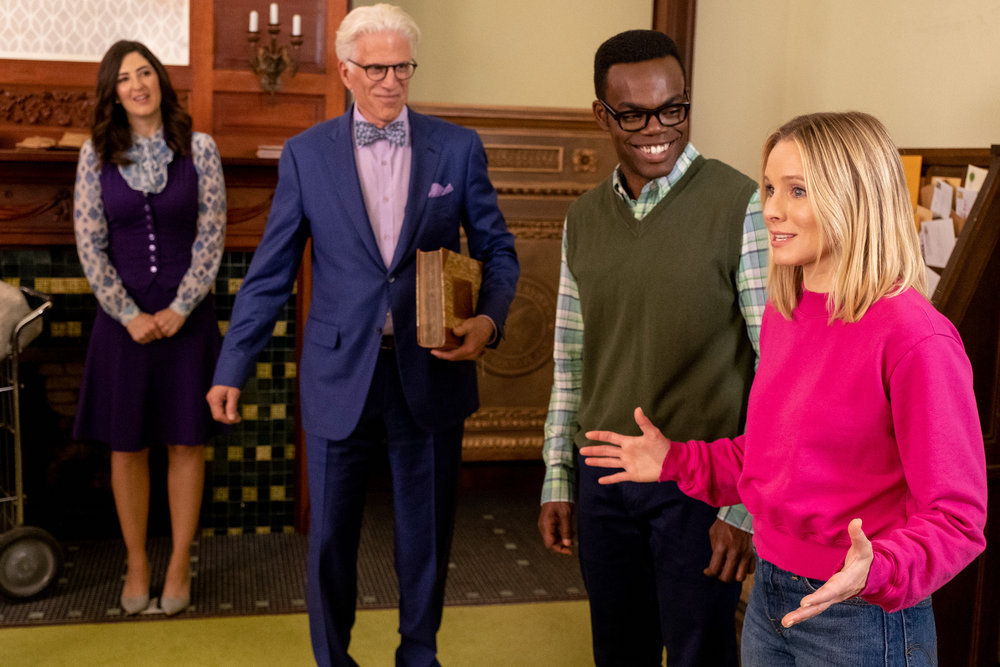 Photo by: Colleen Hayes/NBC
**idobi rated: ❤️❤️**
Our crew have finally made it to The Good Place! Or have they? We don't trust this show one little bit, even if the air smells like warm pretzels or the absolute moral truth (both surprisingly similar). Until we find out for real, Eleanor (Kristen Bell) and Chidi (William Jackson Harper) are getting to know each other…again…in this Jeremy Bearimy timeline and our hearts are singing. It is delightful. Meanwhile, Jason (Manny Jacinto) and Janet (D'Arcy Carden) have a lot to talk about and Tahani (Jameela Jamil) tries her best to help. Yup, much like that Golden Globes error where Jameela got renamed Kamilah, this is one hilarious accident waiting to happen. Who's going to mess up first? The humans or Michael (Ted Danson) when he tries to point out the problems with the point system? Ooh, The Good Place keeps spiralling into more insane hilarity. This show is so damn clever we know whatever theories we have will be turned on their heads immediately so we're just going to keep enjoying the ride.
Head back to The Good Place this Thursday on NBC.
From NBC:
Michael's resolve is put to the test. Meanwhile, Jason wrestles with his feelings and Chidi surprises Eleanor.
—
Sex Education
Season 1
Fri Jan 11
On Netflix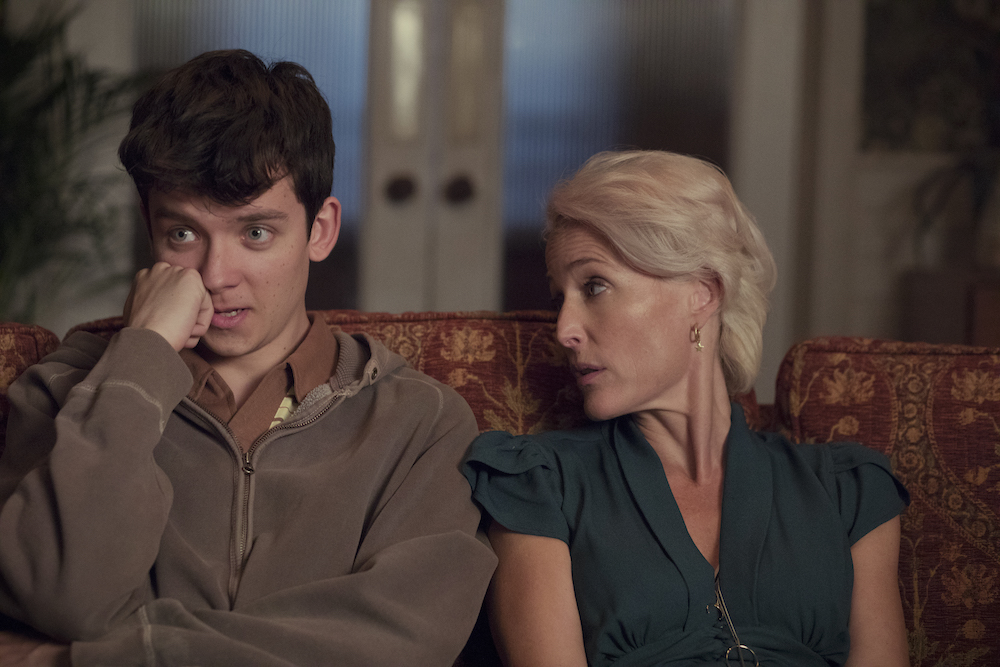 Photo: 

Sam Taylor/Netflix
Going through puberty is awkward enough for most teens…but what if your mother was a uninhibited sex therapist who makes instructional videos using instructional vegetables? Um, yeah, when you're done digging that hole in the ground out of sheer second-hand embarrassment, meet Otis Milburn (Asa Butterfield), a teenager who decides to turn his personal mortification into an educational experience for others. He begins to help his fellow students work through their issues in the bedroom. If only he could apply everything he's learned to himself. This British comedy does not hold back—it covers anything and everything—which will either have you snorting with laughter or hiding your face (or both). Clichés run rampant in this one but it can also be a lot of fun…kinda like a first time… Sex Ed just got a whole lot more realistic so head back to the classroom with Netflix's latest addition to its R-rated comedies.
Sex Education season 1 arrives this Friday on Netflix.
From Netflix:
Meet Otis Milburn – an inexperienced, socially awkward high school student who lives with his mother, a sex therapist. Surrounded by manuals, videos and tediously open conversations about sex, Otis is a reluctant expert on the subject. When his home life is revealed at school, Otis realizes that he can use his specialist knowledge to gain status. He teams up with Maeve, a whip-smart bad-girl, and together they set up an underground sex therapy clinic to deal with their fellow students' weird and wonderful problems. Through his analysis of teenage sexuality, Otis realises he may need some therapy of his own.
—
Young Justice: Outsiders
Episodes 4-6
Fri Jan 11
On DC Universe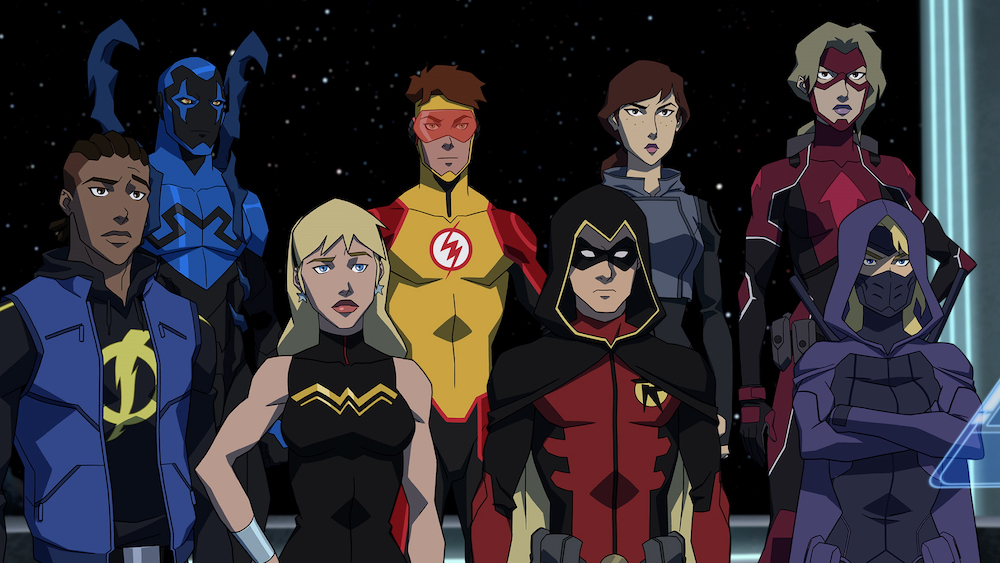 Photo: DC Universe
The first three episodes of Young Justice: Outsiders shook us to our comic book loving souls. There was no warm up, this newest DC Universe series is a cascade of superhero action, adventure, and mystery. Our heroes have grown up from Ms. Martian's (Danica McKellar) "new look", updated roles of Kaldur'ahm AKA Aqualad (Khary Payton), a Nightwing (Jesse McCartney) more akin to Batman than we have ever seen…sadly Wally is still dead. The entire world is broken and this time the old rules are out the window but the Young Justice: Outsiders team is more than ready for it—much to the chagrin of some of their more adult counterparts.
(read our review)
Stream the next 3 episodes of Young Justice: Outsiders on DC Universe on Friday.
From DC Universe:
Episode 4, "Private Security": While Jefferson, Conner and Artemis find homes for their Markovian strays, Dick assembles a new squad and hits the road – but may not survive the trip.

Episode 5, "Away Mission": A distant conflict sends the team on an away mission, while the Happy Harbor gang decides what to do with Brion Markov and Halo (ZEHRA FAZAL).

Episode 6, "Rescue Op": Brion Markov is determined to rescue his missing sister – even if it means throwing down against the entire League of Shadows.

—
Friends From College
Season 2
Fri Jan 11
On Netflix
Stream season 2 of Friends From College this Friday on Netflix.
From Netflix:
In Season 2, It's been a year since Ethan & Sam's affair was exposed to the 4 other friends – including Lisa, Ethan's wife – and the friend group is still fractured. No one has heard from Lisa, Ethan has been living a repentant year of writing a YA novel, and Sam has been trying to repair her marriage with her husband Jon. But with Max's wedding coming up, the friends won't be able to avoid each other much longer. Between the engagement party, bachelor party, and wedding, the six will have to overcome the destruction in their past and figure out how to function as a friend group again. Will they be able to move forward or will they regress back to their old destructive patterns once again?
—
Outlander
"If Not For Hope" – Season 4, Episode 7
Sun Jan 13 – 8PM
On STARZ
Outlander airs on STARZ this Sunday.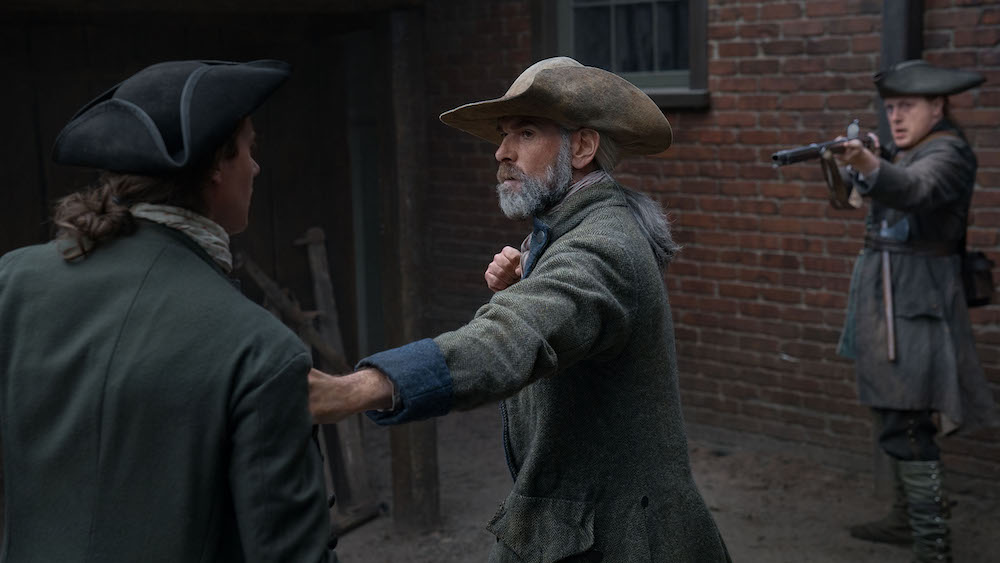 Photo: 

© 2018 Sony Pictures Television Inc. All rights reserved.
From STARZ:
Jamie, Claire and Young Ian embark on a long uncertain journey to rescue Roger, while Brianna forges a friendship with one of Jamie's old friends as she fends off Aunt Jocasta's attempts to secure a husband.