This week: Manifest, Mixed-ish, Black-ish, Emergence, Zoey's Extraordinary Playlist, Cheer, Party of Five, Chicago Med,
The Good Place, Doctor Who
Manifest
"Grounded" – Season 2 premiere
Mon Jan 6 – 10PM
On NBC
Manifest returns to NBC tonight.
From NBC:
As the Stone family reels in the aftermath of a devastating shooting, they're hit with their most foreboding Calling yet, sending Ben on a mission to locate two Flight 828 passengers who have mysteriously gone missing. Grace grapples with her new pregnancy, the Major attempts to tighten her grip on the unwitting Saanvi, all while the clock on the lives of the 828ers continues to tick towards zero.
—
Mixed-ish
"When Doves Cry" – Season 1, Episode 11
Tues Jan 7 – 9PM
On ABC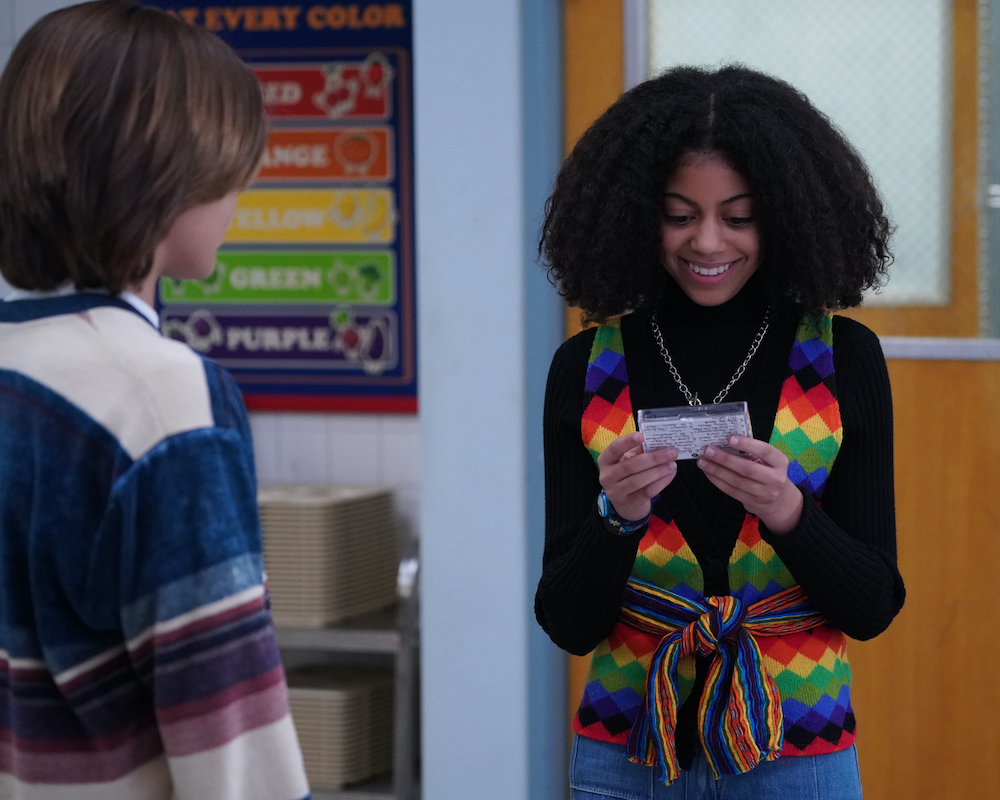 Rainbow (Arica Himmel) received her first mixtape from a boy on January 28th, 1986. She remembers the exact date because it was bittersweet and utterly confusing. It was the day the Space Shuttle Challenger launched and, in a moment watched by millions, tragically exploded. The nation was forever changed and everyone processed the loss in different ways. But Rainbow is…distracted. She keeps thinking about a super soft and cute boy named Bryce (Luca Luhan) and the gift he gave her. She wants to comfort him…purely because he's sad about the tragedy, of course, totally not because he's so super cute. This episode of Mixed-ish is at first sad yet truthful in its portrayal of how people react to disasters (and how much smaller issues can take over for many reasons). It also shows how similarly adults deal with tough moments but how well they hide it—and how, more often than not, it's the kids who handle their feelings more honestly.
Watch Mixed-ish on ABC tomorrow.
From ABC:
In the wake of the Challenger tragedy, Rainbow and her family handle their grief in different ways. Denise realizes that life is too short, so she vows to right all the wrongs she's done in her life (and she's done a lot of bad).
—
Black-ish
"Hair Day" – Season 6, Episode 11
Tues Jan 7 – 9:30PM
On ABC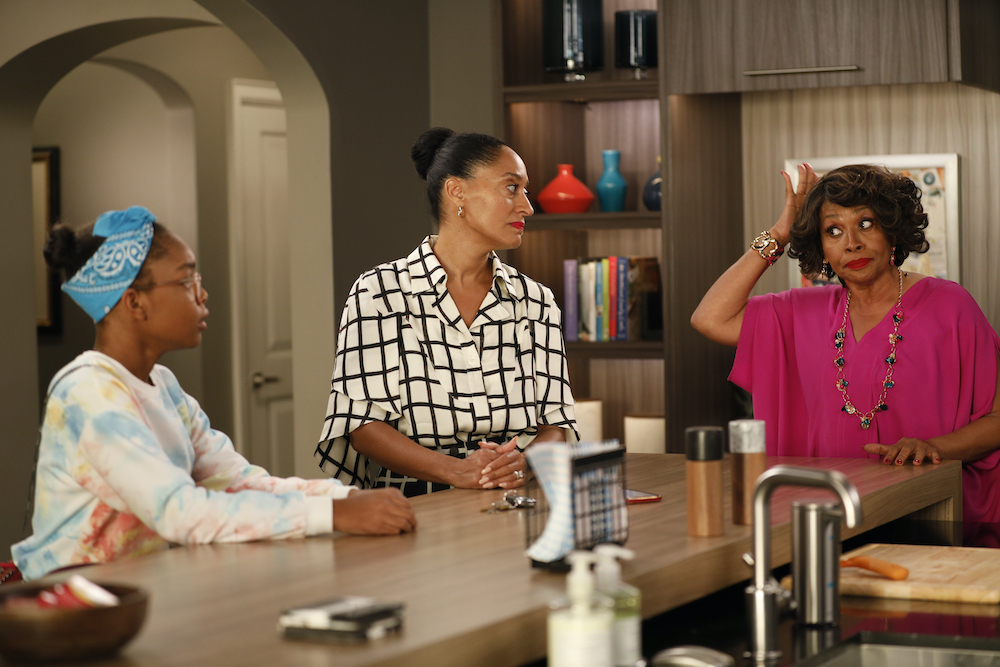 Black-ish is tackling black haircare the same way our mamas did back in the day—with love, determination, and a wide tooth afro pick with a black fist at the end of it. It's "hair day" for Diane (Marsai Martin). Which often means a day spent at the salon or at the kitchen table—sitting in a chair that's two degrees less than comfortable—while other women expand your horizons in every direction, including: child care, relationships, and that one chick at work who thinks she's slick (and how to handle her). But Diane is ready for something new and no one and I mean no one—not even mama Bow (Tracee Ellis Ross) or big mama Ruby (Jennifer Lewis)—should ever tell you how to wear your crown. Blown out, natural, twists, braids, relaxed, weaves or wigs, it's all about self expression and Diane has a choice to make. This episode is glorious, featuring a cameo from Jill Scott as Yaya, an animated homage to Dragon Ball Z, and cutaways of real women talking about their own real life hair adventures. There's also a musical that will take you back to the "Good and Bad Hair" number in School Daze but this time around we discard the rights or wrongs and recognize that when it comes to black hair: It's all good. 
So is "Hair Day".
Oh! And the boys have a barbeque.
All-new Black-ish airs on ABC tomorrow.
From ABC:
Bow takes Diane to get her hair done at the salon and wants to spend this time together as a bonding opportunity, but Diane isn't having it. Diane is conflicted about relaxing her hair again and embarks on a hair journey with the help of Bow, Ruby and her hair stylist, Yaya (Jill Scott).
—
Emergence
"15 Years" – Season 1, Episode 10
Tues Jan 7 – 10PM
On ABC
New episodes of Emergence air on ABC every Tuesday.
From ABC:
After months of dead ends, the Evans family receives information that could finally lead them to Piper. While Jo and Brooks follow this new lead, Ed helps Mia as she tries to send Piper a message. Meanwhile, Alex and Chris stumble upon a mysterious shipment in the harbor.
—
Zoey's Extraordinary Playlist
Series premiere
Tues Jan 7 – 10PM
On NBC
How do we clue you in to the 'sing-a-long wackiness with heart eyes emojis' that is Zoey's Extraordinary Playlist? Hmm. Imagine Glee but with twenty-ish or thirty-ish millennials, in an office setting; so kind of like Eli Stone (because the music is in Zoey's head and everyone in the cast is a great singer) but with the unexpected whimsical angst of Ali McBeal (because a successful heroine who's unsure of herself is endearing). If you can do that, then you've got it…mostly. (Sidebar: if you don't remember those last two shows you're doing TV wrong. Go get your binge on now). The pilot is a bit wobbly because it's a pilot and, well, they're not always good at takeoff. Yet the show does have its jukebox musical AKA karaoke charm and might just work for you on a Tuesday night when you want to sink into relatable feelings of loss and unrequited love and isolation, but you'd rather sing about it than cry.
Catch Zoey's Extraordinary Playlist on NBC tomorrow.
From NBC:
Zoey, an introverted computer programmer living in San Francisco, begins to hear the innermost desires of the people around her through song.
—
Cheer
Season 1
Wed Jan 8
On Netflix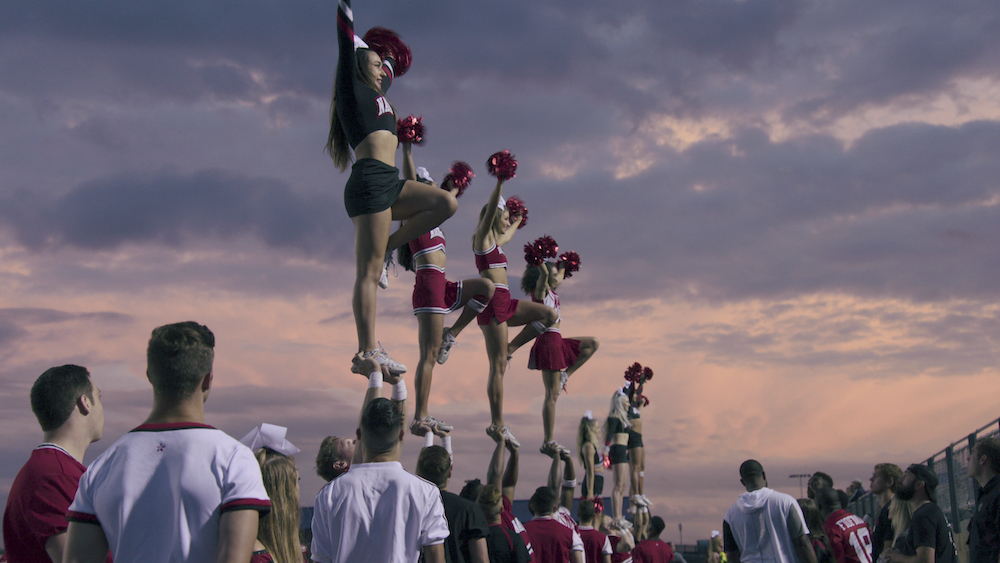 Netflix is taking you behind the scenes of one of the country's most competitive cheerleading squads. Cheer heads to Navarro College in Texas to meet the many different cogs in the machine that powers a cheerleading team (way more than you'd expect). It's inspiring to hear not only the cheerleaders themselves but their family, their coaches, and their friends who all believe in their dream to win the national championships. These are athletes, don't doubt it. It's all too easy to believe the stereotypes the media feeds you about cheerleaders being vapid and social-circle-obsessed but cheerleading is a sport requiring serious discipline and trust in your team—even if it means putting your differences aside. Cheer is about to prove that this team cares very much about a multitude of things, starting with cheerleading and extending all the way to their futures and the family they've made along the way.
Cheer comes to Netflix on Wednesday.
From Netflix:
From the team behind Last Chance U, Netflix's documentary series Cheer follows the competitive cheerleaders of Navarro College in Corsicana, TX. Led by Monica Aldama, the small junior college has won 14 National Championships since 2000. The stakes on the mat are high, but for these athletes, the only thing more brutal than their workouts and more exceptional than their performances are the stories of adversity and triumph behind the team members themselves. Over the course of six episodes, viewers will join the Navarro College cheerleaders as they face injuries, sacrifice, personal setbacks and triumphs, all leading up to one nail-biting and adrenaline pumping final competition at the National Championship.
—
Party of Five
Series premiere
Wed Jan 8 – 7PM
On Freeform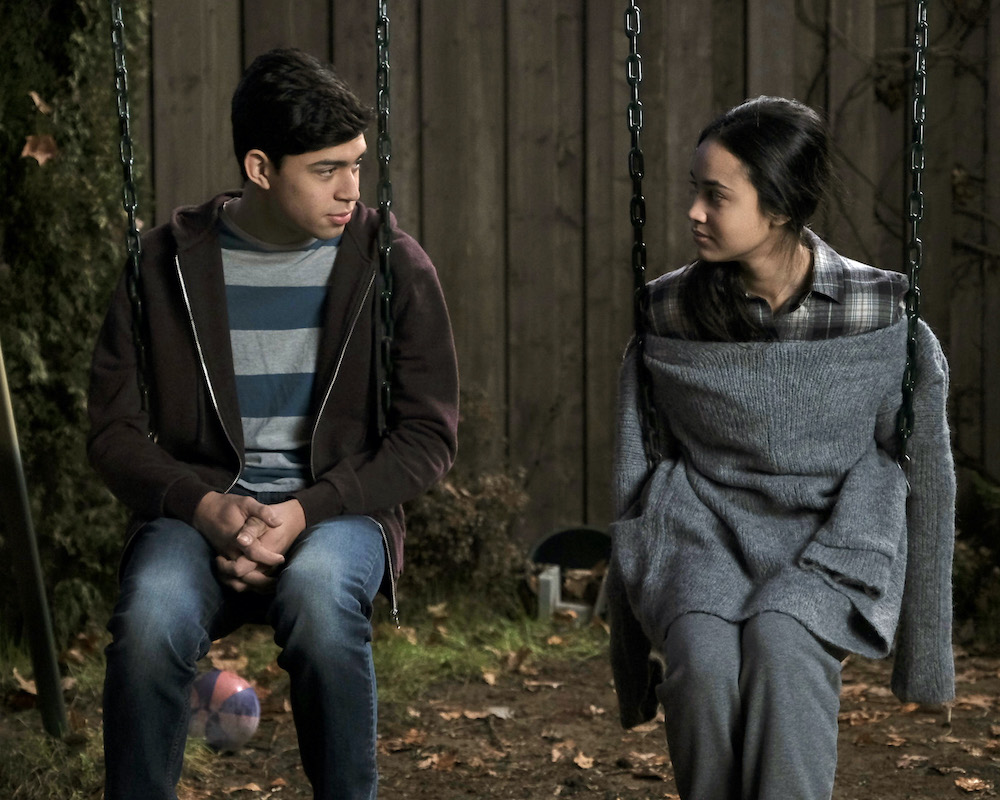 This one is going to hurt. In Freeform's version of Party of Five, five children are left reeling after their parents are deported to Mexico. In the show's opening moments, you'll see the adults try to make peace with ICE, be overly careful and polite, before being forced to admit they don't have papers. In the following weeks, you see the children step up—long before they should ever have to—and they're struggling. Typically straight-A student Lucia (Emily Tosta) acts out at school, while Beto (Niko Guardado) is failing his classes. Now head of the family Emilio (Brandon Larracuente) is overwhelmed and keeps staying out late. Valentina (Elle Paris Legaspi) is forced to grow up way too fast. Baby Rafa is getting sick. It's all too much for kids to have to bear on their own and it'll sting you with the knowledge that this is happening daily. The kids feel real, played with great chemistry and depth. They each have their own hopes and dreams, their own worries and ways of coping, which makes Party of Five a truly affecting and heartbreaking show that will move you into taking action.
Party of Five debuts on Wednesday, only on Freeform.
From Freeform:
"Party of Five" follows the five Acosta children—Emilio, Lucia, Beto, Valentina and baby Rafa—as they navigate daily life struggles to survive as a family unit after their parents are suddenly deported to Mexico.
—
Chicago Med
"Guess it Doesn't Matter Anymore" – Season 5, Episode 11
Wed Jan 8 – 8PM
On NBC
Chicago Med airs on NBC every Wednesday.
From NBC:
Dr. Halstead's world is thrown into turmoil when a former patient resurfaces. April has a secret she considers confessing to Ethan. Dr. Charles tries to maintain his focus during a difficult time.
—
The Good Place
"You've Changed, Man" – Season 4, Episode 10
Thurs Jan 9 – 8:30PM
On NBC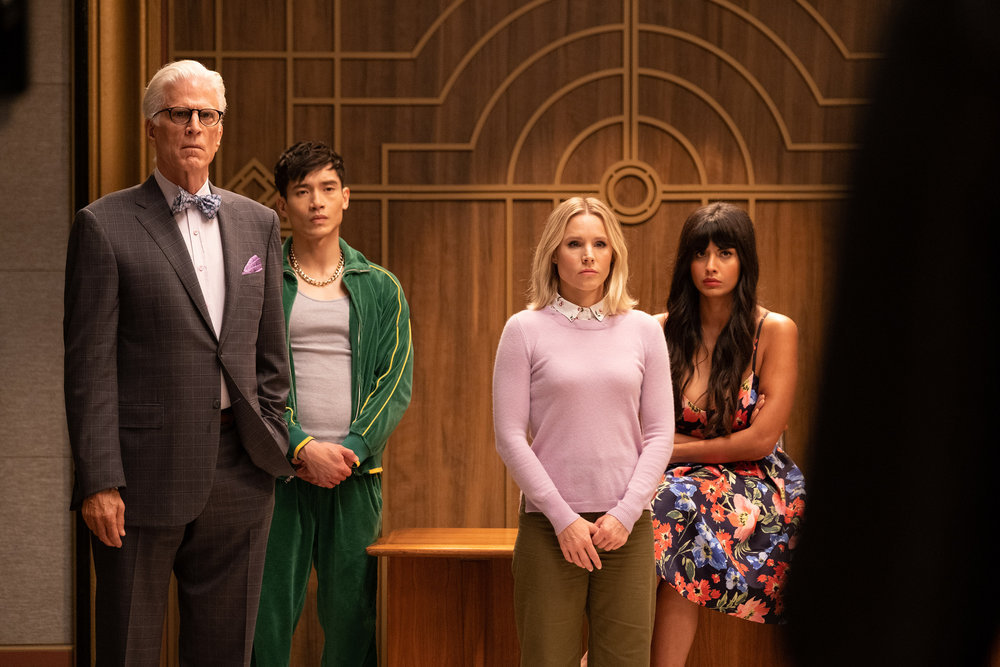 Chidi is back! Chidi is back! Yup, our little chili babies, that chant you hear echoing in the distance is us, marching around and banging on a pot of Peeps chili to celebrate. This version of Chidi—who was rebooted with over 800 timelines jammed into one consciousness—is more sure of himself than we've ever seen. Just when you thought William Jackson Harper couldn't get any more charming in this role, Chidi's newfound confidence will pull you all the way in. While he gets to work on saving the universe, the Judge is busy marbleizing all the Janets (D'Arcy Carden), good and bad (and disco). Maya Rudolph is having the time of her life as the Judge—even if her actions will make you forking scared for the humans. With the minutes ticking towards the apocalypse, the gang come up with a desperate plan to convince the Judge not to wipe out the universe. "You've Changed, Man" ramps up the pace and paves a new and twisty path for The Good Place to explore.
Dive into The Good Place on NBC on Thursday.
From NBC:
The group works to negotiate an afterlife plan with Sean and the judge.
—
Doctor Who
"Orphan 55" – Season 12, Episode 3
Sun Jan 12 – 8PM
On BBC America
Doctor Who hits BBC America on Sunday.
From BBC America:
Having decided that everyone could do with a holiday, the Doctor takes Graham, Yasmin, Ryan to a luxury resort for a spot of rest and relaxation. However, they discover the place where they are having a break is hiding a number of deadly secrets. What are the ferocious monsters that are attacking Tranquillity Spa? Guest starring Laura Fraser and James Buckley, alongside Jodie Whittaker as the 13th incarnation of the Time Lord, and Bradley Walsh, Mandip Gill and Tosin Cole as her trusty travelling companions.