This week: Grown-ish, Brooklyn Nine-Nine, How to Get Away with Murder, Russian Doll, Velvet Buzzsaw, Dear Ex
Grown-ish
"Love Galore" – Season 2, Episode 6
Wed Jan 30 – 8PM
On Freeform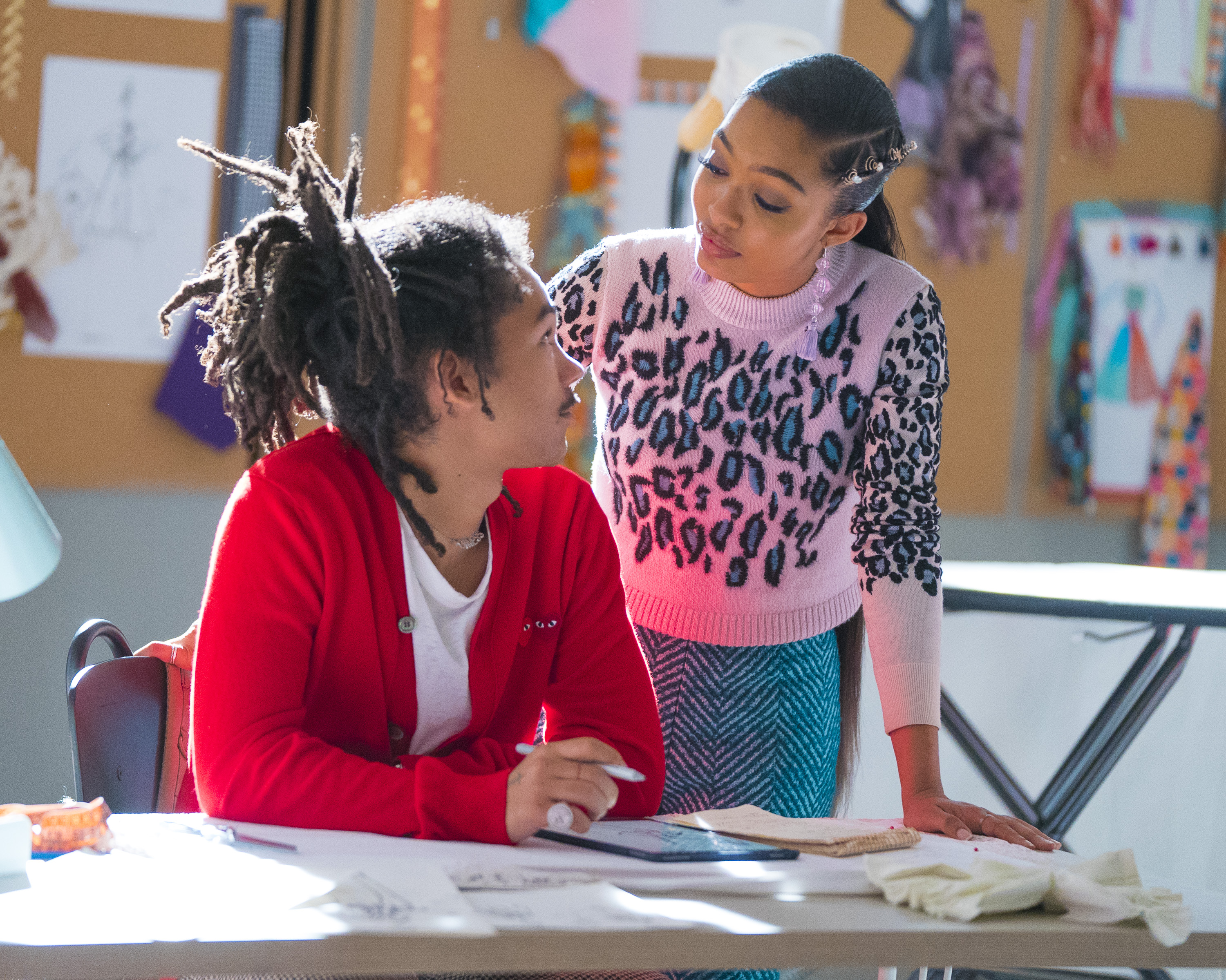 Photo: Freeform/Eric McCandless

**idobi rated: ❤️❤️**
Woah woah woah, wait a minute…did Luca (Luka Sabbat) just say what we thought he said? Michelle Obama is coming to his design class? Zoey's (Yara Shahidi) recent revelation that design no longer makes her happy is about to give her serious #FOMO…but that won't keep her down for long. She's gotta get creative in order to get the former first lady's attention. Oh wait, we mean so Zoey can help Luca get Michelle's attention…right? Meanwhile, Jazz (Chloe Bailey) and Sky (Halle Bailey) are turning their own shade of green when a new basketball player gets all the attention on the court…for the wrong reasons. This sparks an interesting debate about looks vs. talent and how the world tends to conflate the two…especially when you're curating your #brand. Grown-ish is putting intentions under the microscope this week and not everyone's gonna come out looking good.

New episodes of Grown-ish debut on Freeform every Wednesday.
From Freeform:
When Luca faces an exciting, high-pressure assignment for his design class, Zoey starts to wonder if she's made a mistake in her future career choice. Jazz and Sky are frustrated when they see that an untalented but undeniably sexy basketball player is receiving more attention than they are and debate with Aaron and Vivek if body image trumps skill.

—
Brooklyn Nine-Nine
"Four Movements" – Season 6, Episode 4
Thurs Jan 31 – 9PM
On NBC
Head to Brooklyn Nine-Nine this Thursday on NBC.
From NBC:
Gina plays a high-stakes game of chess with Capt. Holt; Rosa and Amy take Gina out for brunch.
—

How to Get Away With Murder
"Be the Martyr" – Season 5, Episode 11
Thurs Jan 31 – 10PM
On ABC
How to Get Away with Murder airs this Thursday on ABC.
From ABC:
Nate is on a mission to prove he was right about the culprit in his father's murder, while Bonnie begins to doubt herself; and Annalise turns the tables in the courtroom.

—
Russian Doll
Season 1
Fri Feb 1
On Netflix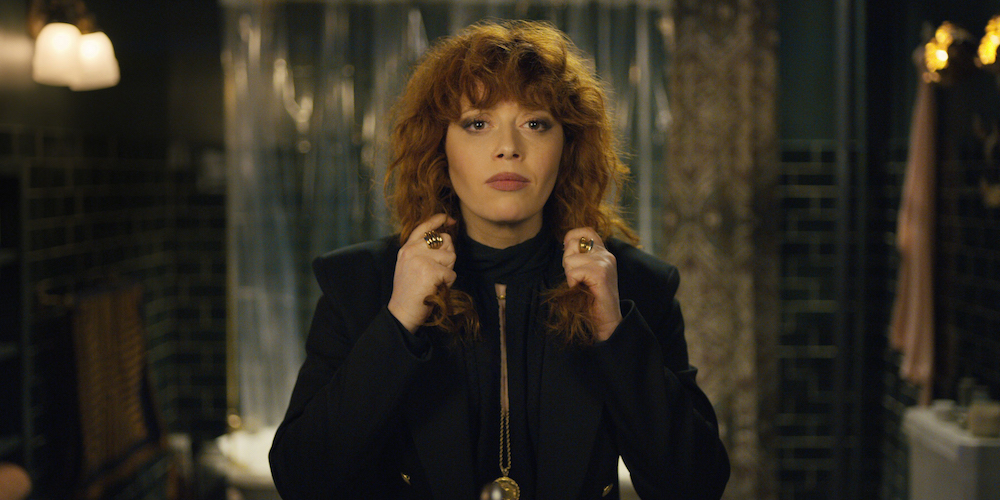 Photo: Courtesy of Netflix

Birthdays are often times of reflection, of what you've achieved and what you're hoping to do next. For Nadia (Natasha Lyonne) it's time to relive the day over and over again…in different ways. With this Run Lola Run-esque setup, Russian Doll takes apart the layers of the main character by deconstructing the timeline of her birthday party and how it ends…mostly in horrific and bizarre tragedies. The mystery begins by asking: Is Nadia alive? But soon enough you'll find yourself wondering if you can ever reprogram your own destiny. Set in—fittingly enough—the city that never sleeps, Russian Doll is a fascinating unraveling of the self. It's laced with more metaphors than drugs at Nadia's party. Plus, there's dark satirical humor set to the tune of "Gotta Get Up" by Harry Nilsson. It's smart and strange and beautifully constructed. Lyonne, who serves as co-creator and executive producer as well as the leading lady, embodies the show's title: With each reset she strips down the facets of her personality with her gritty grace. You can't help but be enthralled by her performance. Nadia journeys through confusion to anger to acceptance until she gets down to the truth—no matter how bittersweet it may be to taste it.

Russian Doll comes to Netflix on Friday.

From Netflix:
Russian Doll follows a young woman named Nadia (Natasha Lyonne) on her journey as the guest of honor at a seemingly inescapable party one night in New York City.

—

Velvet Buzzsaw
Fri Feb 1
On Netflix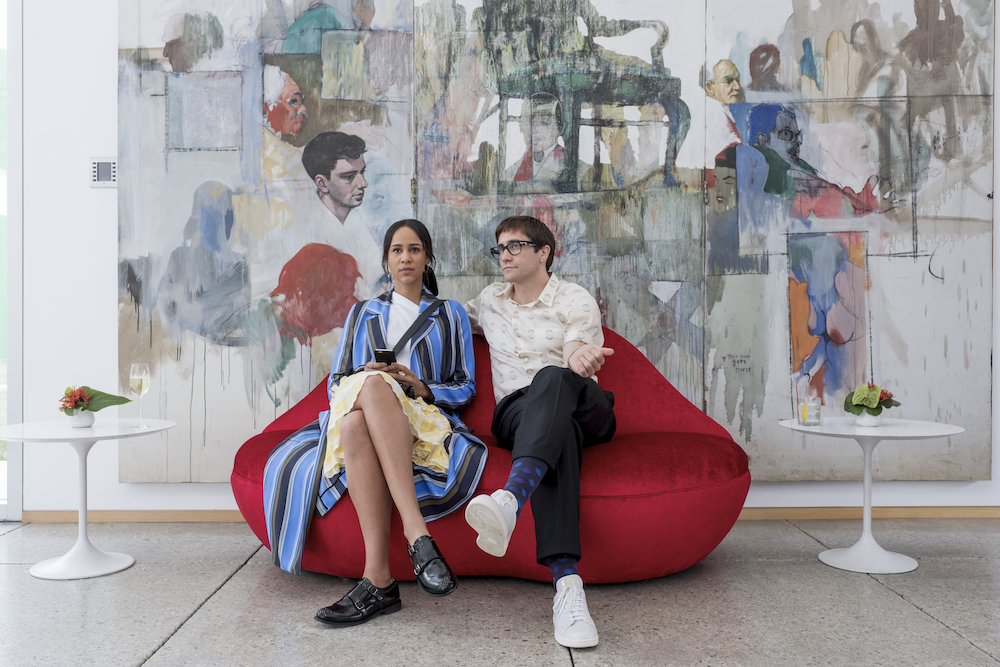 Photo: Zawe Ashton, Jake Gyllenhaal

Ever looked at a lauded art exhibition and wondered what the critics were smoking? Velvet Buzzsaw is about to turn the absurdity of the art world upside down in order to ask: What makes art truly important? Then it takes things ten steps further and turns bat$#!t crazy. Um, yeah, this is one horrifying art exhibit and you need to judge for yourself.

Stream Velvet Buzzsaw on Netflix on Friday.

From Netflix:
Velvet Buzzsaw is a satirical thriller set in the contemporary art world scene of Los Angeles, where big money artists and mega-collectors pay a high price when art collides with commerce.

—

Dear Ex
Fri Feb 1
On Netflix

Dear Ex drops on Netflix on Friday.

From Netflix:
When Sanlian's ex-husband passes away, she discovers he has altered his insurance policy, cutting out their son in favor of a stranger named Jay. Outraged, Sanlian decides that she and her son will confront Jay, but Jay proves equal to her scheme. However, when her son unexpectedly moves in with Jay, she is forced to reassess her relationship with them both.