This week: The Passage, Roswell, New Mexico, This Is Us, Chicago Med, Grown-ish, Deadly Class, Brooklyn Nine-Nine, The Good Place, How to Get Away with Murder, Star Trek: Discovery, Grace and Frankie,
The Punisher, Young Justice: Outsiders, Fyre, Outlander
The Passage
Series premiere
Mon Jan 14 – 10PM
On FOX
The Passage premieres on FOX tonight.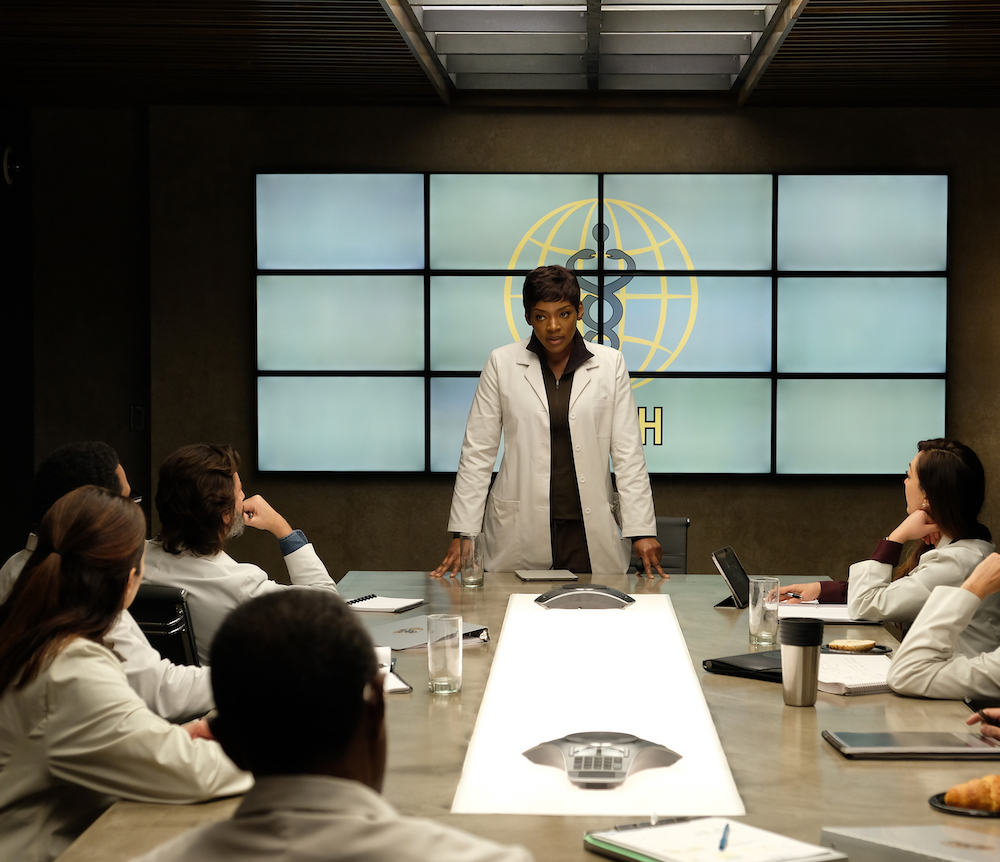 Photo: Eliza Morse / FOX
From FOX:
Based on the best-selling trilogy, THE PASSAGE centers on Project NOAH, a secret medical facility where scientists are experimenting with a dangerous virus that could lead to the cure for all disease, but also carries the potential to wipe out the human race. As an imminent flu epidemic threatens the U.S., Federal Agent Brad Wolgast (Mark-Paul Gosselaar) is tasked with bringing in the experiment's latest chosen test subject, a ten-year-old girl, Amy Bellafonte. But, after meeting Amy, Brad's loyalties to Project NOAH are tested.

—
Roswell, New Mexico
Series premiere
Tues Jan 15 – 9PM
On The CW
Catch the premiere of Roswell, New Mexico on The CW tomorrow.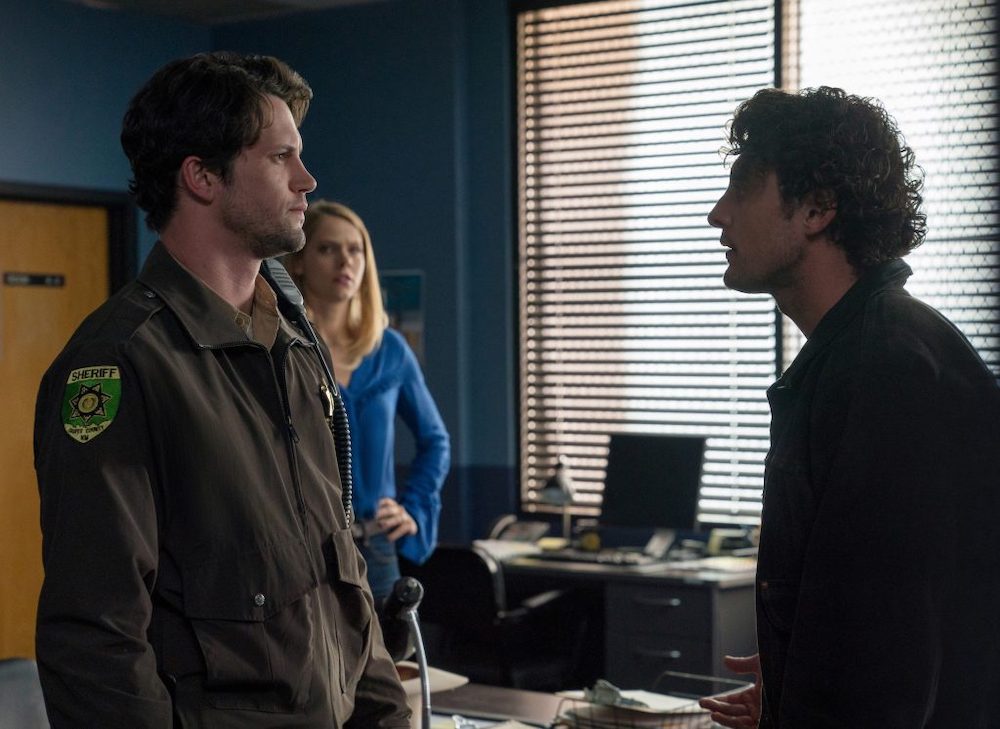 Photo: Ursula Coyote, The CW
From The CW:
When Liz Ortecho (Jeanine Mason) reluctantly returns to her tourist-trap hometown of Roswell, New Mexico, she reconnects with Max Evans (Nathan Parsons), her teenage crush, who is now a Roswell police officer. But Liz soon discovers a shocking truth: Max is an alien who has kept his unearthly abilities hidden his entire life, along with those of his otherworldly sister, Isobel (Lily Cowles), and their friend Michael (Michael Vlamis). Elsewhere, Master Sergeant Jesse Manes (Trevor St. John) spearheads a long-standing government conspiracy — unbeknownst to his son, Alex Manes (Tyler Blackburn), who has recently returned from service overseas with emotional and physical injuries. The politics of fear and hatred that run rampant in Roswell threaten to expose Max and his family and could endanger his deepening romance with Liz…as well as their lives.
—
This Is Us
"The Last Seven Weeks" – Season 3, Episode 10
Tues Jan 15 – 9PM
On NBC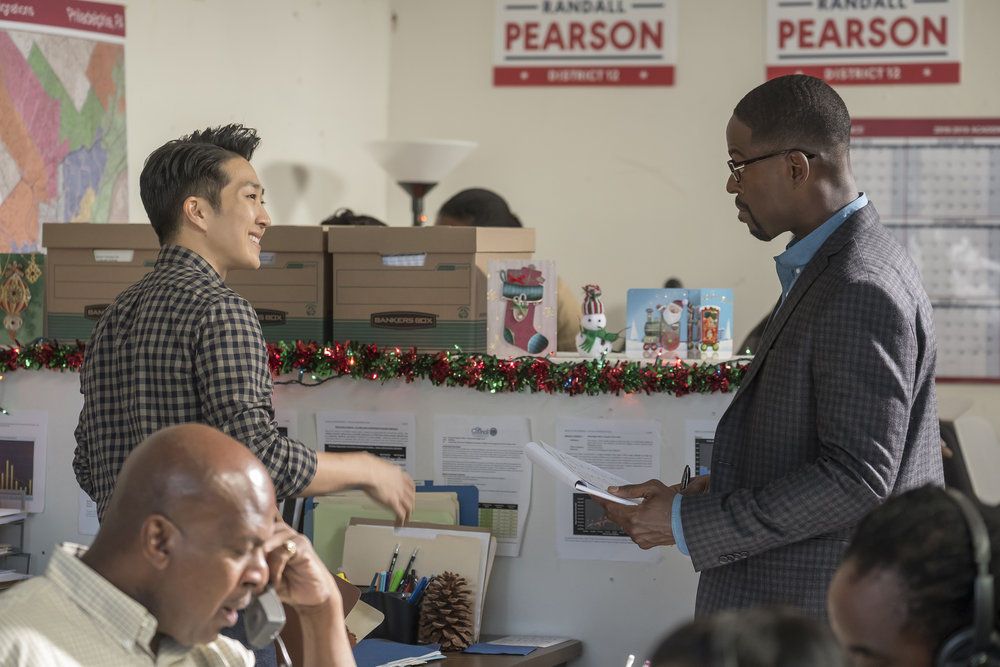 Photo by: Ron Batzdorff/NBC
**idobi rated: ❤️❤️**
A new year means it's time to make some resolutions—and This Is Us is renewing its resolve to play with our heartstrings and perceptions of time once again. With season 3's return, we catch up on—you guessed it—the last seven weeks of Pearson family life. We get to see the outcome of Randall's (Sterling K. Brown) election campaign—interspersed with some fond memories of his trip to DC with Jack (Milo Ventimiglia) which helped inspire him as a child. The show is never far away from reminding us that everything is connected when it comes to family, something that is no doubt on Kate's (Chrissy Metz) mind as she and Toby (Chris Sullivan) prepare for their baby boy to come into the world. Meanwhile, Kevin (Justin Hartley) and Zoe's (Melanie Liburd) return from Vietnam hasn't been without its complications…where is one of Jack's speeches when you need one?!
New episodes of This Is Us air every Tuesday, only on NBC.
From NBC:
Randall's campaign comes to a close. Kevin meets someone from Zoe's past. Kate and Toby get ready for the baby.
—

Chicago Med
"Who Can You Trust" – Season 4, Episode 11
Wed Jan 16 – 8PM
On NBC
Watch Chicago Med every Wednesday on NBC.
From NBC:
Will adjusts to hospital life in the aftermath of his recent undercover activities. Ethan and April's personal relationship starts to interfere with their working situation. Dr. Charles and Dr. Manning collaborate on a patient suffering from Alzheimer's. Dr. Rhodes and Dr. Bekker have a difference of opinion in dealing with a woman in desperate need of a kidney transplant.
—
Grown-ish
"In My Feelings" – Season 2, Episode 4
Wed Jan 16 – 8PM
On Freeform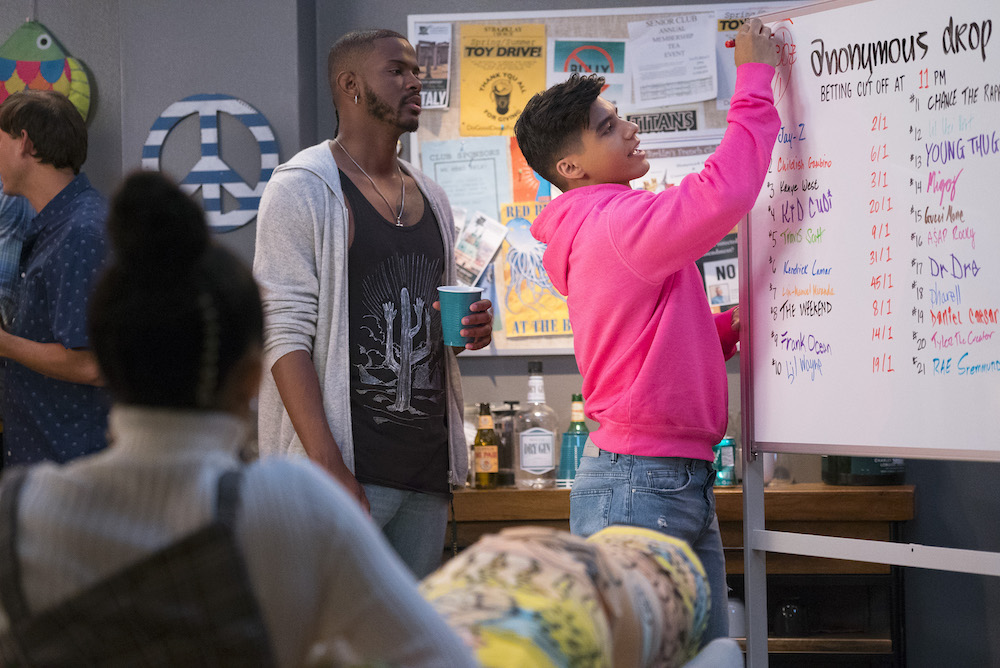 Photo: Freeform/Kelsey McNeal
**idobi rated: ❤️❤️**
What constitutes "genius"? The writers at Grown-ish get pretty damn close when it comes to continuously nailing the college experience. The crew spend most of this week's episode discussing pop music and true artistry—and just who is behind a mysterious music drop at midnight. In the process they demonstrate the value of hype…and how it can take over your life (or be used an excuse not to do your assignments). But it ain't the Kanye vs. Drake debate that's turning the shade into an eclipse: Zoey (Yara Shahidi) and Jazz (Chloe Bailey) are so not Gucci…and Zoey's also got some issues of her own to work out. Grown-ish gives us the truth about real friendship, growth, and conversations—and darling, the shade is a parasol.
New episodes of Grown-ish debut on Freeform every Wednesday.
From Freeform:
While waiting for the mysterious drop of a modern-day musical genius, the gang debates what really makes a person "genius."

—
Deadly Class
Series premiere
Wed Jan 16 – 10PM
On SYFY
Deadly Class premieres on SYFY on Wednesday.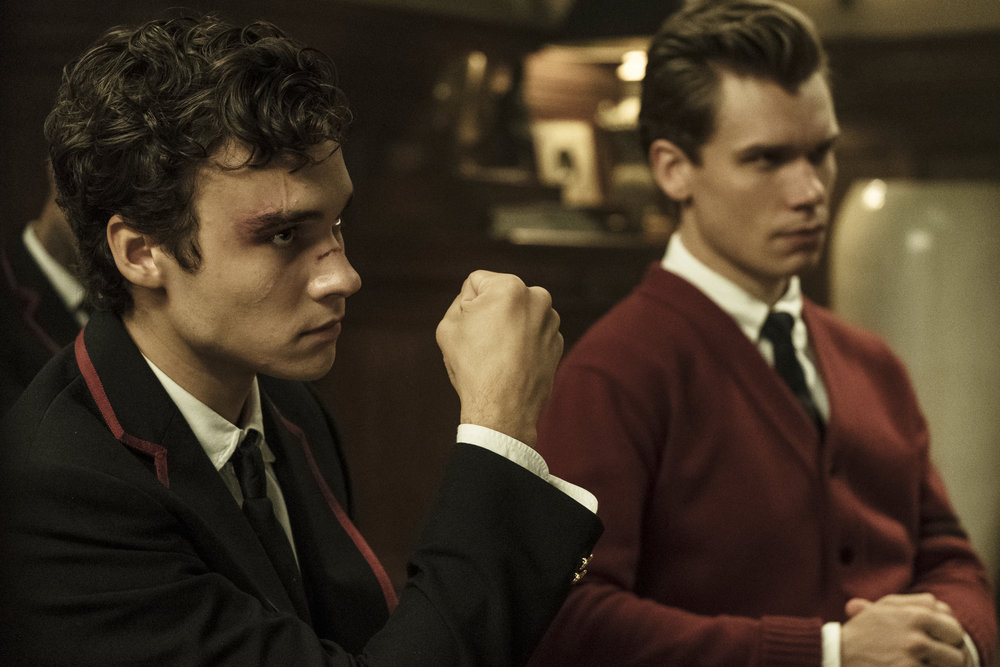 Photo by: Katie Yu/SYFY
From SYFY:
A disillusioned teen finds purpose and fights for survival at an elite academy for the Deadly Arts.
—
Brooklyn Nine-Nine
"Hitchcock & Scully" – Season 6, Episode 2
Thurs Jan 17 – 9PM
On NBC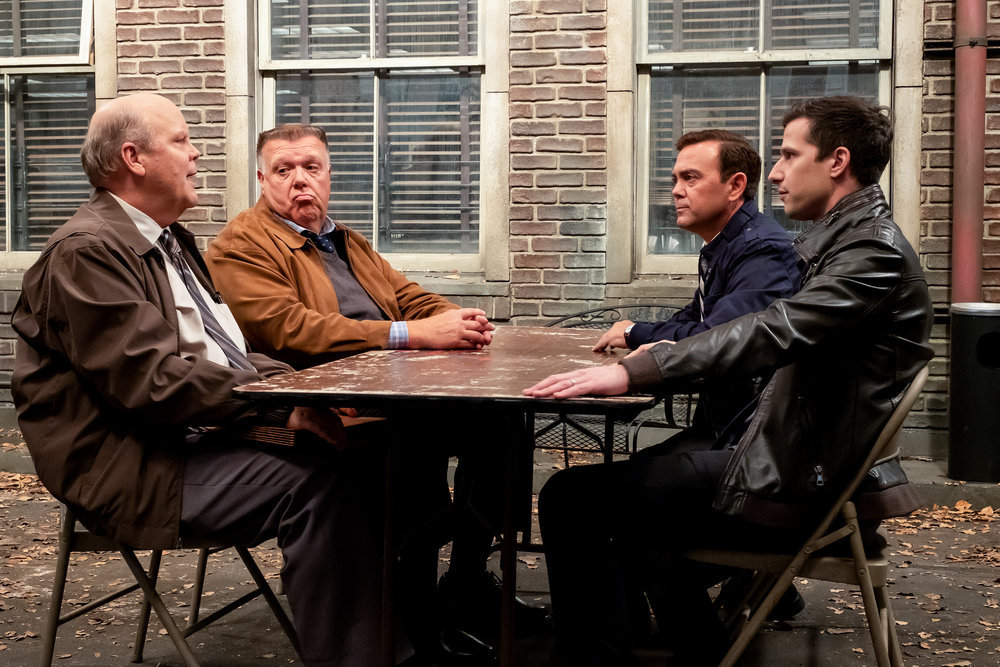 Photo by: Vivian Zink/NBC
Jake (Andy Samberg) and Amy (Melissa Fumero) are back to business and the office has gotten closer than ever…by squashing everyone into one room. Seriously, you know things are on thin ice when Rosa (Stephanie Beatriz) has to say "excuse me" more than twice in her life. Jake and Boyle (Joe Lo Truglio) have a difficult case on their hands but they're both letting their emotions get in the way—which leads to some hilarious sparring in the interrogation room. They have to head back to the 80's—detective show style—to find out the real story and it is golden (and not just 'cause of the male body butter. Yup). Brooklyn Nine-Nine is flourishing at its new home on NBC, bringing together the classic family feel with new adventures and more room to explore.
Head to Brooklyn Nine-Nine this Thursday on NBC.
From NBC:
Jake and Charles investigate a case of Hitchcock and Scully from the 1980s. Meanwhile, Amy's uniformed officers and Terry's detectives fight over limited resources.

—

The Good Place
"Chidi Sees the Time-Knife" – Season 3, Episode 11
Thurs Jan 17 – 9:30PM
On NBC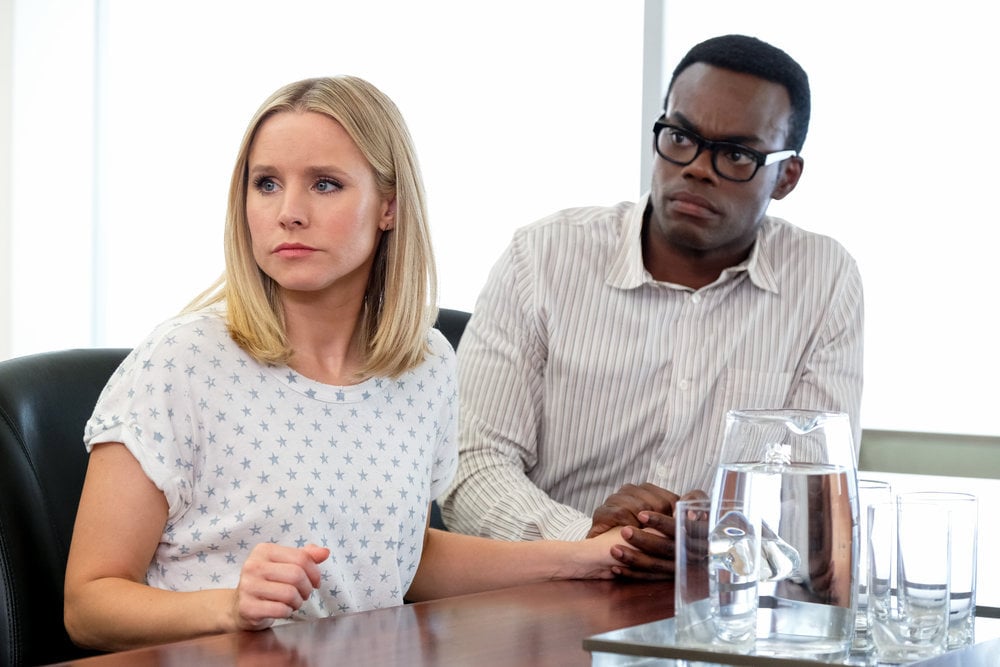 Photo by: Colleen Hayes/NBC
**idobi rated: ❤️❤️**
iHOP just underwent another name change: It's now the Interdimensional Hole of Pancakes AKA the crossroads of all dimensions. Except our crew are not there to eat pancakes—after all, if you eat anything there you'll explode—they're there to plead their case. If you thought Chidi (William Jackson Harper) was stressed out before, y'all ain't seen him bouncing—literally—off the walls in iHOP. Good thing he's got Eleanor (Kristen Bell) to help loosen him up and protect him (our hearts are soaring). Meanwhile, Janet (D'Arcy Carden) and Jason (Manny Jacinto) finally get to talk things out, but there are more complications ahead… We won't tell you what but we will say it involves a lot of olives. At least we know Janet can handle anything (even crying) because there's a new plan in motion and it ain't just Chidi freaking out. Prepare to have your worldview turned upside down as The Good Place gears up for one Hell of a finale in this penultimate episode.

Dive into The Good Place this Thursday on NBC.
From NBC:
Michael arranges an important meeting and Janet makes a reconnection.

—

How to Get Away With Murder
"He Betrayed Us Both" – Season 5, Episode 9
Thurs Jan 17 – 10PM
On ABC
How to Get Away with Murder returns this Thursday on ABC.
From ABC:
Now that Connor and Oliver have tied the knot, the crew must deal with the consequences of the wedding night's murder; and Annalise is forced to reckon with secrets from her past.
—
Star Trek: Discovery
Season 2
Thurs Jan 17
On CBS All Access
Star Trek: Discovery returns for season 2 this Friday on CBS All Access.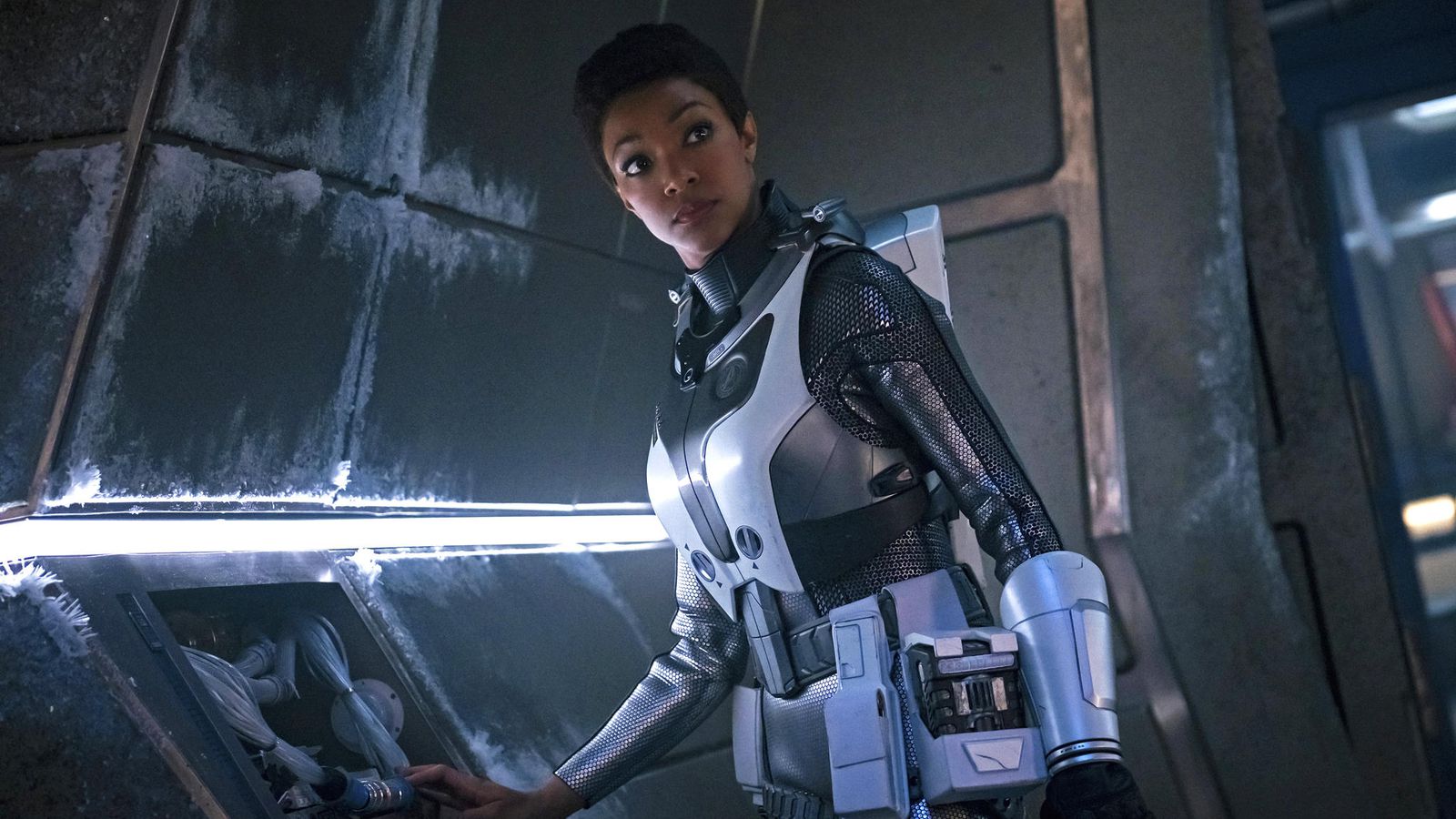 Photo: CBS All Access
From CBS All Access:
After answering a distress signal from the U.S.S. Enterprise, season two ofSTAR TREK: DISCOVERY finds the crew of the U.S.S. Discovery joining forces with Captain Christopher Pike on a new mission to investigate seven mysterious red signals and the appearance of an unknown being called the Red Angel. While the crew must work together to unravel their meaning and origin, Michael Burnham is forced to face her past with the return of her estranged brother, Spock.

—

Grace and Frankie
Season 5
Fri Jan 18
On Netflix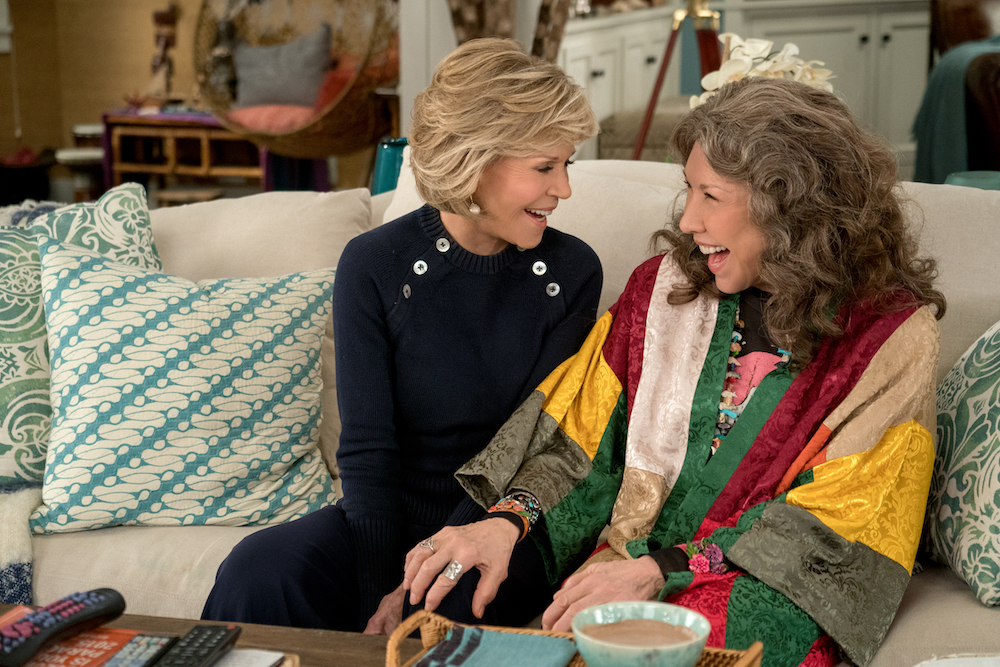 Photo: Ali Goldstein / Netflix
Our beloved modern family are back and this season Grace and Frankie are saying, "fuck it"—physically, emotionally, and mentally—in all the best ways. Seriously, it will never stop being delightful hearing Jane Fonda drop the F bomb (somebody make that supercut already). So why does everyone in season 5 keep saying "fuck it?" Because life is too gotdamn short to not mess up and put yourself out there because that's how you stay thriving. It may sound cliché but watching Grace and Frankie is an emotional rollercoaster—you laugh, tear up, and feel conflicted about your own familial relationships. The show poignantly highlights the real worries about getting older: the loss of authority, feeling invisible, your kids suddenly acting more like carers, declining health. But most importantly, there's the refusal to accept that sometimes, we all need a little help from our friends…even if those friends appear to us in a toilet-gin-induced hallucination. (read our full [p]review)
Grace and Frankie returns to Netflix this Friday.
From Netflix:
In Grace and Frankie, Jane Fonda ("Grace") and Lily Tomlin ("Frankie") star as two women whose lives are suddenly turned upside down when their husbands reveal they are gay and leave them for each other. Both sparring partners and partners-in-crime, they form an unlikely bond to face an uncertain future together and discover a new definition of "family," with laughter, tears and plenty of mood enhancers along the way.
—
The Punisher
Season 2
Fri Jan 18
On Netflix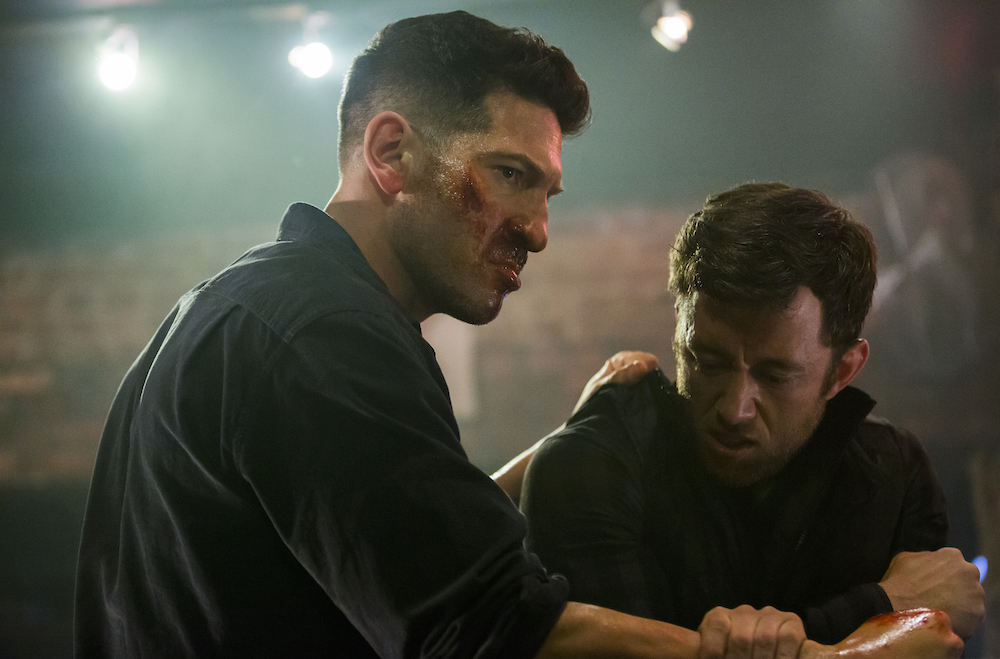 Photo: Cara Howe/Netflix
We begin the season of The Punisher with what can only be described as an homage to Road House. The effort, while bold, falls flat. The storytelling does nothing to make you invest in this series beyond a yawn and the crushing desperation that the next scene ends quickly. Jon Bernthal does his best but with a script that seems determined to change Frank Castle's nature from broken man with a vengeance-complex to a victim of circumstance, Netflix has unearthed a salient detail that all comic fans know: A Frank Castle who is not a crazy-pants broken soul is as boring as "single-pole night" at a Las Vegas strip club. (read our review)
Stream season 2 of The Punisher on Netflix this Friday.
From Netflix:
Former marine-turned-vigilante Frank Castle (Jon Bernthal) has been living a quiet life on the road until he suddenly becomes embroiled in the attempted murder of a young girl (Giorgia Whigham). As he is drawn into the mystery surrounding her and those in pursuit of the information she holds, Castle attracts a new target on his back as new and old enemies force him to confront whether he should accept his destiny and embrace a life as The Punisher.

—
Young Justice: Outsiders
Episodes 7-9
Fri Jan 18
On DC Universe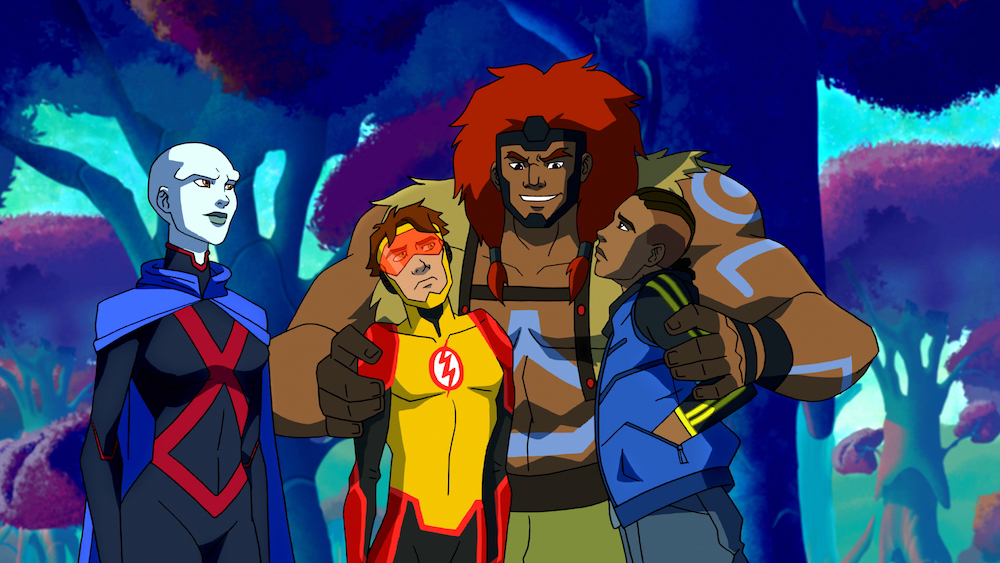 Photo: DC Universe
Serious question: Why is Young Justice: Outsiders so good? Serious answer: the writing, the characters, the humor, the deep dives into our superheroes' psyches. All of it. Like when Roy (Crispin Freeman) reads Dick (Jesse McCartney) for using him as a red-haired stand-in for his dead homie Wally aka The Flash (Jason Spisak). Or when Zatanna (Lacey Chabert) only gets to spend one day with her dad—who is now part of the many faces of Fate. After six stellar episodes in only two weeks, it doesn't matter why this show is so good, it only matters that it is. Now, if we could get some of that same energy on the big screen…then all would be well in the DC Entertainment Universe. 'til then there's Young Justice: Outsiders to keep
the love alive.
Stream the next 3 episodes of Young Justice: Outsiders
on DC Universe on Friday.
From DC Universe:
Episode 7, "Evolution": Aliens once again threaten the Earth, but with the Justice League split and scattered, only Earth's first and greatest hero can save us!
Episode 8, "Triptych": As Meta-Human trafficking spreads across the United States, three very different teams of heroes seek to put a stop to it!
Episode 9, "Home Fires": The Light has hired an intergalactic assassin, but who is the intended target?!

—
Fyre
Fri Jan 18
On Netflix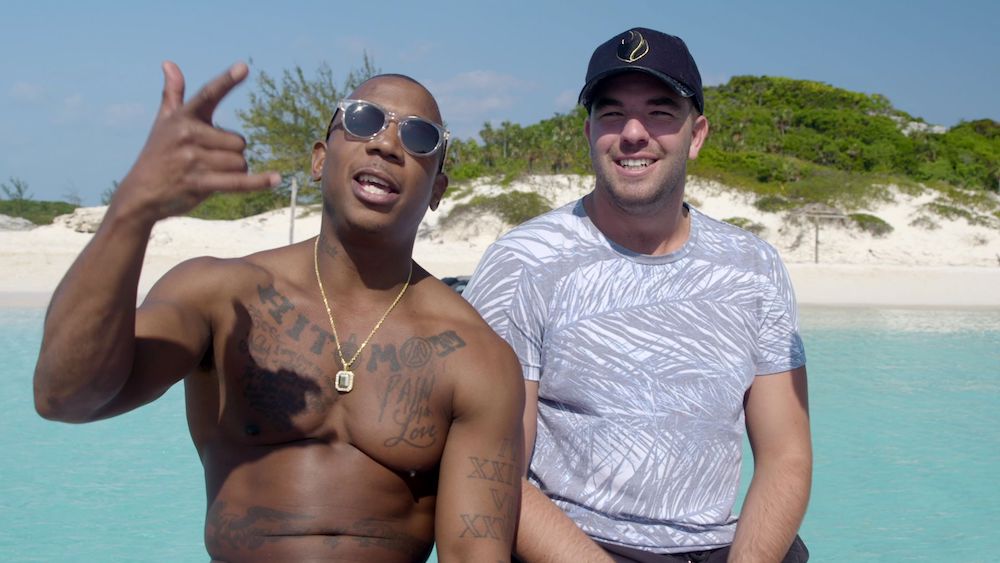 Photo: Netflix
Remember that luxury festival where people got scammed out of thousands of dollars and showed up to leftover hurricane tents, no food or water (unless you count white bread sandwiches in baggies), and nothing remotely Instagrammable? Now you can satisfy your morbid curiosity by watching Netflix's documentary on the whole damn disaster.
Fyre drops on Netflix on Friday.
From Netflix:
An exclusive behind the scenes look at the infamous unraveling of the Fyre music festival. Created by Billy McFarland and rapper Ja Rule, Fyre was promoted as a luxury music festival on a private island in the Bahamas featuring bikini-clad supermodels, A-List musical performances and posh amenities. Guests arrived to discover the reality was far from the promises. Chris Smith, the director behind the Emmy Award Nominated documentary Jim & Andy: The Great Beyond, gives a first-hand look into disastrous crash of Fyre as told by the organizers themselves.
—
Outlander
"Providence" – Season 4, Episode 8
Sun Jan 20 – 8PM
On STARZ
Outlander airs on STARZ this Sunday.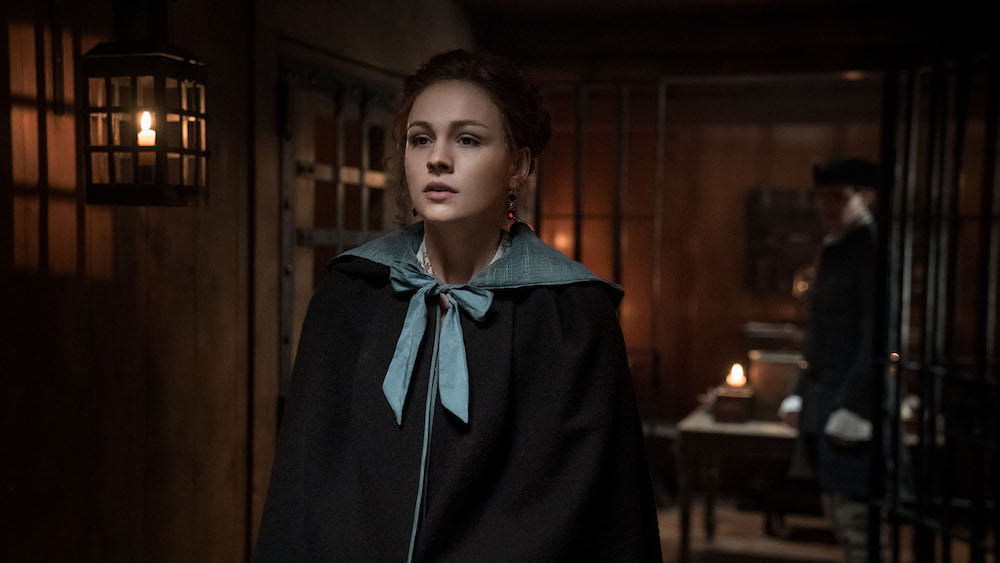 Photo: © 2018 Sony Pictures Television Inc. All rights reserved.
From STARZ:
Brianna confronts a violent figure from her past in an attempt to cope with her trauma. Roger befriends a fellow captive and endeavors to escape the Mohawk Village, while Fergus and Marsali plan a dangerous mission.