This week: This Is Us, Kipo and the Age of Wonderbeasts, Mixed-ish, Emergence, Grace and Frankie, Chicago Med, Grown-ish, The Good Place, Everything's Gonna Be Okay, Sex Education, Doctor Who
This Is Us
"Light and Shadows" – Season 4, Episode 10
Tues Jan 14 – 9PM
On NBC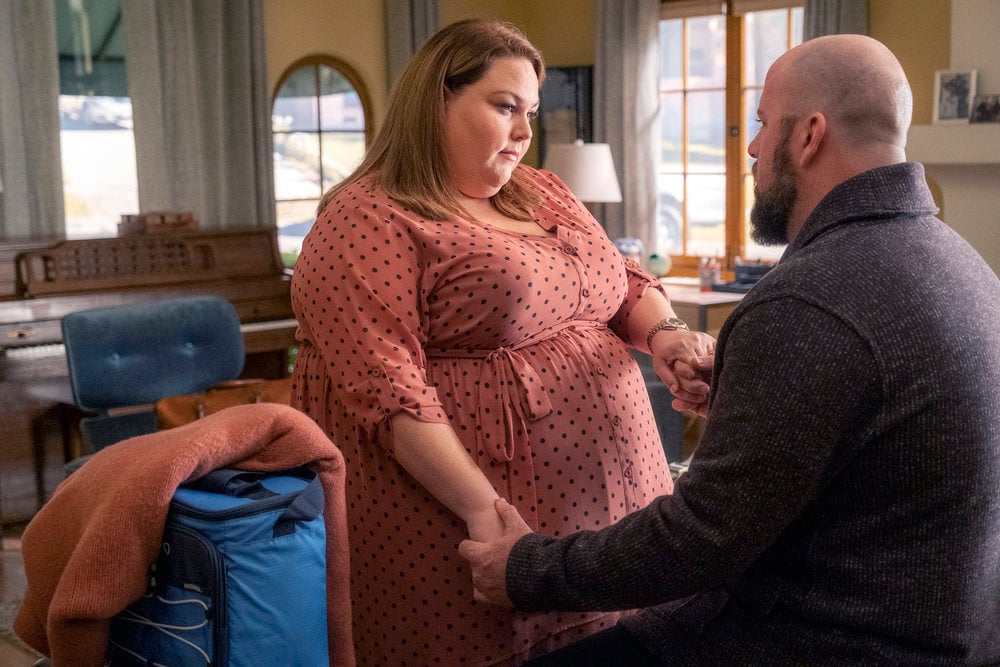 This Is Us is back from the midwinter break and it's dropping us in hard. Kate (Chrissy Metz) accidentally sees a conversation on Toby's (Chris Sullivan) phone that she shouldn't have and those texts ain't cute. What was he thinking? Meanwhile, we'll see some golden-tinted flashbacks to a young Jack (Milo Ventimiglia) and Rebecca (Mandy Moore) discussing their future, intertwined with a glimpse of Rebecca's now uncertain future. But don't despair too much—there are still plenty of good times in between. One highlight of this week's episode is a guest appearance from John Legend, just in case you weren't already scrambling to set your alarms
for Tuesday.
Watch This Is Us on Tuesday nights on NBC.
From NBC:
Kevin searches for romance. Kate meets Toby's Crossfit friends. Randall travels to LA to be with Rebecca.
—
Leslie Jones: Time Machine
Tues Jan 14
On Netflix
Catch Leslie Jones: Time Machine tomorrow on Netflix.
From Netflix:
Comedian, actress and Emmy Award-nominated SNL alum, Leslie Jones, is all about having fun. Through the years that fun has encompassed wild times, crazy experiences, celebrity encounters and a few awkward mishaps. Now older, and enlightened, the comedian imparts her hilarious wisdom on all ages. Strap in, because you're headed on a wild side-splitting ride from young adulthood to the present with Leslie Jones.
—
Kipo and the Age of Wonderbeasts
Season 1
Tues Jan 14
On Netflix
Kipo and the Age of Wonderbeasts comes to Netflix tomorrow.
From Netflix:
The Great Mutant Outbreak of 2017 caused creatures to grow to an incredible size and develop incredible intelligence, forcing humans to scatter for underground. After a giant mutant attack dumps her on the surface far away from her Terrarium home, Kipo gets a crash course on apocalyptic survival. She soon bands together with other surface dwellers -both human and mutant- on her journey to locate home, her father and the missing people of her underground city.
—
Mixed-ish
"It's Tricky" – Season 1, Episode 12
Tues Jan 14 – 9PM
On ABC
Watch Mixed-ish on ABC tomorrow.
From ABC:
Rainbow wants to battle stereotypes at school after she joins the track team and feels like her friends only see her skin color. Meanwhile, Alicia and Paul battle
stereotypes of their own, and Santamonica tries to be cool enough to hang out with Rainbow's friends.
—
Emergence
"Applied Sciences" – Season 1, Episode 11
Tues Jan 14 – 10PM
On ABC
New episodes of Emergence air on ABC every Tuesday.
From ABC:
Jo and Brooks assemble an unlikely team as they attempt to communicate with Piper. Meanwhile, Piper is intent on saving Benny from Helen's mysterious mission, and Alex receives a life-changing offer.
—
Grace and Frankie
Season 6
Wed Jan 15
On Netflix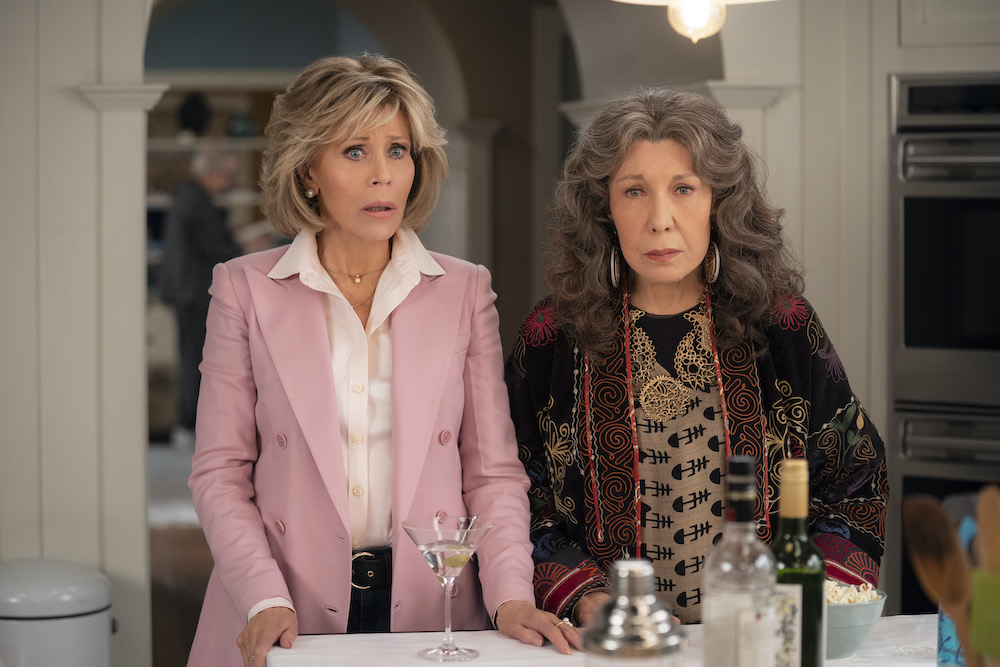 The previous season of Grace and Frankie ended on a somber cliffhanger: Grace (Jane Fonda) eloped with Nick (Peter Gallagher) without telling Frankie (Lily Tomlin). What does this mean for our girls? Season 6 explores the change, for better or for worse, and how everyone handles it (or doesn't).
There's still so much this show has to give and, while we're sad there's only one more season after this one, we appreciate the impact of Grace and Frankie. It shows that: messed up families can still come together and heal, that getting older isn't taboo, and celebrating the little things is so very important. And, when things suddenly get turned upside down—more than ever before—our beloved Grace and Frankie, Sol and Robert, and all the kids know they can lean on each other no matter what.
(read our full [p]review)
Grace and Frankie returns to Netflix on Wednesday.
From Netflix:
In Grace and Frankie, Jane Fonda ("Grace") and Lily Tomlin ("Frankie") star as two women whose lives are turned upside down when their husbands reveal they are gay and leave them for each other. Both sparring partners and partners-in-crime, Grace and Frankie form an unlikely and unbreakable bond and face their uncertain futures head-on, hand-in-hand. Together with their ex-husbands and children, they discover the true definition of "family," with laughter, tears and plenty of mood enhancers along the way.
—
Chicago Med
"The Ground Shifts Beneath Us" – Season 5, Episode 12
Wed Jan 15 – 8PM
On NBC
Chicago Med airs on NBC every Wednesday.
From NBC:
After a major accident at O'Hare, the E.D. is concerned one of their own is in mortal danger. Will's proposal for a safe injection site goes to the board for consideration. Natalie and Goodwin become concerned for Gwen.
—
Grown-ish
"Crunch Time" – Season 3 premiere
Thurs Jan 16 – 8PM
On Freeform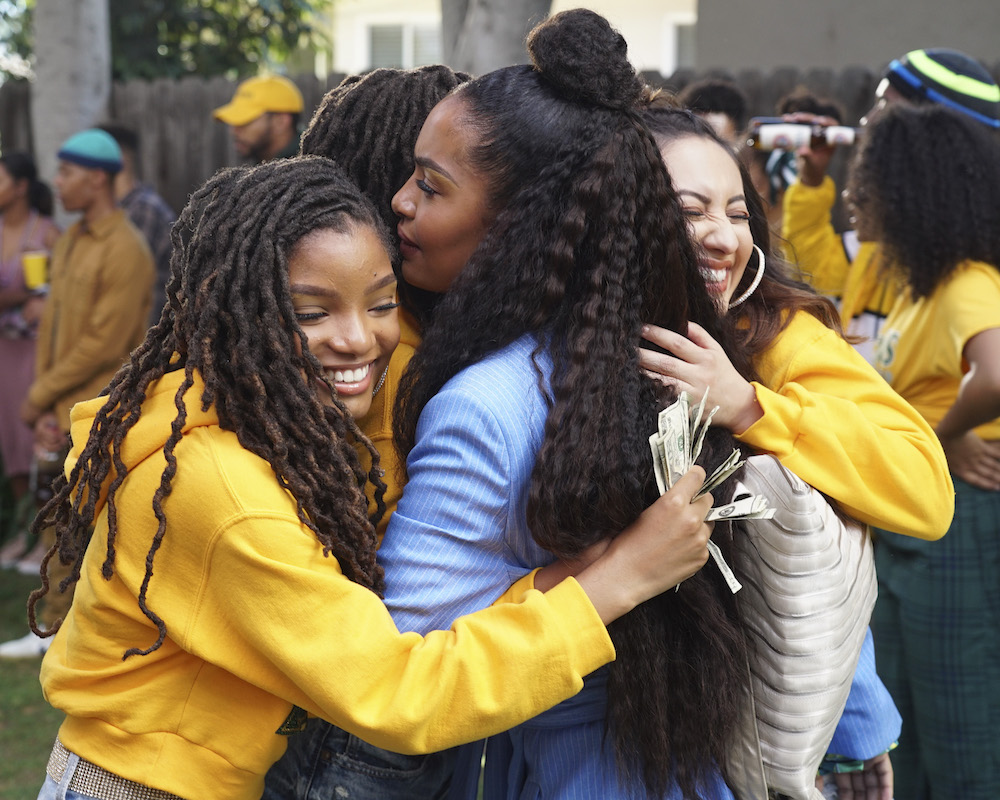 Zoey (Yara Shahidi) went from "cup bitch" to "that bitch" over the summer as Joey Bada$$'s new personal stylist. She peaced out from all the hot messes she left behind at Cal U in favor of the high life in London. But now she's back and things start to unravel faster than Joey's cashmere wool blend sweater. Zoey is back to obsessing over Luca (Luka Sabbat) instead of focusing on her job…and she's totally ignoring the fact that she and Aaron (Trevor Jackson) kissed. Luckily for her, Aaron isn't overthinking their kiss AT ALL thanks to a well-timed brownie (oh, you're gonna giggle so hard). Yup, the boys bring Zoey back to reality but even she's starting to realize some of her old habits need to be left in freshman year. Especially when Joey starts calling her out on it (underscored by the best "fire drill" ever). Grown-ish is back, baby, and more than just Zoey has changed over the summer. This episode will have you squealing with equal parts shock, drama, and pure delight. We're also gonna find out for who the stick turned blue!
Grown-ish is back on Freeform on Thursday.
From Freeform:
It's Junior year and the gang throws an HBCU-themed Homecoming party to kick off the semester at their new off-campus house. Zoey returns from her summer internship abroad and realizes that she has to confront her feelings for Aaron and Luca quickly. When she learns about Luca's grand gesture last semester, she needs to decide how she feels about it while balancing the high demand of her dream job, working for Joey Bada$$. Meanwhile, the rest of the crew is left to deal with some of the repercussions of their big mistakes before summer break, including an unexpected reveal of someone expecting.
—
The Good Place
"Mondays, Am I Right?" – Season 4, Episode 11
Thurs Jan 16 – 8:30PM
On NBC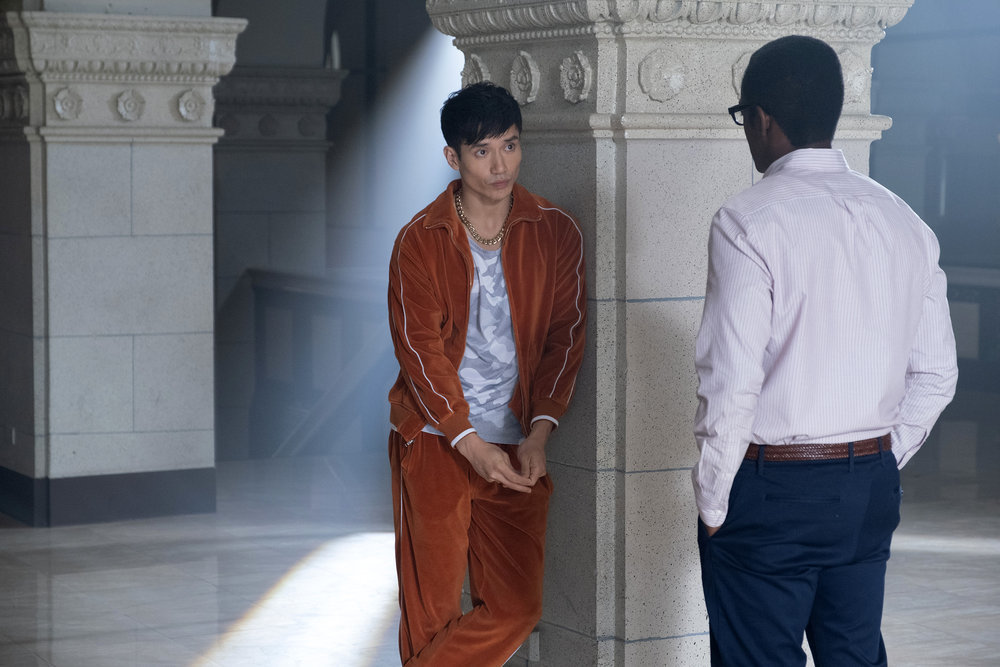 The gang are brainstorming (or, in Jason's case, maybe more brain-farting) new ways to make the Good/Bad Place system better. Their answer is to make an informational video which is like the best/worst school education video you'll ever see. It turns out they each still have lessons to learn. And Jason (Manny Jacinto) is the one to teach Chidi (William Jackson Harper) something—yup, bet you never thought you'd hear that. But when it comes to feelings, Jason is in tune with his best self and with everyone else, which will remind you of why you love him so much. The gang brings in a, um, beloved demon to help them build the new system and the results are forking hilarious. It feels like The Good Place is wrapping up but, with three episodes to go, we know they're lulling us into a false sense of frozen yoghurt fueled security…ooh, NBC, what are you planning for your grand twisty finale?
Dive into The Good Place on NBC on Thursday.
From NBC:
Michael runs some tests and Chidi gets some good advice from Jason.
—
Everything's Gonna Be Okay
"Seven-Spotted Ladybug" – Series premiere
Thurs Jan 16 – 8:30PM
On Freeform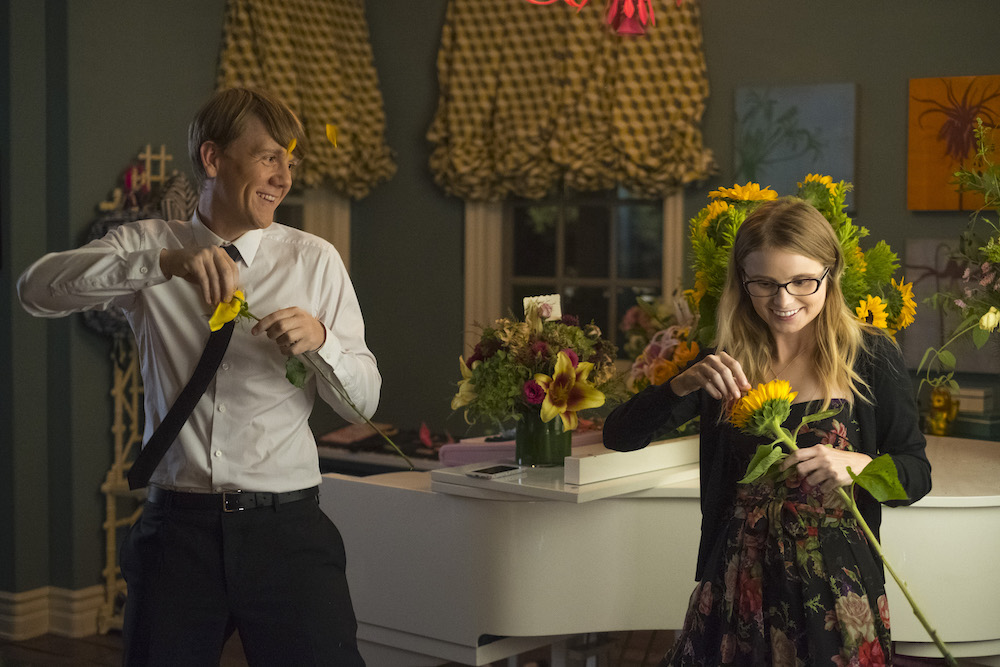 Last week Freeform's reboot of Party of Five brought on-point commentary on the state of immigration and racism in America. This week, Freeform brings us Everything's Gonna Be Okay, an altogether different representation of kids who are forced to rally in the face of parental loss. But it's still worth a watch. This show focuses on a different family in distress, who are on the verge of losing their dad to cancer. With two young daughters to look after, he turns to his eldest son Nicholas (Josh Thomas) for help. 
Nicholas grew up in Australia with his mom and rarely sees his dad, who left them and moved to America many years ago. But when Nicholas hears the news, he immediately jumps at taking care of his two American half-sisters, one of whom is on the autism spectrum. The daughters still face all the issues that teenage girls have, including navigating two-faced friendships and burning crushes and high school. But now they have to navigate losing their only parent and dealing with Nicholas' slightly ridiculous attempt at adulting. He's an openly gay 20-something who loves to party but he loves his family a whole lot more…even if he hides it under 20 layers of sarcasm. Matilda is a standout character, played by Kayla Cromer who is on the autism spectrum like her character. She brings the heart to the show in her own special ways. And her sister Genevieve (Maeve Press) is just trying to find her place in the world of high school, glaringly self-aware of her own awkwardness. 
Everything's Gonna Be Okay is whimsical and funny in its straightforward look at life in all its messiness. The kids deal with their problems in ways only kids can—with honesty and without the weight of expectation that adulthood brings. The pilot is wobbly but it's got a certain charm that keeps you watching. You can't help but compare the show with Party of Five—especially premiering a week apart on Freeform—but it's interesting to see how differently the shows take things.
Watch Everything's Gonna Be Okay on Freeform on Thursday.
From Freeform:
Nicholas' single dad has very bad cancer, and he's going to die soon. So, Nicholas offers himself up to be the guardian for his two teenage half-sisters. They already know not to put their heads in the oven. What's the worst that can happen?
—
Sex Education
Season 2
Fri Jan 17
On Netflix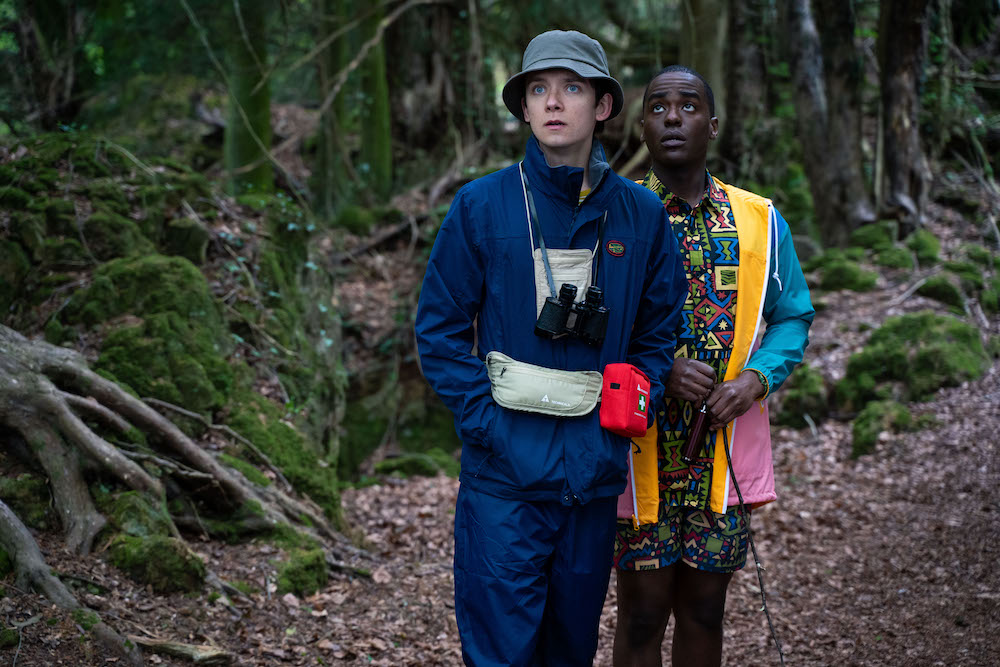 Things are…strained in Sex Education season 2. Well, more strained than the awkward puberty-stricken lessons of season 1. Otis (Asa Butterfield) and Maeve (Emma Mackey) are barely speaking. Maeve is trying her best to reconcile her feelings about Otis while also throwing herself into work. Otis is enjoying spending time with his new girlfriend, the lovely and bold Ola (Patricia Allison), although being in a new relationship comes with lots of firsts and Otis is handling them about as well as you'd expect (which means not at all). It's endearing but also incredibly painful to watch as the pair navigate dating and sex and everything in between. That "in between" is Ola's dad Jakob (Mikael Persbrandt) who is dating Otis' mother Jean (Gillian Anderson). Yeah, just when you thought things couldn't get more weird. Meanwhile our fave character Eric (Ncuti Gatwa) meets a new boy with charm that's off the charts. You'll be giggling and squealing as Eric finds himself both head-over-heels and unsure of himself. Sex Education continues to push the boundaries of what's comfortable onscreen, making you hide your face behind your hands at times. However you'll admire the show's tenacity at dealing with everything from fetishes to sexual assault to STIs. Yeah, strap in for a wild ride as Otis & co. give you a sex ed lesson you never got in school.
Sex Education returns to Netflix on Friday.
From Netflix:
In season 2, as a late bloomer Otis must master his newly discovered sexual urges in order to progress with his girlfriend Ola whilst also dealing with his now strained relationship with Maeve. Meanwhile, Moordale Secondary is in the throes of a Chlamydia outbreak, highlighting the need for better sex education at the school and new kids come to town who will challenge the status quo.
—
Doctor Who
"Nikola Tesla's Night of Terror" – Season 12, Episode 4
Sun Jan 19 – 8PM
On BBC America
Doctor Who hits BBC America on Sunday.
From BBC America:
1903. Who or what is sabotaging Nikola Tesla's generator plant at Niagara Falls? And has this maverick inventor really received a message from Mars?