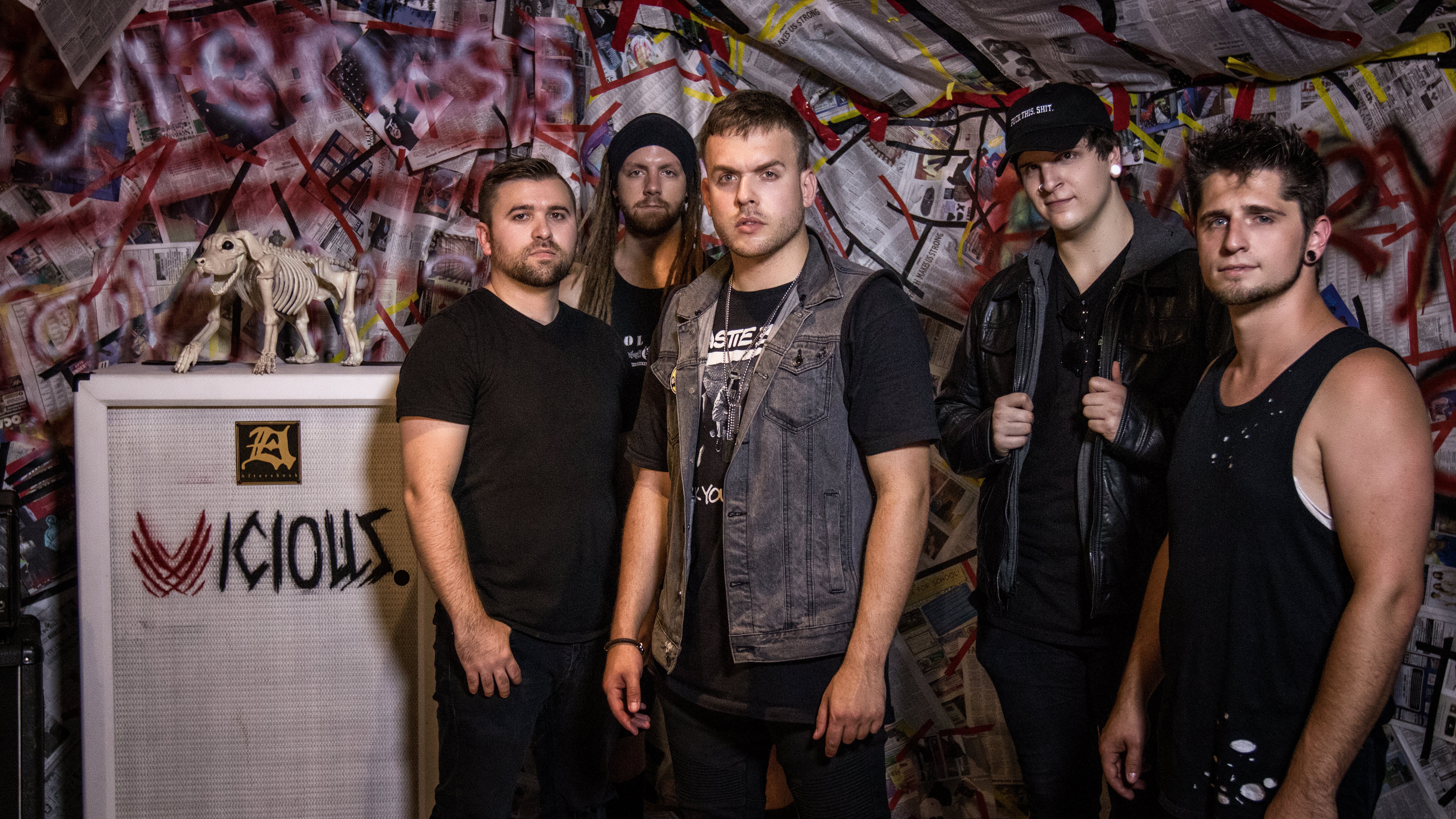 When everything feels hopeless, sometimes all we need is a helping hand. Our premiere today brings that amazing sense of hope in more ways than one: Aggressive alt rockers Vicious. have teamed up with Rock to Recovery to bring you the message that you are not alone, through their deep new track "Conflict". Rock to Recovery is a nonprofit designed to help those struggling with their mental health, by providing an outlet through the healing power of music, and all proceeds from the first week of the track's sales will be donated directly to the charity. Vicious. vocalist Sam Sky is excited to partner with Rock to Recovery, and says of the new release:
"Hey guys! It's Sam Sky from Vicious.! Couldn't be more excited to have teamed up with Rock To Recovery for our release of our brand new single "Conflict!" We thought it was brilliant that there was a nonprofit out there specifically designed as a release for musicians who struggle with just about any problem. I think often people get what they need from musicians emotionally and forget that they are literally putting all their emotional skeletons out in the open, leaving them vulnerable. Living life on the road takes the soul of most in a way, and to cope, addictions and emotional issues arise inevitably. This is our way to show love for all our kin out on the road, battling their demons and trying to follow their dreams. ALL first week proceeds will be donated to Rock To Recovery, blessed to be a part of this!"
With "Conflict", Vicious. lay it all out—you can feel every emotion, every hurt, every pain and frustration running in every beat. It's important for anyone struggling to know that there are others out there who feel the way they do; that there is always a way to cope. With lyrics as refreshingly honest as this set to a compelling, stomping beat, "Conflict" is the good the world needs more of—and you'll be donating to an incredible cause while you rock out. You can donate $1 or more to get your hands on the track here, and get a taste of it below:
About Rock to Recovery:
Rock to Recovery was created to help soothe the restless souls of those in recovery. We do this by creating a "band" and writing and recording songs together with Rock to Recovery's staff of professional musicians, who are also in recovery. We help bring fun into treatment and recovery by offering a natural escape from the fear-based mind. This helps people grow a sense of belonging and self esteem. We help to vent emotions by writing lyrics and singing together for release, in real-time. We tie in a positive theme of hope in recovery throughout the whole process. When the session is done, our "band" members feel a new energy all throughout their minds and spirits.
Music is a powerful tool, proven to help soothe the soul. For someone in recovery, learning to have clean and sober fun, feeling a part of, connecting to a group, and quieting the mind are keys to a successful new life. It's time to feel good in all that we do. Rock to Recovery gives people, such as recovering addicts/alcoholics, victims of abuse, troubled teens, or any individual in recovery, a chance to have fun expressing themselves, working as a group, and experiencing the natural high only music can produce.