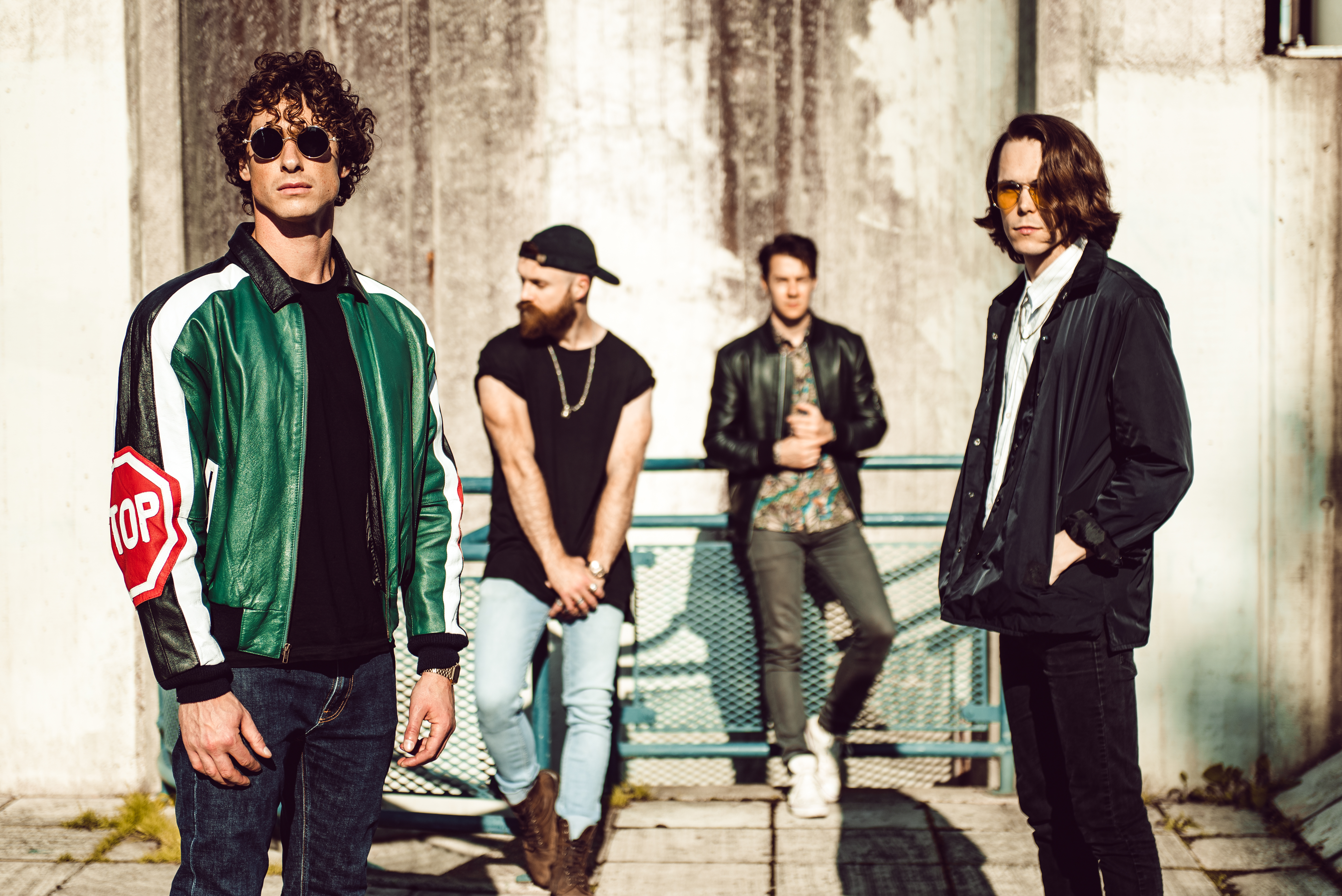 Credit: Don Broco
Wearing a Don Broco sweatshirt to interview Don Broco might've been taking it a step too far, but when I climb into their tour bus their lead singer Rob Damiani is also wearing a pullover with his band's name across the front. Of course. This is the band that doesn't always play by any rules. Last year they convinced fans around the world that their bassist was getting married on tour, only to reveal a bloody wedding-themed music video on the "big day". So it's not entirely surprising that they also rep their own merch while in a new city—it's Don Broco's very first show in Canada. They're a couple of weeks into supporting Our Last Night on the Selective Hearing tour and they're enjoying every minute of it.

While I get settled into the small sweetly scented space—Damiani claims he doesn't know where the aroma is coming from—he and guitarist Si Delaney discuss the night's setlist with their manager, deciding at the last minute to add in "Nerve", a song they haven't been playing that often this tour. Once that's confirmed Damiani cracks open a water bottle and sits down to chat.

"It's always hard to sculpt a support set," he explains. "Sometimes the ones that go down the best at a headline show don't always make sense at a support show. They're too weird or complicated or maybe not as instant as other songs. This tour we've been mixing it up every night, trying different combinations of songs."

Being a supporting band is something they only have to deal with in North America. Back home in the UK they regularly play (and sell out) massive venues. Although Damiani admits some of the bigger shows are still "scary". But trying to break into the North American market is another beast entirely: Here they're given half an hour to woo an audience who may have never heard of them. "The main difference, in general, with support shows vs headline shows is that whenever you do a support show it's never going to be your crowd. The majority of people are seeing you for the first time…people are just kind of nodding along, they don't know what to expect." That's not to say they're ill received here. Last year, they toured the US for the first time with State Champs and they made quite an impression. "Those support shows– The crowds were a lot more welcoming," says Damiani. "In the UK, if you're supporting, you get a lot of people standing with their arms crossed and you hope they're enjoying it," he adds with a laugh. "If you haven't heard us before our music is for people who want to be challenged a little bit, who want to hear something different than what they're used to."Seeing Don Broco live is an experience that will either completely convert you to their "funky, poppy, heavy rock music" or will leave you wondering what you just heard. Either way, they're a refreshing change. Their music draws influences from so many different genres, making it difficult to describe but fun to interpret. "There's so much variety within the three albums it's a lot easier to just say rock music," Damiani says, attempting to summarize Don Broco's sound. "We cover a fair amount of ground. There's a little something for everyone– If you haven't heard us before our music is for people who want to be challenged a little bit, who want to hear something different than what they're used to." I mention that I had a hard time reviewing Technology because I didn't know how to categorize their music and Delaney, who is sitting across from us working on his laptop, comments, "That sounds like a good thing."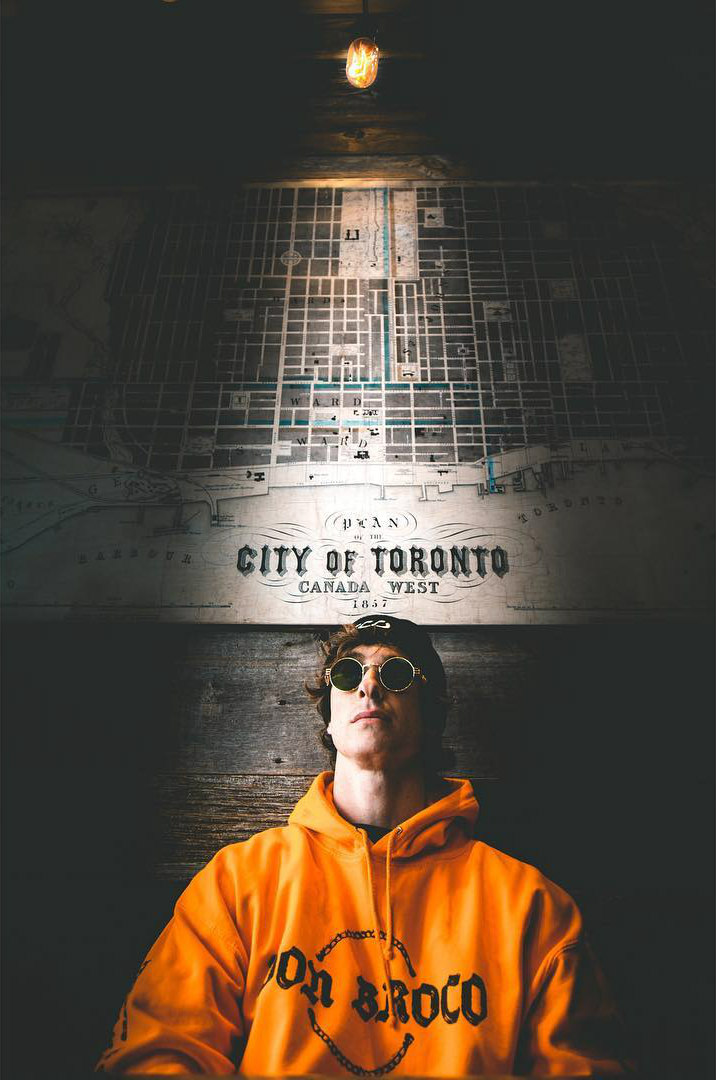 Credit:
Si Delaney
And yet, this weird mix of sounds is beginning to permeate the North American alternative music scene. Don Broco is slowly but surely getting more media attention as people start to pay attention to them, from magazine articles to radio interviews to album reviews from a wide variety of outlets. Even though they go on early most nights there's a good number of people who come out to see Don Broco specifically. Many of them first saw the band on the State Champs tour and made the effort to come back. In fact, Damiani mentions that he's met people who are following the tour and going to multiple shows. "In the US, you get people who are a lot more welcoming, and who are up for getting involved in the show. They're there to see the whole bill which is awesome for a new band. You want a full room. It feels a lot better…it makes you want to play better."

Whether they're playing to a small crowd or a sold out venue, at the end of the day Don Broco is the type of band who just likes to have fun while creating music that forces people to let go of genres and categories. You get that when you follow them on social media and also from their earlier music. Over the last couple of years, having a new audience across the pond who are just discovering their music makes their years of North American obscurity worthwhile. They might not have had positive experiences with major labels (one listen to the scathing "Come Out to LA" lets you know how unsuccessful it was), but they didn't let that bring them down. Instead, they came back stronger than ever with Technology. You feel it from the first single, "'Everybody' was the start of this album, the first song we wrote and recorded," says Damiani. "We wrote it off the cuff when we were touring because we were desperate to write new music. When we started the videos for the album campaign we wanted to do something new and exciting and weird…to just go with it and see if it works."
Credit: Don Broco
It does work. The video for "Everybody" features a cowboy character who has since become something of a mascot. "For us, [the cowboy] kind of symbolizes a new approach," Damiani laughs. "We're still figuring it out… When we found this cowboy character it was very exciting. We didn't understand it, we just did it without thinking and it really pays off. It's fun to throw yourself into something where you're not sure what's going to happen."
The feeling of throwing yourself into the unknown is what makes Don Broco's inclusion on the final Vans Warped Tour so perfect—it will be their longest stint in North America, allowing them to play cities and states they've only dreamed of. Damiani lights up when he talks about it being a bucket list item. "We've never been to [Warped], it's all very exciting for us to be a part of its history. It was something we always talked about at school, saying we should do a roadtrip and go out to Warped but we could never afford it because it was just so far away."

"When we heard it was the last ever one, we were super gutted but then getting invited to play it was awesome. We've heard it's hard work though: the brutal heat, the sun is beating down, you have to drink a lot of water, and really look after yourself," he adds.

Warped will be their third time in the States but they still feel like they're too early in their careers to even consider what it would be like to headline North America on their own. When I ask who they'd love to tour with as a headliner, Damiani is momentarily stumped. "Is this a dream tour or a realistic one?" he asks. I tell him it could be either and he thinks about it for a minute, throwing out a couple of bands he loves—including Issues and PVRIS.
"If it's a dream lineup…twenty one pilots is just amazing. I get the impression that in the US everyone loves them," he says. "You get so many bands that are copies of other bands. It's so cool to have a new band [like twenty one pilots] doing something so fresh and not playing by the rules and doing something that's very musically risky, yet still connecting so well.""There are no rules anymore. We do what we want, if we're enjoying it we'll just go for it."
Speaking of not being afraid of the unknown: With only a couple of minutes left, I ask Damiani if the band has any pre-show rituals to attend to and he laughs. "We've got really bad pre-show rituals—eating too much before we play. We're always hungry, we're a hungry band. We love trying all the local cuisine—if someone's got a recommendation nearby we will make sure we get to it. But we always misjudge it. The only time we can fit it in is right before we play and then we're on stage so full of food."

Naturally, being in Canada, he's most interested in trying poutine but the Smoke's Poutinerie down the street recently closed so he'll have to wait 'til they get to Montreal for something authentic. It might actually be for the better though. Don Broco's live show is so energetic, I don't think eating a plate full of fries, gravy, and cheese right before they go on stage is a good idea.

After doors open Don Broco is the second band to play, storming on stage in between Jule Vera and I The Mighty. From the balcony I watch the crowd below lose themselves in the music. At one point, when Damiani calls for a circle pit, half the floor immediately opens up. Later, many t-shirts and sweaters are sent flying during the show-stopping "T-Shirt Song". They don't have a lot of time to bask in their first Canadian set but their eight song performance is tight and polished—you gotta love how they manage to synchronize their dance moves—and the audience is mesmerized. After their set is over Damiani appears at the merch table and a line immediately forms, as people clamor for his attention.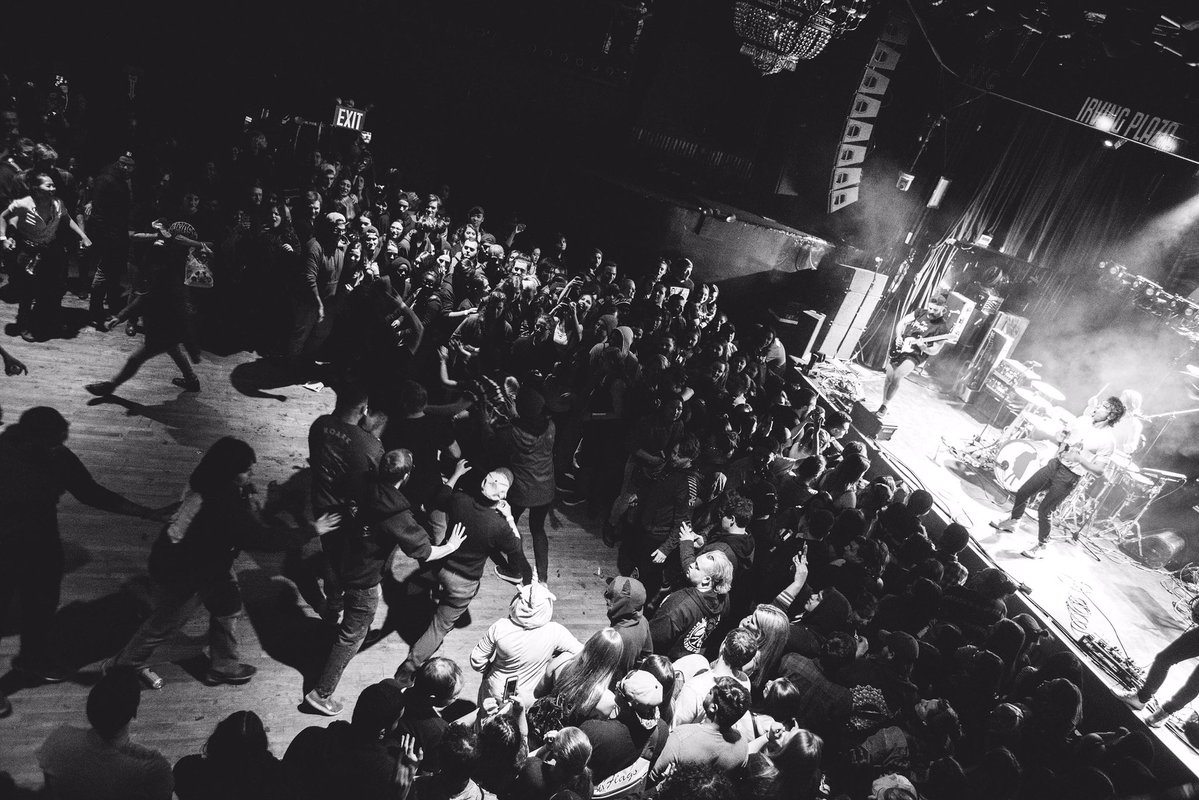 Credit:
Audrey Lew
If this Canadian show is anything like their other shows in the US it's pretty obvious that Don Broco is slowly leaving their mark on this side of the pond—whether it's because of their charismatic live show, their unique sound, or just straight-up passion—people are responding to them and their hard work is paying off. Like Damiani says, "There are no rules anymore. We do what we want, if we're enjoying it we'll just go for it."
---
If you missed Don Broco's recent trek through North America, make sure you catch them all summer long on Vans Warped Tour '18 or during their UK/Ireland headlining tour from April 24 to May 3—you can get tickets here.
UK/Ireland Headline:

04/26 – Oxford, UK @ O2 Academy Oxford
04/27 – Sheffield, UK @ O2 Academy Sheffield
04/28 – Liverpool, UK @ O2 Academy Liverpool
04/29 – Lincoln, UK @ Engine Shed
05/01 – Keele, UK @ Keele University
05/02 – Northampton, UK @ Roadmender
05/03 – Exeter, UK @ Lemon Grove